Perfect application of the dual-screen concept
One of the things that occurred to me while I was reviewing ASUS's dual-screen notebook, the ZenBook Duo, was how well the concept would work for a dedicated gaming machine. Dual-screen gaming isn't unheard of nowadays, and it's surprising that it's only now that a manufacturer has created a gaming notebook with two screens (aborted prototypes notwithstanding).
That's been addressed by ASUS with their new Zephyrus Duo 15. Thanks to a new tilting secondary panel, gaming grade-internals, and a super-fast 300Hz display, the Taiwanese company has finally found the right formula for the notebook of tomorrow.
(Editor's Note: We weren't allowed to install games during our brief time with the notebook, so we played gameplay video on the screen so the photos aren't all just filled with ASUS' wallpaper.)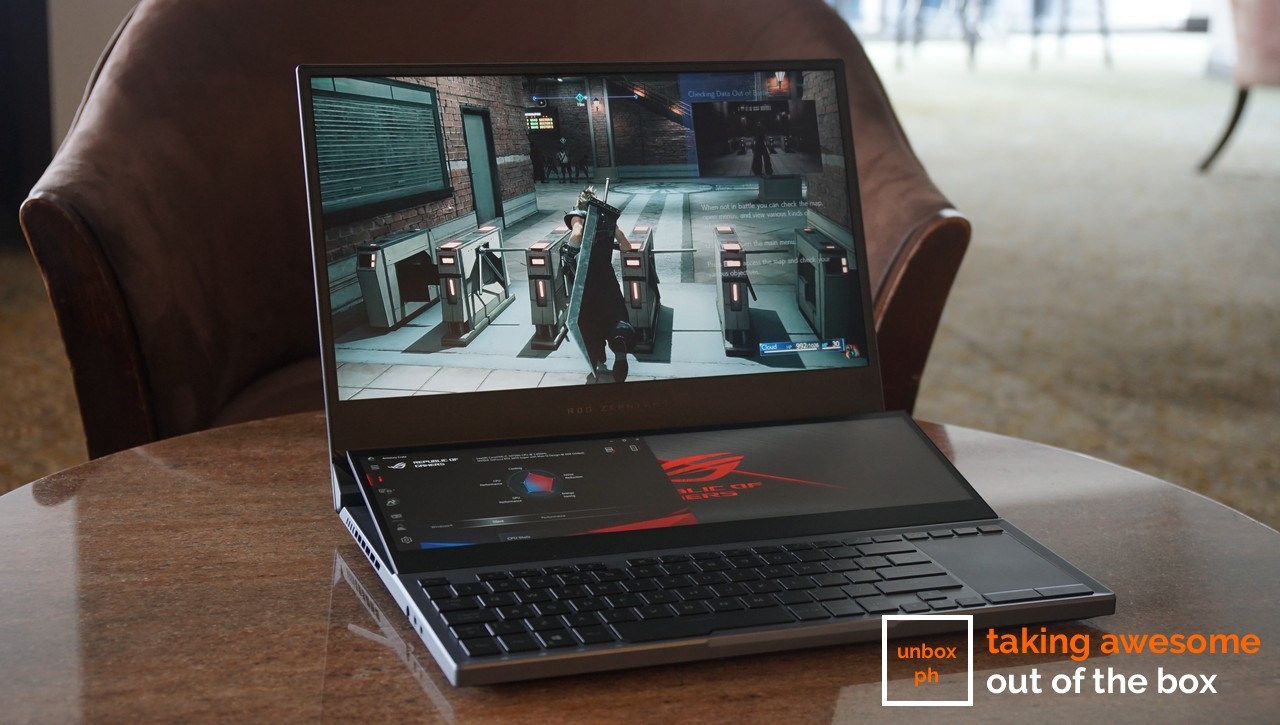 An even better application of the dual-screen concept
While ASUS' ZenBook Duo did a lot of things right in terms of accomodating that dual-screen display, it wasn't perfect – thermal performance was a big issue, especially if you wanted to use it to play games, and at the time of review the GeForce RTX 2060 wasn't powerful enough to take advantage of the beautiful 4K OLED display, despite being loaded with enough RAM and storage to make a gaming desktop blush.
That's all changed of course with the ROG Zephyrus Duo 15. This purpose-built, dual-screen gaming notebook overcomes many of the problems that the ZenBook Duo had with clever engineering and stuffs it with top-tier hardware that guarantees blisteringly fast performance and plenty of frames.
The idea of the ROG Zephyrus Duo 15 is still the same as its non-gaming brethren: provide a secondary 14.1-inch display located right below the 15-inch panel that gamers can utilize any way they want to.
The difference, of course, is in the execution. For one thing, the secondary display on the ROG Zephyrus Duo 15 tilts upward up to 13 degrees, which avoids the glare and angle problems that plagued the ZenBook Duo.
What's more, tilting the secondary display allows air to come into the chassis from above, which cools the internals of the notebook to avoid thermal throttling issues.
This small change also means that the chassis no longer angles upward when you open the lid, which is a bit of a bummer.
The secondary display is an IPS panel and has a super-sharp resolution of 3840 x 1100 and a 60Hz refresh rate. ASUS is working with developers so they can utilize that extra real estate in games to show inventory status, maps, etc. In its current form, you can use it to multi-task, i.e. have Discord, Twitter, FB, or any app of your choosing running below (maybe your Twitch chat as well) while you play on the main display.
Speaking of the main display, buyers have the option of picking up the ROG Zephyrus Duo 15 in two distinct flavors: a 4K Adobe RGB variant or a full HD variant that sports a 300Hz/3ms display. Both panel options are PANTONE Validated, making them perfect for applications where color accuracy is a must.
As for internals, the Zephyrus Duo 15 gets Intel's brand-spanking-new 10th Generation Core i9 processor, as well as NVIDIA's GeForce RTX 2080 SUPER, up to 48GB of combined onboard memory using the DDR4-3200 RAM, and up to 2TB of SSD storage.
That's impressive hardware for sure, but since we weren't allowed to benchmark or install games on any of ASUS' new notebooks when they were shown to us, we'll have to wait until we get actual review units to test just how much of a performance gain you'll be getting with the new hardware.
As far as price and availability goes, we have no idea. It's also not out of the question that there's going to be significant delays getting this notebook here because of the medical emergency we're all experiencing.
Comments (0)