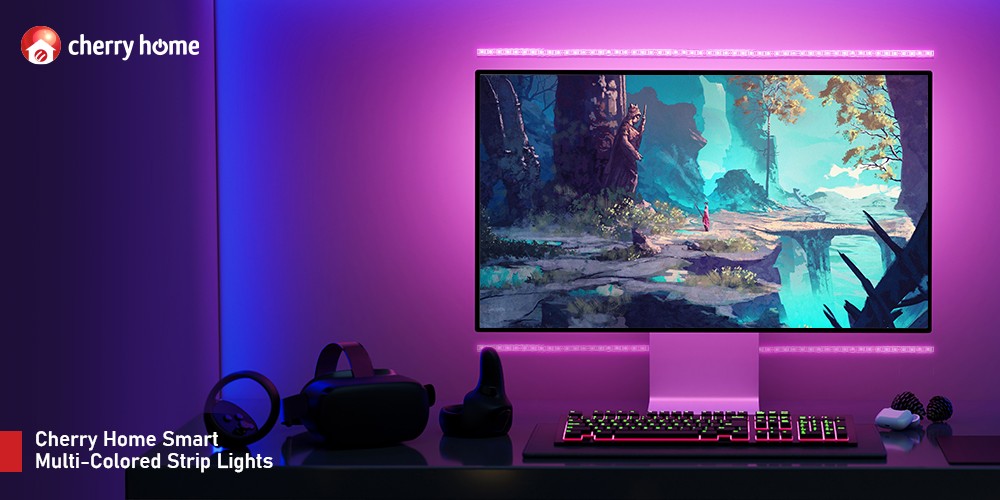 Have you ever been jealous of Twitch streams or YouTube videos where your favorite creators' rooms just look so awe-inspiring? Well, the Cherry Home Multicolored Smart Strip Lights aim to address that issue. These aren't like any other RGB lights you can find for sale online due to their unique functionality. We'll go into what makes this a bit different from the rest.
This pandemic has seen us spruce up our bedrooms like never before. After all, the countless lockdowns and WFH arrangements we went through forced us to spend more time in spaces where we used to just sleep in. Considering this fact, we want our rooms to look and feel different when it's time to finish up work and relax.
With the Cherry Home Smart Strip Lights, a press of a button can change the mood in your space entirely. There are over 16 million RGB multicolored lights providing not only illumination but an aura to your space. Whether you're feeling red with anger, blue with the hues, or just a clear white, it has what you need. It can even vibe along with your music through its adaptive mode, flickering with the rhythm and getting the party started from the comfort of home.
Controls can be managed remotely through the Cherry Home app which is available on both iOS (App Store) or Android (Play Store), and can even be configured to work with Voice Assistants such as Alexa. 8 configurations can also be chosen from to reflect your current mood or encourage a certain state of mind. Should you get a little careless, IP65 water-resistant features keep the device from breaking after some exposure or leakage from rainwater.
If you'd want to keep these on until you sleep, a timer or countdown function can be used to shut off without your intervention. Perfect.
This is on sale now for a retail price of PHP 1,380. You can access this via the Shopee or Lazada stores, or the official Cherry Home website.
Comments (0)