Verdict: The Lenovo Legion 7i packs some serious hardware, wrapped inside a relatively slim chassis that you can easily take with you wherever you go. It has the muscle for both gaming and content creation with two screen options for you to choose from. However, the notebook has a few thermal issues that have been confirmed by our testing and other sources which may be a roadblock in unlocking the full potential of this laptop.
The SRP for the Legion 7i sits at Php 134,995 though they were offering some pretty sweet deals with this laptop that you can check out here.
Pros
Sleek Design
Great Hardware
Port Placement Is a Win
Cons
Thermal Performance Isn't Ideal
iCue Software Drains Battery
Lenovo has been getting really aggressive in the Philippines lately and ramping up their presence; backed up by some amazing products that have been getting great reviews from both reviewers and it's now growing community or their "Legion". The latest one to arrive at our doorstep is the Legion 7i.
It's a gaming notebook that is supposed to represent some of the best the brand has to offer but does it deliver the goods?
Design
Looking at the design on the Legion 7i, you can see that Lenovo has settled into a specific look for their top-tier gaming notebooks. It looks very much like the Y740 that they released late last year and there's nothing wrong with that.
Generally, brands have been veering away from the heavy gamer aesthetic that we saw from way back when for something that's a bit more stealthy. The 7i is definitely something you can take into a board meeting and look professional; provided that you turn off the RGB, of course.
The build is all metal with just enough flex to make it handle being brought around and it has a nice feel to it. It also weighs in at 2.1kg, which is pretty much the standard for most gaming notebooks these days.
One thing I really appreciate on the Legion 7i — and something we saw in the Y740 — is the placement of the majority of its ports. Most of them are situated at the back of the notebook and sandwiched between the vents. This includes a full-sized HDMI port, 2 USB 3.2 Gen 2 ports, the ethernet port, the Power-In, and a Kensington Lock.
On the right, you have a single 3.2 Gen 1, which leaves the left with a Thunderbolt Type-C, another USB-C that supports displays, and the combo audio jack.
If you're into the whole RGB aesthetic, the Legion 7i doesn't disappoint with very bright LEDs on the vents on the back and more subtle under glow towards the front of the notebook. You're also getting a bit on the logo on the lid of the notebook.
Display
For its display, the Legion 7i has one that measures in at 15.6-inch at Full HD resolution. They have different skews for this particular model and the one we got has a 240Hz Refresh Rate, a 1ms response time, and 100% sRGB coverage but bear in mind that we don't have the tools to verify the color accuracy of the display.
Those are simply what Lenovo has on their product page though the color is pretty much on point when I compare it to my display that has been configured.
You are getting slim bezels on the sides with the top being slightly beefier to house the webcam, which we really appreciate. Another thing is that Lenovo has fitted said camera with a privacy slider just in case you're worried about people hi-jacking it to see what you might be up to.
Lenovo does offer to "flavors" for their display with the option to go down to 144Hz with 100% AdobeRGB and GSync support.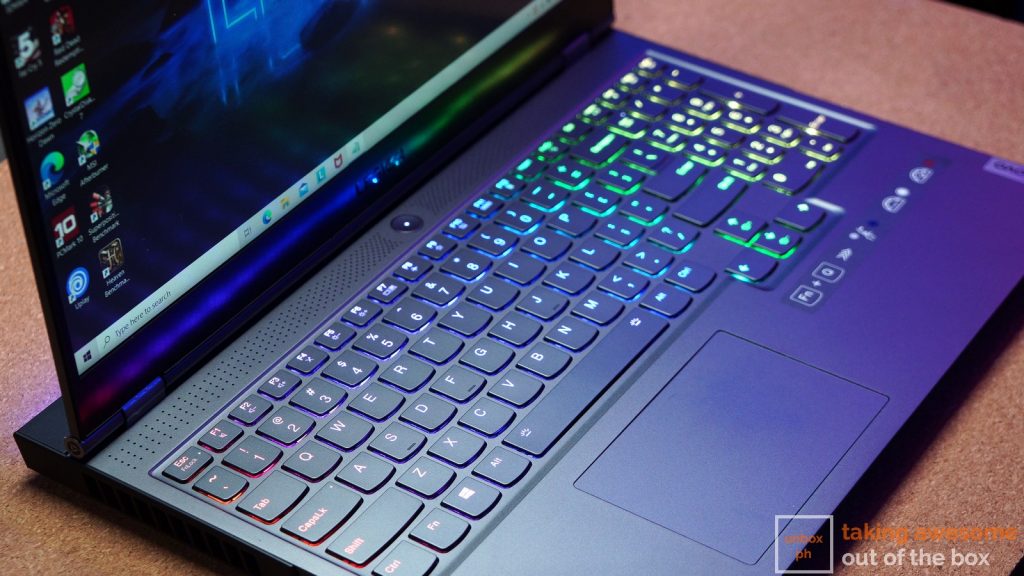 Keyboard and Trackpad
Compared to the Y740, the Legion 7i gets a full-sized keyboard that could possibly be a godsend for you weekend warriors out there who have to deal with spreadsheets to earn a living. Personally, I prefer the layout on the Y740 since that's not something I really deal with on a daily basis and it makes for a comfortable typing experience.
The one on the 7i felt a little cramped but not so much as the one on the Machenike F117 that we reviewed recently and I do see myself adjusting to this notebook with fairly great key travel as well.
Yes, the keyboard also has full-on RGB lighting if you're into it the whole aesthetic and it's definitely bright enough to attract unicorns but I preferred having it on just a single color for a more subtle approach. The lighting effects — including the vent on the back and the under glow portion can be controlled via the iCue software from Corsair.
The trackpad has been expanded a little bit since you no longer have separated left click and right click buttons though this is an area that could use some improvement. You'll get by if you need to whip it out for a meeting but for video editing and more intensive tasks, a mouse is definitely the way to go.
Performance and Battery Life
In terms of internals, the Lenovo Legion 7i has some of the best hardware available in the market right now with Intel's 10-gen Core H-series processors and NVIDIA's RTX GPUs. The review unit that was sent over to us is equipped with a Core i7-10750H, 16GB of DDR4 RAM at 2933MHz, a 1TB NVMe SSD, and an RTX 2070 Super Max-Q.
Here are its benchmarks:
The Legion 7i definitely has serious muscle under its chassis with the number to back it up in the usual slew of tests we've been running for our laptop reviews. Crystal Disk Mark also checks the boxes in terms of SSD performance getting relatively great read and write speeds. If you need something that can swing both productivity and gaming — the Legion 7i can definitely handle it.
Speaking of gaming, it also comes to no surprise that the 7i blew the games we threw at it with no problems. For the sake of uniformity, we've been running benchmarks on Medium settings so we can build up a larger database for you guys and the numbers speak for themselves. You can, of course, push your settings higher than that, which will result in about a 25% drop in frame rates.
The problem that we've run into here is actually sustaining these tasks before the notebook starts throttling because the temps did get to a toasty 90-degrees on the CPU and the mid 80's for the GPU. We checked other tech media outlets and YouTube channels to see if this was an issue — not an isolated case — and we did confirm that the 7i does bring the heat but not in the way you would typically want it to be.
Battery life on this notebook also isn't that great but that's usually the case with most gaming skewed notebooks. We clocked in close to 3 hours of our YouTube battery drain test, which is a lot lower than we expected it to be. Apparently, this is because Corsair's iCue software is taking massive gulps when it should be taking sips. Hopefully, this will be fixed with a quick software update.
Comments (0)