Early Verdict: POCO's new phone is a grand return to form for the brand, offering a fully-decked out mid-range smartphone with flagship features at an insane price that other brands can only dream of. Unless POCO does something weird with its optimizations or if the cameras really disappoint, the POCO X3 NFC looks to become THE mid-range champ for 2020.
Pros:
Really good design despite being made out of plastic
64-megapixel main shooter
Large battery with fast charging
Really powerful Snapdragon 732G processor
Insane pricing
Cons:
Plastic body is a smudge magnet
POCO made their debut back in 2018 with the POCOPHONE F1 to critical acclaim, completely disrupting the flagship product stack and becoming the de facto king of budget flagship smartphones. Unfortunately, POCO did such a great job back then their follow-up devices were often measured against their first offering, with very harsh results.
That ends today with POCO's announcement of their POCO X3 NFC. This phone is the mid-range equivalent to their original F1. Packed with all the features you'd expect from a mid-range phone (along with a few others from flagship devices), its almost too-good-to-be-true pricing will make it the de facto standard for mid-rangers in 2020.
Unboxing and contents
The POCO X3 NFC comes in a very unassuming block box, with the phone's name printed in bright, big letters on the front.
Contents inside the box is pretty standard for a POCO smartphone – you're getting the phone, documentation, a USB Type-C cable, silicone case as well as 33W fast charger.
Design and display
POCO's design language is very distinct compared to the phones of mother brand Xiaomi. While other companies have largely transitioned to rectangular camera modules, the POCO X3 NFC somewhat retains the circular-style camera arrangement that we've seen on POCO's other phones, with a slight twist.
The body of the phone is made out of plastic that has a stunning gradient color pattern applied that's very eye catching and insanely smudge-prone.
Despite packing a plastic back, the phone feels relatively premium, making you wonder how the heck POCO even makes money off of it considering the other goodies it packs inside.
The phone has a side-mounted fingerprint scanner, which right-handed people will love and lefties will hate, and the phone retains a 3.5mm jack located at the bottom that other mid-range devices have largely banished.
The phone has a 6.67-inch full HD+ display with a punch-hole notch (Xiaomi calls it a DotDisplay) that houses a 20-megapixel front camera with an f/2.2 aperture lens.
Despite being priced at under Php 11K, the display is top-tier: the LCD panel has a 120Hz refresh rate, which is even faster than the ones on Realme's budget mid-range Realme 6 and Realme 6 Pro, and has a touch sampling rate of 240Hz, a feature that's also present on Samsung's flagship S20 Plus.
If that wasn't enough, the display is pretty color accurate too, with POCO claiming HDR10 capabilities and Wildvine L1 certification for HD Netflix streaming.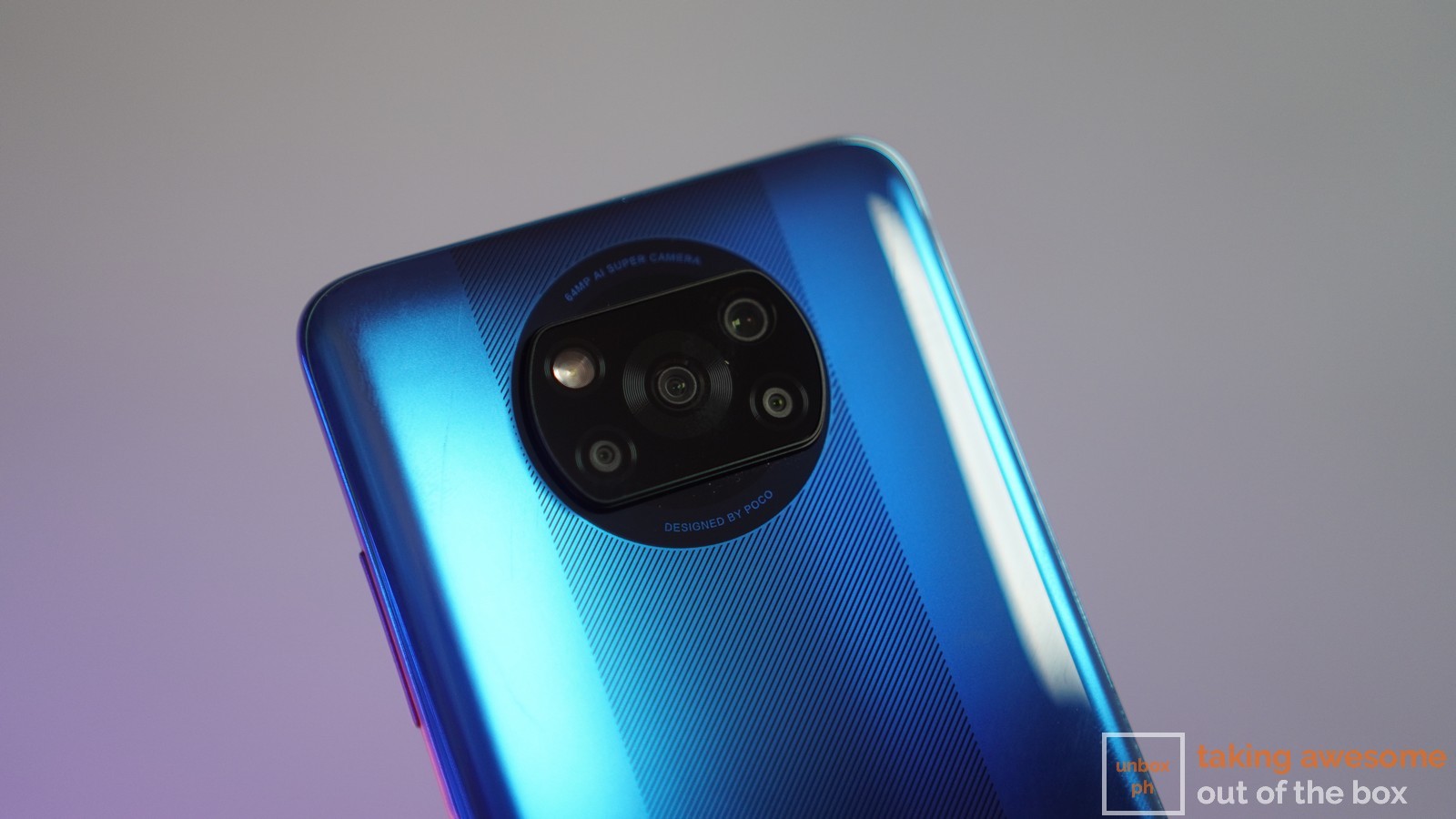 Camera and hardware
The POCO X3 NFC is probably the only phone available today that packs a 64-megapixel main camera under Php 11K, as most other phones that pack high-resolution shooters like that tend to be priced at Php 15K above.
While we're still in the process of doing our tests for the cameras on the POCO X3 NFC, the 64-megapixel Sony IMX682 should perform well enough for most people. That camera is paired with three other cameras: a 13-megapixel ultra-wide snapper, and a 2-megapixel depth and macro sensor.
There's much debate to be had whether a macro camera is really useful or if it's just another camera to add to the feature list, but there's no question it helps in making the POCO X3 NFC's camera stack look superior to other phones in the same price category.
The POCO X3 NFC is the first phone in the world to come with Qualcomm's Snapdragon 732G processor, which is paired with 6GB of RAM and either 64GB or 128GB of storage depending what variant of the phone you pick up.
The Snapdragon 732G is quoted as delivering even better performance compared to last year's Snapdragon 730G model, thanks to higher clock speeds as well as an improved Adreno 618 GPU that Qualcomm promises to deliver "15% improvement in graphics rendering.
Considering that models that ship with Snapdragon 730G processors cost a few thousand pesos more (the Mi 10 Lite is priced at Php 16,990 for the 6GB/64GB model) you can see how game-changing the POCO X3 NFC is when it comes to raw performance, especially at the Php 10,990 price range.
Software and battery
Like most of the phones under Xiaomi's umbrella, the POCO X3 NFC ships with MIUI 12 based on Android 10. We've only spent a few hours so far with the phone since it was sent to us, but our initial impressions for MIUI 12 is far better than MIUI 11.
There's plenty of nice visual changes that make the interface feel smooth and more cohesive, and Xiaomi has addressed many of the complaints that users have had with the previous iterations of their interface.
As for the battery, the POCO X3 NFC ships with a massive 5160mAh battery. The phone also comes with 33W fast charging capabilities, along with a 33W charger to take advantage of the said fast charging tech.
Like we said before, we've only had the phone for a few hours so we can't comment on overall battery life, but unless Xiaomi did something to mess up the power consumption of processor, we expect this phone to easily last a whole day on a single charge.
Wrap-up and conclusions
Considering all we've talked about already, you can see how much value you're getting with the POCO X3 NFC. The phone starts with a Php 10,990 price tag for the 6GB/64GB version, with the 6GB/128GB variant getting a slightly higher Php 12,990 SRP.
But you can actually get the phone even cheaper in the Philippines if you buy it during the first 48-hour deal that goes live on Shopee on September 9 and 10, with an early bird discount of Php 1,000, dropping the price of the 6GB/64GB variant to just Php 9,990. That's an insane price for an already value-packed smartphone. Even better, early buyers will get a complimentary POCO mousepad and a BlackShark Fun Cooler. The 6GB/128GB variant will be getting the same discount treatment, retailing for just Php 11,990 during the same period with buyers getting a free POCO digital pouch and a BlackShark Fun Cooler Pro.
Comments (1)