Is this the future of smartphones?
Samsung's Galaxy Fold was, for all intents and purposes, a proof-of-concept device. It was made to demonstrate that yes, consumer-grade foldable phones could be possible using the technology of today. It wasn't supposed to be a device for mass consumption, thanks to its high cost and limited appeal.
Obviously, that's no longer the case with the Galaxy Z Flip – much cheaper and smaller than the original Galaxy Fold, Samsung's new foldable is easier to use, despite unavoidable teething pains with the new tech.
Pros:
Less clunky than the Galaxy Fold
A definite eye-catcher
Incredible design
Cons:
Expensive
Questions of long-term durability linger
Samsung Galaxy Z Flip Specs and Price Philippines
Qualcomm Snapdragon 855+ octa-core processor
Adreno 640 GPU
8GB LPDDR4X RAM
7-inch Full HD+ Dynamic AMOLED Infinity Flex display; 21.9:9 aspect ratio; Ultra Thin Glass
1-inch Super AMOLED outer display
256GB UFS 3.0 Non-expandable storage
Dual rear cameras: 12-megapixel f/1.8 primary camera with Super Speed Dual Pixel PDAF and OIS; 12-megapixel f/2.2 ultra-wide-angle camera; with LED flash, Night Hyperlapse, 8x digital zoom, HDR10+ video recording, Tracking AF
10-megapixel f/2.4 front camera
Dual SIM (eSIM and Nano SIM)
3G, LTE
WiFi 6, Bluetooth 5.0, GPS, A-GPS, GLONASS, NFC
Side-mounted fingerprint scanner, USB-C, RGB Light sensor, Dolby Atmos
3300mAh battery with 15w wired charging and 9w wireless charging
Android 10 with OneUI 2.0
The price of the Samsung Galaxy Z Flip in the Philippines is Php 79,990.
The ultimate smartphone flex
I can't even begin to describe how much of a flex using the Galaxy Z Flip is day to day. Back when we could still go outside, not a day went by without someone commenting on the phone's appearance and novelty whenever I took it out and flipped it open.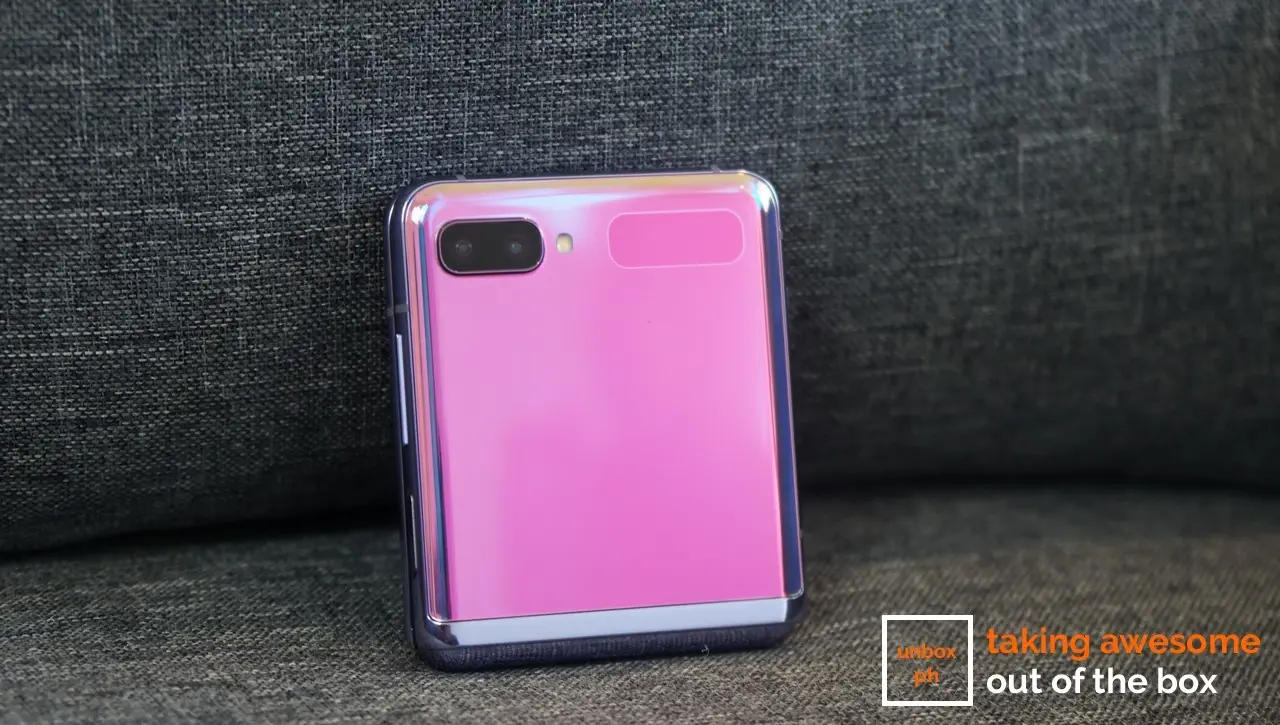 The Mirror Purple colorway helps a lot with that since it's absolutely stunning to look at, but on the flip side, the phone's glass finish is an absolute nightmare when it comes to fingerprints and smudges. And yes, Samsung does sell a case for the Galaxy Z Flip, but do you really want to put a case on such a pretty-looking phone?
It's not just the color that makes this phone one of my personal favorites from Samsung. The lines on the phone are perfectly symmetrical on both halves. The force required to flip the phone open is just right, and the phone's hinge is strong enough that it stays in position when you open all the way and every position in between.
On the outside of the phone is a small 1.1-inch pill-shaped external display that shows you notifications and other things, and can be used as a screen when you're taking selfies with the main rear camera.
With the phone folded, it takes up half the space of a regular smartphone, which comes in handy if your pockets aren't as big or as deep as the average Juan. It's been literal decades since I used a phone that could fit in my shirt's front pocket, and that's exactly what I got with the Flip Z.
The crease is there, but barely noticeable
The hinge that holds both halves of the phone together is pretty tough, and the Hideaway Hinge, as Samsung calls it, allows the phone to stay open in multiple angles which increases the folding utility of the device.
Samsung says that the Galaxy Z Flip's display is covered in ultra-thin glass, though a tear-down by JerryRigEverything showed that there was a small plastic film on top of that glass that scratched rather easily.
While there's always the concern of scratching such an expensive display, I think the way the phone is constructed protects it from regular use. Most screen damage happens when you're not actively using the phone as it jostles around in your pocket with other things like coins, keys and the like. Since the phone is typically closed and the screen protected when it's not in use, that's not really a big concern, at least for me.
The folding screen itself is a 6.7-inch full HD+ Dynamic display and looks absolutely fantastic. Image quality is typical Samsung, with deep blacks and very vibrant colors.
And while there's a crease at the middle where the screen folds, it's not really that noticeable when you start using the phone. It's a little like the notch when it first appeared on phones – yes it's there, and yes you'll definitely notice it when you first start using your device, but it kind of disappears after a while.
Near flagship camera performance
Samsung's new Galaxy Z Flip doesn't use cutting-edge rear cameras. Instead, it uses the Korean company's tried-and-true 12-megapixel shooters for both normal and wide-angle shooting.
That's not surprising, considering there's really not enough room in the body of the Galaxy Z Flip to accommodate larger, high-resolution sensors like its bigger brother.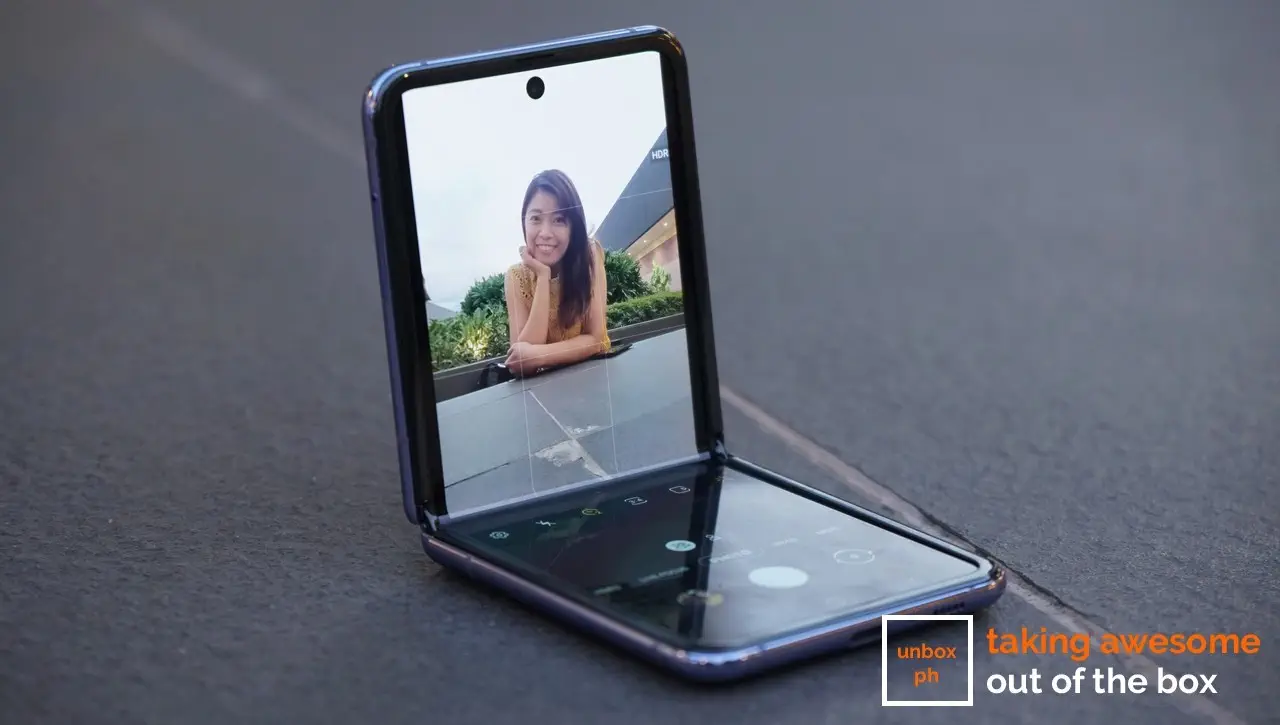 Despite that handicap, the Z Flip managed to take really decent shots, despite our review unit not being the final retail version.
You can even use that tiny 1.1-inch display as a viewfinder of sorts to take selfies with the phone folded, though framing is difficult because of the tiny display.
One of the best features I really liked (and my wife loved) was the fact that you can close the phone halfway and place it in any flat surface as a makeshift tripod. What's nice is that the UI automatically morphs and adjusts to that particular use case, which makes taking selfies a breeze.
Last year's processor, but I don't mind
The Galaxy Z Flip doesn't just come with last year's cameras – it comes with last year's flagship processor too, namely Qualcomm's Snapdragon 855+ chipset, paired with 8GB of RAM and 256GB of non-expandable storage.
While it's a little disappointing that we're not getting this year's flagship processor, it's not really that big of a deal, from a normal user's perspective.
The battery is a little small at 3300mAh, which is barely enough for a full day's charge with really heavy use. If you watch your usage though you can extend battery life to a full day if you're careful. The phone also only comes with 15W wired charging and 9W wireless charging as well.
Verdict: Buy it to flex, buy something else to be practical
At Php 79,990, the Samsung Galaxy Z Flip is a wildly impractical phone for most people. What you're paying for in this device is the ability to make your phone smaller, which is a pretty big flex at this point in time considering what's available in the market.
And that's essentially who the Galaxy Z Flip is for. There hasn't been anyone out there that wasn't amazed at this folding phone when they first saw it in my hands, but at the end of the day, it still does a majority of the tasks that an old-fashioned, non-folding phone does.
While I'm excited at the prospect of future devices that builds on the Z Flip's legacy, it's not really phone you should buy if you're looking to be practical.
Comments (0)