Review verdict: The ASUS ROG Zephyrus M16 has plenty of power for anyone looking for a hard-hitting laptop in the Philippines, though you'll be ponying a lot of cash for the privilege of owning one.
Pros
Compact build
Powerful internals
165Hz, 16:10 QHD+ panel
Good battery life for a gaming laptop
Cons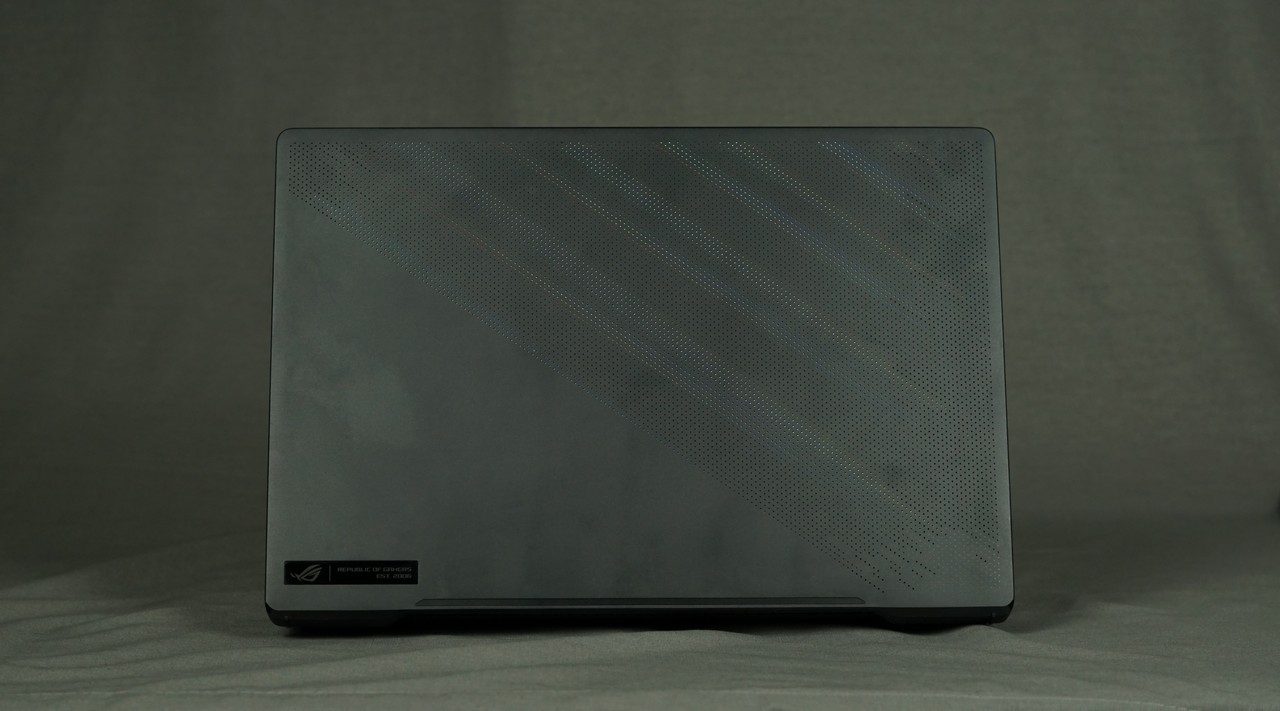 ASUS is starting to roll out brand-new devices that have 16:10 aspect ratio screens to try and cash in on the latest gaming laptop trend, spearheaded by their ROG Zephyrus M16. This new lappie has all the things you'd associate with a top-end device, including a premium price tag. Does the laptop perform well enough for what ASUS is asking for it?
Design
ASUS decided to go with something different with the design of the Zephyrus M16. Yes, it still has those aggressive lines and sharp corners you'd expect from a gaming laptop, but it also has an interesting, diagonal dot pattern on its lid that conceals a multi-color pattern depending on how the light hits it.
It's a novel way of making a gaming laptop look interesting without stuffing the ever-living crap out of it with LED lights, and I appreciate the fact that ASUS tried to do something to make their design stand out.
One concern we do have with the laptop is that while the lid is made from metal, the chassis feels like it's been treated with a rubberized coating. While it looks and feels nice when the laptop is brand new, we have absolutely no idea how this material will fare with age. Other products that we've used that had a similar coating didn't age well, and we're hoping that's not the case with this.
The laptop uses the same ErgoLift hinge that's found on ASUS' more premium laptops, which raises the keyboard a bit towards you to give you a better angle when you're typing or gaming.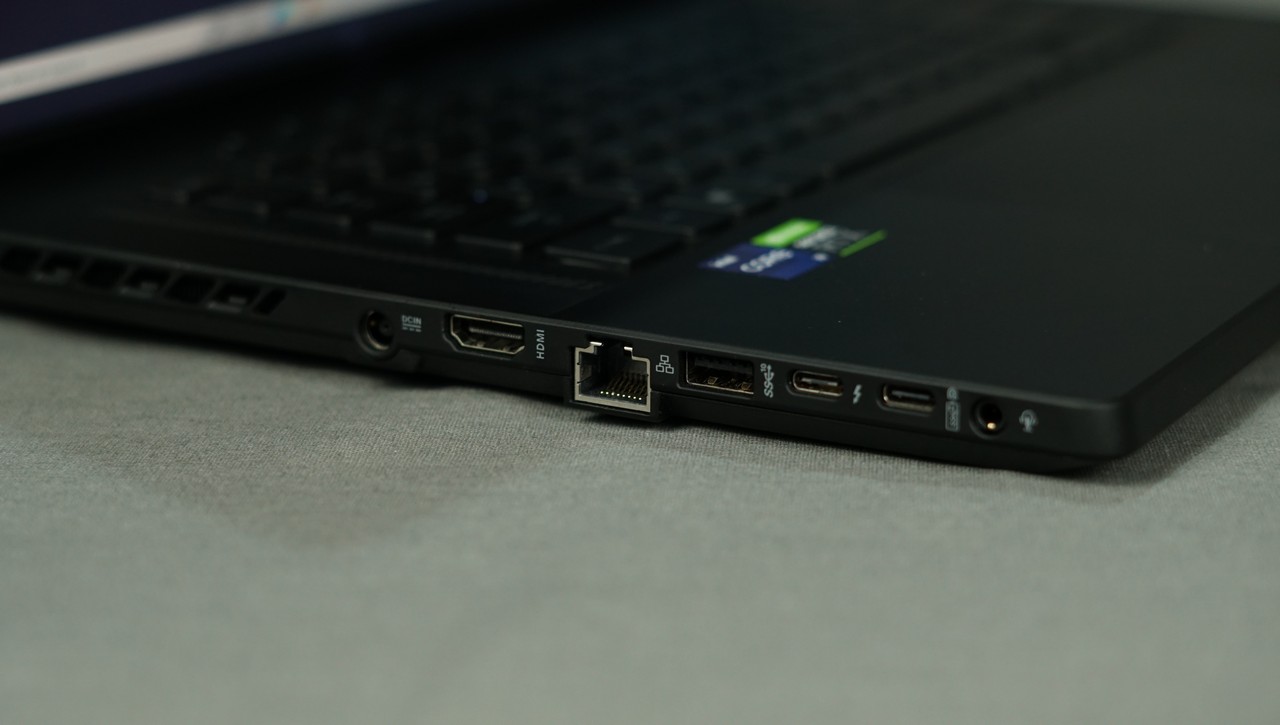 As far as ports go, there's plenty to go around – you get 2 USB 3.2 ports, 1 USB Type-C port that supports both power delivery and DisplayPort connections, an Ethernet port, HDMI 2.0 port, and a Thunderbolt 4 port, along with a microSD card reader.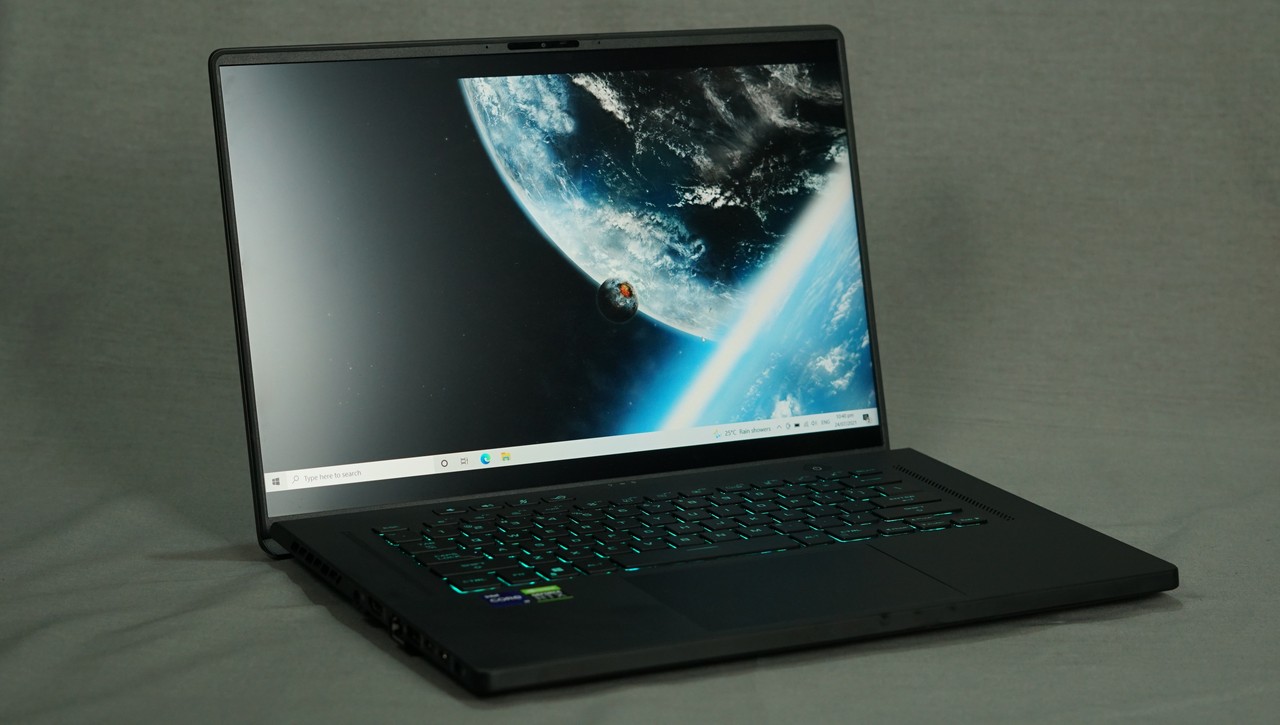 Display and sound
The ASUS ROG Zephyrus M16 is one of the newer laptops in the market that currently use the 16:10 aspect ratio. That means the laptop's 16-inch display has a WQXGA resolution of 2560 x 1600.
There's plenty to like with the laptop's panel – ASUS claims it has 100% DCI-P3 coverage, has a refresh rate of 165Hz, and a 3ms response time. ASUS also says that the display is Pantone validated, making it a great display for anyone that requires a color-accurate screen for video and photo editing.
Our test with our DataColor Spyder5 Elite colorimeter shows a more realistic 89% coverage for the DCI-P3 color space, which is pretty good. Delta E values are at 1.03 as well, making the display very color accurate for a gaming laptop. You can check out the results of our test here.
As far as sound quality goes, it's pretty good. The ASUS ROG Zephyrus M16 has a great set of speakers and doesn't distort at higher volumes.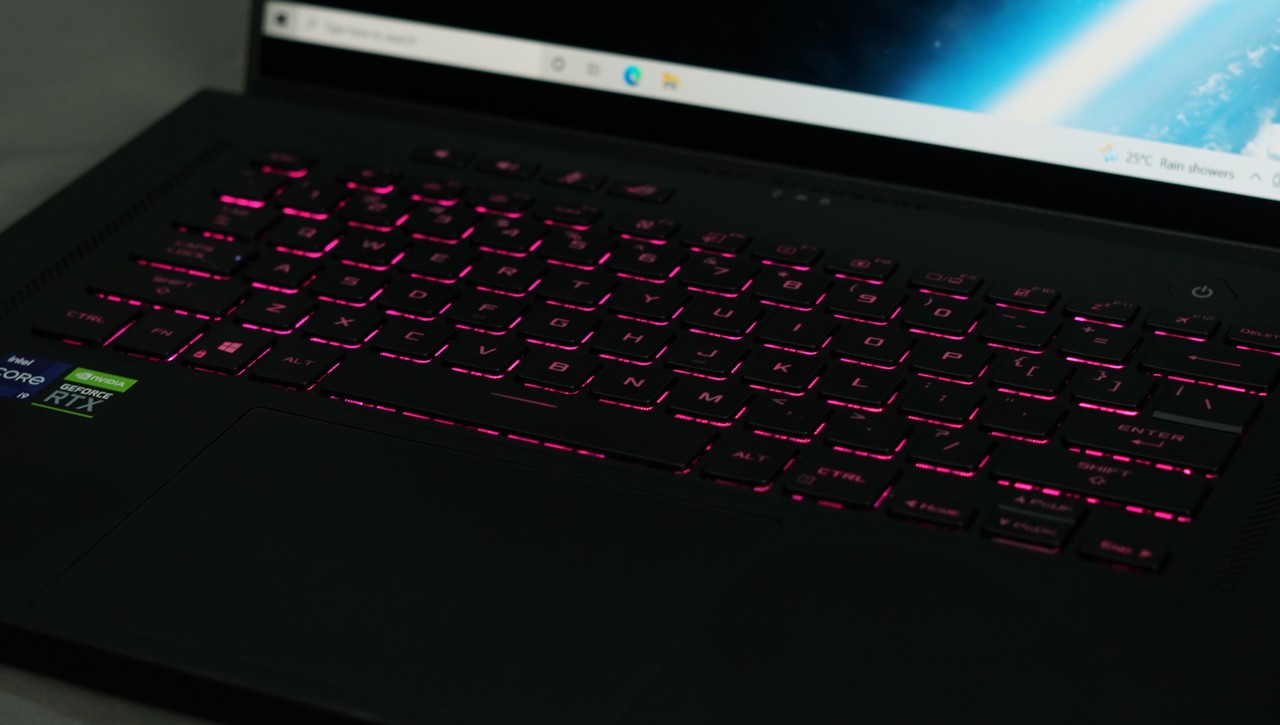 Keyboard and trackpad
Like many gaming laptops nowadays (at least premium ones) the ASUS ROG Zephyrus M16 has a backlit, RGB keyboard that you can customize depending on your whims via ASUS' Armory Crate app on the laptop.
As for the keyboard quality itself, it's pretty good. The keys have plenty of travel, and that rubberized finish on the chassis makes for a comfy place to put your wrist on while typing.
The trackpad is plenty big and is relatively responsive.
Performance and battery life
Time to go in-depth with the internals of the ASUS ROG Zephyrus M16. This beast is powered by Intel's 8-core Core i9-11900H processor running at 2.5GHz and has a discrete NVIDIA GeForce RTX 3070 GPU. Unfortunately, the version of NVIDIA's GPU in the ASUS ROG Zephyrus M16 tops out at 80W (which dynamically boosts up to 100W).
Rounding out the specs is 32GB of DDR4 3200 RAM, as well as 2TB of NVMe PCI-E 4.0 of SSD storage.
With that out of the way, let's take a look at the benchmarks:
Intel's Core i9-11900H is a potent processor and it certainly gives AMD's Ryzen 7 5800H a run for its money, at least according to some of the synthetic benchmarks we ran. The two processors traded blows in CineBench R20 in both multi-core and single-core workloads.
We compared the Zephyrus M16 against Lenovo's Legion 5 Pro that has the same RTX 3070 GPU with a higher TDP rating, and you can really see the difference in performance with the lower power rating.
The laptop is able to keep frames above 60FPS in full HD and 1440p, but you'll rarely max out the refresh rate of the display unless you're playing games like Valorant or CS: Go.
The laptop returned a max of 90 degrees Celcius for the CPU, with GPU temps bouncing around 82 degrees Celcius in a climate-controlled room that sat at 25 degrees Celcius. Take note that the temperature reading (and eventual performance benchmarks) were all done under the Performance preset for the laptop.
Speaking of thermals, the ASUS ROG Zephyrus M16 throws all of that heat to the bottom of the screen via the vent near the lid, which is a little concerning. The fan is also quite loud and ramps up almost immediately when you start playing.
As far as battery life goes, the ASUS ROG Zephyrus M16 has pretty good endurance. Our battery run-down test (which involves running a YouTube live video with 50% brightness and speakers set to 50%) recorded an overall time of 5 hours and 35 minutes. That's pretty good performance for a gaming notebook since most of them usually can't even get past 3 hours on the same test.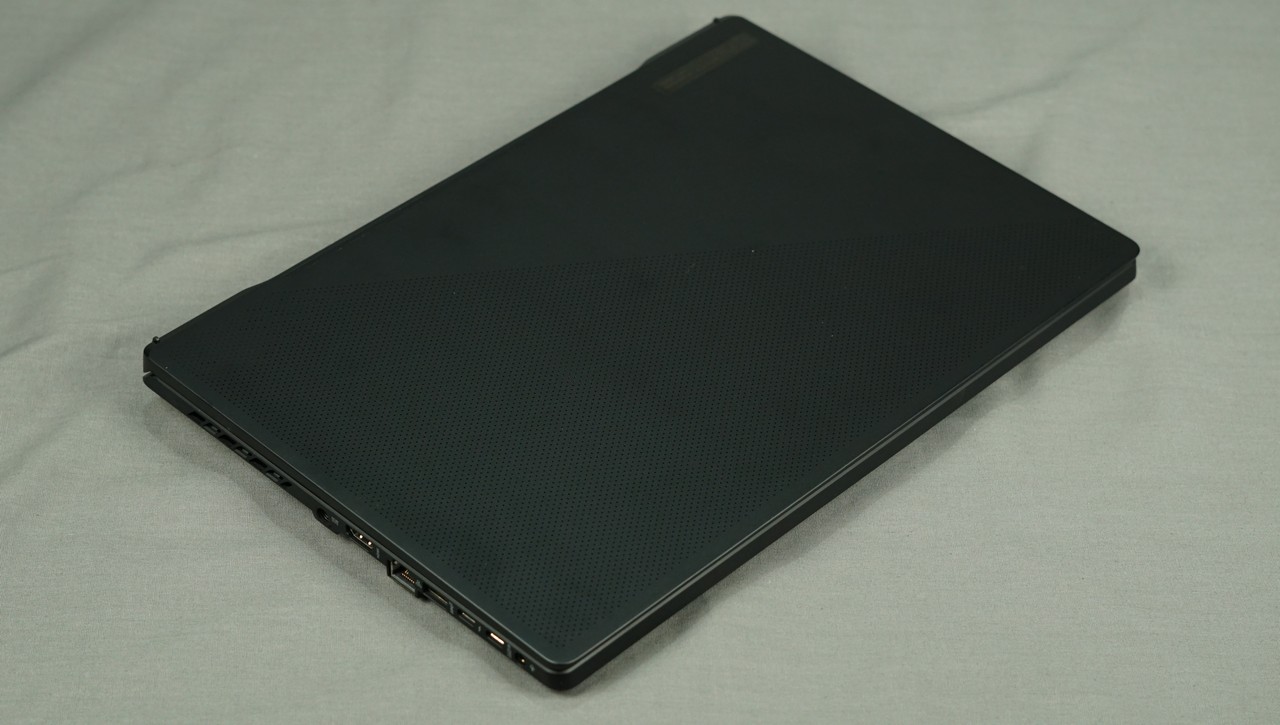 Wrap-up and conclusions
The ASUS ROG Zephyrus M16 is quite a powerful laptop based on our review of the unit the company lent to us in the Philippines, though it's not without its quirks. It's fairly expensive, and it's clear that the lower power RTX 3070 limits the performance somewhat of the laptop VS its peers.
Despite that, the ASUS ROG Zephyrus M16 is still a great choice for anyone who has the money for a powerful gaming laptop that has good battery endurance outside of gaming, and its powerful Core i9 processor and accurate screen make it a good choice for anyone looking for a work machine to edit videos and photos on.
ASUS ROG Zephyrus M16 Review Philippines Price
The ASUS ROG Zephyrus M16 that we reviewed (GU603HR) is priced at Php 159,995 and comes with a large assortment of freebies, including a ROG OG Backpack, ROG Delta Headset, ROG Chakram Core, Type-C PD Adapter, and Windows Home & Student 2019. The overall value of the freebies is estimated by ASUS to be around Php 21,000.
Comments (0)