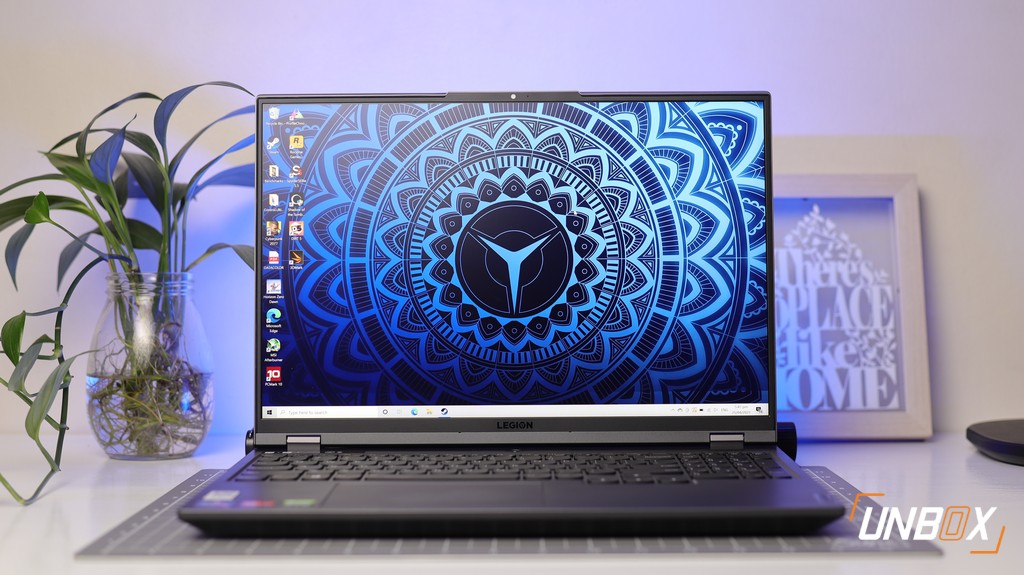 Review Verdict: The Lenovo Legion 5 Pro doesn't pull any punches with its RTX 3070 GPU and AMD Ryzen 7 5800H processor and is one of the most powerful laptops we've reviewed so far in the Philippines this year. The laptop isn't exactly what you'd call affordable, but it has one of the best price-to-spec ratios for a gaming laptop with an RTX 3000 GPU right now.
Pros
The RTX 3070 is the 140W version
Extremely powerful AMD Ryzen 7 5800H processor
The screen is perfect for both work and play
Hardware configuration can easily make use of QHD panel
Cons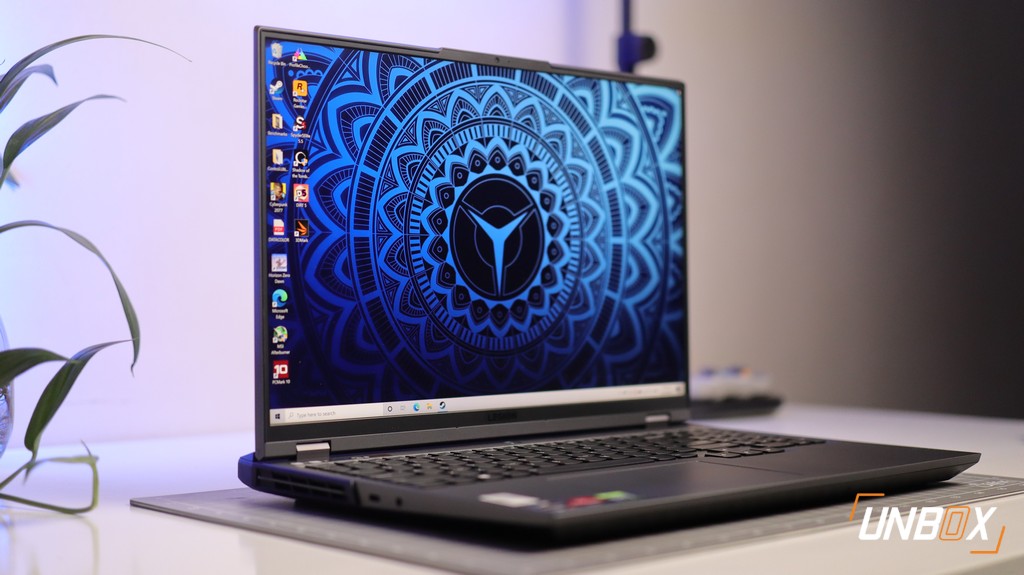 While we're primarily desktop PC lovers, the great GPU shortage has made it incredibly difficult for anyone to purchase NVIDIA's new RTX 3000 series GPUs at sane prices. At the rate things are going, buying a laptop with an RTX 3000 GPU seems to make the most sense nowadays, and Lenovo's Legion 5 Pro is probably the best deal you can get right now. A powerful CPU and GPU combo make it a versatile machine for both work and play, making it well worth the price of admission.
Design
The Legion 5 Pro is made for gaming, and its design makes that abundantly clear. The design is definitely tailored to the gaming crowd, thanks to the large exhaust vents on the back as well as the sharp angular lines, large Lenovo Legion logo at the back with RGB, as well as the laptop's overall size.
This isn't a laptop that you'd bring with you on the regular unless you like lugging around nearly 2.5 kilos of plastic, metal, and electronics every single day.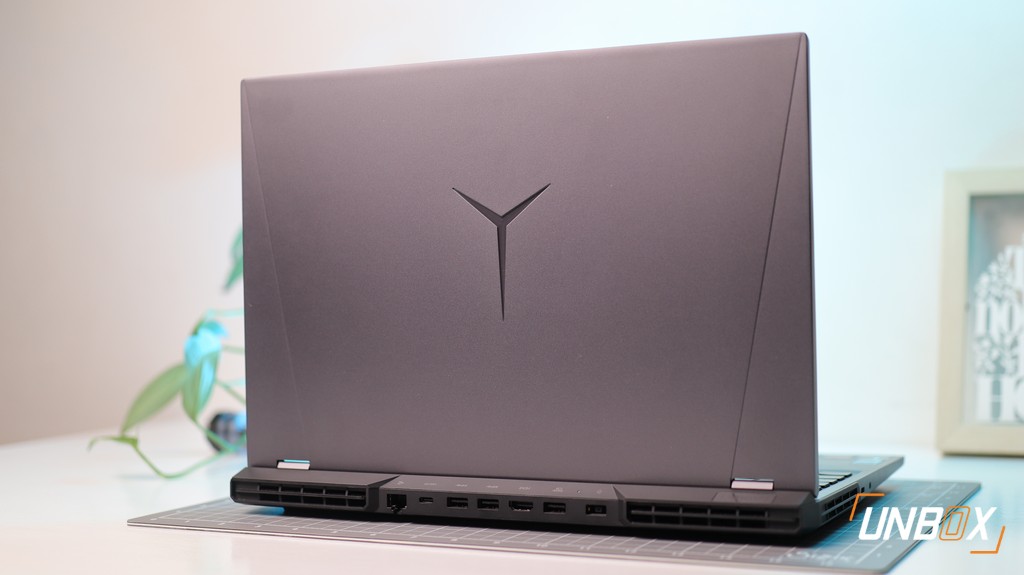 Because of the laptop's overall size, there's plenty of ports available in the body. Most of the connectors are at the rear of the laptop, including 3 X USB-A 3.2 ports, a full-sized HDMI 2.1 port, a single USB-C 3.2 port, an ethernet port, and the power connector.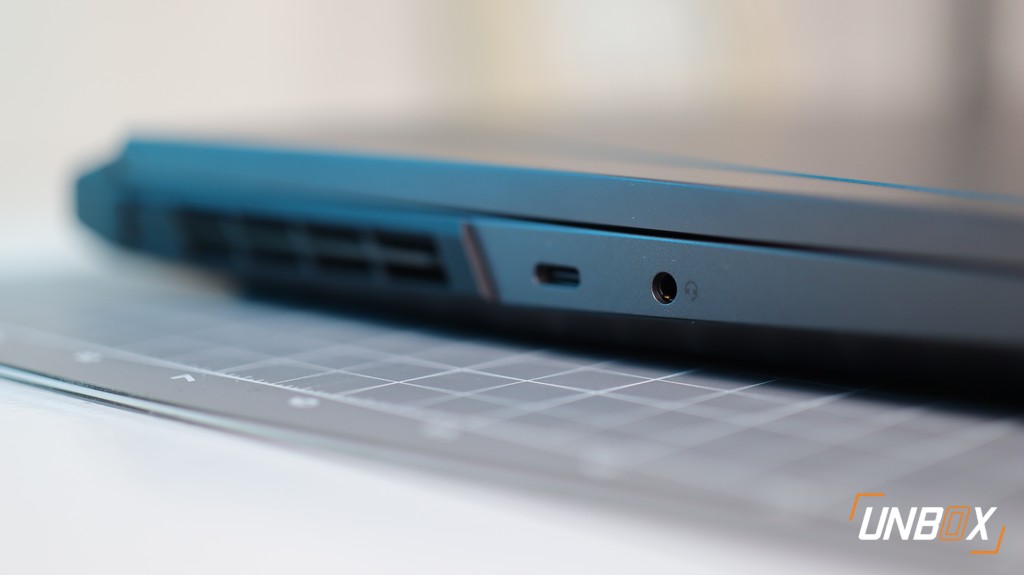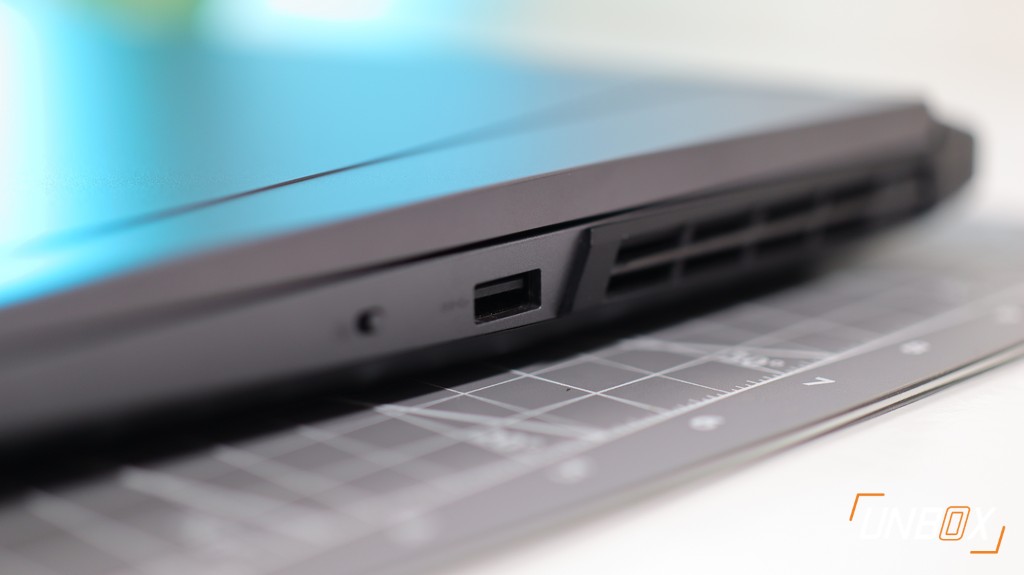 There's also an extra USB-A 3.2 port on the right as well as a USB Type-C 3.2 on the left as well, along with the 3.5mm jack.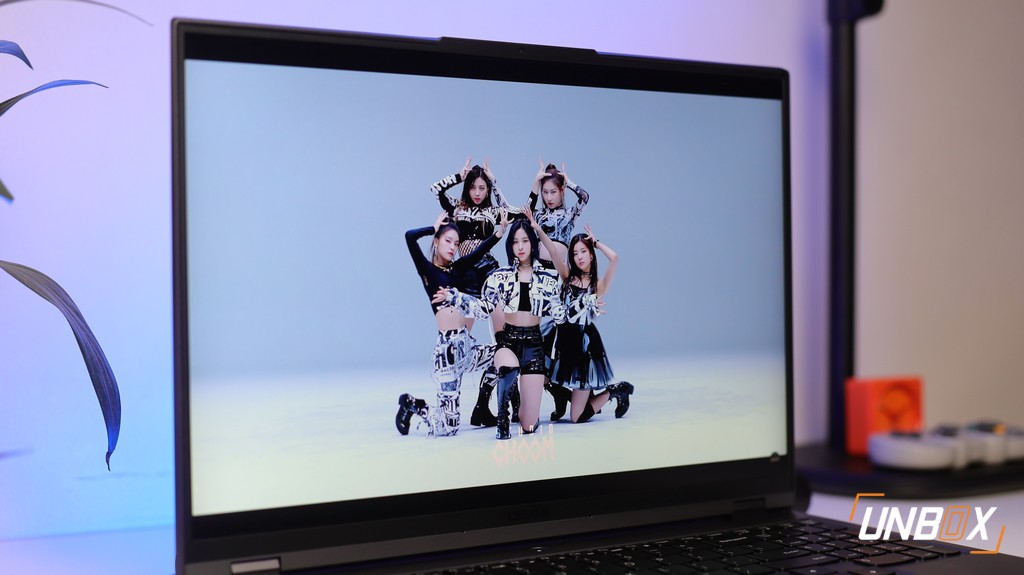 Display
One of the things that make the Legion 5 Pro unique is the fact that the laptop has a 16-inch, 2560 x 1600 resolution, 16:10 display with a 165Hz refresh rate. Lenovo claims that their Legion 5 Pro is the world's first 16-inch QHD gaming laptop.
The resolution is fairly odd, though the benefit here is that you get more screen real-estate for working on documents and spreadsheets.
The screen has 100% sRGB color coverage and comes with X-Rite Pantone certification, which gives it more utility as a device for serious creators and professionals.
The QHD panel and 165Hz refresh rate aren't wasted on the Legion 5 Pro thanks to the hardware that it comes with. We'll be talking about it more in detail in the performance section below, but it's safe to say that the Legion 5 Pro has enough grunt under the hood to take advantage of the fast display when you're gaming.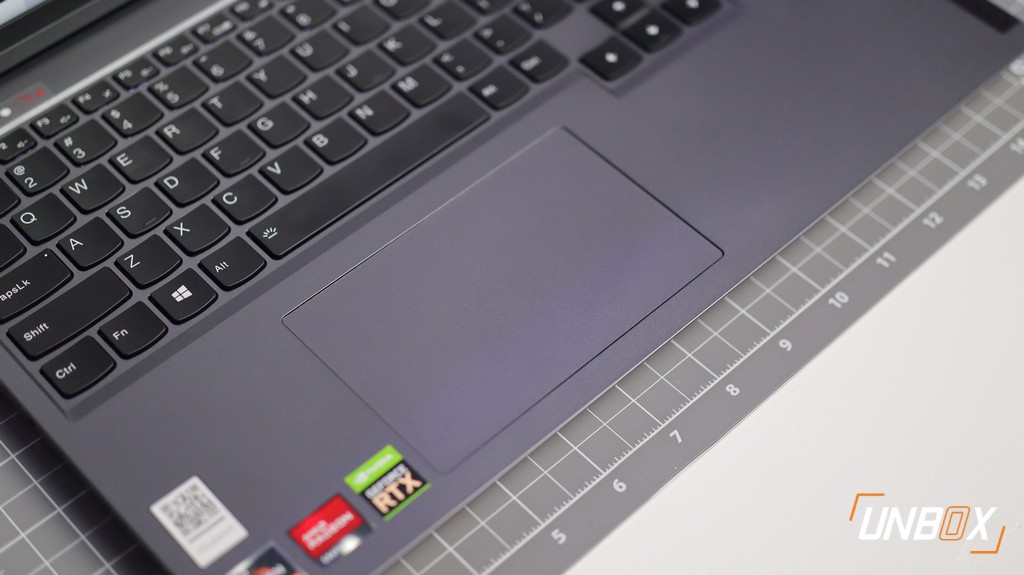 Keyboard and trackpad
Because of the size of the laptop, Lenovo is able to integrate a full QWERTY keyboard into the design complete with a number pad without smooshing the keys together.
That results in a keyboard that's a joy to type on, thanks to the generous spacing of the keys as well as the overall pleasant travel.
Just like most keyboards in gaming laptops, the one in the Legion 5 Pro is capable of 4-zone RGB, so you can customize it depending on what you want it to look like.
The trackpad is large and generous and works in a pinch if you're on the road and if you don't have space to use a mouse. Ultimately the trackpad isn't that vital since you'll mostly be playing with a mouse anyway.
Performance and battery life
Time to take a look at what the Legion 5 Pro is truly capable of. Before we dive into benchmarks, let's take a look at the hardware under the hood. The Lenovo Legion 5 Pro is powered by an AMD Ryzen 7 5800H processor and comes with NVIDIA's GeForce RTX 3070, as well as 1TB of NVMe SSD storage and 16GB of DDR4 3200MHz RAM.
Let's talk about the processor first since this is the first time we've encountered AMD's new, laptop-focused high-end chip. The Ryzen 7 5800H is an 8-core processor that's built on TSMC's 7nm manufacturing process and is meant for high-performance applications for laptops, which is primarily gaming.
The GPU is what gives the Legion 5 Pro its gaming cred. It comes packing an NVIDIA GeForce RTX 3070 under the hood, though take note you're not looking at the same kind of performance as the desktop version of the card.
What we mean by that is that the card doesn't draw the same amount of power as the desktop version, and as a result, you're looking at anywhere from 20% to 30% less FPS in comparison.
But that isn't really a surprise since GPUs stuffed into gaming laptops have always had that limitation, but despite that the RTX 3070 in the Legion 5 Pro still manages to pull in impressive numbers during our tests.
The RTX 3070 in the Legion 5 Pro draws 140W of power, which is pretty high for a laptop and is the main reason why the thing ships with a massive power brick.
Our benchmark results show that the Legion 5 Pro is the most powerful gaming laptop we've used so far this year, thanks to the combination of its GPU and CPU.
The laptop had few problems coasting past 60 FPS in the more moderate 1920 x 1200 resolution setting, though take note that it had its work cut out for it in Cyberpunk 2077, even with DLSS on. But considering how graphically demanding the game is (not to mention how unoptimized and buggy it is months after release) we're not really surprised.
Playing in 2560 x 1600 isn't really a problem with the laptop, and aside from Cyberpunk 2077, only two other games had problems going past 60 FPS. Dirt 5 is nominally more attuned to AMD GPUs since it is a title that that's more optimized for it, and Control was benchmarked without DLSS on.
Generally speaking, the laptop is a pretty potent machine and is perfect for anyone looking for a laptop that's capable of running higher than 100 FPS for games like Valorant, Counterstrike, and other competitive FPS games.
As for heat and thermals, the laptop peaked at 90 degrees Celcius for CPU temps according to software reporting and around 79 degrees Celcius for the GPU in a room with a climate-controlled, 25 degree Celcius ambient temperature. The sides of the chassis felt hot, but the heat didn't directly transfer to the keyboard which is good. One thing we didn't like was that the fans were a little noisy when the laptop was going full tilt
Battery life is pretty bad for the Legion 5 Pro, which is yet another reason why it should stay firmly planted on your desk. Our standard YouTube battery drain test pegs the battery at 2 hours and 33 minutes, which is abysmal. Then again, you'd be hard-pressed to find a gaming laptop that has great battery life, to begin with.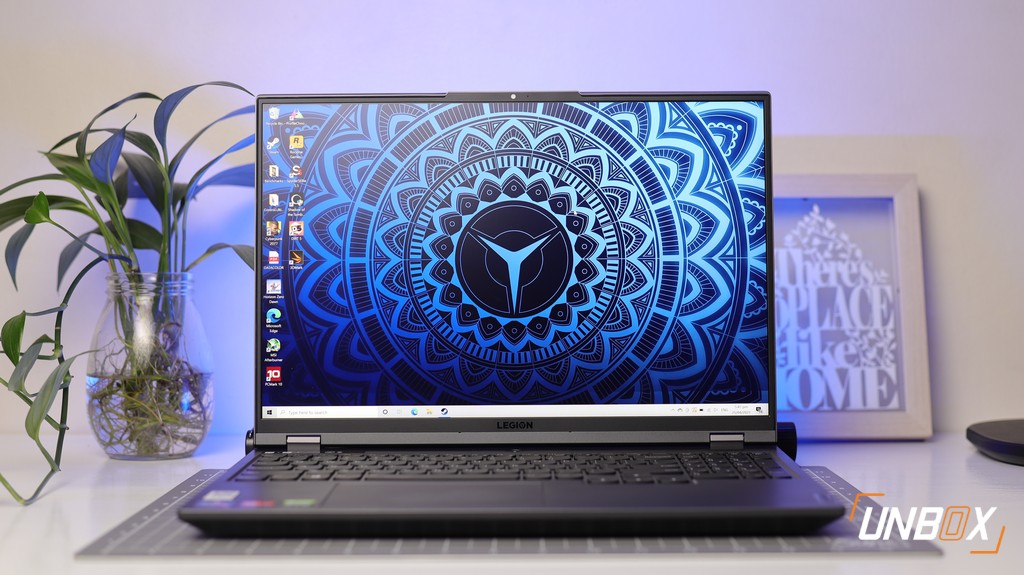 Wrap-up and conclusions
Our Lenovo Legion 5 Pro review shows that it's one of the most powerful gaming laptops we've reviewed so far in the Philippines and is wholly capable of playing AAA games in their highest settings past 60 FPS.
It also benefits from many of NVIDIA's technologies that are present in the desktop versions of their cards, including better ray-tracing performance and DLSS 2.0.
If you've been looking to jump in on NVIDIA's RTX 3000 series but found local pricing for cards prohibitively expensive, then buying the Legion 5 Pro might be the next best thing.
Lenovo Legion 5 Pro Review Philippines Price:
The Lenovo Legion 5 Pro is priced at Php 99,995 for the configuration that was tested in this review.
Comments (1)