ASUS ROG Flow Z13 (2023) Review Philippines verdict: the ROG Flow Z13 is another one of ASUS' extremely compact gaming machines for the Philippine market. The addition of a fairly powerful RTX 4060 GPU in the tab's slim body makes it one of the most powerful gaming-focused slabs you can get today.
Pros
Not much thicker than your typical Windows slate
Magnetic keyboard actually feels nice to use
Capable of playing AAA games
Great screen
Relaively compact
Cons
Expensive
Few ports
Middling battery life
ASUS is getting quite skilled at making small, powerful PCs. First, it was the ROG Ally, and now we have the 2023 refresh of the ROG Flow Z13. The ROG Flow Z13 has a LOT more power under the hood than what we expected, all in a package that's only a little bit thicker than a Surface slate. This tab can handle heavy rendering tasks and AAA gaming, making it a versatile machine for creators and gamers alike.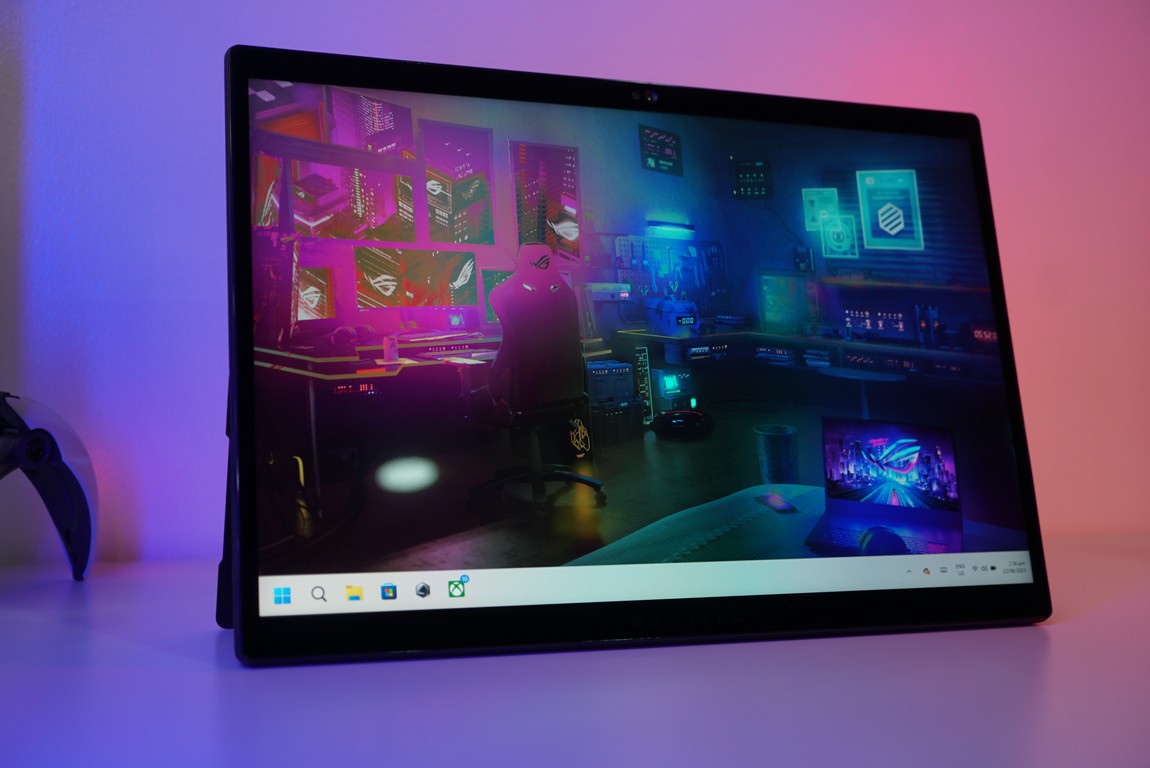 ROG Flow Z13 (2023) Review Philippines: Design
This isn't the first time we've seen ASUS attempt to make a gaming tablet that runs Windows, so it's not surprising that this year's ROG Flow Z13 takes the same design cues as the previous generation. You still get an integrated stand with the tab, a 13.4-inch display size, as well as an RGB-infused Window that has some cool (albeit fake) circuitry.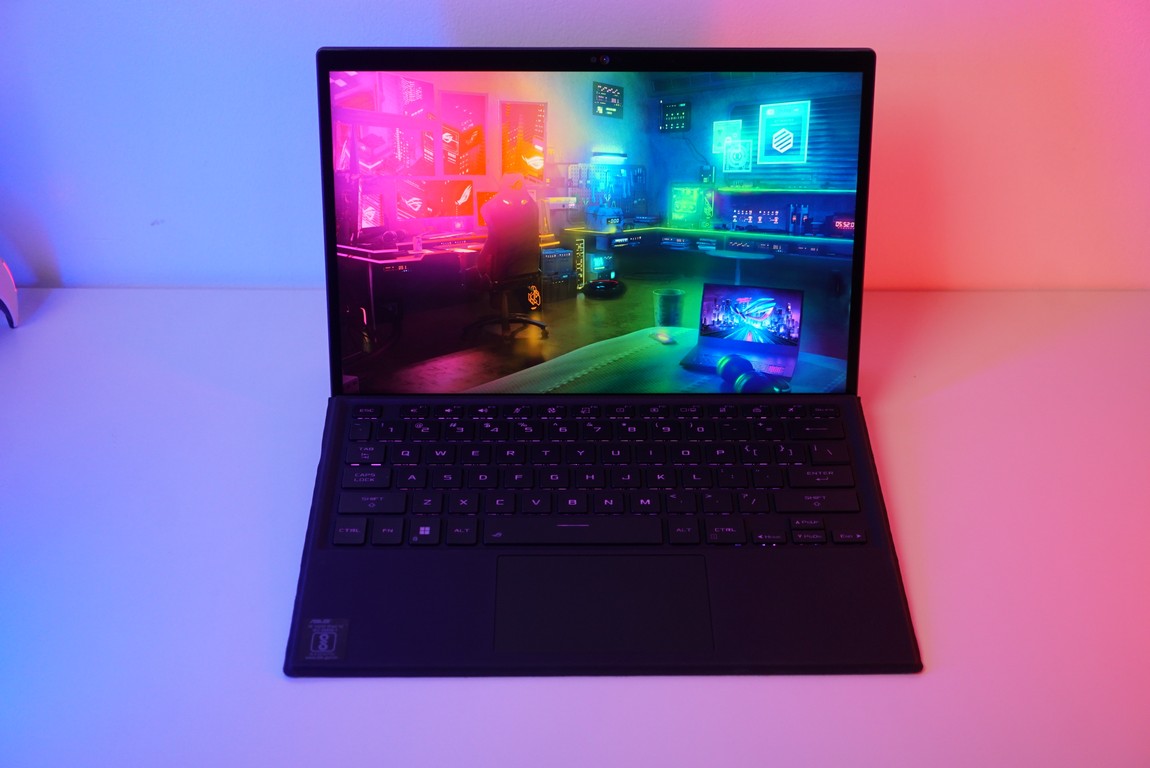 The tablet uses a magnetically attached folio keyboard for input, which has an Alcantara-like exterior.
The keyboard and kickstand at the back make the ROG Flow Z13 easy to use on a flat surface like a table, though you won't be putting this on your lap anytime soon as the entire thing flops around without a solid surface beneath it.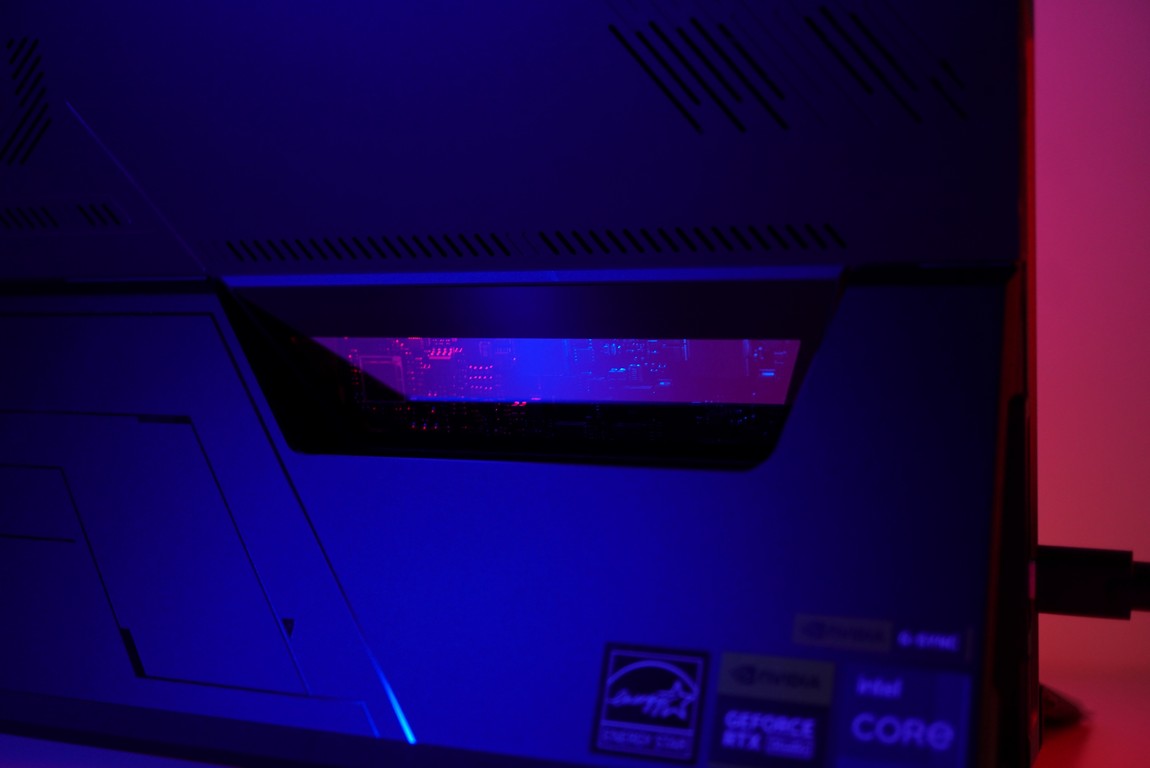 It's also quite heavy for a tablet – at around 1.2 kilos for the tab and around 300 grams for the keyboard, which may put off people looking for a slim and light device for everyday use.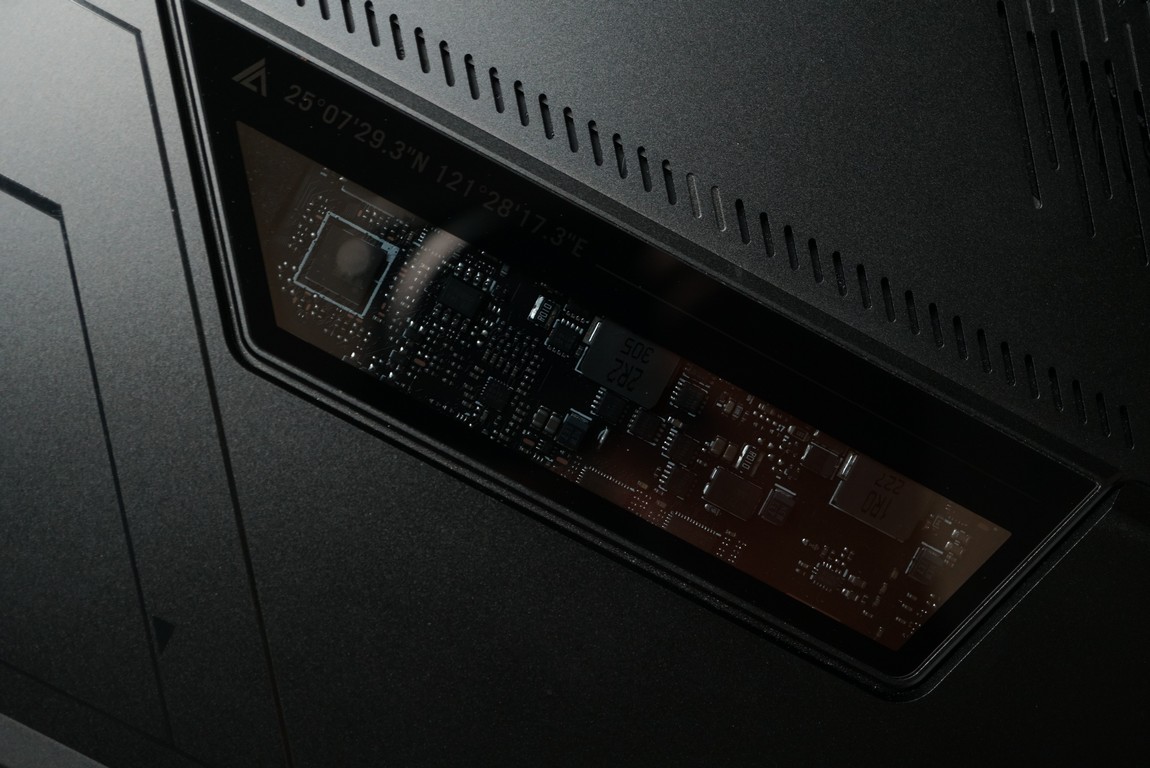 That being said, the overall weight and footprint of the ROG Flow Z13 aren't bad per se, it's on par with most compact 13-inch ultrabooks nowadays, and considering the hardware you're getting under the hood, the inconvenience of using a slightly heavier device is worth it.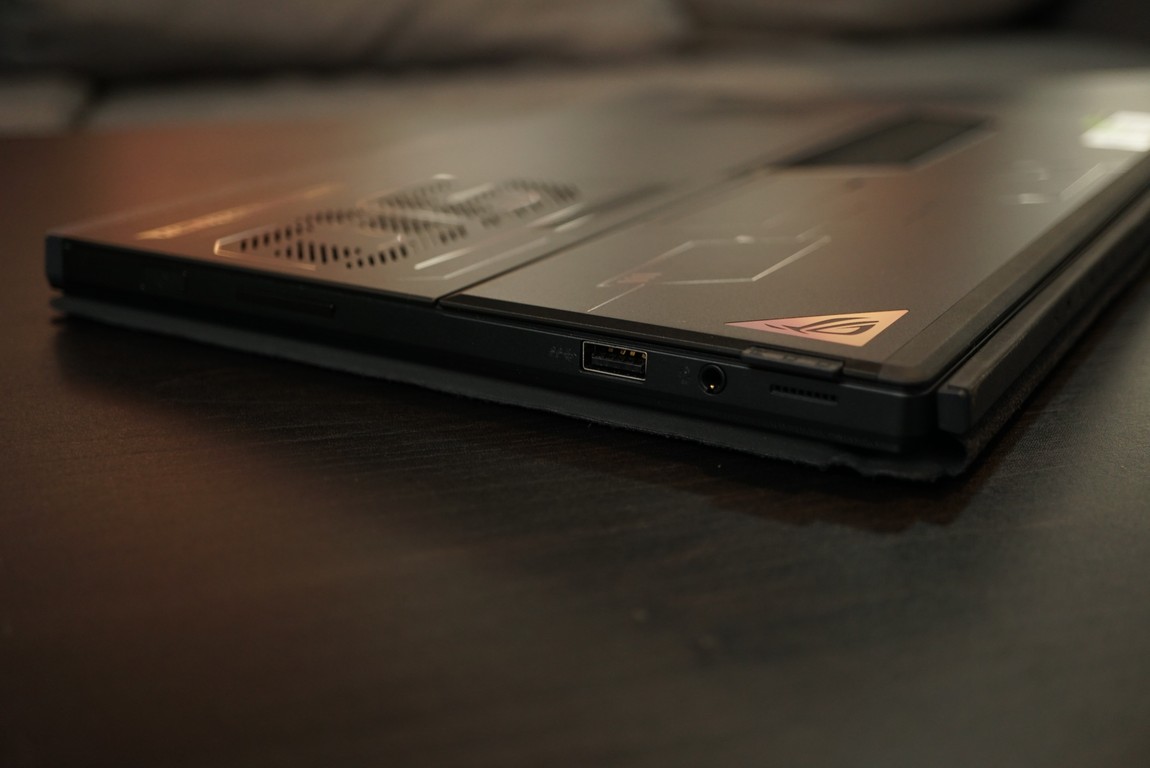 Because of its compact nature, you're not getting a lot of ports on the ROG Flow Z13 – you get two Thunderbolt ports, a single USB Type-A port, and ASUS' proprietary connector for their XG Mobile external GPU solution. There's also a plug for a 3.5mm jack, a volume rocker on the side, and a power button that has an integrated fingerprint scanner. There are two cameras on the slate too, like your typical tablet – a 5MP IR camera on the front, and a single 13MP camera on the rear.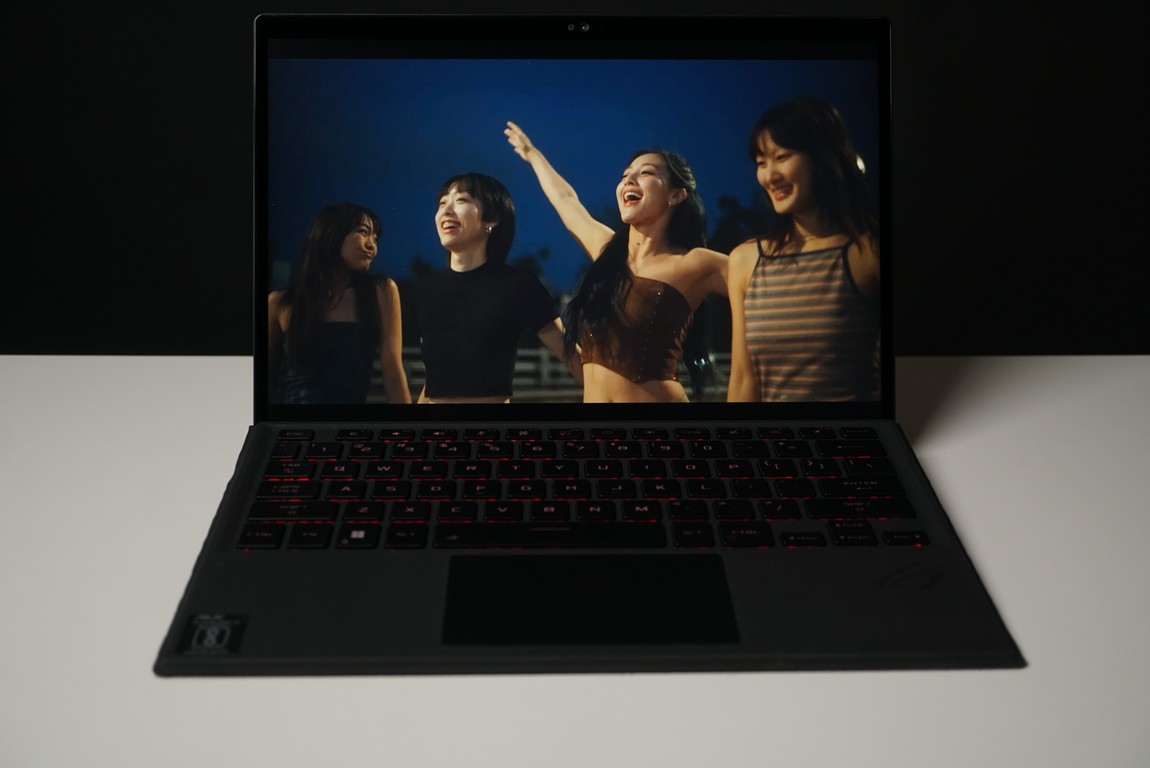 ROG Flow Z13 (2023) Review Philippines: Display
Like I mentioned earlier the ROG Flow Z13 (2023) has a 13.4-inch display with a 16:10 format, utilizing a QHD+ resolution IPS panel that has a 165Hz refresh rate.
ASUS made sure that the display on the ROG Flow Z13 functioned well and looked good, so they threw in Pantone validation into the mix, as well as GSync support, 100% coverage of DCI-P3 as well as a 500 nit peak brightness.
ASUS also put in a layer of Gorilla Glass over the panel, though my only complaint there is that the glass protection gives the tablet a layer of gloss that invites quite a bit of glare when you're outside.
The display looks fantastic, and thanks to the powerful innards that 165Hz refresh rate isn't wasted on this tab.
The 16:10 aspect ratio might be an issue for some though, as you'll be left with black bars on the top and bottom when you're consuming content from YouTube or Netflix. The upside here is that it also gives you more room to work when you're typing or editing, and shows more of the websites you're visiting.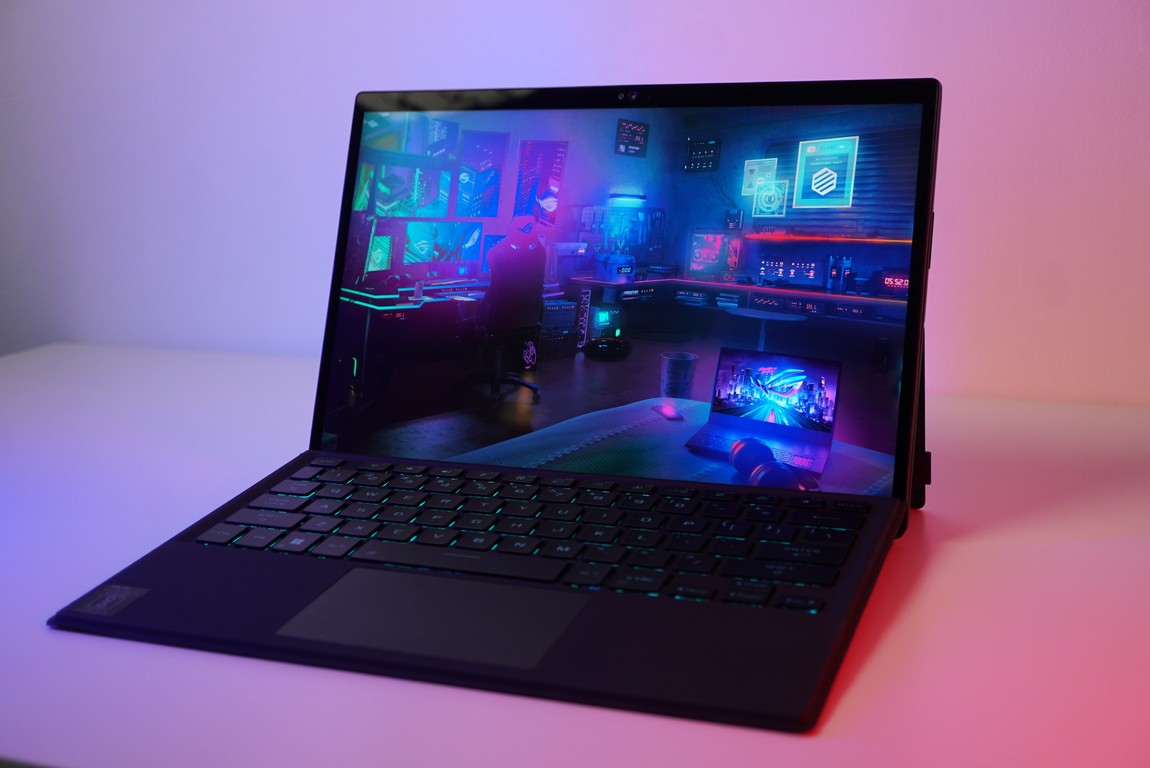 ROG Flow Z13 (2023) Review Philippines: Keyboard and sound
The ROG Flow Z13 comes with a folio keyboard that attaches to the bottom via a bunch of magnets. And I have to say, it's the first folio keyboard that I've tried that doesn't feel like complete garbo. Sure, the keys are a little on the small side and the arrow keys are a pain to hit, but as far as key travel goes, it's surprisingly good. The stroke is about 1.7mm, and while the keys aren't mechanical, they feel nice enough to write on during extended periods.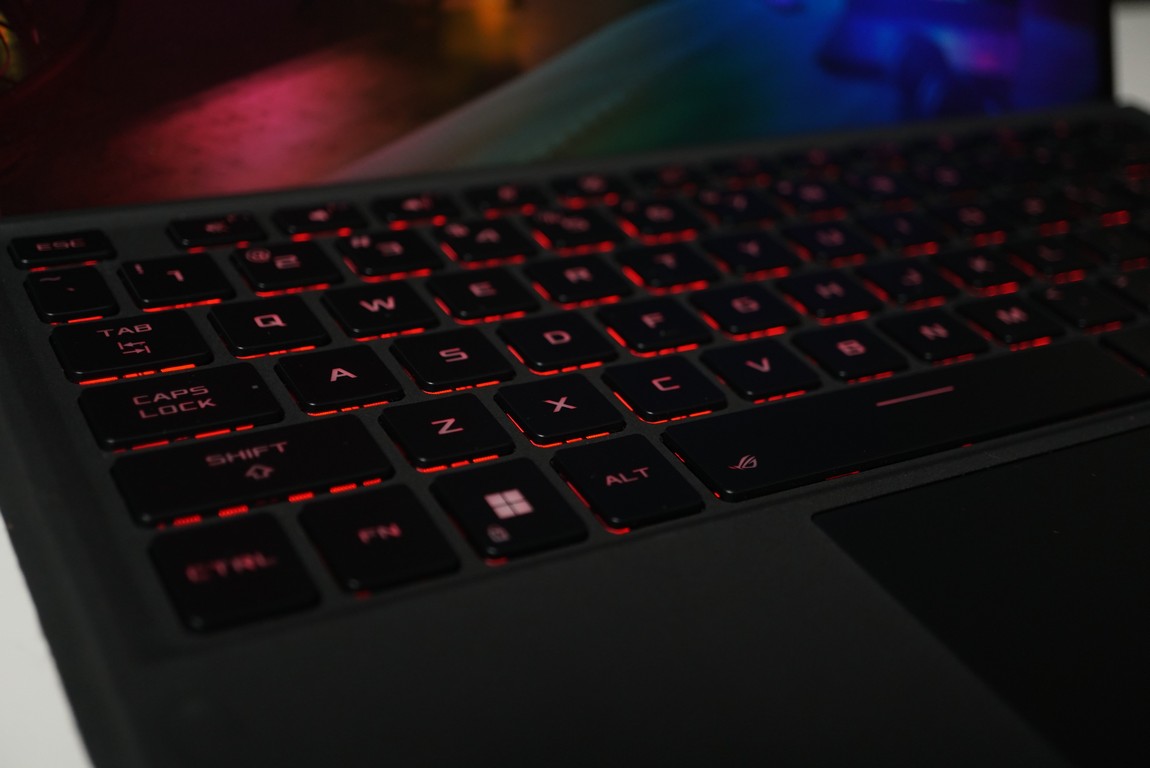 The keyboard also gets per-key RGB lighting that can be customized via Armory Crate if that's your thing. The LEDs behind the keys are bright and evenly light up the keys.
There's also a small trackpad right where you expect it to be. It's functional and easy to use, though it'd be best to pair the ROG Flow Z13 with a dedicated gaming mouse if you're serious about gaming. The trackpad works in a pinch though if you're just using it to type and browse.
Audio is quite good, with a good soundstage and volume despite the cramped space that ASUS stuffed the speakers into. It's good enough to listen to if you're in a relatively quiet room, but it'll get drowned out in the din of a busy coffee shop like Starbucks.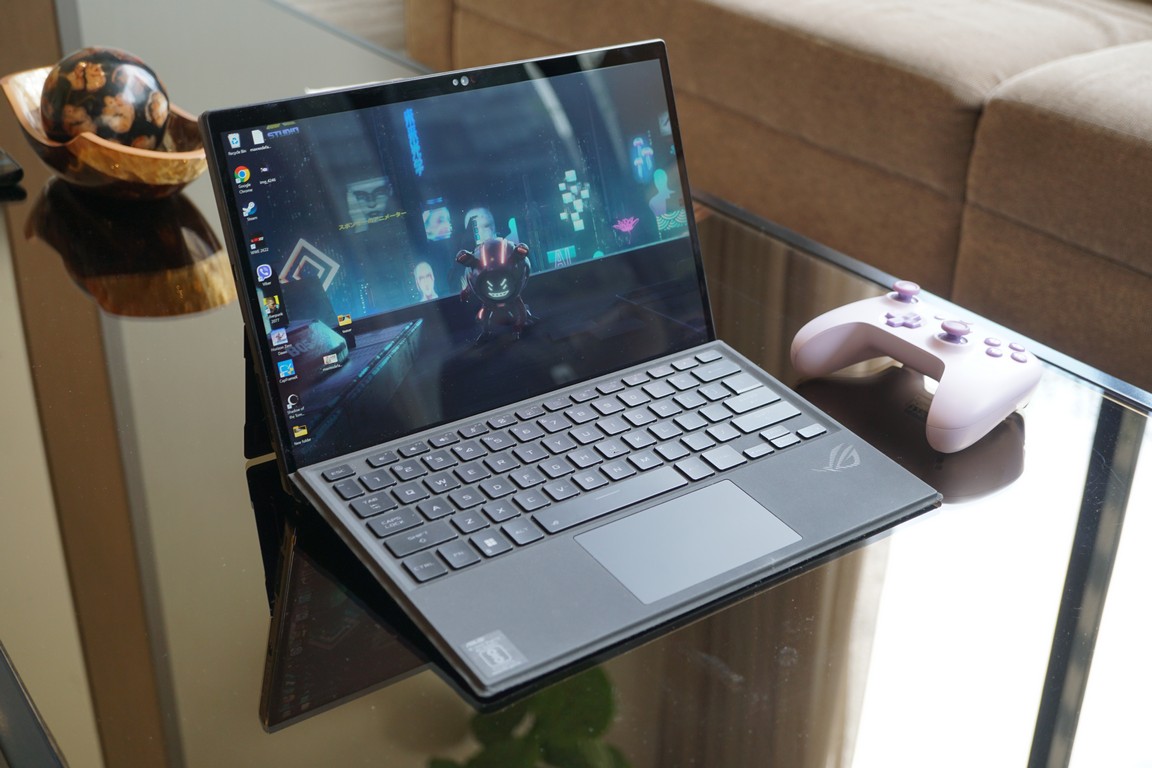 ROG Flow Z13 (2023) Review Philippines: Performance and battery life
The ROG Flow Z13 comes armed with impressive hardware, namely a 13th Gen Intel Core i9-13900H processor, 16GB of LPDDR5 RAM, and a 1TB PCIe 4.0 M.2 SSD. There's also an NVIDIA RTX GeForce 4060 laptop GPU in the mix, which allows the tablet to play AAA games on its native resolution above 60 FPS (more on this later).
One of our biggest complaints about the original ROG Flow Z13 is that the RTX 3050 that was on it was just too weak to deliver a compelling gaming experience. That's not the case with the RTX 4060. And while it's not a full-fledged desktop-class 4060, it has enough power under the hood to run demanding, AAA games, albeit with a few caveats.
At 1080P resolution, you'll be able to get away with above 60FPS frame rates without the help of upscaling tech like DLSS or FSR on ultra settings, though that's without Ray Tracing enabled.
For native 1440P though you will have to turn on either DLSS or FSR depending on what the game supports as the RTX 4060 laptop GPU won't be able to keep up without upscaling help. That being said, a tablet being able to run AAA games on ultra settings in 1440p resolution is impressive, even if it requires tech like NVIDIA's DLSS or FSR to achieve it.
If you want to take things further the ROG Flow Z13 has the same proprietary external GPU connector as the ROG Ally, which means you can attach ASUS' external GPU solution to boost frames even further. The cost of going this route is high though, and essentially you'll end up paying roughly the same amount as the ROG Flow Z13 just to get better graphics.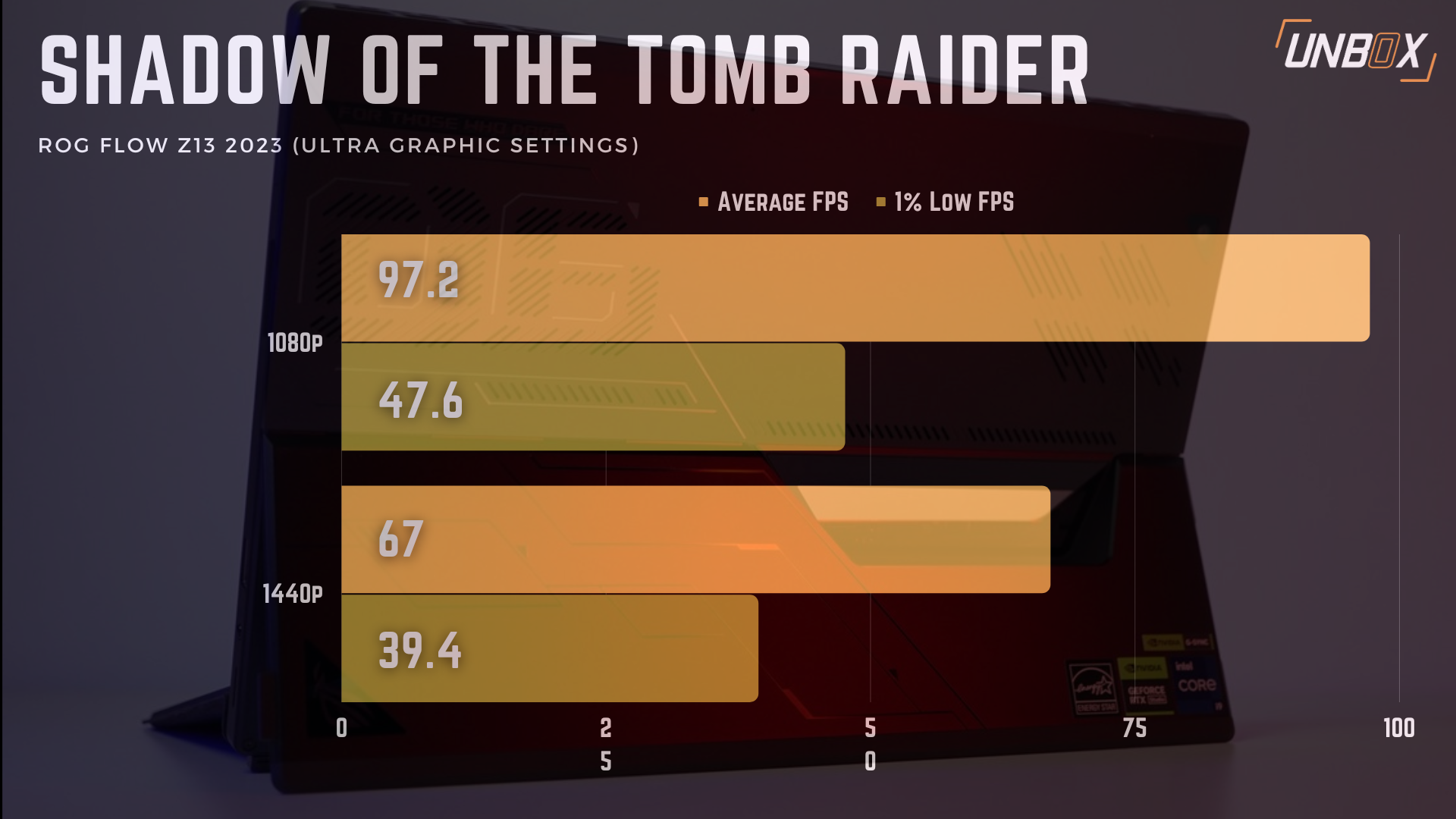 That's not something we recommend, simply because the ROG Flow Z13 has enough graphical grunt under the hood to work well with most games being released this year and shortly at 1440P. That doesn't apply to the optimized Starfield of course, which continues to crap on even high-end, desktop cards even with the help of upscaling tech.
That ability to run games without any external help, at graphical settings cranked up to ultra makes the ROG Flow Z13 the perfect mobile gaming companion. I've been using it more than my actual gaming PC around the house because of how convenient it is to set up anywhere. I just plug in my controller and go.
Heat is blasted out of the top vents on the ROG Flow Z13, and in turbo mode, they weren't disruptive as far as noise goes. You're only going to get maximum performance out of gaming if you're plugged in though, as there's simply not enough juice in the tablet's battery to sustain the RTX 4060. There are customization options for what kind of performance profile you want to apply to the tablet which controls fan speed, power delivered to the CPU and GPU, and more. Mean temperatures usually hit around 70-80 Celcius for the CPU and around 70 degrees for the GPU, which is surprising considering how cramped the internals of the laptop are.
Speaking of battery the ROG Flow Z13 has a 4-cell, Li-ion power pack that has a capacity of 56WHrs on a single charge. As a productivity laptop, the ROG Flow Z13 can last around 5 to 6 hours on a single charge, which isn't fantastic but isn't too bad either.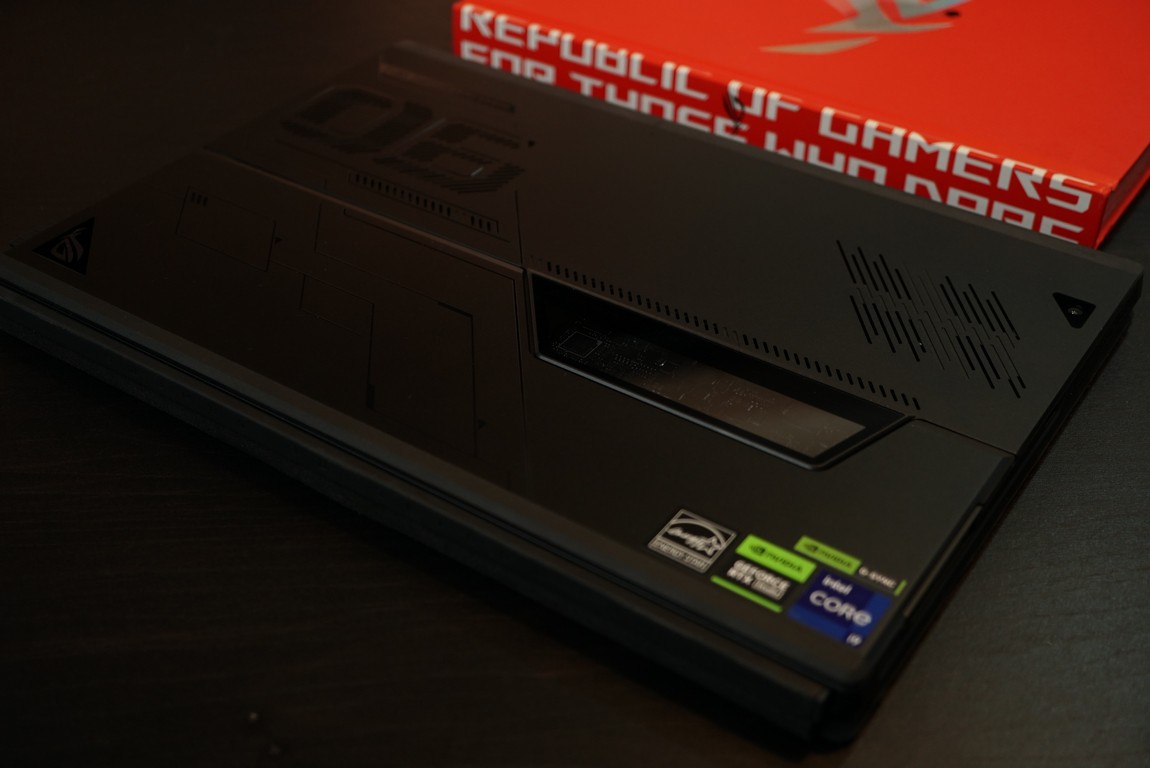 ROG Flow Z13 (2023) Review Philippines: verdict and wrap-up
ASUS had a great idea with the original ROG Flow when it was released last time, but unfortunately, technical hurdles limited the potential of the gaming tablet. That's no longer the case with the ROG Flow Z13 (2023), as advancements in GPU tech have turned the idea of a powerful, thin, and light tablet into reality.
It's not often that you'll be able to play AAA games with graphical settings set to ultra in a random Starbucks, but that's the flexibility and the freedom that the ROG Flow Z13 (2023) gives you.
The only issue is the price – at Php 140,000, the ROG Flow Z13 (2023) is expensive, far more expensive than your typical high-end gaming laptop. But then again those things are usually not as powerful, or as compact as ASUS' latest gaming tab.
ASUS ROG Flow Z13 (2023) Price Philippines
The 2023 version of the ASUS ROG Flow Z13 (GZ301VV-MU008WS) is priced at Php 140,000. You can buy it in Lazada or stores where ASUS products are sold.