We review this monster of a card
2019 is definitely AMD's year, as the company slowly closes the gap against its competitors in the enthusiast PC marketplace. This year saw the release of new Ryzen CPUs, as well as brand new video cards using their NAVI architecture. Built on their 7nm fab process, packing 8GB of GDDR6 graphics memory, the RX 5700XT has more than enough computing power to take on NVIDIA's mid-range lineup, Super suffix be damned.
Pros:
Runs cooler than the reference model by a fair bit
Lots of RGB customization
Excellent performance VS the RTX 2070
Cons:
Custom NAVI for better performance
When we last AMD's cards, we were at the mercy of reference performance. The first wave of the new graphics cards from the red team didn't have custom innards, but as is normal with new GPUs, companies like ASUS have come out with custom cooled designs for more overclocking headroom.
AMD's Radeon RX 5700 XT was originally supposed to up against NVIDIA's RTX 2070, but the green team has since fought back with a better performing RTX 2070 Super to combat this,  while slashing the price of the original RTX 2070, confirming once again that competition is good for the consumer.
The Radeon RX 5700 XT that forms the foundation of ASUS' card is the more performance-focused of the two new cards from AMD, equipped with their new 7nm Navi 10 architecture.
A reference RX 5700 XT has a core clock of 1605 MHz and a boost clock of 1755 MHz. Since ASUS' new card has OC in the name, it's only natural that it's slightly overclocked from the box, with a higher core clock of 1770 MHz and a higher boost clock of 1905 MHz. Just like the RX 5700, the RX 5700 XThas PCI-E 4.0 support, future-proofing it for later builds, as well as 8GB of new GDDR6 memory.
The difference between the reference RX 5700 XT and ASUS' offering is pretty stark when you put the two cards together. The ASUS ROG Strix Radeon RX 5700 XT OC is noticeably larger and uses three fans instead of the single blower that's on the reference model.
Thanks to all the custom cooling that ASUS put into this card, the ASUS ROG Strix Radeon RX 5700 XT OC is a big boy, taking up three PCI-E slots in your system when installed.
The ASUS ROG Strix Radeon RX 5700 XT OC also uses a custom-designed PCB designed by ASUS that utilizes a 14-phase VRM. This means that the card requires an 8-pin PCIe power connectors instead of the 6 on the reference model.
RGB and a host of other extras
Alongside a custom PCB comes a host of other goodies, like customizable RGB lights thanks to ASUS' Aura SYNC technology. ASUS also throws in 4-pin PWM fan headers so you can easily sync your case fans to the one on the GPU, along with other RGB goodies you might have. The maximum power draw is 375 watts.
You have a choice of three standard DisplayPort 1.4a ports and a single HDMI 2.0b for connecting the monitor of your choice to the card.
There's a manual switch to turn the LEDs on and off, as well as a switch for the dual-BIOS to take it from performance mode to quiet.
As for the fan design itself, the card uses a triple fan configuration with a large aluminum heatsink and six heat pipes on the cooler. This pays dividends in thermal performance, especially when compared to the reference card, as you'll see later.
The big thing you're missing from the AMD's new cards is real-time ray tracing, though at this point in time that's not really a big deal as many new games are shipping without the tech.
Neck and neck performance compared to the RTX 2070
AMD's Radeon RX 5700 XT was their first performance-focused GPU in a LONG time, ending the de facto domination of NVIDIA in the 400$ and up price segment. NVIDIA was so worried in fact, that they released updated "Super" versions of their RTX 2060, RTX 2070 and RTX 2080 to further differentiate their offerings from the red team's new GPUs.
While we don't have access to those new refreshed cards, we do have access to the original foes of the RX 5700 XT: NVIDIA's RTX 2060 FE and RTX 2070 FE, along with a reference RX 5700 XT to measure the ROG Strix Radeon RX 5700XT OC off of.
Our test bench is composed of a 9th Gen Intel Core i5 9400F processor paired with an ASUS ROG Maximus X Formula motherboard, 32GB of 3200 MHz DDR4 Vulcan Z memory, 500GB WD Digital Black NvME SSD storage, and a 256GB T-Force Delta Max RGB secondary SSD. Take note that all games were benchmarked with their ultra presets (highest possible graphical settings) and on full HD resolution:
With that out of the way, let's take a look at real-world performance. First off, Rockstar's Western epic, Red Dead Redemption 2, which was just released for the PC. While initial teething problems made it unavailable to use early on, Rockstar's updates made it stable enough to use in our benchmarking process. We were still hitting stutters in the built-in benchmark that forced us to use one of the missions in Saint-Denis as the basis of the run. Thankfully the trolley mission is very repeatable, has very little variation in terms of where you can go and goes through a varied section of the environment which is representative of what players experience in the game.
Rockstar's new epic works out pretty well for the ROG Strix Radeon RX 5700XT OC, as it has a substantial lead over NVIDIA's RTX 2070 FE in both max FPS and average FPS. The Strix RX 5700 XT OC's factory OC also shows in this particular test, as it has a slight lead over the reference card.
The newly released The Outer Worlds is next. Since the game doesn't have an in-game benchmark, we ran a set route from your ship at the beginning of the game to the ruins set on the outskirts of the city.
Here the Strix RX 5700 XT OC cedes the lead to the RTX 2070, but not by much, though the RTX 2070 does have higher maximum FPS compared to ASUS' card.
Shadow of the Tomb Raider has long been established as a benchmark standard for many outfits, and here we see the Strix RX 5700 XT OC beating the RTX 2070 handily in all metrics.
Warhammer Total War II is also a long-time benchmark standard, and here both the Strix RX 5700 XT OC and NVIDIA's RTX 2070 FE are neck to neck, with NVIDIA's card ahead in average FPS by 1 frame.
Our final game is Far Cry 5, an older game for sure but is still pretty demanding as far as resources go. Here, we see the RTX 2070 lag a bit in average FPS, but the is capable of drawing more max frames compared to it.
Thanks to the new cooling solution and triple fans, the Strix RX 5700 XT OC is capable of staying cooler compared to the reference card which uses a simple blower-type setup.
The card managed to stay relatively cool at just 73 degrees in full load, which is quite a stark difference compared to the reference design, which reached a max of 93 degrees.
A cooler running card means better longevity and reliability, and more thermal headroom in case you want to overclock it in the future. ASUS provides software overclocking tools for you to do just that as well.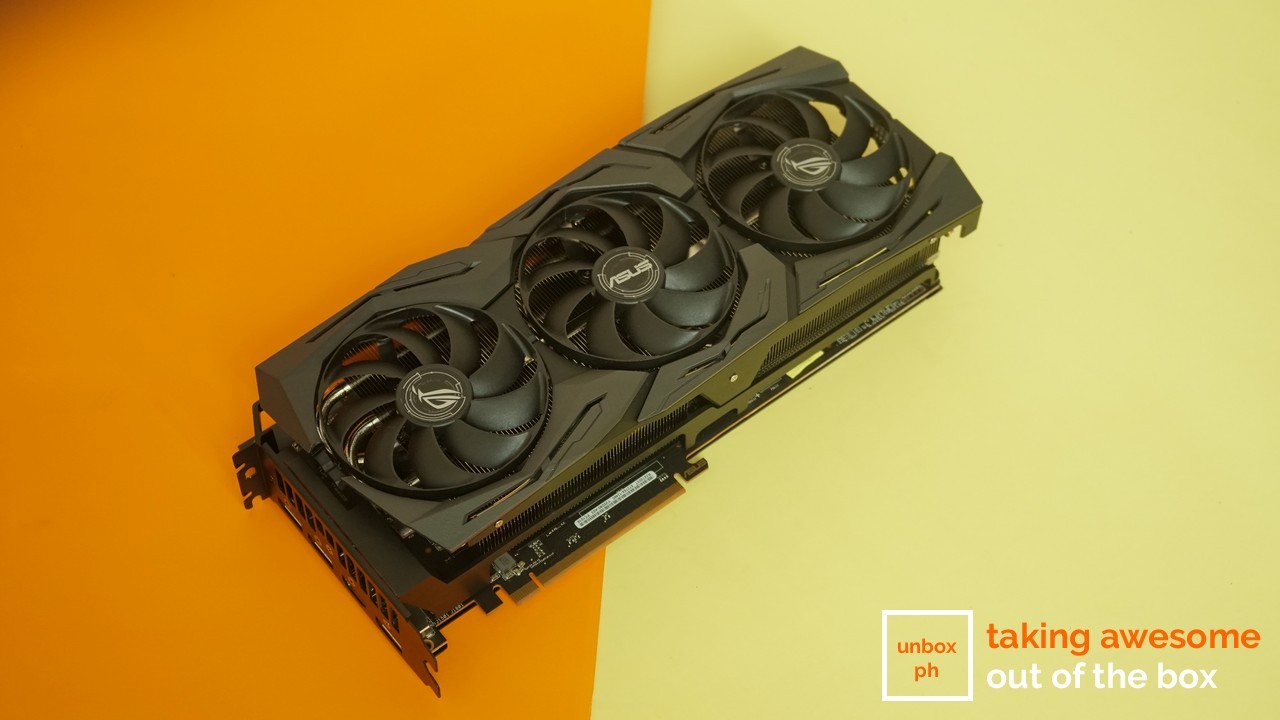 Verdict: A great buy for people looking to jump to the red team
AMD's new RX 5700 XT cards are truly competitive with NVIDIA's offerings – one only has to see the company's mid-year Super refresh to see that. But if you're looking to buy this particular version of AMD's card, you'll be paying quite a bit for it – it has a MSRP of Php 30,890, higher than RTX 2070 models and almost the same price as RTX 2070 Super cards in the local market.
But then again the top-tier components, factory OC plus the fact it runs quite cool make it a great base for anyone looking to upgrade to a new setup this year.