Xiaomi Mix Fold 3 Review verdict: The Xiaomi Mix Fold 3 is a massive leap forward for the brand, hitting almost all of the features we wanted to see, save one – availability in the Philippines.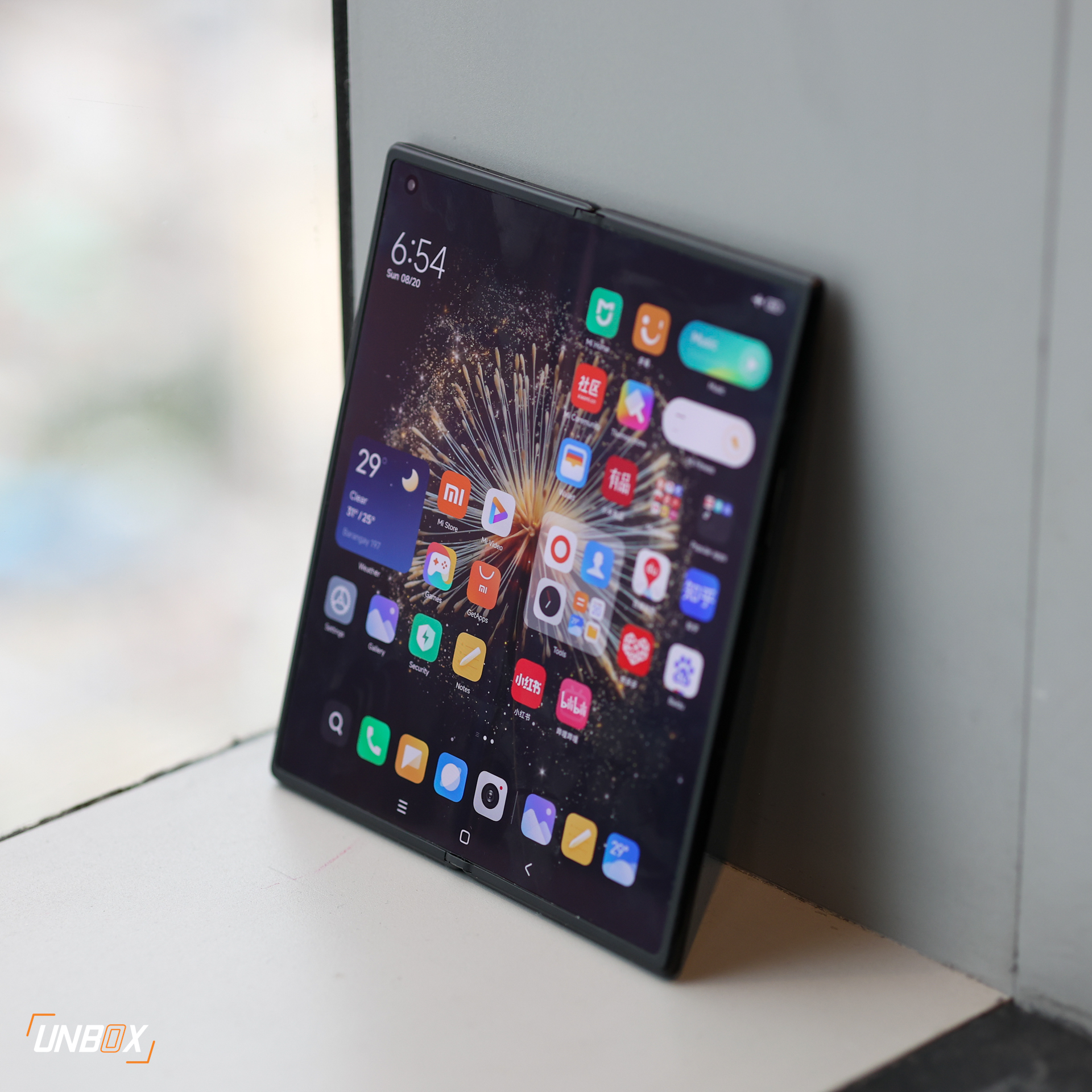 Pros
Slim for a foldable
Elegant design
Great displays
Wireless Charging
Fantastic battery
Cons
Still no global release planned
No IP protection
Lots of pre-installed apps
Expensive
There are times when we get a phone to play with that we wish we could keep instead of sending it back to the next person in line, and the Xiaomi Mix Fold 3 is one of them. It's obvious from our time with the phone that the brand has been making a lot of improvements in their foldable line three generations in, though most people wouldn't know it since the company still hasn't offered any of Mix Folds up for global release.
This is a shame, since the Mix Fold 3 is up there with the best of them as far as foldable go, and we're sure a lot of people are just itching to get their hands on this phone in the Philippines if Xiaomi ever gets around to it.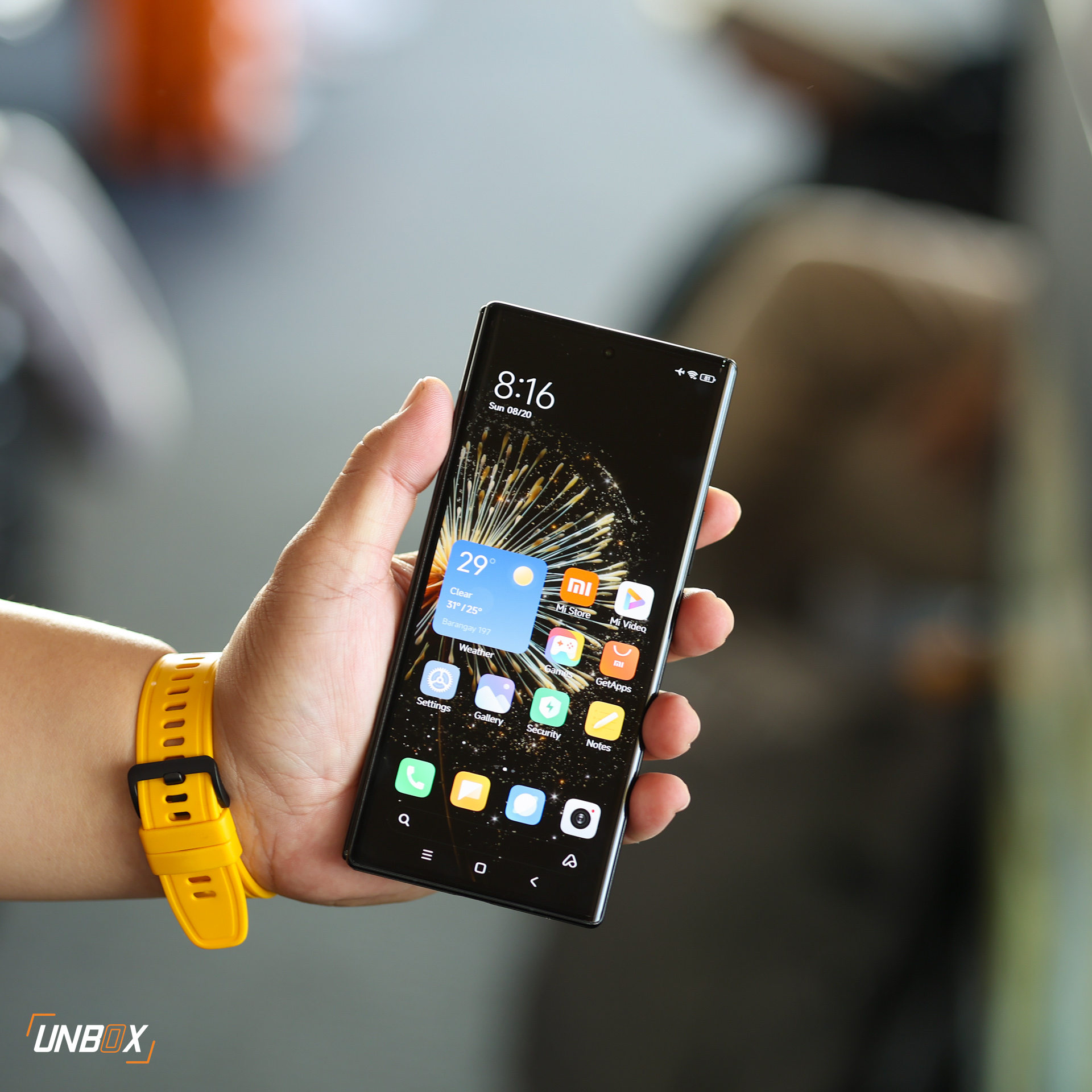 Xiaomi Mix Fold 3 Review Philippines: Design
Most of the book-type foldables we've seen so far this year have offered a regular smartphone-sized cover display and the Xiaomi Mix Fold 3 is no exception to that rule. Paired with a very slim design (the phone is just 10.9mm), it means that you can easily use Mix Fold 3 as a regular smartphone.
That's how I used the phone for most of the time it was with me. It wasn't at all bulky, and while it's a smidge thicker than your typical smartphone, it's not chunky enough to prevent you from doing all the things you do with a regular phone.
Controls are well laid out with the volume rocker and power button on the right. The latter also functions as a fingerprint scanner.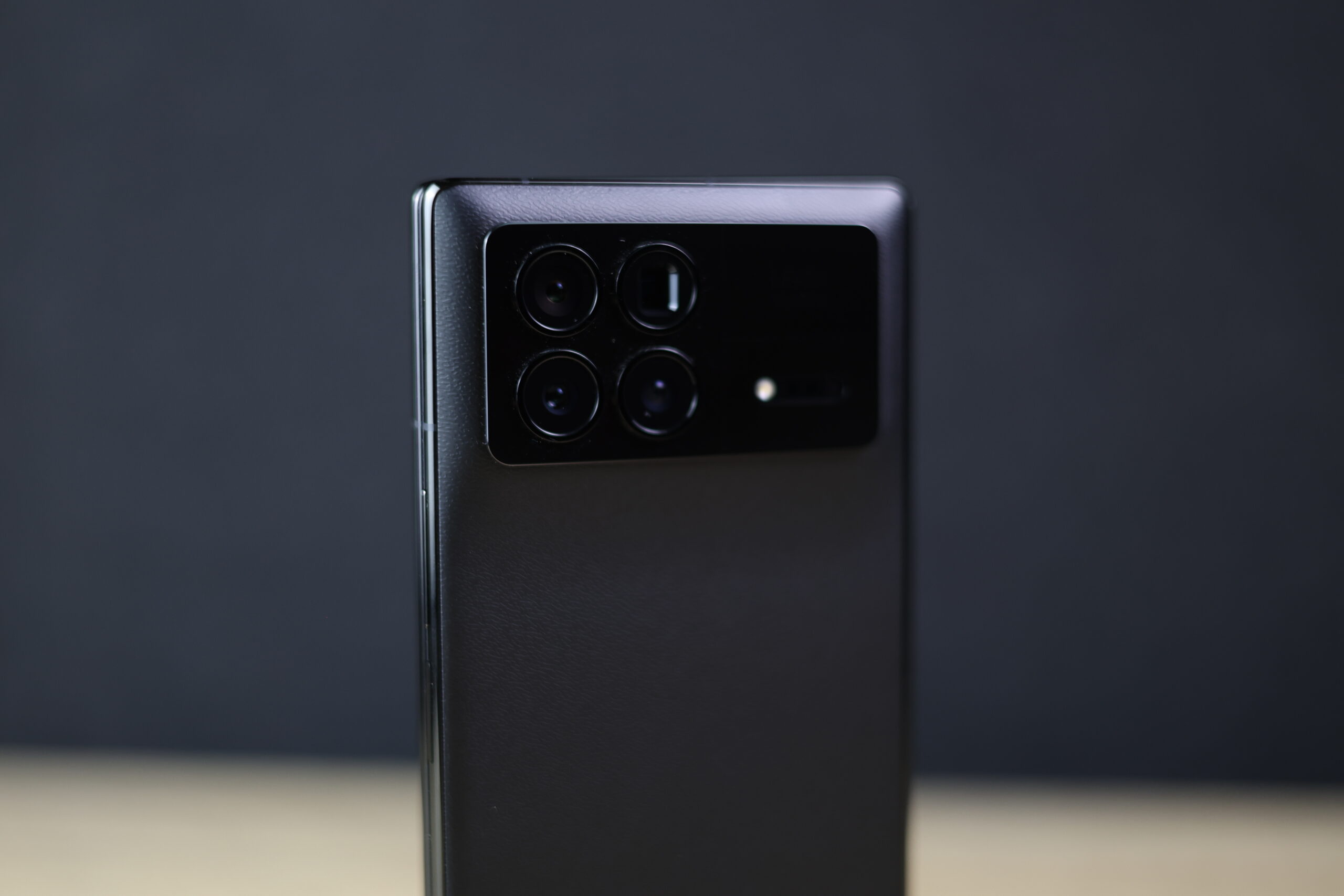 The back of the phone holds a camera bump and a Leica-branded module that holds 4 sensors in it. I'm pleasantly surprised at how small the bump is relative to the capabilities of the zoom camera – usually, you'll get substantial protrusion from the rear to accommodate the periscope mechanism, but not here.
The back of the phone surprisingly is made out of glass, though it's been treated with a unique matte texture that makes it look like leather but is not. It's a unique take as far as phone design goes and I love it.
The Xiaomi Mix Fold 3 feels effortless to open up, thanks to the flat aluminum frame. Xiaomi also designed the hinge of the Mix Fold 3 so that it remains rock solid in angles between 45 and 135 degrees, allowing you to use the phone on a flat surface at an angle, useful when you're watching videos.
The hinge feels very sturdy too, and Xiaomi claims that it has a TÜV certification for 500,000 folds – way more than it'll see in its lifetime.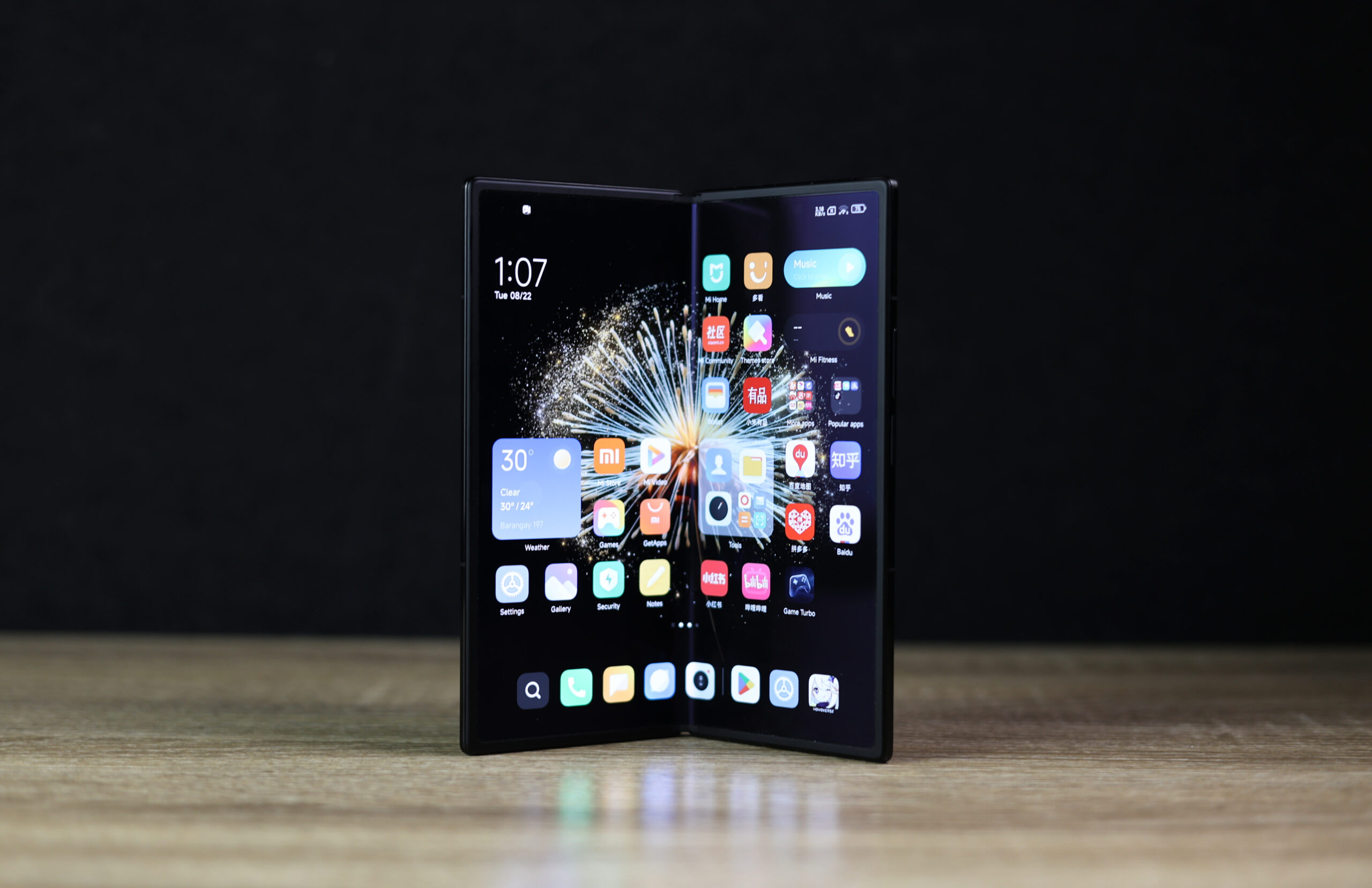 The only thing I'd love to see on the Mix Fold 3 and future foldable from the company is IP resistance. If Samsung can make their Galaxy Z Fold5 IPX8 resistant, why can't Xiaomi?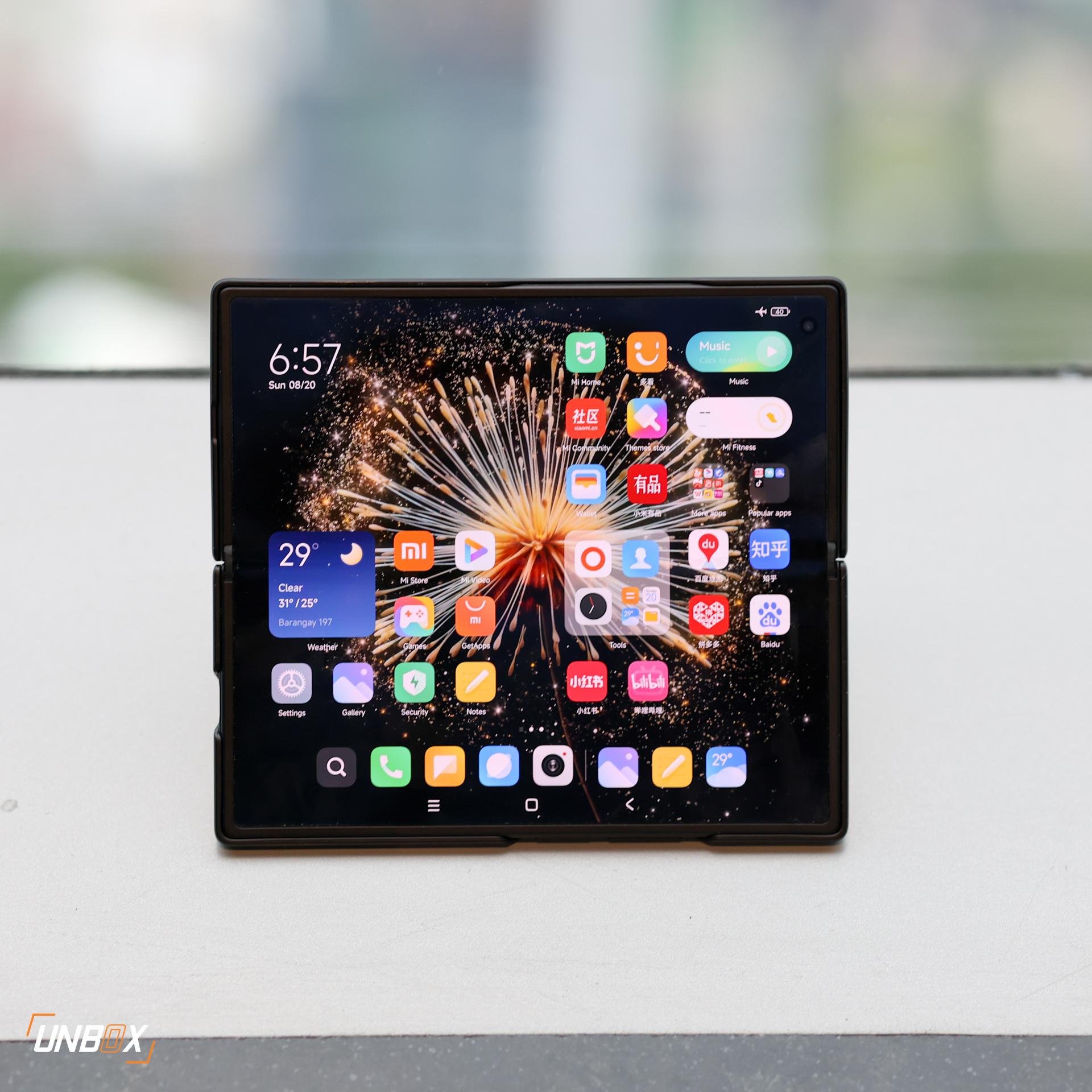 Xiaomi Mix Fold 3 Review Philippines: Display
As we mentioned earlier, the Mix Fold 3 has a regular, smartphone-sized cover display that measures 6.56 inches. Naturally, it's an AMOLED panel, and since this is Xiaomi's flagship foldable it's going to have all the specs you expect from a device of its caliber: 1080 x 2520 resolution, 21:9 aspect ratio, 120Hz refresh rate, Dolby Vision as well as Corning Gorilla Glass Victus 2 protection. There's a small halo cutout for a 20-megapixel selfie camera as well.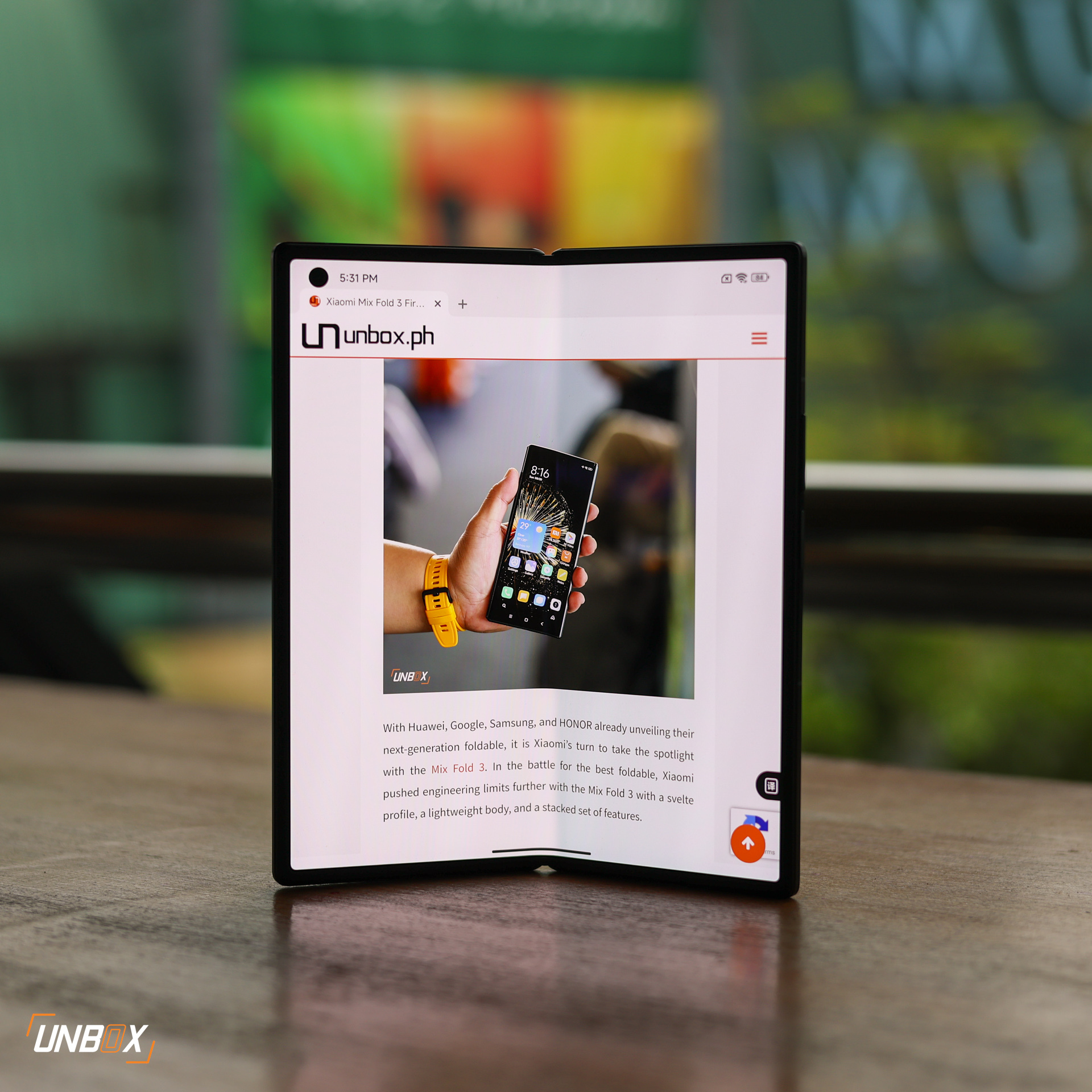 The inner display is quite large, at 8.03 inches. Resolution is 1916 x 2160, which means you're getting a pixel density of 360 ppi. That's very good, as far as foldable displays go, with the resulting images looking very sharp. Other features include a 120hz refresh rate, HDR10+, and Dolby Vision, as well as a peak brightness of 1300 nits. There's also a selfie camera on the inner display as well, which has identical specs on the cover display.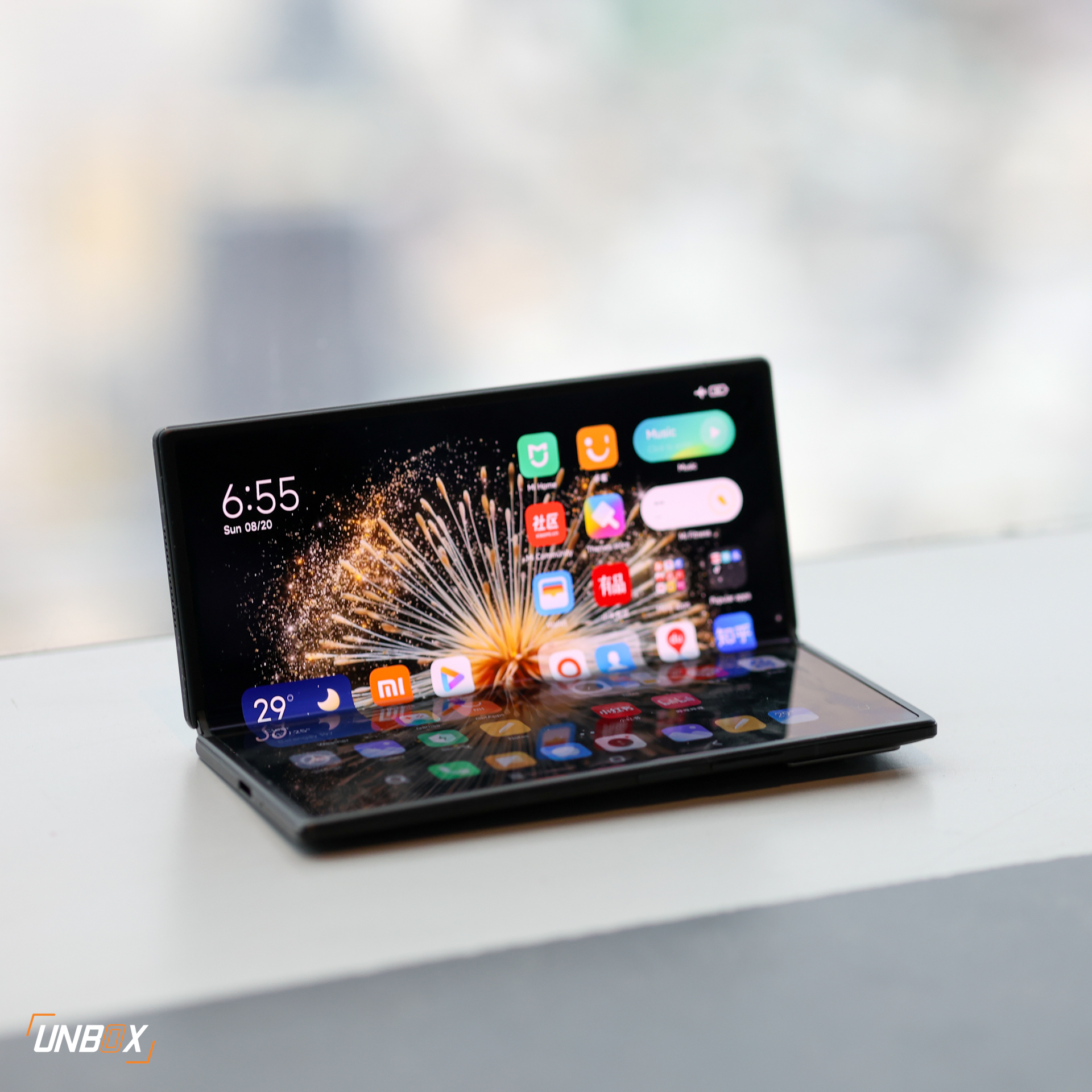 Both displays look very good and are on par with the quality of the panels on their peers. And since the phone is so light and thin, using the Mix Fold 3 unfolded for extended periods isn't a chore.
The colors look fantastic, and if you don't like the default color settings you can always change it from the PRO mode to Vivid and Saturated.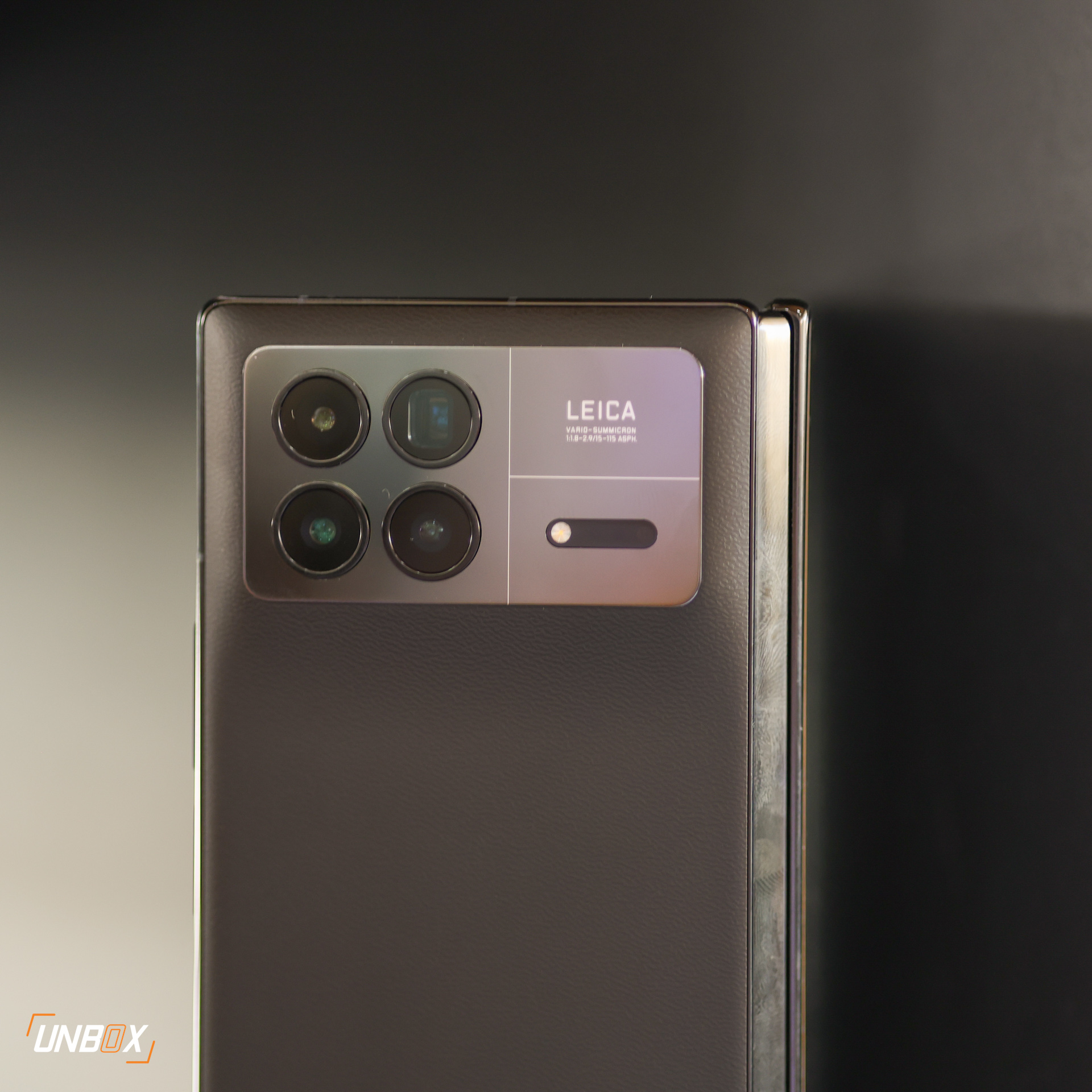 Xiaomi Mix Fold 3 Review Philippines: Cameras
Xiaomi packed the Mix Fold 3 with a bunch of cameras at the rear, which includes 2(!) telephoto lenses. And if it wasn't obvious already, the Mix Fold 3 is powered by Xiaomi's partnership with famed German camera maker Leica, which is proudly displayed in the camera module.
Let's start with the main camera: It's a 50-megapixel unit using a Sony IMX800 sensor (which is technically 54-megapixels), paired with a f/1.8 aperture lens along with OIS and PDAF.
The Mix Fold 3 has excellent daytime performance when it comes to shooting with its main camera, with superb details and no vignetting that we noticed on Xiaomi's other flagship, the Xiaomi 13 Pro.
Even when shooting in grey skies and not-so-great lighting, the Mix Fold 3 is still able to capture a fair amount of detail.
OK, let's talk about the two telephoto cameras: both of them use identical sensors – Samsung S5K3K1 – which are incidentally the ones used on Samsung's Galaxy S23.
The main difference here is the zoom – one has a 3.2x zoom/75mm focal length, while the other has a 5x zoom/115mm focal length. The aperture is a bit different too, at f/2.0 and f/2.9 respectively, though both have OIS.
Images captured on both the zoom units looked great, with photos coming out sharp with a lot of detail. There are very minor color variations between the two telephoto units as well as the main shooter, but they are negligible by themselves and a regular user probably won't notice unless you're pixel peeping.
Finally, there's also the ultra-wide camera that uses a 12-megapixel OmniVision OV13B10 sensor with an f/2.2 aperture. Wide-angle shooters aren't usually given the same care or attention as main and telephoto snappers in phones, but that's not the case here. The white balance of the images mostly matches the output of the three other sensors, and the photos themselves look clean, full of detail, and free of aberrations.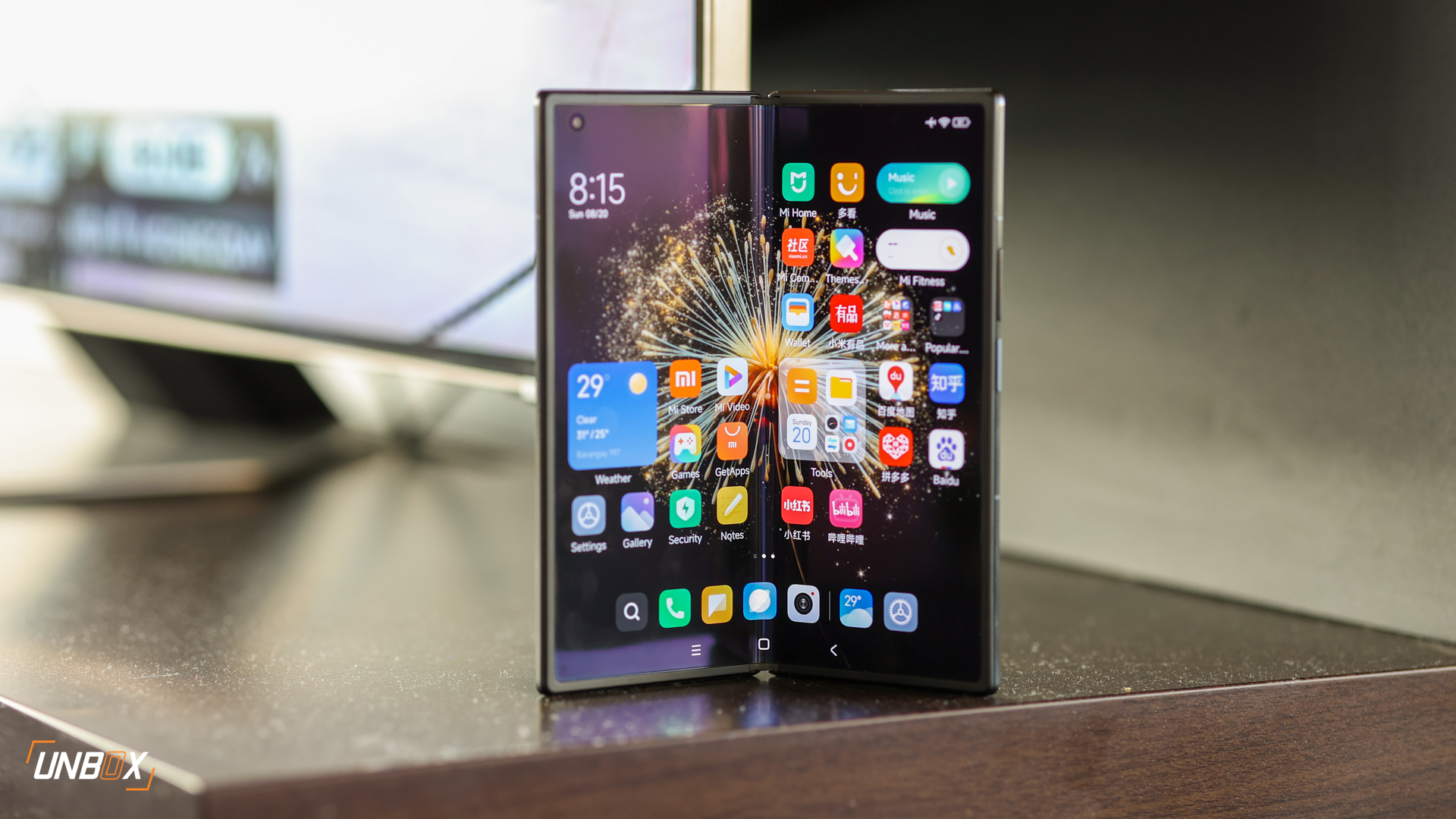 Xiaomi Mix Fold 3 Review Philippines: Performance, software, battery life
The Mix Fold 3 is a flagship phone, so it gets flagship internals, courtesy of a Qualcomm Snapdragon 8 Gen 2 processor. Our review unit came with 12GB of LPDDR5X RAM and 256GB of UFS 4.0 storage, though Xiaomi offers more RAM (up to 16GB) and more storage (1TB) if you're a spec hound.
You won't have issues with the Mix Fold 3 as far as performance goes, as the Snapdragon 8 Gen 2 processor is the best silicon money can buy right now as far as Android hardware is concerned. Everything opened quickly, we had no issues at all when it came to performance and all games worked well enough on the phone.
The main issue you'll run into with the Mix Fold 3 is software. As we said earlier, Xiaomi isn't offering this phone globally yet, so if you were to buy it you'll have to contend with the China ROM that it has.
That being said, you can switch to English as the input language easily, and there's a toggle in the settings where you can install Google Play and start using Google apps. However, I did notice annoying things like messages not getting delivered promptly and some notifications getting delayed, which can be attributed to the Chinese ROM.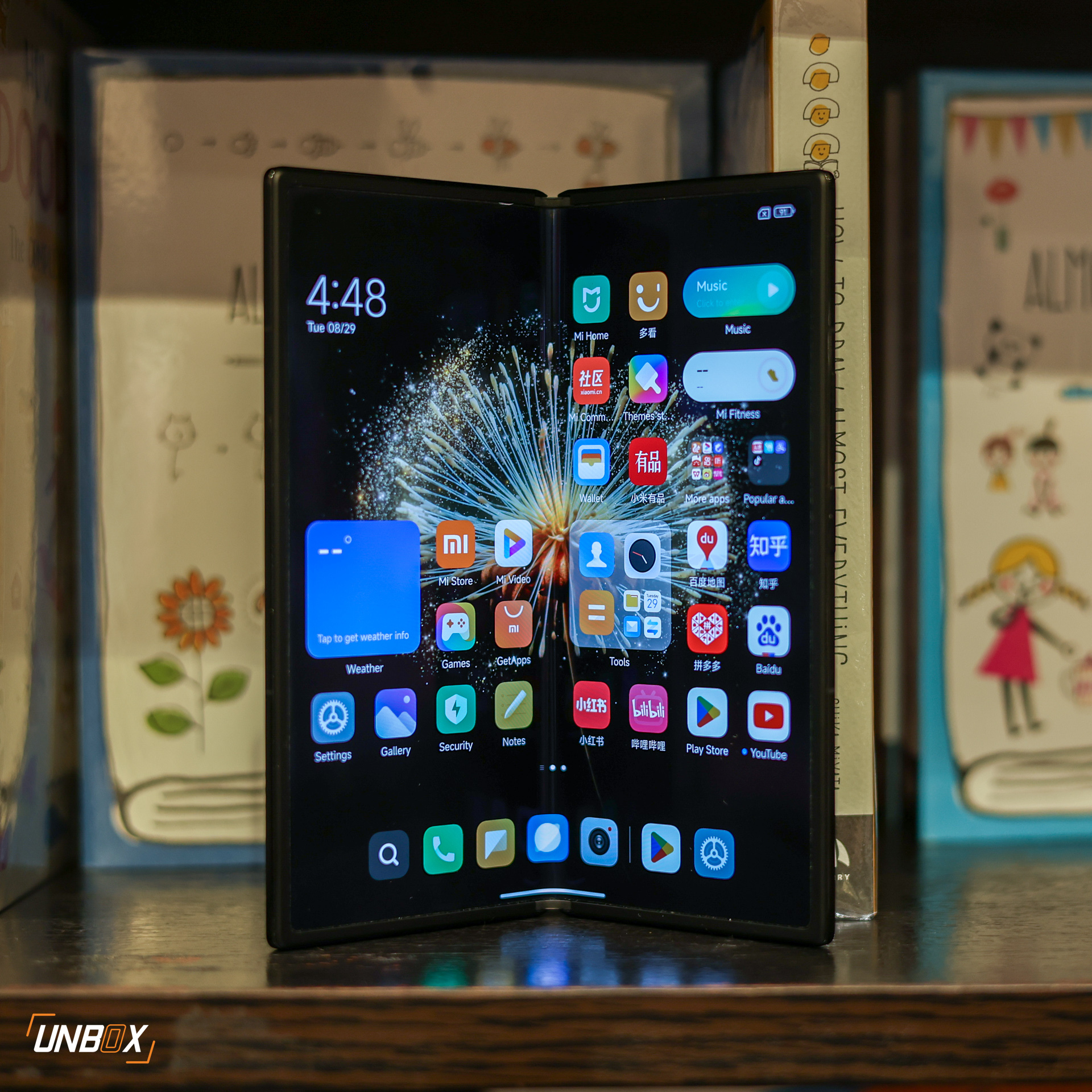 I think what's worse here is that the phone is loaded with a crap ton of bloatware and unwanted apps right out of the gate. That amount of unwanted software is simply unacceptable for a mid-range phone, what more for a phone like the Mix Fold 3.
As for battery life, we got 13 hours and 15 minutes via the PCMark battery benchmark, which is very good considering the hardware in the phone. The phone is 200mAh shy of the typical 5000mAh battery in most devices nowadays, which makes the battery score stand out even more. That's more than enough to take the phone to the end of the day, and if you run out of juice, there's 67W of fast charging via the included charging brick. The phone also has 50W wireless charging – something that not all foldables have.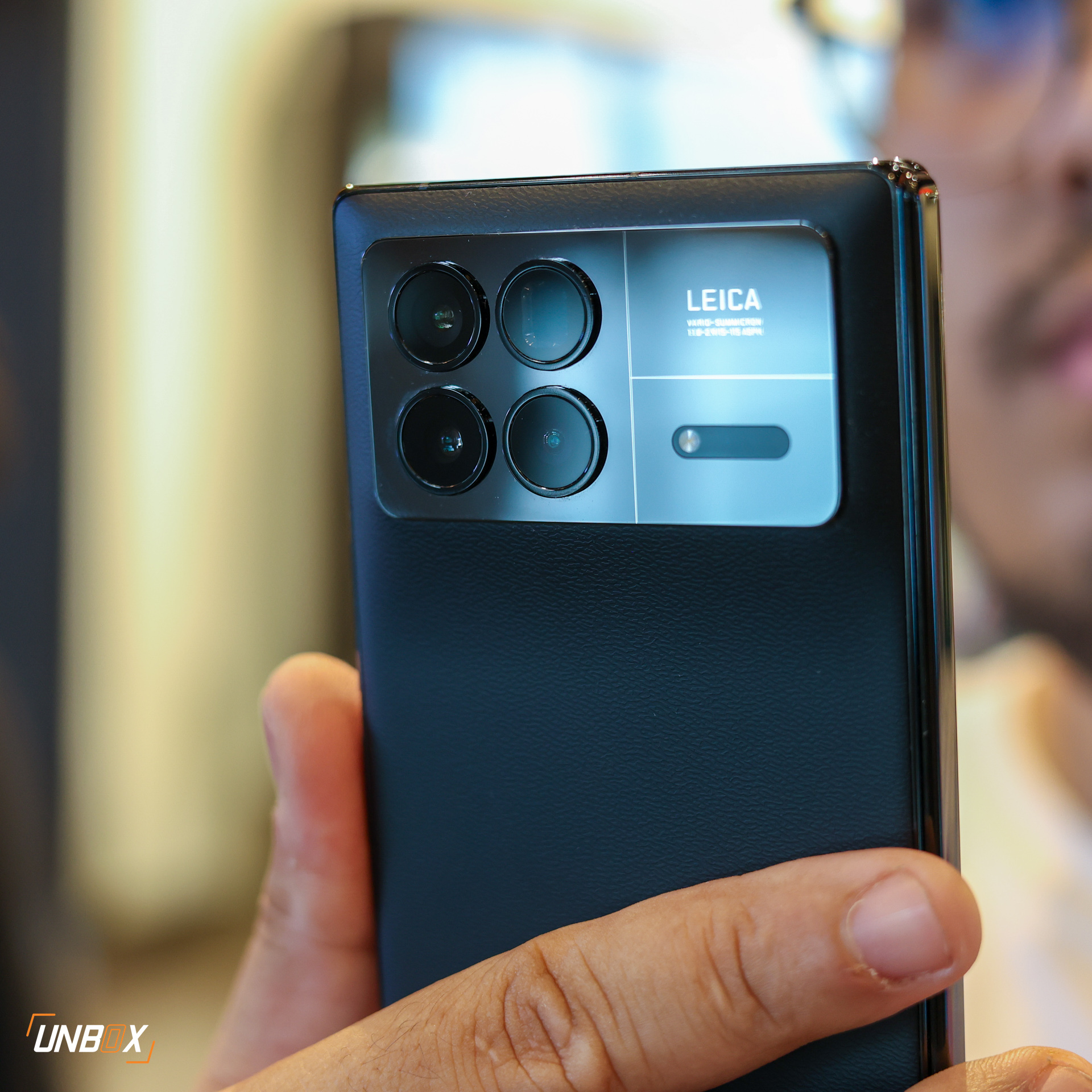 Xiaomi Mix Fold 3 Review Philippines wrap-up and final verdict:
I loved the time that I spent with the Xiaomi Mix Fold 3. It's a great foldable with a lot of awesome features, but some things can be improved on.
The lack of IP protection is a little baffling, as is the amount of bloatware that comes pre-installed on a phone that's supposed to be a premium device. I'm sure that things are done differently in China, but the sheer number of unwanted, pre-installed apps in it is a little baffling.
The biggest gripe I have is availability. The Xiaomi Mix Fold 3 is ready for prime time, as it's one of the best foldables I've handled recently. It's a little baffling that Xiaomi is keeping it a China-exclusive device, especially since the converted pricing for the base model in China looks so damn aggressive.
Xiaomi Mix Fold 3 Review Philippines Price
While the phone isn't being offered in the Philippines yet, the Mix Fold 3 is priced at is priced at CNY 8999(~Php 71k) for the 12GB/256GB model, CNY 9999(~Php 79k) for the 16GB/512GB model, and CNY 10999(~Php 87k) for the 16GB/1TB model in China. If Xiaomi brought the phone here with the base price, it'll quickly outsell its rivals.