Review Verdict: The ROG Flow X13 is a tiny convertible laptop in the Philippines that packs a hell of a punch. ASUS has found a way to deliver top-tier gaming performance in a tiny little package, but its sky-high price means that only the really deep-pocketed will be able to enjoy this tiny powerhouse.
Pros
Small and light for a gaming laptop
Powerful processor
Great screen
Great keyboard
Has removable RTX 3080 GPU
Cons
eGPU is a cut down version of NVIDIA's RTX 3080
Overall package with eGPU will likely be very expensive
Thin and light laptops have always been an exercise in compromise, but Taiwanese manufacturer ASUS has managed to find a way to give users the best of both worlds, at least at first glance. Thanks to a rethink of the external GPU, ASUS has found a way to make a thin and light laptop perform like a powerful desktop, though the increased performance comes at a steep price.
AMD Ryzen 9 5980HS/AMD Ryzen 9 5900HS
NVIDIA GTX 1650 Max Q/NVIDIA RTX 3080 Mobile eGPU
32GB LPDDR4X RAM
1TB M.2 NVMe PCIe 3.0 SSD
13.4-inch WQUXGA (3840 x 2400) resolution touch panel with 60Hz refresh rate/13.4-inch full HD 120Hz refresh rate touch panel
1x 3.5mm Combo Audio Jack
1x HDMI 2.0b
1x USB 3.2 Gen 2 Type-A
2x USB 3.2 Gen 2 Type-C support DisplayPort / power delivery
1x ROG XG Mobile Interface
62WHrs 4-cell Li-ion Battery
Windows 10
Design
One of the things that'll really take you for a loop with the ROG Flow X13 is how small it is, considering it's supposedly a gaming laptop. The Flow X13 is a 13-inch convertible at its core, and weighs in at a scant 1.3 kilos, and is only 15.7mm thick.
Those aren't surprising numbers for a normal laptop or convertible, but remember the ROG Flow X13 isn't a normal laptop or convertible. It's marketed primarily as a gaming laptop and going by that classification, it's one of the tiniest ones we've tested so far, period.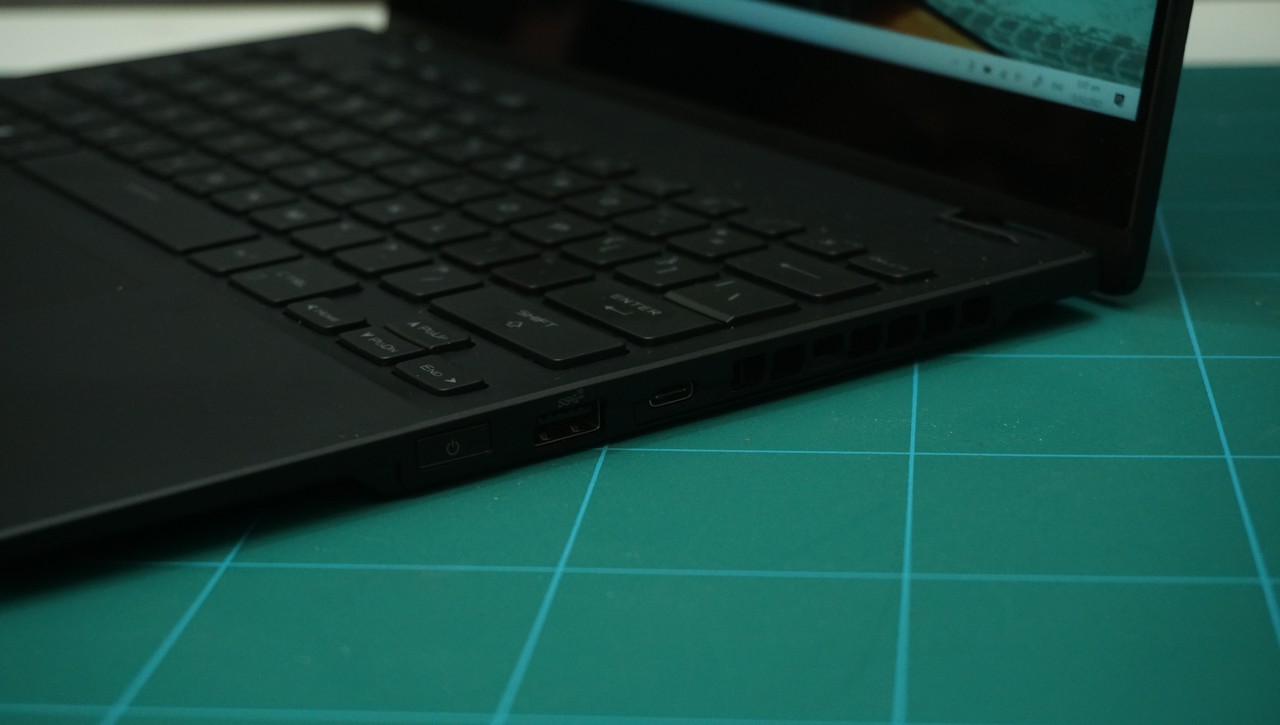 During our review, the Flow X13 also pleasantly surprised us with its design. Despite being marketed to gamers, it doesn't have crazy gaming-Esque design cues on the outside. The metal lid has diagonal ribbing that gives it this weird and funky texture, but other than the ROG logo on the front, there isn't anything weird-looking about the Flow X13's exterior that's going to clue you in that it's a gaming machine.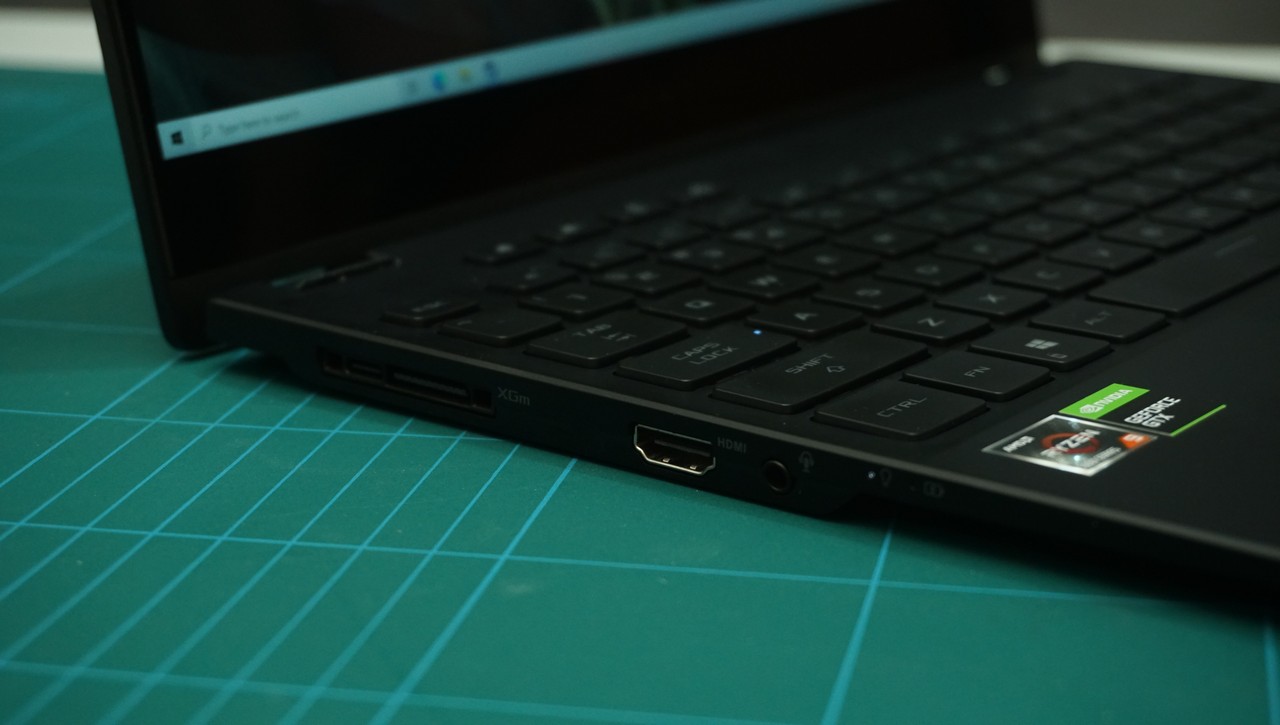 Port selection is a little on the thin side with just the laptop – there's a single USB 3.2 Type C port along with a regular USB 3.2 Type-A and a power button on the right side of the chassis. On the left is an HDMI 2.0B connector along with a 3.5mm jack and another USB Type C 3.2 that also doubles as the charger. Also on the left side is the ROG XG mobile interface – the secret sauce that makes the ROG Flow X13 so powerful.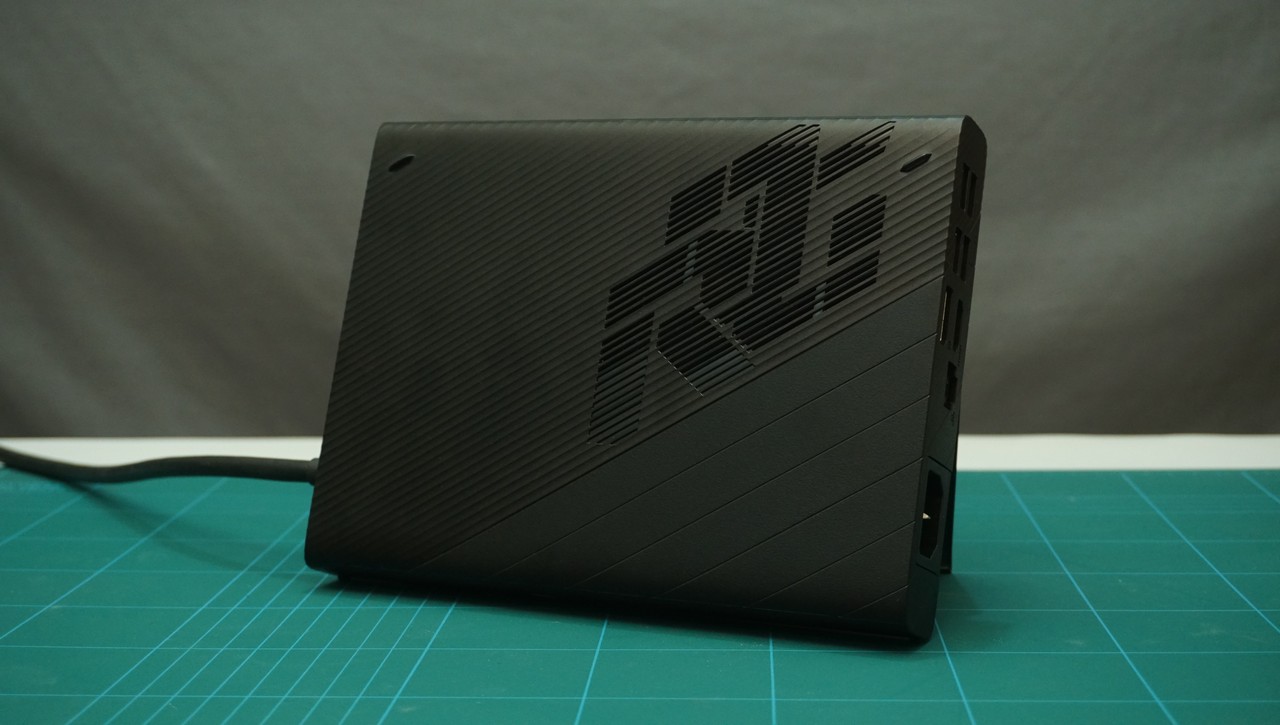 What really makes the ROG Flow X13 stand out isn't its small design or powerful processor (we've seen this combination on many other laptops before). The really big thing with the Flow X13 is the discrete external GPU that ASUS calls the XG Mobile that it intends to offer alongside it that houses NVIDIA's RTX 3080 GPU.
External GPUs aren't new, in fact, several of ASUS' competitors offer external enclosures that give thin and light laptops a bit of extra graphical oomph. The problem with them is that their performance is limited by their interface, mainly Thunderbolt 3. It just doesn't have enough bandwidth to deliver the full performance of the card you're stuffing in it. This usually means you'll be eating a performance penalty relative to the card you put in it.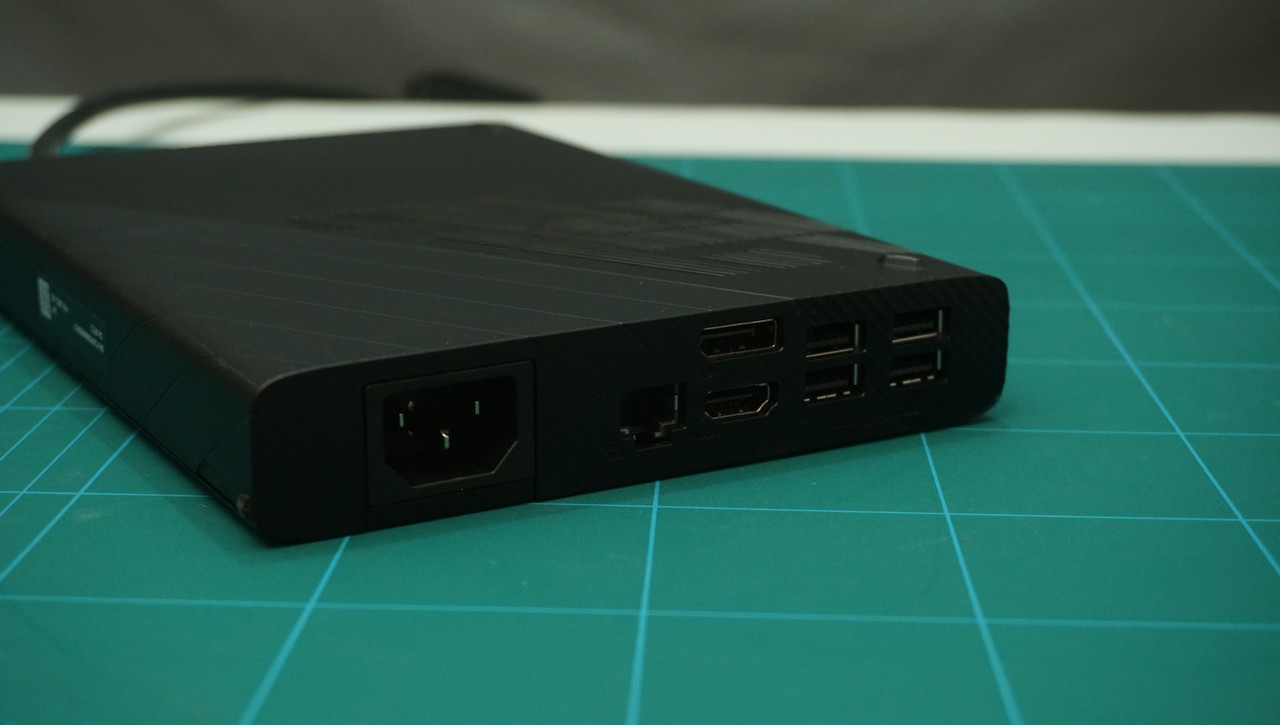 The XG Mobile uses a proprietary connector on the side that ASUS claims are based on the PCI Express Gen 3 standard – the same standard that most desktop GPUs connect to motherboards. The XG Mobile requires its own power connector and offers additional ports to use when it's plugged into the Flow X13. The idea here is that you're getting extra GPU power and ports when you're at home and gaming, and leaving the weight and the bulk of the GPU behind at home when you're about and about.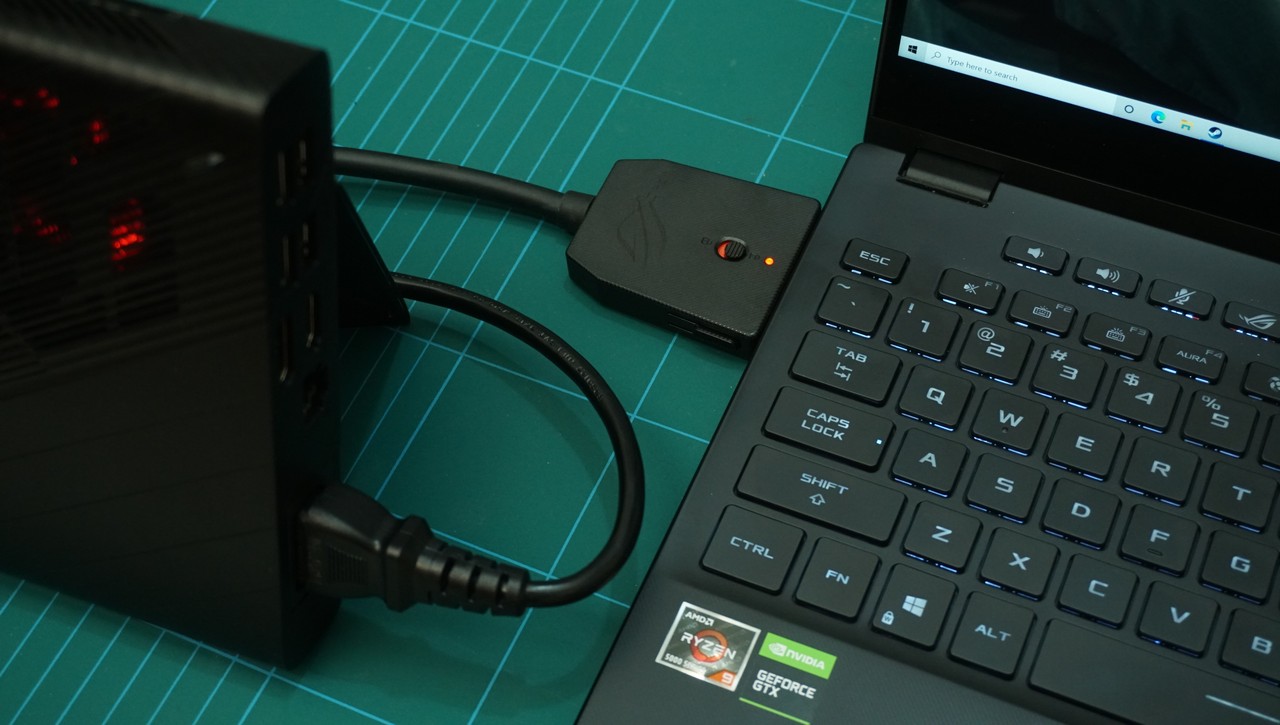 Is all the hassle of the external GPU worth it? The short answer of it is no – the XG Mobile uses a lower power version of NVIDIA's top-end GPU. You can check out our full performance benchmarks below to see what we mean.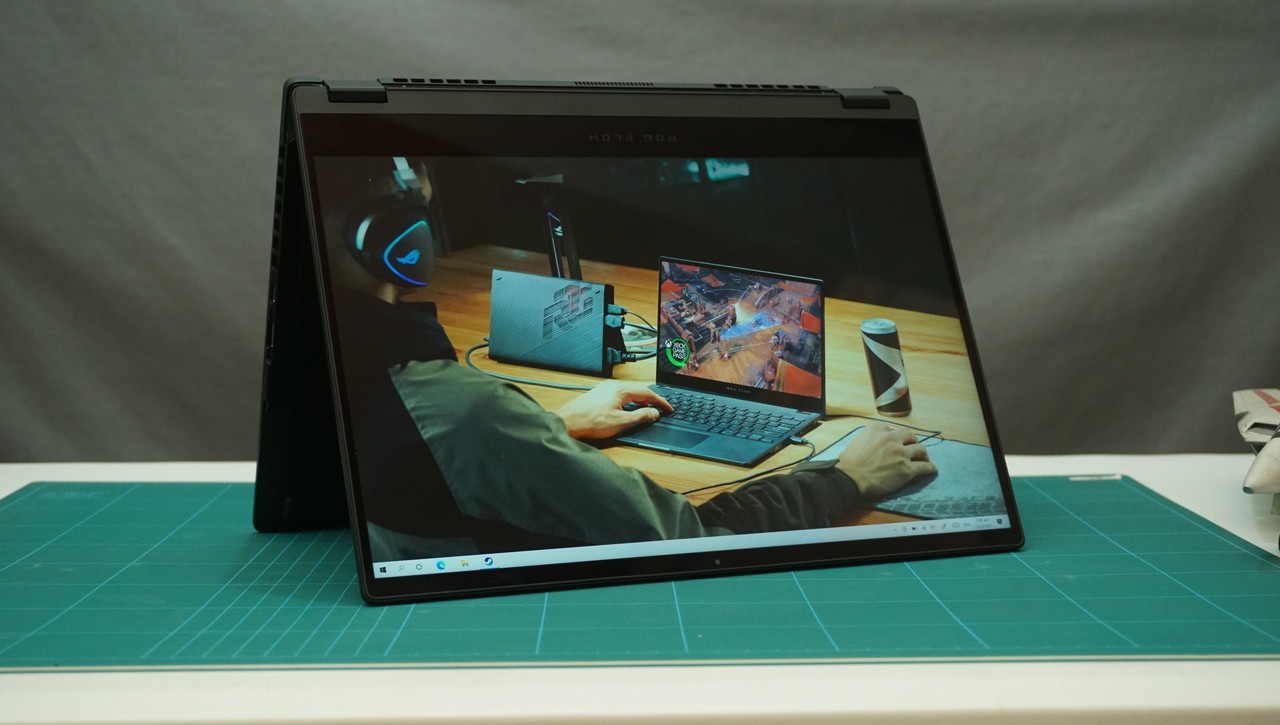 Display
The ROG Flow X13 has a 13.4-inch display with a 16:10 aspect ratio which is a little surprising, considering that most displays for laptops clock in at 16:9.
Even more surprising is the fact that ASUS is offering two versions for the 13.4-inch touch display: one is a 4K UHD panel with a 60Hz refresh rate, and one full HD variant with a 120Hz refresh rate.
We received the 4K display variant for our review, and while we appreciate the ultrasharp display, the resolution is wasted on such a small panel. You'd probably be better off getting the faster 120Hz full HD display variant instead – aside from being (probably) cheaper, the hardware inside the laptop will be able to take advantage of the faster display better.
You can check out the display results of the Flow X13 in detail here. Our measurements were taken with a DataColor Spyder 5 Elite colorimeter.
Like we mentioned earlier, the display is touchscreen-enabled and the entire laptop can be flipped over and used as a tablet, which is pretty cool.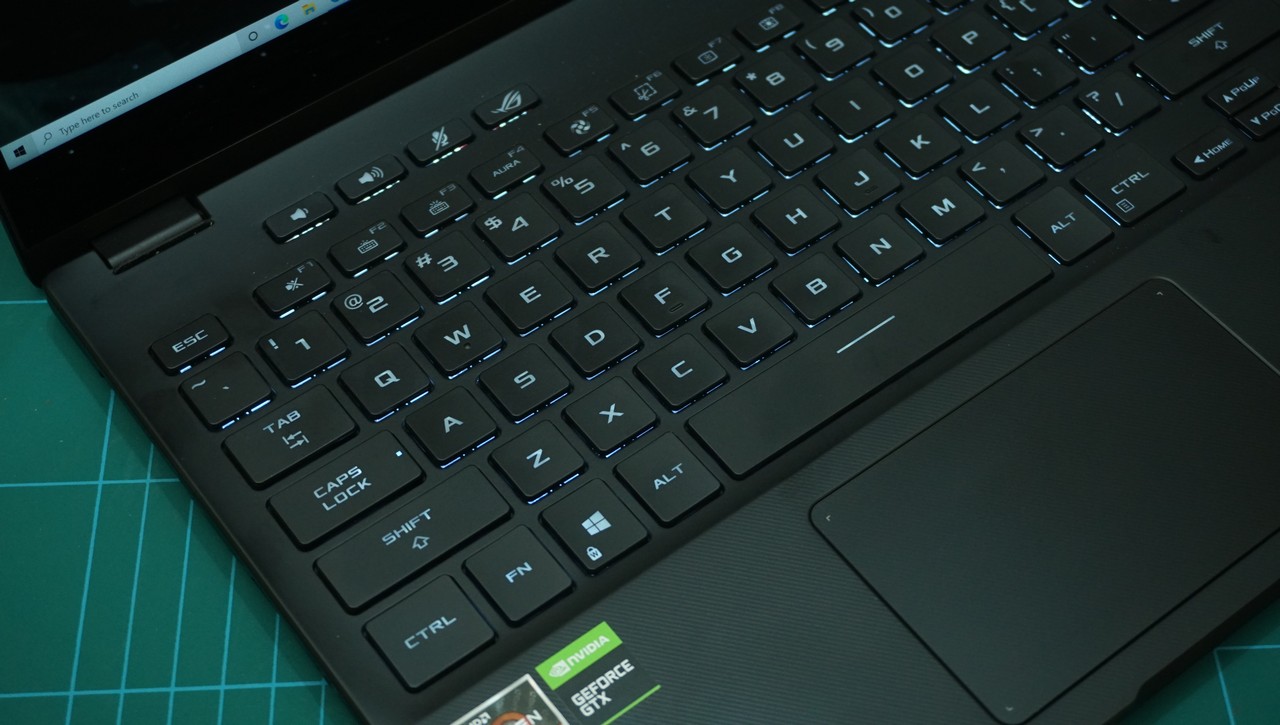 Keyboard and trackpad
ASUS laptops have always had excellent keyboards and as we found out in our review, the Flow X13 in the Philippines is no exception to this. The keys have around 1.7mm of vertical travel and feel incredibly nice to type on.
The key spacing is good, and there are no weird Page Up or Page Down keys on the right side which you usually see on other laptops (they've been placed on the arrow keys as a separate function).
The only gripe gamers will probably have with the Flow X13 is the fact that it only has white LED lighting – there's no per-key RGB here, which is a little odd for a laptop in its price range.
The touchpad is good enough for mobile use and clicks rather solidly when you're using it.
Performance
ASUS offers the ROG Flow X13 in two distinct processor variants, both of the Ryzen variety: Ryzen 9 5900HS or an even powerful Ryzen 9 5980HS.
Both variants are backed with up to 32GB of LPDDR4X RAM as well as 1TB of M.2 2230 NVMe SSD storage, which makes the laptop incredibly potent.
The Flow X13 comes with a built-in NVIDIA GTX 1650 GPU for gaming when you're not at home and have access to the XG Mobile. It's a good enough GPU for full HD gaming with graphics settings turned down, though it's far too anemic to make the most out of the 4K display on our review unit.
We benchmarked the Flow X13 with and without the XG Mobile station to see what kind of performance you can expect from it and compared it to a roughly equivalent Ryzen 9-equipped gaming desktop that had an ASUS ROG RTX 3080 in it. You can check out the performance numbers below: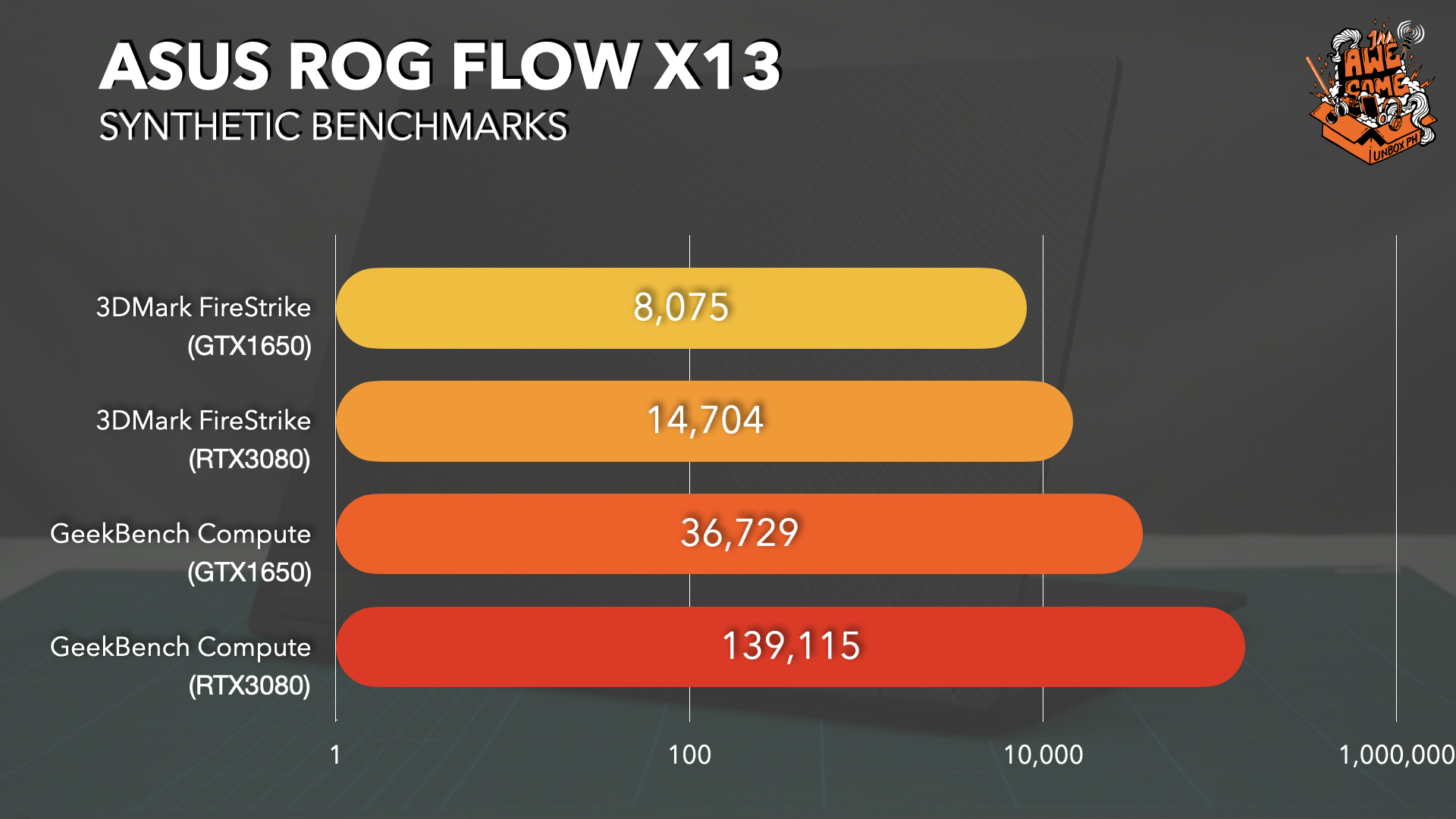 From what we got from our testing, it looks like the RTX 3080 inside the XG Mobile is a relatively more modest laptop version of NVIDIA's premium GPU. Specifically, the clock of the GPU has been reduced to just 1,810MHz and only uses around 150 watts of power. For reference, the desktop variant of the RTX 3080 has been observed by some to boost as high as 1950MHz and has a power limit of 320 watts for the FE variant.
There are upsides to the XG Mobile though – because of the improved bandwidth it gives there's room for more ports, and it gives you the ability to attach two displays to it, useful if you have a multi-monitor setup at home.
Overall the XG Mobile's cut-down RTX 3080 is able to run many AAA titles at 90FPS at the average with all the details set to ultra (or equivalent), but that's in full HD resolution. Crank the resolution up to 4K and your average drops to around 40FPS depending on the game, which is another argument against getting the 4K variant of the laptop.
The Flow X13 also comes with a stand-alone GeForce GTX 1650 when you're not connected to the XG Mobile, though it's a Max-Q design so it's a little more sedate compared to a non-mobile variant.
With just the GTX 1650 we got frames below 40FPS in full HD with max settings in the games we tested, which is obviously not ideal, though you can probably crank the settings down to get an acceptable 60FPS on it. Forget about using the GTX 1650 on 4K resolutions though unless you're a masochist.
Temperatures for the XG Mobile were around 74 degrees Celcius as reported by the software, with the CPU reaching temps as high as 85 degrees Celcius during extended gaming runs. Higher temps aren't surprising with the Flow X13 because of its thin and light nature.
Overall battery life for the Flow X13 with our punishing YouTube battery drain test puts it at around three hours and fifty-five minutes – not great for a thin and light, but above average for a gaming laptop.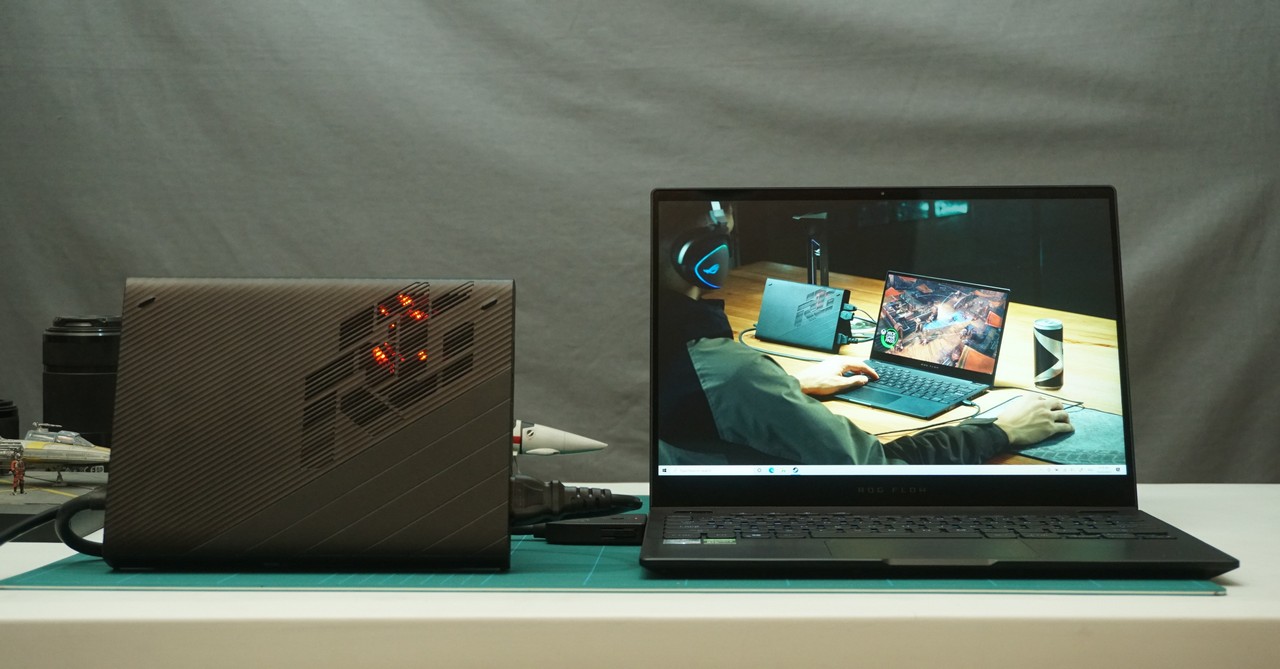 ROG Flow X13 Review Philippines: Verdict and wrap-up
As we wrap up our review for the ROG Flow X13 in the Philippines, we found that it's a great little laptop that tries to be two things at the same time. It's an ambitious product that challenges the idea of a gaming laptop being gigantic behemoths – it's a tiny 13-inches that can trade blows with the rest of them.
Unfortunately, the XG Mobile external GPU is a little disappointing, especially when you take a look at the high cost that it adds to the package VS what you're getting in performance. It's more than half the performance of a desktop RTX 3080 while being significantly more expensive, and its proprietary nature definitely doesn't help matters either.
That being said, there is an appeal to having a thin and light gaming laptop that you can bring around with you for work, and then plug into an eGPU when you get home when you want to unwind after a long day.
ROG Flow X13 Review Philippines: Price
Unfortunately, you'll have to have deep pockets to enjoy the privilege. ASUS hasn't given us specific pricing during our review of the ROG Flow X13 in the Philippines as of press time, though in the US it's around $3,299.99 or Php 158.6K in the configuration lent to us. We expect that price to be a bit higher when we account for taxes and duties when the laptop finally launches here.