Review verdict: The Huawei MatePad Pro 12.6 is a great tablet for anyone in the Philippines looking to move away from their laptop, but old issues like a lack of GMS access still hound it, even with the brand's new Harmony OS loaded on it.
Pros
Excellent display
Great battery life
Powerful internals
Excellent speakers
Cons
You can't use apps that require GMS integration
Very expensive for a tablet
Huawei MatePad Pro 12.6 Review Philippines Specs
Kirin 9000E Processor
12.6-inch OLED display, 2560×1600 resolution, 100% DCI-P3, HDR10
8GB LPDDR4X RAM
256GB UFS 3.1 internal storage
5G
WiFi 6, Bluetooth 5.1
M-Pencil, 8-Speaker System
10050mAh battery
40w wired charging, 27w wireless charging, 10w reverse wireless charging
HarmonyOS 2
Huawei announced HarmonyOS back in 2019 as a way to try and get out from the thumb of the US government, who by then included the company in their technology blacklist, essentially blocking them from working with Google. Two years from that date, and we finally have in our hands the first-ever mobile device offered in the Philippines that runs on their new OS, but is it all that it's cracked up to be?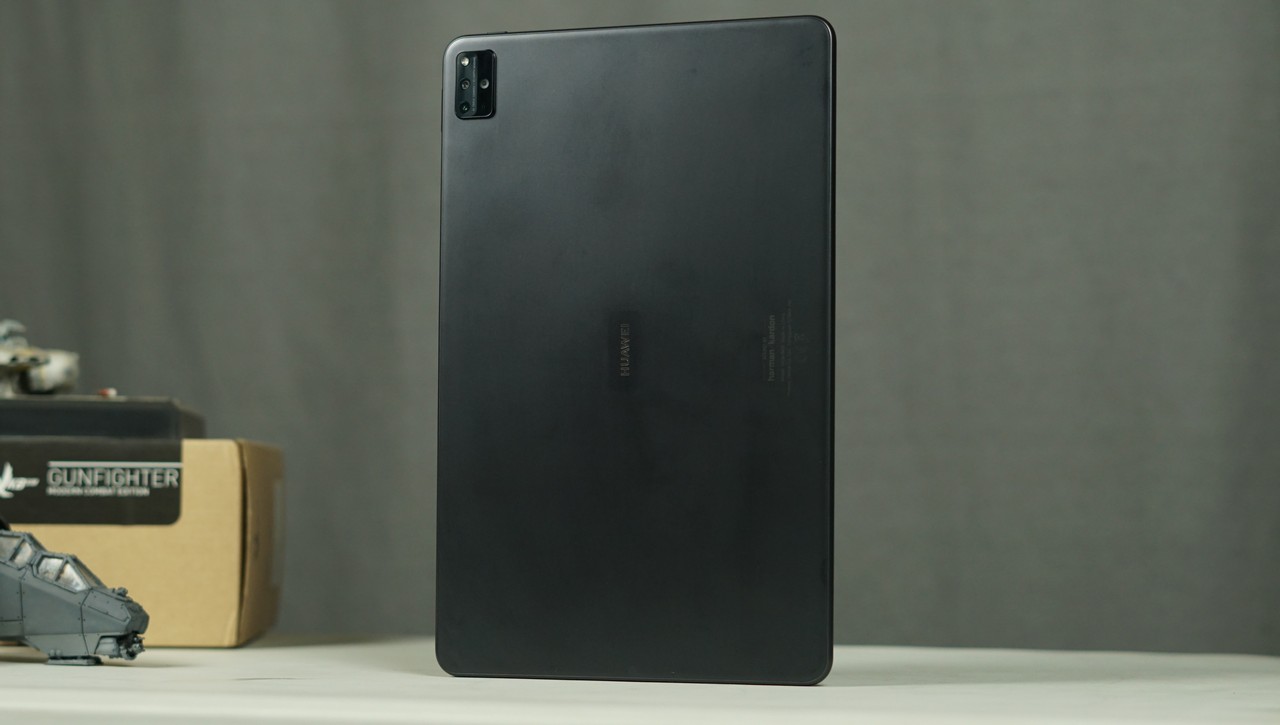 Design
If you were a company with very few competitors in the tablet space, you'd be tempted to mail it in when it comes to designing and making your products. Not Huawei – despite having only two main competitors in the tablet space (Samsung and Apple) the company has always made it a point to make incredibly premium devices.
The MatePad Pro 12.6 is as premium and well made as any of Huawei's recent offerings, and sports a magnesium alloy body and a magnesium alloy frame. Some people have mistakenly pointed out that the chassis for the MatePad Pro 12.6 is plastic, and I can't blame them.
Interestingly the tablet has a rectangular camera module that's reminiscent of Huawei's phones. The camera module houses three phones.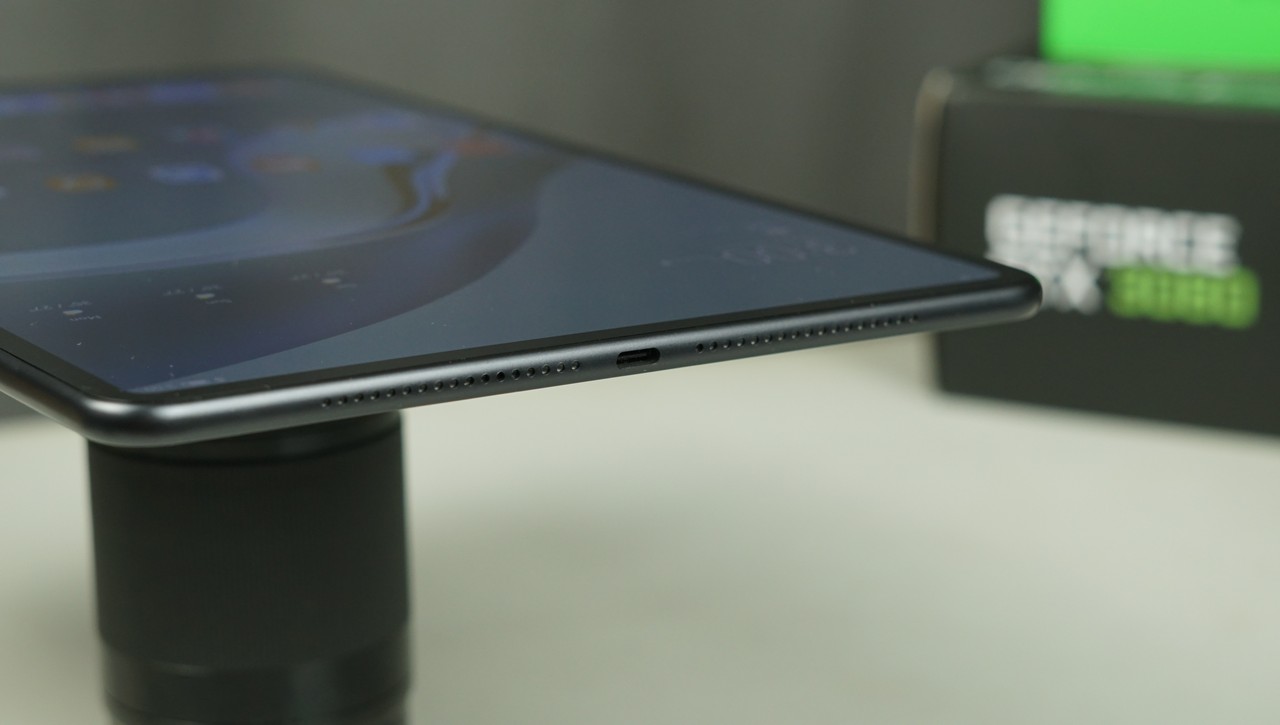 There's a total of four speakers around the chassis (two at the bottom and two at the top). The power button is on the top of the tablet (when oriented in portrait mode) while the volume rocker is on the right side.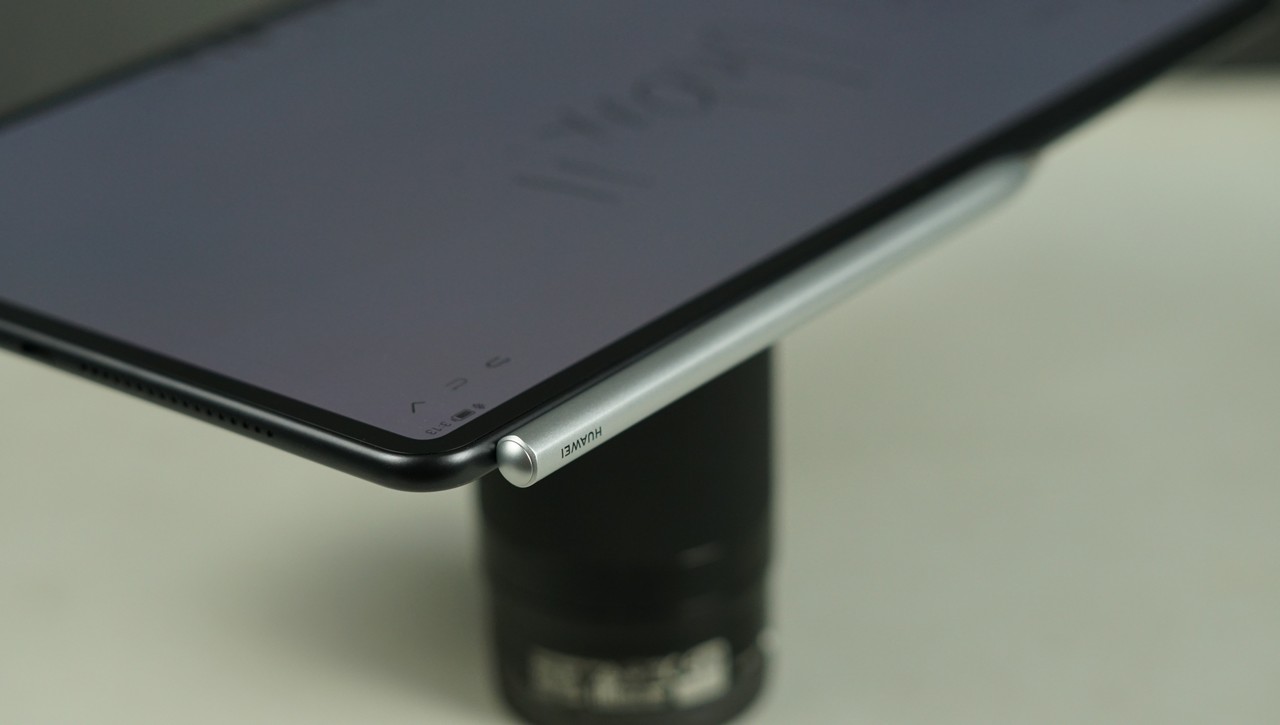 The top of the MatePad Pro 12.6 (right side if you're using it in portrait mode) holds several magnets that attach the optional M-Pencil that you can purchase with the tablet. The pencil locks into place solidly and won't budge until you deliberately take it off. Interestingly, the tablet will also charge the M-Pencil while it's docked which is pretty convenient.
The MatePad Pro 12.6 will be offered with a detachable keyboard that connects to the bottom of the tablet (the left side while in portrait mode). Like the pencil, the magnetic connection is very solid.
The keyboard does not require any battery and works off of the tablet's juice. The keys are pretty good for what it is and feels very tactile considering the amount of travel it has.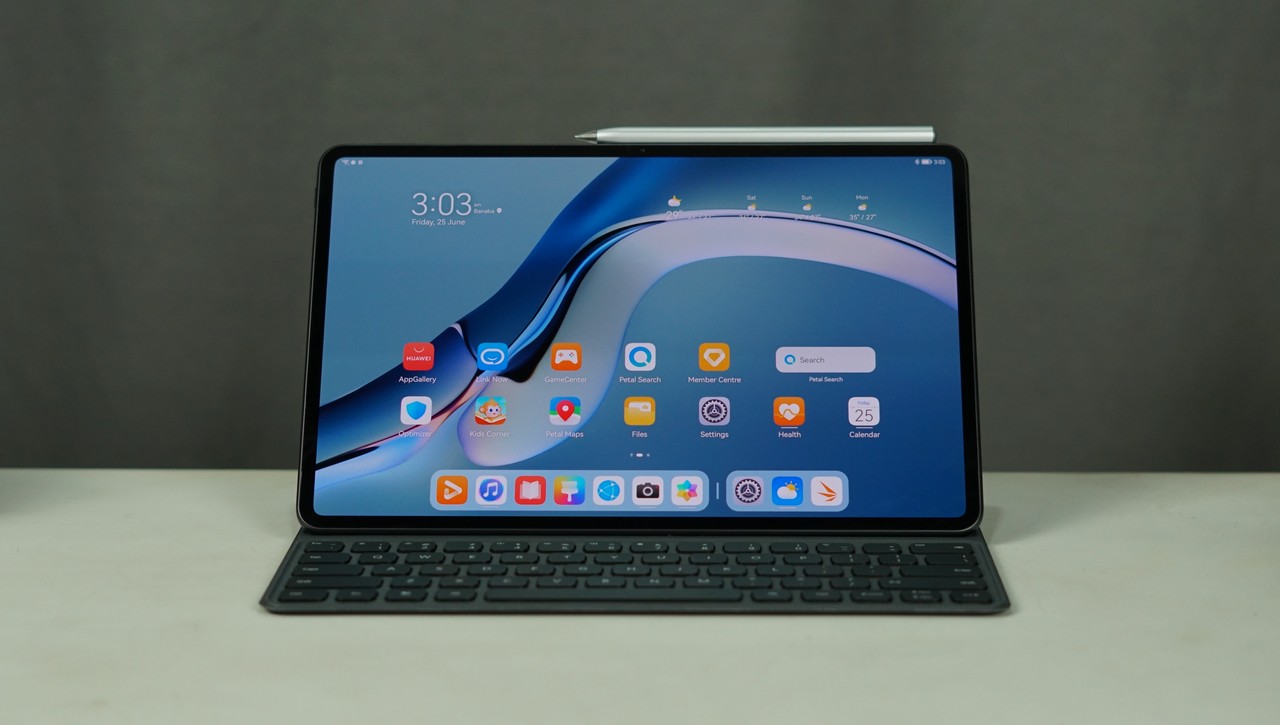 Display and sound
One of the key features of the MatePad Pro 12.6 is its beautiful screen. The tablet uses a 12.6-inch, WQXGA (2560 x 1600) resolution OLED panel on the front that has a small 8-megapixel camera embedded on side bezel (when viewed in portrait mode).
It's one of the nicest displays we've seen on a tablet and boasts DCI-P3 color gamut coverage. There's also HDR10 support and HarmonyOS does support Widevine L1 DRM. The refresh rate is locked to 60Hz though.
As for the speakers – they're the best we've ever heard on a tablet. They're pretty loud and well defined with an excellent soundstage. The MatePad Pro 12.6 is probably the best tablet you can find today that has the best sound quality of all of the options in the market today.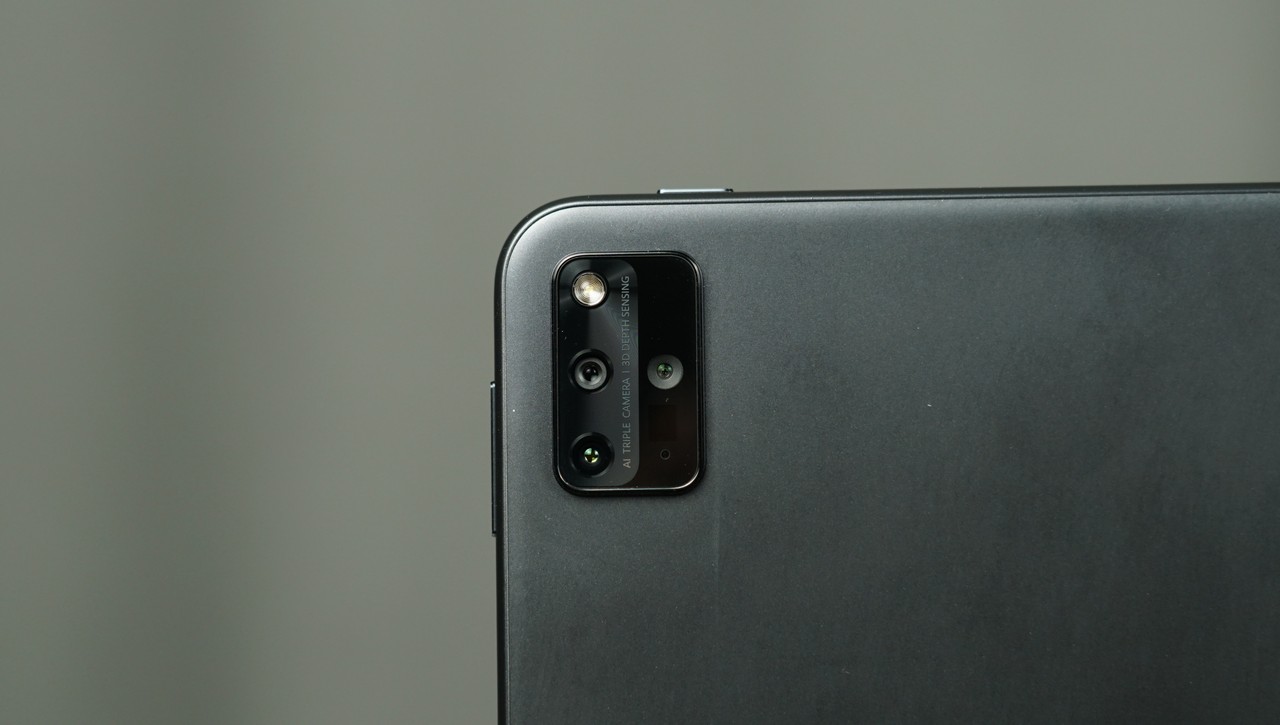 Cameras
Huawei kitted out the MatePad Pro 12.6 with three cameras on the back despite its limited usefulness when it comes to photography. The primary camera is a 13-megapixel deal with an f/1.8 lens, while the second camera is an 8-megapixel ultra-wide with an f/2.4 lens. The third camera is a depth camera used by the primary sensor.
Images are generally good, and while I wouldn't recommend using a tablet for shooting photos because of how bulky they are, the MatePad Pro 12.6 works in a pinch.
Performance, software, battery
The MatePad Pro 12.6 sports Huawei's flagship Hisilicon Kirin 9000E chipset which is made with a 5nm process. It's a very slight downgrade from the regular Kirin 9000, though honestly, most users won't even notice the difference. The tablet has two configurations: 128GB and 256GB, and both models have 8GB of RAM inside of them.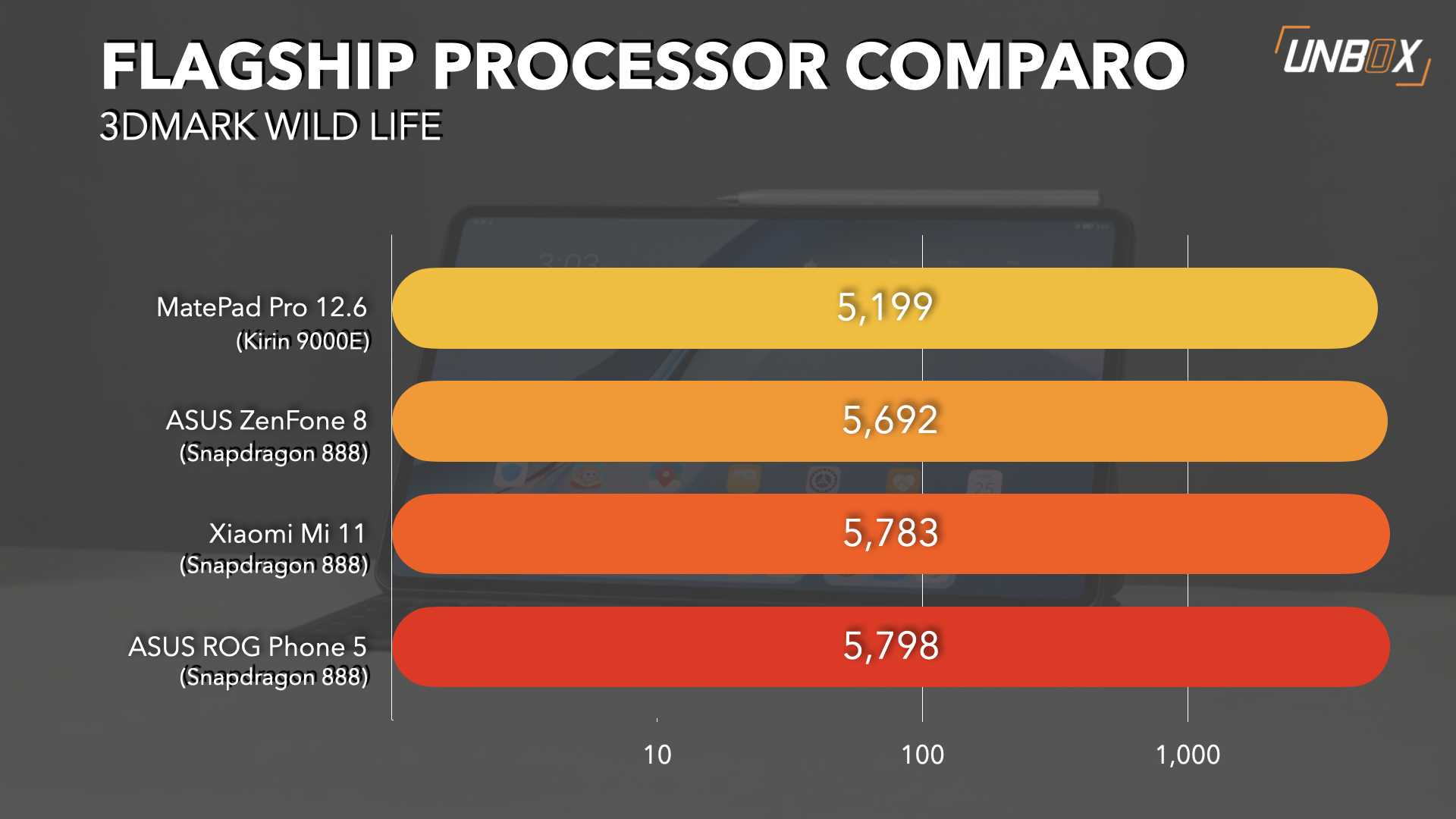 What they will notice is how smooth everything feels, the lack of fast refresh rates notwithstanding. The Kirin 9000E chipset is a very powerful SoC, capable of keeping the tablet chugging along without any problems whatsoever. Because of the tablet's excellent SoC, it's capable of most games in the Android catalog without any issues. Unfortunately, we ran into a familiar issue that usually plagues us when we try to benchmark devices from Huawei that doesn't have GMS, in that only one of our regular benchmark apps managed to run (3DMark).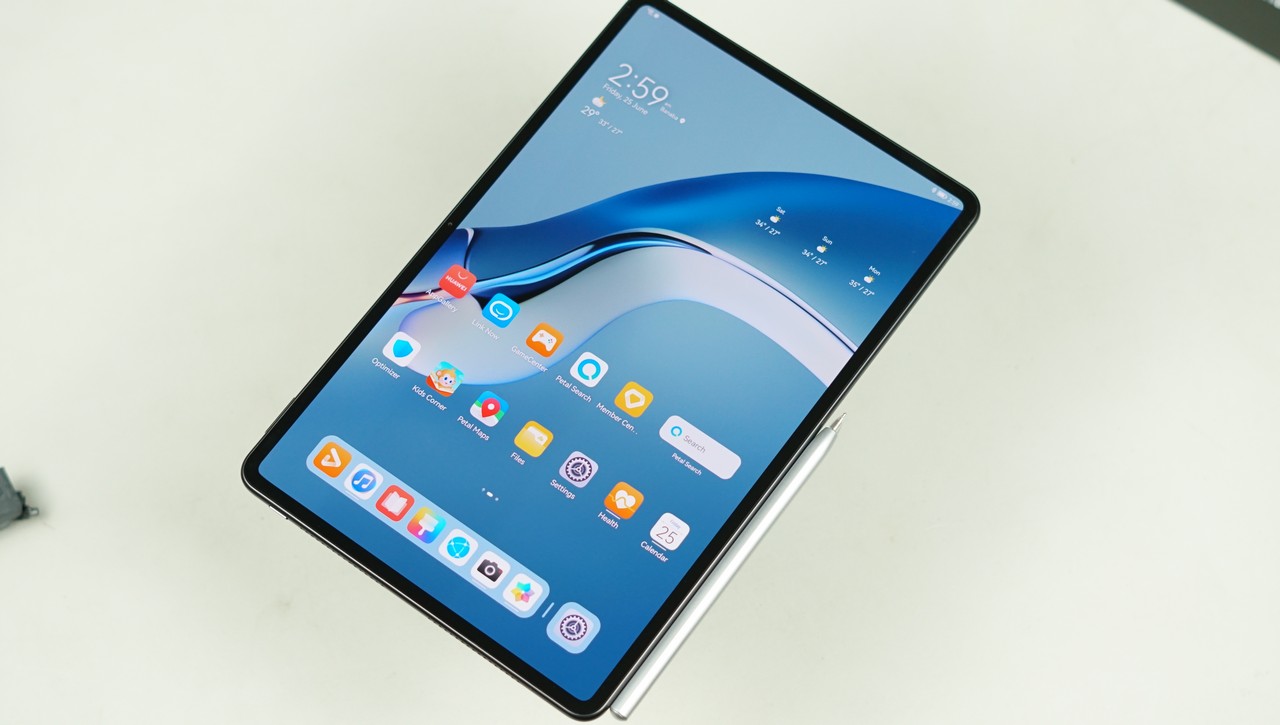 In any other year, the MatePad Pro 12.6 would just be another excellent tablet from Huawei, but in 2021 it represents the first time we've ever used their new OS dubbed, HarmonyOS. HarmonyOS is being touted as the company's eventual replacement for Android and encompasses a whole ecosystem of devices from phones, tablets, smartwatches, TVs cars, and whatever else you can cram a processor into.
HarmonyOS, at least for tablets, looks a lot like their EMUI interface that's been on their smartphones since forever, though there's enough of a change here to make the new OS feel like it belongs on the MatePad Pro 12.6.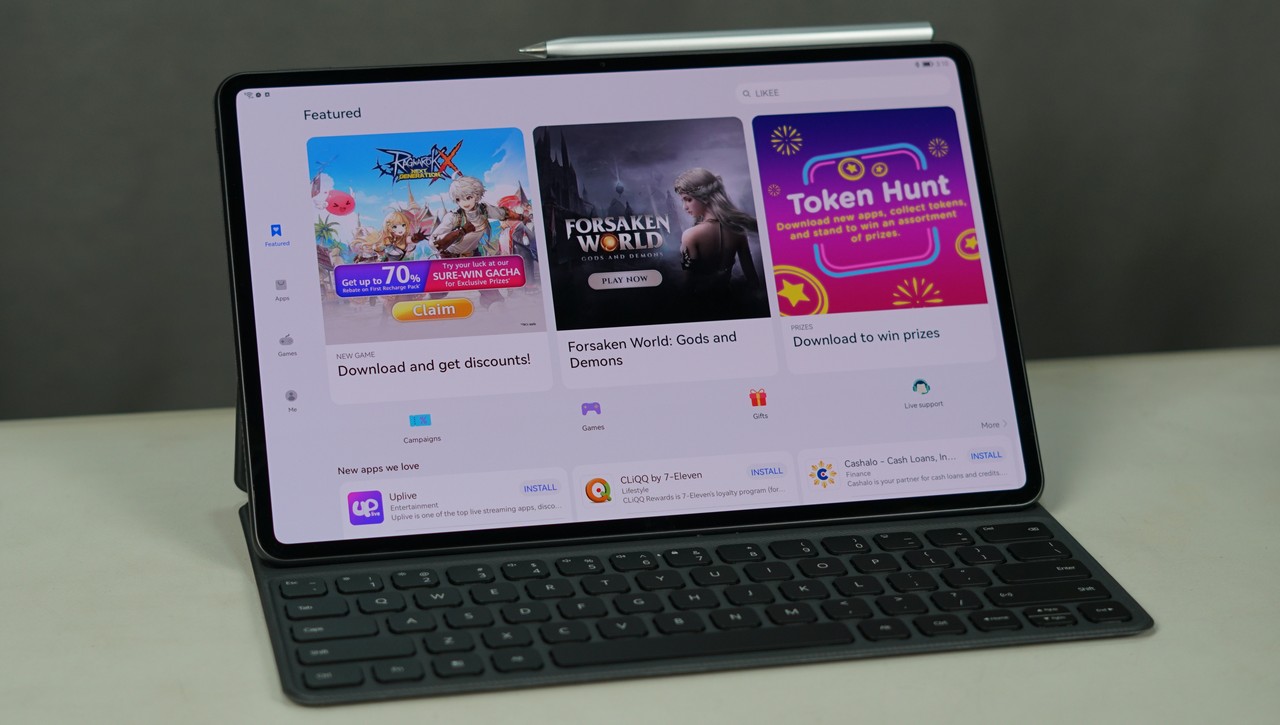 Interestingly, HarmonyOS still runs Android apps just fine despite being a brand-new OS as Huawei says. Huawei's AppGallery is there, as well as Petal Search, and as far as we can tell most (if not all) Android apps work well with the MatePad Pro 12.6 as long as they don't have or require GMS.
Huawei says that this is by design, and they've made HarmonyOS (at least the implementation on the tablet) to specifically run Android apps to make the change to it easier. Other publications have pointed out that HarmonyOS is able to do this because it is based on Android, specifically Android 10, with the new OS being a highly specialized fork. We're not going to go into a deep dive into HarmonyOS for now since it's a little out of the purview of this review, but as it stands it makes the entire tablet experience leaps better than what we've seen on Huawei's previous tablet offerings.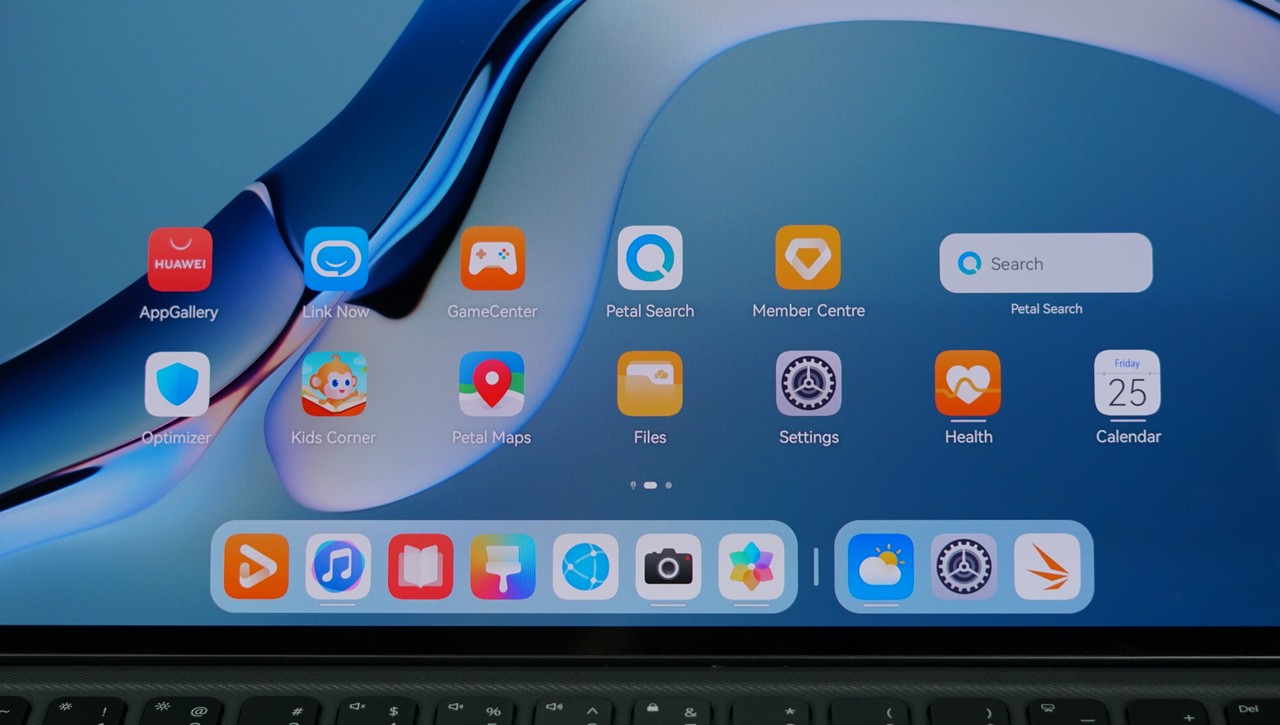 As I said, the interface feels very familiar to anyone that's used EMUI in the past, though there are key differences. There's an app dock on the bottom, as well as a space to pin three shortcuts for quick access when you're working.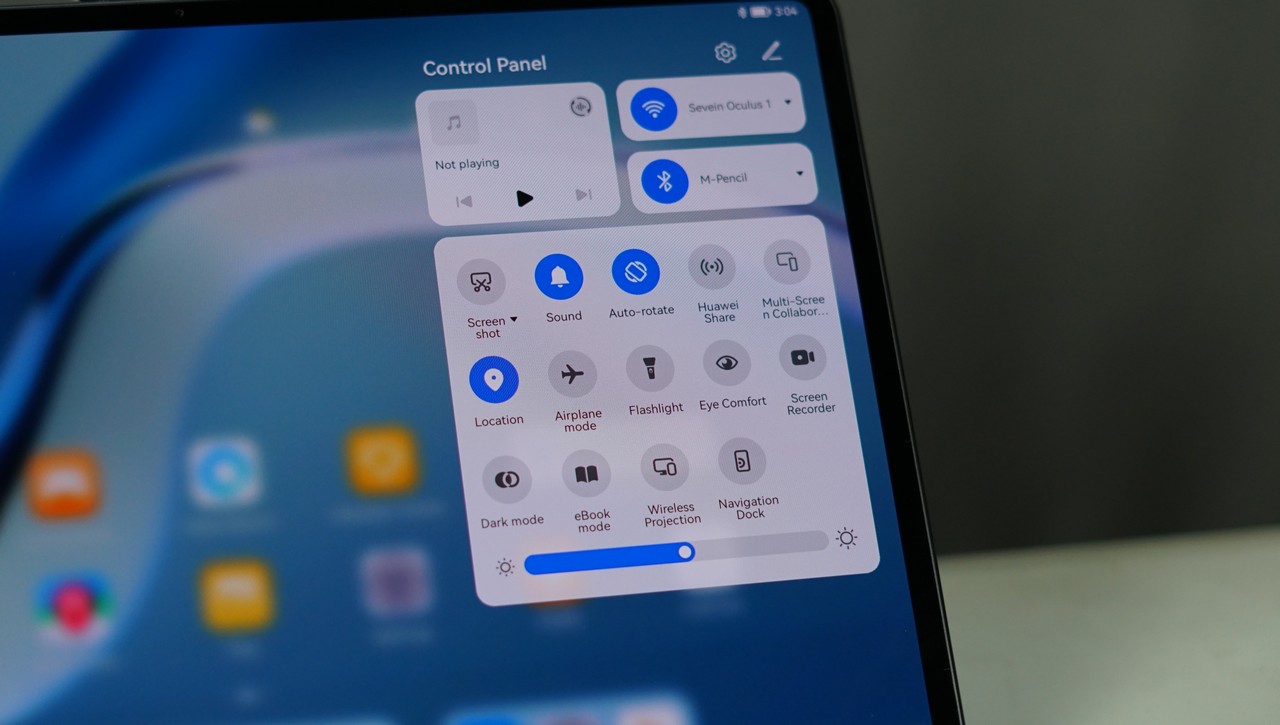 The notification center and control center is accessed by swiping down from the top, though the way to get to them feels very Apple-like. Swiping down anywhere from 2/3rds from the top of the screen will bring down notifications while swiping down on the remaining 1/3rd near the top right will bring the control center.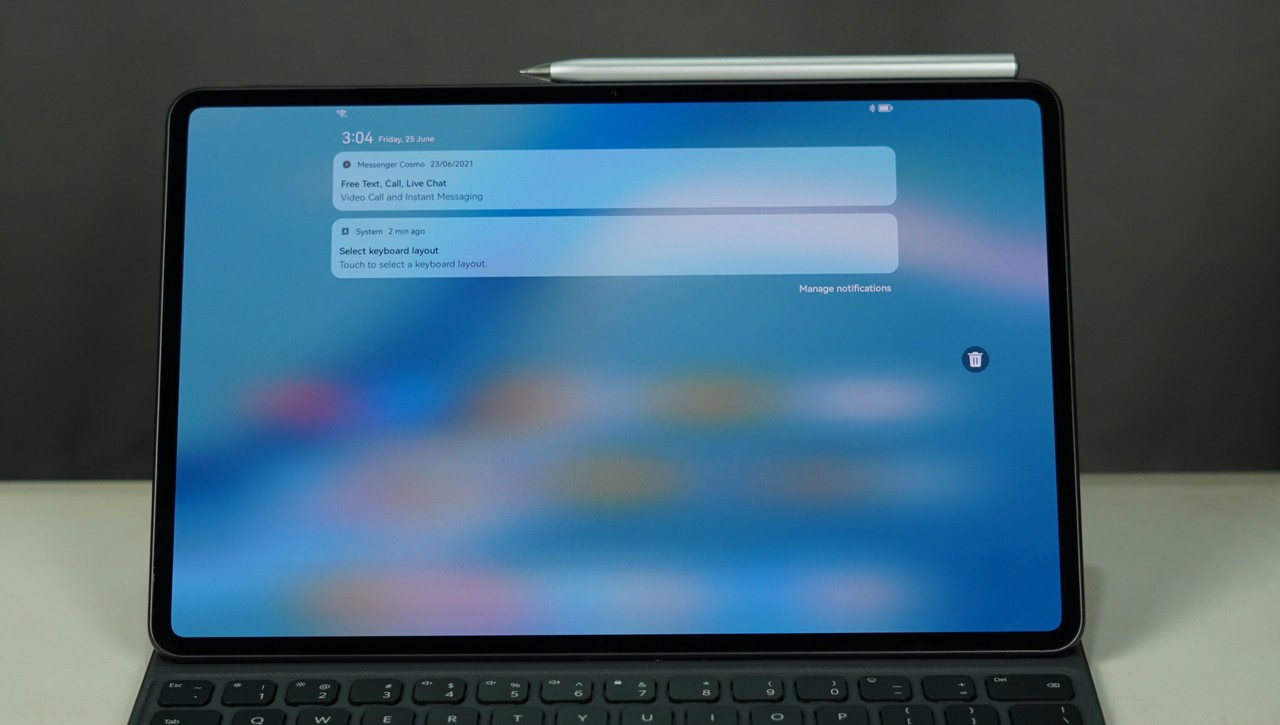 There's also Multi-Window and Pop-up Window support for multi-tasking.
Huawei sent the MatePad Pro 12.6 to use with the M-Pencil and the dock for the keyboard, which integrate well into the tablet. There are three native apps that can be used for the pencil: Notepad, Nebu, and My Script Calculator.
If you have a Huawei laptop, the tablet can act as the second display wirelessly, which is pretty interesting. You can also mirror your laptop's screen on the tablet as well, which is useful if you're an illustrator and want to use the M-Pencil on what you're working on on your PC.
This screen mirroring and screen sharing also works with a Huawei phone to the tablet, though take note that your phone needs to have EMUI 10 or later for it to work.
Huawei is really leaning into integrating all of its products into its ecosystem, and it seems like this is the company's play moving forward with HarmonyOS.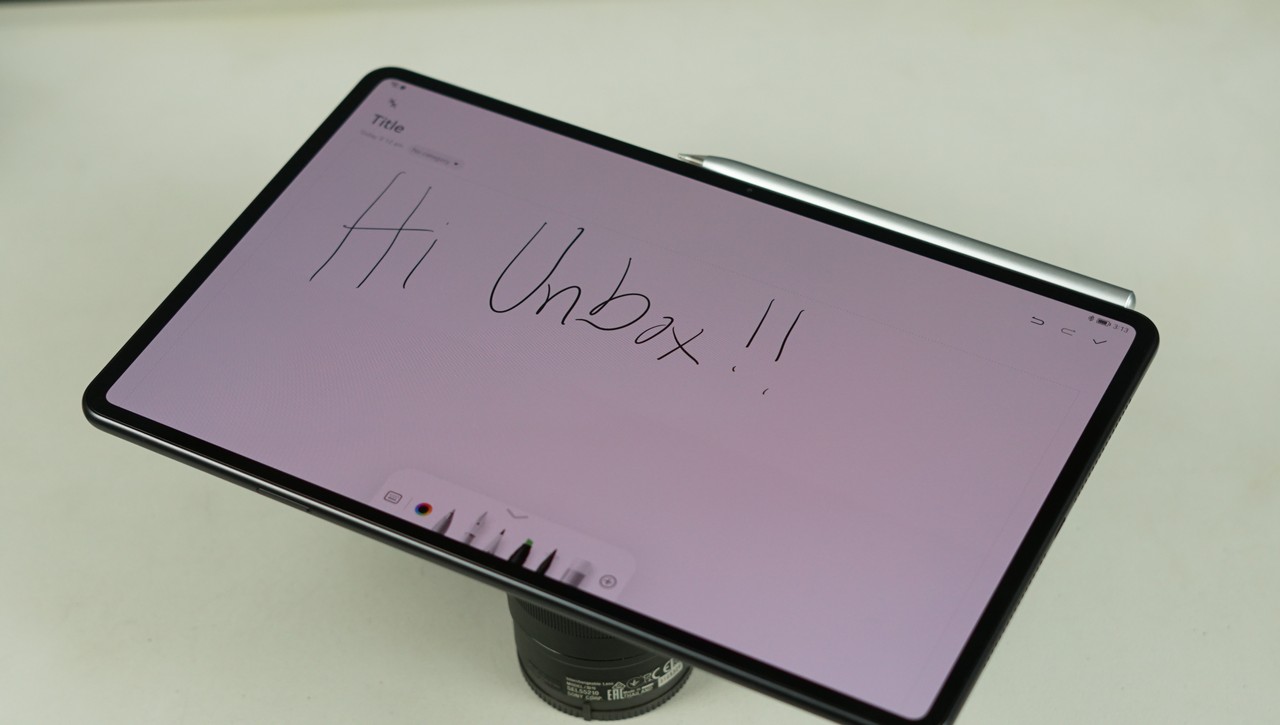 The tablet has an absolutely massive 10,050mAh battery inside of it that sports 40W fast charging, as well as 27W wireless charging, 5W reverse charging, and 10W of reverse wireless charging.
There's more than enough juice here that you'll be able to enjoy the tablet for the entire day. We tried our standard battery run-down test but it didn't finish before the review embargo lifted locally, so we'll be updating this article once that's done later today. Suffice to say that you'll have more than enough juice to last an entire workday with enough left at the end of the day.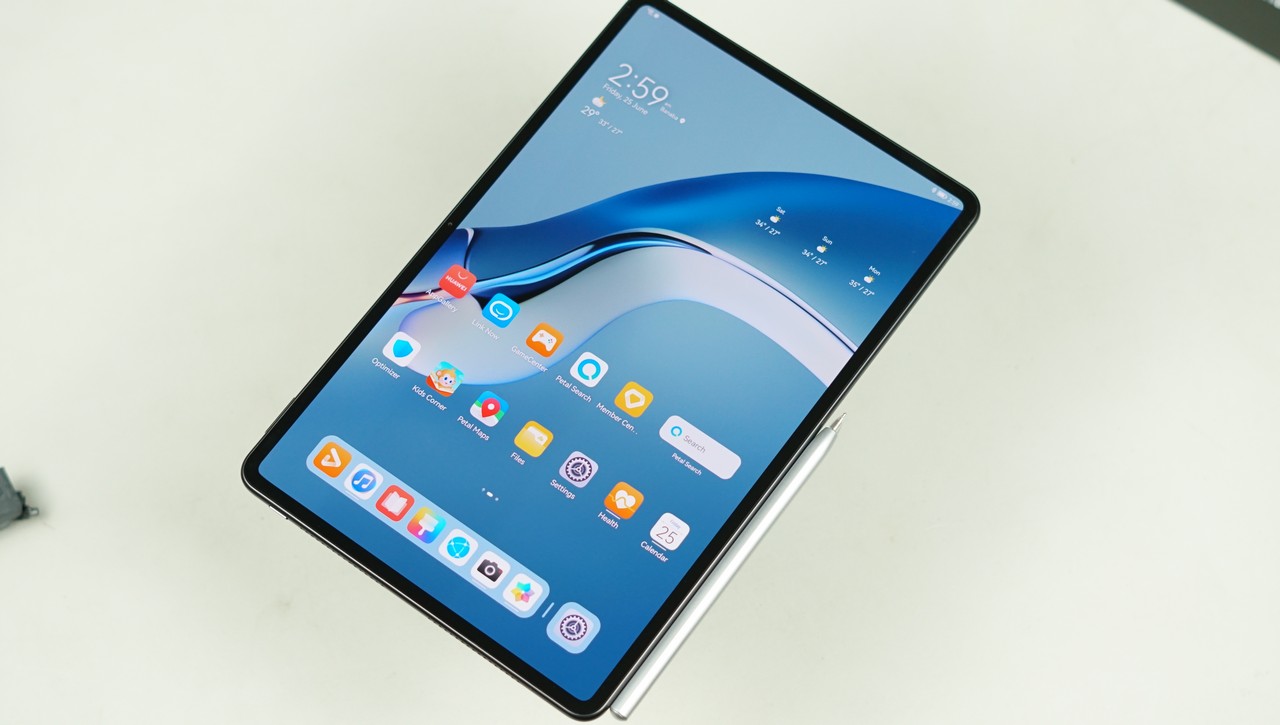 Wrap-up and verdict
Our review for the Huawei MatePad Pro 12.6 in the Philippines shows that it's a great tablet on its own, though many of the enhancements that HarmonyOS bring give it that extra push especially on the multitasking front. It's a powerful tablet that has a great screen, though it still has the same familiar problems that plagued their earlier devices.
Even though Huawei contends the tablet uses a brand new OS, it still relies on Android apps to do anything useful, and like before if your workflow relies on any app that uses GMS, you should steer clear.
This is a shame – the hardware on offer in the MatePad Pro 12.6 is incredibly compelling. Though if you're willing to put in the work to find equivalents or replacements to the stuff you use on Huawei's AppGallery and Petal Search Engine, the result is that you get to enjoy one of the best tablets available in the market today. At least, if you have the money for it.
Huawei MatePad Pro 12.6 Review Philippines Price
Huawei is asking a premium for the MatePad Pro 12.6 in the Philippines, as the tablet has an SRP of Php 55,999 and will be available at Huawei's eStore and official stores in Lazada and Shopee. For its pre-order promo, those buying from June 25 to 27 and add Php 1 will get the Smart Magnetic Keyboard, M-Pencil 2nd generation, Bluetooth speaker, and Band 4.
Those buying from June 28 to July 9 will get the Smart Magnetic Keyboard, M-Pencil 2nd generation, Bluetooth speaker, and several App Gallery Rewards. Lastly, those buying from July 10 to 31 will get the Smart Magnetic Keyboard and M-Pencil 2nd generation with their purchase.