Verdict: The Lenovo Legion Phone Duel is big, loud, and powerful, and gives ASUS's ROG Phone 3 serious competition for the title of the best gaming phone in the Philippines. While the phone doesn't have as robust of an accessory library as its main rival, it makes up for it nice to have additions like the side-mounted pop-up camera for streamers.
Lenovo Philippines has not priced the Legion Phone Duel yet as of press time, though if they manage to bring it under the SRP of their main rival, ASUS' ROG Phone 3, then they might just convert a few fans over to the Legion army just in time for Christmas.
Pros
Gaming-optimized features
Virtual side buttons that work as triggers
Front-facing cam works great as a streaming camera
Powerful internals make short work of any Android game
Cons
The design is a little too gamer for most people
Front-facing camera positioning makes it hard to use as a regular selfie cam
The rear camera position is weird
No accessories available for it yet
Packaging and contents
Lenovo's packaging for the Legion Phone Duel is as ostentatious as the phone itself: the box has a cardboard sleeve that has LEGION printed on the outside in holographic letters. A short sound clip plays when you open the box (there's a sound chip embedded inside that works like the ones in greeting cards).
Inside the box, you'll find the phone, a case, documentation, two USB Type-C cables, and the fast charger.
Design
The Legion Phone Duel may be a lot of things, but it is not at all subtle. The phone's design is as flamboyant as they come, with the glass rear loaded with metallic and holographic finishes. Lenovo's Legion logo dominates the back with RGB lighting, and the words "Stylish Outside" and "Savage Inside" on either side. The dual-camera module is set to the right of the logo, while the unique, pop-up selfie camera is set near the top of the logo.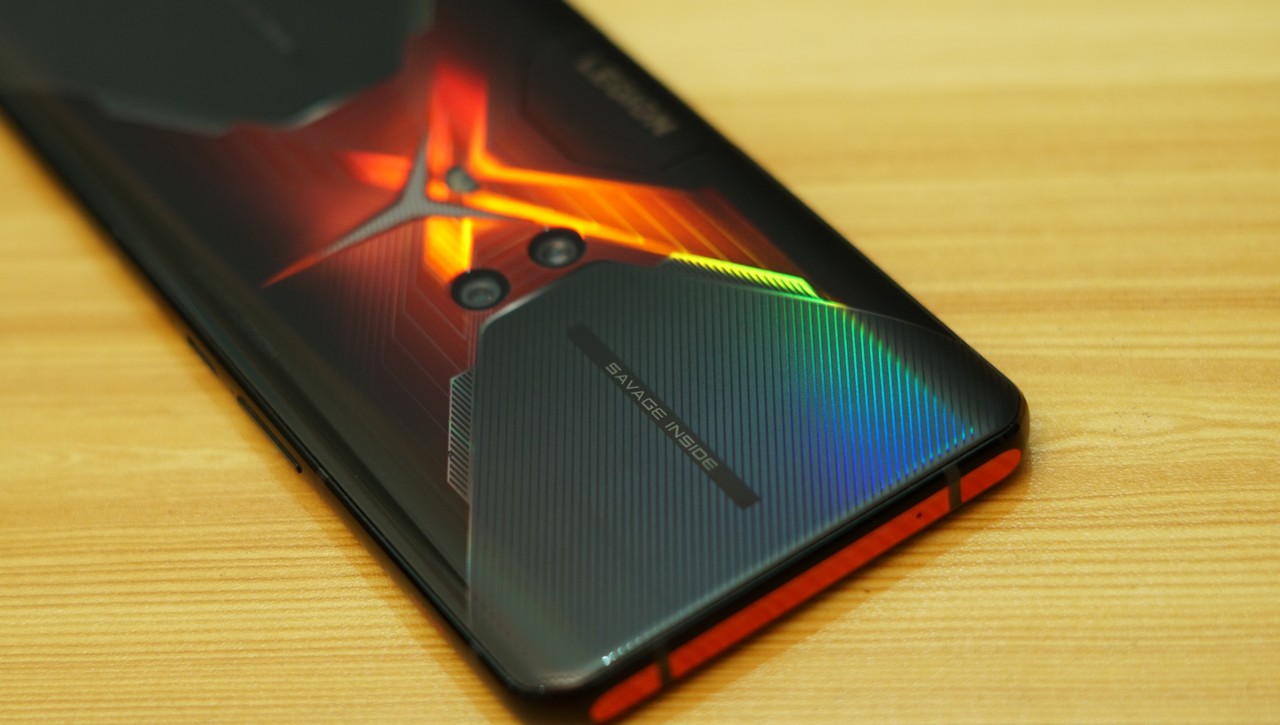 The mostly landscape-optimized layout and design of the rear aren't by accident – think of it as a gaming console that exclusively plays Android games that has phone functions as an added extra and you'll have a better understanding of how the phone is supposed to work.
Just like their main rival, the Legion Phone Duel has touch-sensitive zones on the frame that acts as virtual side buttons for gaming. The power button is embedded in the top of the pop-up camera, with the volume controls on the other side (the left, if you're holding it like a phone). There's a USB Type-C charger on the bottom, along with a dual SIM slot.
There's also a secondary USB Type C port on the left side of the phone, presumably to be able to connect a charger so a cable doesn't interfere with your right arm when playing.
The Legion Phone Duel is a heavy phone, tipping the scales at 239 grams. The phone's overall thickness is 9.9mm which is substantial. You'll definitely feel this thing moving around in your pockets while you're using it.
The design of the phone is…interesting to say the least. It's obvious that Lenovo's design direction was more "form follows function" rather than the other way around, with the exterior obviously made to maximize comfort during long gaming sessions, which, to its credit, it does well.
Display
The display for the phone is a 6.65-inch, full HD+ resolution Super AMOLED panel, along with a 144Hz refresh rate and 240Hz sampling rate for reduced input lag.
Playing games with the display was a pleasure, as you'd imagine, especially while navigating the bright, beautiful world of the Waifu Collecting Simulator (AKA Genshin Impact). Sure the display is just Full HD+, but you'd be hard-pressed to find anyone that can see the difference between a Full HD+ display and a 2K one at this size.
The screen feels incredibly smooth and fluid – pretty much what you'd expect from a phone that has beastly specs and 144Hz refresh rates.
As for display quality, you're getting really nice-looking colors, including deep blacks and vibrant colors. That's pretty much par for the course when it comes to AMOLED screens though, but it bears mentioning anyway.
Much like any high-end flagship device that has an AMOLED display nowadays, the Legion Phone Duel uses an under-display fingerprint scanner to unlock it.
Camera
Gaming phones aren't exactly what you'd call photography powerhouses, but camera performance is still something a lot of people factor into their purchase.
The Legion Phone Duel has a dual-camera module on the rear, which is made up of a 64-megapixel f/1.89 camera and a 16-megapixel wide-angle lens.
Photos taken with the main camera are generally OK under bright light, though it's obvious there's a bit of over-aggressive post-processing going on here.
The short story here is that it's good enough for casual snaps when there's plenty of light, but falls short of dedicated low-light use.
The front camera setup for the Legion Phone Duel is more interesting than the rear camera stack: you have a 20-megapixel selfie cam is located on the side of the phone, near the center. This makes it incredibly hard to use it as a normal selfie camera, though the positioning makes it easier to use for streaming when playing games, which is its main function.
Software and features
The Legion Phone Duel runs Android 10, optimized to run their custom ZUI on landscape mode.
This UI is controlled in the control center accessed by pressing the Legion Icon on the home screen, which instantly converts the phone's UI into landscape mode and shows you the games you have installed on it.
From here you can optimize the phone's performance mode, which mainly lets you switch it to "Rampage" mode, slightly overclocking the phone's GPU and CPU clocks to make sure that there are no bottlenecks when you start playing games.
You can also configure the virtual shoulder buttons from here, as well as set the sensitivity and the actuation force required for them to engage.
You can also access the phone's gaming enhancements any time when you're playing a game by swiping down from the top. This allows you to toggle Rampage mode without having to go through the app, as well as turn on streaming mode. This turns on the side-mounted selfie camera and allows you to isolate your background as well as add stickers and other stuff to your face while streaming.
The background removal works well enough though like any software-based solution, having a green screen behind you helps a lot in separating your body from the background better.
Interestingly you're only able to set the RGB backlight of the LED on the back via the display settings, and not through the Lenovo app which is a little odd.
One thing I really like about the Legion Phone Duel is the front-facing speakers. They're plenty loud, which makes you kind of forget the fact that it doesn't have a 3.5mm jack, though you might want to invest in a good pair of TWS buds so that you don't annoy the people around you trying to figure out why there's a woman moaning seductively while you play Genshin Impact.
Performance and battery
The Legion Phone Duel is armed with the best processor for Android phones right now since it's marketed primarily as a gaming phone. That means it comes packing Qualcomm's Snapdragon 865+ processor, along with globs and globs of RAM and storage: either 12GB or 16GB, as well as 256GB or 512GB of UFS 3.1, respectively.
Our review device came with the latter option (16GB of storage, 512GB of storage) which pretty much means you'll be able to play whatever games you want on the Legion Phone Duel on the highest graphical setting, without any issues.
High performance usually means high heat, though Lenovo has found a way around that via "liquid cooling" copper pipes to move heat away from the important bits. Heat is manageable, and I never felt it affect the phone negatively to the point that it became hard to hold.
Lenovo decided on a unique arrangement for the phone's 5000mAh battery, splitting it into two cells 2500mAh each.
The brand says it did this to keep heat away from the logic board and to spread it around to ultimately prevent thermal throttling.
5000mAh is a lot of a phone, and that much juice gave the phone an excellent battery run down endurance of 13 hours and 25 minutes on our YouTube streaming test, with the phone running on 90Hz refresh rate. You're getting much less when you run the phone on 144Hz though, as the phone only got a score of 11 hours and 13 minutes with 144Hz on.
The phone is advertised as being able to use a blisteringly fast 90W charger, but unfortunately, customers in the Philippines will only be able to get up to 65W charging via the included charger, and only if you plug both cables in both USB Type-C ports. Plugging in a single USB Type-C cable from the charger to the phone will only charge the phone up using 33W charging speeds.
Wrap-up and conclusions
Lenovo's taken a different tract for its gaming phone, optimizing it to be a gaming device first, and phone second. That's great for when you're playing games, but the landscape-optimized nature of the device definitely isn't for everyone.
But if you're the type that likes playing mobile games to the point you're considering a gaming phone, then the Legion Phone Duel might just hit the spot, provided that Lenovo prices it competitively VS their main rival, ASUS and their ROG Phone 3. We don't know pricing for the Legion Phone Duel as of yet, but if they price it slightly below the ROG Phone 3, then it might just be a good buy despite its quirks.