Review Verdict: While the Motorola Edge 20 Pro has lost its literal edge because of its flat construction this year, it's still a pretty solid option for anyone looking to get a flagship-grade smartphone in the Philippines this year. Its versatile set of cameras, beautiful screen, and solid performance make it a formidable contender in the premium mid-range market.
Pros
Great screen
Good cameras
Flagship-grade performance
Stock-looking UI
Cons
Only 30W fast charging
A little more expensive VS competition
Motorola Edge 20 Pro Review Philippines Specs
Snapdragon 870 processor
12GB RAM
256GB internal storage
6.7-inch Full HD+ POLED display, 144hz refresh rate, HDR10+
108-megapixel f/1.9 ISOCELL HM2 main camera with PDAF; 16-megapixel f/2.2 ultra-wide-angle camera; 8-megapixel f/2.4 periscope camera with 5x optical zoom and OIS
32-megapixel f/2.2 front camera
Dual SIM
4G, LTE, 5G
WiFi 6, Bluetooth, GPS, A-GPS
Side-mounted fingerprint scanner, IP52 rating
4500mAh battery
30W charging
Android 11, Motorola MyUX
Motorola's dropping their new mid-range offerings today, and in this review, we'll be taking a look at the pricier of the two: the Motorola Edge 20 Pro. The phone has great looks, solid performance, and a neat video recording gimmick under its sleeve, though its higher price tag VS the competition might scare off prospective buyers.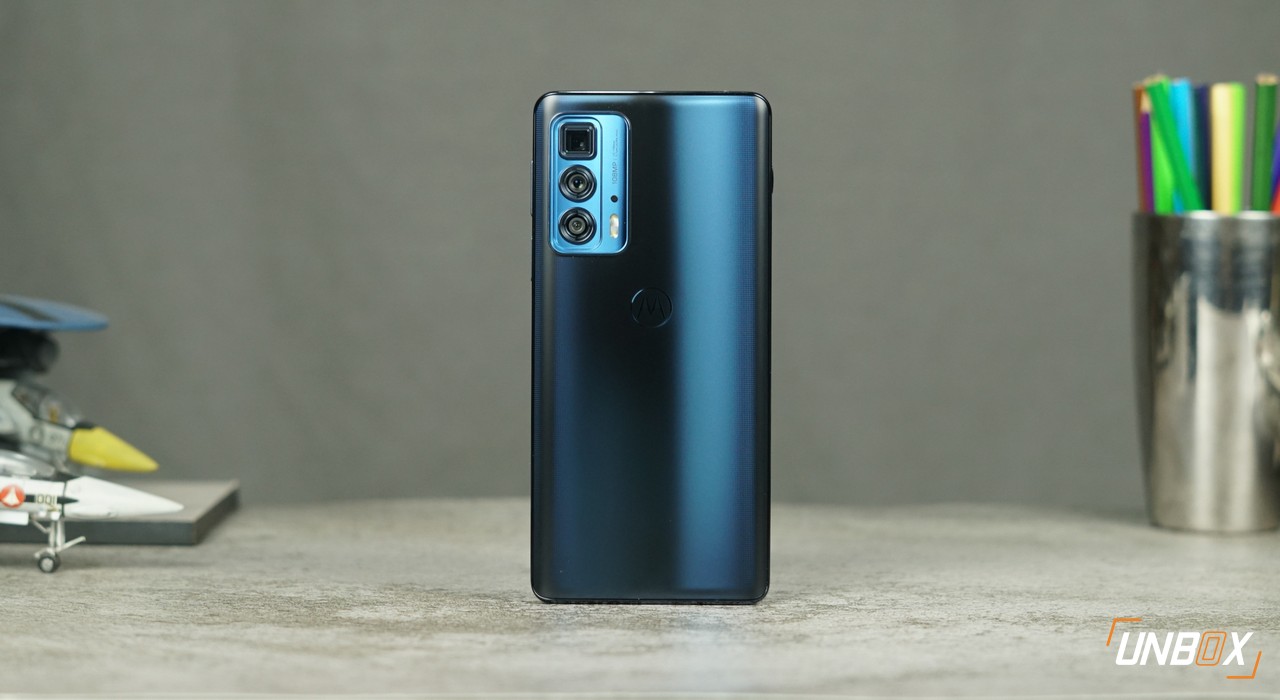 Design
While the phone is the direct descendant of Motorola's Edge from last year, it doesn't have a curved display. Motorola went with a more conventional flat screen this time around, which made the phone a little bit wider compared to last year's model.
The phone sports a matte, glass back, along with an aluminum chassis. The phone has a nice, subtle iridescent effect that isn't too flashy nor boring – a nice change of pace from the typically loud designs that we usually see on phones.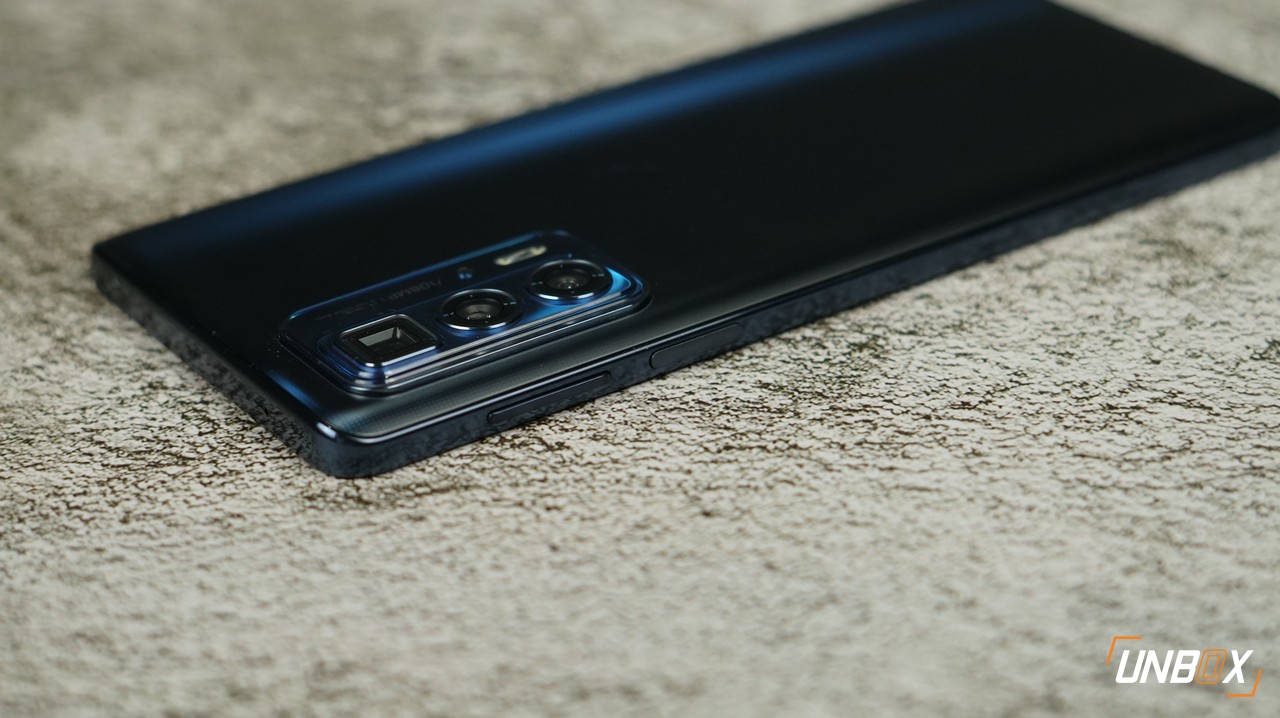 Our review unit came in Midnight Blue, though Motorola offers a Blue Vegan Leather model in other countries – it's not clear if that will be offered in the Philippines as of press time.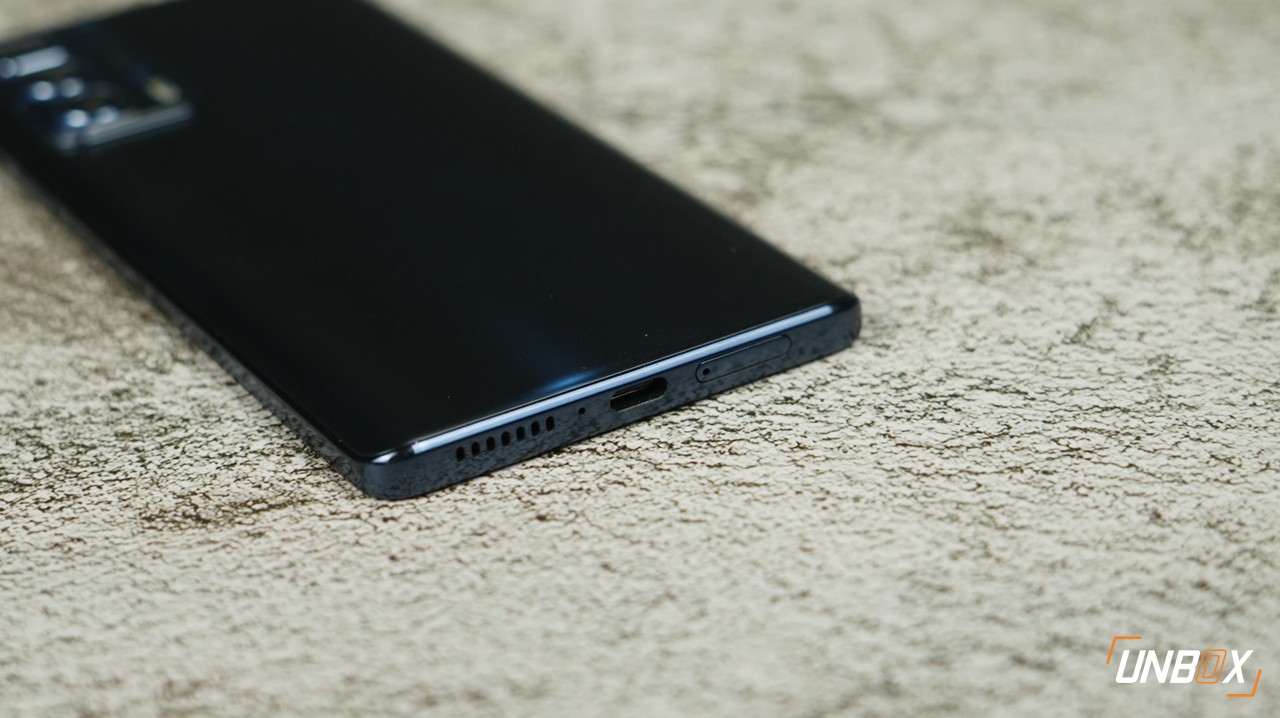 The rectangular triple camera module is located on the upper left side of the phone. The power and volume buttons are on the right side of the phone. There's a button on the left side that summons Google Assistant, and while we usually don't like extra buttons like that that you'll invariably mistake for the power key when the phone is in your pocket, it's in a spot that's relatively out of the way.
The USB Type-C connector is located on the bottom, flanked by a speaker grille and the SIM slot. There's no expandable storage here, so you're pretty much stuck with the capacity you choose.
All-in-all the phone feels solid in the hands, though it's a little wider than your average smartphone. The phone is a literal handful for people with smaller hands but that won't be a problem for people with mitts that are bigger than average.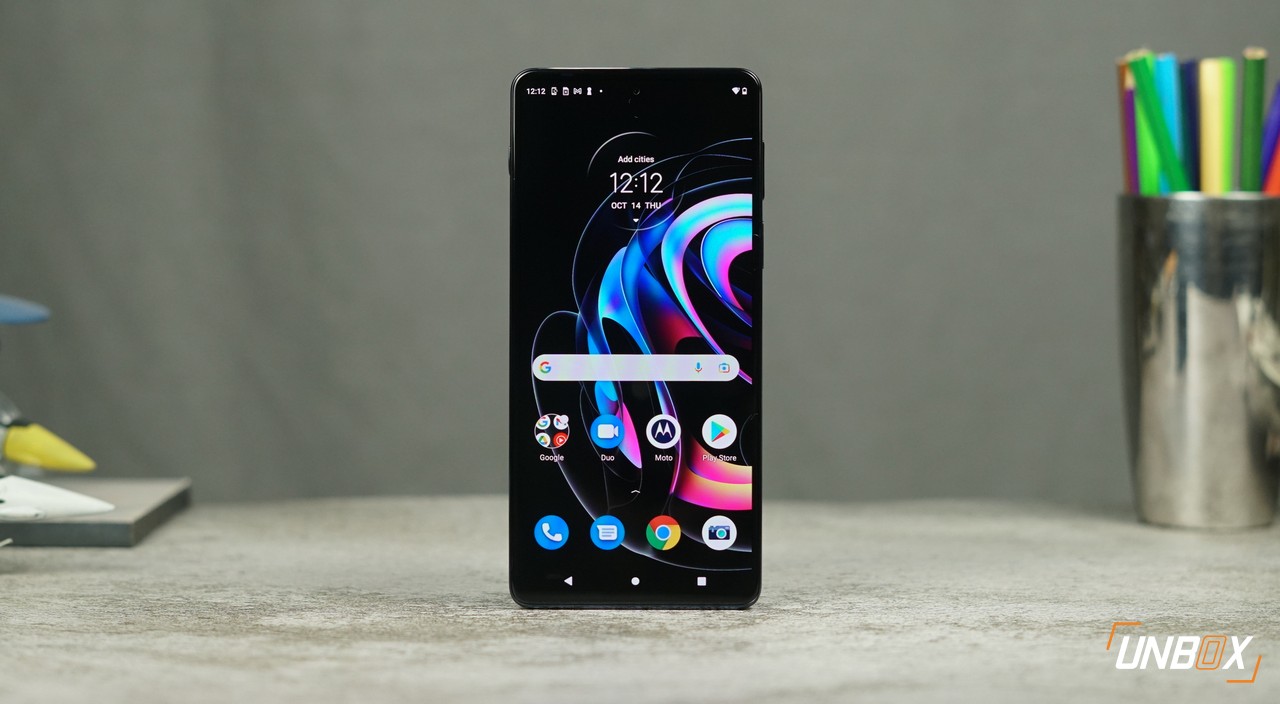 Display
The Motorola Edge 20 Pro's large size is due mainly to its display. The phone sports a 6.7-inch OLED panel that has 1080 x 2400 resolution. That translates to an 89% screen-to-body ratio thanks to the small bezels on the side.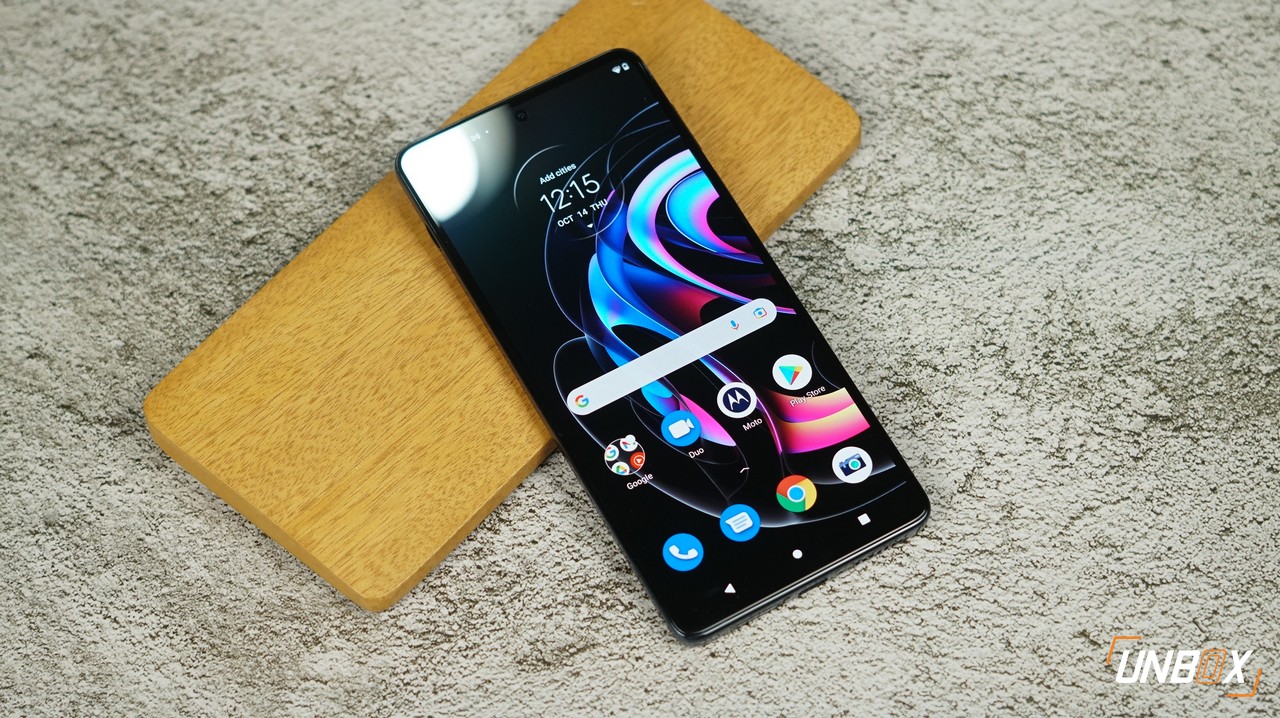 Additional display specs include a variable refresh rate that runs up to 144Hz, as well as HDR10+ capability. The screen is protected by Gorilla Glass 5.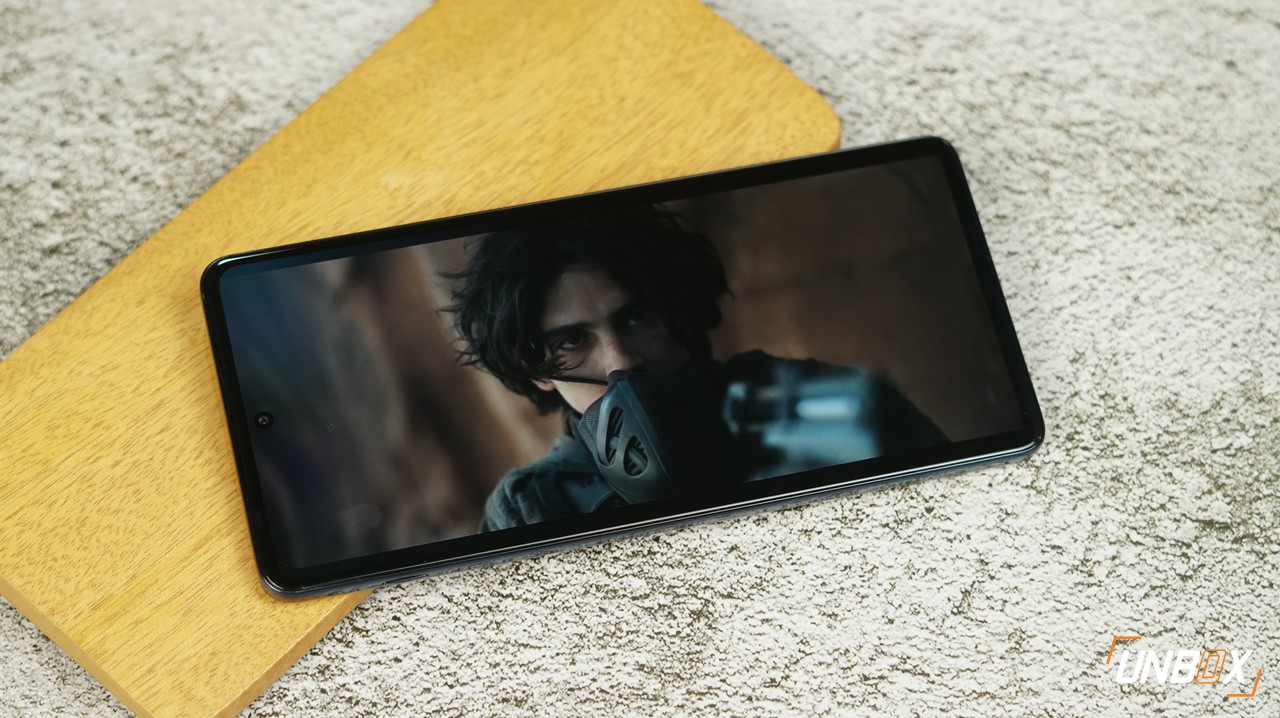 The screen is a variable refresh rate one so it has the ability to jump from 48 to 120Hz when set on auto. Oddly enough the phone only hits 144Hz when it's locked to that mode by the user, which also drains your battery faster.
As for image quality, the phone's display looks great. The colors are vivid and the phone's display is bright enough to be seen even in direct sunlight.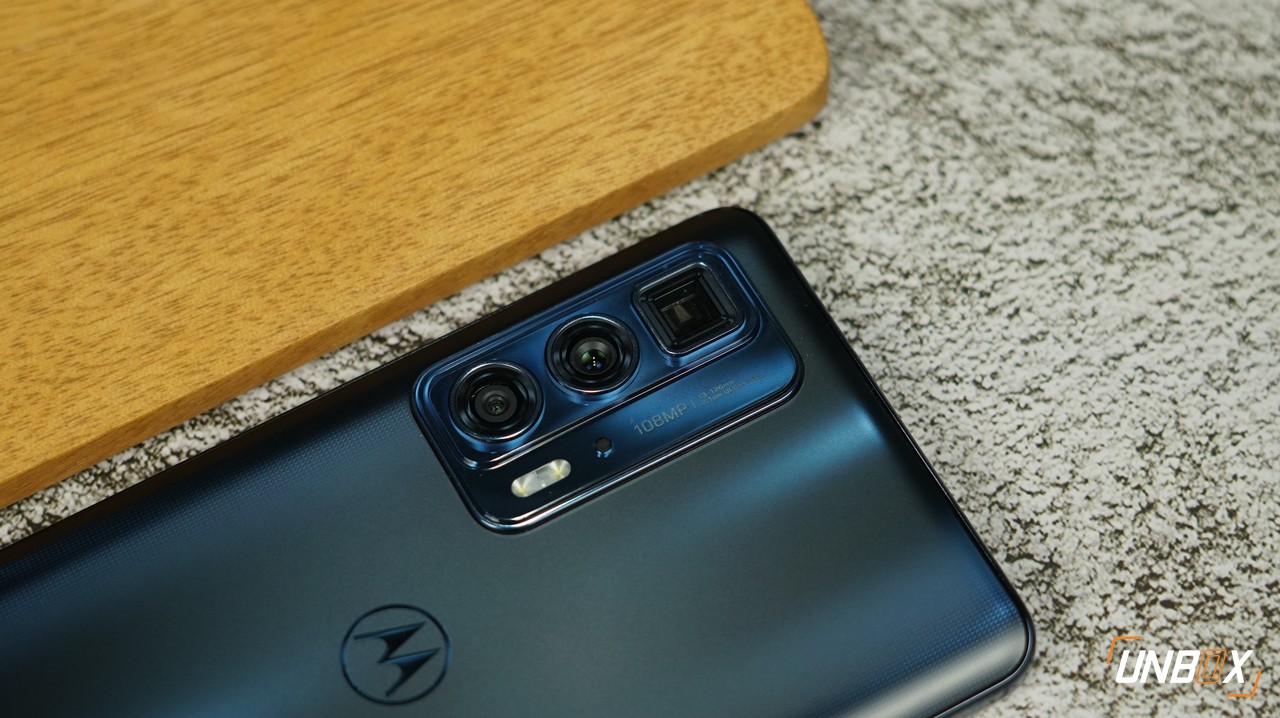 Cameras
We're pretty sick of manufacturers stuffing phones with spec-filling macro/depth cameras to bloat their marketing material, so it came as a nice surprise to see Motorola stick with three, useful snappers with the Motorola Edge 20 Pro. You get a 108-megapixel main snapper that has an f/1.9 aperture, as well as a 16-megapixel ultra-wide camera and an 8-megapixel 5x zoom periscope camera.
The Motorola Edge 20 Pro also has a 32-megapixel selfie camera that has an f/2.3 aperture lens.
Image quality from the main shooter is pretty good. The phone uses pixel binning to shrink the 108-megapixel raw photo to a 12-megapixel one which results in a sharper, more defined image overall.
The wide-angle camera also takes pretty decent shots as well, which gives you a bit more versatility when you're taking shots of places, animals, and things. Photos taken using Night Vision can also churn out some pretty decent results but you are restricted to using the main camera in this mode.
The 8-megapixel zoom snapper has a camera that has a built-in optical image stabilizer, so you're still getting clear images even though you're shooting far-off subjects. Interestingly, the zoom lens also has a dedicated third microphone at the back that allows for "Audio Zoom" which comes in handy if you're shooting video with the zoom lens. It essentially allows you to capture amplified sound from whatever you zoom at. Speaking of video, the Moto Edge 20-Pro can go all the way up to 8K but we highly suggest sticking to 4K. While you are, once again, restricted to the focal length of the main camera, you do get stabilization and the ability to at 60p.
Performance, software, and battery
The Motorola Edge 20 Pro has a flagship-grade processor, namely Qualcomm's Snapdragon 870. Sure, it's a little slower than the top-tier Snapdragon 888 chipset found on flagship phones but it's still delivered flagship performance.
The processor is powerful enough to keep the phone nice and fluid when you're going through the menus and has enough graphical number-crunching muscle to go through games like Genshin Impact at the highest graphical setting without any problems.
Heat-wise, the phone does heat up but not to an unreasonable degree, which is typical for phones that use processors of this caliber.
As for RAM and storage configurations, the Motorola Edge 20 Pro comes in configurations ranging from 6GB/128GB all the way to 12GB/256GB.
Software-wise the phone runs Android 11, with Motorola's UI layered on top. While the phone isn't exactly a "stock" Android experience, Motorola's improvements don't get in the way and leaving you with a mostly stock-feeling Android experience. Additional software features are there if you need them, and we really like how Motorola lets us choose what enhancements we want to use instead of shoving them down our throats.
The phone has a 4500mAh battery, which is okay but isn't as big as what we usually see on other similar phones. Battery life is good, but isn't impressive, with the phone clocking in 10 hours and 34 minutes in PCMark's battery benchmark, with the refresh rate set to auto.
Battery charging speeds top out at 30W too, and while that's still quicker than average, it's a little slow considering other brands offer 50W fast charging on their phones. That being said, we ran a 30-minute charging test on the Moto Edge 20 Pro with the included charging brick and that saw the battery jump from 15% to 55% which really isn't that bad; all things considered. While fully topping it off from 0 took around 1 hour and 20 minutes.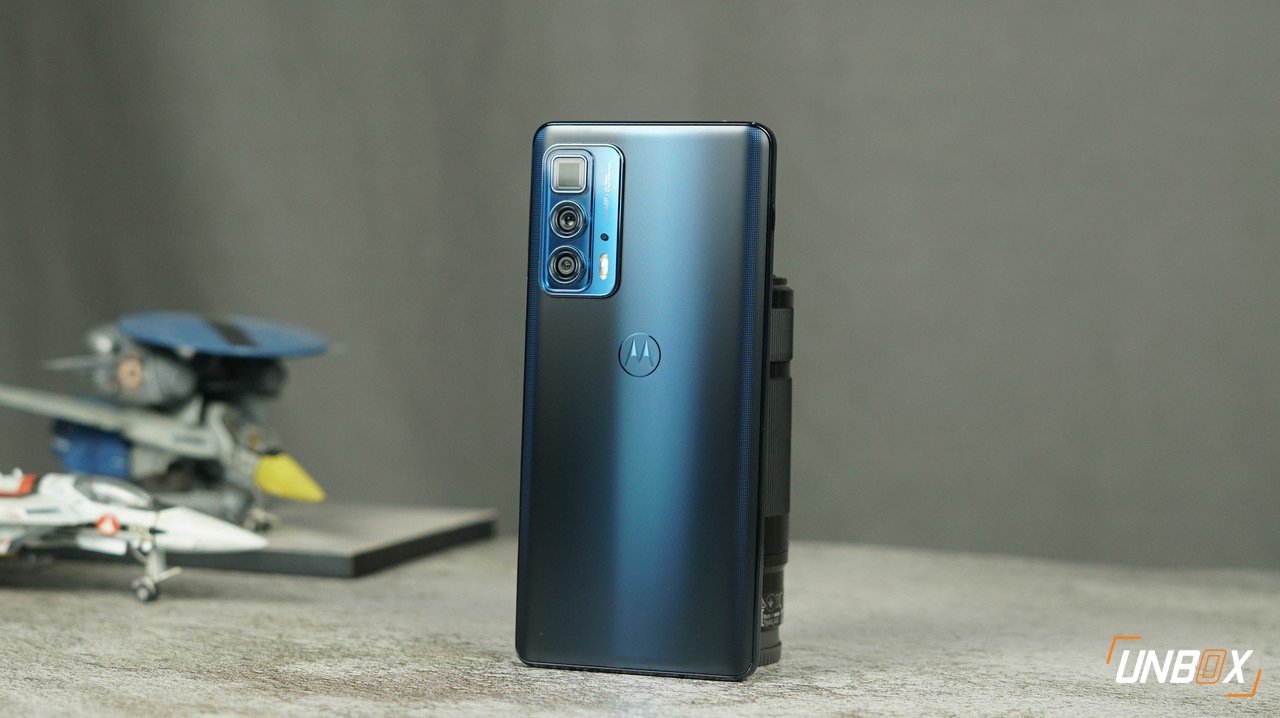 Wrap-up and verdict
The Motorola Edge 20 Pro performed great in our review, giving users in the Philippines yet another solid premium mid-range phone to consider once the holidays come around. The phone's good looks, solid cameras, and good performance make it a great workhorse despite our concerns about its overall battery life and charging speeds.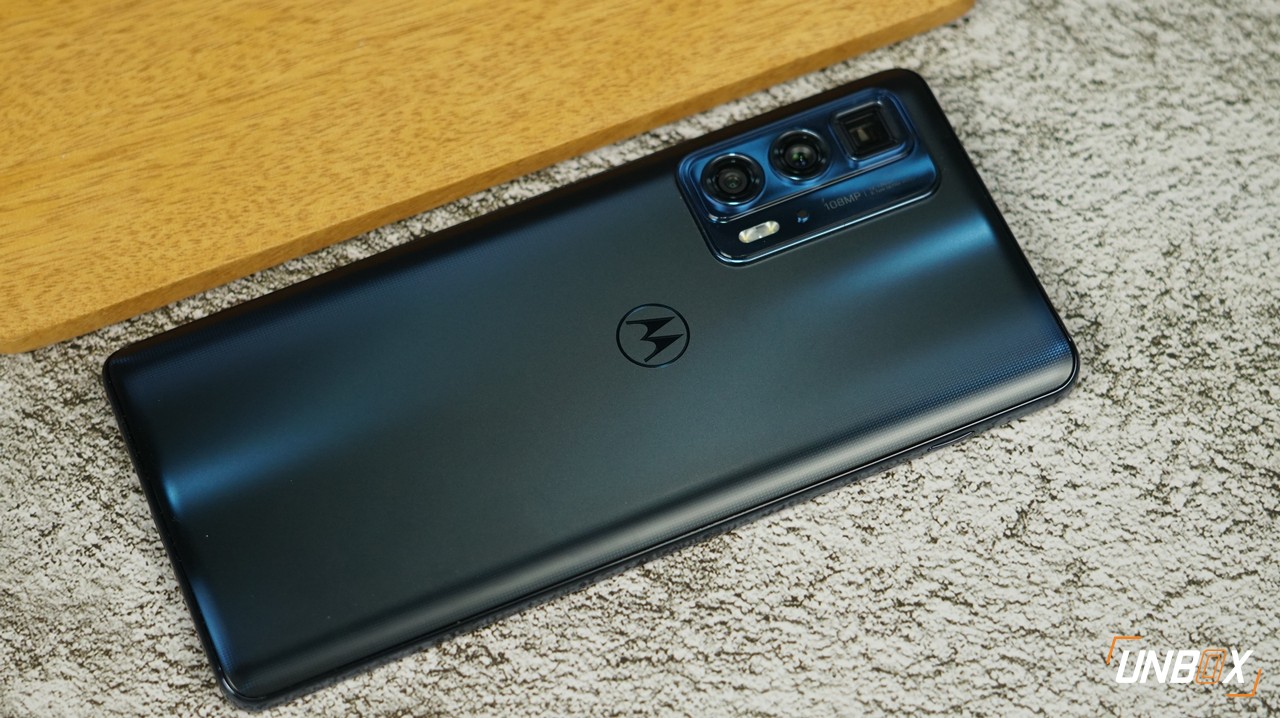 Motorola Edge 20 Pro Review Price Philippines
The Motorola Edge 20 Pro has a price of Php 29,995 in the Philippines. Pre-orders begin on October 21 and runs to October 28 with pre-order customers getting a reduced price of Php 27,995. You'll also be getting freebies when you pre-order, including a Yoga ANC headset worth Php 9,995 as well as a Lenovo USB Type-C Travel Adapter worth Php 2,995.