Verdict: The POCO X3 NFC is easily one of the best value for money phones that you can get right now with an amazing set of internals and features for the price you're expected to pay; regardless if you were able to snag it at the early bird price.
Does it have its flaws? Of course, it does but they aren't massive brick walls that stop you from enjoying the device and they aren't new to those who have had a device from Xiaomi or POCO in the past. 
You've heard us say this countless times by now but this is most likely the best bang-for-your-buck phone in 2020 at Php 10,990 for the base model or Php 12,990 if you want to max out the storage. The biggest con for this device is that it might be a little hard to come by right now since it's almost always sold out. Read on to learn more about the POCO X3 NFC specs in our review.
PROS OF THE POCO X3 NFC
Sweet Processing Package
120Hz Refresh Rate Display
Mind-blowing Price Point
CONS OF THE POCO X3 NFC
Hard to Get a Hold Off
Ads are Still Present
POCO pulled a rabbit out of the hat when they first hit the ground with the POCO F1; a device that is definitely one of the best devices ever released in the last couple of years. While Xiaomi and POCO have always been known for having aggressively priced smartphones, they really unleashed some serious magic with their current release.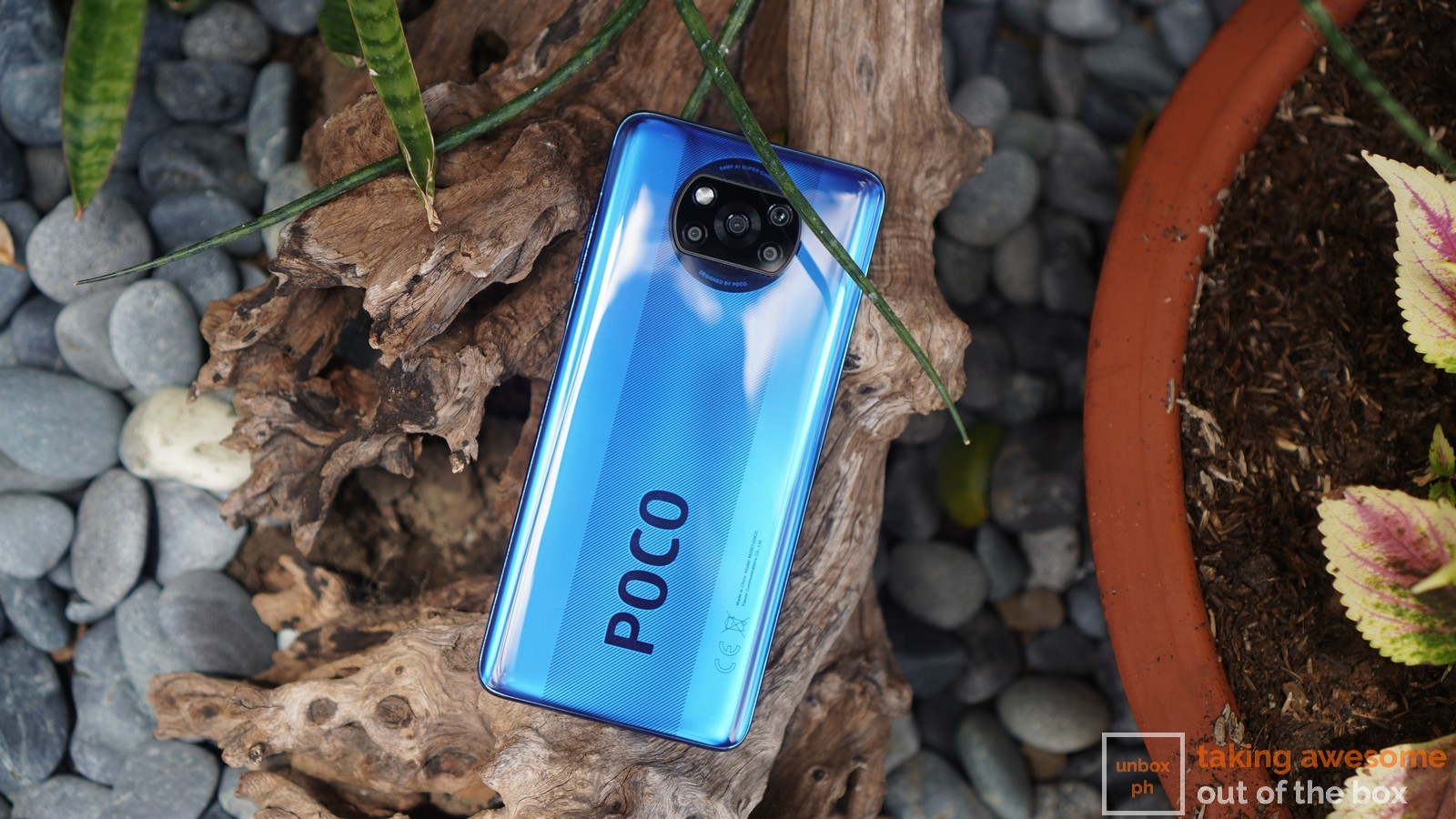 Design and Build Quality of the POCO X3 NFC
When POCO burst onto the scene with F1, they have us the most utilitarian design; bordering on bland. That definitely isn't the case with the X3 NFC with bold, iridescent branding on the back with a racing stripe down the middle that reminds me of an American muscle car. The Cobalt Blue colorway that we have is definitely more eye-catching of the two options but I feel drawn to the slightly muted Shadow Grey.
One thing that's polarizing in terms of the design is the camera array of the X3 NFC. It is very distinctive and has a rather sizable bump. The case does neutralize it, however, and it really isn't anything compared to the huge protrusion on the Samsung Galaxy Note 20 Ultra.
The first time you pick up the device, you'll notice that it does have some heft to it thanks to its battery capacity. It's also a little wider that other phones that we've tried recently without the case so the ergonomics may feel a little off in the beginning. It isn't a big deal but it is worth noting so you know what to expect.
In terms of build quality, the X3 NFC uses a mix of materials with a plastic back, aluminum frame, and Gorilla Glass 5 to protect the display. There is slight give if you press on the back of the device but it's nothing to be alarmed about and overall this is a well-built, sturdy device for its asking price.
Display of the POCO X3 NFC
There's no doubt that one of the biggest draws for this phone is the fact that it has a display with a refresh rate of 120Hz and that really does boggle the mind given that the price of the POCO X3 NFC in the Philippines is Php 10,990 for the base model. For a recap, that's on a screen that measures in at 6.7-inches and utilizes an IPS Display at Full HD+ resolution.
To be honest, it's pretty standard in terms of picture quality if you're most going to use your phones for consuming content, which isn't too bad but one thing that we do have to note is that it might struggle a little bit with outdoor use.
You may have seen Dave Lee's video about the refresh rate on the X3 downclocking to preserve battery life. You will notice at times and it might seem like the phone is lagging for a split second but it does go back to 120fps and animations do get to that buttery smooth goodness quickly.
One thing that was a big bonus for this device is having Widevine L1 certification, which means that if you are passing the time during quarantine plowing through content on Netflix you will be able to do so in HD quality.
Better still is the fact that you actually have stereo speakers on this device but, as always, you're going to want to hook it up to a pair of headphones to really enjoy your shows or YouTube clips. They aren't half bad though with a decent amount of volume and little no distortion.
Cameras of the POCO X3 NFC
Another area where the POCO punches way above its price point is in the camera department and it does have the shooters to back it up. Like John mentioned in our initial review for this device, phones with a 64MP cam as its main are usually in the Php 15,000 bracket plus it's also backed by a Sony IMX682 sensor.
You're also getting a 13MP ultra-wide camera, 2MP macro, and 2MP depth sensor to go along with it.
Honestly, I am pretty happy with the results that the cameras produce great snaps with pretty good detail on both the main and ultra-wide. Although the AI can go a little crazy in terms of color saturation in some situations. Most photos also have a warmer tone to them but you can tweak it on your favorite editing app on your phone.
The Night Mode on the X3 also churns out decent photos at night but we are kinda bummed that you are limited to using the main shooter on this mode. We're not sure if this is something they can tweak with a software update but we hope it can be added on.
For selfies, you are getting a 20MP front camera and it does a great job as well. We would still recommend shooting in brighter environs to really help it out to get the best results.
Hardware and Software of the POCO X3 NFC
One thing that POCO and Xiaomi are also able to do on a regular basis is to provide us with SoCs that are usually available on higher priced devices. The X3 NFC is packing a Qualcomm Snapdragon 732G processor — which is the first phone to launch with this chipset — and is paired with a generous 6GB of RAM and up to 128GB of storage.
You've already seen us compare this phone to some of its competition with synthetic benchmarks and you can really see that the 732G does have a leg up over the likes of the Helio G90T and Qualcomm own chip — the 730. Truth be told though, in real world use, it's pretty hard to notice a difference when we had the X3 NFC set to 60Hz.
In terms of gaming though, we're pretty happy with the performance of the POCO X3 NFC because it can hang with higher priced mid-range phones, which really is the theme for this review.
For battery life, the POCO was able to go 13 hours and 21 minutes on our YouTube video loop test plus we were able to take this comfortably to a day and a half with moderate use at 120Hz. The 5160mAh battery definitely was a good call and makes the added weight plus width of the phone worth it. We were also able to top up the X3 in a little over an hours with its support for 33W fast charging so that's a good deal when the world opens up again and you forget to top up the night before.
On the software side of things, it's running on MIUI 12 that has seen its fair share of improvements. It still has some of Xiaomi's pre-installed software onboard but not quite as many as past devices. One thing that's a little bit of inconvenience is that you do still get served ads when installing apps but it isn't too intrusive. You can disable the ads by going into the settings but you still get that extra screen telling you when an app has finished downloading which can get pretty annoying when you first set up the phone.