Review Verdict: the realme narzo 50i is an entry-level Android device suitable for most use cases here in the Philippines. Its performance is more than enough for everyday tasks such as browsing social media, accessing the internet, and binge-watching on YouTube and Netflix, though if you want more you'll have to look at another device. 
Pros
Processor decent for daily tasks
Cons
Slow charging and outdated MicroUSB port
Not ideal for games
realme narzo 50i Philippines Specs
Unisoc SC9830A octa-core processor
4GB RAM
64GB internal storage
6.5-inch HD+ IPS display
8-megapixel f/2.0 main camera with AF
5-megapixel f/2.2 selfie camera
4G, LTE
WiFi, Bluetooth 4.2
5000mAh battery
Android 11 (Go Edition), realme UI
Shenzhen-based company realme has been releasing absolute bangers of devices lately. From the 8i which we crowned as our budget king, to the GT 5G which is considered one of the most affordable smartphones in the market that houses a flagship Snapdragon 888 chipset. Now, the narzo 50i aims to be the top choice at the absolute entry-level space for casual phone users. How does it stack up?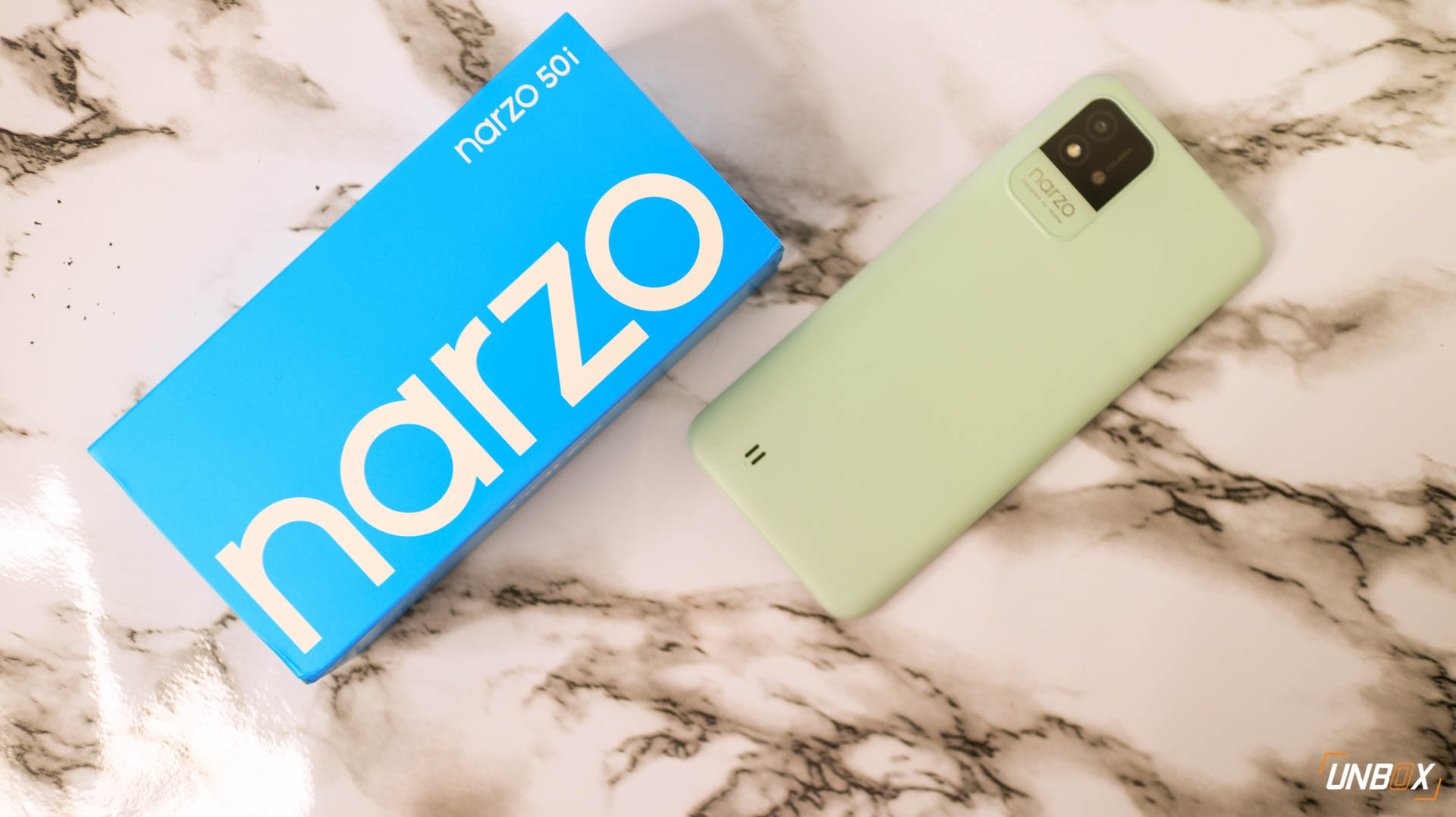 Design
The realme narzo 50i comes in two colors – low-key carbon black, and our review unit – the pastel mint green. Either way, the design is clean and simple. At this point, we've seen the waterdrop notch done a million times on other devices across the price spectrum, so it's nothing new. As the old adage goes: "if it ain't broke, don't fix it."
On the rear is the camera setup with some narzo branding, then there is a carbon-like finish from below the camera to the bottom of the phone. It's an appreciated subtle touch from realme that adds a bit of personality and texture to the phone's backside.
The button and port layout are typical of what you expect on a realme phone, though we're dismayed that it is one of the remaining realme phones in 2021 that still uses an outdated MicroUSB port.
Display and sound
The narzo 50i sports a 6.5-inch LCD display, which is a very familiar panel since realme has been using this particular display for a number of its entry-level offerings for over a year now. That being said, you get the same HD+ resolution that is rather low for 2021 standards but is nevertheless a decent resolution for watching videos.
The rear-facing mono-firing speaker does its job of conveying sound. It's not tinny and there's actual depth to the audio, or at least as much as you can expect from its speaker setup. Flagships from years ago also made do with just one rear-firing speaker and were very usable, so it definitely is possible to achieve decent performance.
Cameras
Being an entry-level phone, the narzo 50i is pretty basic with its snappers, where you get an 8-megapixel rear camera and a 5-megapixel front camera.
As expected of equipped smartphone cameras in 2021, the narzo performs sufficiently in ideal lighting conditions. There is enough detail, things that need to stay in focus do so, and colors come to life in warmer tones. Its indoor performance is slightly compromised but not a shock at the price point – with blurs here and there in the absence of a perfect light source. Despite this shortcoming, the camera performance creates shots perfectly usable for the everyday consumer.
The narzo 50i can shoot videos at up to Full HD, though overall quality is not great because of its hardware limitations. Check out our sample video below that should give you a glimpse of how video looks in motion, as well as audio recording performance:

Internals and battery life
Considering the market in which the narzo 50i competes, the octa-core UNISOC SC9863A is par for the course. It runs at a clock speed of up to 1.6 GHz, supported by an acceptable 4GB of RAM. There is 64GB of storage that can be expanded with a MicroSD card. We had no issues with browsing the web or watching our favorite videos whatsoever. The 50i could also handle switching back and forth from one app to another while keeping a few apps open. The performance is adequate for non-power users. Gaming might not be its forte, as the narzo 50i can handle titles like Wild Rift and Call of Duty Mobile at their lowest settings, though expect to encounter some slight bumps here and there.
Unlike other realme phones, the narzo 50i uses a Go version of Android 11, which is a lightweight version of your usual Android 11 build for better performance optimization with its modest internals. You don't get the same software customization options as the Android 11 layered with realme's custom UI, so take note of that before buying.
Keeping the lights on is a 5000 mAh battery that lasted us at around 10 hours during our video loop test. You don't get any form of fast charging with the narzo 50i, so topping up that battery will take some time.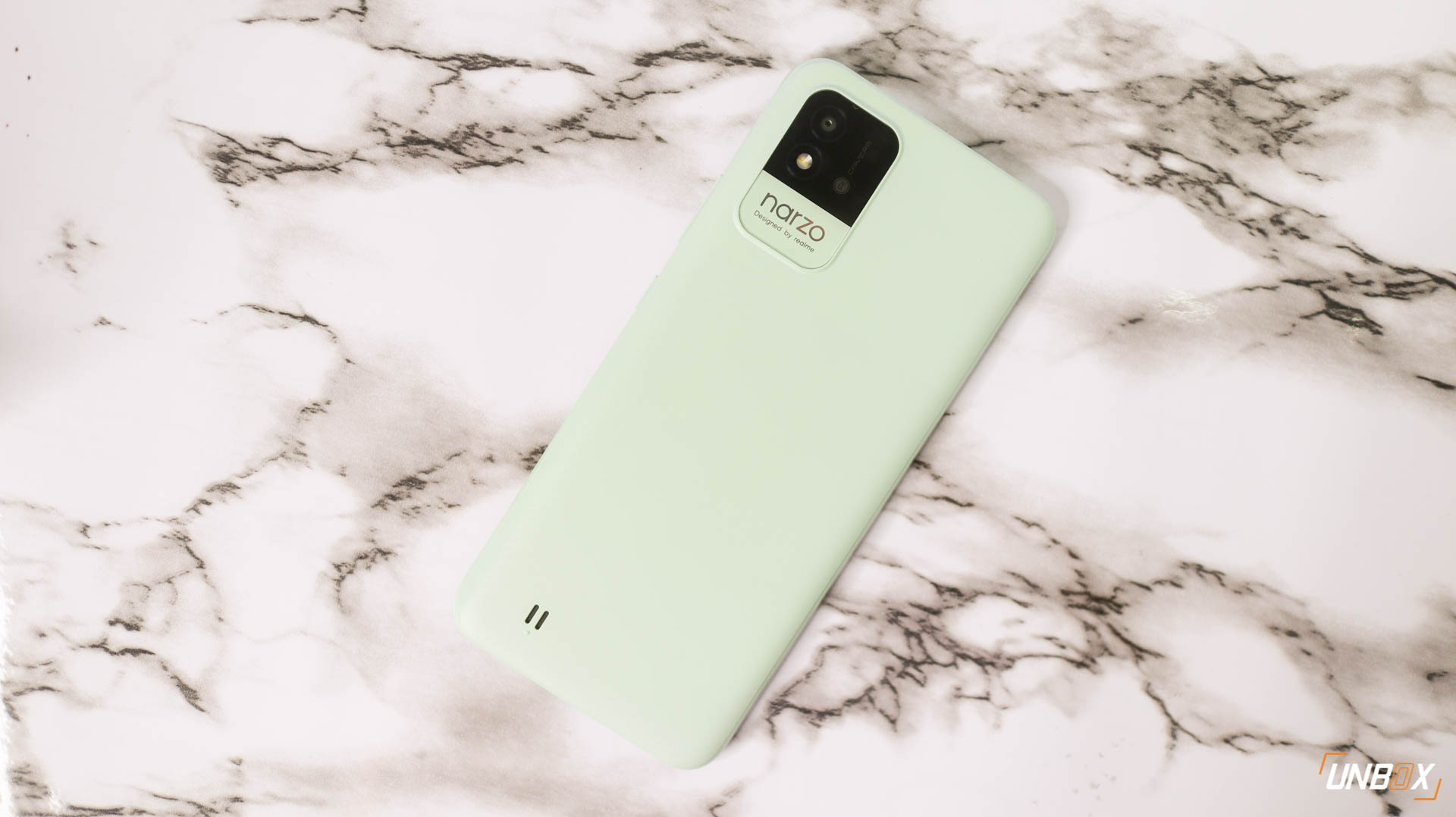 Wrap up and conclusions
Our review of the realme narzo 50i in the Philippines shows that it delivers well on its intended purpose of being an essential-use smartphone with media consumption capabilities. While it is by no means a powerhouse, it has enough grunt to be used in the average person's daily life. The camera is also enough to capture whatever moment you need a memento of.
Overall, it's a neat package at an affordable price point. If you're invested in the realme ecosystem, this is a choice you should consider.
realme narzo 50i Review Price Philippines
The realme narzo 50i is now available in all realme stores and partners across the country at a price of Php 6,290.