Review Verdict: If you've ever wanted to harness the fast, 5G signal of Smart and channel it into your PCs and laptops, the Smart 5G Rocket is the device for you. This 5G-capable pocket WiFi delivers the goods IF the stars of signal strength, 5G coverage, and location align. One thing that might prevent people from buying it though is its steep price. Its Php 16K price tag puts it in 5G-capable mid-range phone territory, which will definiltey scare off a lot of buyers. 
Pros:
Has an ethernet Port
Usable for both 4G/5G connection
Touch screen display
Cons:
Not exactly pocket-sized
Expensive as pocket WiFis go
Smart is beating the two other telcos to the punch by being the first to offer a pocket WiFi solution that runs on their 5G network. The benefits here are immense – 5G is able to deliver faster speeds than regular LTE, though those speeds heavily depend on both coverage, signal strength, and your physical location at the time. That being said, should you replace your fixed internet connection with this, or at the very least, upgrade from your LTE pocket WiFi? Let's take a look:

Packaging, contents, and overall design
The Smart 5G Rocket WiFi comes in a brightly colored box for our review with the photo of the device in front, as well as a rocket graphic that they hope will mimic your speeds when you start using it. Inside the box, you get the actual pocket WiFi itself, a 5G SIM, its USB Type-C charging cable, and documentation. There's a screen protector applied on the touchscreen.
The pocket WiFi's body is made out of plastic and is a lot bulkier than the previous Smart LTE-pocket WiFi device because of its massive battery. One big upgrade from other pocket WiFis that Smart offers is the fact that this one has a touchscreen, which allows you to complete processes that are typically accessed on the Smart Bro website or the GigaLife App.

You can read SMS messages, manage settings like your WiFi name, passwords for the 4G and 5G networks, view information about the device such as the SIM number, number of devices connected, and battery. You get options to connect to the pocket WiFi either by manual connection via detecting its network and entering a password, QR Code, or WPS.
This pocket-WiFi can connect up to 15 devices at one time, plus you also get one Ethernet port so you can hook up your PC to it.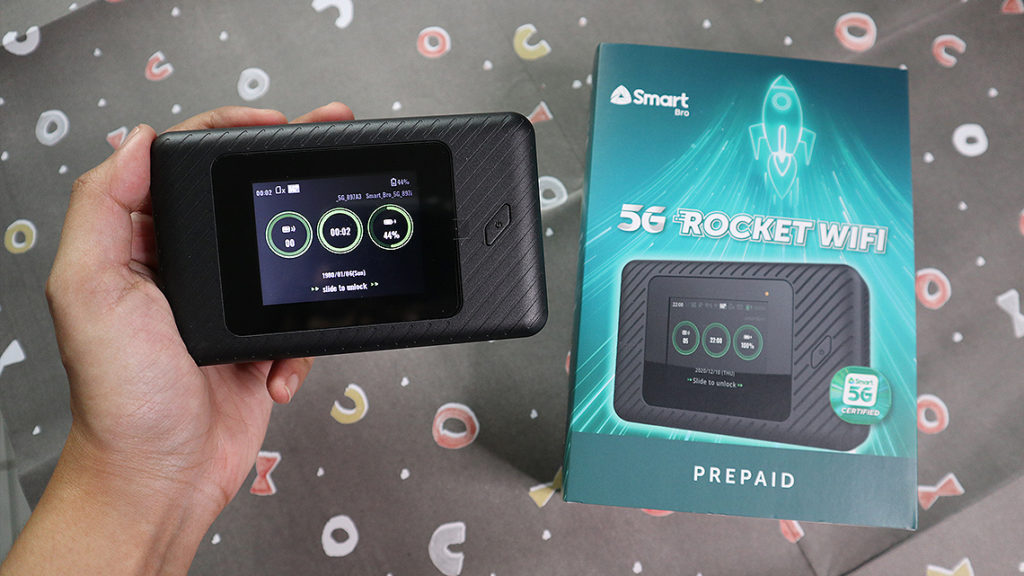 Performance speeds and battery life
Powering the device is a 5,000 mAh battery. According to Smart, the device can last a whole day but this may vary depending on your use. The unit tends to run hot after being used for long periods of time. From our experience, it can last up to 12 hours straight while connected to its ethernet port. You can still use the device even while it's charging.
Now for what everyone has been waiting for: the speed test. You do have to take note that speed tests with pocket WiFis vary greatly depending on your location, coverage, signal strength as well as where you are physically inside a structure. If you're deep in your concrete suburban bunker, your speeds may suffer since cellular signals have trouble penetrating concrete and other materials.
OK, enough of that. For this speed test, we subscribed to the Unli 5G WiFi Smart Prepaid promo for Php 299, which comes with 3 GB of non-5G data that's valid for 7 Days. These Speedtest results are from a desktop hooked to the device's ethernet port conducted in Veterans Village – West Baler, QC.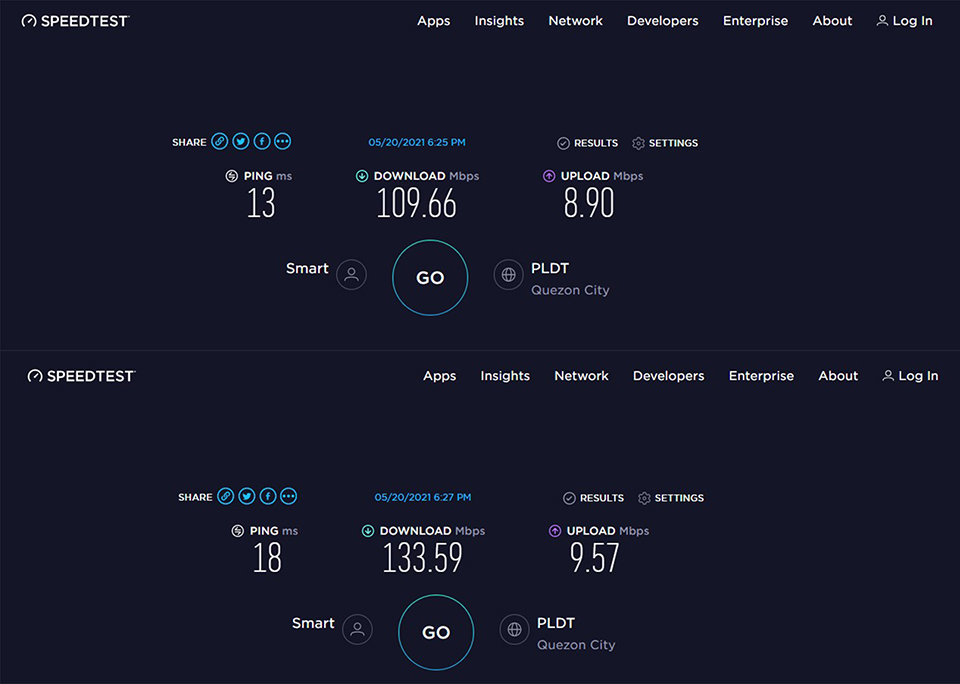 These speeds are fast, but aren't exactly what we expected from a 5G device. Take note that while Smart has the widest 5G coverage of all three networks so far, they're still continuing roll-out of 5G towers and services, which explains why we got faster speeds in one location and not so great speeds in others.
And for 5G mobile connectivity these are the speed results from Veterans Village – West Baler, QC (left) and Valle Verde, Pasig (right):

If you're in a location that doesn't have a 5G signal, the Smart 5G Rocket WiFi reverts to using a 4G signal instead, which means you'll still be able to use it in areas that don't have 5G coverage.
Wrap-up and conclusions:
Our Smart 5G Rocket WiFi review shows that the pocket rocket does deliver the goods, though again you'd want to confirm if your area is 5G-capable and your location is covered by a good 5G signal to be able to get the most out of it. While our first two speed tests weren't impressive, we expect that to improve as Smart's rollout of 5G services in the metro continues.
The biggest problem with the Smart 5G Rocket WiFi is the cost. At close to Php 16K for the device, it's pretty expensive and is already the price of a decent 5G-capable mid-range phone. It's great that you can share your fast 5G signal with other devices and even your laptop with an Ethernet cable, but I can do the same with a 5G-enabled phone with the hotspot turned on. Granted my phone would rapidly discharge its battery, as well as become fairly toasty, but once I'm done, I still get a phone at the end of the day.
To be fair, there are legitimate applications for this particular pocket WiFi, but it's definitely not going to be something that will see mass deployment, unlike Smart's ubiquitous LTE pocket WiFis. The good news is that if you do buy one of these things, you can expect your coverage, and speeds, to increase as Smart accelerates its 5G network rollout.
Smart 5G Rocket WiFi Review
The Smart Bro Rocket WiFi can be purchased through post-paid or prepaid options. For postpaid, you can get the Smart Bro Rocket WiFi with the Smart Signature Data Plan S for Php 1,324 per month for 36 months, with a one-time cashout of Php 5,300. Data Plan S comes with 20GB per month to cover all online activities with a data rollover feature. It unused data from the previous month will be carried over to the next month. For prepaid, the device can be bought for Php 15,995 and it comes with a free Smart Bro SIM with 100MB with Php 250 Smart Bro voucher. Get the Smart Bro Rocket WiFi here.