Review Verdict: The Lenovo Yoga Duet 7i is a great Microsoft Surface alternative in the Philippines. It has excellent performance, great battery life, and a pretty display, though it does skimp out on the I/Os.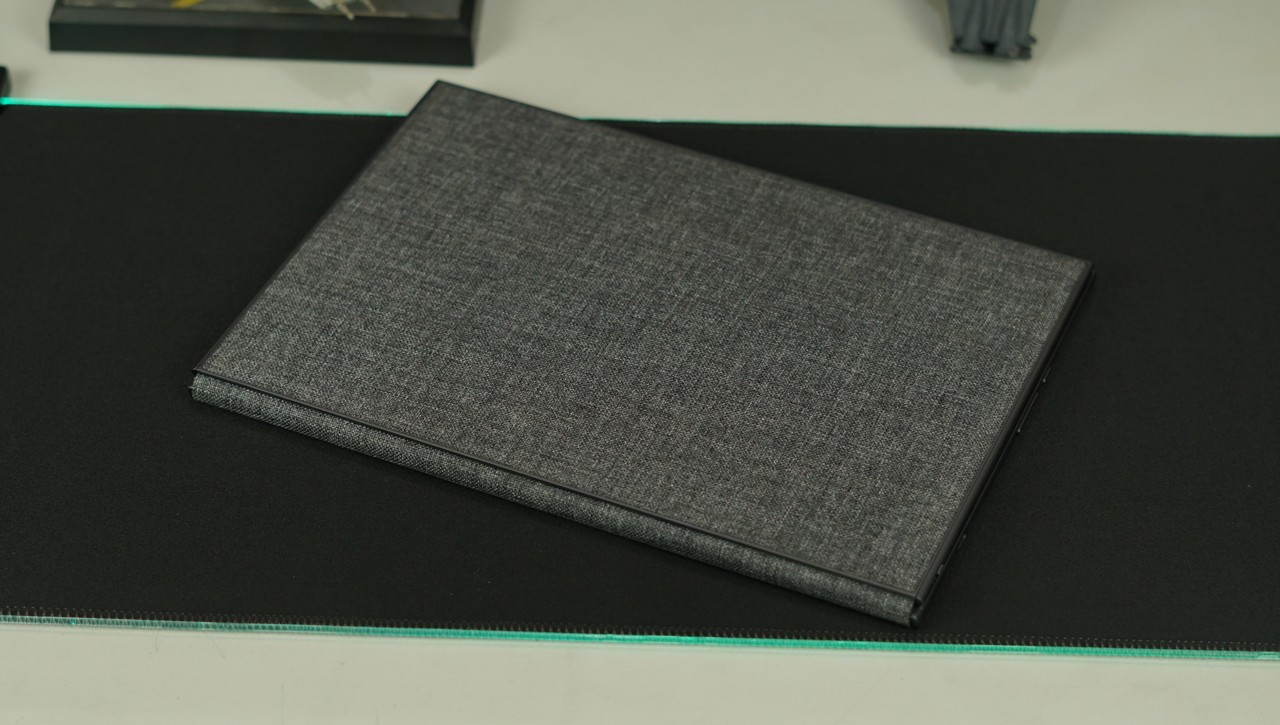 Pros
Good battery life
Solid design
Comfortable keyboard
Cons
Limited I/O
No traditional USB 3.0 port
Audio isn't great
Lenovo Yoga Duet 7i Philippines Specs
Intel Core i7-10510U processor
Intel UHD graphics
16GB 2667MHz DDR4 RAM
1TB NVMe SSD storage
13-inch 2K (2160 x 1350) IPS panel with 100% sRGB coverage
2 x USB-C 3.1 (Gen 1, with Power delivery + DisplayPort + USB)
USB-C (USB only, with always-on charging)
HDMI
SD card reader
Headphone / mic combo
42Whr battery
Looking for a Surface Pro alternative despite the fact that Microsoft is now officially selling their Surface Pro in the country? You shouldn't look further than the Yoga Duet 7i. This compact convertible is light and powerful, though you will have to get used to lugging around a USB hub if you have a lot of USB accessories.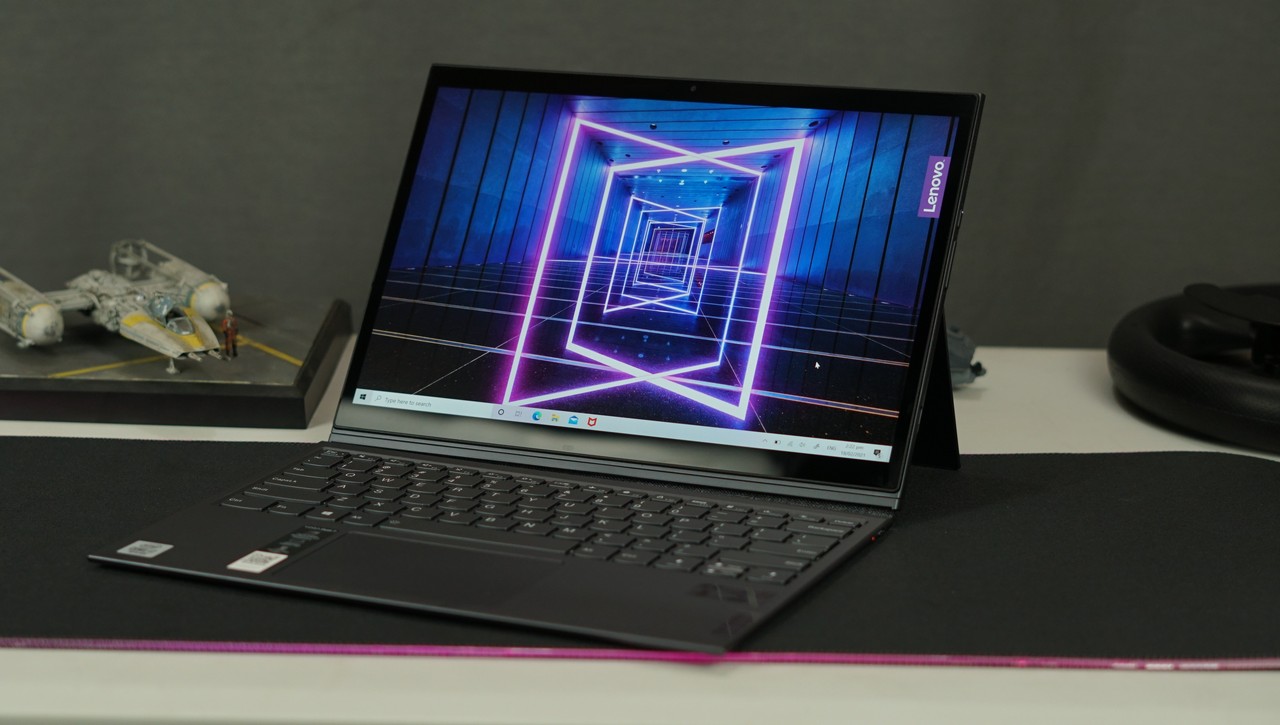 Design
The Yoga Duet 7i looks and feels like a high-quality tablet, thanks to its premium metal chassis and Slate Grey, matte finish. The laptop comes with a very handsome fabric cover that doubles as its keyboard and magnetically attaches to the bottom.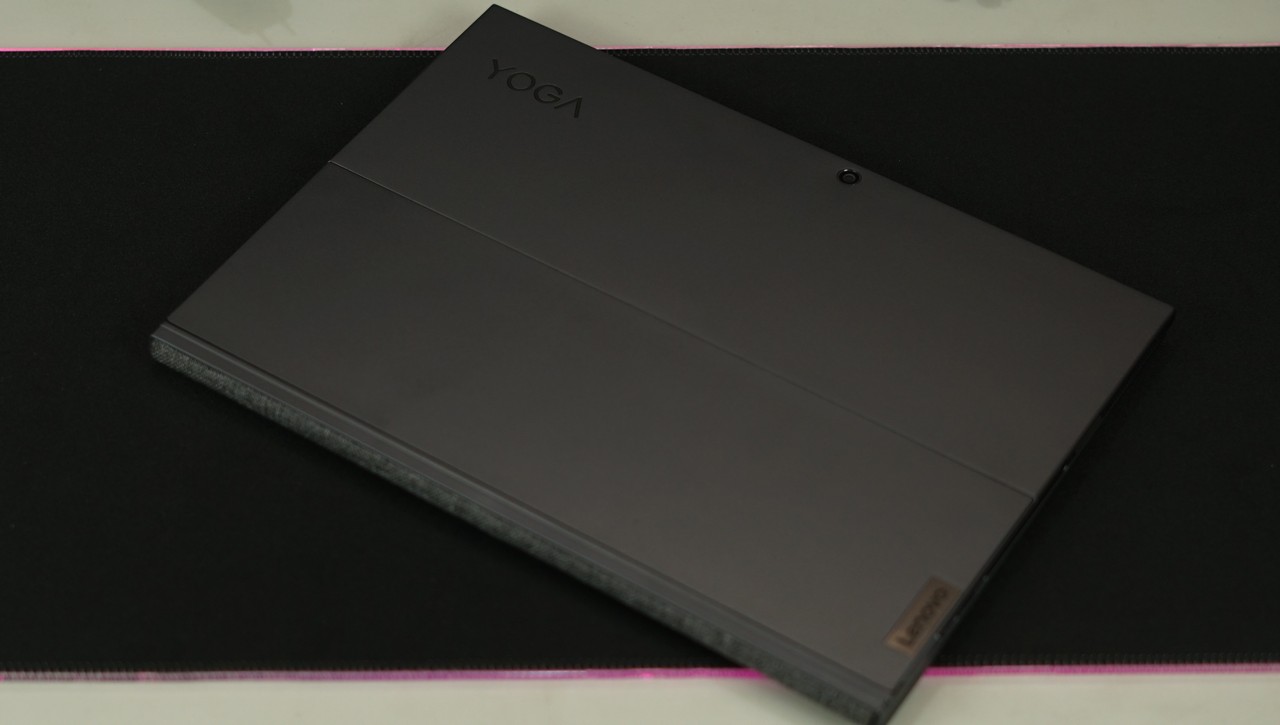 The tablet part that houses all the important bits is relatively thin, at just 9.19mm at its thinnest point. There's an integrated kickstand at the back to keep it propped up on a table during use.
While you can use the Yoga Duet 7i by itself as a tablet thanks to the included stylus, most of the time it's with you it'll be sitting in that Bluetooth-enabled keyboard dock that covers the display when in transit.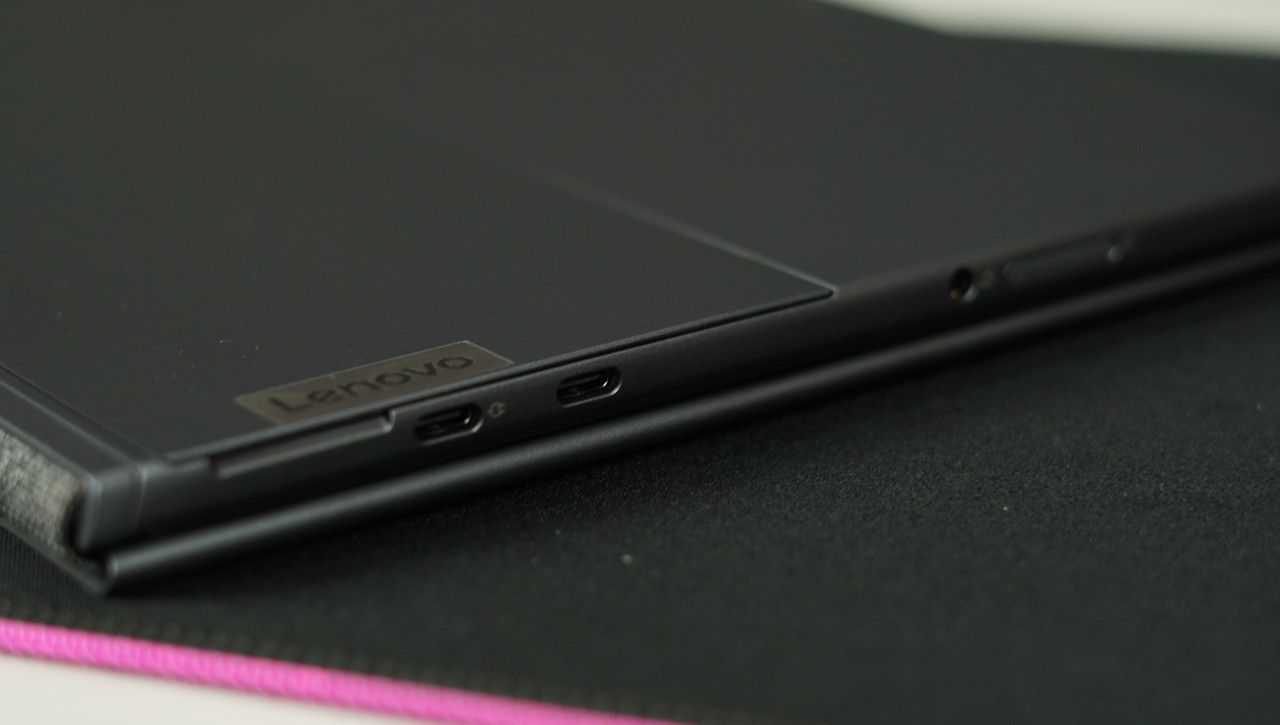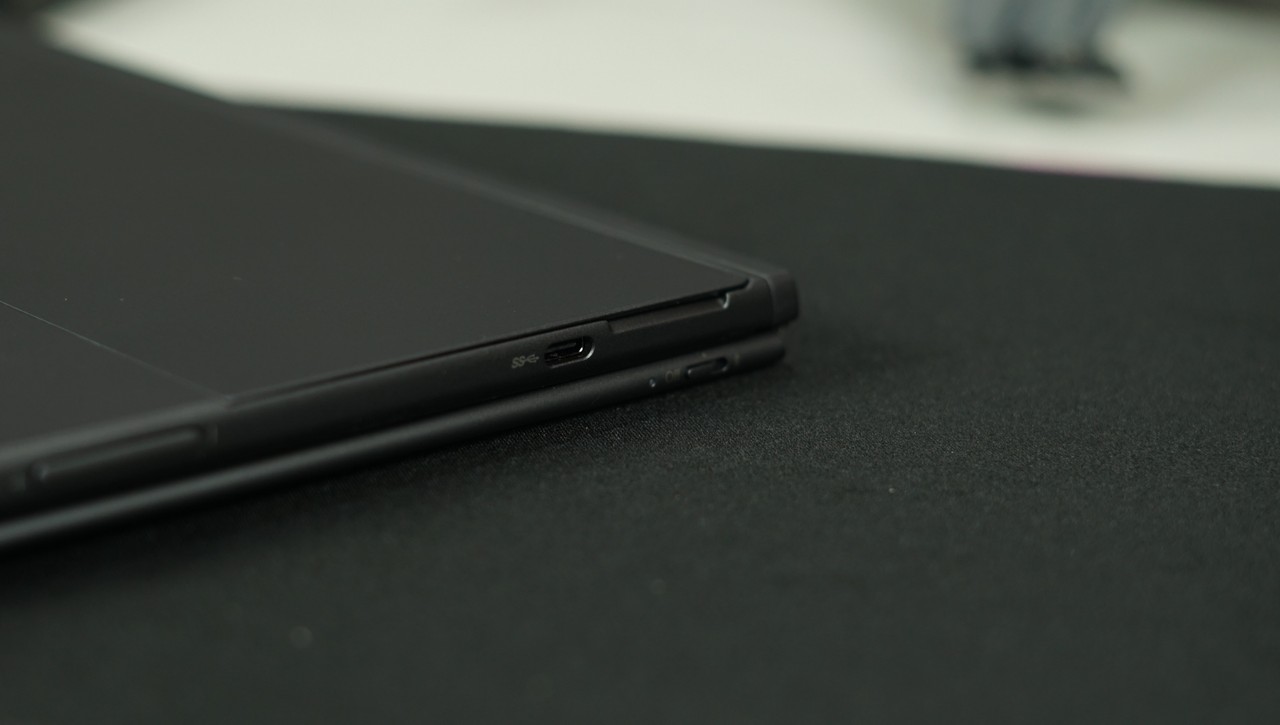 Because of its thin and light nature, there aren't a whole lot of ports and connectors for the Yoga Duet 7i. There are three USB Type-C ports here, though only two allows power delivery as well as DisplayPort connectivity. Lenovo managed to squeeze in an HDMI port in the slim chassis (as well as a microSD card reader) and a 3.5mm jack.
Unfortunately, you'll have to buy your own Type-C to Type-A plug if you want to use wired keyboards or mice on this that are still on the old standard since Lenovo doesn't include on in the package.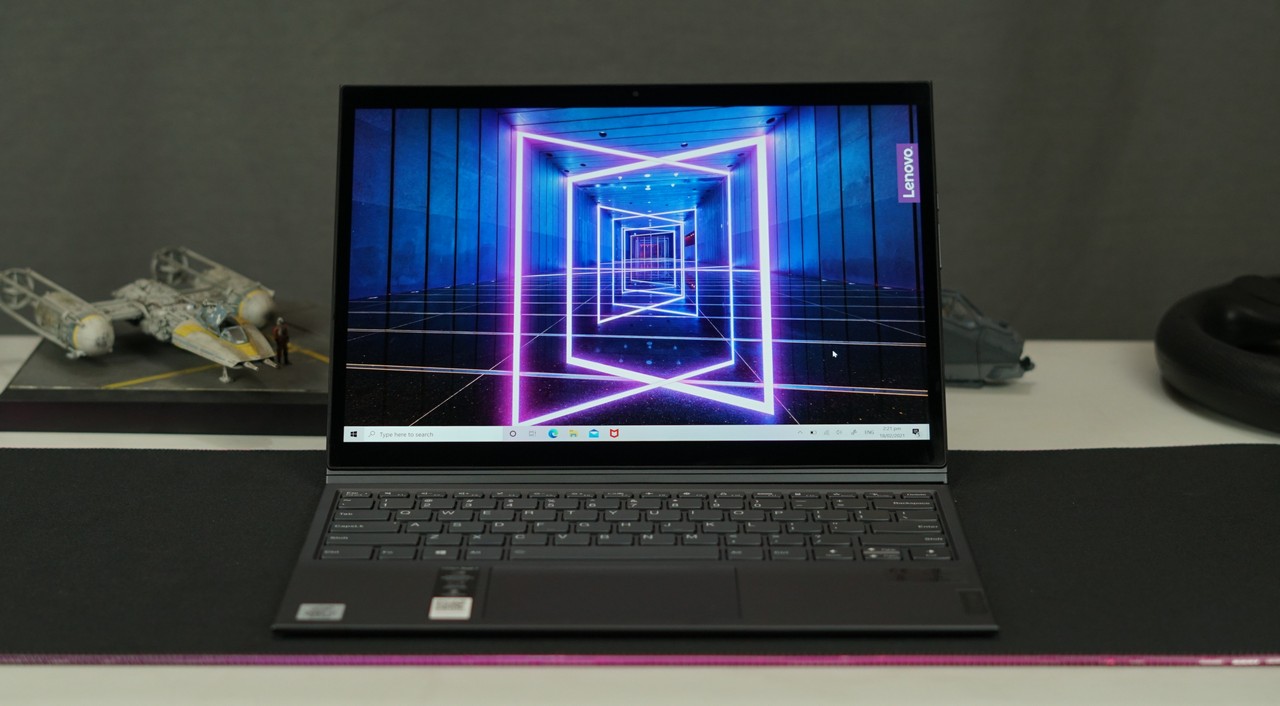 Display and audio
The display of the Yoga Duet 7i is a 13-inch deal with a relatively sharp 2K (2160 x 1350) resolution that uses an IPS panel and has touchscreen connectivity.
Lenovo claims that the panel has 100% sRGB color coverage and a maximum of 450 nits of brightness, though unfortunately our colorimeter couldn't interface properly using a Type-C dongle (it uses a Type-A port) and thus we're unable to fully test the display.
On a cursory glance, the panel looks incredibly bright, and the colors are noticeably sharp. Lenovo's included stylus with the package makes gives the laptop an extra layer of versatility for creatives and other people that like to draw.
The sound quality is OK, but it's definitely lacking in bass. It's good enough for the occasional YouTube video though, but sound snobs might not like the output.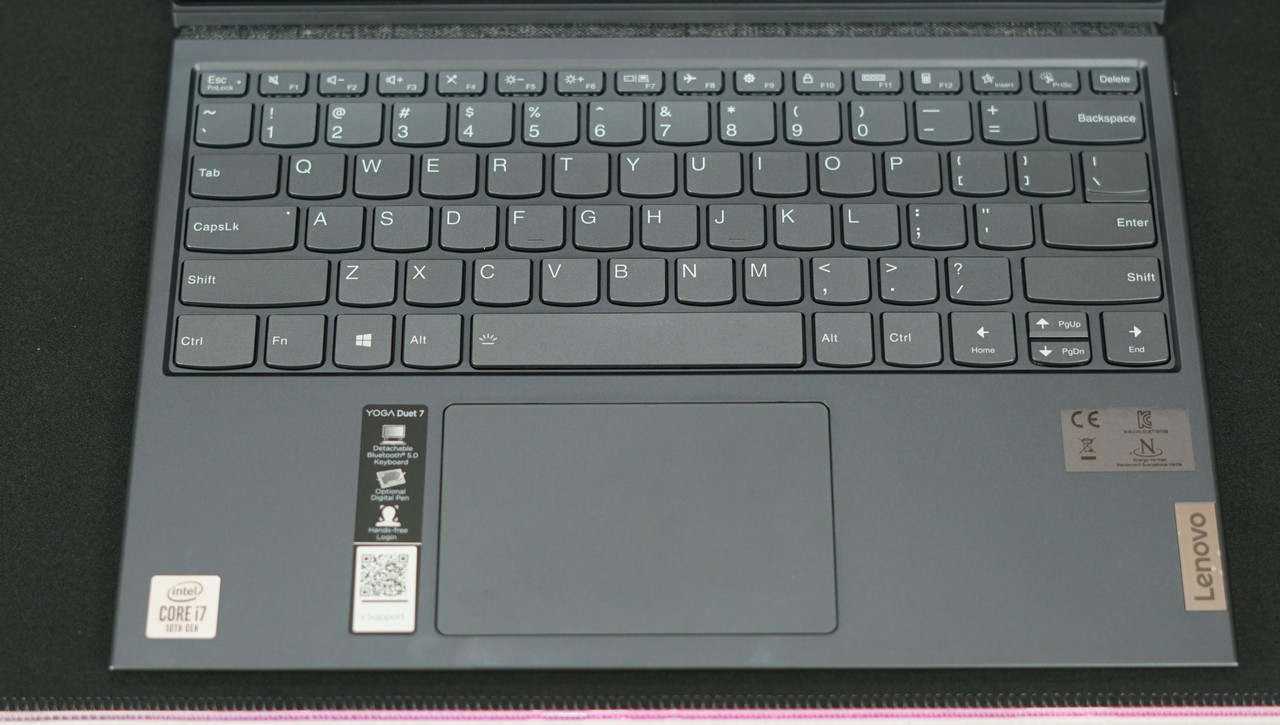 Keyboard and trackpad
2-in-1s that feature detachable keyboards like the Yoga Duet 7i usually don't have the best typing feel because of the shallow nature of their keys and how they're constructed. That's why we were pleasantly surprised with the Yoga Duet 7i's comfortable keys. Sure they don't have the deepest of travel, but it's not bad at all – there was an initial period where we had to get used to it but after a while, we were typing away at our usual pace.
The trackpad is nice and feels OK to use, and registered clicks solidly without any issues.
Performance and battery
The Yoga Duet 7i for the Philippines in our review came with Intel's 10th gen Core i7-10510U processor, along with 16GB of 2667MHz DDR4 RAM and a 1TB NVMe SSD drive for storage.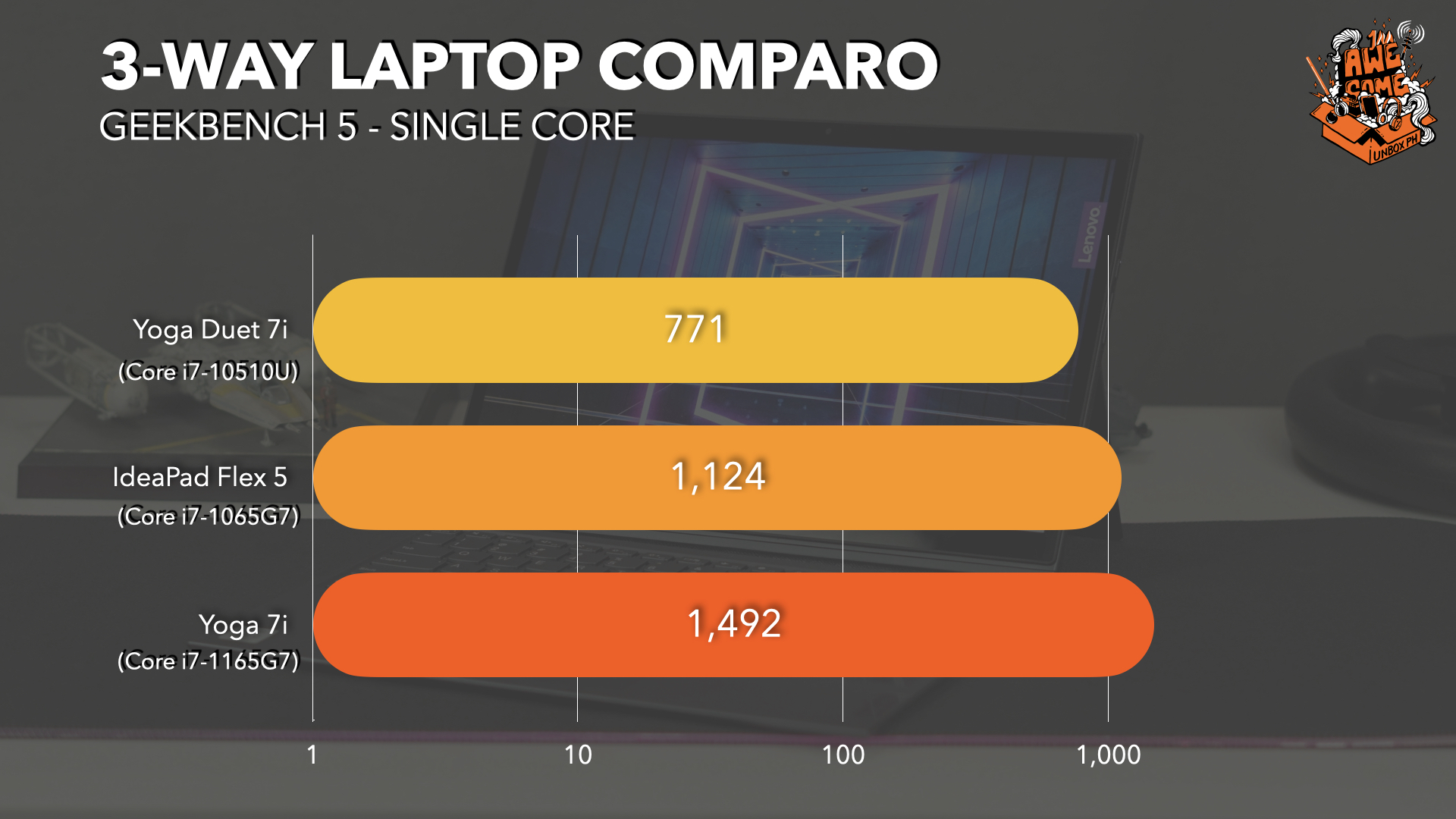 Performance is fairly good, though take note that you don't get a powerful GPU with this, and instead have to contend with Intel's UHD graphics. Because of this, you're limited to fairly mild programs that don't require a lot of graphical processing power, though you are able to run photo editing apps fairly comfortably without having to worry about the laptop freezing.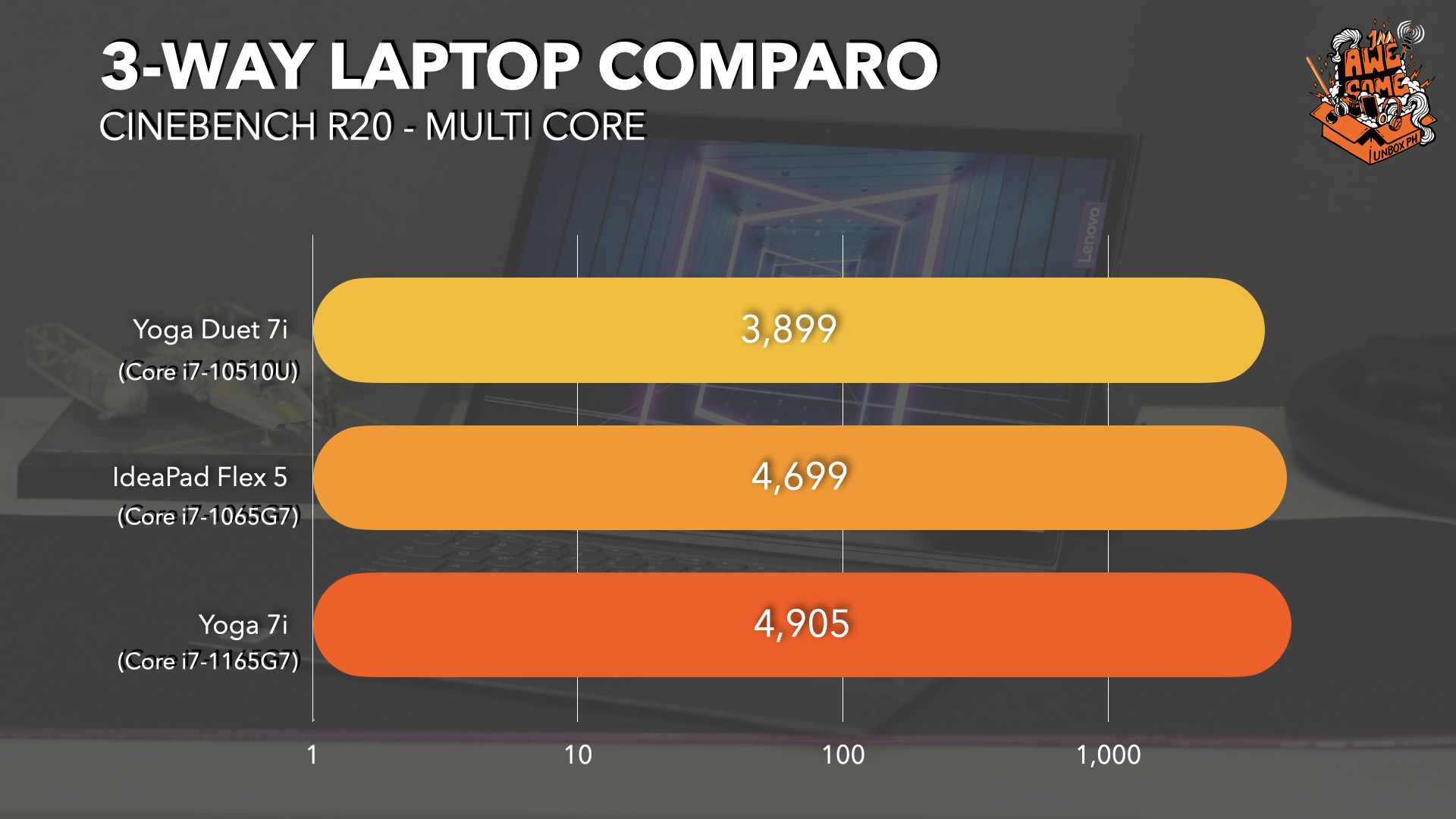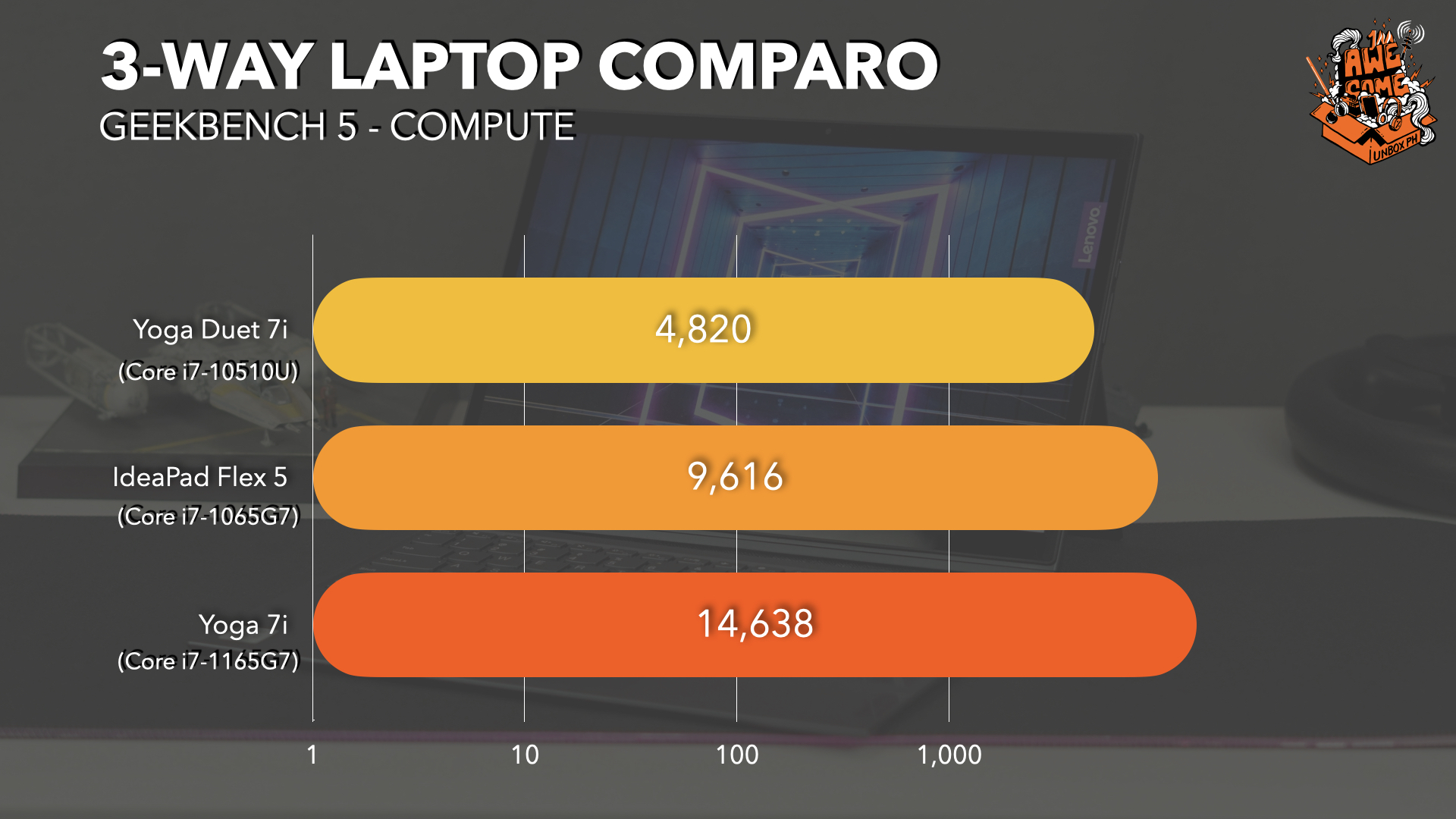 Our punishing battery rundown test is especially harsh on battery endurance because we use YouTube on Google Chrome streaming live-streamed content until the battery runs out. Screen brightness settings are set at 50% along with speaker volume.
According to our result, the Yoga Duet 7i managed to stay on for around 3:49 minutes before the power management feature shut the laptop off automatically to save power. With actual all-day use, we found that the tablet was able to last an entire workday, though you'd have to charge it at the end of the day since it'll be on its last legs.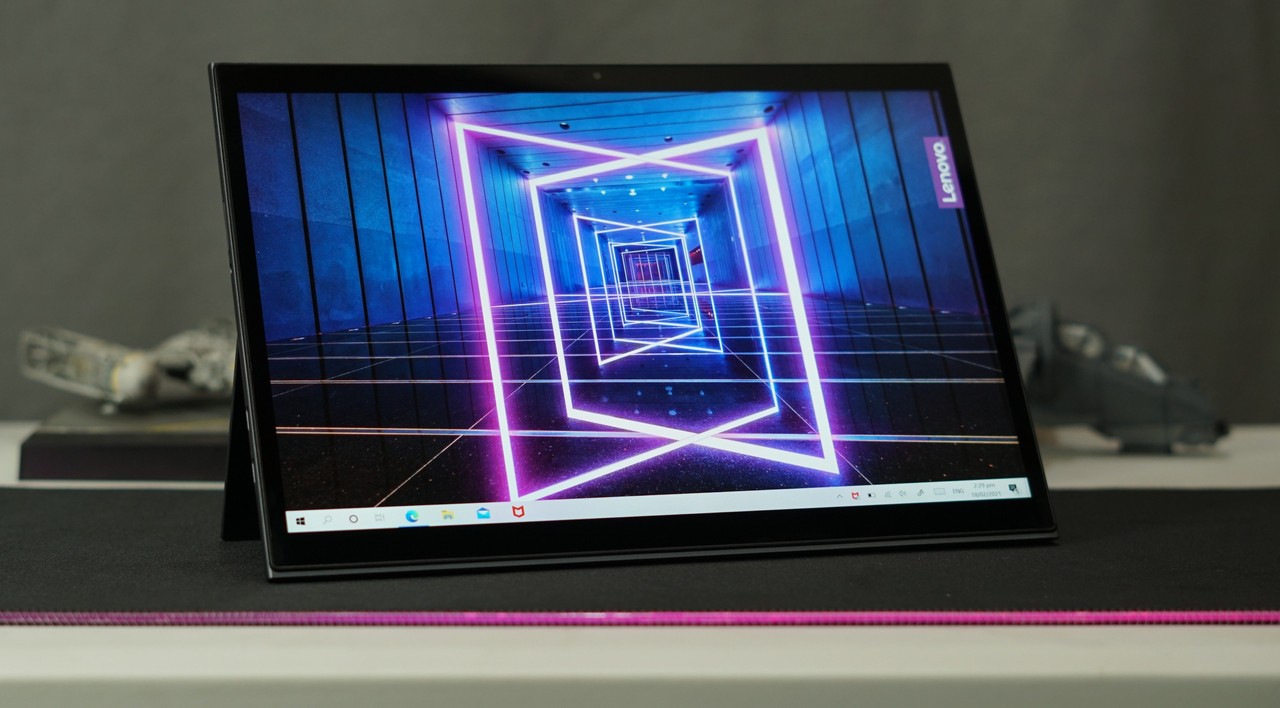 Lenovo Yoga Duet 7i Philippines: Wrap-up and verdict
If you want a productivity-focused laptop that can pull double duty as a good tablet, then the Yoga Duet 7i is for you.
It has a great screen, excellent keyboard despite being the snap-on, Bluetooth variety, and Lenovo even throws in a stylus in the package for creative types.
There's a fair share of tradeoffs though – your I/O options are limited to Type-C and the laptop isn't really fit for anything graphically intensive like playing games or editing videos, though photo editing isn't off the table.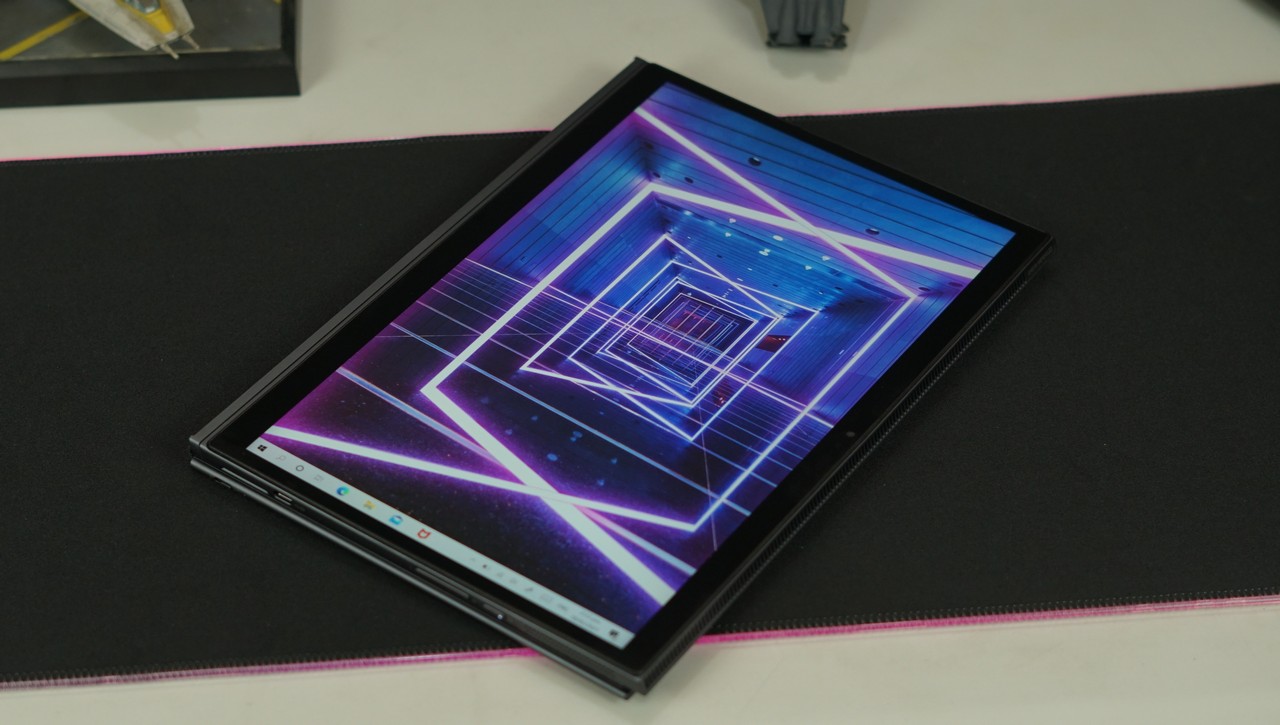 Lenovo Yoga Duet 7i Philippines: Price
The Lenovo Yoga Duet 7i is priced at Php 84,995 in the Philippines, and is available at all Lenovo Concept stores and authorized resellers. That's it for our Yoga Duet 7i review for the Philippines. Will you be buying it if you get a chance?