Review Verdict: There aren't enough superlatives for how the AMD Ryzen 9 7900X performs for the Philippines. It delivers significant generational improvements while still being relatively power efficient, though you'll need to invest in new hardware for this generation.
Pros
Significant gains VS the previous generation
Excellent power efficiency
Handily beats Intel's top-tier 12900K in content creation
Full PCIe 5.0 support
Cons
AM5 only takes DDR5 RAM
A new board and DDR5 RAM
Runs hot
AMD's next generation of chips is here. Team red's Ryzen 7000 series chips have landed in our test labs, and after spending a lot of time exploring and benchmarking the Ryzen 9 7900X these past few days, I can definitely say that AMD has delivered on its promise of better, faster processors that demolishes its competition – and doing so while using far less power. If you're a gamer or content creator that's looking to build a new performance-oriented PC for the holidays, then you should go with the Ryzen 9 7900X. Going with anything else is just wasting money.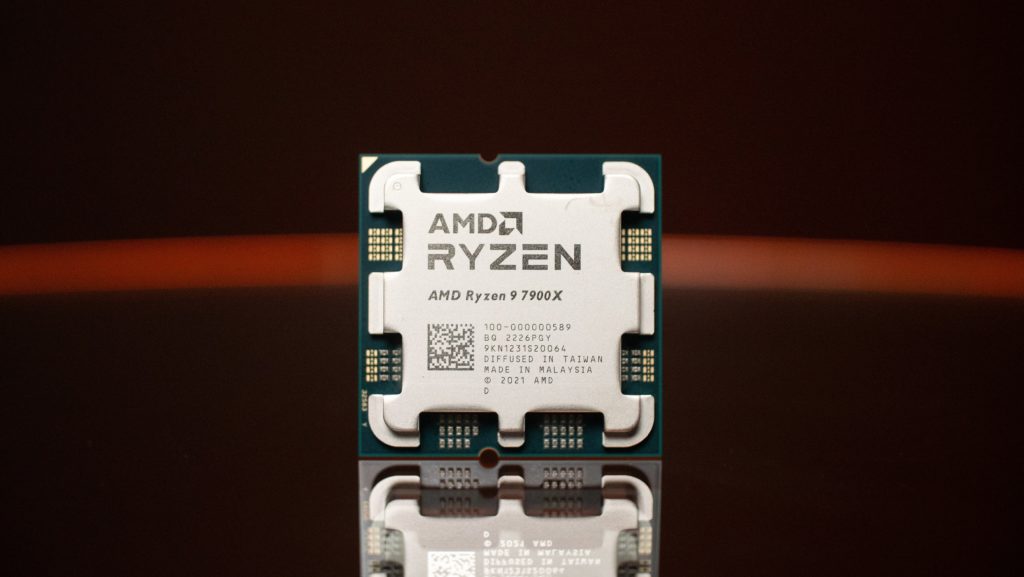 Design and features
Let's start with the basics: AMD's Ryzen 7000 series of processors is built on TSMC's new 5 nm manufacturing process. While 5 nm chips are fairly common on smartphones nowadays, the Ryzen 7000 family is the first consumer chip to utilize the advanced manufacturing process. All the new Zen4 chips use a similar chiplet-based design to Zen3, utilizing two Core Complex Dies (CCDs).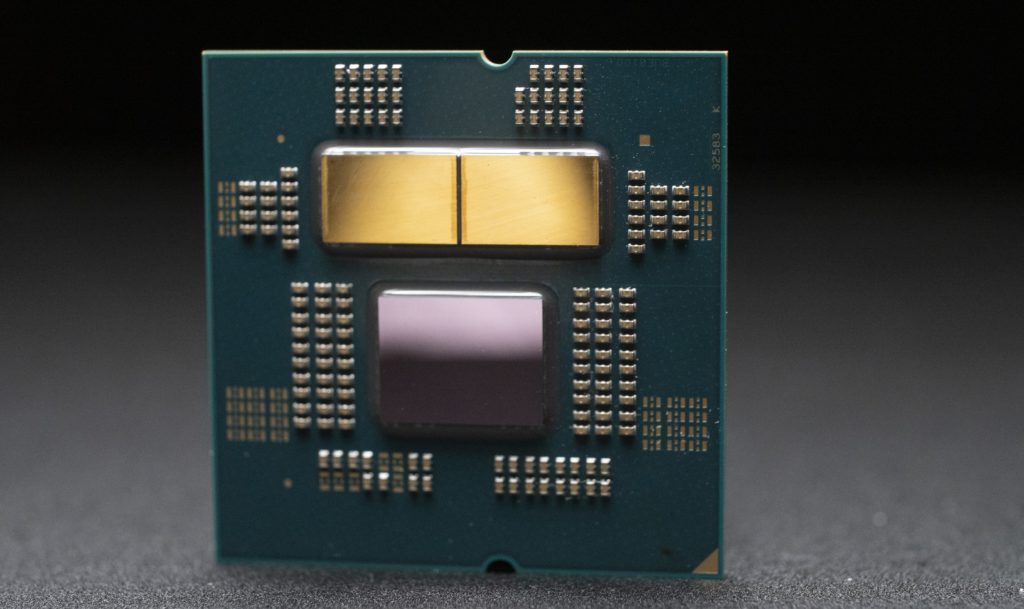 The Ryzen 7900X that we're reviewing today has gotten quite a bump in its L2/L3 cache size, with total capacity now sitting at 76MB vs the 5900X's 70MB. All Ryzen 7000 chips also come with new I/O dies in 6mm that have integrated RDNA 2 graphics as well as DDR5 and PCIe 5.0 controllers, which allows for DDR5 capability and PCIe 5.0 support.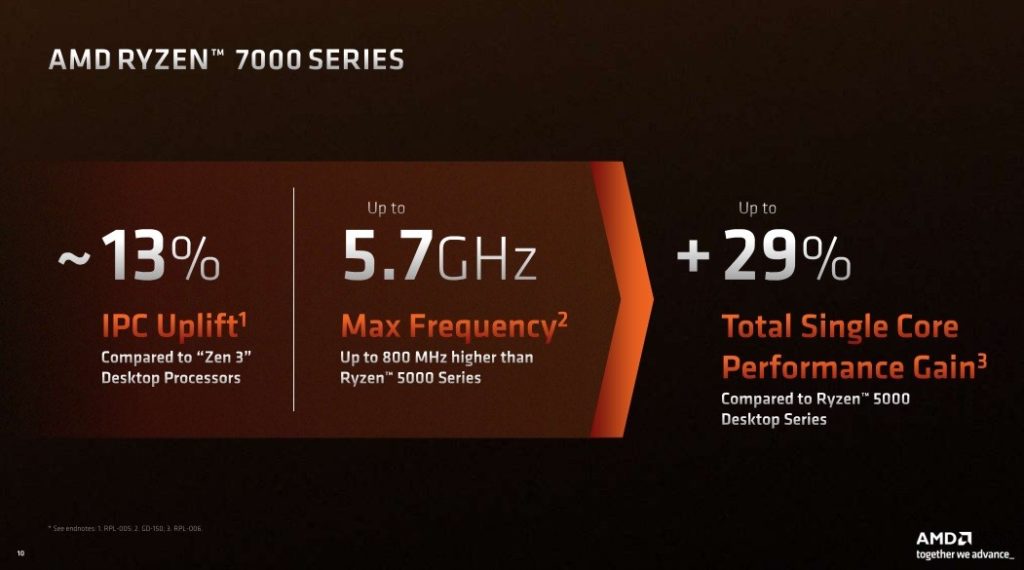 That's great news, as DDR5 is much faster than its predecessors, giving users increased bandwidth that could be potentially 1.87x more than DDR4. The bad news here is that AMD's new AM5 platform ONLY supports DDR5 – that means if you're upgrading to the Ryzen 9 7900X (or any Ryzen 7000 CPUs) from say, a Ryzen 9 5950x you'll be forced to upgrade. That's a potential pain point for some as DDR5 is still pretty expensive as of writing, though we expect prices to come down as Ryzen 7000 becomes more common.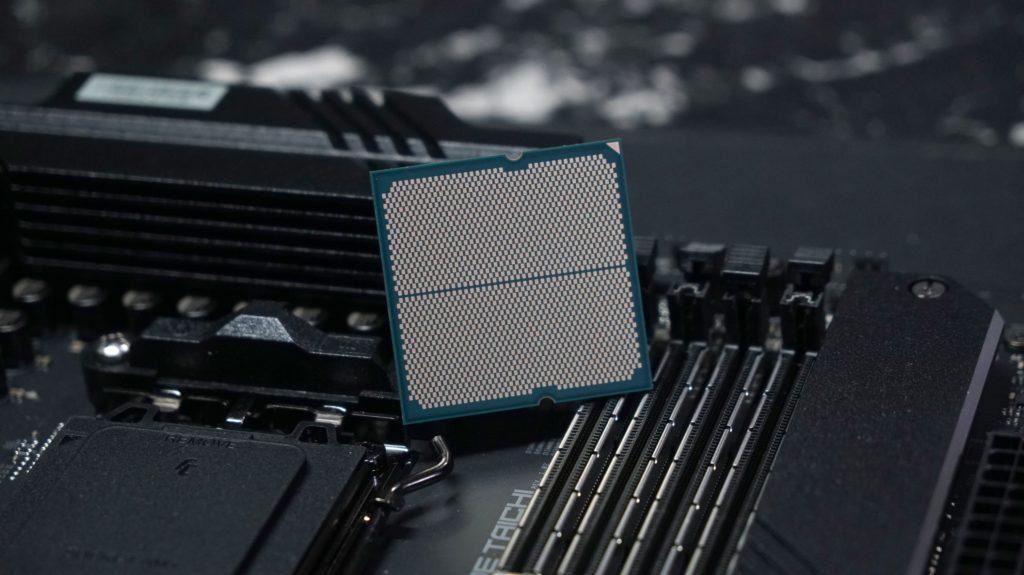 Speaking of AM5, AMD is finally moving away from their old pin grid array (PGA) socket to a lan grid array (LGA) socket, which improves CPU durability since there are no longer pins to bend on the processor itself since they're now all located on the motherboard. AMD's use of Socket LGA1718 allows for a bandwidth of up to 32GB/sec in both directions as well as higher pin density, which translates into better performance as you'll see in our benchmarks later.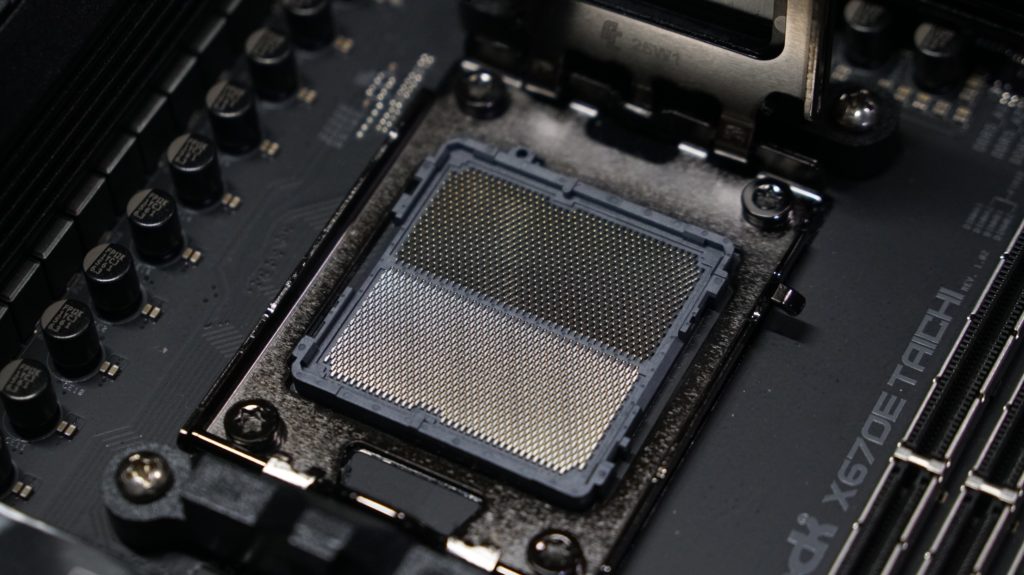 One nice touch here is that you'll still be able to use your old AM4 coolers with AM5 since the mounting mechanism is technically the same. You're going to be spending quite a bit if you're building a new rig on AMD's new chips, and any savings will definitely be appreciated.
Another nice feature with the new chips is the fact that you're also getting integrated graphics, thanks to that new 6nm I/O die. The AMD RDNA 2 allows for H.264 and HEVC decode and encode, and has enough power to run simple casual games at acceptable frame rates, though it's not meant to be used as the primary graphics solution. It does make for a hell of a diagnostic tool when your GPU suddenly goes black during your benchmarking tests though.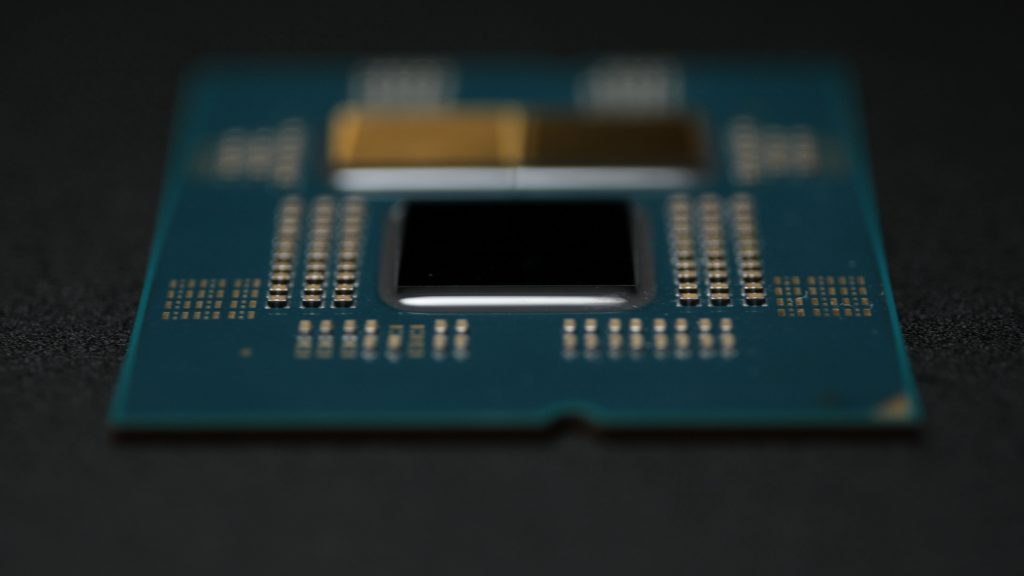 With all of these improvements, AMD has managed to push the performance of the Ryzen 9 7900X to insane heights. As a refresher, the Ryzen 9 7900X is a 12 core/24 thread CPU, sporting a base clock of 4.7GHz and a boost clock of 5.6GHz, easily passing over the 5GHz barrier that the Ryzen 9 5950X failed to break in the last generation. That increase in clock speed does come with a higher power draw, with the Ryzen 9 7900X having a TDP of 170W, which is an increase of 65W over the 105W TDP of the Ryzen 9 5900X. Max socket power is pegged at 230W.
AMD is recommending a 240-280mm liquid cooler to keep temperatures in check if you do decide to go with this processor, so keep that in mind if you're looking to get it. AMD isn't including any cooler with the Ryzen 9 7900X so keep that in mind if you buy it.
Speaking of TDP and power, AMD is including a new feature of theirs dubbed Eco Mode, which allows their processor to adhere to a lower TDP if users want to keep power draw down when they're not doing heavy computational work. As of writing, you'll have to into the BIOS to manually adjust it, though AMD did say that there's a one-click version of this feature in the future, and that they intend to move it out of the overclocking section and make it standard for the AM5 platform.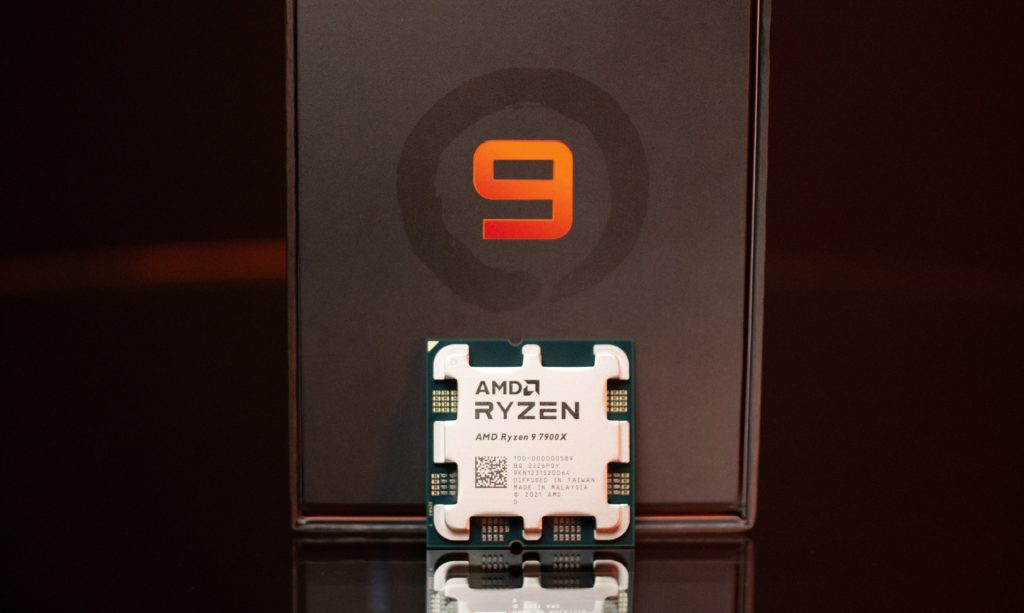 Performance and benchmarks
Moving on to the benchmarks, we managed to borrow a Core i9 12900K processor for us to pit the Ryzen 9 7900x to for this review so we at least have an idea of how AMD's second to the best processor holds up against Intel's best. While pitting what is essentially a top-tier chip against a processor that's one step down from the flagship model might seem unfair, the Ryzen 9 7900X puts up a great showing, going toe-to-toe with Intel's best here.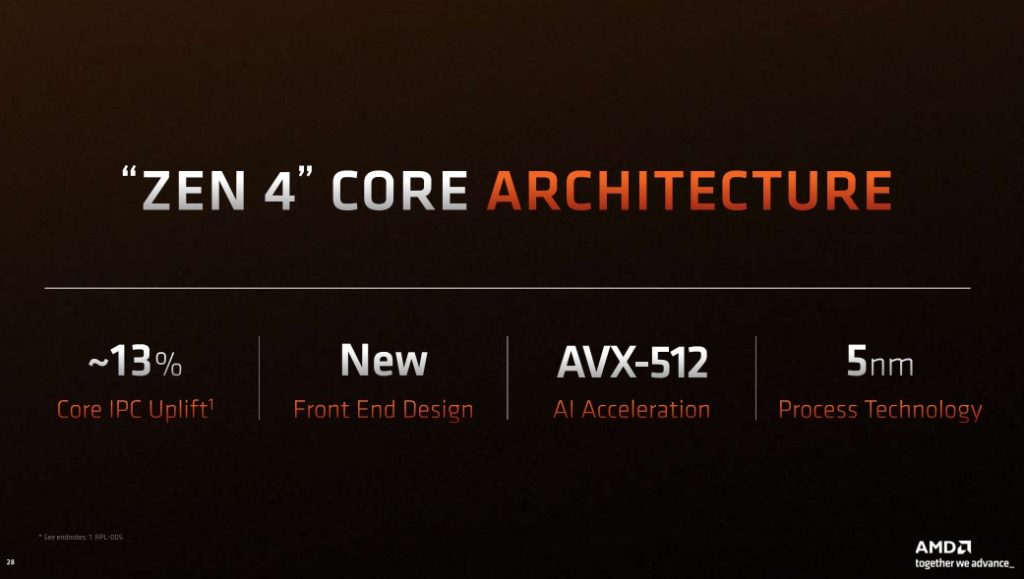 Our Ryzen 9 7900X review kit came with an ASROCK Taichi X670E motherboard, along with 1TB of storage via a WD Black SN770 NVMe SSD, 2 x 16GB GSKILL DDR5 Trident Z5 NEO memory running at 6000MHz, cooled by a 360MM ASUS Ryujin II AIO.
The Intel Core i9-12900K meanwhile came on an ASUS Maximus Z690 HERO, paired with 2x 16GB T-FORCE Delta DDR5 running at 6400MHz, cooled with the same 360MM ASUS Ryujin II AIO. Both setups ran a Palit 3080 Gaming Pro OC as their GPUs when we tested them in gaming. All results were gathered on Windows 10.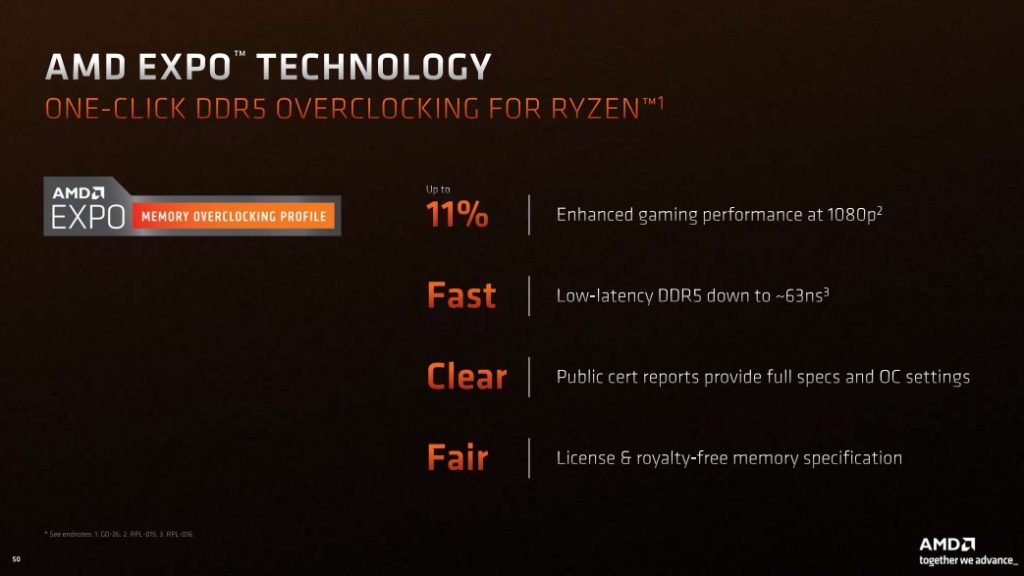 As much as I wanted to keep RAM the same for both setups I had trouble with booting up the GSKILL DDR5 Trident Z5 NEO in our Intel test bench. Both RAM kits were set up to run at their specified speeds via Intel's XMP and AMD's equivalent, EXPO. EXPO is AMD's answer to Intel's long-running XMP standard, and one-click DDR5 overclocking which the company promises to give gamers up to 11% enhancement for gaming performance in 1080p.
Let's start with Geekbench, where the Ryzen 9 7900X managed to beat the Core 9 12900K in multi-core performance. That's not surprising, since AMD has traditionally been able to best Intel's offering every time a new generation is announced. What's different this time around is that the Ryzen 9 7900X is also able to beat Intel's top-tier chip in single-thread performance as well. Single-threaded performance is one of the things that Intel has had a stranglehold on forever, and now it seems that AMD has taken that away from them too.
It's the same story for Cinebench R23, where the Ryzxen 9 7900X beats the Core i9 12900K in both multi-core and single-core tasks. While the wins aren't massive here, remember that AMD's offering is supposedly one level below the SKU of Intel's Core i9 12900K.
Moving to more content creation benchmarks gives us the same story here. AMD's newer and more efficient 5 nm process allows the Ryzen 9 7900X to achieve better scores for the Blender, V-Ray, and Corona benchmarks. AMD promised an average of 13% of IPC uplift (and up to 29% single-core performance gain) compared to Ryzen 5000 series and it seems that's exactly what we're seeing here.
With improved single-core performance, the Ryzen 9 7900X is able to go toe-to-toe with Intel's top-tier contender and put up a respectable fight. That's exactly what we saw in this review of the Ryzen 9 7900X in the Philippines. Let's look at the benchmarks:
Overall the Ryzen 9 7900X performs well against the higher-tier Core i9 12900K, which is impressive considering that AMD's offering only has 12 cores VS Intel's 16. While the Core i9 12900K beats the Ryzen 9 7900X in most games in this benchmark, the gap in scores is fairly close to each other here.
One thing that really stood out to me while benchmarking is the peak power draw for both chips. We observed a peak power draw for the Intel 12900K of around 238W during our testing for synthetic benchmarks, compared to a peak power of just 182W for the Ryzen 9 7900X. For temperatures, the 12900K hit the 100-degree Celcius ceiling multiple times during our review, while the Ryzen 9 7900X stuck around at 95 degrees Celcius more or less. That's definitely hot, but AMD says that's by design – and running it at 95 degrees isn't going to negatively degrade its performance.
Wrap-up and conclusions
AMD's new Ryzen 9 7900X ticks all the right boxes for anyone interested in upgrading their rig for content creation and gaming duties as we found out in our review of it for the Philippines. It performs better than Intel's top-tier offering when it comes to content creation, and trades blows with it when it comes to gaming. It does all that while consuming less power than its competitor, underscoring just how efficient AMD's new batch of processors is.
And while you'll essentially be buying a bunch of new hardware if you ever decide to upgrade to the new AM5 platform, AMD has promised that they'll be supporting it through and beyond 2025. AMD has been pretty good at keeping its promises as far as the last generation is concerned, and there's no indication here that they won't do the same this time around.
AMD Ryzen 9 7900X Review Price Philippines
AMD has pegged the price of the Ryzen 9 7900X a tIs priced at Php 36,250. We don't have a firm idea yet of the actual SRP or release date in the Philippines for AMD's new processors – we'll update this review once we get word.