It's one of the best notebooks you can buy today
Huawei is beefing up its notebook portfolio in 2020 by adding its new MateBook D 15 to its laptop stable. While the Chinese brand isn't exactly who you'd go to when you're looking to buy a new notebook, the company's new 15-inch delivers quite a lot of value for the price that the company is asking for.
With an aluminum chassis, top-end features and good performance relative to its price point, Huawei's MateBook D 15 is a solid alternative to many offerings of established brands at a similar price point.
Pros:
Aluminum chassis
Solid build quality
Integrated fingerprint scanner in power button
Cons:
Display is a little dim
Keyboard not backlit
So-so battery life
Aluminum chassis just like the flagships
While many other notebooks in the same price bracket use plastic for the construction of their notebook, Huawei's MateBook D15 uses an aluminum chassis for maximum style and durability.
Because of the notebook's build and Huawei's material choice, the MateBook D15 feels incredibly solid, with no flexing at all in the main chassis and the lid of the notebook when you're handling it.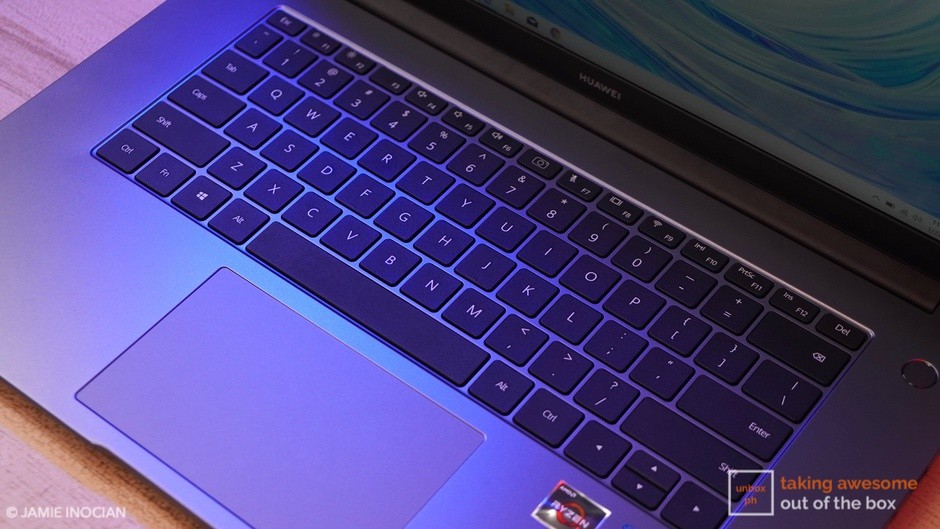 As far as styling goes, Huawei has taken a LOT of design cues from Apple's MacBooks, but that's not really a bad thing per se, as the notebook has a nice, minimalist design that we really dig.
The lid of the notebook is decked out with Huawei's logo, but aside from that, there isn't really a lot of visual clutter on the notebook when it's closed.
Small bezels galore, but the webcam placement is a little weird
Huawei's really proud of the fact that the MateBook D15 has smaller bezels than the competition at its price range.
Because of the drastic reduction of bezels on the top and the sides of the 15.6-inch IPS display, you're getting an 87% screen-to-body ratio for the notebook, which is pretty good considering.
One of the ways Huawei managed to reduce the size of the bezels is through the use of a hidden webcam, which has been relocated in the function keys.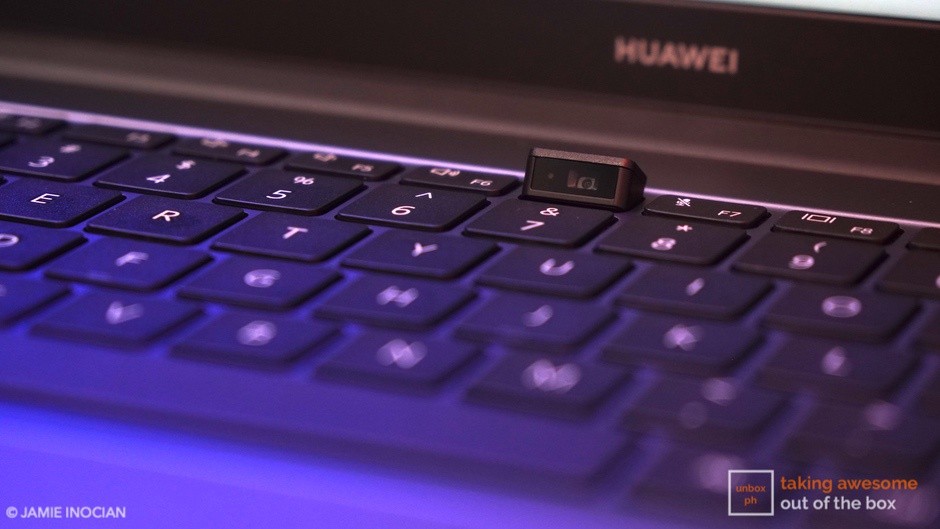 The placement is a little weird, and results in unflattering angles when you're talking to someone – just think about your weird upward-facing selfies, and you'll understand what we mean.
As for the display, it's pretty good – colors were accurate and vibrant thanks to that IPS panel, though outdoor readability is a little iffy, as the panel is only capable of going up to 250 nits.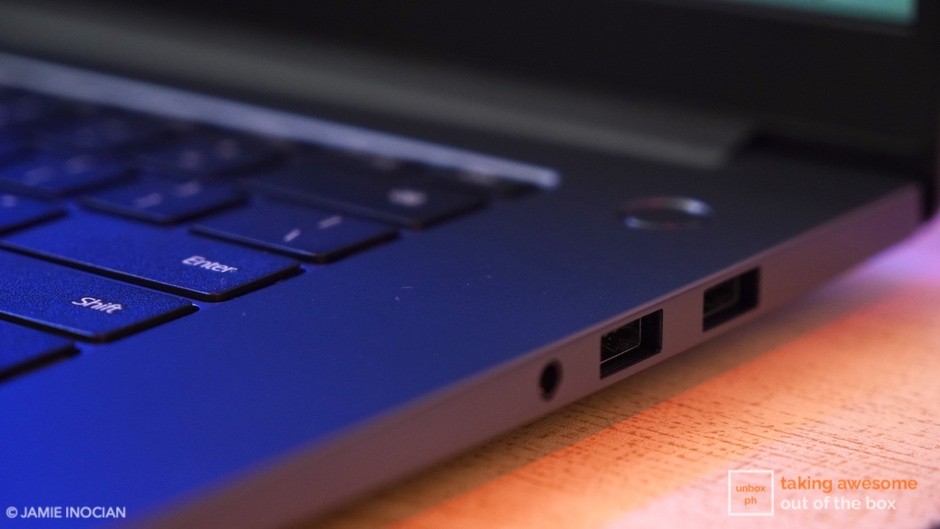 Flagship features on a mid-range notebook
Huawei has packed the MateBook D15 with plenty of high-end features you'd typically see on more expensive notebooks.
The power button, for instance, pulls double duty as a fingerprint scanner, which makes for easier and more secure log-ons via Windows Hello.
The keyboard feels OK, with a bit of shorter travel than I'm used to though that's a minor niggle compared to the fact that the keys aren't backlit. I guess Huawei had to save costs somewhere.
I generally have trouble with the trackpads of most notebooks but the one in the MateBook D15 isn't as bad as others we've tried in the past. We still advise you to use a mouse for this but if you're just going to use it for short durations, the touchpad is generally OK.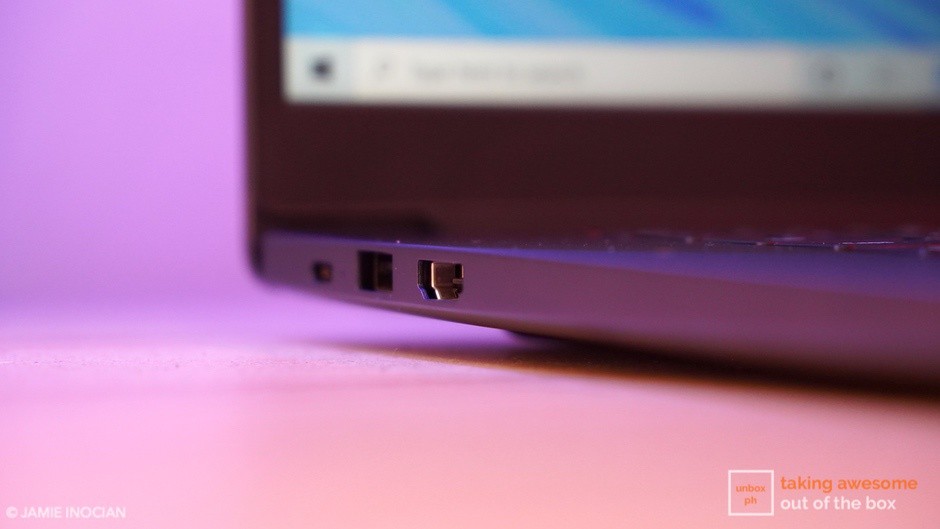 There's plenty of plugs and ports for the MateBook D15, including a USB Type-C port that doubles as a charging port, along with two USB 3.1 ports scattered on the side, and an HDMI port.
The MateBook D15 also makes file sharing between it and Huawei smartphones like the Mate 30 Pro easy thanks to the NFC-powered, Huawei share option on the notebook.
Plenty of oomph under the hood
AMD is fast becoming the processor choice for many manufacturers this 2020, and it's not surprising why. AMD's mobile offerings have a good mix of both power and performance and are slowly trickling down to many product lines that have traditionally been the stronghold of their main competitor, Intel.
For the MateBook D15, Huawei went with AMD's Ryzen 5 3500U processor, which is a four-core, eight-thread processor that runs at 2.2GHz to 3.8GHz.
The processor also has a built-in GPU via Vega 8 graphics, and while it can run older games at medium settings, we do not recommend it for gaming with more modern games.
Vega 8 though is useful for speeding up other tasks like photo and video editing, which should help speed up render times over just using the CPU alone.
Huawei also throws in 8GB of DDR 2400MHz RAM and a 256GB SSD/1TB HDD for the price of the MateBook D15, which is pretty standard as far as additional hardware goes. The MateBook D15 uses Windows 10 as its OS.
As far as battery endurance, the MateBook D15 has good, but not great battery life in our tests, and lasted around 6 hours and 15 minutes on a single charge looping a video continuously.
The MateBook D15 also charges via a 65W USB-C charger, which means it can be charged via a power bank if it's rated for it, kind of like the MateBook 13.
Verdict: Buy this instead
If you're looking for a good-looking notebook that delivers the goods for not a lot of money, then the MateBook D15 is one of the best ones around.
A metal chassis, decent hardware plus additional flagship features make it a really solid notebook for the money.
You'll be hard-pressed to find other notebooks that have a Php 37,990 price tag that has all of the features that we mentioned in the MateBook D15.