We review the Huawei Watch GT2!
We really liked Huawei's first Watch GT. Armed with a bright screen, tons of features and an almost unheard of 2-week battery life, it was a great all-around smartwatch despite its limitations.
The second-generation smartwatch builds on the original's great battery life with more features, two new sizes and increased connectivity. Is this the best wearable you can buy today?
Pros
Incredible battery life
Relatively affordable
Elegant styling
4GB of internal storage
Cons
Can't install apps
Limited health app compatibility
Now styled for both men and women
Huawei's Watch GT2 looked great on our wrists because it looked like it belonged there. Its design mimics the look of an analog watch, and that's pretty much what you can expect from the second-generation device.
This time around though Huawei is offering the Watch GT2 in two sizes: 46mm and 42mm, with the smaller watch, meant for smaller wrists.
The display on both variants has 454 x 454 resolution, though obviously the size of the screen is different, with the smaller watch sporting a 1.2-inch panel. The bigger 46mm watch face has a 1.39-inch display.
Whatever version you get though, the display tech stays the same: the panels are OLED and are incredibly bright, easily readable under the noonday sun.
Navigation is done through the screen and through the two buttons on the crown.
The rear of the watch holds the heart sensor flanked by charging pins.
Easy to navigate, but there's no option to install apps
The Watch GT2 uses Huawei's Lite OS, which is very easy to navigate through. Swinping down shows your settings, swiping horizontally shows key features like music, fitness, stress, and others while swiping up shows your notifications.
The top button shows you a list of pre-installed apps, while the bottom one is configurable, but by default shows you a list of activities that the watch can track.
The downside here is that watch doesn't have the ability to take apps other than the ones that's already installed on it, but the upside there is since the watch's software is so incredibly optimized battery life is incredible.
One nice new feature is that you can now load music onto the watch (around 500 songs worth) allowing you to leave your phone at home if you don't want the extra weight or you're wearing running gear without extra pockets.
Has the basics covered, and can track your stress
Huawei's Watch GT2 connects to your phone via the Huawei Health app, and the watch itself has a ton of useful features for regular peeps who just want to keep an eye on what's happening with their body.
It tracks sleep pretty well and has pretty accurate heart tracking too, both during a workout and while your body is at rest. This is done via Huawei's TruRelax, which records heart rate variability to give feedback on how much stress you're currently under.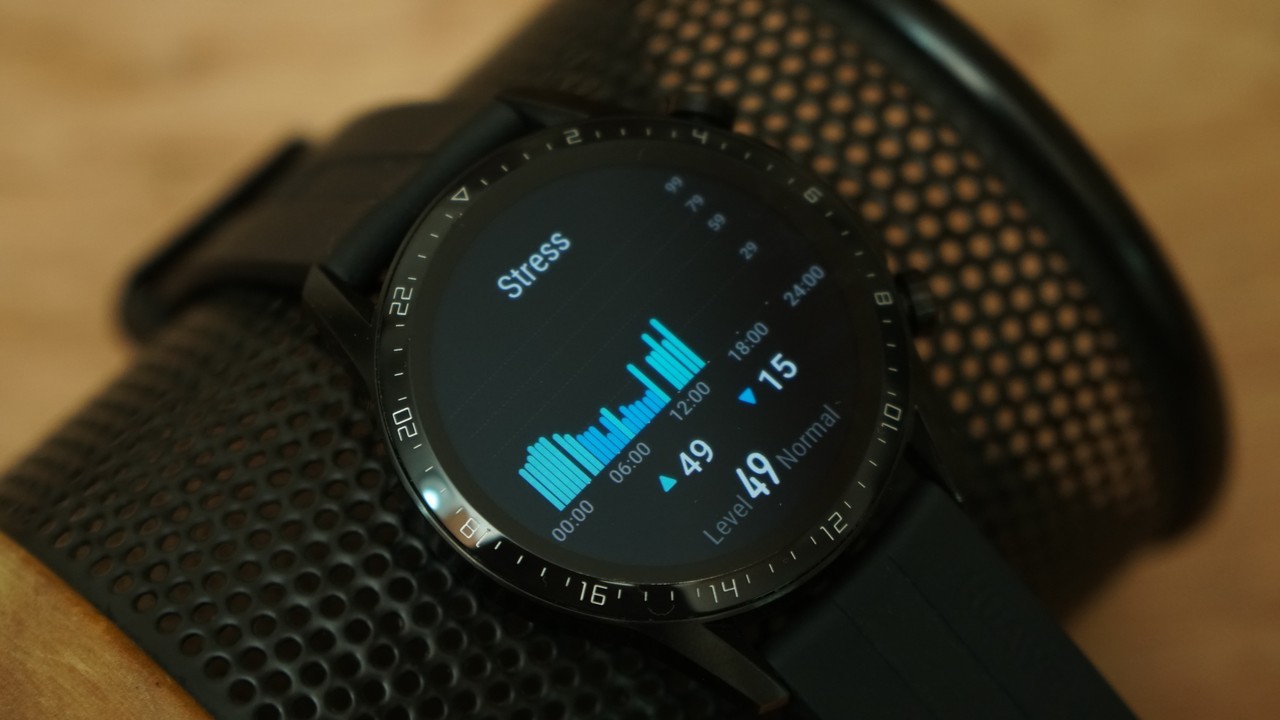 All of the data that the Watch GT2 collects can be seen in the Huawei Health app, and can be shared with Google Fit and My Fitness Pal, as well as Apple's own Health app.
It's a little annoying that Huawei still hasn't built-in functionality to share to more enthusiast-level apps like Endomodo or Strava, which rules out the Watch GT2's use for more hardcore users.
Still has pretty insane battery life
Huawei still quotes the Watch GT2's overall battery life at 2 weeks, but that assumes that you're not using the device's many power-consuming features like automatic heart rate and stress tracking, as well as GPS.
More realistically you're going to get at least a week's use out of the Watch GT2, which is truly impressive, considering how pretty the screen is and how much tracking you get.
On our test the Watch GT2 got around 9 days of battery life – that's with a few runs here and there with GPS on.
Verdict: A great (and affordable) smartwatch
While Huawei's Watch GT2 might not be as customizable as other smartwatches in the market today, it's one of the best options you can buy at its price range.
Priced at just Php 10,990 for the silicone strap version, its priced lower than many of its competitors like Samsung's Galaxy Watch Active 2, which comes in at almost double the price at Php 19,990.
If you're just a regular Juan that needs a stylish, feature-packed smartwatch that'll last a week between charges and won't break the bank, then you might want to take a look at the Watch GT2.