Huawei Watch GT 4 Review Philippines: Huawei has hit yet another home run with the Watch GT 4. With a sleek new design (especially the all-metal strap ver), multiple case size options, and a dizzying array of strap and case combinations, this is the best-looking iteration of Huawei's wearable yet.
Pros
Gorgeous design, especially for the all-stainless version
Two-week battery life
Very bright display
More sports modes than you'll ever use
Cons
No LTE support
No payment support
Huawei is again adding yet another new member to its already formidable wearable lineup with the Watch GT 4. Huawei's new offering is aimed at fashionistas and traditional watch wearers while still retaining everything that makes a Huawei smartwatch great: namely tons of health tracking options plus week-long battery life.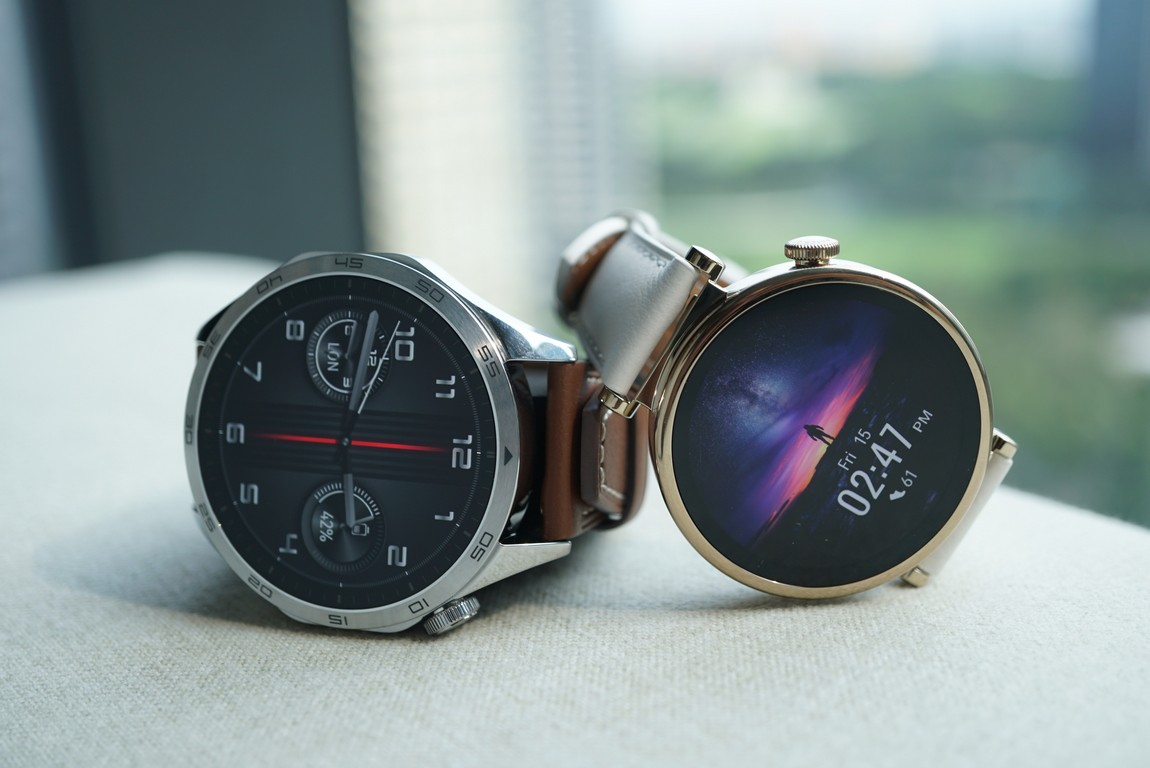 Huawei Watch GT 4 Review Philippines: design and display
Huawei's always made good-looking smartwatches, but this time around they've gone to great lengths to make a watch that you could easily mistake for a traditional watch. Huawei's fashion-forward design direction is obvious in the models that they've made for the Watch GT 4, and the company has made two case sizes to choose from: 46mm and 41mm so no one's left out of the cold.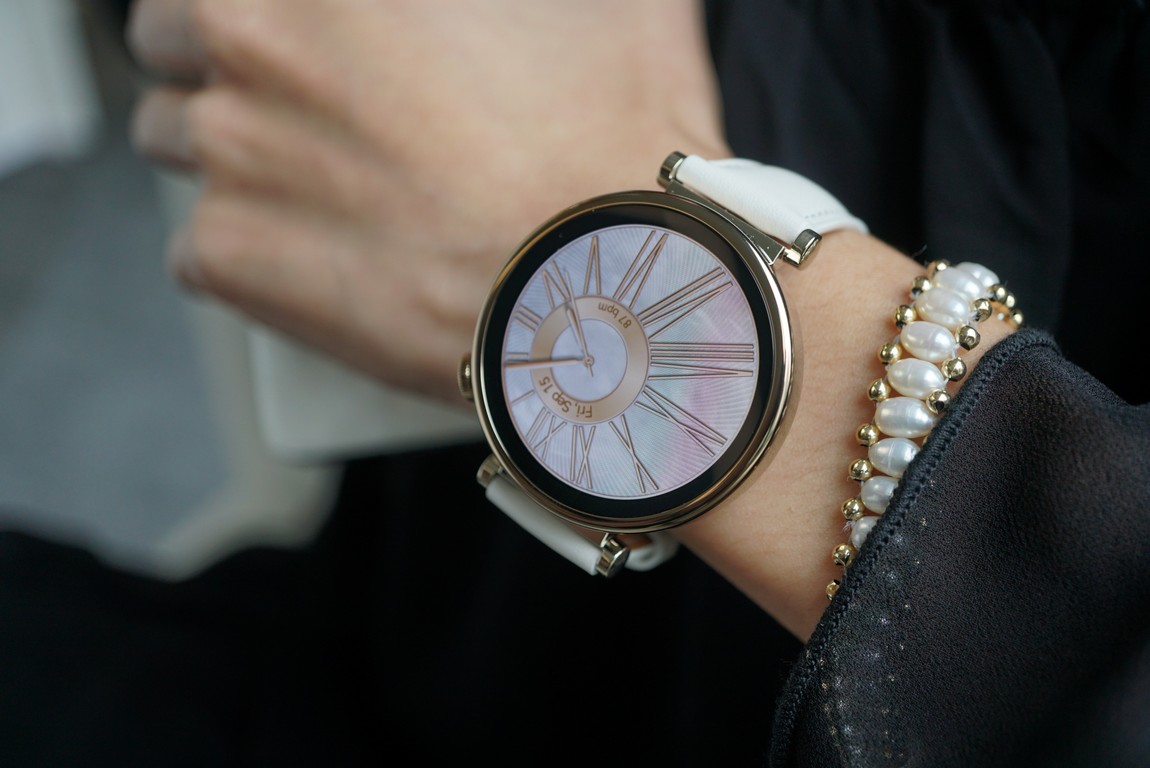 The Watch GT 4 comes in several styles and band options, but my personal favorite has got to be the stainless steel version. It's incredibly stylish fits large wrists well, and will go well with any outfit from sporty to formal.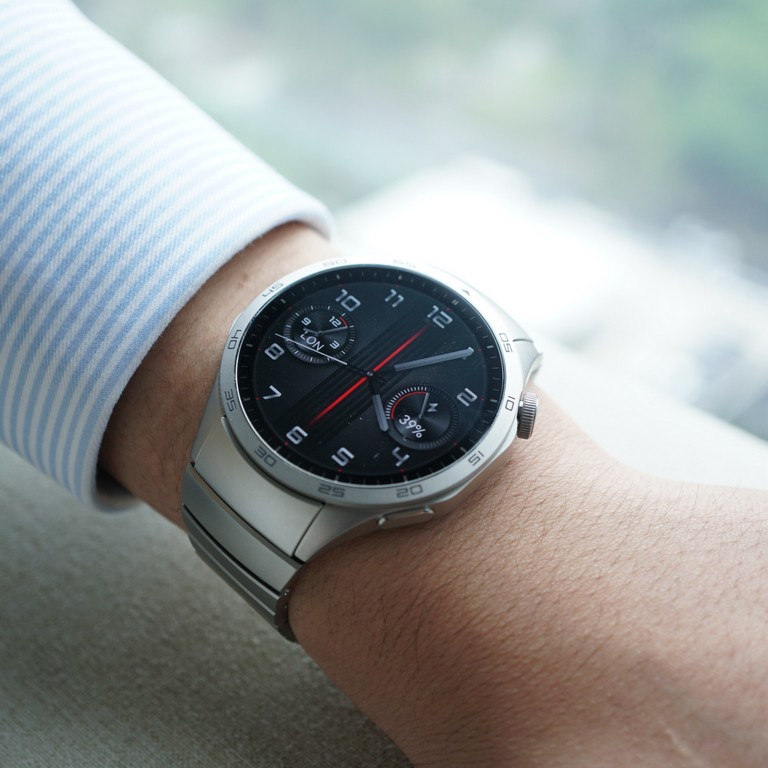 Our review unit came with a stainless steel case and a leather strap, which I like. As someone who has a nasty skin reaction to silicone bands, I like the fact that Huawei offers the Watch GT 4 in a more skin-friendly leather option.
Like previous generations the Watch GT4 comes with two control options – you can navigate through the screen via the rotating crown or use the gorgeous touchscreen to do it. A second button resides on the bottom for quick access to workout plans.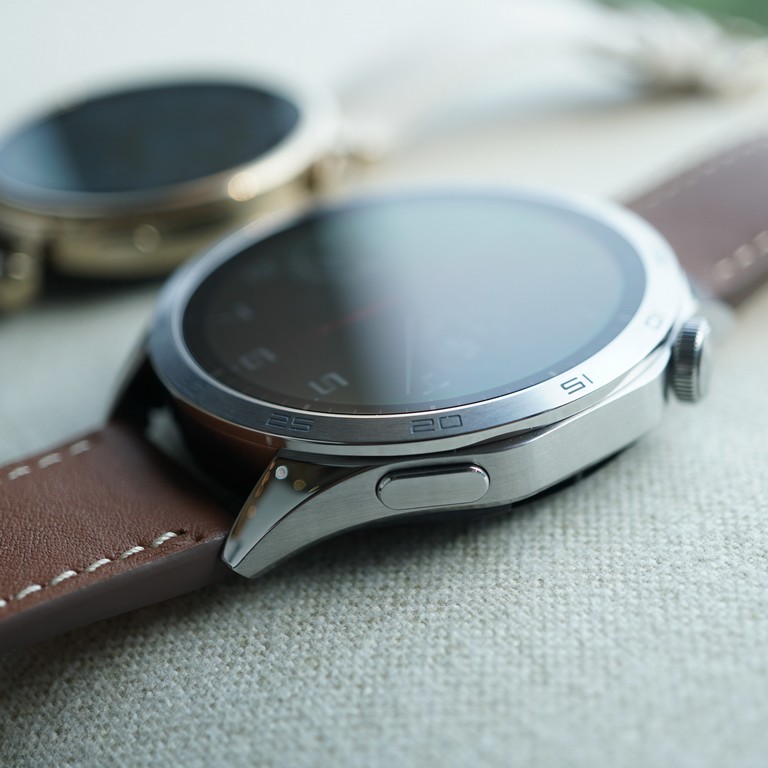 46mm version of the Watch GT 4 has a 1.43-inch AMOLED display. Resolution is set at 466 x 466, and with a 326 ppi image looks very sharp on the round display. It's bright enough to see under direct sunlight without having to max out the brightness.
I frequently had to adjust the brightness because it was TOO bright, especially when I was driving at night. As with Huawei's other smartwatches, there are options to keep the display on when you're using it as well as some always-on options for some watch faces though keep in mind this'll increase your battery consumption when you're using it.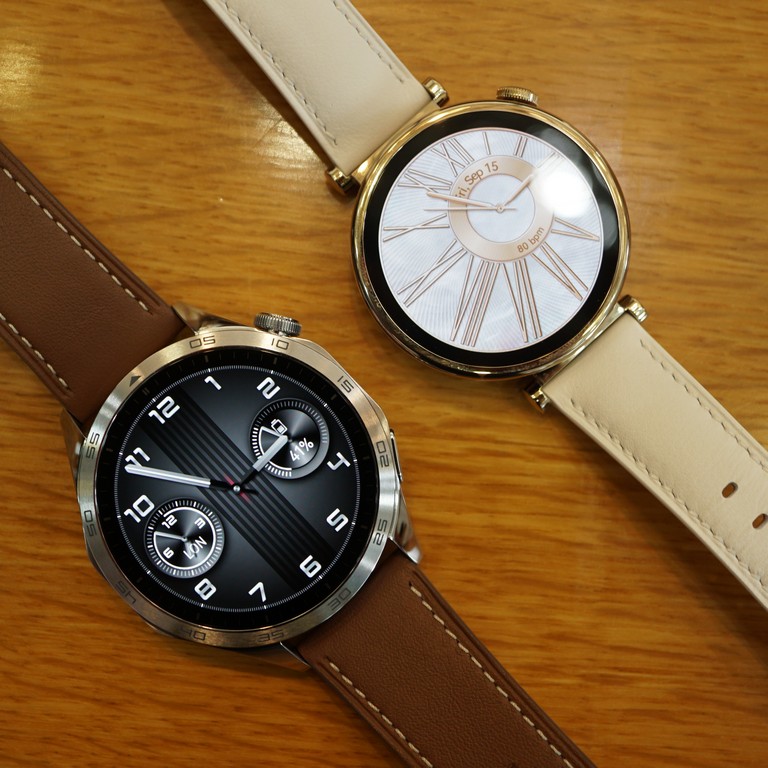 Overall I love the design direction that Huawei went with the Watch GT 4. Their new smartwatch's design looks better than the usual stuff we've seen from their competitors, and I'm confident it'll convince a fair amount of traditional watch wearers to convert.
Huawei Watch GT 4 Review Philippines: software and tracking
Like Huawei's other new smartwatches, the Watch GT 4 is powered by their very own Harmony OS 4.0. It's a relatively lightweight but powerful app that makes the entire show run. You can navigate it through two ways either through the display or through the crown.
Huawei has been continuously improving the UI on their smartwatches every release and the version on the Watch GT 4 is one of the best we've seen. It's fast, smooth, and doesn't lag whatever you do – which is what you want from a smartwatch like this.
The watch interfaces with Huawei Health, Huawei's own fitness and health app you can download either from AppGallery or through the Google Play Store. There's also an iOS version of the app available as well, so iPhone users aren't left out in the cold here. Huawei Health is the primary portal where you can see the results of your activities and exercises, and also serves as the hub where you download and install additional apps and services.
What still needs work though is Huawei's app ecosystem for their smartwatch. While we've seen some improvement on that front, it's still not as competitive as what we see in the offerings of their competitors. There are a few other cons here, mainly the lack of payment support but honestly, that's not a big concern in the Philippines.
One thing that I like about the Huawei GT 4 is the fact that there's a massive amount of workouts and exercises embedded in the watch. You can track exercises as common as basketball and running to more obscure ones like cross-country skiing, skipping, and more. Huawei also provides detailed courses like HIIT fat burning for more targeted cardio if needed.
Aside from the exercise app, the Watch GT 4 keeps track of a lot of data points in your overall health. There's heart rate, oxygen level, and skin temperature tracking, and thanks to Huawei's new TruSeen 5.5 sensor, the data points recorded are more accurate than ever before. There's also detailed sleep tracking as well, with the app giving you advice and pointers for things to look out for when you're sleeping.
New for this release is the Stay Fit app, where you can track the number of calories you consume by entering what you're eating. It's a quick and easy way to see where you are visually when you're trying to lose weight via calorie deficit.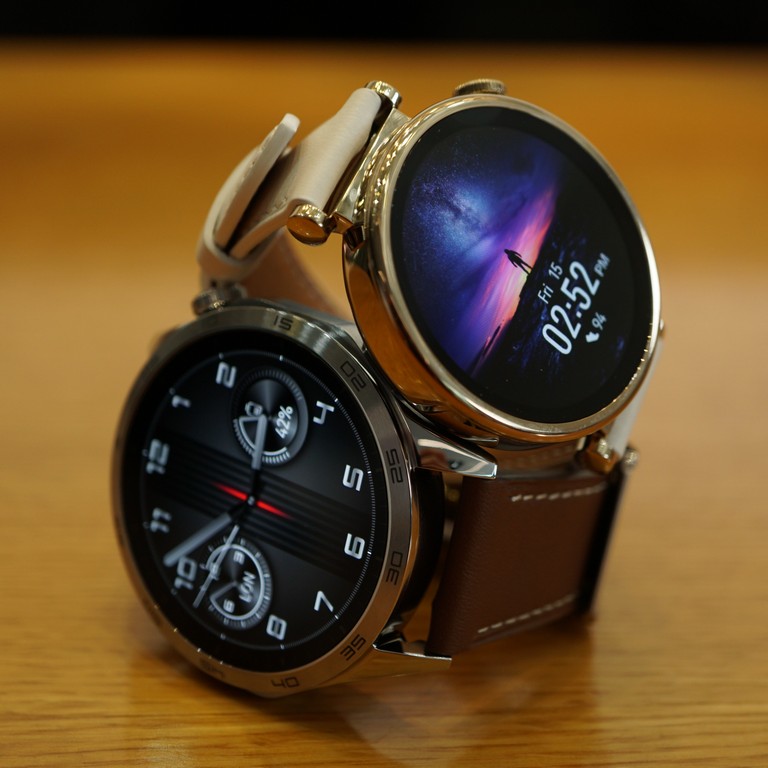 Huawei Watch GT 4 Review Philippines: battery life and charging
Just like every Huawei smartwatch made recently, the Watch GT 4 charges via a magnetic charging dock that they provide with the package. If you're upgrading from a Huawei smartwatch made in the past two years, chances are you'll be reusing that charging dock for the Watch GT 4.
With all of the new, fancy features that the watch brings in, I'm happy to see that it still retains its legendary battery life. Huawei promises 14 days of continuous use with a single charge, but that's assuming you don't use all of the tracking, Bluetooth connectivity, or the sports mode with the watch.
In more realistic use, I managed to get around 10 days of battery out of a single charge. That's with a few tracked runs in the mix, along with 50% brightness and messing around with the watch to see what AppGallery has to offer. Huawei smartwatches consistently have had one of the best endurance of any smartwatch available in the Philippines, and I'm happy to see that still holds for their recent stuff.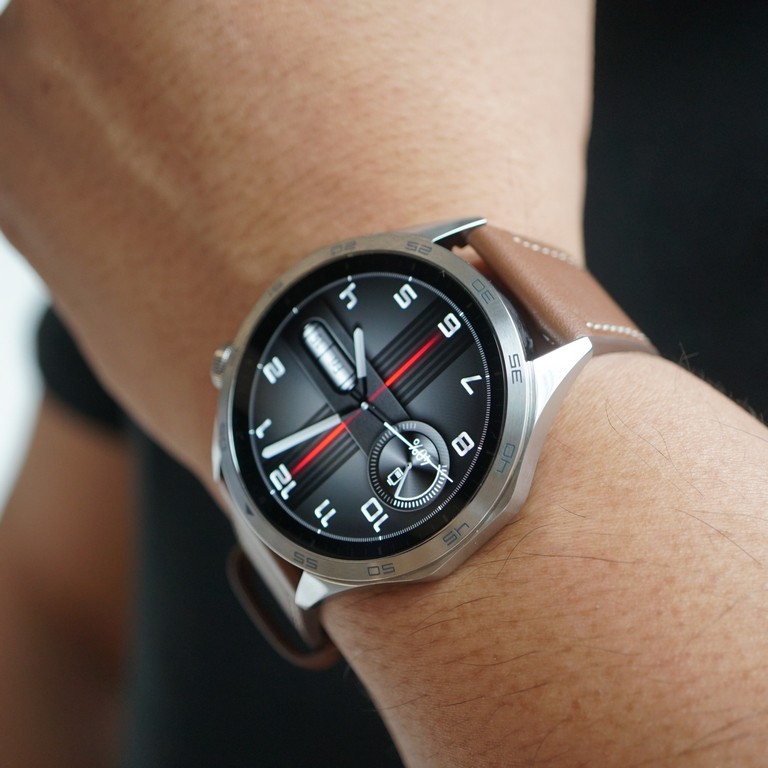 Huawei Watch GT 4 Review Philippines verdict:
Huawei has gone fashion forward with their GT 4 smartwatch in the Philippines, and I love the new direction that they've taken as far as design goes.
The Huawei Watch GT 4 is undoubtedly one of the nicest-looking smartwatches you can buy today, something that even an analog watch traditionalist can look at and begrudgingly appreciate. If you want a stylish yet highly-capable smartwatch, there isn't any other choice out there now than the Huawei Watch GT 4.
Huawei Watch GT 4 Price Philippines
Unfortunately, Huawei has not revealed pricing for the new smartwatches yet, though they'll be releasing local pricing come October 5.