Is the Nokia 8.1 another win for HMD Global?
While HMD Global is slated to unveil a new phone come IFA 2019, the Nokia 8.1 remains to be their current contender for the upper mid-range segment. People would often overlook with what the Nokia 8.1 has to offer: ginormous notch aside, the Nokia 8.1 sports a unique IPS panel that offers AMOLED-like colors, can view HDR content, and can even upscale SDR content through both hardware and software solutions.
Unfortunately, the Nokia 8.1 comes at a time where competition for the mid-range is as ruthless as ever, facing off against several well-known and well-established brands in the same price range. Does the Nokia 8.1 stand a chance or is it another case of being too late to the party?
A step up with the overall design
While the Nokia 8.1 has the same chamfered aluminum frame found on the Nokia 7 Plus, it swaps the matte aluminum back panel for glass, giving it a more premium look. The Nokia 8.1's Iron color makes it look gorgeous. The compromise, however, with glass backs is that it makes the phone a certified smudge magnet and more delicate compared to aluminum—we really advise you to get a case for the Nokia 8.1 ASAP since it does not come with one out of the box.
While the Nokia 8.1 is a tad thicker than the Nokia 7 Plus due to its glass back, it remains to be comfortable to use with one hand, though those with small mitts might find it better to use it with two hands.
Gorgeous display disrupted by its humongous notch
One of the Nokia 8.1's standout features is its PureDisplay panel, and it definitely delivers: despite being an IPS variety, the PureDisplay feature helps the Nokia 8.1 render colors that can rival most AMOLED panels. With a combination of both hardware and software solutions, the Nokia 8.1 does a great job in upscaling SDR videos to HDR, and it is one of the few phones in the mid-range segment that natively supports HDR content from video streaming apps like YouTube and Netflix.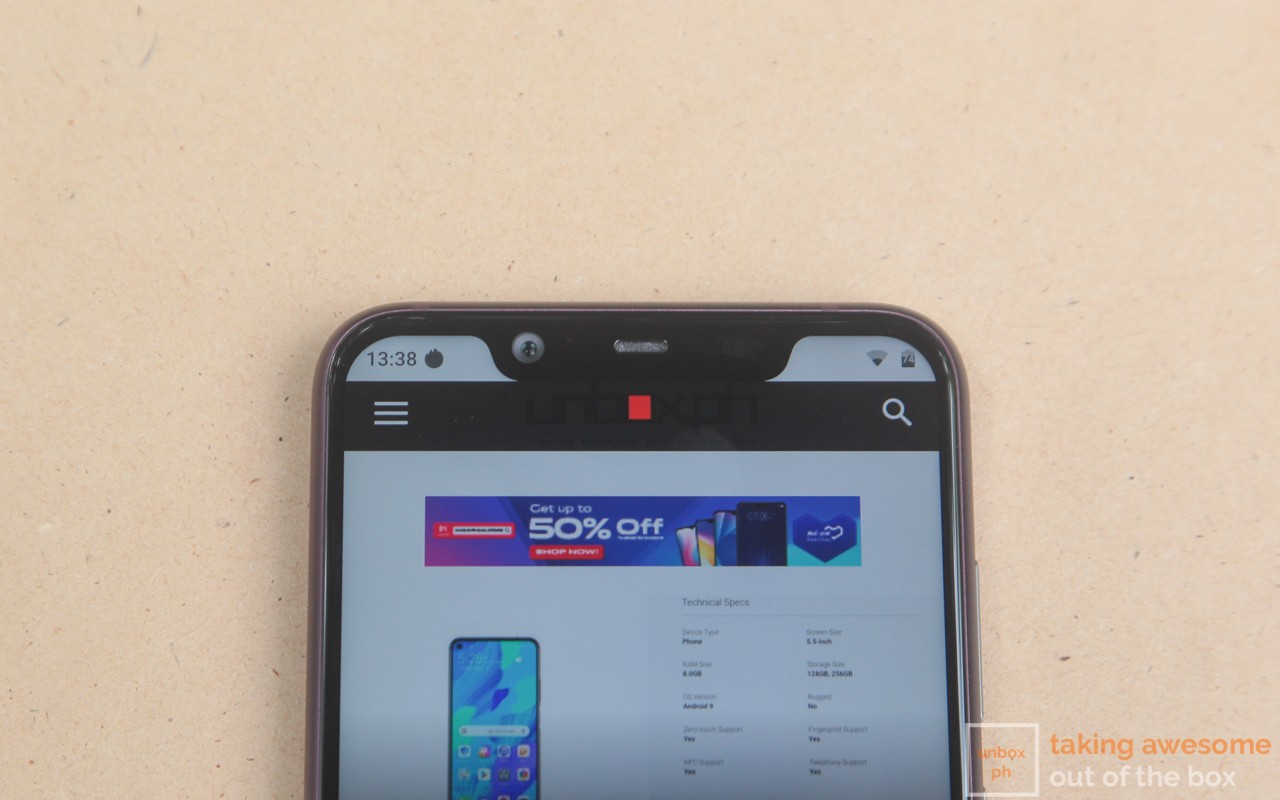 As much as we love the Nokia 8.1's display, all that goodness is disrupted by its humongous notch. It is a design cue that is dated for 2019 standards, and we wished that HMD Global stuck with either a punch hole or waterdrop notch solution—with the latter used on the Nokia 3.2 and Nokia 2.2. If you really abhor the notch, HMD Global added an option to black out the notch area.
On the audio side, the Nokia 8.1's speaker placement feels awkward when using the phone in landscape mode. On our experience, our hands often cover the speaker grille, muffling the sound. You'd be better off using wired or wireless cans instead.
Good processor choice but Android One has its gaming limitations
Powered by a Snapdragon 710 processor paired with 6GB RAM and 128GB internal storage, the Nokia 8.1 is still on par with most 2019 mid-range phones. For general use, the Nokia 8.1 is very fluid and smooth and we barely encountered any lags or issues with it.
Like the majority of HMD Global's phones, the Nokia 8.1 is part of the Android One program and is up-to-date when it comes to security updates. Being stock Android, the Nokia 8.1 is virtually free of any bloatware, giving you more free space for your apps and media files. As of this writing, you can install Android Q beta on the Nokia 8.1, though expect to encounter bugs and glitches with it.
While we laud HMD Global's commitment with Android One, stock Android has its limitations especially when it comes to gaming. Unlike other Android overlays like EMUI and ColorOS, Android One does not have any gaming enhancement features. Compared to other Snapdragon 710-equipped phones we reviewed in the past (check out our reviews on the Realme 3 Pro and OPPO R17 Pro), the Nokia 8.1's gaming performance is slightly below par of what we expect from Qualcomm's 10nm upper mid-range processor.
Don't get us wrong: the Nokia 8.1 did perform well in our usual test games based on GameBench. However, HMD Global could have utilized the Snapdragon 710's full potential if it added its own version of gaming enhancement features—just like what it did with the Nokia 8.1's cameras.
Same camera hardware that is enhanced by software algorithms
The Nokia 8.1 sports the same, familiar Zeiss-branded dual rear camera setup used in the Nokia 7 Plus. While its IMX363 sensor is quite dated at this era of 48-megapixel (and 64-megapixel) smartphones, the Nokia 8.1 produces great images with good color reproduction, decent dynamic range, and better-than-average low-light performance.
Like in the case with most Samsung and Google flagships, HMD Global tweaked the software algorithm on the Nokia 8.1 to make the most out of its dual rear camera setup. Compared to the Nokia 7 Plus, the Nokia 8.1's automatic exposure is more consistent, making it much easier to snap great photos with it.
For the video side, the use of a Snapdragon 710 processor paired with HMD Global's software tweaks helped improve the Nokia 8.1's video recording quality, especially with 4K. Unlike its predecessor, the OIS feature on the Nokia 8.1's cameras also works in 4K, which is a plus if you plan to shoot handheld 4K footage.
Better battery life despite smaller battery
While the Nokia 8.1 has a slightly smaller battery compared to the Nokia 7 Plus, the former fared better in terms of overall battery life thanks to a more power-efficient processor. The Nokia 8.1 scored a little over 13 hours in PCMark's battery test, and we managed to use the phone for one and a half days before we had to juice it up.
You get the same 18w USB-C fast charging with the Nokia 8.1, though charging is more stable—we did not get any overheating warning with it compared to our experience with the Nokia 7 Plus last year.
Verdict: Better late than never, but competition is tough
Even if it took over 7 months for HMD Global to officially bring the Nokia 8.1 to the Philippines, their mid-range offering remains to be competitive against its rivals with its PureDisplay screen, Snapdragon 710 processor, and dual Zeiss cameras. While it has shortcomings with its ginormous notch and so-so gaming performance, that does not stop us from considering the Nokia 8.1 as a great follow-up to last year's Nokia 7 Plus.
With its Php 19,990 SRP, the Nokia 8.1 is up against tough competition even HMD Global recently made the deal sweeter by bundling the Nokia 8.1 with the Nokia 8110, along with a Php 1,000 travel voucher and Nokia VIP service card.
One of the Nokia 8.1's biggest rivals is the Xiaomi Mi 9T: at Php 17,990 for the 6GB/128GB variant, you get a bigger battery, a more powerful Snapdragon 730 processor, a trendier notch-free AMOLED display, in-display fingerprint scanner, and a more versatile triple rear camera setup led by a 48-megapixel Sony IMX582 main camera.
Nokia 8.1 specs
Qualcomm Snapdragon 710 processor
6GB LPDDR4X RAM
128GB internal storage
6.18-inch PureDisplay Full HD+ IPS display with Gorilla Glass 3 protection, HDR10 and DCI-P3 support, 1:1500 contrast, 96% NTSC color gamut coverage
Dual Zeiss rear cameras 12-megapixel f/1.8 Sony IMX363 main camera with OIS; 13-megapixel f/2.4 depth sensor; dual-LED flash, EIS, 4K video recording, AI Scene detection
20-megapixel f/2.0 front camera with 0.9um pixels, AI bokeh effect, AI scene detection
Dual SIM
3G, LTE
WiFi, Bluetooth, GPS, A-GPS
USB Type-C, fingerprint scanner
Android 9.0 Pie (Android One)
3500mAh battery with 18W fast charging