Review verdict: The ASUS ROG Zephyrus G15 G503 is one of the most powerful gaming laptops you can buy in the Philippines today. You'll be paying a lot for the privilege though, thanks to the laptop's steep price tag.
Pros
Great design
Excellent display
Powerful hardware
Excellent speakers
Surprisingly good battery life
Cons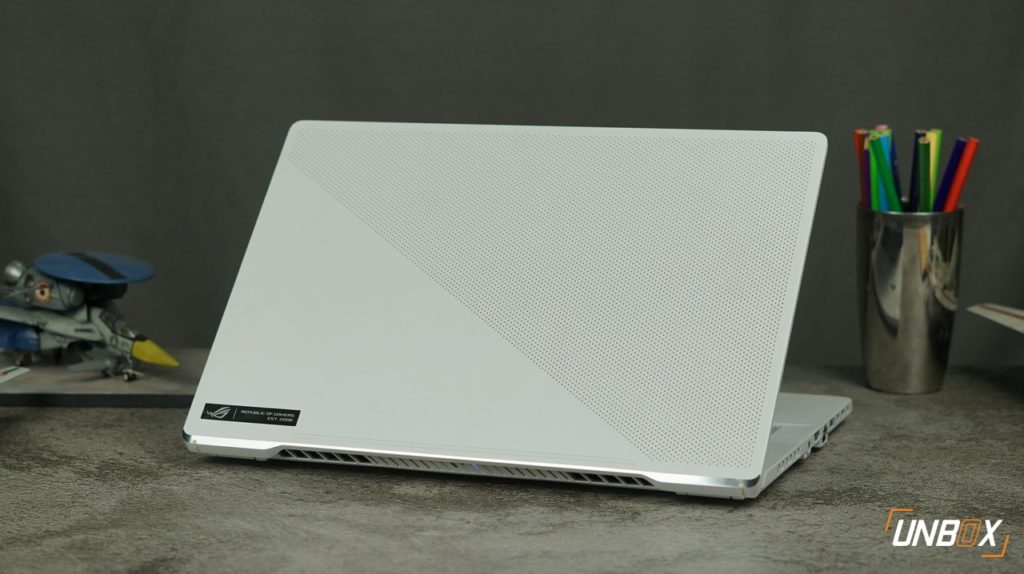 The silicon shortage isn't letting up any time soon which is bad news for PC gamers. At the rate things are going you're better off buying a gaming laptop if you want to get an RTX-capable GPU because of price gouging nowadays, and what better laptop to get than the ROG Zephyrus G15 GA503. This new laptop from ASUS is powerful enough to make sure you won't have to turn the settings down for Battlefield 2042 when it drops later in November, but like anything this powerful, you'll be paying through the nose for the privilege.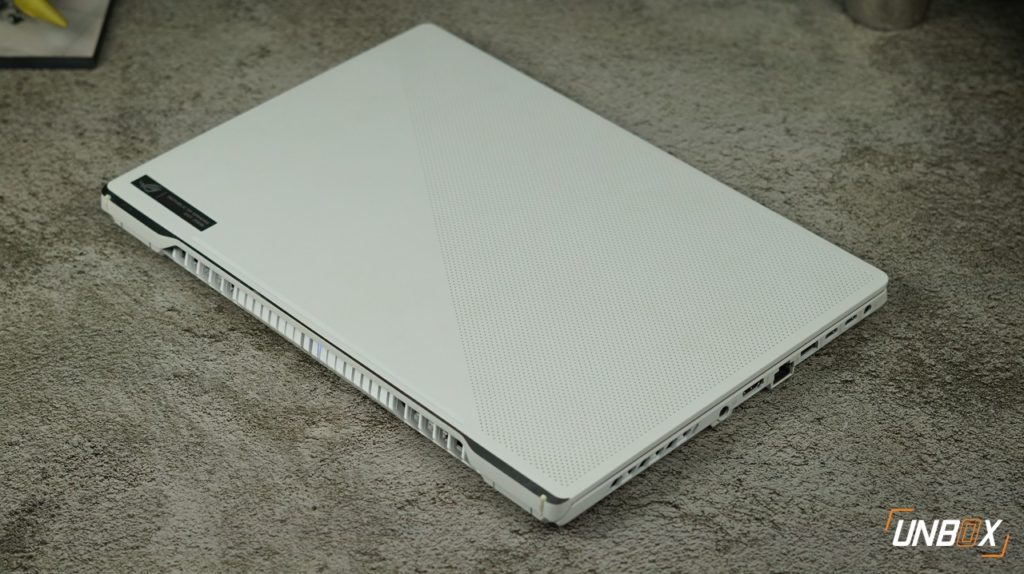 Design
ASUS offers the ROG Zephyrus G15 GA503 in two colors with our review unit coming in stunning white. The design hasn't changed too much from the Zephyrus G14 offered last year – you're essentially getting a lid that has one half perforated by a "dot-matrix" design. Essentially there are 8,279 perforations on the rear which is a nice change from the usual all-black exterior that you see on gaming laptops nowadays.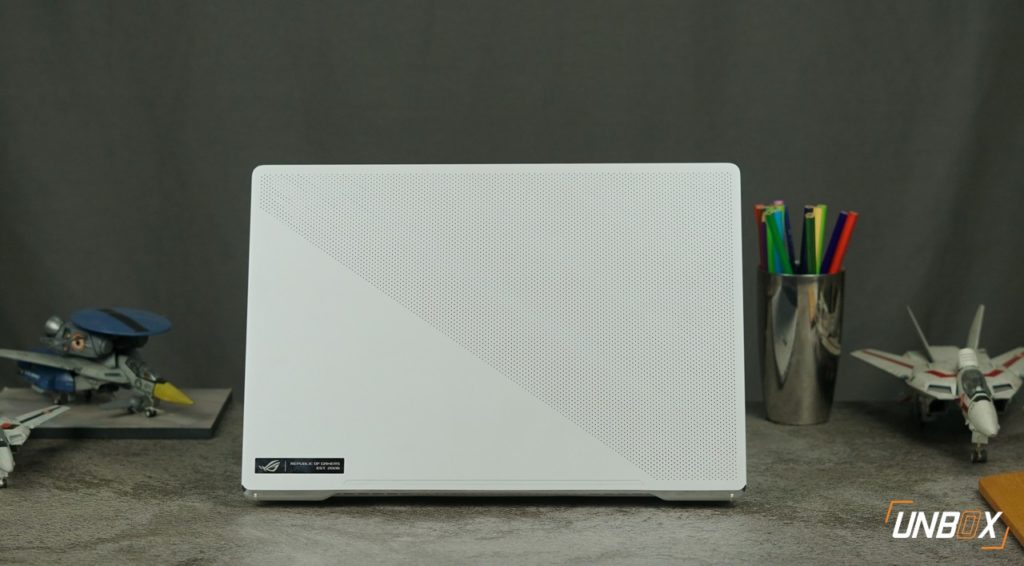 The chassis and the lid are made from a magnesium-aluminum alloy, treated with a "wear-resistant" coating for durability.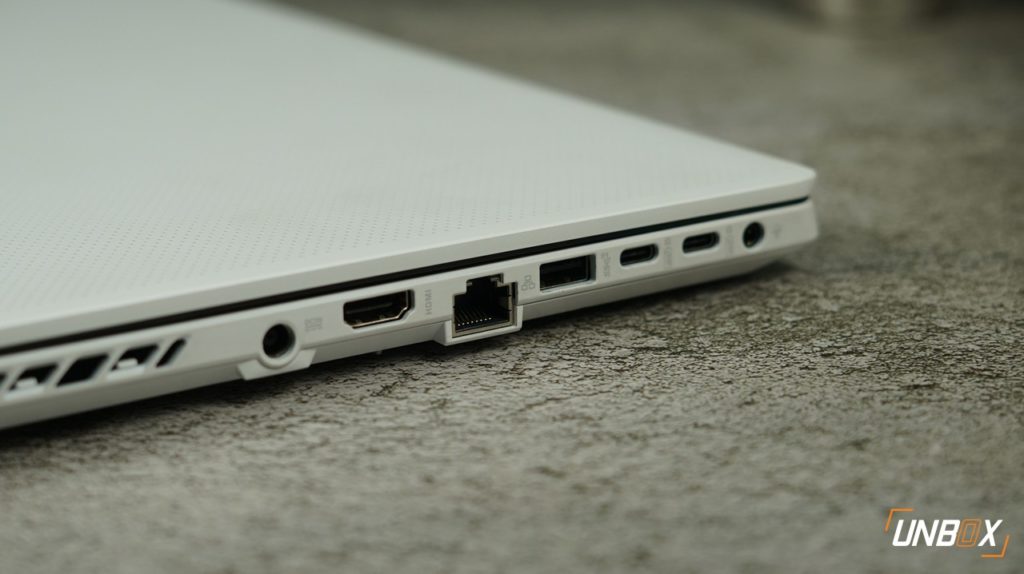 The all-white variant looks fire, but the downside is that it gets dirty really easily. If you're not a person that wants to wipe down the wrist-rest after use every day, I'd suggest you go with the grey variant instead.
There's plenty of ports scattered on the chassis of the laptop – you're getting 2x USB-A 3.2 ports, two Type-C ports that have DisplayPort support as well as power delivery capabilities, one HDMI 2.0b port, one Ethernet port, 1 microSD card reader, and a 3.5mm audio jack.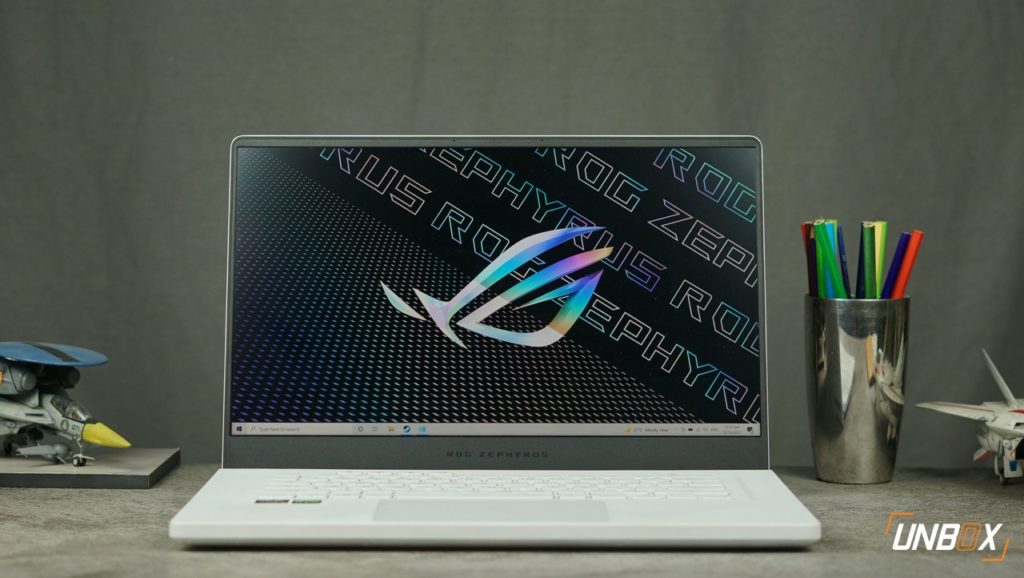 Display and sound
The ROG Zephyrus G15 G503 has a gorgeous 15.6-inch, 16:9 aspect ratio QHD IPS panel (2560 x 1440) that has a 165Hz refresh rate as well as AdaptiveSync built-in.
There's enough grunt under to justify the QHD resolution, and the 165Hz refresh rate should satisfy even the most-frame-hungry competitive FPS players out there.
The display of the ROG Zephyrus G15 G503 is accurate enough, and has 99% sRGB color coverage, according to our DataColor Spyder5 Elite colorimeter. Color accuracy sits at 1.76 of Delta-E which is OK but isn't fantastic. You can check the full results of the display analysis here.
As far as the speakers go, they're very good. You're getting a total of 6 speakers (two woofers and 4 tweeters) and it's honestly surprising how much volume this thing puts out on full blast.
Audio quality is pretty good too – while you can game with the included ROG Delta headphones, you can just as easily keep them off and just use the speakers.
Unlike other laptops in the market, the ROG Zephyrus G15 doesn't get an integrated webcam – you'll have to buy your own webcam if you want to stream or talk to your co-workers over Zoom or Google Meet via video.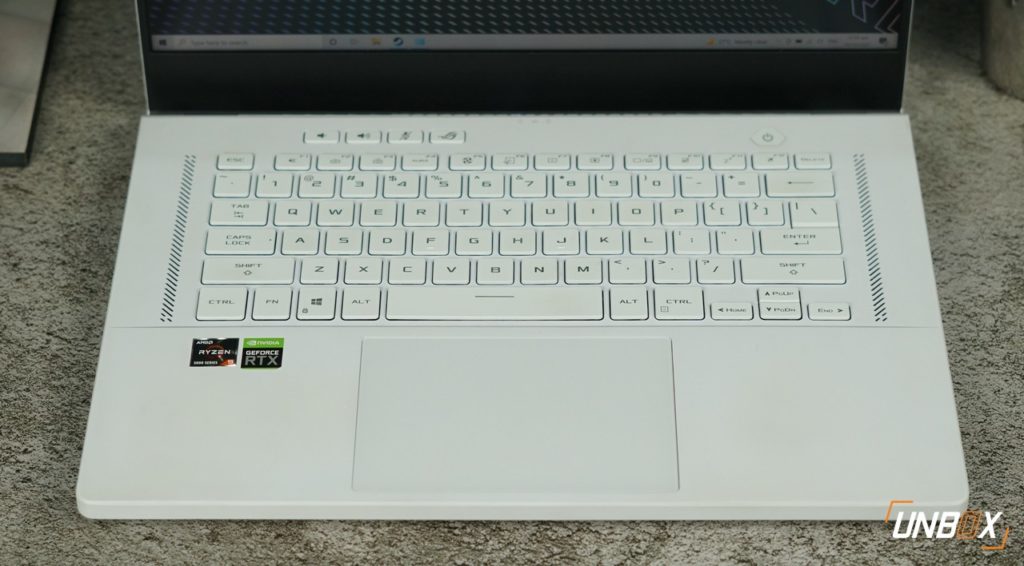 Keyboard and trackpad
The ROG Zephyrus G15 has a pretty comfy keyboard, though despite the laptop's size it doesn't have a Numpad key on the side.
Aside from your standard keys, ASUS also added a bunch of extra keys on the top of the keyboard near the lid to control the volume, microphone as well as a dedicated key to bring up the Armory Crate software.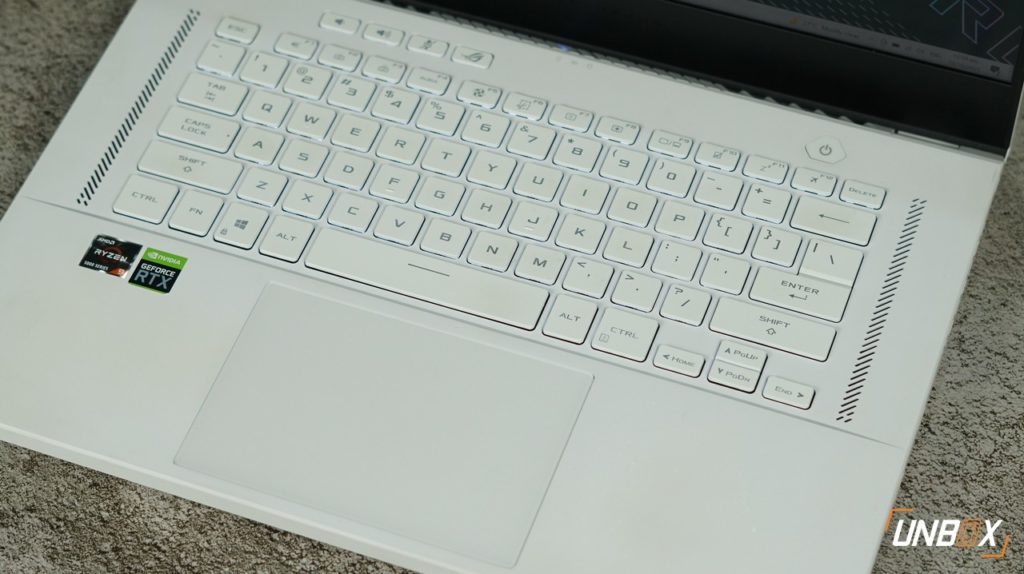 The keys are all backlit white, though the backlight is a little hard to see thanks to the all-white colorway of our review unit.
Key travel feels extremely good, and I didn't have issues at all writing long articles (like this review) with the keyboard.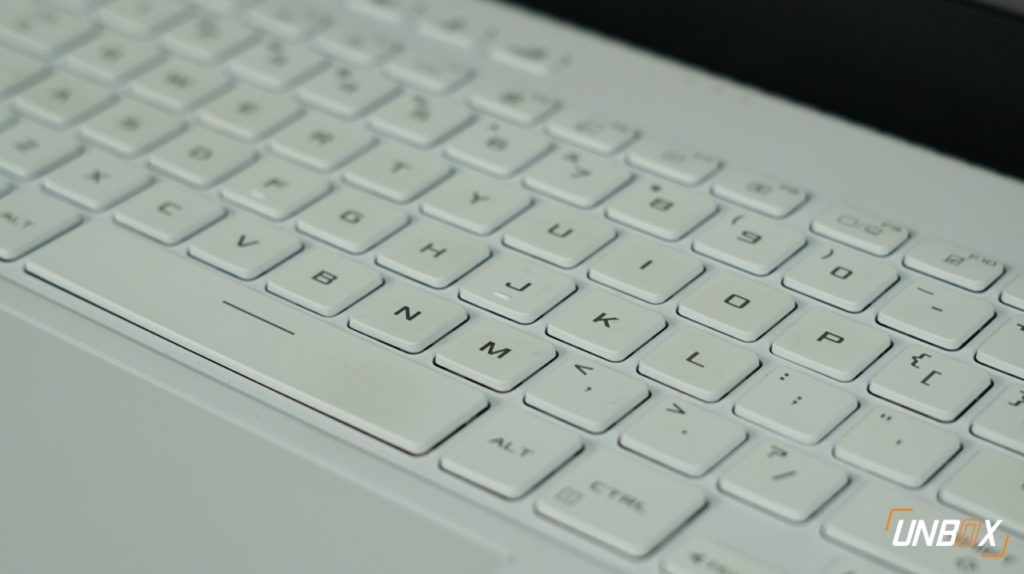 The trackpad feels great, and is very accurate, though people with bigger hands might want to turn it off when you're playing with a mouse because its palm rejection isn't too great.
Performance, battery life
The ROG Zephyrus G15 GA503 runs the best mobile processor that AMD can offer as of 2021, specifically the Ryzen 9 5900HS. This processor has a 3.1GHz clock, 16M cache, and boosts up to 4.5GHz when needed.
That's paired with NVIDIA's laptop version of their GeForce RTX 3080 GPU running at 80W, which can further be boosted up to 100W when needed via Dynamic Boost.
There's 32GB of DDR4 RAM onboard as well, along with 1TB of M.2 NVMe PCIe 3.0 SSD storage.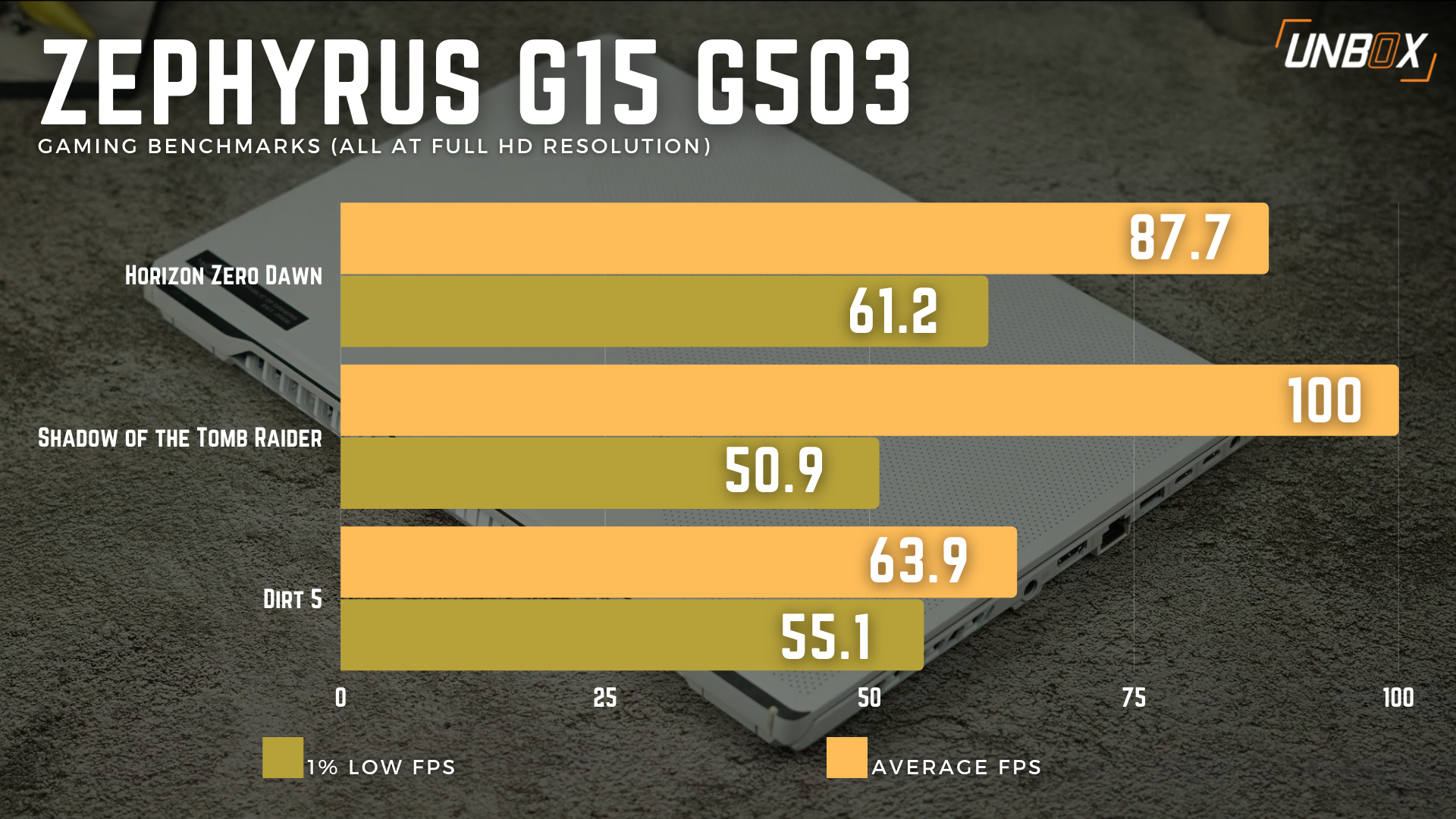 Results from the synthetic benchmarks and in-game benchmarks show excellent performance, and there's enough graphical muscle here to take advantage of the high refresh-rate display in games like Valorant, Rainbow Six: Siege, and CS:Go even with the resolution set to QHD and graphics set to max.
AMD's Ryzen 9 5900HS is also a great processor when it comes to processing videos and photos. Combine that with the excellent display, and you get a powerful, portable workstation that you can use for video editing on the go.
The only con here is that the fans are obnoxiously loud when they're spinning full tilt, which cuts through the sound produced by the speakers when you're gaming.
Interestingly, the ROG Zephyrus G15 GA503 managed to do very well in our punishing YouTube battery test, with the laptop recording an excellent 6 hour and 8 minutes run time from 100% to 0% with 50% speaker volume and 50% display brightness. That's more than other thin and lights in its class.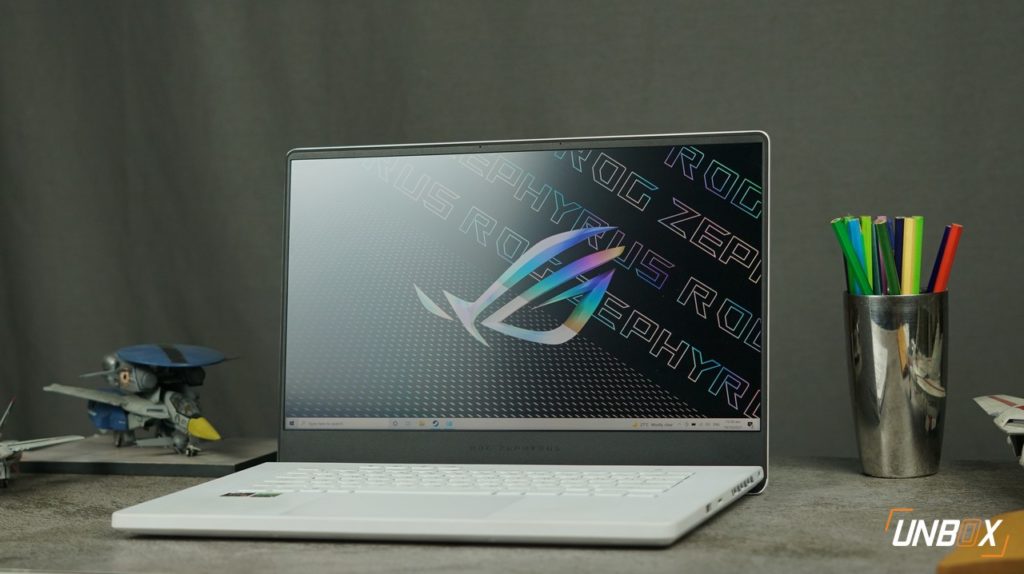 Wrap-up and verdict
The ASUS ROG Zephyrus G15 G503 did pretty well in our review for this unit made for the Philippine market and shows just how potent the combination of AMD and NVIDIA truly is in a gaming notebook. The only caveat here is the price – you'll be paying top peso for the configuration we handled for this review. Top-tier performance demands top-tier money, it seems.
ASUS ROG Zephyrus G15 G503 Review Philippines
All ROG Zephyrus G15 G503 laptops sold in the Philippines will have AMD's R9-5900HS processor, with pricing differing depending on the GPU, RAM, and storage you select. The top-tier variant of the ASUS ROG Zephyrus G15 G503 has a price of Php 179,995 in the Philippines.