Review Verdict: ASUS makes its mid-range VivoBook 15 a lot more appealing for folks in the Philippines with an upgrade to an OLED display. Together with an under Php 50k price for the top-end model we have in this review, the VivoBook 15 OLED is one of the best value-for-money mid-range notebooks you can buy right now. 
Pros
Bright and vibrant OLED display
Good price-to-performance ratio
Great port selection
Cons
Build feels cheap
USB-C port can't be used for charging
After making OLED displays available to the whole ZenBook series, ASUS is bringing OLED panels to its mid-range VivoBook range. The VivoBook 15 OLED is one of the first models in the Philippines with the display upgrade, but is it enough to attract buyers?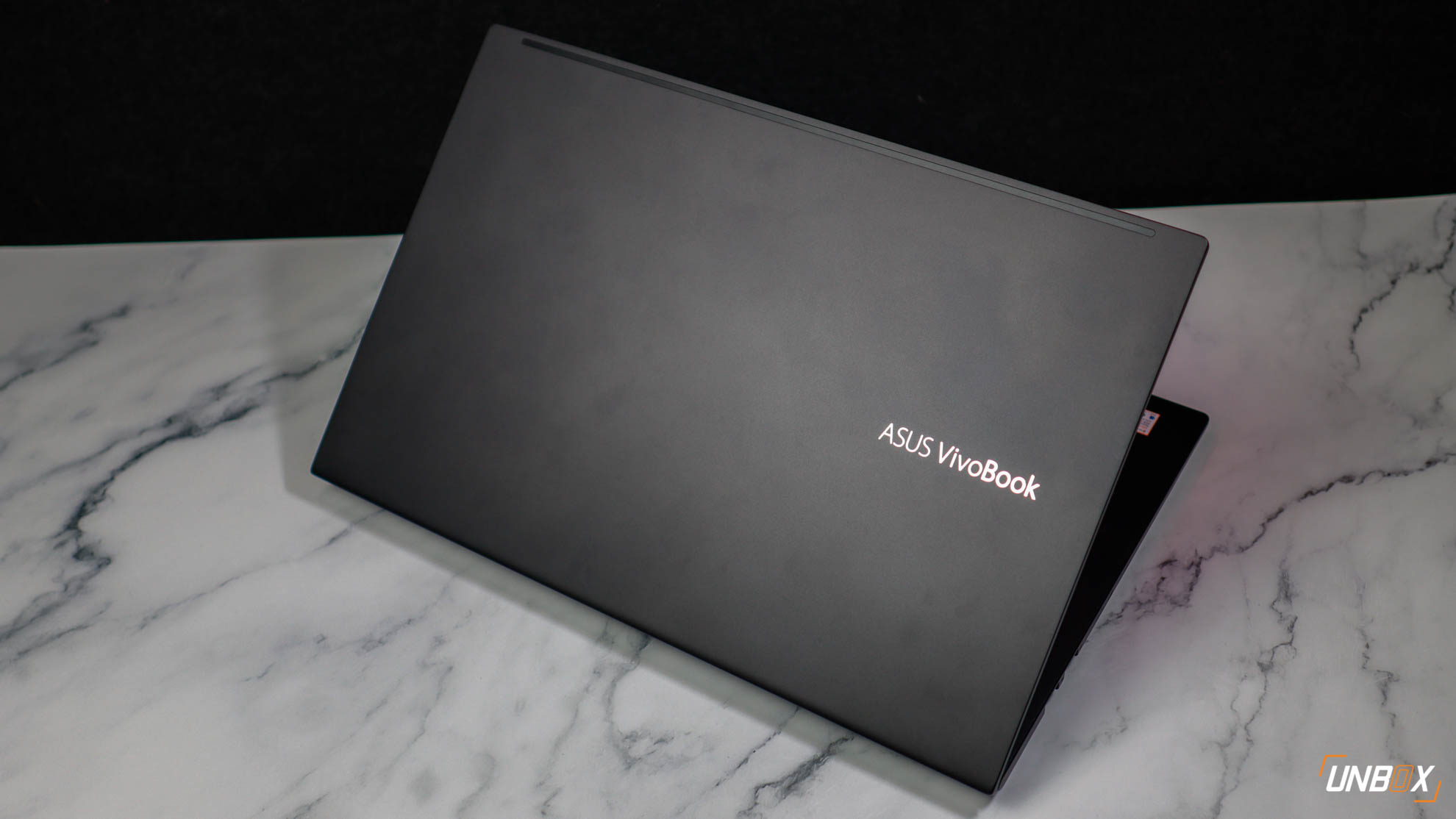 Design
The VivoBook 15 OLED shares a similar design language with the VivoBook S14 with one key difference: the chassis uses plastic instead of metal to save on manufacturing costs. This makes the build of the VivoBook 15 OLED feel cheap for its asking price, but it is a necessary compromise for ASUS to incorporate a bright OLED display (more on that later) at an under Php 50k price tag. Despite the use of plastic, we did not notice any flexing or unusual creaks while using the VivoBook 15 OLED as our daily driver.
The VivoBook 15 OLED has roughly the same port selection as the VivoBook S14, but is arranged differently: you have two USB-A 2.0 ports on the left side and a barrel plug port,  USB-A 3.2 Gen 1 port, USB-C 3.2 Gen 1 port, HDMI port, headphone jack, and a MicroSD card reader. The USB-C port cannot be used for charging, so you will need to lug around the included barrel port power adapter should you need to top up the battery in the VivoBook 15 OLED.
Display
The biggest upgrade in this notebook is the use of a 15.6 OLED display. Without any question, the OLED panel is vastly brighter than the IPS panels used on most VivoBooks, with colors being very vibrant as well. Color consistency is very on point even when you choose to lower the brightness level to squeeze more out of the VivoBook 15 OLED's battery life.
You will definitely appreciate the OLED display upgrade when watching YouTube videos in glorious 4K resolution, along with Full HD Netflix videos as well. The display is also a charm for multimedia work, as the colors rendered are more accurate than the IPS panels used on similarly-priced notebooks from other brands.  The top and bottom bezels may be relatively thick for 2021 notebook standards, but the VivoBook 15 OLED boasts of a still-respectable 85% screen-to-body ratio.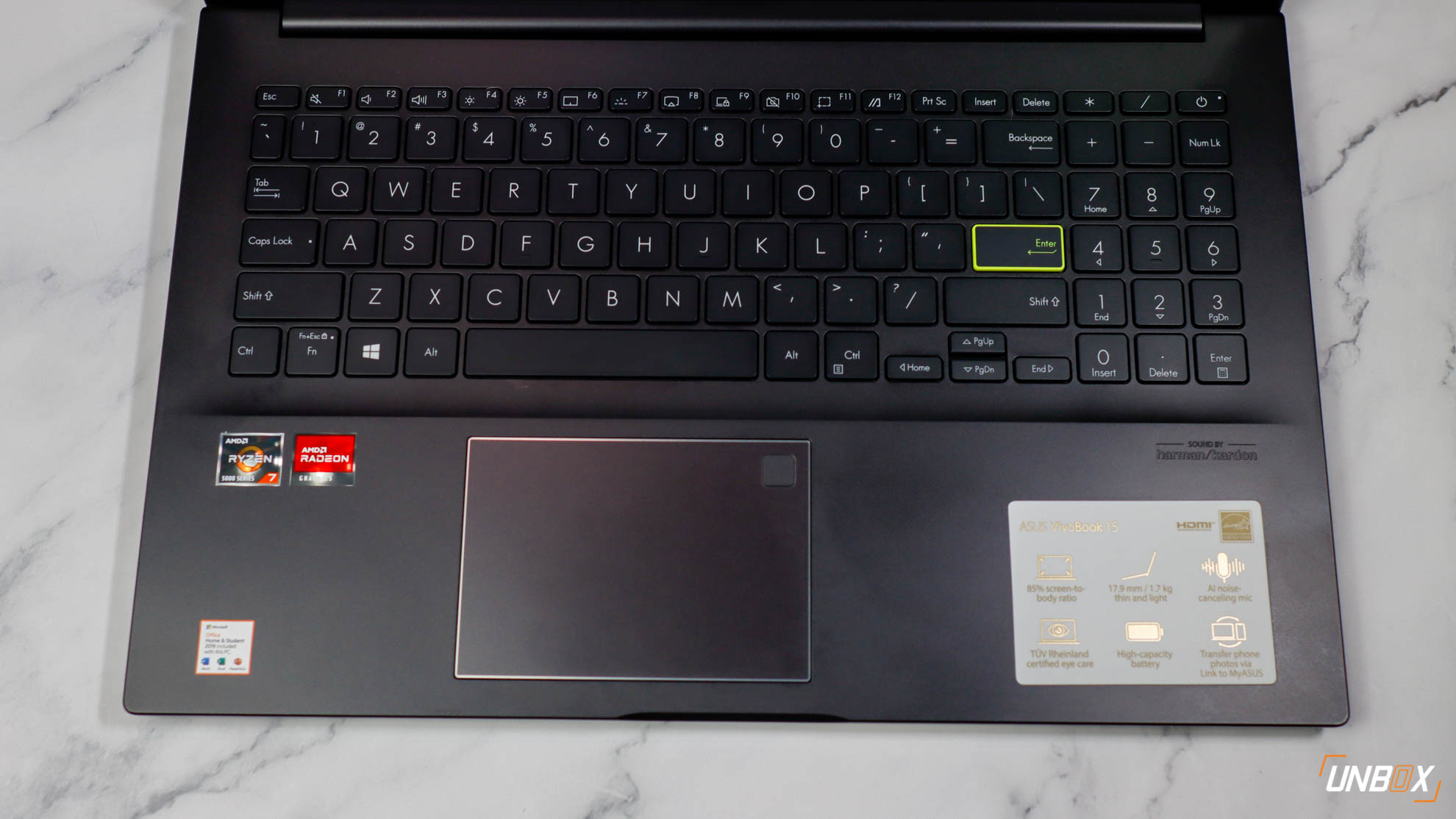 Keyboard and Trackpad
Being a 15-inch model, the VivoBook 15 OLED has a full-sized keyboard layout that includes a dedicated Numpad for those number-crunching tasks. Like with all VivoBooks as of late, you get a blocked-out Enter key with bright yellow accents. Key travel is decent, though don't expect it to be as tactile as the keyboards used on ASUS' more expensive laptops like the ZenBook 13 OLED. Also missing on the VivoBook 15 OLED is the ErgoLift hinge that is a trademark feature of more expensive ZenBook models.
The touchpad is decent for a mid-range laptop, though I suggest getting a mouse (like ASUS' MW203 wireless mouse) for better productivity with the VivoBook 15 OLED. You also get a fingerprint scanner on the top-right edge of the trackpad for secure log-ins.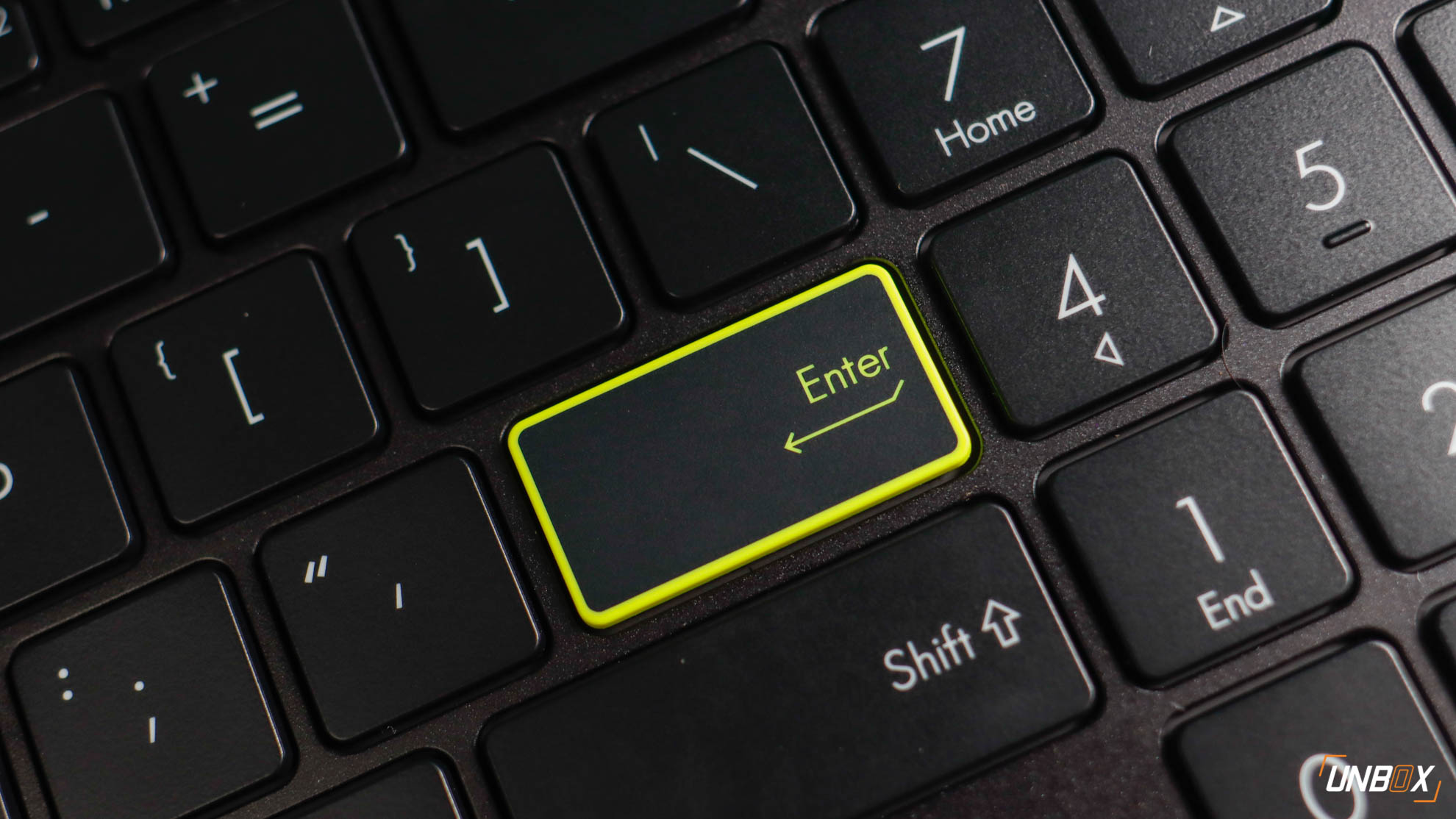 Internals and Battery Life
While all VivoBook 15 OLED models come with 8GB RAM and 512GB NVMe SSD storage, processor options range from a Core i3-1115G4 to a Ryzen 7-5700U. Our review unit is the latter and is the top-end variant for the VivoBook 15 OLED. Compared to similarly-priced notebooks that use an Intel Core I5-1135G7, the Ryzen 7-5700U is better than its Intel rival when it comes to single-core and multi-core CPU tests.
However, the Core i5-1135G7's Iris Xe integrated GPU proves to have more muscle than the Radeon Vega integrated GPU found on the Ryzen 7-5700U, and this is evident with the scores we obtained from GeekBench compute and 3DMark Firestrike.
Regardless if you choose the Core i5 or the Ryzen 7 version of the VivoBook 15 OLED (both have the same under Php 50k price tag), they provide enough muscle for productivity tasks and light to medium multimedia work. If you want to do gaming on the VivoBook 15 OLED, we recommend getting the Core i5 version as the Iris Xe has more GPU muscle than the Radeon Vega.
All VivoBook 15 OLED models come with Windows 10 out of the box and can be upgraded to Windows 11 for free. We have been receiving the upgrade notification during our time with it, but we skipped upgrading to have more accurate numbers in benchmarks. As of this writing, Microsoft has rolled out a patch addressing the issues with AMD processors running Windows 11, so we will do another set of benchmarks for the VivoBook 15 OLED using Windows 11 on a later date.
The VivoBook 15 OLED's 42wHr battery lasted us for a little over 5 hours in our video loop test, which is a fair figure considering the battery has to run a large display. Topping up is done with the included 65w barrel port charger, which takes two hours from 19% to 100%.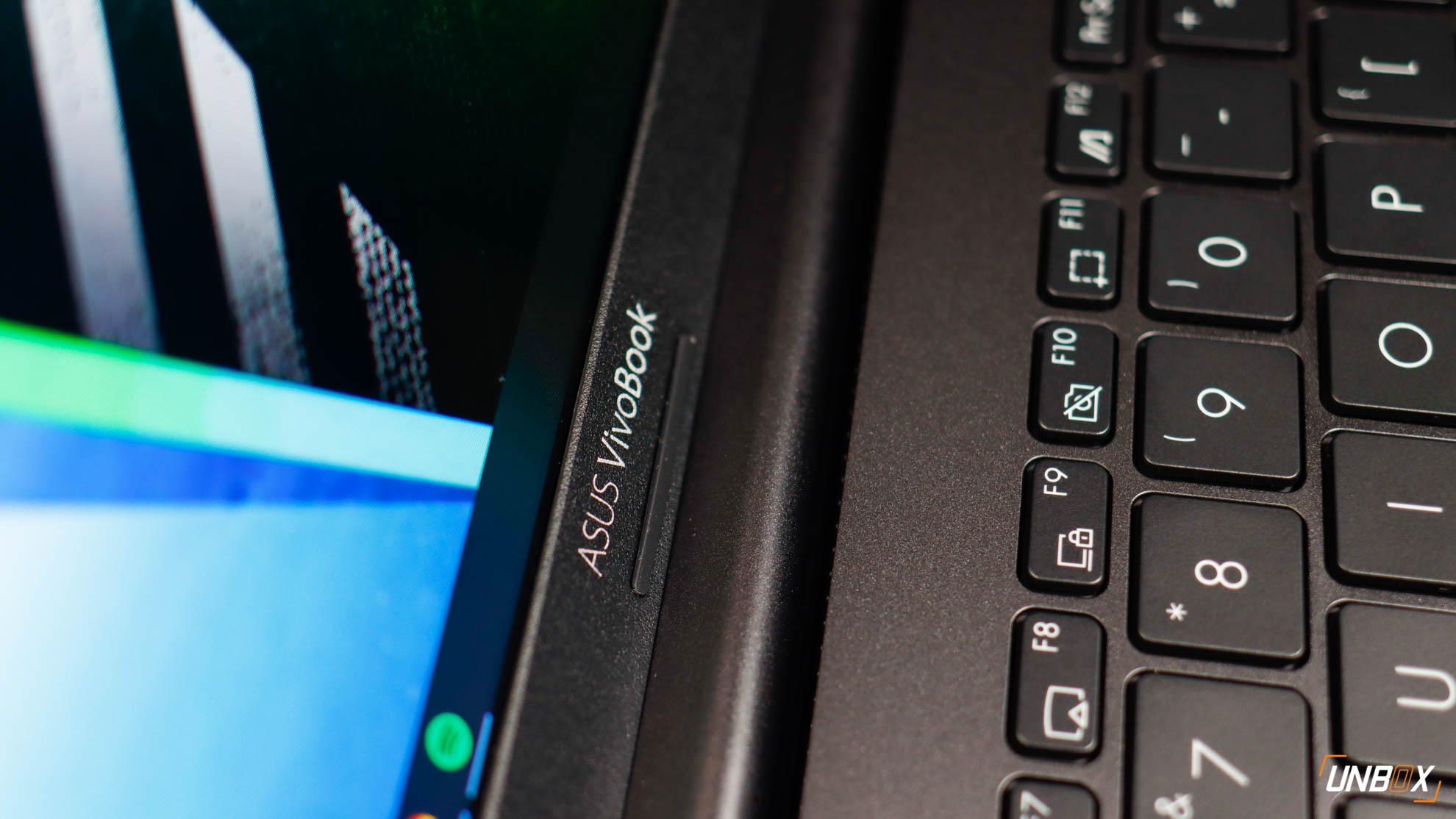 Wrap up and Conclusions
Our review shows that ASUS made a very good move with the VivoBook 15 OLED, as it is one of the very few under Php 50k laptops in the Philippines to have an OLED display. While the plastic build is a bit of a turn off, it's a necessary compromise to make the laptop affordable enough to sport a high-performance OLED display. Right now, you'll be hard-pressed to find any laptop priced under Php 50k that has an OLED display.
To make things even more interesting, the entry-level VivoBook 15 OLED has an under-Php 35k price tag, which is a price that is very hard to beat If you are in the market for a laptop with an excellent OLED display.
ASUS VivoBook 15 OLED Review Philippines Price
The VivoBook 15 OLED is priced at Php 34,995 for the Core i3-1115G4 variant. The unit we used for this review, which comes with a Ryzen 7-5700U processor, is priced at Php 49,995. All models come with a Nereus backpack and Office Home and Student 2019.
You can read more about the VivoBook 15 OLED below: