Review verdict: The Lenovo Legion Slim 7 is a gaming powerhouse in the Philippines despite its slim frame, though the heat it generates because of its skinny design is a tad more than we expected.
Pros
Attractive design
Slim chassis
Powerful internals
Per-key RGB lighting
Cons
Pricey
Unweildy I/O positioning
Not all gaming laptops are big, chunky boys that weigh a ton – some are relatively portable, slim, sexy machines like the Lenovo Legion Slim 7 that we reviewed for the Philippines. This Ryzen-powered machine has enough power under the hood to run most AAA games as their developers intended but is low-profile enough to blend into most modern boardrooms.
Design
The Legion Slim 7 has many of the same design cues as its bigger brothers, namely a lid design that's a bit offset from the chassis, exposing around 20mm of the aluminum body at the rear. It's a design that's a little unconventional, but the upside here is that it gives the laptop a distinct visual edge compared to its rivals in the same price range.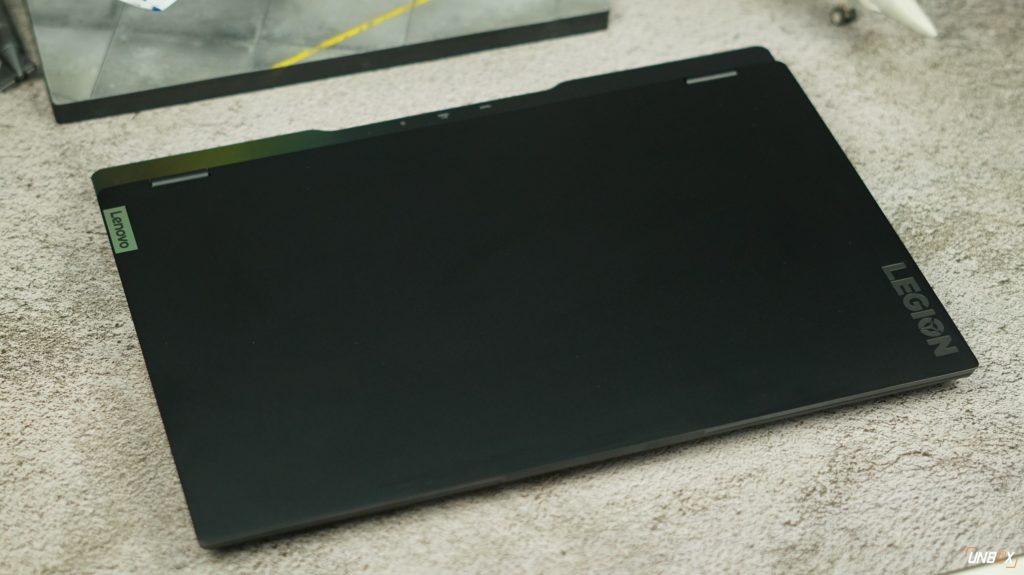 Like we mentioned earlier, the Legion Slim 7 uses aluminum for its chassis, which gives the laptop incredible strength and rigidity. That strength doesn't come with the additional weight, as it only comes in under 2 kilos, making it easy to carry around with you. Overall thickness for this slim laptop is 17.9mm at its thickest point, which is relatively thin considering it's a gaming laptop.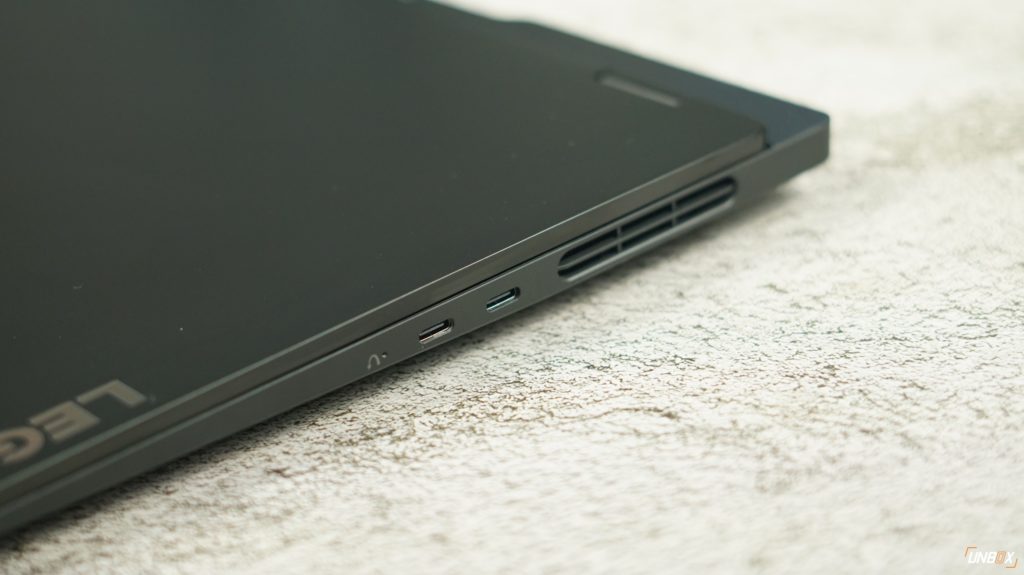 Port layout is a little unconventional here, with the relevant USB Type-C 3.2 ports (you get two of them) on the right side, and the USB-A ports (two of them, also USB 3.2) on the back. The left side holds the 3.5mm combo jack, as well as an SD card reader.
The laptop can be charged off the USB Type-C port if you have a charging brick that can deliver 45 watts, though take note that you can't game off of that charger – you'll need to use the big, chunky charging brick that Lenovo provides with the Legion Slim 7.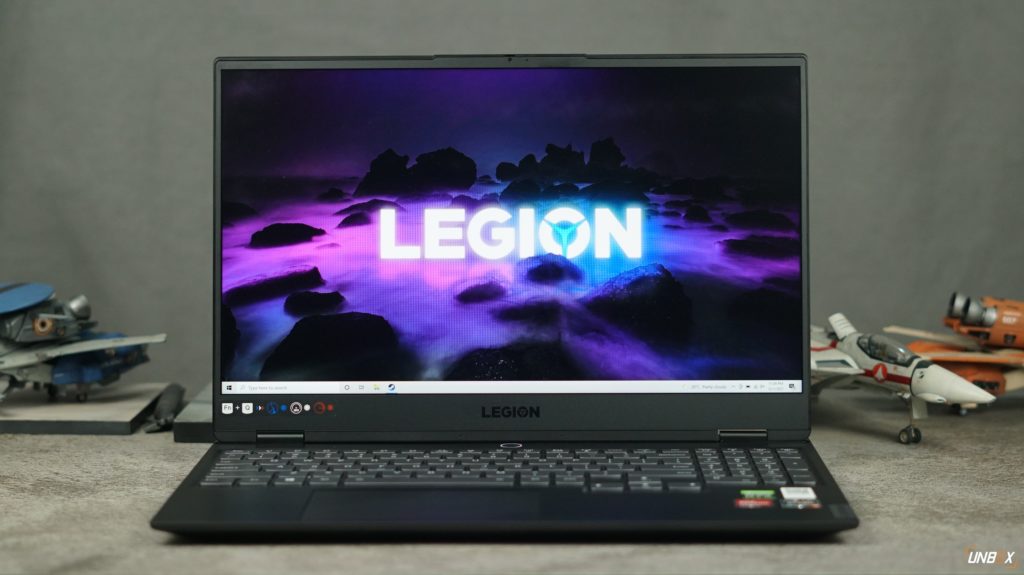 Display and sound
The Lenovo Legion Slim 7 has a 15.6-inch, full HD IPS display (1920 x 1080) that has all the goodies you'd expect from a gaming laptop. You're looking at a refresh rate of 165Hz, as well as (claimed) 100% sRGB coverage, Dolby Vision capability, HDR 400 as well as G-Sync capability. There's a webcam on the top of the lid with a privacy shutter.
As for actual sRGB coverage, as reported by our colorimeter, the Lenovo Legion 7 has 92% sRGB coverage. Delta E values were very slightly above the nominal 2, which makes it only slightly less than ideal for serious colorwork (the actual value is 2.18). You can check out the full results of our tests here.
Audio is taken care of by two, 2W Harman Speakers. The audio is very good, and the speakers do a good job replicating positional audio while we were playing games with it.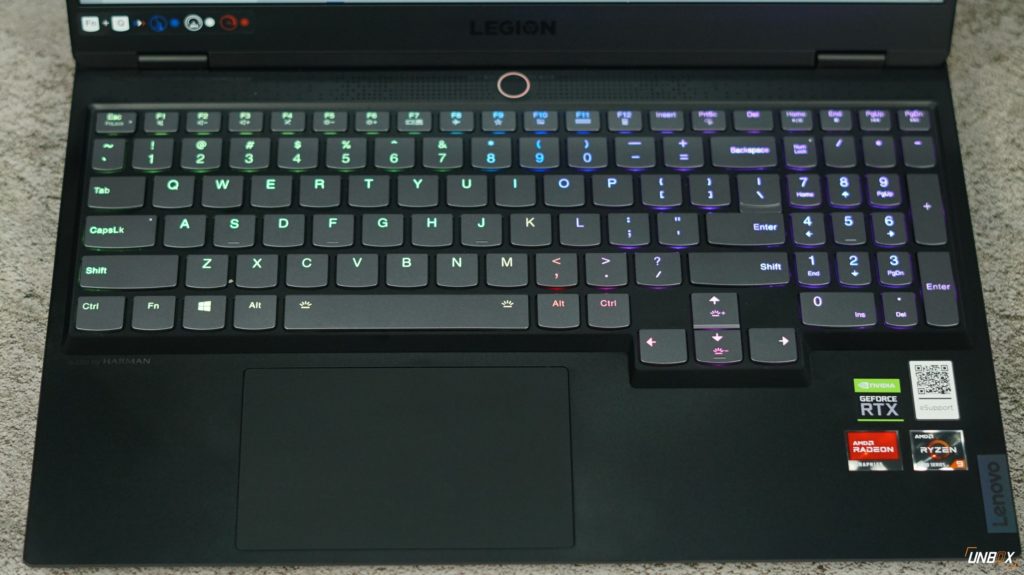 Keyboard and trackpad
The Lenovo Legion Slim 7 has a full-sized QWERTY keyboard complete with a number pad.
The keys have RGB illumination and can be fully controlled and customized depending on the user. The quality of the RGB illumination is pretty good as well, and they're very easily seen, even under our studio lights.
As far as comfort when it comes to typing, the Legion Slim 7 has a nice feel to it. The keys are nice and quiet but still have enough travel for comfortable typing.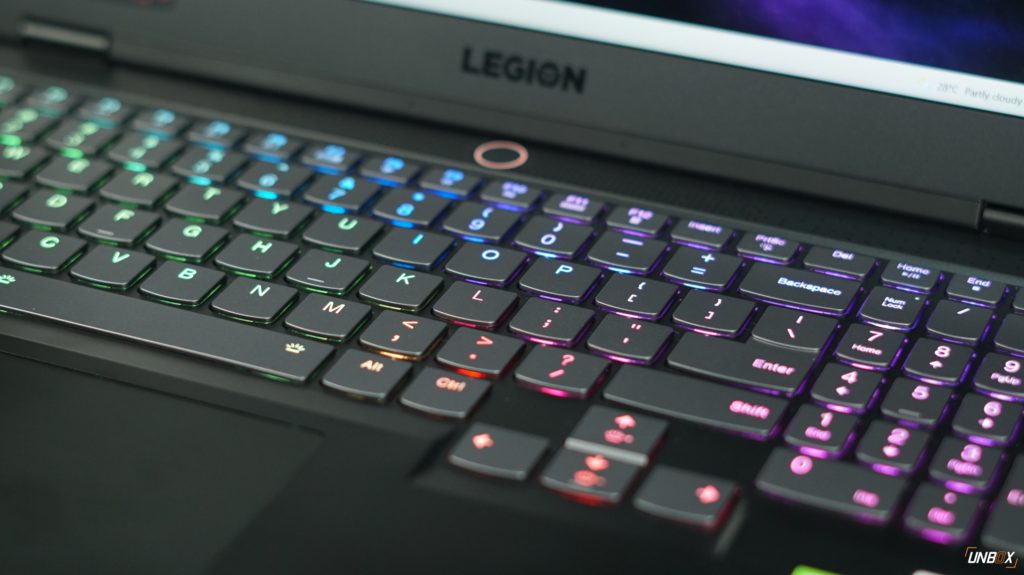 The trackpad is centered around the spacebar and not on the chassis of the laptop so it's a little offset, and you'll have to adjust how you put your wrist on the chassis to prevent accidental presses. As for actual trackpad quality, it feels OK and does well as a pointing device if you're too lazy to take your mouse out.
Performance and battery life
Inside the Legion Slim 7 is one of AMD's most powerful mobile processor, the Ryzen 9 5900HX. That's paired with 32GB of DDR4 3200 memory, as well as 1TB of PCIe SSD 3.0 storage.
As for the GPU, you're looking at an NVIDIA RTX 3060 GPU, though you can get the laptop with an RTX 3080 though obviously, you'll be paying a lot more for that particular model. The GPU is a Max-Q model and draws around 90W of power via Dynamic Boost.
AMD's Ryzen 9 5900HX is very powerful and is perfect for creators since it makes short work of videos and photo editing tasks.
Gaming performance is pretty good, as the laptop's GPU is capable of driving most AAA games past 60FPS, though it sits on the lower end of the spectrum when compared to similarly-specced laptops. We did notice toasty temps, with the CPU hovering near or around 89 degrees Celcius during some of our benchmarks and gaming runs in a climate-controlled, 23 degrees Celsius room.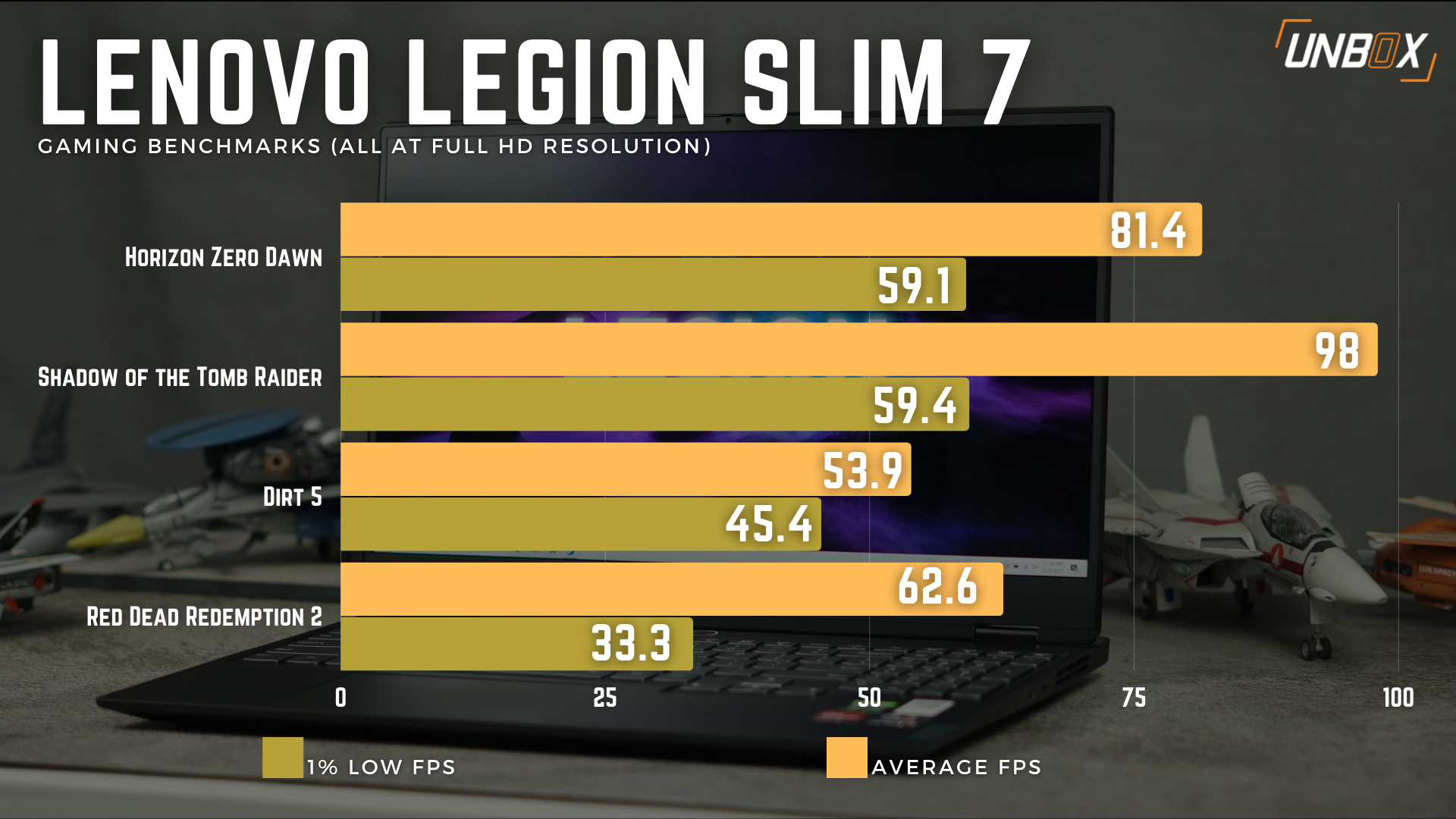 The laptop comes with a 71Wh battery, and it's the laptop posted a run time of around 5 hours and 32 minutes with our punishing battery benchmark. Take note that you'll have to reduce the refresh rate of the screen down to 60Hz to get this kind of longevity from it. Regular office use should see you go past the 7-hour mark easily.
The only issue we have with the laptop is that while it's relatively thin, the charging brick is not. It's pretty substantial and heavy, and probably won't fit in most people's sling bags, necessitating the need for a backpack to carry the Legion Slim 7 around.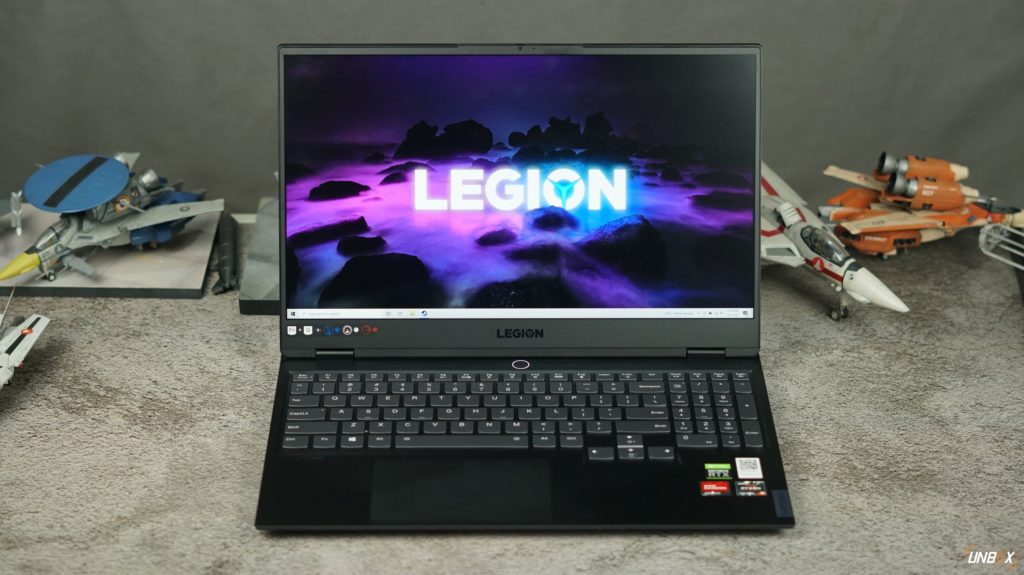 Wrap-up and conclusions
The Lenovo Legion Slim 7 has plenty of great things going for it as we saw from our review, based on the variant they sent for the Philippines. It's rather thin for a gaming laptop, and its processor/GPU combo makes it ideal for creators who want a powerful editing machine that they can take on the go. It is quite pricey though, but with the GPU shortage being what it is, its higher price is understandable.
Lenovo Legion Slim 7 Review Price Philippines
The Lenovo Legion Slim 7 that we reviewed in our configuration has a price of Php 109,995 and is available in Lazada.