Review Verdict:  The OPPO Reno 5 5G for the Philippines offers slight upgrades to previous offerings from the brand. But, they're niching down hard on the Reno series and, if you are planning to make content straight from your phone, it may be worth a look despite the battle royale that is the mid-range segment that it plays in.
The OPPO Reno 5 5G is priced at Php 23,999.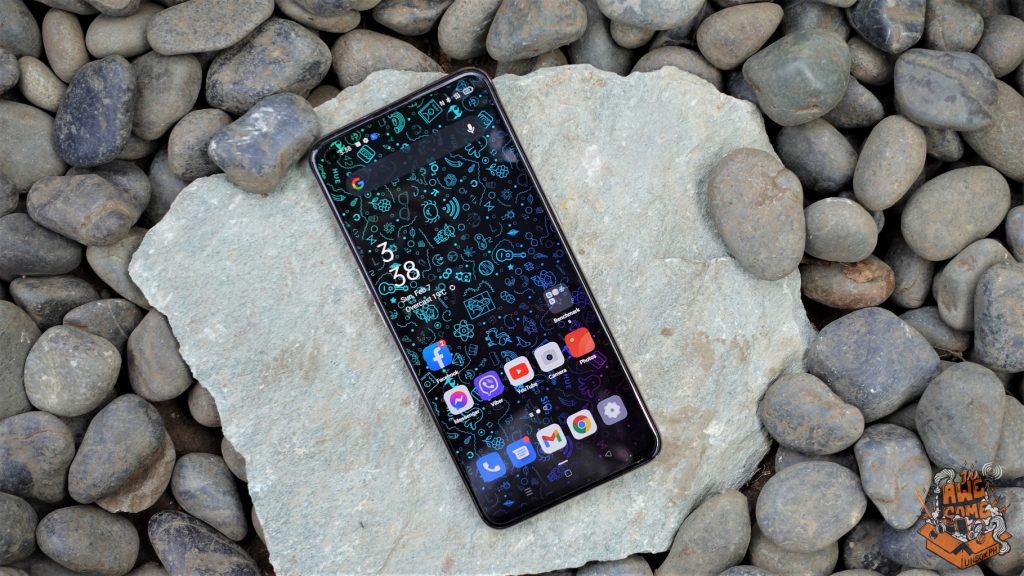 Ever since the Reno2, OPPO has labeled this series of smartphones with content creation in mind; backing it up with camera features to back it up. The latest entrants to the series have a few more tricks up their sleeve with this particular model now getting the call for 5G connectivity.
OPPO Reno5 5G Specs:
Snapdragon 765G processor
12GB RAM
256GB storage
6.4-inch Full HD+ AMOLED display, 20:9 aspect ratio
64-megapixel f/1.7 main camera with PDAF, 8-megapixel f/2.2 ultra-wide-angle camera, 2-megapixel f/2.4 macro camera, 2-megapixel f/2.2 mono camera
44-megapixel selfie camera
4G, LTE
WiFi, Bluetooth 5.1, in-display fingerprint scanner
4310mAh battery
50w fast charging
Android 11, ColorOS 11
OPPO Reno 5 5G: Design
Compared to the previous model, not much has changed with the overall design of the OPPO Reno 5; whether you're looking at the 4G or the 5G variant. The biggest change, in terms of its looks, is the new iridescent color variant in Galactic Silver that gives the phone incredibly striking looks. It won't be everyone's cup of tea but it's undeniably eye-catching.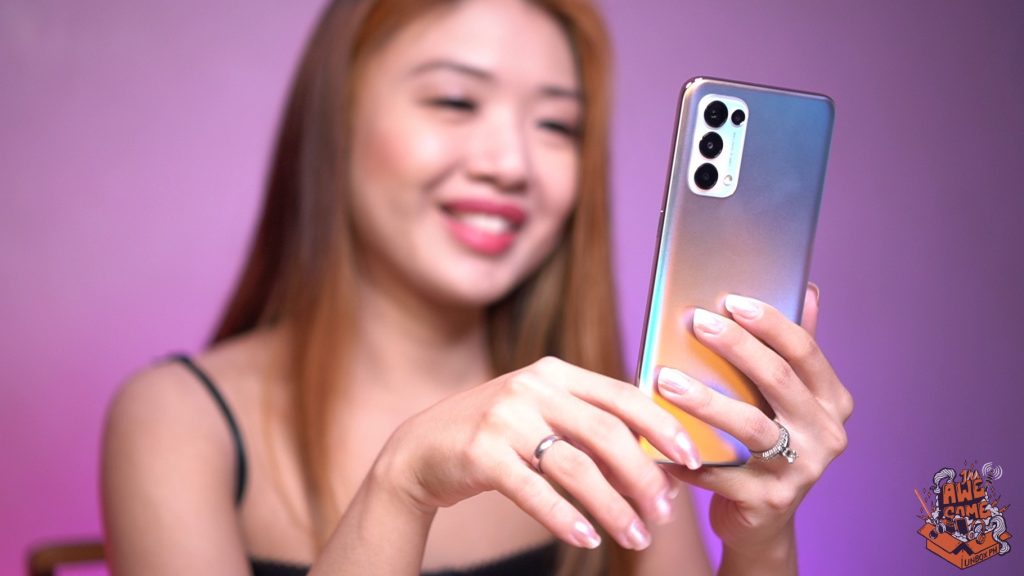 We found that during our OPPO Reno 5 5G review for the Philippines that it has a better build than its 4G counterpart. Instead of polycarbonate plastic, you're getting a glass back, aluminum frame, and the screen is protected by Gorilla Glass 5. You're also getting a matte finish on the back cover to give it the softer, premium feel that most flagship devices are going for.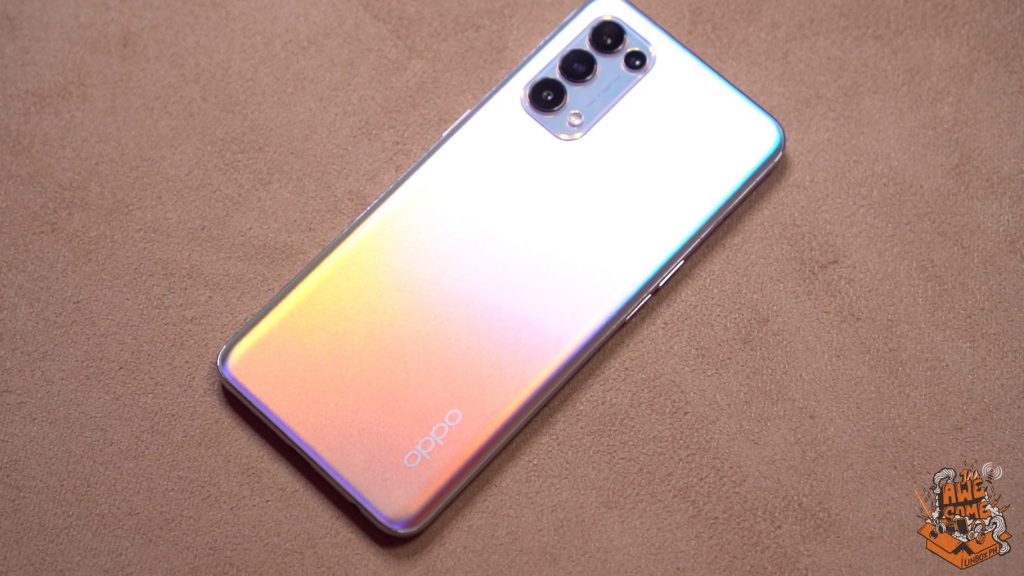 You'll still see some smears and smudges but it's mitigated by the finish and is hidden by the way light interacts with the phone. The phone is also incredibly light and, while I prefer some heft to my devices, I do see the appeal this may have to some; making it less cumbersome in the pocket and relatively easier to hold.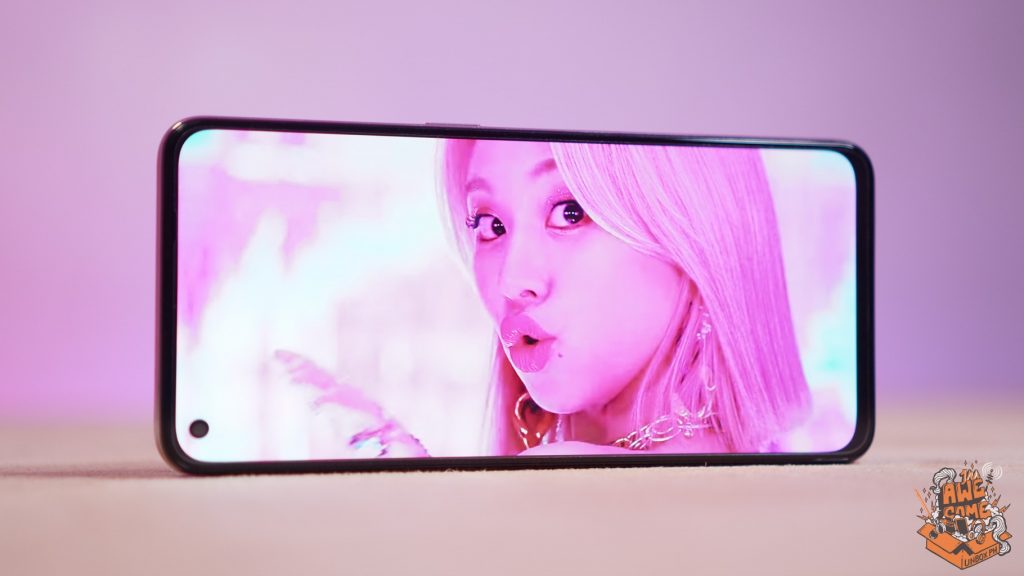 OPPO Reno 5 5G: Display
Since the Reno4 and Reno 5 have pretty much the same dimensions, the screen size hasn't changed either. You're getting a 6.4-inch display on this device at Full HD+ resolution with a screen-to-body ratio at 91.7-percent.  OPPO used an AMOLED panel on the Reno5 to give us better contrast ratios and vivid colors that these displays are known for so it's perfect for keeping us entertained while we're still in quarantine.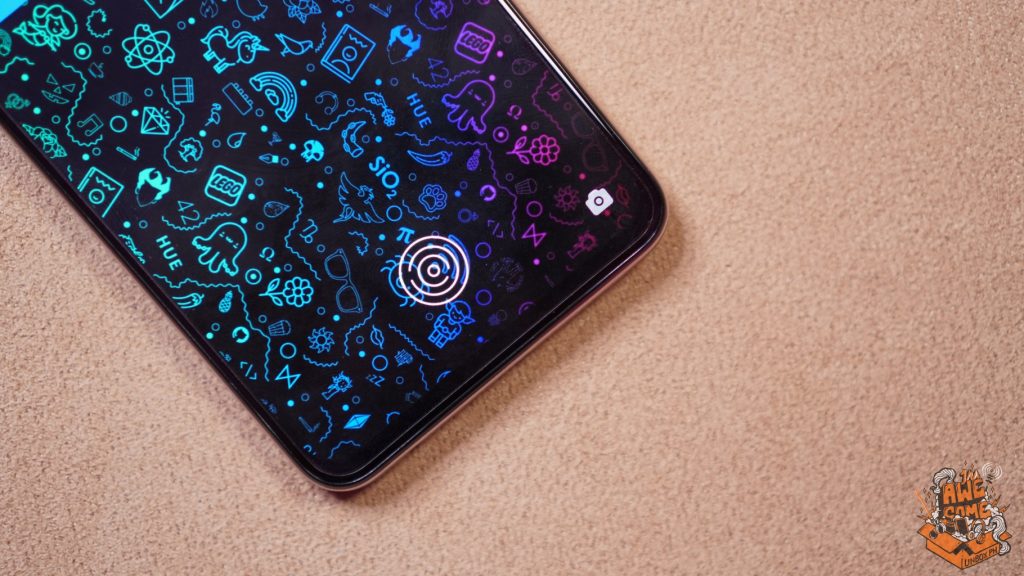 Compared to the 4Z that we got late last year though, the refresh rate on this device caps out at 90Hz. We think it's a good compromise to get an AMOLED display on the Reno5 but there may be some that may go for a 120Hz panel.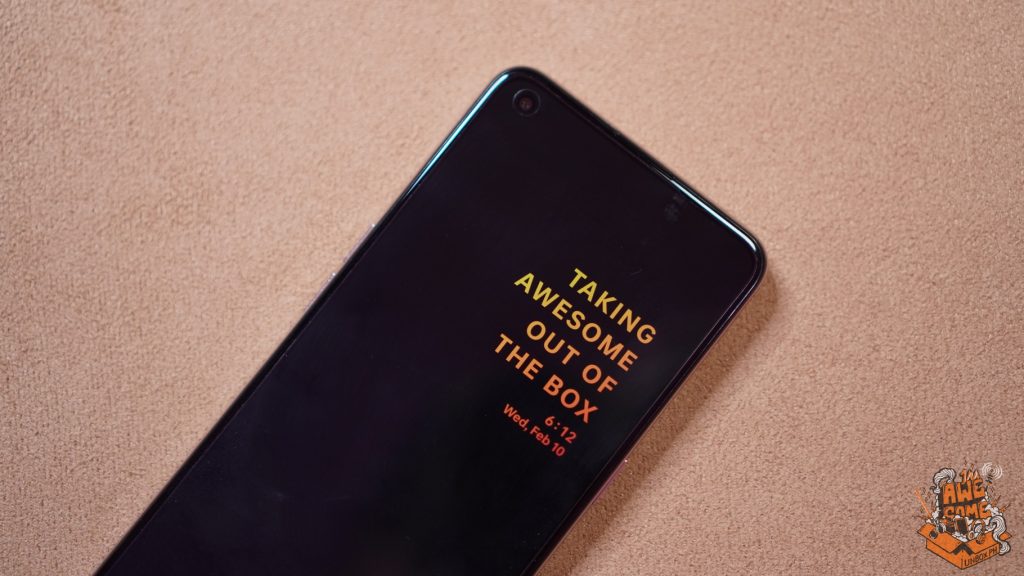 Moving onto audio, you're also getting impressive sound out of the lone speaker on the bottom of the device but we've found that the sweet spot is at around 80% before you run into some distortion. The good thing here is that OPPO has retained the headphone jack on this device.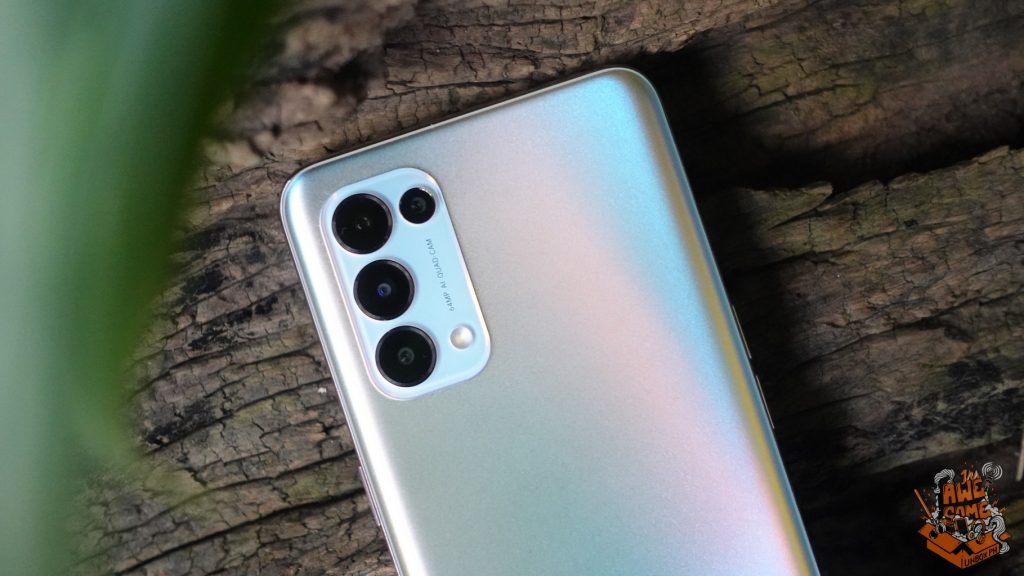 OPPO Reno 5 5G Review: Cameras
Most of the cameras on the Reno series have remained unchanged from its previous iteration with an 8-megapixel ultra-wide, a 2-megapixel macro, and a 2-megapixel Mono camera. We are getting a bump up in its main shooter though that's not at 64-megapixels compared to the previous 48.

You're getting better details thanks to that upgrade and we're seeing better computational photography as well. The HDR doesn't go overboard; giving you more natural-looking skies with some room to play around with in post if that's your jam. Like the Reno 4Z, you're also getting more consistent performance with the wide-angle lens. You're still seeing a big difference compared to the main shooter but that's to be expected.
In terms of nighttime photography, the 5 can be a little hit or miss but it doesn't go too crazy with Night Mode. Although, because we were given an engineering unit to test out for review, the feature was disabled for the ultra-wide but OPPO Philippines assures us that this will not be the case for retail units.
For selfies, you have a 32-megapixel front camera and the output is generally great. We do have to remind you to use discretion for HDR since, again, we got pretty mixed results with the feature on.
On the video side of things, you're still getting a lot of the same features from past versions of the Reno series. Ultra Steady Mode makes a comeback to make run-and-gun vlogging easier and less likely to trigger someone's motion sickness.
The biggest addition is their AI Highlight video and Live HDR, which can be valuable tools to help create better content or make memories that you share on social media look a bit better. You do see a difference if you toggle the feature on and off, but you'll have to use discretion on when to use it.
Since the phone will adjust the lighting in different scenarios, fast-paced scenes while you're shooting may result in jarring changes in exposure. We've found that it works best if the phone is stationary. We also have to note that, on the rear cameras, you can't have Ultra Steady and Live HDR on at the same time though that might have to do with our device being an engineering unit.
We do have to note that it is a bummer that OPPO left out the double exposure video feature that's available on the 4G variant.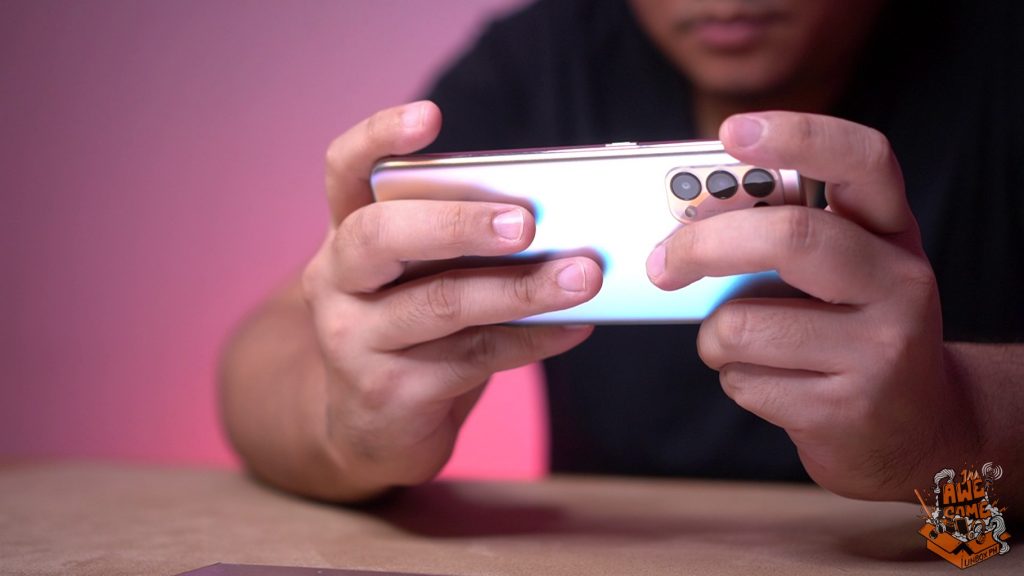 OPPO Reno 5 5G: Performance and Battery
Another welcome addition to the Reno5 5G is the chipset they're using since at the heart of this phone beats a Qualcomm Snapdragon 765G processor that's been paired with 8GB of RAM and 128GB of storage but take note that it is non-expandable.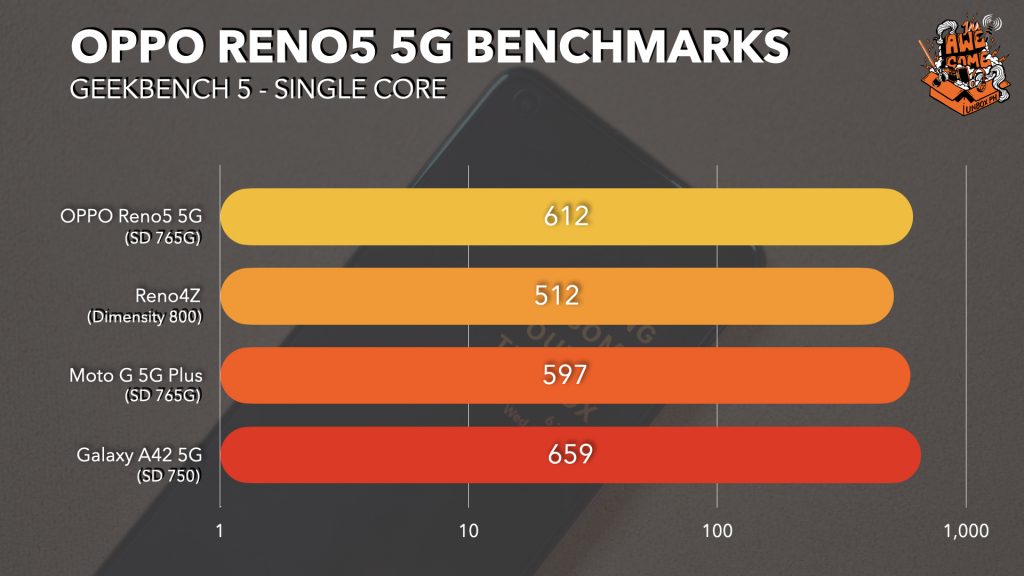 As expected, the OPPO Reno 5 5G edges out the past offerings from the brand when you look at the synthetic benchmarks and you do feel a slight improvement as well, especially if you look into its gaming performance.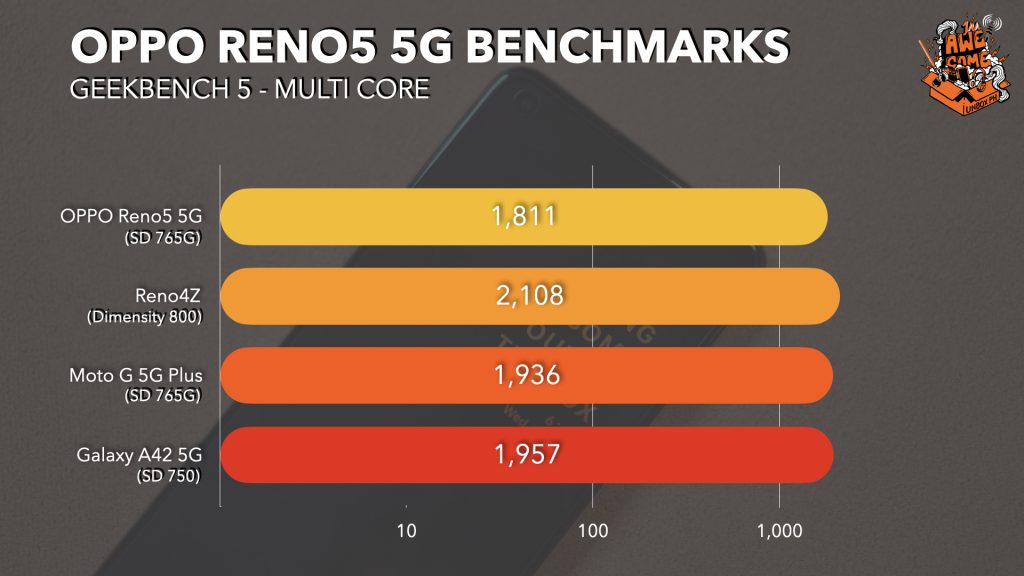 You can push the settings on more demanding titles a bit more and you can max them out on other mainstream titles like League of Legends: Wild Rift. This should go without saying but, if you're primarily going to be using this device for your social media, work, or schooling needs, it'll handle it like a champ.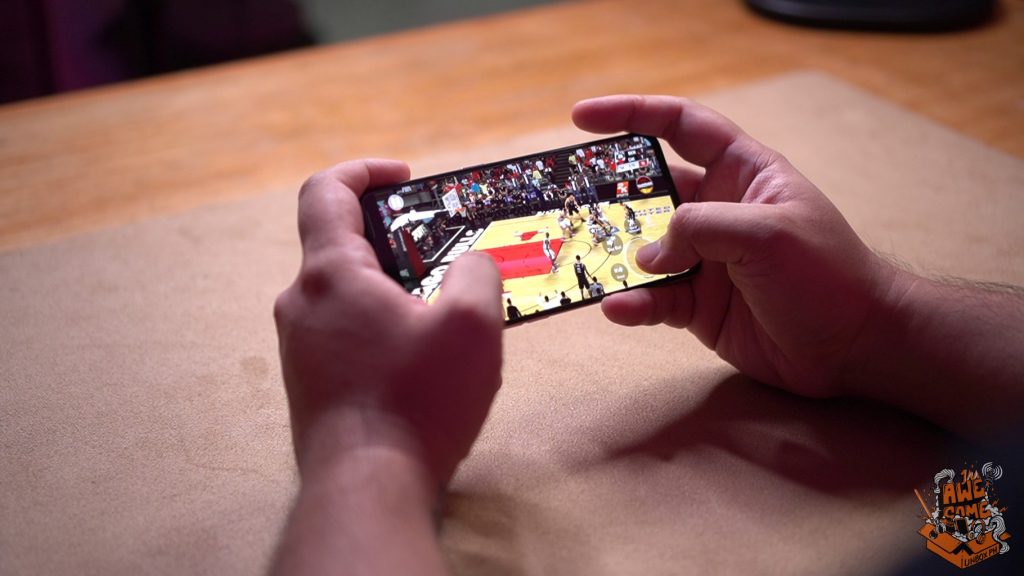 Keeping the lights on for this device is a 4300mAh battery. It's a little smaller than the 5000mAh norm that we're seeing in smartphones nowadays but that does help cut down on the weight of the device. It comfortably lasts a day and a half with moderate use and with our YouTube loop test, it clocked in at nearly 13 hours.
The big thing here is that it supports OPPO's Super VOOC flash charging at 65W and topping up the phone only took me 38 minutes from 0 to 100%.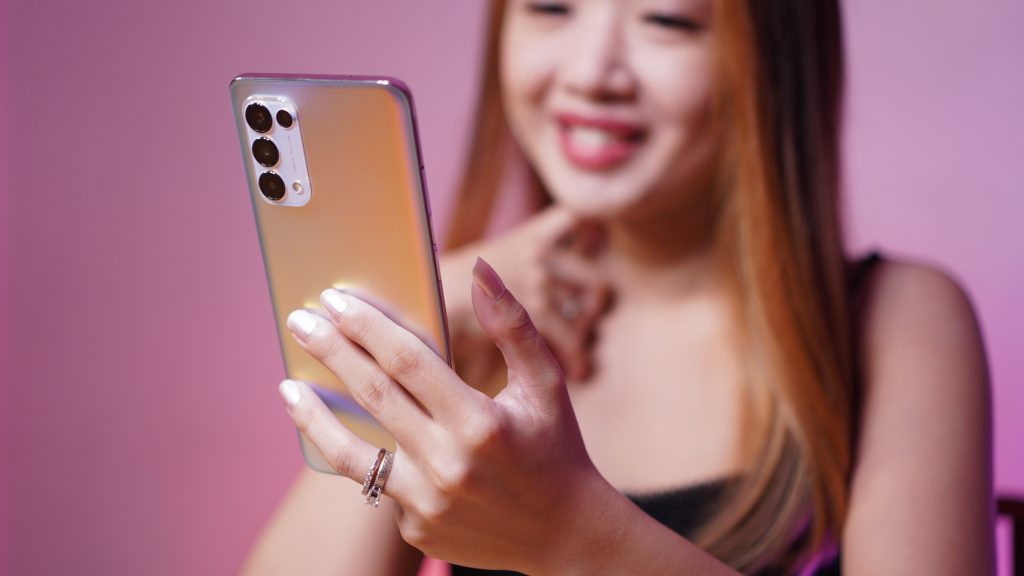 Wrap Up and Conclusions
Yes, our OPPO Reno 5 5G review shows that the phone may seem pretty iterative in the Philippines but there are a lot of subtle changes that make a big difference. The build quality and feel of the phone make it feel more premium, the upgraded chipset for better performance plus 5G connectivity, and the crazy charging speeds make for a pretty solid phone.
It's a pretty tough ride though since new, old, and players that have made a comeback in the Philippines are all gunning hard for a bigger slice of the pie.
That being said, OPPO is really niching down with the Reno series and, if you are a budding content creator, all the added camera features may make it worth considering if you can maximize all those tools.
That's it for our OPPO Reno5 5G review. The device is priced at Php 23,999 and is available for pre-order from Feb 10 to 19. You can check more details for both Reno5 models HERE.