ASUS ROG Ally review verdict: the ROG Ally isn't perfect, but it's one of the more versatile and practical handheld gaming options you can buy in the Philippines.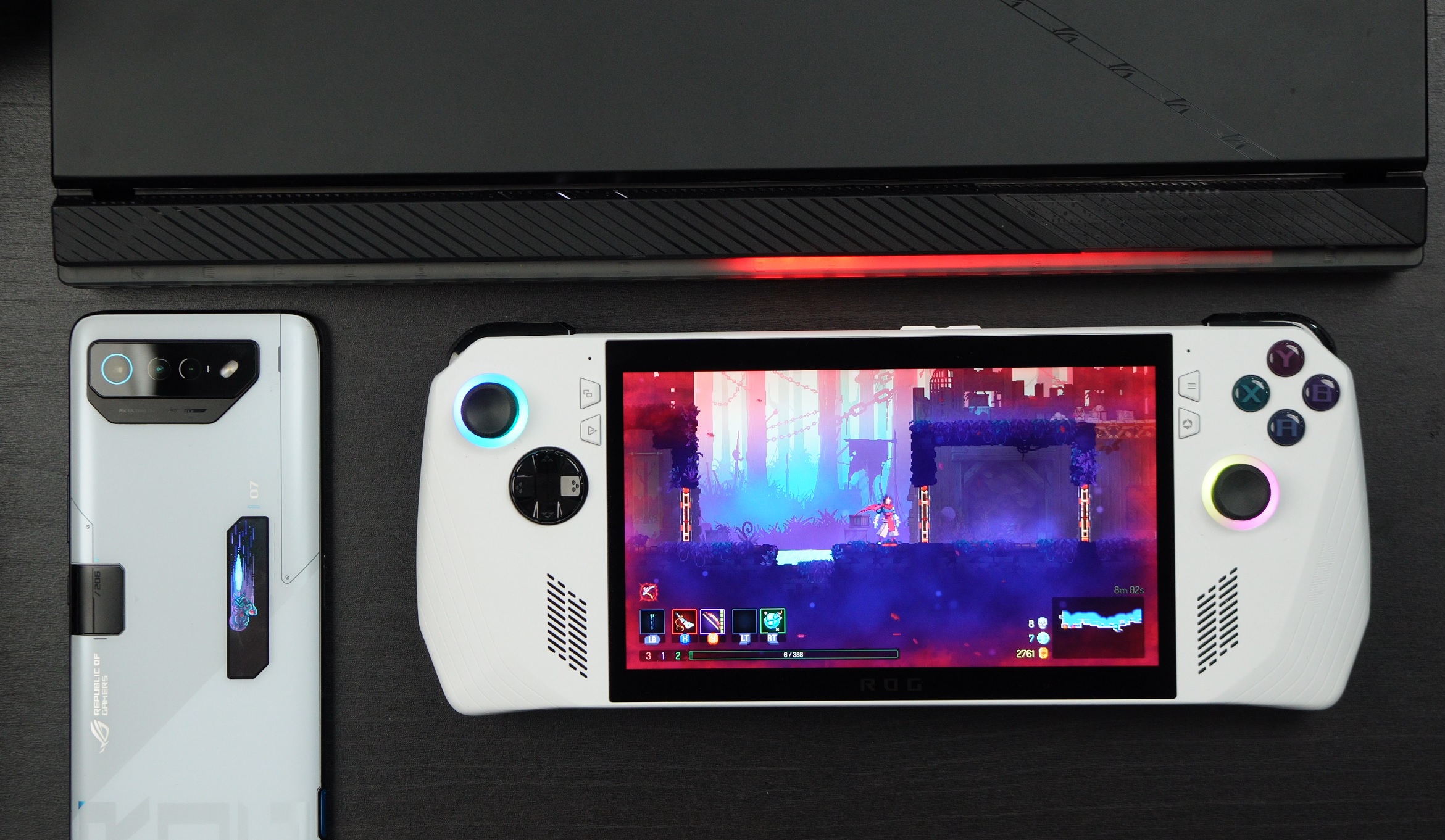 Pros
Windows 11 gives it more flexibility in the games it can play
The powerful processor allows it to play a bigger selection of games
Fantastic emulation machine
Quiet fans even at full blast
Excellent display
Cons
Battery life is so-so
Windows 11 is annoying to deal with on such a small screen
No case when you buy it
After more than a month of being in our possession and countless updates, we're finally at the end of our journey with the ASUS ROG Ally. It's been a fun two-month ride with ASUS' handheld, and while it's not perfect, I find it to be a worthwhile investment for gamers looking for a small, powerful PC.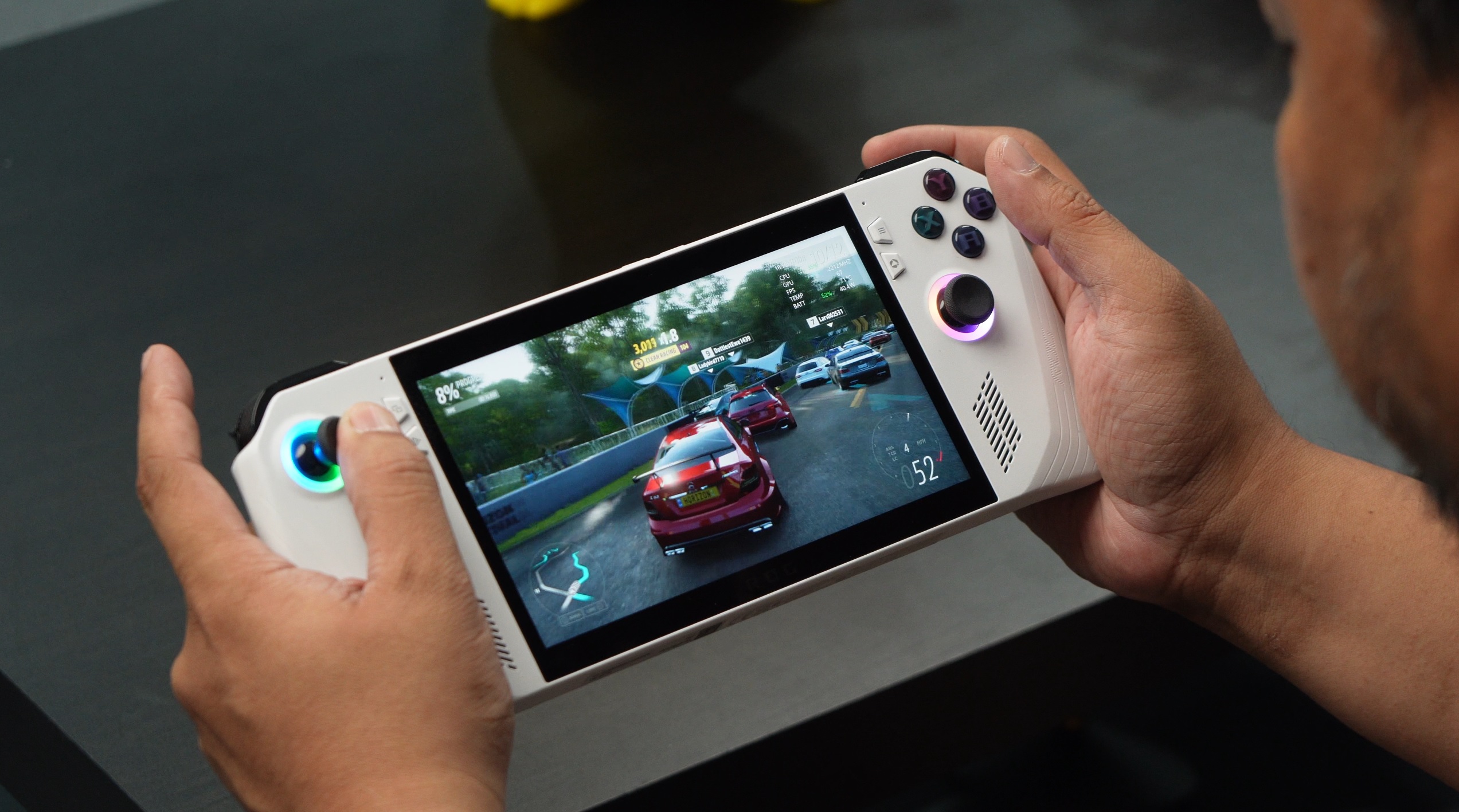 ASUS ROG Ally Review Philippines: Design
The ASUS ROG Ally will almost always be compared to the Steam Deck in reviews, which isn't surprising as the Steam Deck was the first real viable commercial product of its kind, after all. But while the ROG Ally wasn't the first, ASUS had more time to refine the design of their handheld to better go up against Valve's offering.
The result is a gaming handheld that's significantly less bulky than the Steam Deck. While ASUS had to axe a few controls that are found on the Steam Deck, specifically the touchpads, the resulting package feels a lot more compact and tight than Valve's offering.
The ASUS ROG Ally uses an XBOX layout as far as controls go plus two additional buttons on the back. There's a fingerprint reader built into the power button for secure log-ins, and there's a microSD slot for more space if needed.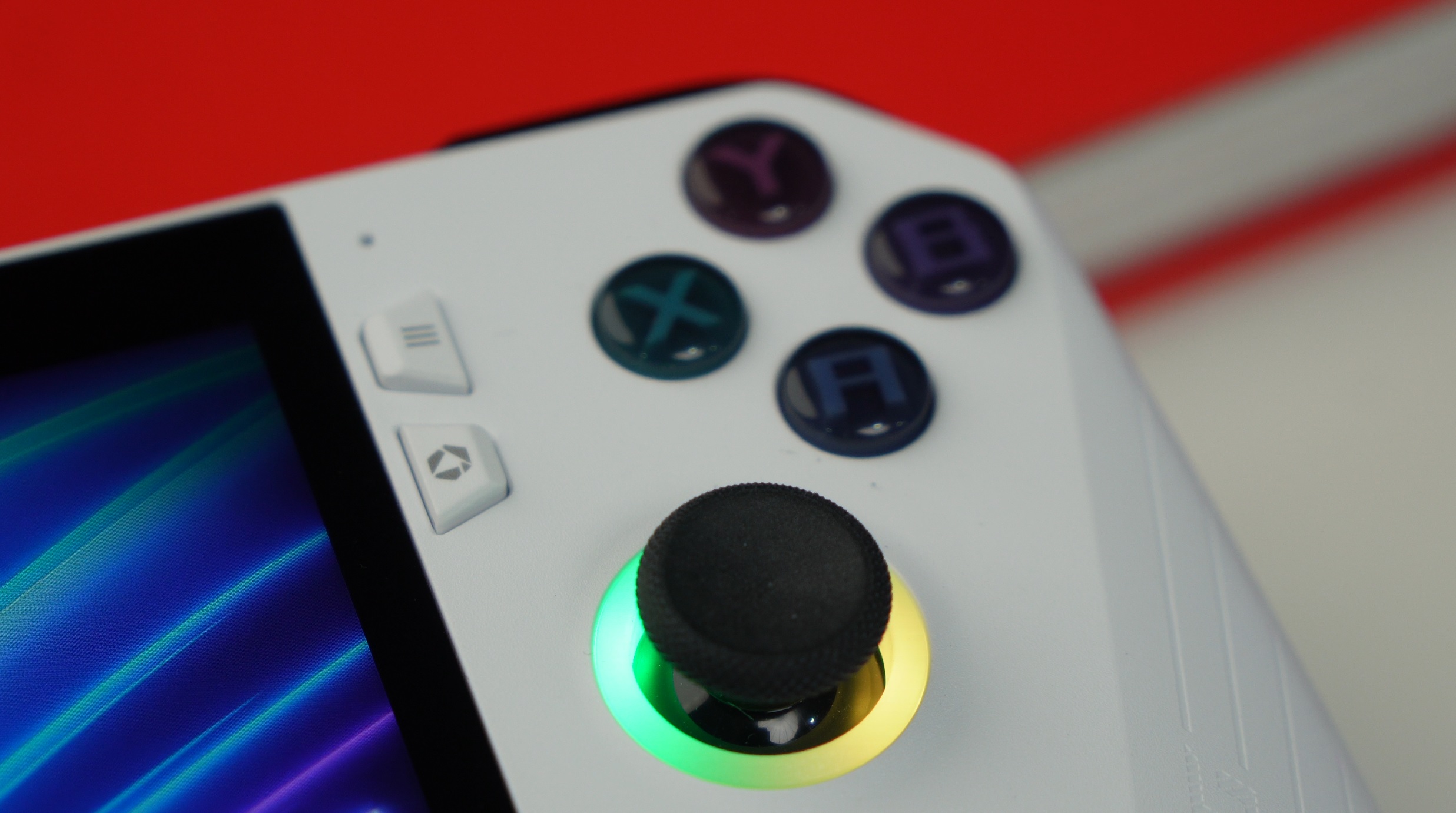 The ASUS ROG Ally has a single Type-C connector, along with the company's proprietary XG Mobile connector on the top to interface with their external GPUs – the same GPUs used on their Windows-based, gaming tablets.
The control setup is very intuitive, and I haven't found issues with how the joysticks and keys are laid out. While our unit did have the sticky key problem that reviewers complained about a month ago, ASUS says that retail units that will be sold in the Philippines no longer have that problem.
Probably the only thing I don't like about the ROG Ally is the fact that it comes in one color: white. While that looks aesthetic af, constant use and Gamer Sweat™ tend to discolor the grips where you hold on to. That doesn't affect function in any way, but if you're the type that likes their gadgets clean and free of gunk, that might be a problem.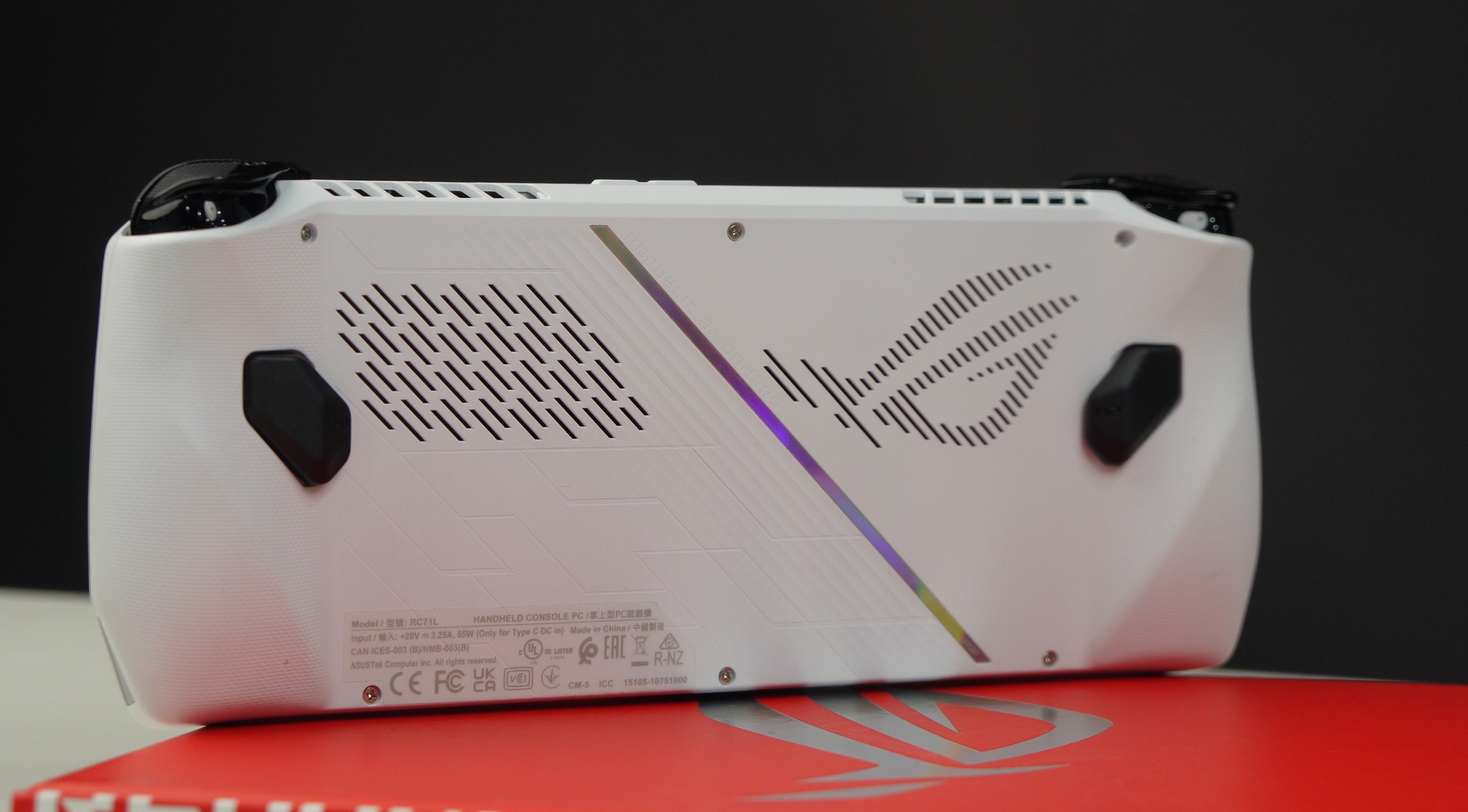 ASUS ROG Ally Review Philippines: Display
While the ASUS ROG Ally has the same size display as the Steam Deck, the biggest difference here is its resolution and aspect ratio. The Steam Deck has a 720P screen and 16:10 resolution, while the ASUS ROG Ally has a Full HD panel and 16:9 resolution. On full HD, everything looks significantly sharper, and the panel's 120Hz refresh rate comes to its own when you're emulating older games.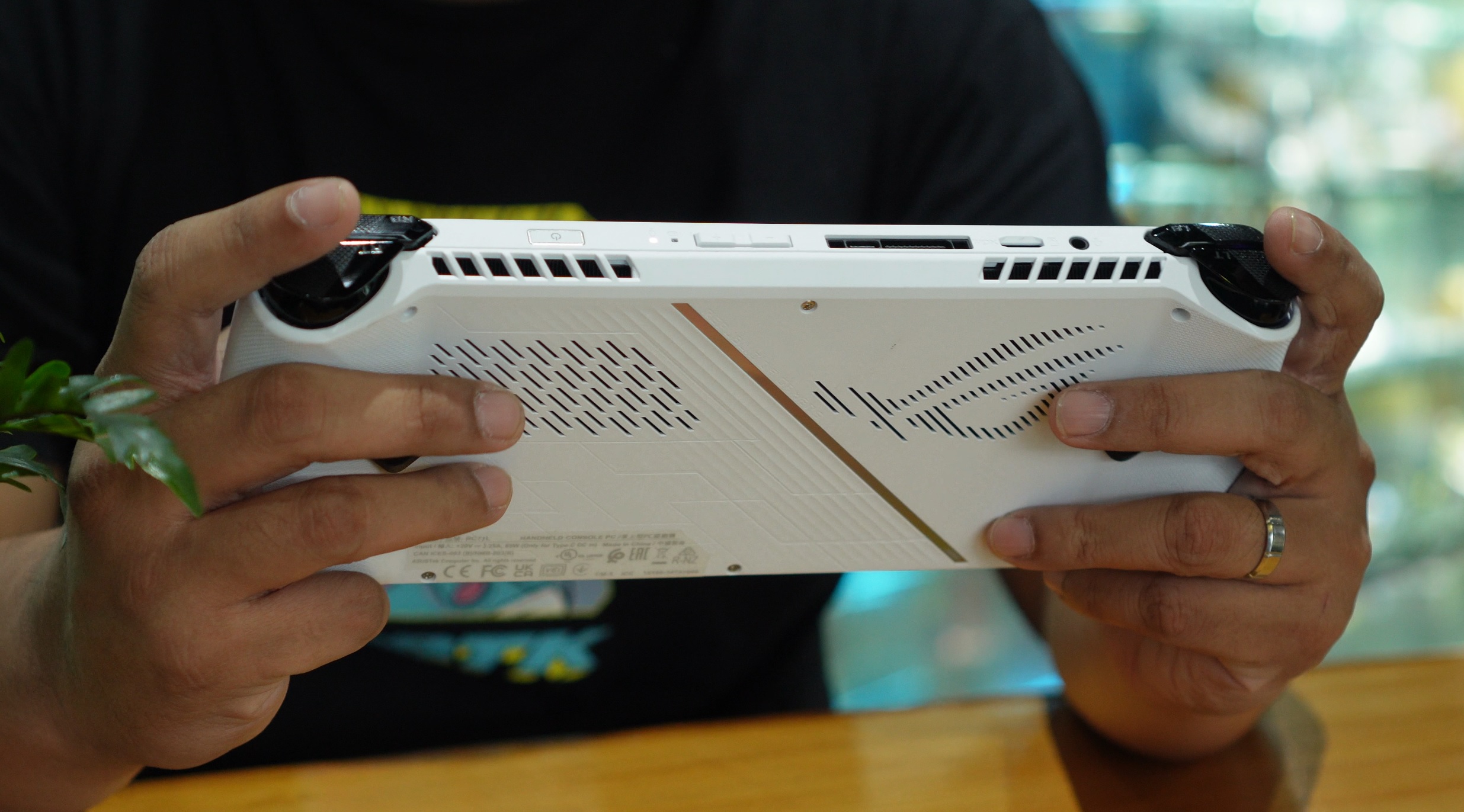 The biggest downside here is that that display consumes a lot more power than the Steam Deck, and if you're looking to play more demanding titles on the ASUS ROG Ally, you'll probably be turning down the resolution to 720P anyway to increase your frames and save on power.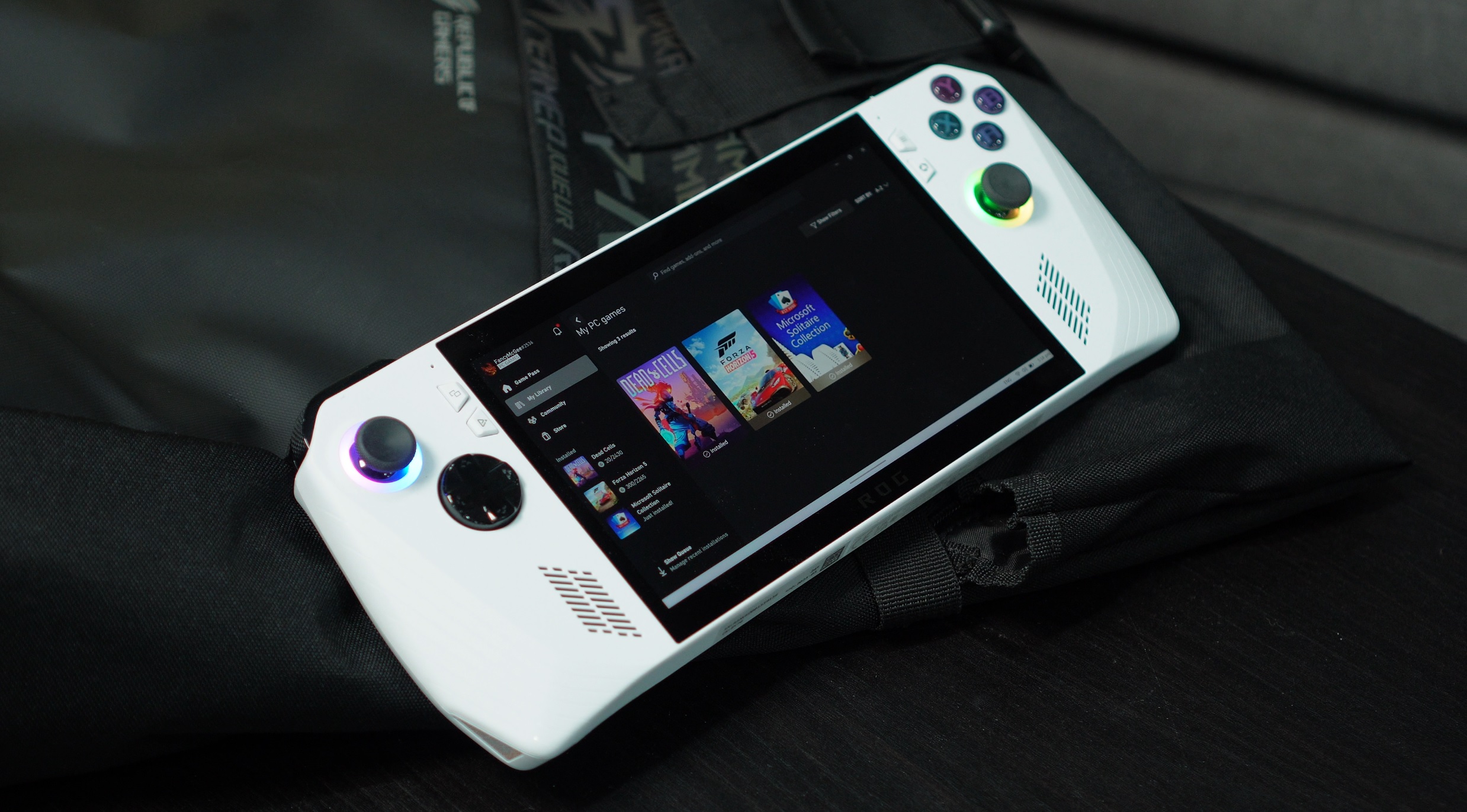 ASUS ROG Ally Review Philippines: Software
What sets the ASUS ROG Ally apart from the Steam Deck is the OS it uses. The handheld uses Windows 11, which opens it up to a bigger library of games than the Steam Deck. Thanks to the inclusion of Windows 11, you're now able to access and use a far larger stable of games thanks to the platform's ability to run Steam, Xbox Game Pass, Epic, GoG, and any other launcher (or game) that'll run on Windows 11.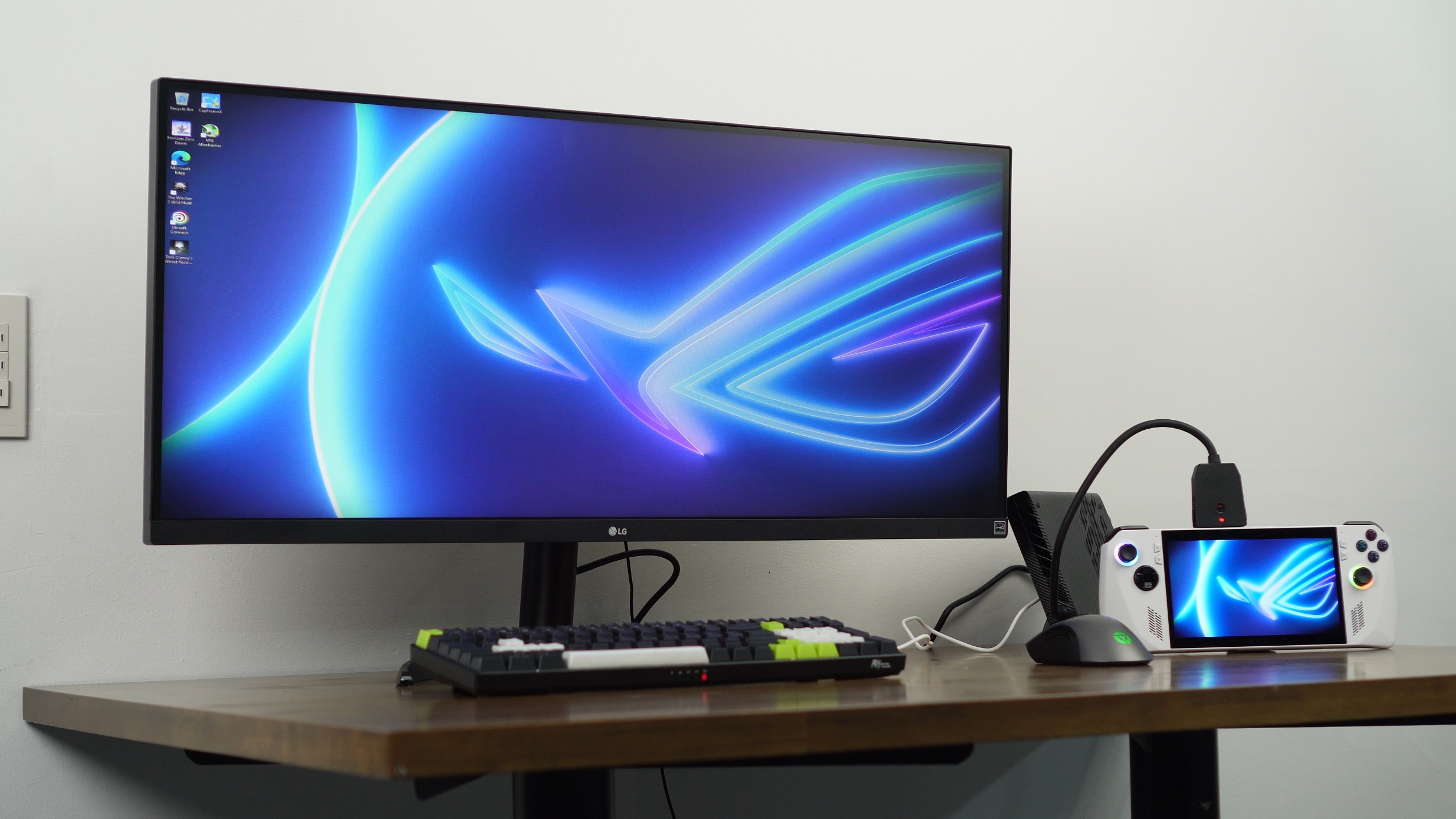 That flexibility though is a double-edged sword, because Microsoft hasn't bothered to make a version of Windows 11 that works well with a small screen – screens that Windows-based handheld gaming devices like the ASUS ROG Ally uses. That makes the ROG Ally annoying to set up at the beginning since you'll have to type and input things like usernames and passwords on a tiny-ass display to make things work.
ASUS tries to make the experience more palatable by including their Armory Crate software with Windows 11, but it's not as polished or as painless to use as say, Steam OS is on the Steam Deck. That being said, most ROG Ally buyers probably know what they're getting into when they buy it, and Windows gives the Ally a surprising amount of flexibility.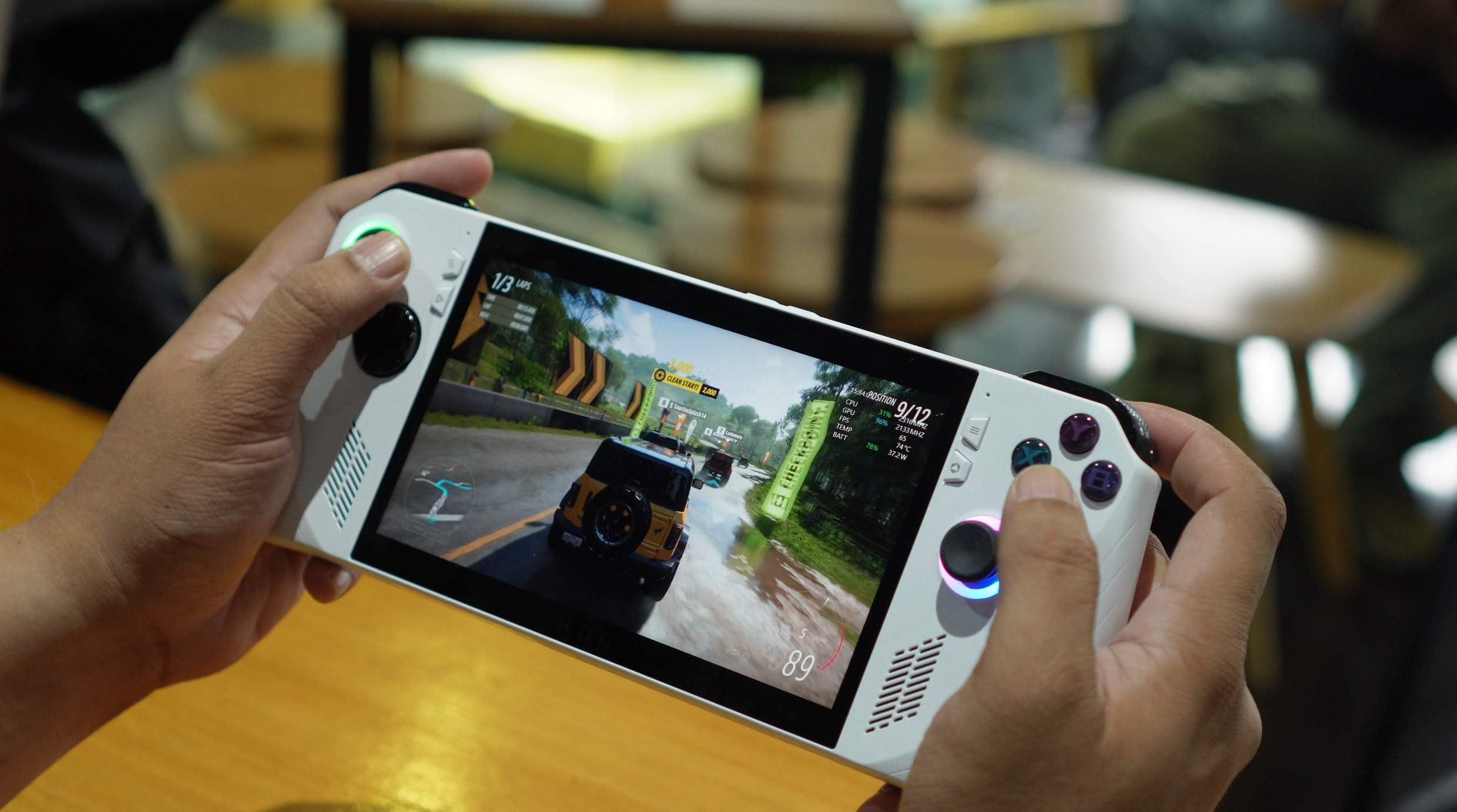 ASUS ROG Ally Review Philippines: Performance
The ASUS ROG Ally has received a bunch of software updates since the brand handed it to us two months ago for review, and in that time I've seen FPS and stability improve with the ROG Ally. The handheld is at a good place as far as performance goes as of press time.
The ROG Ally is powered by a custom AMD Ryzen Z1 Extreme processor, and ASUS is promising a cheaper Z1-powered version is on the horizon, though it won't be here during the Philippine launch today. There's 16GB of DDR5 DRAM, and storage tops out at 500GB via an NVMe SSD.
The ROG Ally's performance numbers are hard to beat. You can comfortably run AAA games in 60 FPS using AMD's Super Resolution upscaling in medium settings without a hitch. Some games like Forza Horizon 5 can easily go past 60FPS without using any kind of upscaling tech, which was surprising. Take note that this is with the Performance preset–you can bump up performance even higher using Turbo mode, but battery life is going to suffer here.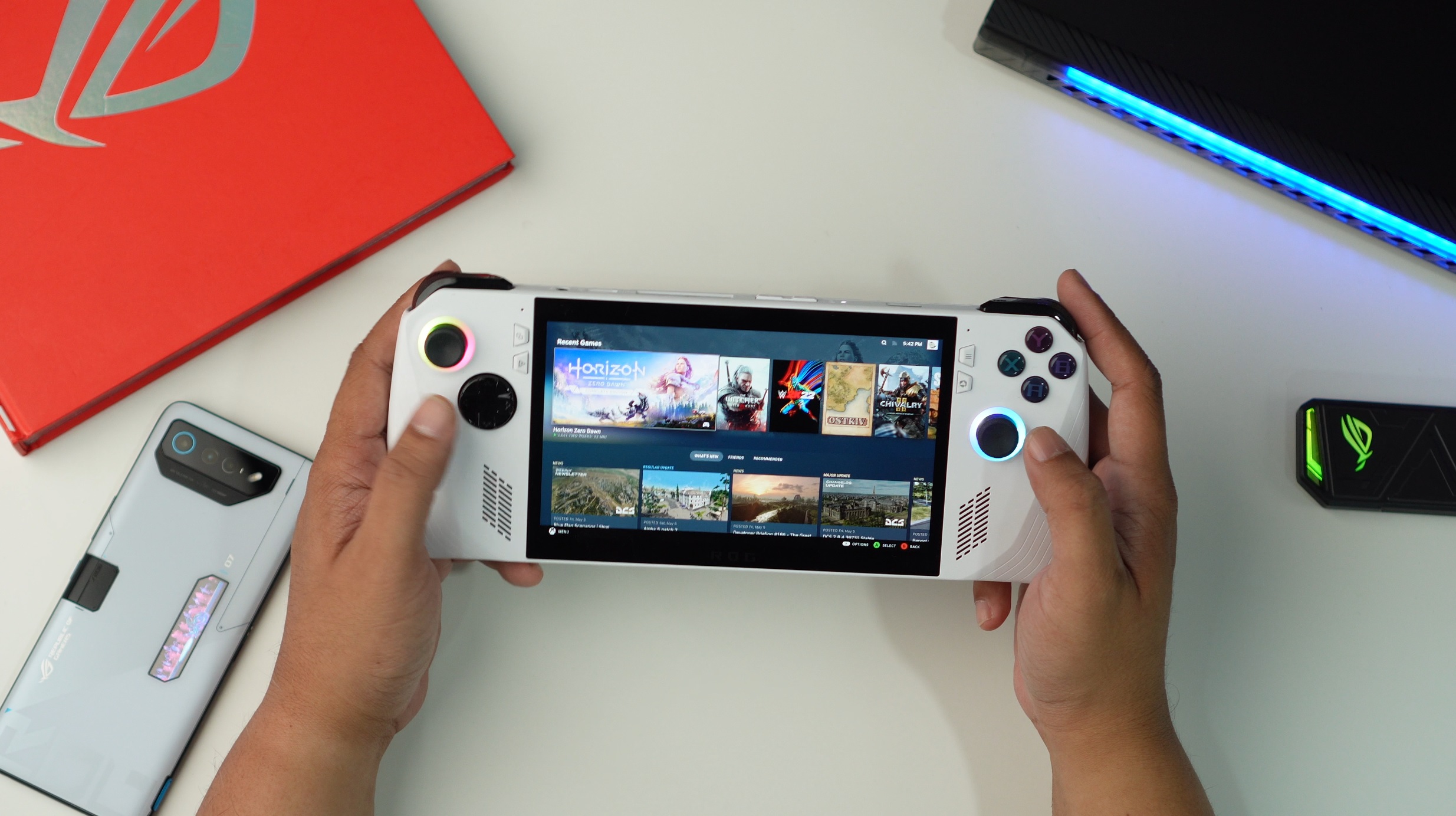 You'll be able to switch from different preset performance modes from Silent, Performance to Turbo which controls how much power the processor gets, but obviously, battery life will suffer the higher up the performance bracket you go.
The ASUS ROG Ally shines once it's plugged in and it gets 30W of power thanks to Turbo mode. It's able to run Cyberpunk in 67 FPS (in low settings, obviously) which is pretty much unheard of for a handheld of this size. If having a supposedly "portable" console plugged in to enjoy the zenith of its performance sounds counter-intuitive (it is, in a way), take note that if you buy the port expander that plugs into the USB Type-C port, you'll be able to plug in a monitor, mouse, and keyboard, making the ASUS ROG Ally into a potent and compact desktop gaming machine.
As I mentioned earlier, the biggest issue of the Ally is battery life. On a single charge, I typically average about an hour and a half to two hours before the ROG Ally dies. You can tweak the power settings so that it consumes less power, but generally, the ASUS ROG Ally is a battery hog, no matter how you cut it.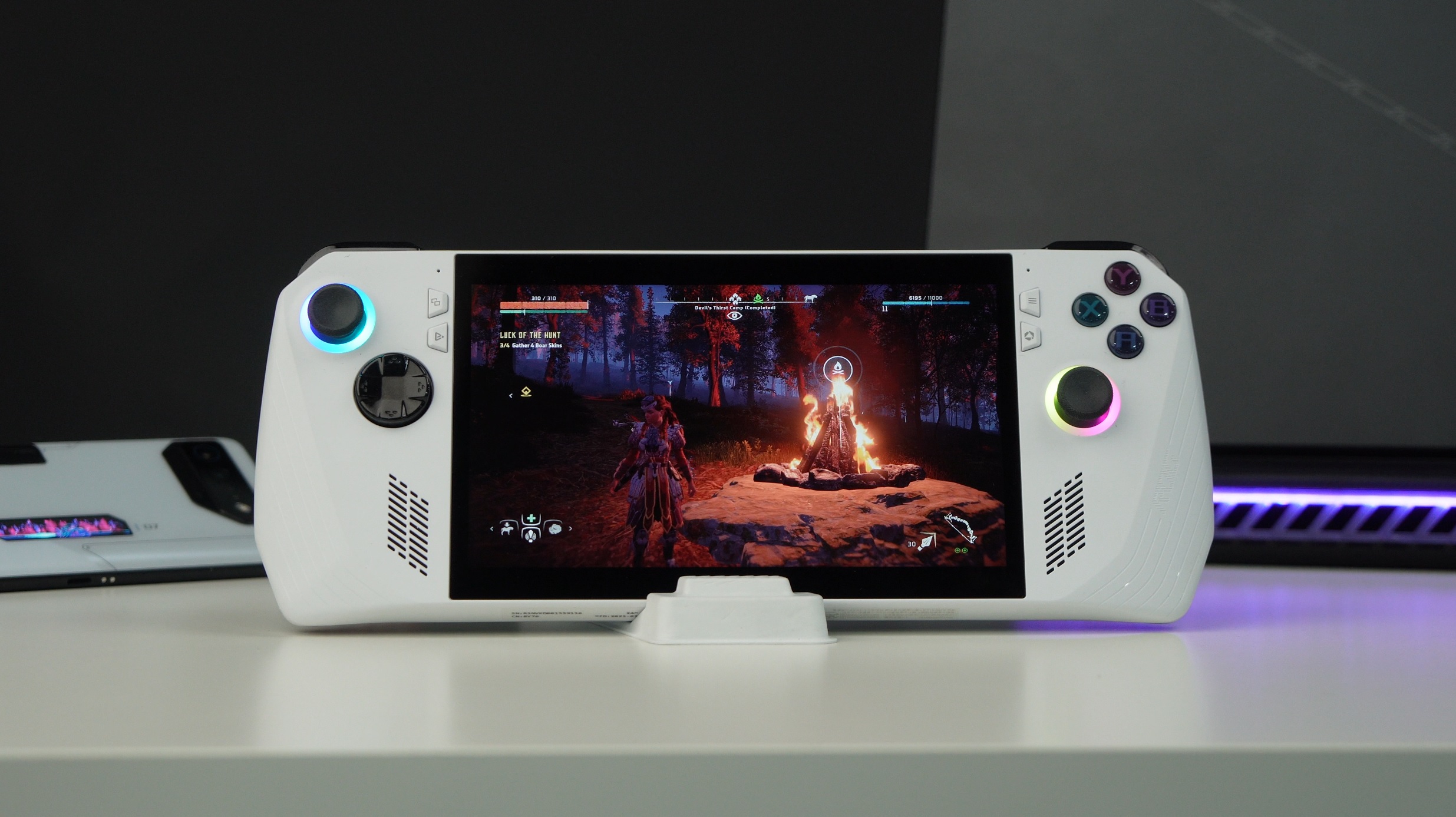 ASUS ROG Ally Review Philippines: wrap-up and verdict
Time to answer the question that a lot of people have been asking: should you buy the ASUS ROG Ally or should you go with the Steam Deck, at least in the Philippines? That's a relatively easy question to answer: the ASUS ROG Ally is the better buy between the two, especially if you're in the country. For one thing, you're getting official after-sales support from ASUS, which you're not getting if you buy a Steam Deck since it's not officially offered here.
And while the Steam Deck seems to be the better buy since it's cheaper, take note that the ASUS ROG Ally that we were offered for review in the Philippines already comes with 512GB of storage, which ASUS is pricing at Php 43,995, which isn't too far off from the price of the Steam Deck at Php 39,850 that's offered by DataBlitz for example.
In the end, the ASUS ROG Ally is a great little gaming handheld as we found out in our review of it in the Philippines. It's a little pricey yes, but considering it can double as a fairly powerful desktop PC with a simple accessory makes it more useful than the Steam Deck, which is limited to just being a handheld.
ASUS ROG Ally Review Philippines: Price
The ASUS ROG Ally that we reviewed that has a Z1 Extreme processor will have a price of Php 43,995 in the Philippines. ASUS will be releasing a lower-powered version of the handheld with just a Z1 processor at a later date, which will have a price of Php 39,995. The first 100 buyers of the ROG Ally will get a bundle that consists of a charger dock and a travel case.