Initial verdict: ASUS appears to have a solid debut offering with the ROG Ally. Aside from being better than the Steam Deck in almost all aspects, the ROG Ally might set a new benchmark for gaming handhelds–provided that ASUS Philippines sticks close to the official US pricing.
Pros
-Can work with different gaming platforms
-Gorgeous display
-Very powerful internals
Cons
-Battery life is short
-Windows 11 needs to be optimized for small screens
-Not all games work properly on the Ally
We never thought that we'd see the day when AAA PC gaming would become possible on a hand-held console, but here we are with the ASUS ROG Ally. While the Steam Deck was a step in the right direction, after using the ROG Ally for a few days now, Valve's attempt at a hand-held console feels amateurish compared to what ASUS has to offer.
Design
The ROG Ally's design looks good, but there are a few things that some people might not like. There are no touchpads on either side of the display, which might annoy some people who like playing RTS games on the go. The analog sticks are asymmetrical and the buttons use an XBox layout, which should be familiar to most gamers. The quality of the buttons feels nice, though we had issues with the X button sticking once or twice. We're not sure if this issue will fix itself over time or if it's going to be a persistent issue moving forward.
While we like the clean all-white colorway of the Ally, we're concerned as to how it will hold up with heavy use–especially since any white-colored gadget will yellow over time. We wished that ASUS will offer an all-black version of the Ally for those who prefer a more stealthy look.
Software
Unlike the Steam Deck which uses SteamOS that's based on Linux, the ROG Ally uses Windows 11 as its OS. Using Windows 11 is both a blessing and a curse. The greater compatibility offered by the Windows operating system means that you'll be able to play games from a variety of digital stores like Xbox Games Pass, Epic, EA Play, Ubi Store, and more. That's not something that the Steam Deck can do, as you're limited to Steam games without some serious workarounds. The ROG Ally also comes with 3 months of XBox Game Pass Ultimate, making it ahead of the Steam Deck as you get access to a ton of games right away.
The downside of running Windows is that, well, it's Windows. No matter how you cut it, Windows wasn't really designed to run on a device that has a screen that small. And while ASUS has tried to make the whole "gaming on a machine with a tiny screen using Windows" experience smoother with their Armory Crate SE software, at the end of the day you're still using an operating system that doesn't have the UI to handle that type of thing. Things like typing your username and password in small boxes are made harder when the virtual keyboard covers literally half of the screen, preventing you from even seeing your inputs.
Internals
What really sets the Ally apart from the Steam Deck is the hardware. While both handhelds have 16GB of LPDDR5 memory, the ROG Ally uses a Ryzen Z1 Extreme processor that's based on the Zen 4 architecture. That alone makes the ROG Ally more powerful than the Zen 2-based processor on the Steam Deck. If that wasn't enough, the Ally also has a far better 7-inch touchscreen display since it can run in Full HD and has a 120Hz refresh rate, which is important for retro gamers who need a fast refresh rate for some of their games.
Honestly, the Ally's performance numbers are hard to beat. You can comfortably run AAA games in 60 FPS using AMD's Super Resolution upscaling in medium settings without a hitch. Some games like Forza Horizon 5 can easily go past 60FPS without using any kind of upscaling tech, which was really surprising. Take note that this is with the Performance preset–you can bump up performance even higher using Turbo mode, but battery life is definitely going to suffer here. More on that later.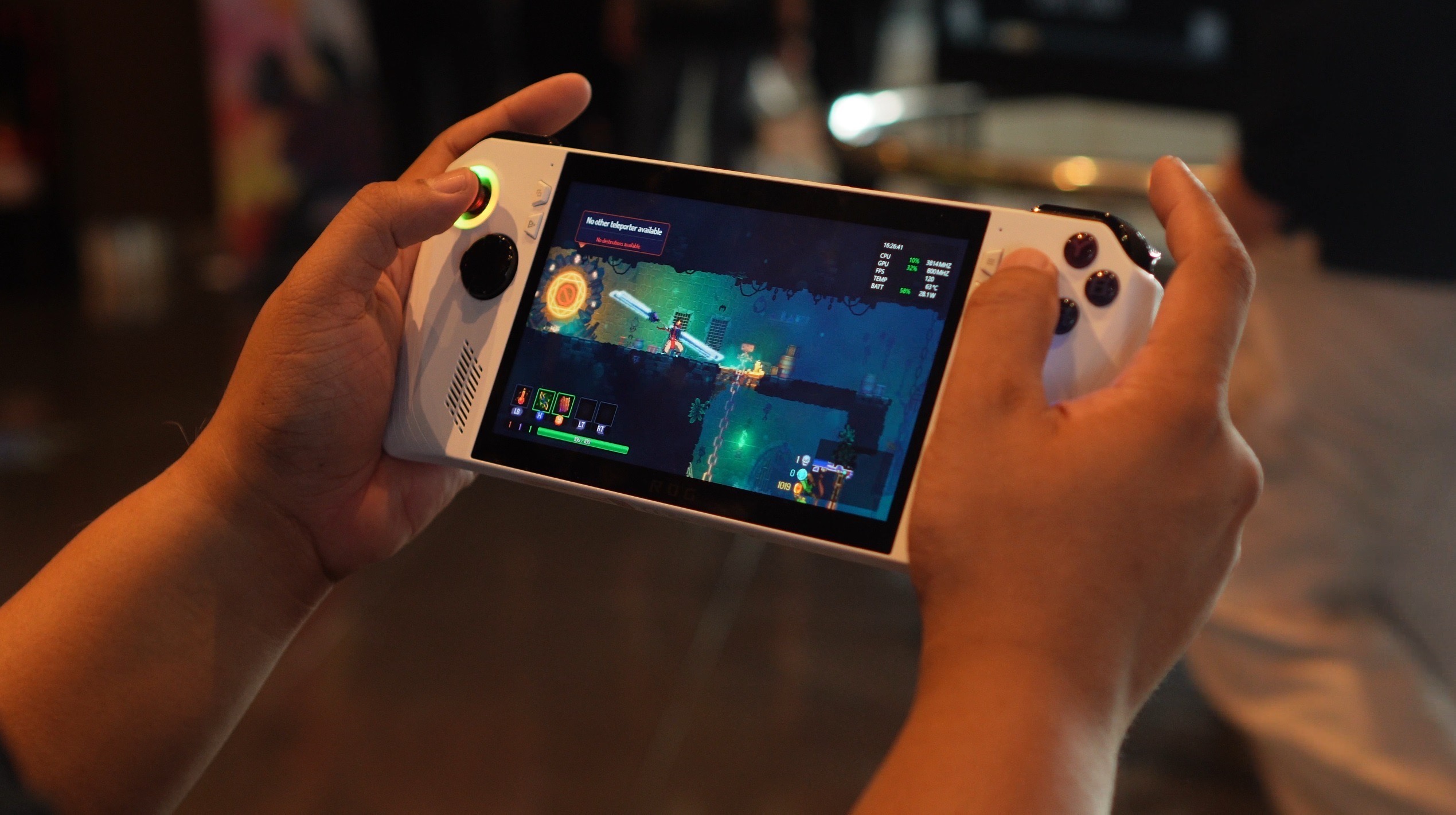 Without a doubt, the ROG Ally's raw performance allows it to play a bigger selection of AAA games at playable frame rates. That's going to come in handy because the console doesn't really tell you if a game will work on it properly or not. It's an annoying by-product of the ROG Ally using Windows as its primary OS, but we're hoping that this will get fixed in the future via a software update.
Even when running the Ally in Turbo mode, we're impressed at how ASUS' Zero Gravity fans are barely audible even at 100% and still keep temperatures under control when running in either performance or Turbo mode. It's incredible how efficient and quiet these fans are while keeping the console cool.
To further maximize the Ally's potential, you can connect it to ASUS' XG Mobile or even through the charging dock accessory. Set it on Turbo, connect it to your TV, and plug in a wireless controller or two, and you have a very powerful gaming PC.
Battery Life
The biggest weakness of the ROG Ally is its battery life. With a more powerful processor comes a greater power drain, and while there are presets put in Armory Crate SE–mainly Silent, Performance, and Turbo–you'll need to do quite a bit of tweaking to get the Ally past 3 and a half hours on a single charge.
On the Performance Preset, we got around 1.5 hours on a single charge with the screen set to Full HD. You can extend that further by lowering the resolution and setting FPS caps. However, at the end of the day, the Ally is a bit of a battery hog. You can thank Windows and the surprising amount of bloatware for that, unfortunately.
Wrap-up and initial verdict
The ROG Ally is a great gaming console and is a better mobile gaming platform than the Steam Deck at its price. It's not perfect–battery life and Windows optimization aside, no first-generation product is. We're optimistic that Microsoft will rollout software updates to optimize Windows 11 for handheld consoles like the Ally in the future. IF ASUS Philippines sticks to the global MSRP of the ROG Ally, it's a no-brainer purchase for anyone that wants a powerful handheld gaming console that can play AAA PC games on the go.
ASUS ROG Ally Price
ASUS has priced the ROG Ally at around $699 in the US, or around Php 40K with direct conversion. That's just $50 more than the highest version of the Steam Deck, which is tremendous value if you take a look at what's on tap here. Of course, that's US pricing. ASUS Philippines hasn't said anything about the local pricing of the ROG Ally, but they'd be a fool to deviate from what's already been said in their global announcement.