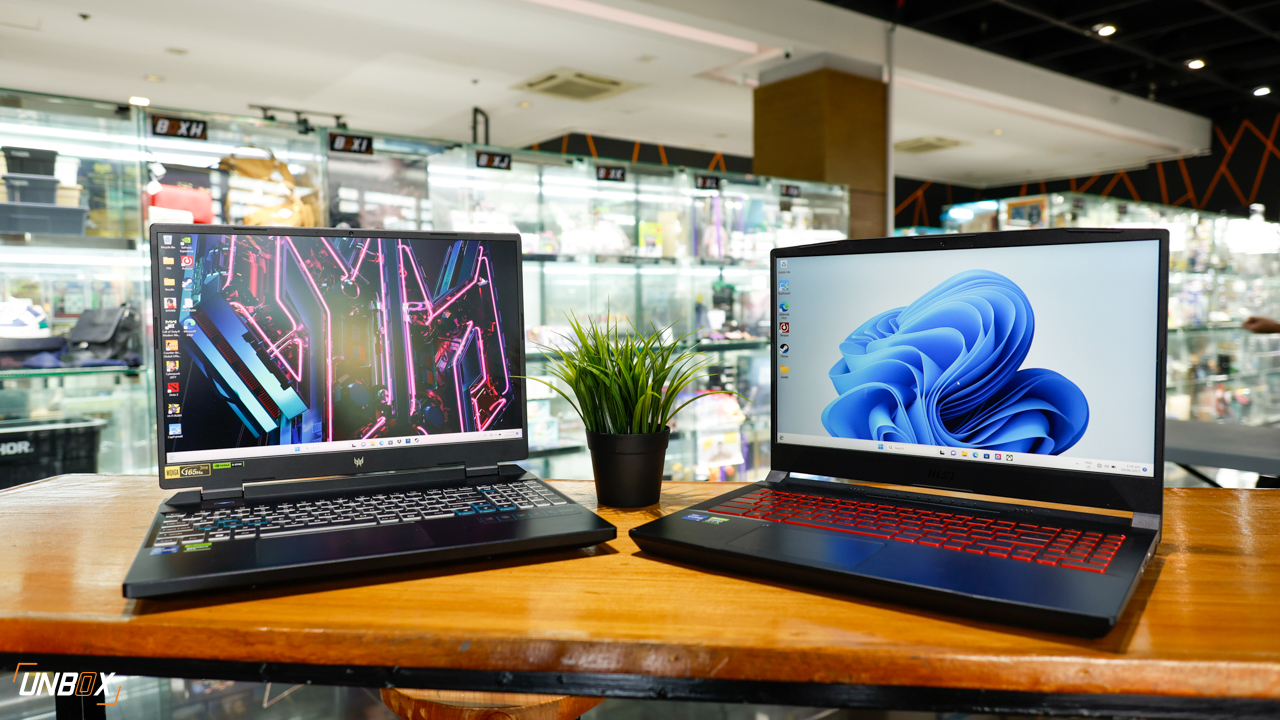 Intel has made improvements to its Core line of processors through the years. Among the biggest leap among the generation of Core processors is the 12th Gen Intel Core Processors, where Intel has shifted to a hybrid architecture design that consists of a mix of performance and efficiency cores to maximize performance while being more power-efficient than the previous generation.
The 13th Gen Intel Core processors improve on the design of the 12th Gen Intel Core processors, and we think that it's worth upgrading your computer to this generation of Intel processors especially if you are using an older version–those from the 11th Gen processors and earlier.
If you're thinking if you should upgrade, we have this comparison test to show the leap in performance the 13th Gen Intel Core processors have compared to the 11th Gen series.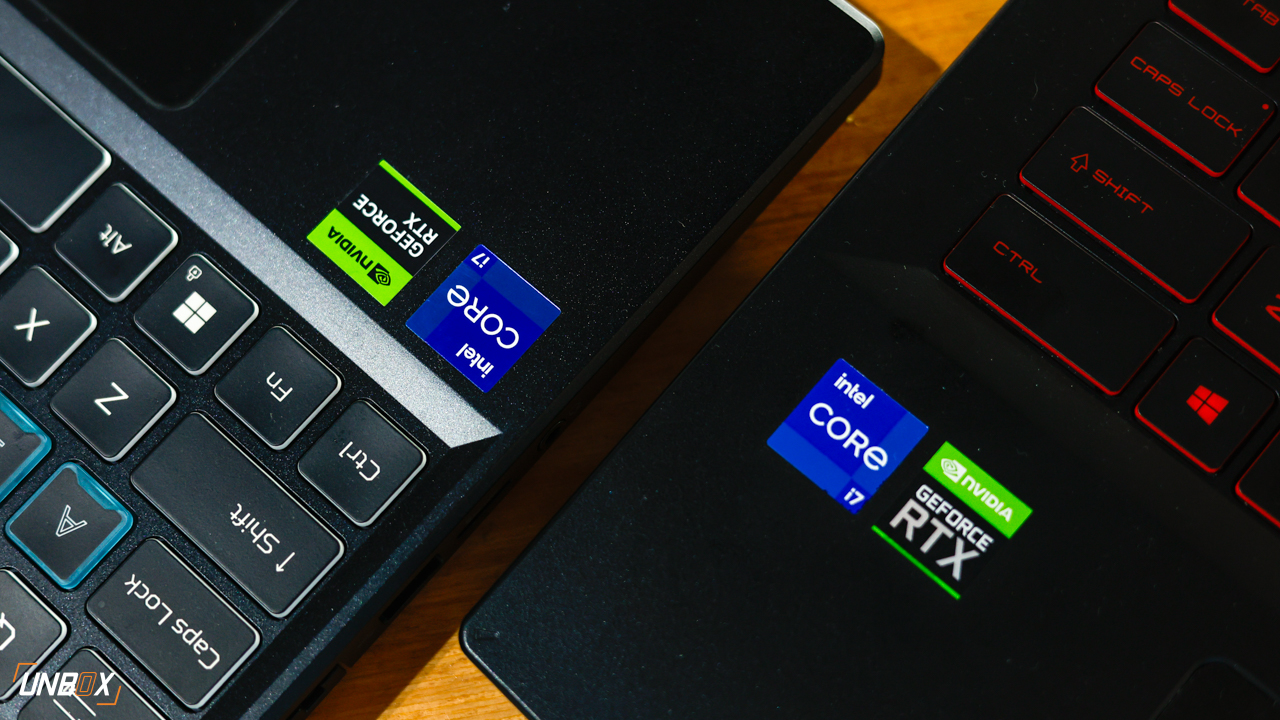 Tale of the tape: 13th Gen Intel Core vs. 11th Gen Intel Core CPUs
For our comparison test, we have two gaming laptops: one is an MSI Katana GF66 which uses an 11th Gen Intel Core i7-11800H processor, and the other is a Predator Helios Neo 16 that uses a 13th Gen Intel Core i7-13700HX processor. Both laptops come configured with 16GB RAM and 512GB storage.
For our testing conditions, both laptops are tested in an airconditioned room with temperatures of approximately 25 degrees Celsius. Both are also plugged in and set to performance mode to properly assess their performance at their full potential.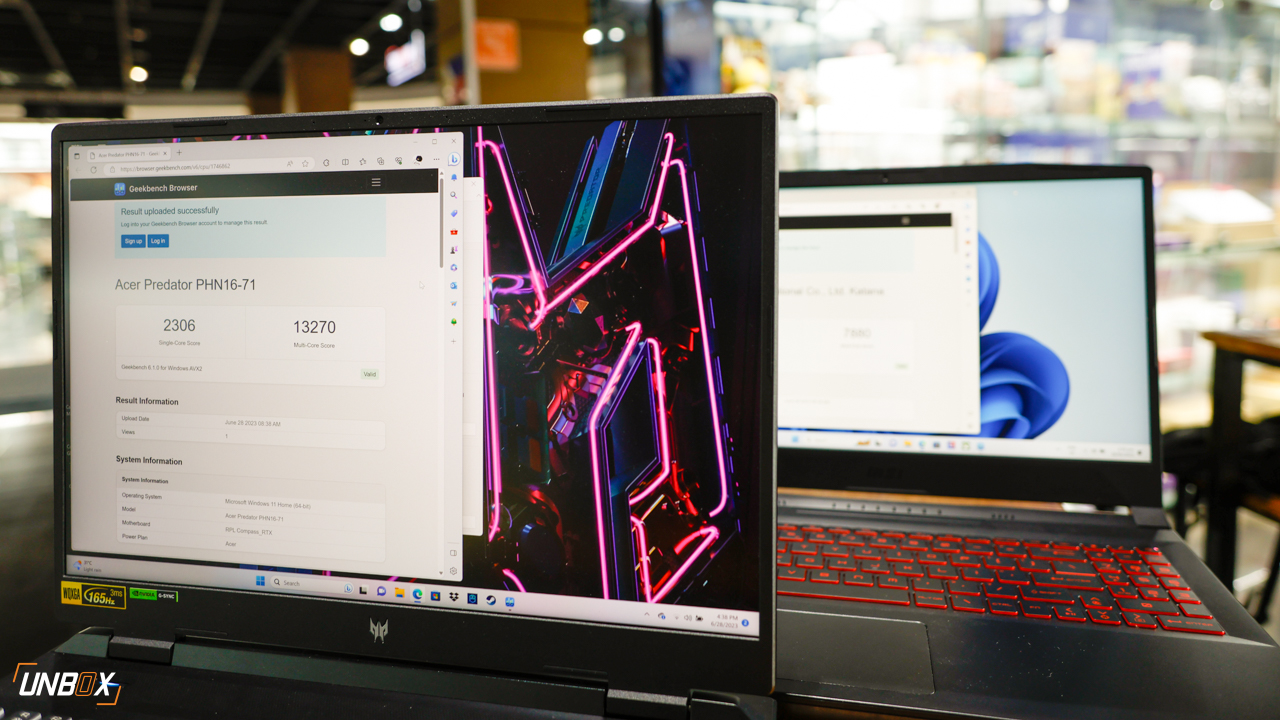 Synthetic Benchmarks
Geekbench 6 is the go-to benchmark tool for measuring the single-core and multi-core performance of processors. While the difference between the 13th Gen and 11th Gen is around 200 points for single-core, the 13th Gen Core offers a leap in performance in multi-core tests, where it posted close to a 5,500-point lead compared to the 11th Gen Core. That alone shows how Intel's hybrid architecture approach posted big gains on its latest Core processors.
For benchmarking general use, we used Crossmark to see the processor's overall performance for productivity, creative work, and overall responsiveness. As expected with the results we saw from GeekBench, the 13th Gen Core led against the 11th Gen Core across all metrics, with the biggest lead being creative work. Again, this shows both performance and efficiency cores on the Core 13th gen working in harmony to deliver the best overall performance.
Procyon Office focuses on the performance of Office apps like Word, Excel, and Powerpoint. While the 13th Gen Core and 11th Gen Core processors are head-to-head with Powerpoint, the 13th Gen Core CPU flexes its processing prowess with Excel–which can be a demanding task especially when dealing with large spreadsheets that have multiple numbers and formulas involved.
Gaming Benchmarks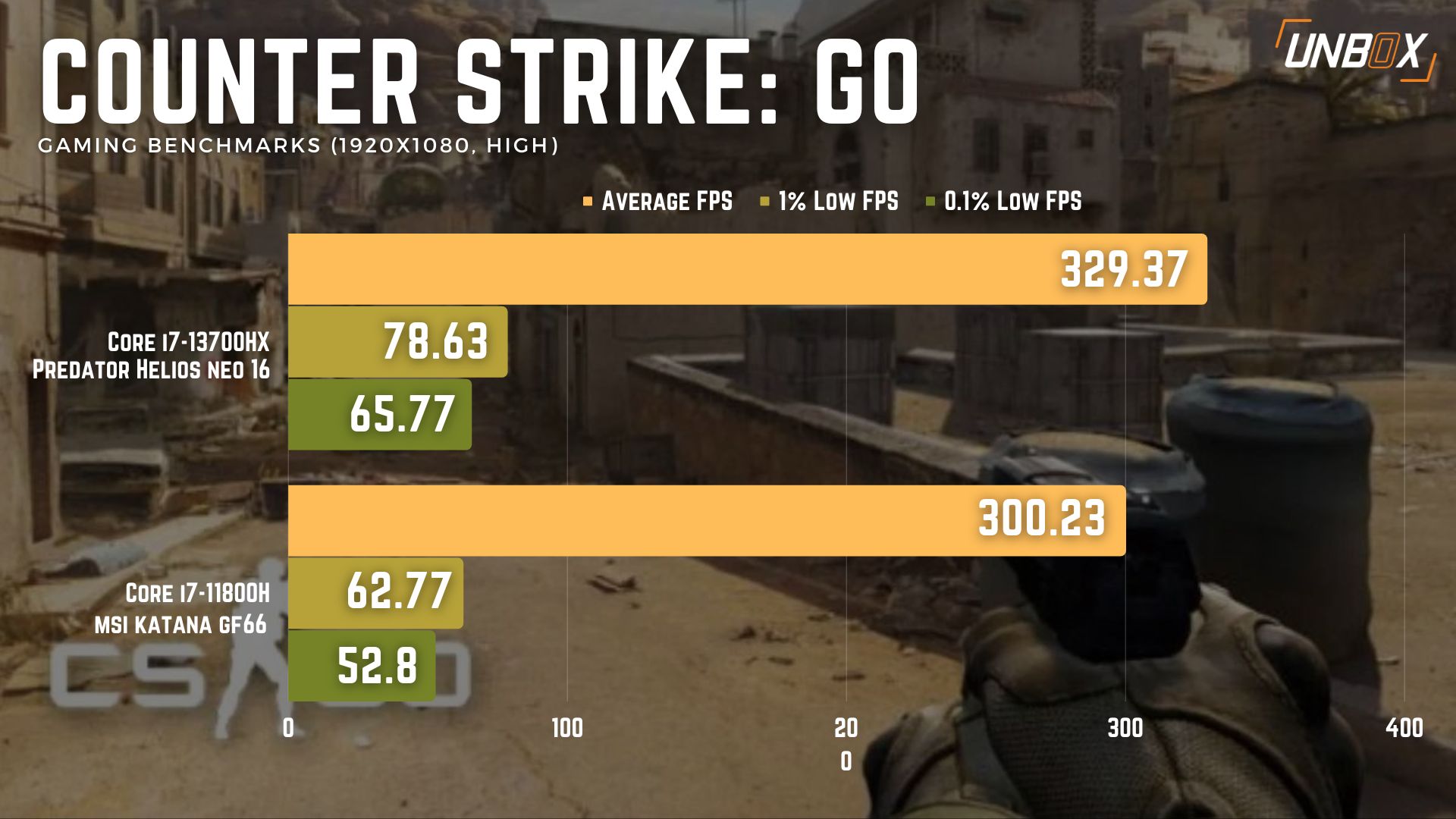 As we explained in our previous gaming laptop comparison, Counter-Strike: Global Offensive is an FPS that demands high frame speeds to help you win the battle, especially in crucial moments. While both the 11th Gen and 13th Gen Core laptop CPUs can get you at least an average of 300FPS, the latter gives you more FPS consistency overall since it delivers higher FPS rates in the low 1% and low 0.1%.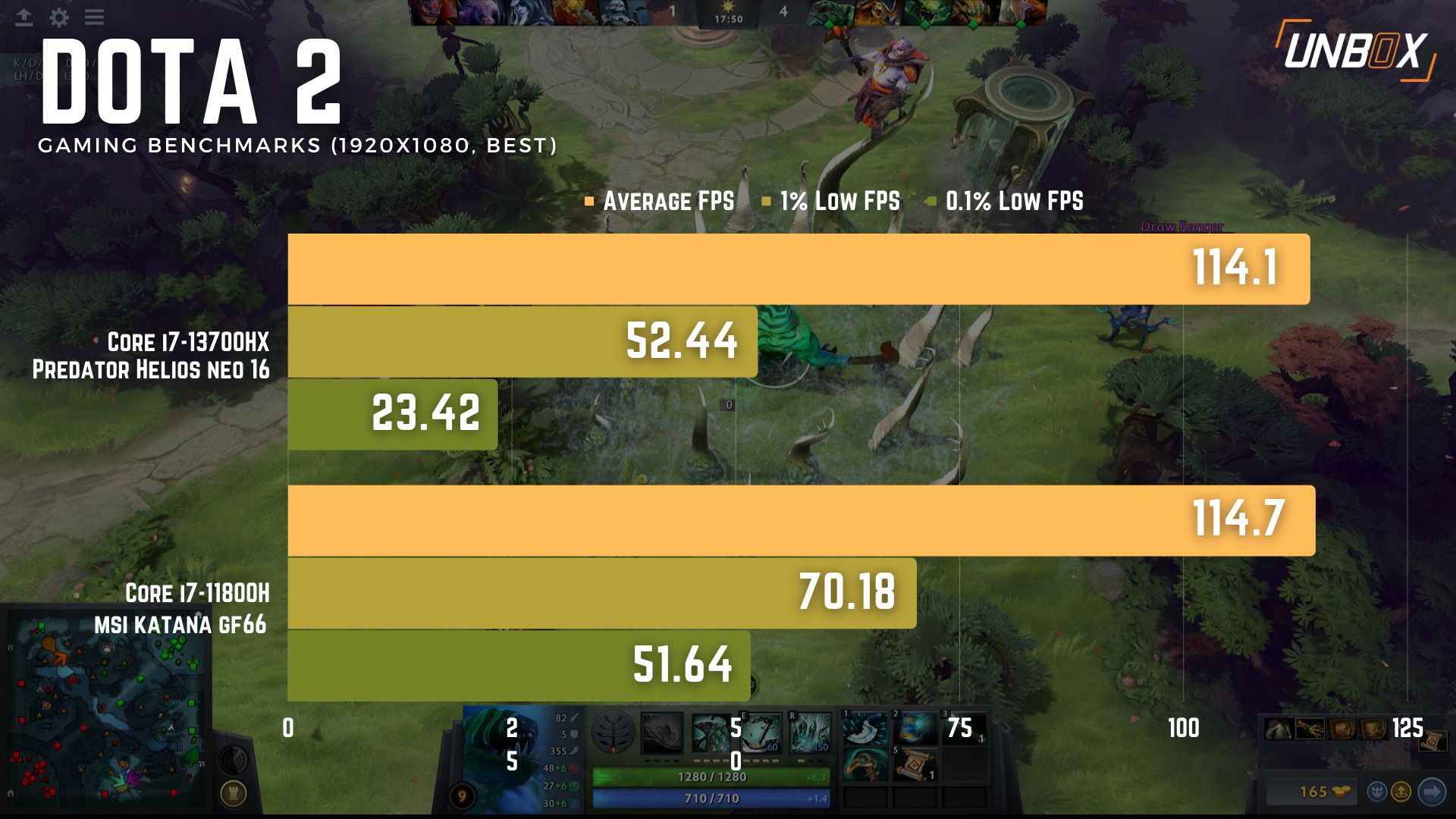 Compared to Counter-Strike: Global Offensive, DOTA 2 balances out great graphics and high FPS rates for an enjoyable gaming experience–especially in scenarios where you have to deal with multiple elements on a single frame. Both the 13th and 11th Gen CPUs are head-to-head when it comes to average FPS, though the latter offers better overall stability with the 1% low and 0.1% low.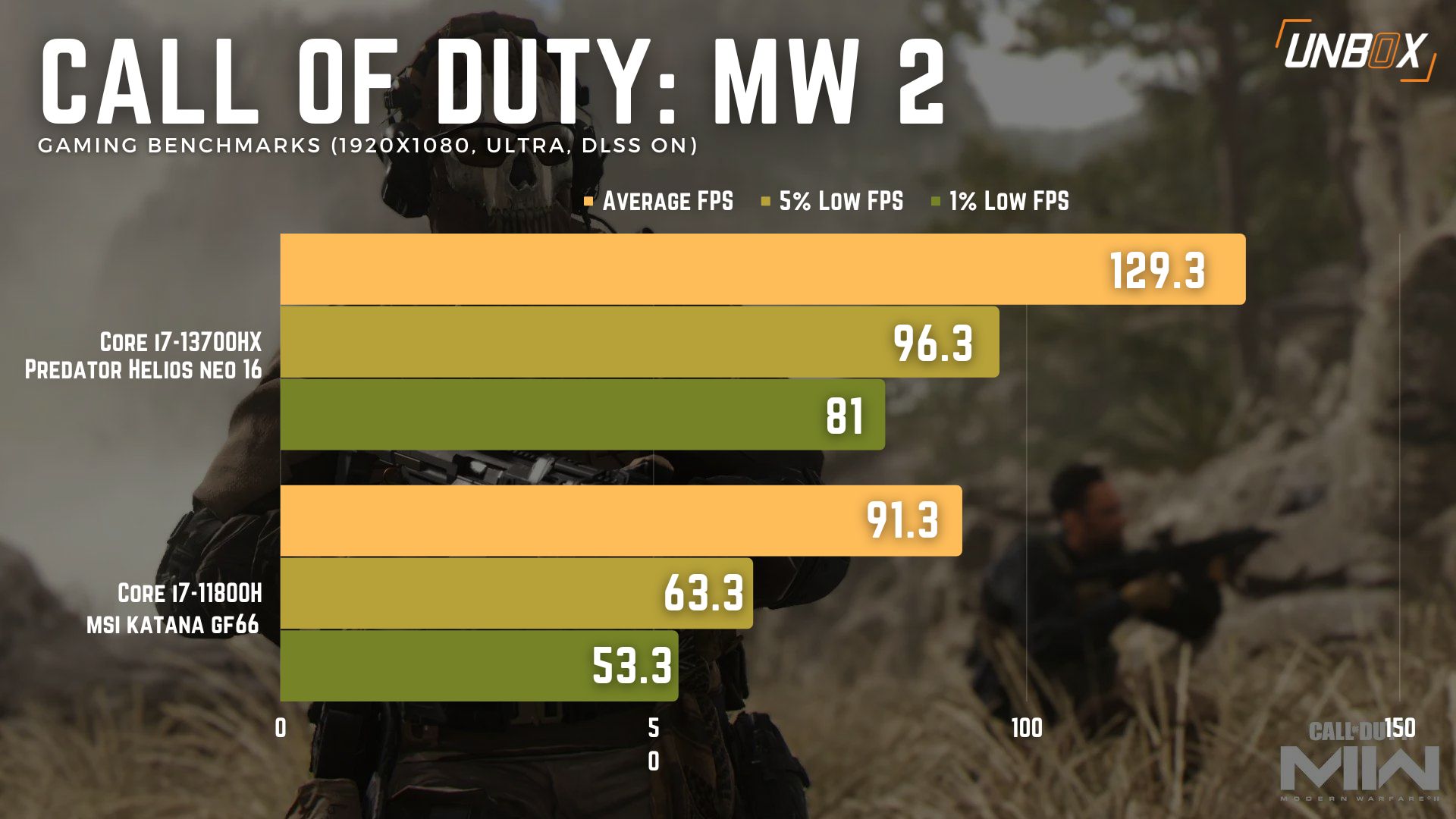 While it is also an FPS game like Counter-Strike: Global Offensive, Call of Duty: Modern Warfare 2 is significantly more demanding because of the superior graphics it has to offer. That also means that ideally at least an average of 100FPS is required to fully appreciate the game, especially during competitive matches. Similar to our findings with Counter-Strike: Global Offensive, the Core 13th Gen offers significantly better performance overall compared to the Core 11th Gen.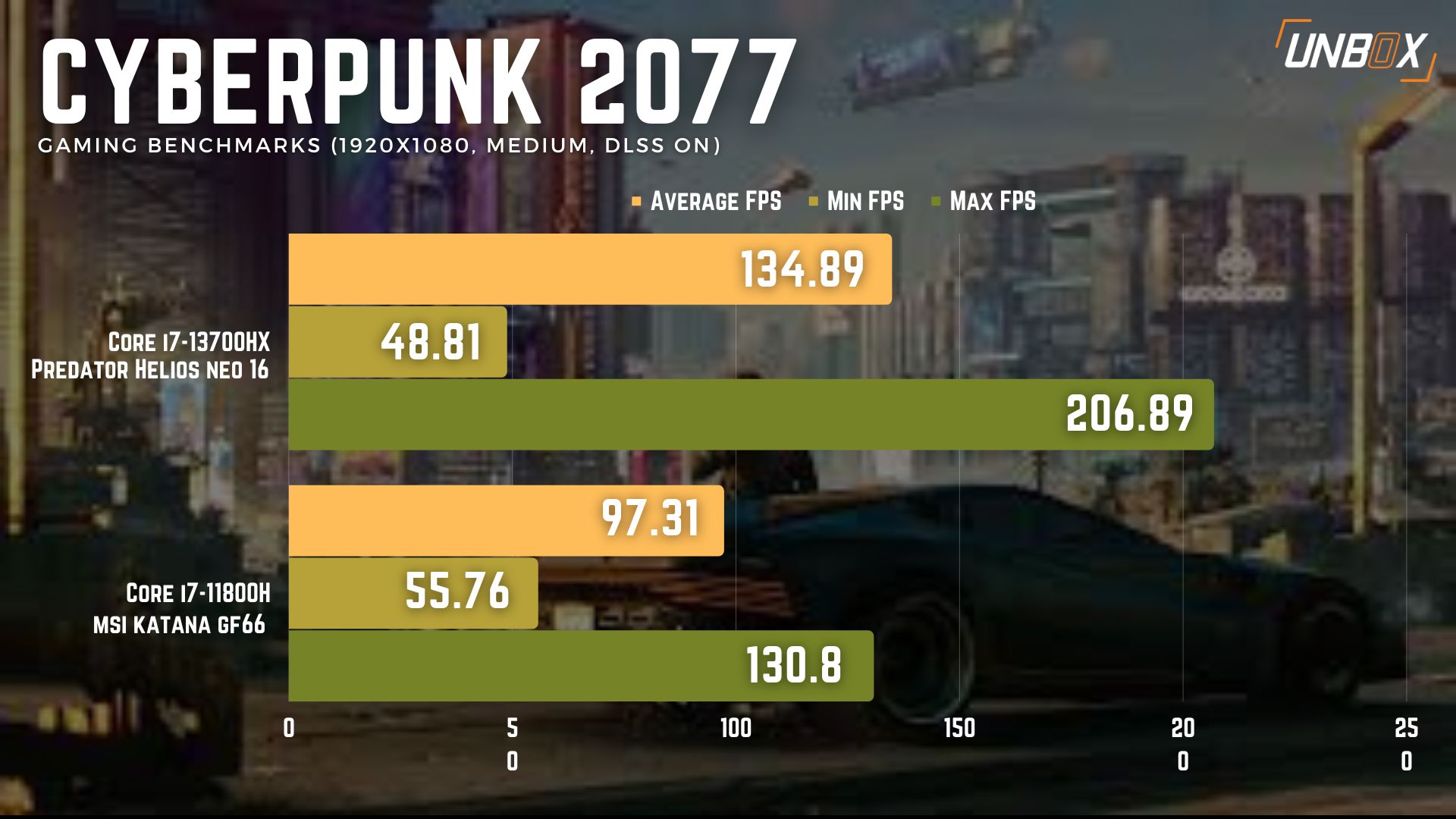 To round up our gaming tests between the two laptops, Cyberpunk 2077 is the new benchmark for gaming performance as its immersive graphics and scenery demand a lot of processing power for both CPU and GPU. Focusing more on CPU performance, the newer 13th Gen Core CPU offers a better average FPS compared to the 11th Gen. Aside from better FPS numbers, we also noticed that the 13th Gen ran cooler compared to the 11th Gen after several runs of Cyberpunk 2077's benchmarking test.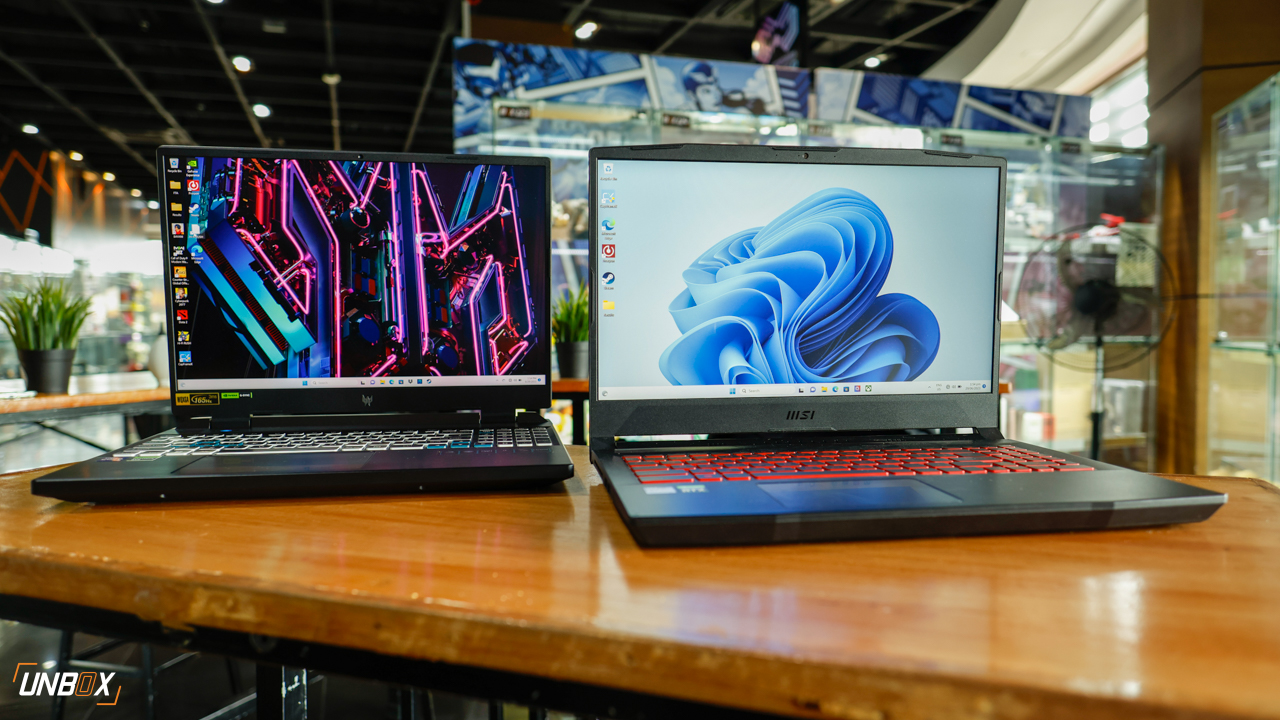 Conclusion: Now is a Great Time to Upgrade your Laptop!
With all of the tests we made for this comparison, we're confident to say that the 13th Gen Intel Core processor is a big upgrade to the 11th Gen. With the refinements Intel has made ever since transitioning with its hybrid architecture design with the 12th Gen, the 13th Gen Intel Core processors deliver true next-generation performance for gaming, productivity, and creativity use cases.
Aside from performance improvements, the 13th Gen Intel Core Processor's refined hybrid architecture also delivers better thermals as well, giving you better performance ceilings without worrying about your laptop getting too hot after prolonged use.
With our findings in this comparison, we hope that this article will encourage you to make that upgrade to the latest 13th Gen Intel Core-powered laptop–especially with all the performance upgrades it has to offer.