Verdict: The ASUS ZenBook Flip S UX371EA has one of the best, and most accurate OLED displays in the market today. The 13.3-inch 4K OLED panel is perfect for creatives, though its slightly weaker hardware and lack of a discrete GPU may put off anyone looking to render videos quickly. It's also quite pricey for a premium laptop, coming in at Php 94,995 for the Core i7-1165G7 model.
Pros
Incredibly color-accurate display
Premium exterior
The display is very bright
Transforms into a tablet
Cons
Expensive
No discrete graphics
No headphone jack
ASUS' top-of-the-line ZenBook Flip S UX371EA has one of the best screens we've seen so far in a 2-in-1 this year, and if you're the sort that values color accuracy, then it should be on the top of your list for laptops. The gorgeous display is paired with a premium chassis as well as Intel's new 11th generation chips, though the ZenBook Flip S UX371EA's high price makes it a bit out of reach for mere mortals.
Design
Like any other laptop in ASUS' top-end lineup, the ZenBook Flip S UX371EA looks stunning thanks to its all-metal chassis, as well as the concentric Zen-inspired circle finish that's machined on the lid.
The biggest change here from the regular ZenBook Flip models is the Jade Black colorway that's only available for the very top-end model, along with that lovely copper trim on the chamfered edges of the chassis.
The laptop is a mere 13.9mm thin and weighs at just 1.2 kilos, which is pretty light as far as ultrabooks go.
The ZenBook Flip S gets its name from its ability to flip its screen over almost 360 degrees, allowing it to transform itself into a tablet, thanks to the included ASUS Pen. The ASUS Pen is an active stylus that has 4096 pressure level support and recognizes 10-300g of pen-tip force, giving creatives another tool to use when making presentations and sketches.
As far as port selection goes, the ZenBook Flip S UX371EA has two 2 x Thunderbolt 4 USB-C ports, 1 x USB 3.2 Gen 1 Type-A port, and a standard HDMI port.
The laptop unfortunately is missing a 3.5mm jack, so you'll either have to annoy the people around you with the sound that comes out of its speakers or you pair it with a Bluetooth headset. ASUS does throw in a USB Type-C to 3.5mm dongle in the package, though if you use that you're left with a single Type-C port to use. If you charge it while using the dongle, you're out of Type-C ports since the laptop uses a Type-C charger for power.
Display
The ZenBook Flip S UX371EA uses a 13.3-inch, 4K OLED panel that really small bezels that still has a webcam installed.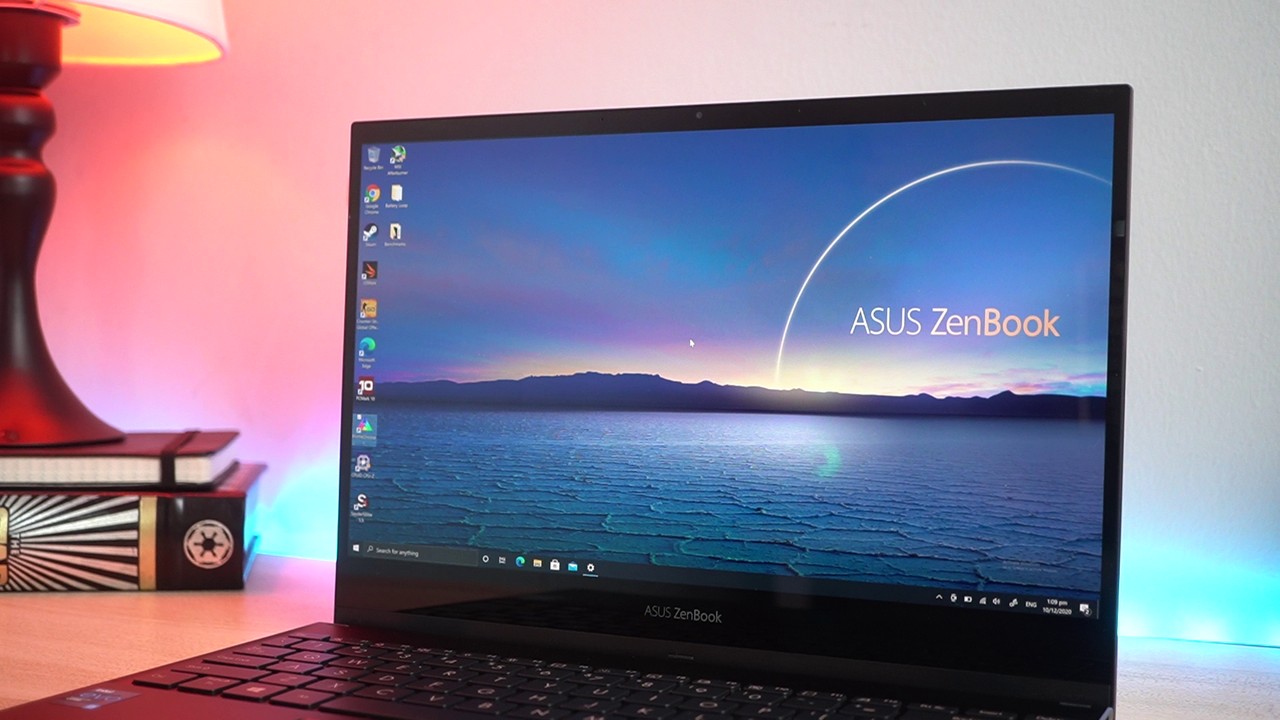 The display is touch-capable and is one of the most color-accurate panels on a laptop that I've used this year.
The display has 100% sRGB, 96% AdobeRGB, and 90% NTSC color coverage, making it perfect for tasks that require color-accuracy like photo and video editing.
Maximum recorded brightness by the DataColor Spyder 5 Elite we used for measurements came in at 409 nits which is incredibly bright, and the display can easily be seen even under direct sunlight.
Watching movies and editing photos on the screen of the ZenBook Flip S UX371EA felt great, as the display was also very sharp. It doesn't matter if you're using the display for work or play – it was a pleasure to use no matter what you're doing on it.
Keyboard and trackpad
Like most of ASUS' top-end ZenBook models, the ZenBook Flip S UX371EA features the brand's ErgoLift Hinge, which angles the keyboard of the laptop a few degrees for better typing comfort.
As for the keyboard itself, it uses an edge-to-edge design that makes full use of the chassis. There's not much room on a 13.3-inch chassis so ASUS did the best that they could to make the keys as big as possible. Despite that, the keys are a bit on the small side, though you'll get used to them after a while. Key travel is good (around 1.4mm) and generally, the keyboard felt good to type on.
The touchpad is nice and wide and transforms into a number pad with a simple touch of a button if you need one.
Performance and battery life
The ZenBook Flip S UX371EA uses Intel's new 11th generation chips dubbed Tiger Lake, specifically the Core i7-1165G7, topped off with 16GB of soldered-on 4266 MHz LPDDR4x RAM and 1TB of PCIe NVMe storage.
Tiger Lake brings a whole slew of improvements including much more powerful integrated graphics in the form of the Iris Xe, though it still falls short of the performance that we expect from integrated GPUs like NVIDIA's MX350.

While Iris Xe does bring slightly faster number-crunching capabilities to any task or application that benefits from GPU acceleration like video editing, I still don't recommend that laptop for heavy video work like editing 4K vids, for example.
If you're using the laptop to edit photos and full HD videos, it'll run fine though.
Gaming is also pretty much out of the question with the laptop, even on milder games like CS: GO and Valorant, the 1% lows are dismal enough that you'll be tearing your hair out over the choppiness of your matches.
Battery life for the laptop using our punishing battery drain test puts it at 4 hours and 10 minutes. That's with full HD streaming via WiFi on Google Chrome, which isn't bad considering it packs a high-resolution 4K panel. You should get around a day's worth of battery life on lighter, less demanding tasks.
Wrap-up and conclusions
If you're the sort that values a color-accurate display and a lightweight chassis, then the ASUS ZenBook Flip S UX371EA deserves a look. It packs a tremendously bright and beautiful 4K panel, and instantly transforms into a tablet when you need it.
It's a bit expensive though, and while the Core i7-1165G7 processor was plenty fast for regular tasks, it still lacks the oomph required for more intense computational applications.
Then there's the price – at Php 94,995, it's fairly expensive, and it's clear in the pricing that you're paying a premium for that beautiful screen.