Review verdict: The Lenovo Legion Phone Duel 2 is a great alternative for mobile gamers looking for the best platform money can buy in the Philippines, though at the cost of more mainstream appeal.
Pros
Incredibly powerful
Lots of shoulder buttons to use
Excellent screen
Incredible sound for a phone
Fast 90W charging
Cons
Hard to use in portrait mode
No IP rating
No wireless charging
So-so camera
Lenovo Legion Phone Duel 2 Specs:
Snapdragon 888 processor
12GB/16GB LPDDR5 RAM
256GB/512GB UFS 3.1 storage
6.92-inch Full HD+ AMOLED display, 144hz refresh rate, 2.8ms response rate, 720hz touch sampling rate, 10-bit color
64-megapixel f/1.9 main camera with PDAF, 16-megapixel f/2.2 ultra-wide-angle camera
44-megapixel f/2.0 ISOCELL GH1+ pop-up selfie camera
4G, 5G
WiFi 6e, Bluetooth 5.2, in-display fingerprint scanner
Stereo speakers, dual cooling fans, capacitive shoulder buttons
5500mAh 2-cell battery
90w fast charging
Android 11
Lenovo hasn't deviated from its landscape-centric formula for gaming phones and has doubled down on the concept with their second-generation device, the Legion Phone Duel 2. The company's latest gaming handset has plenty of great things going for it, though many of the same complaints we had with the first generation phone are still present.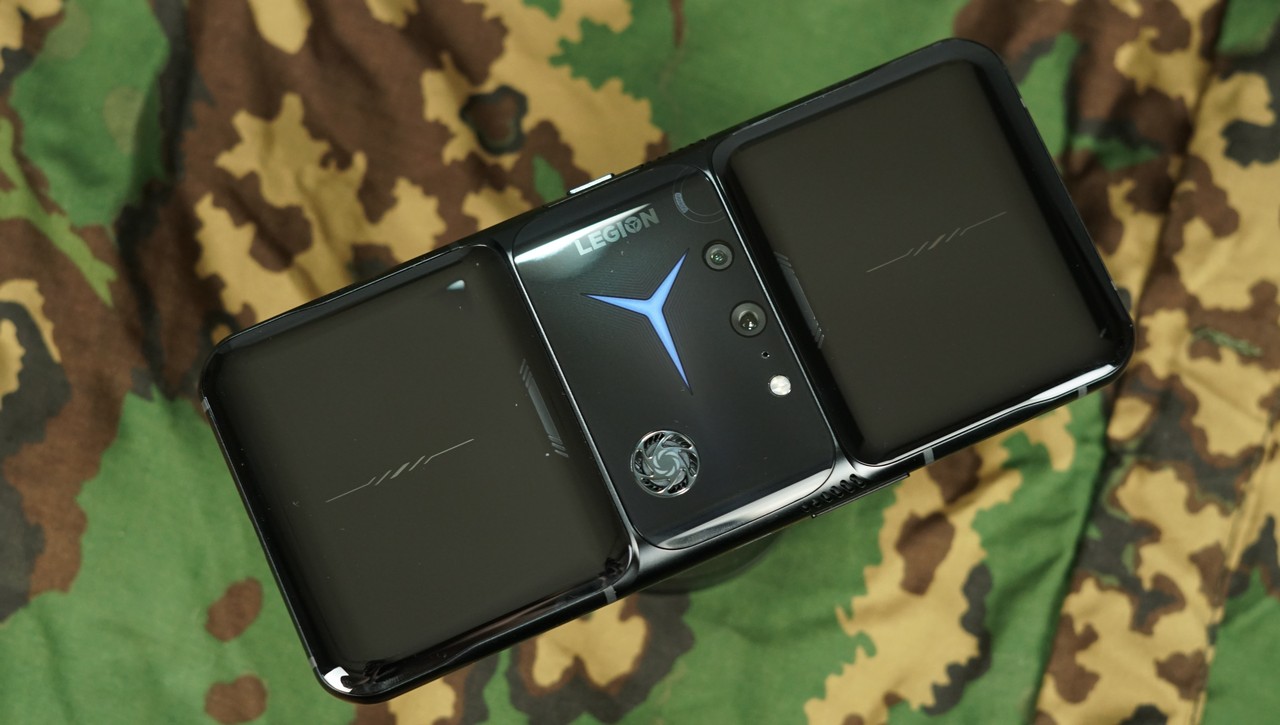 Design
Lenovo's first Legion Phone Duel looked the part of a gaming phone, and that design language hasn't changed with the second iteration. There's no mistaking the audience of the Legion Phone Duel 2 thanks to its large size, RGB-infused logo on the back, as well as the small fan in the center of the chassis.
That being said, the Legion Phone Duel 2 is the most unique phone we've encountered so far design-wise in 2021. A raised central cluster that holds the fan, dual-cameras, the Legion logo, and the Legion branding separates two halves of the phone.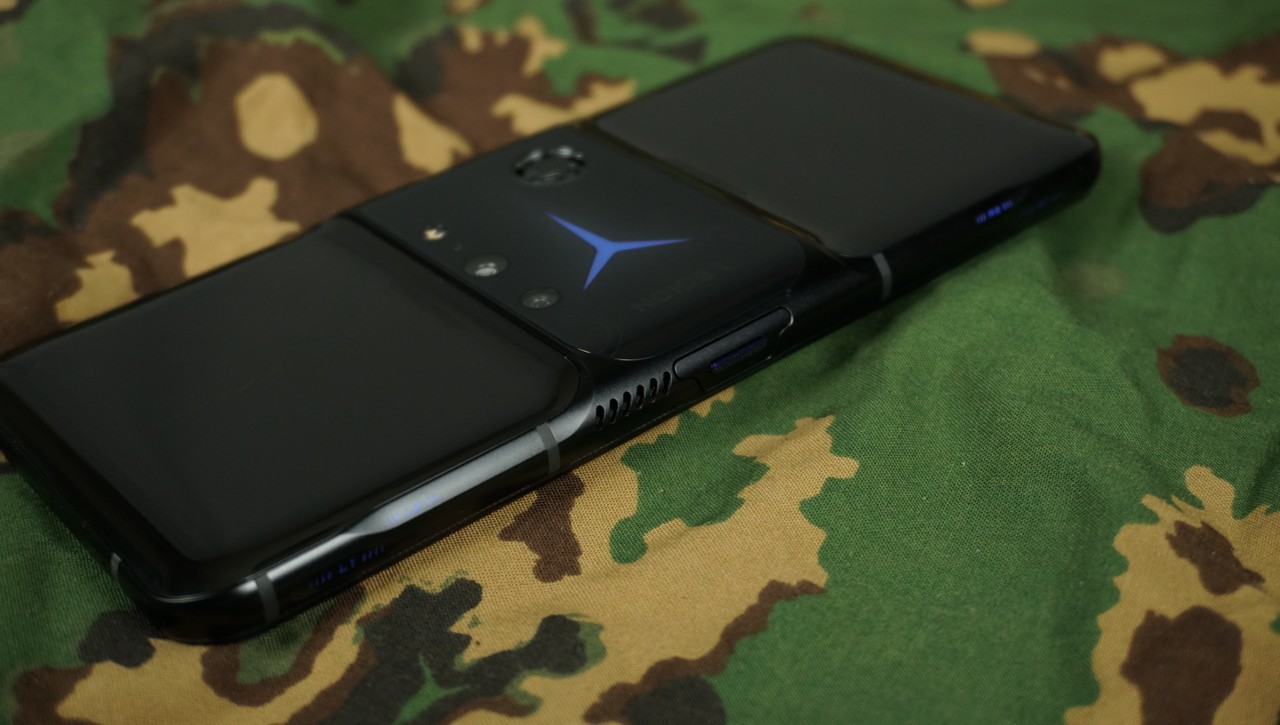 The phone is pretty large, and is a literal handful to use as an actual phone even if you have big hands – we can just imagine how ungainly it is on daintier hands.
The back of the phone is made from glass, with the frame crafted from aluminum alloy. Much like their first offering, the Legion Phone Duel 2 has ultrasonic shoulder buttons on either side of the chassis that give you shoulder buttons when you're playing. The number of shoulder buttons has increased from two to four, giving you twice the amount of buttons to use compared to the first one.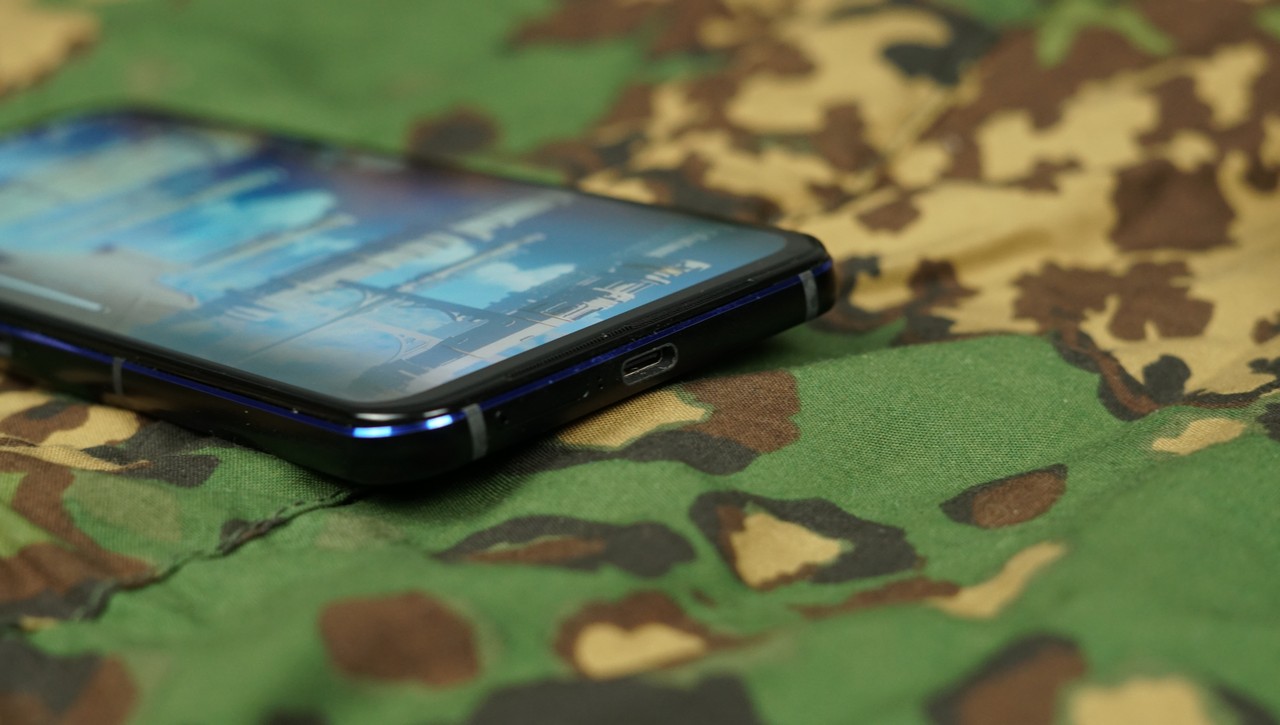 There are two charging ports on the phone – one on the bottom (with the phone in the portrait orientation) and one on the side, sitting right beside the volume rocker. The power button sits on the opposite side (on the right if you're holding the Phone Duel 2 in portrait mode), which coincidentally sits right on top of the motorized camera module. Two forward-firing speakers are fitted on the top and bottom of the screen.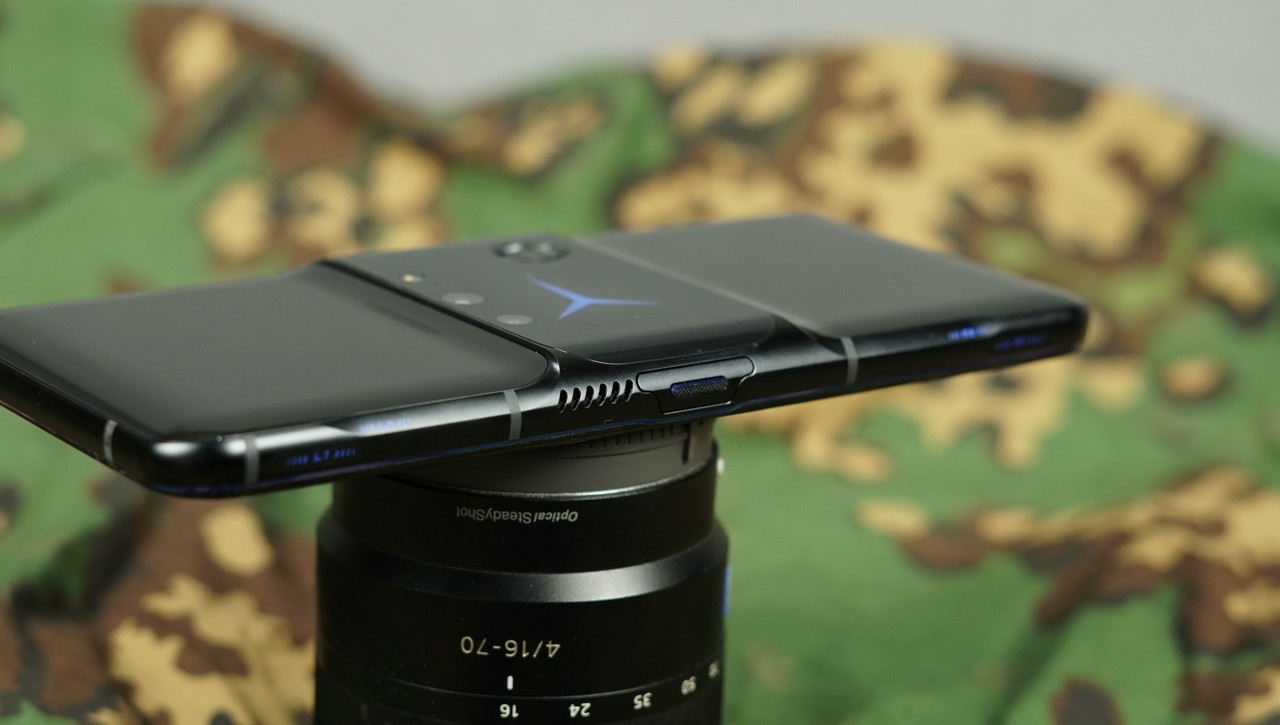 Lenovo's taken an interesting design choice here of putting almost all of the heat-generating components like the CPU and GPU on the middle of the phone where the hump sits (and where that tiny fan is), moving them away from the split batteries on either side.
The phone is designed as a gaming device first and phone second, and most of the phone's features revolve around that mantra. The selfie camera is optimized for streaming (more on that later), and while the device feels awkward to hold in portrait mode one-handed, it feels comfy in the hands when you're holding it in landscape mode. The ultrasonic shoulder buttons (two on each side) are very responsive and gives you remappable controls when you're playing, important in games like COD: Mobile.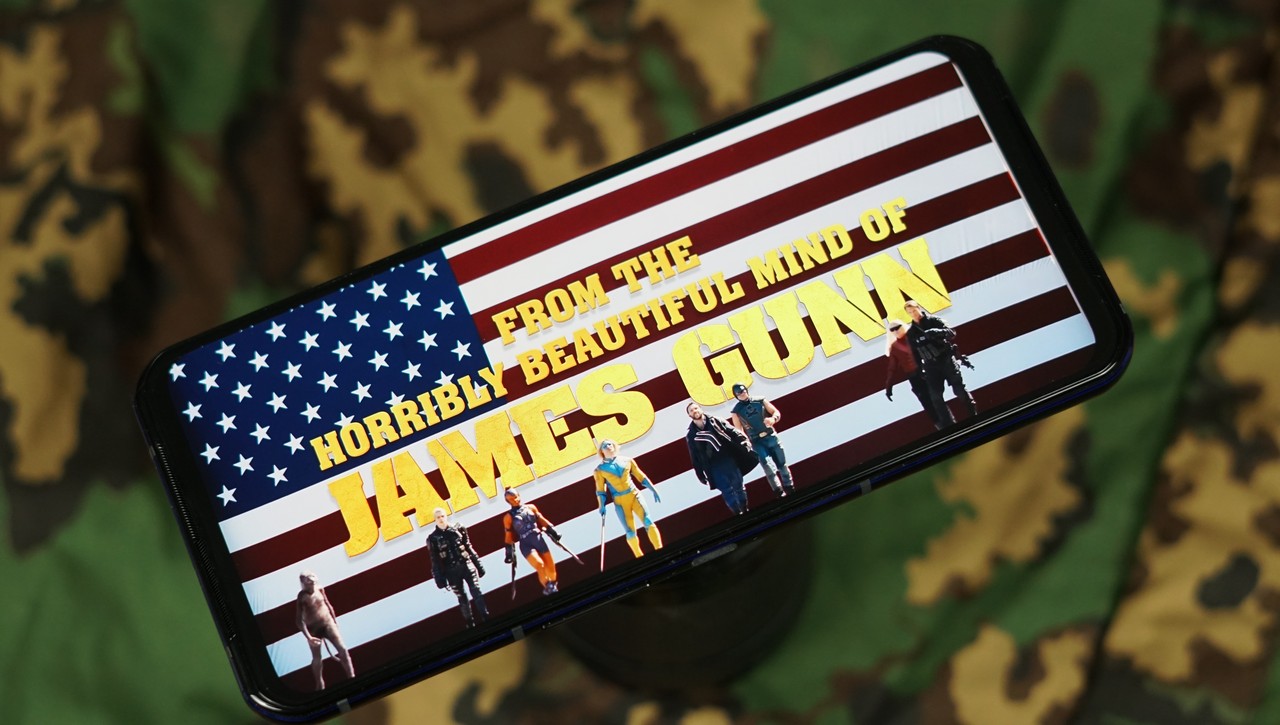 Display and sound
The Lenovo Legion Phone Duel 2 has an absolutely massive 6.92-inch, AMOLED display. It's one of the biggest we've seen on a phone so far, even bigger than the one on the original Phone Duel.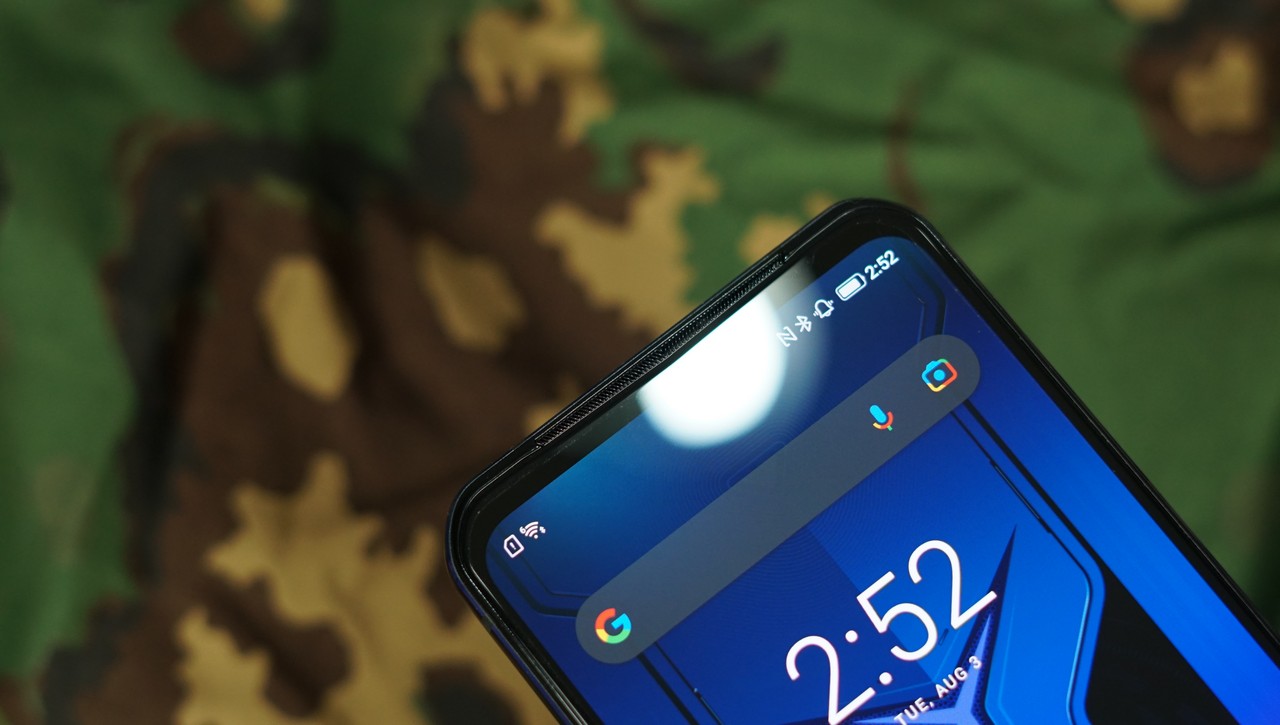 Aside from growing in physical size, the display on the Lenovo Legion Phone Duel 2 packs better specs all around. You're looking at a 144hz refresh rate, 2.8ms response time, 720Hz touch sampling rate as well as 10-bit color capabilities, 1,300 nits of max brightness, plus a display that has 0 cutouts for the selfie camera.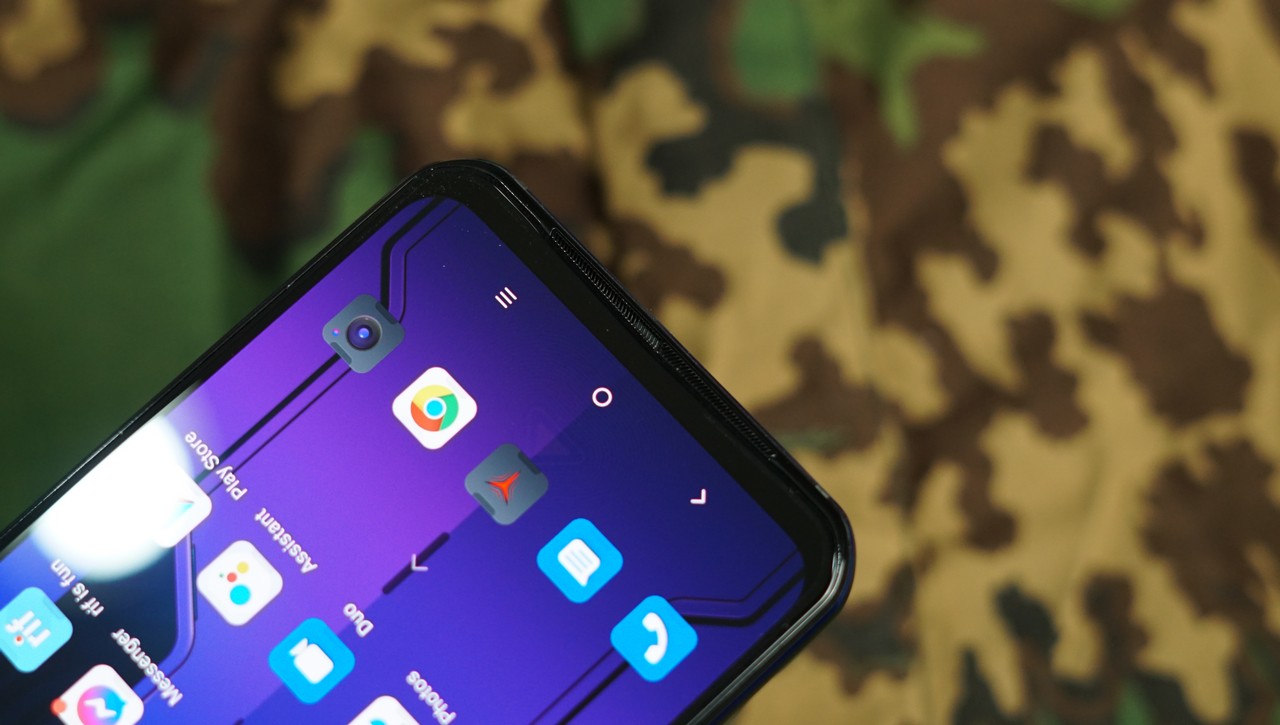 That's because like the original Phone Duel, the Phone Duel 2 has a pop-up, motorized selfie camera module on the side that holds a 44-megapixel selfie shooter. Using it in portrait mode is pretty awkward, though to be fair it's primarily meant to be used in landscape mode for streaming just like the original Phone Duel.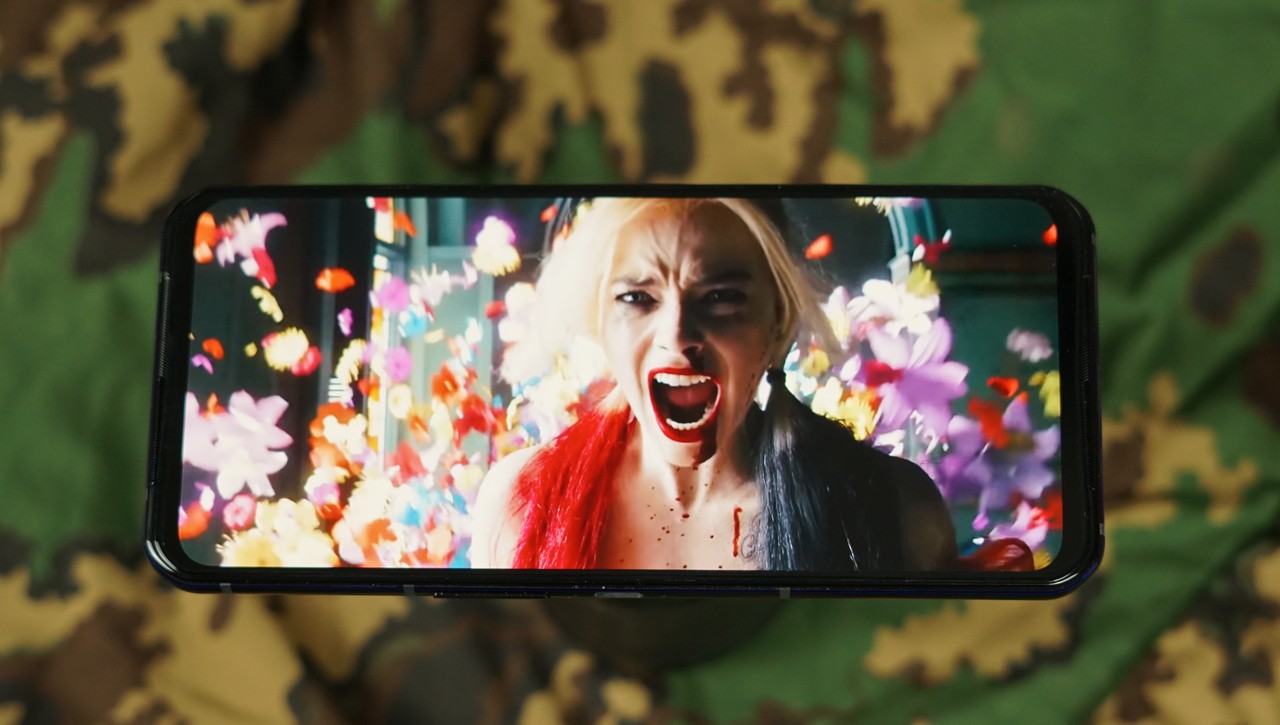 As for the forward-firing stereo speakers, they're incredibly loud – louder than anything we've ever tested so far.
Cameras
The Lenovo Legion Phone Duel 2 has a decent set of snappers on the rear: a primary 64-megapixel camera with an f/1.9 lens and a secondary camera 16-megapixel ultrawide deal with an f/2.2 aperture lens.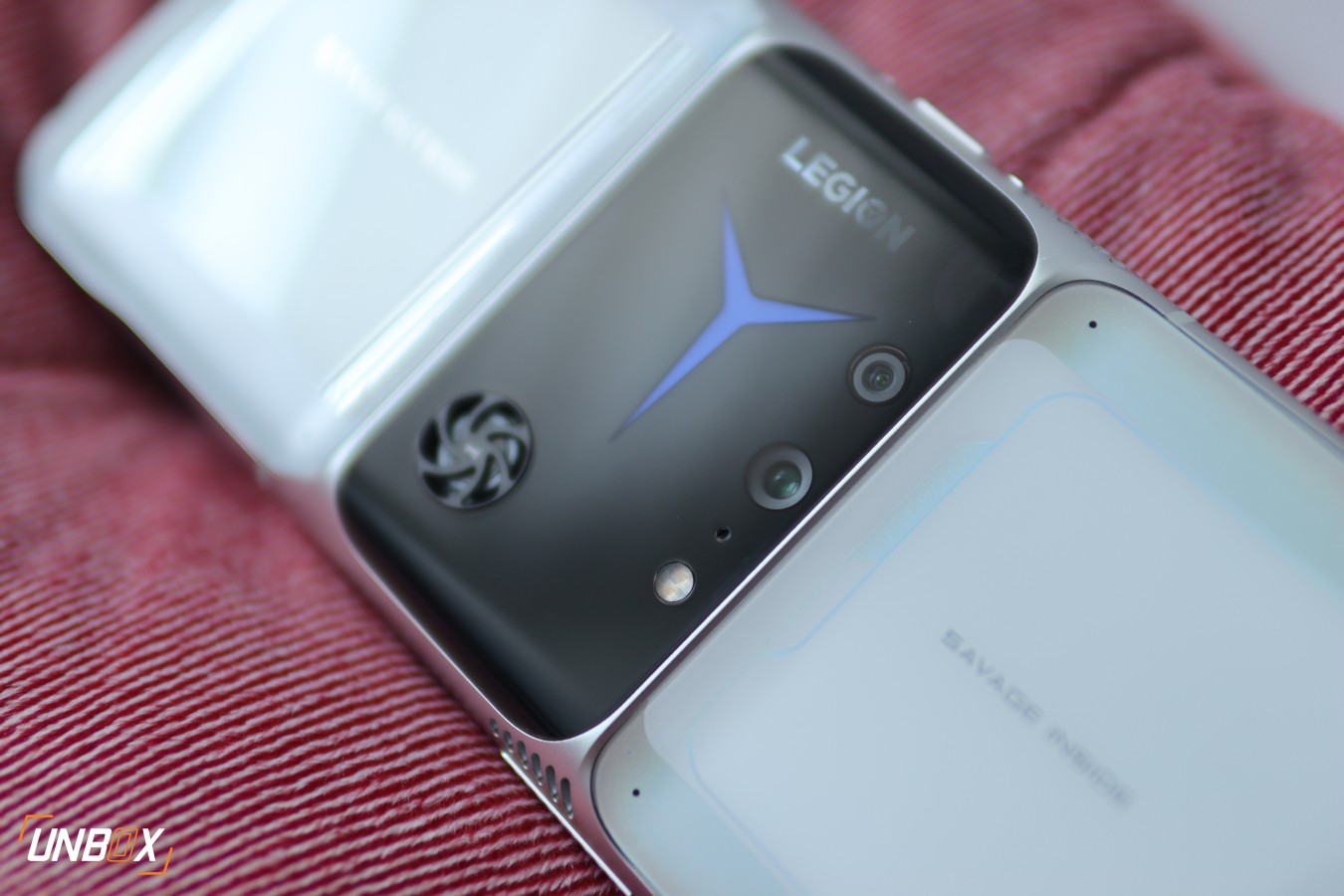 While the Lenovo Legion Phone Duel 2 isn't a device meant specifically for photography, it's still capable of taking good shots when needed. Photos taken with the camera look relatively clear and crisp, with plenty of detail even in challenging shots, or when images were cropped due to zoom reasons.
Performance, software, battery life
The Lenovo Legion Phone Duel 2 uses the Qualcomm Snapdragon 888 chipset and comes with two different variants: one with 12GB of LPDDR5 RAM and 256GB of UFS 3.1 storage (non-expandable) and one with 16GB LPDDR5 RAM and 512GB of UFS 3.1 storage.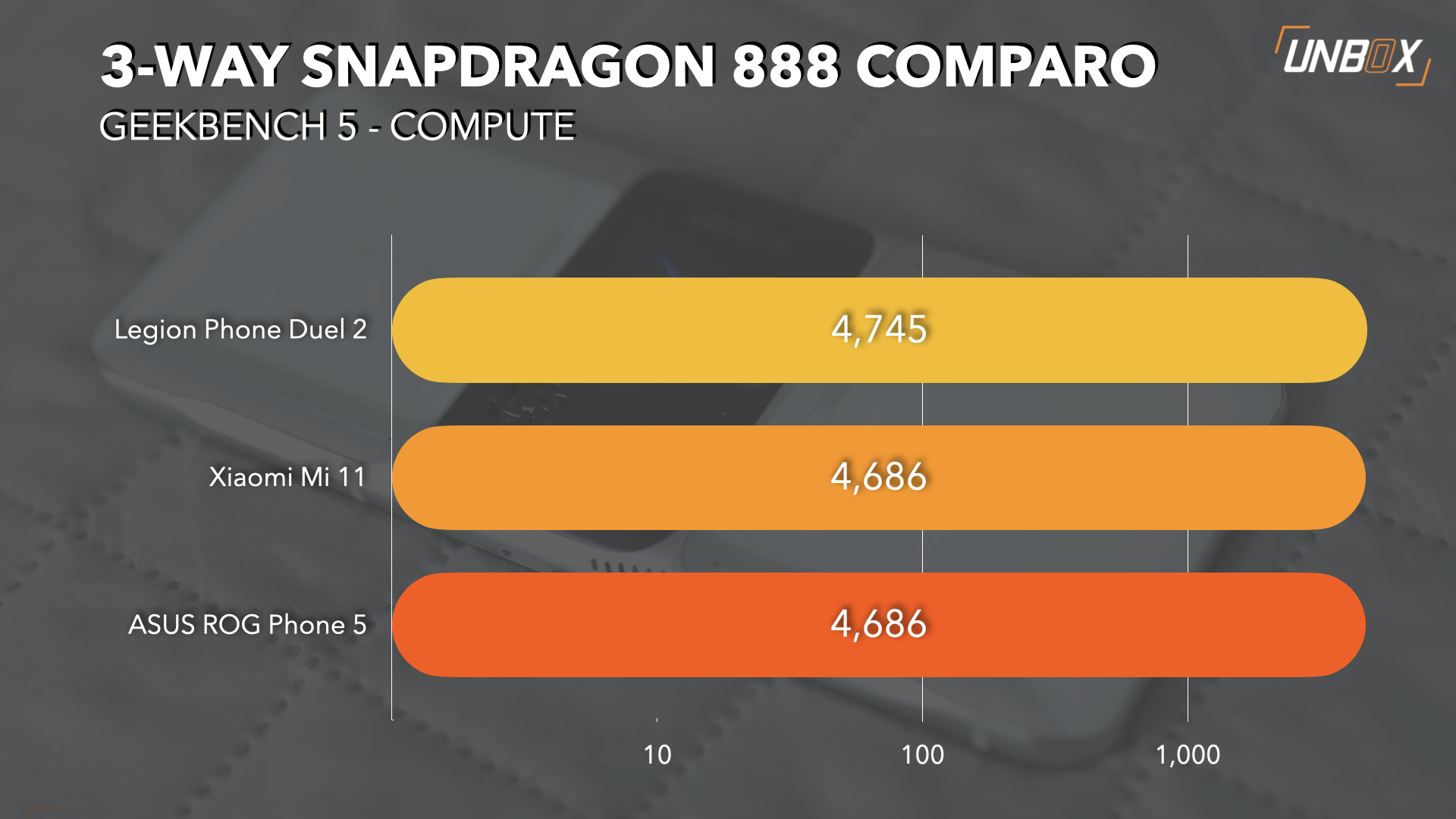 There's really nothing we can add about Qualcomm's top-end Snapdragon 888 chipset that we haven't said already in other reviews. The flagship chip allows high-performance devices like the Lenovo Legion Phone Duel 2 to demolish almost everything you can throw at it, which ensures you can play games like COD: Mobile, Genshin Impact, and other graphically demanding games at the highest graphical level without worrying about lagging or stuttering.
Interestingly, the Lenovo Legion Phone Duel 2 managed to post benchmark scores higher than that of their natural rival, ASUS' ROG Phone 5. The performance gap is small enough that there's no perceptible change in the way either phone handles AAA Android games though.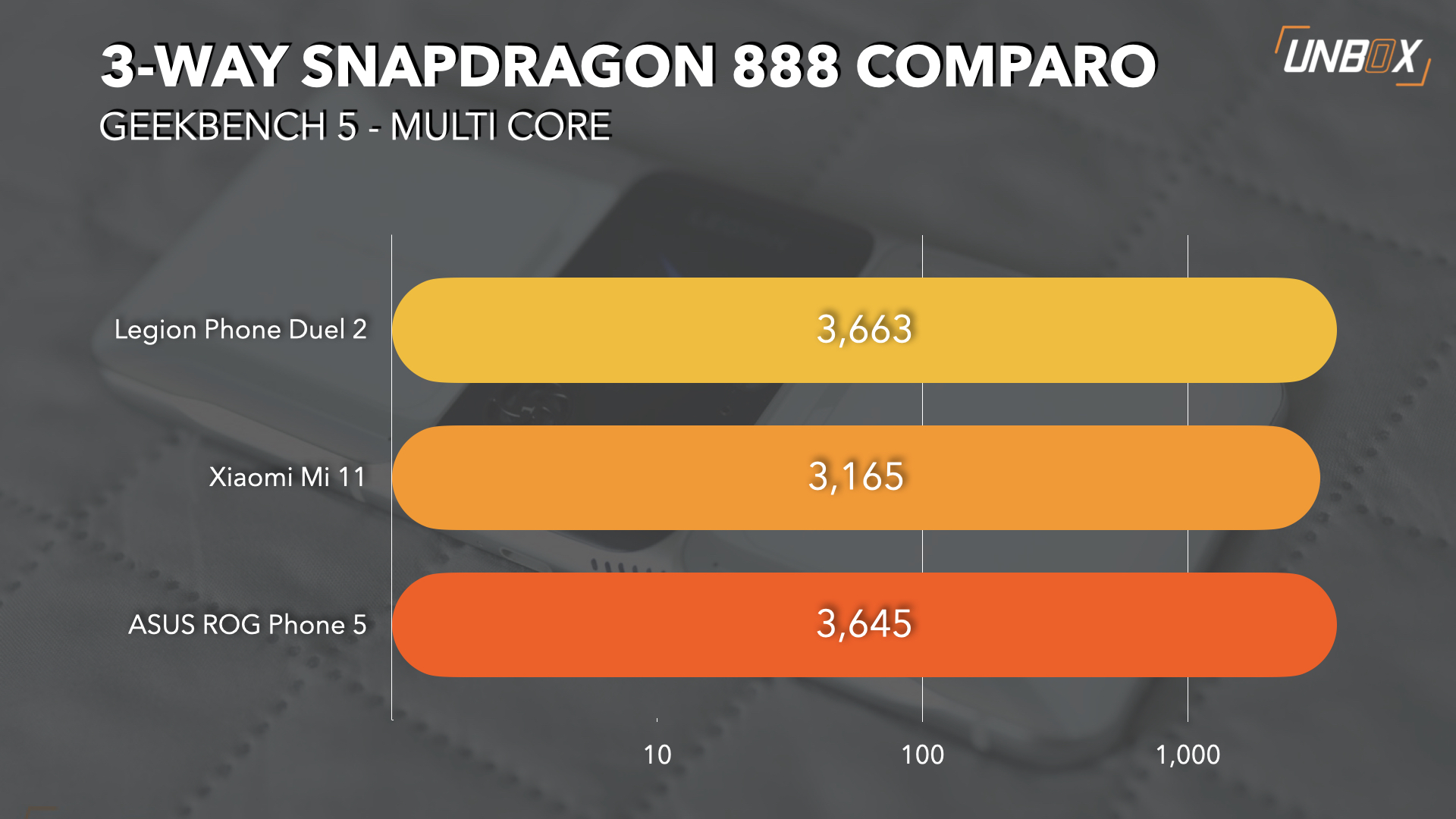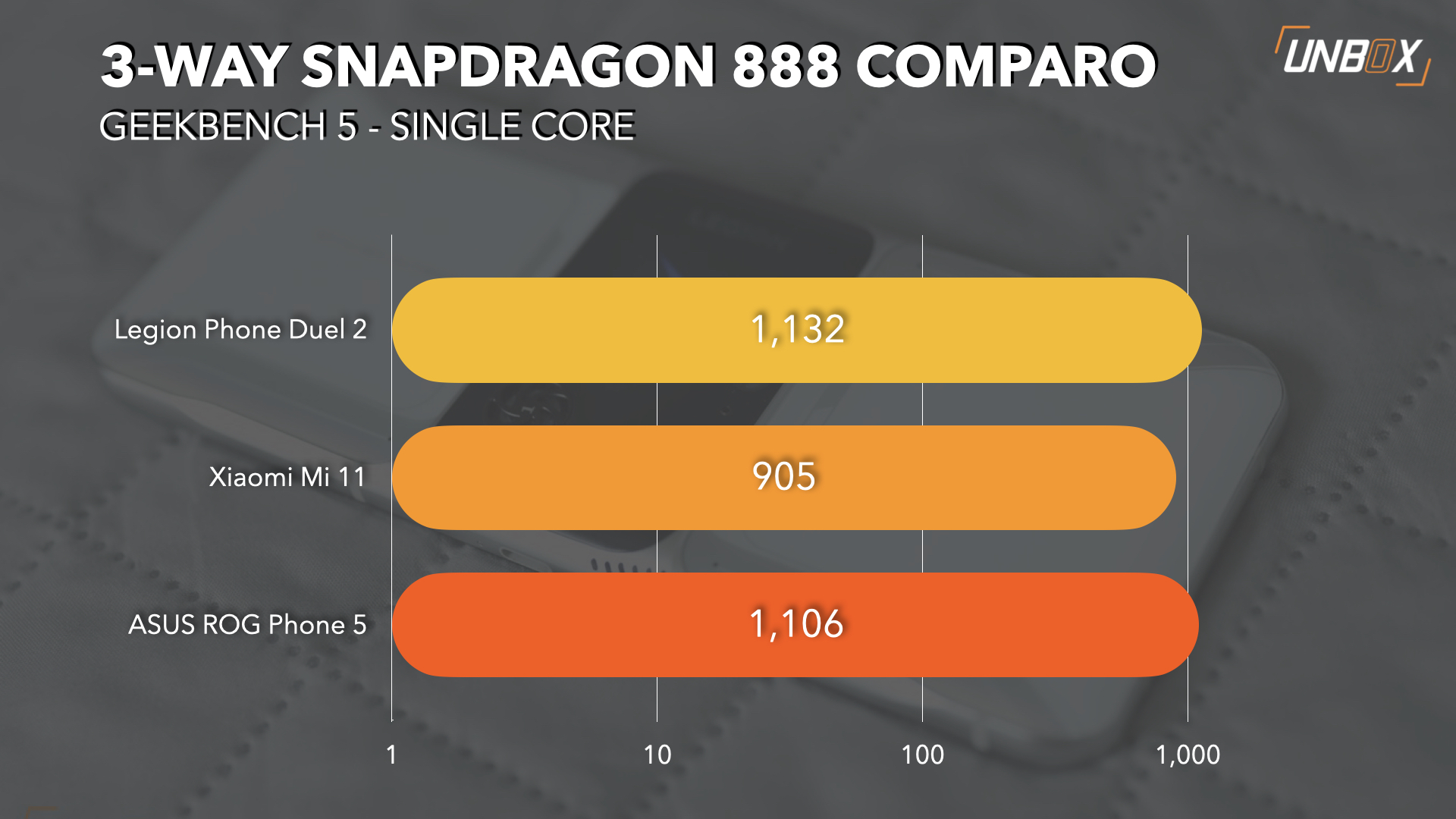 As for thermals, the phone's active fan and special cooling design mostly kept the device from hitting the processor's thermal limits thus preventing thermal throttling. The downside is that that tiny fan can get quite loud, which is both surprising and mildly annoying at the same time.
The Lenovo Legion Phone Duel 2 uses a split 5000mAh battery inside. With the phone set to 144Hz and running our battery drain test, the Legion Phone Duel 2 nabbed an overall run time of 13 hours and 45 minutes, which is pretty impressive, considering the size of the display. You can quickly top off that battery using the phone's 90W charger, though take note you'll need to use both USB Type-C ports to do so.
The phone packs Android 11 and uses Lenovo's own ZUI 12.5 overlay on top. Like we mentioned earlier, the device is catered more towards landscape use thanks to its gaming-oriented features, and most of ZUI 12.5's features reflect that. And much like other gaming phones, ZUI 12.5 allows you to tweak the performance settings of the phone to your liking, though don't expect PC-like levels of customization and control here.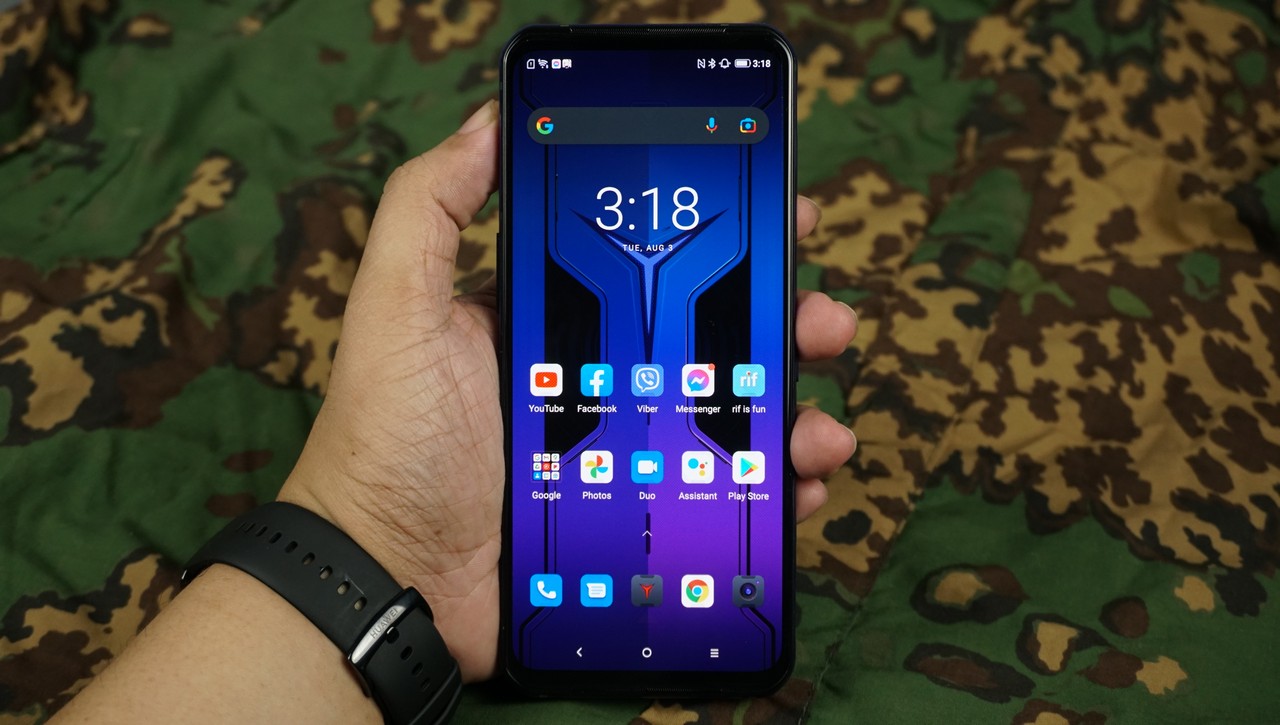 Wrap-up and verdict
The Lenovo Legion Phone Duel 2 is a very powerful phone as we've found out in our review of the device for the Philippines but prospective buyers need to be aware that they're essentially buying a device that prioritizes the gaming experience first, and the phone stuff second.
That aside, the Lenovo Legion Phone Duel 2 is a great phone for Android gaming, thanks to its powerful innards and gamer-centric features, as well as its long battery life. Probably the only thing we'll knock it for is the lack of gaming accessories that's available for it, unlike its main rival, though if you're looking for pure performance, it's hard to find another phone quite like it.
Lenovo Legion Phone Duel 2 Review Price Philippines
The Legion Phone Duel 2 is priced at Php 39,995 for the 12GB/256 GB variant and Php 49,995 for the 16GB/512GB variant.