Review verdict: The Lenovo Legion Tower 7i for the Philippines might just be the solution people are looking for to building a powerful gaming PC without overpaying for a GPU in the Philippines.
Pros
Roomy interior
Excellent performance from the components
Price is worth it considering the current GPU market
Cons
No Thunderbolt port
Lots of bloatware
2022 is both a fantastic and terrible time to be a PC gamer. Plenty of great are dropping (and have dropped) for the platform, but GPU prices to build a rig to play those games are still incredibly insane. Hardcore PC gamers who want to build a powerful gaming rig nowadays are left with a few options: either take the hit and pay top peso for GPUs that have ridiculous pricing or buy pre-built machines that have some semblance of rationality in their sticker price once you go over the components in them. Lenovo's Legion Tower 7i is one such pre-built and offers fairly powerful hardware for the price.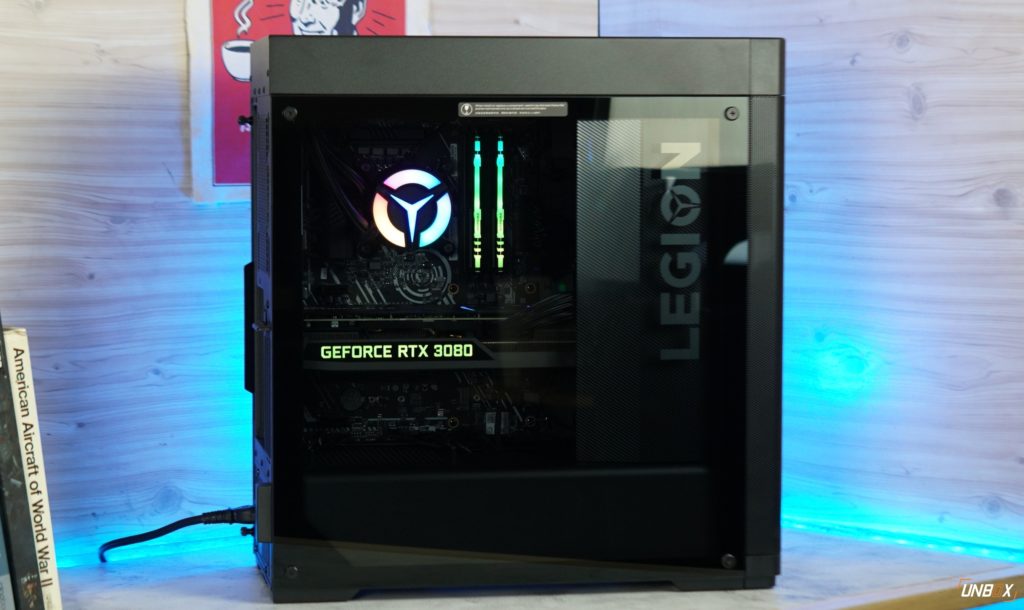 Design
The design of the Lenovo Legion Tower 7i is simple and practical, which isn't what you'd typically expect from other pre-builts from their competitors. While it does offer some unique Lenovo-specific styling in the form of a Legion LED light in the front of the chassis and the word Legion set right on the glass side panel, the Legion Tower 7i looks a lot like your typical PC tower.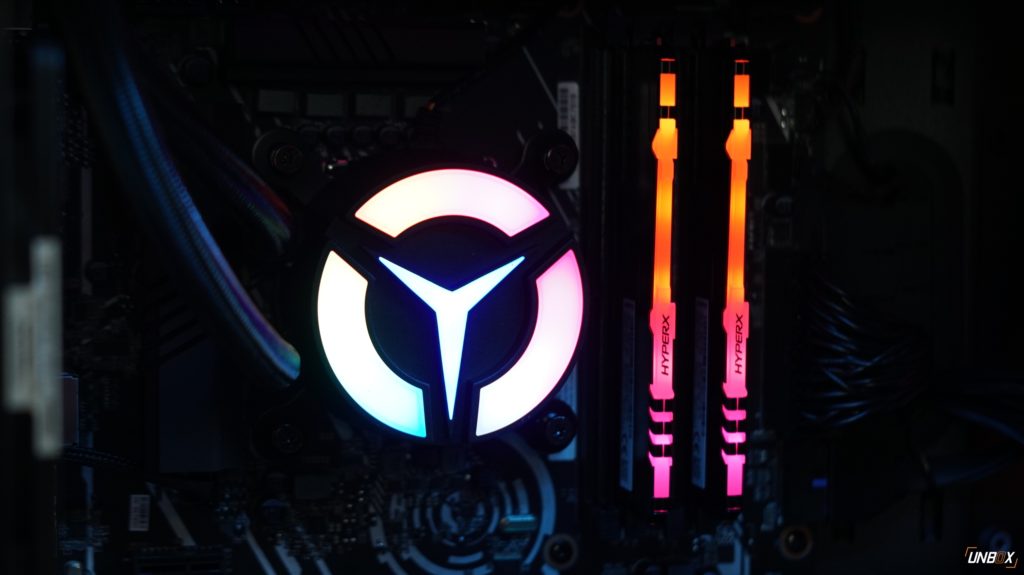 That's a plus for most users, as it means the chassis and its internals can be re-used and upgraded as it gets older. There are no special mounting brackets here nor Lenovo-specific, non-standard parts in the chassis – from the looks of it you can easily swap out the coolers, GPU, PSU, memory, and motherboard depending on your upgrade path down the line.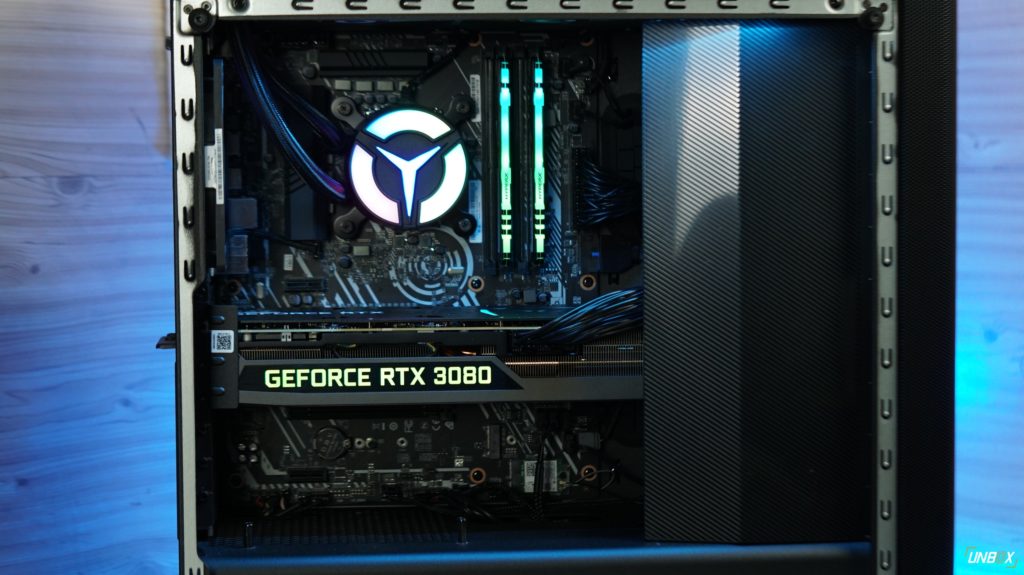 The Legion Tower 7i is around 27.6 lbs in weight (around 12.5 kilos) and has an internal volume of 34 liters. The 850W gold PSU is located on the bottom and is accessible via the removable metal panel on the side. There's space in front of it for two traditional hard drives.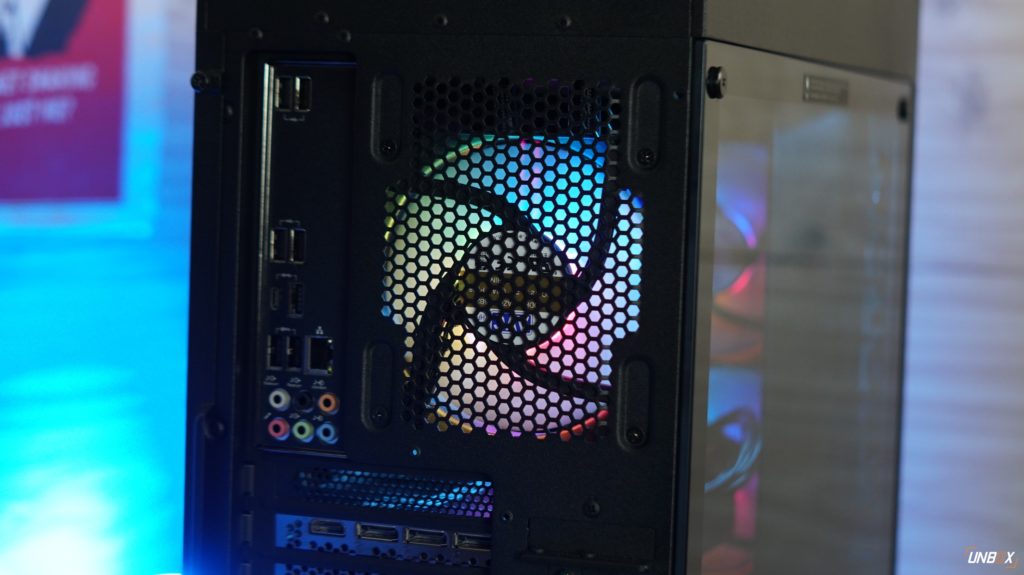 The cable management is good all-around which isn't what you typically see on most pre-built gaming PCs nowadays. The processor is liquid-cooled by a two-fan AIO mounted at the top that has RGB lighting, and there are four additional case fans to promote airflow in the case. All case fans and the AIO have RGB lighting that's controlled via Lenovo's Vantage software installed in the PC.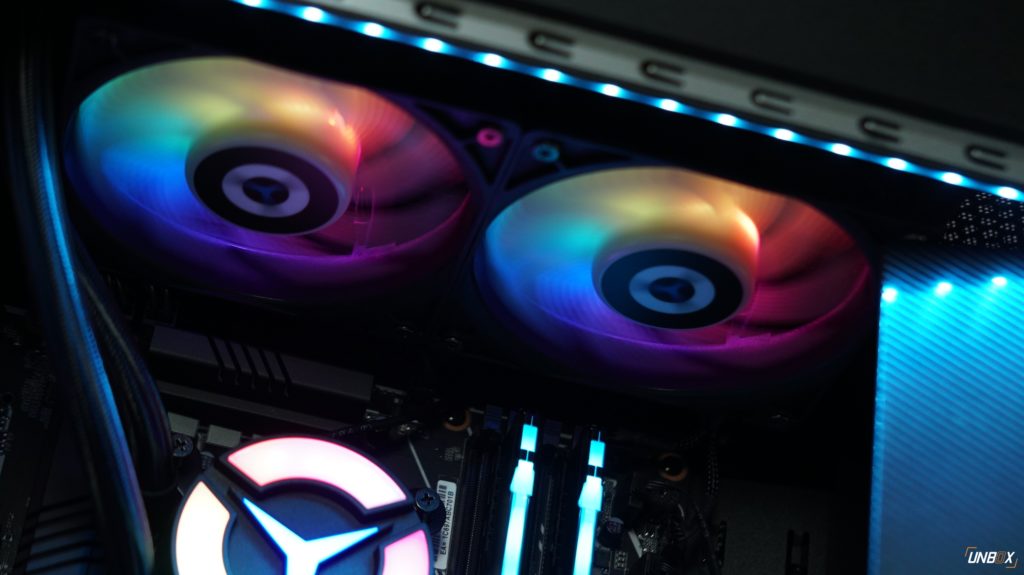 There are two sticks of 8GB DDR4 3200MHz memory in the chassis, which gives the Legion Tower 7i a total of 16GB to work with. The configuration of the desktop sent to us only had 500GB of NVMe SSD storage to work with, though to be fair, it looks to be a high-quality Samsung M.2 SSD (specific model number is the Samsung PM9A1 MZVL2512HCJQ).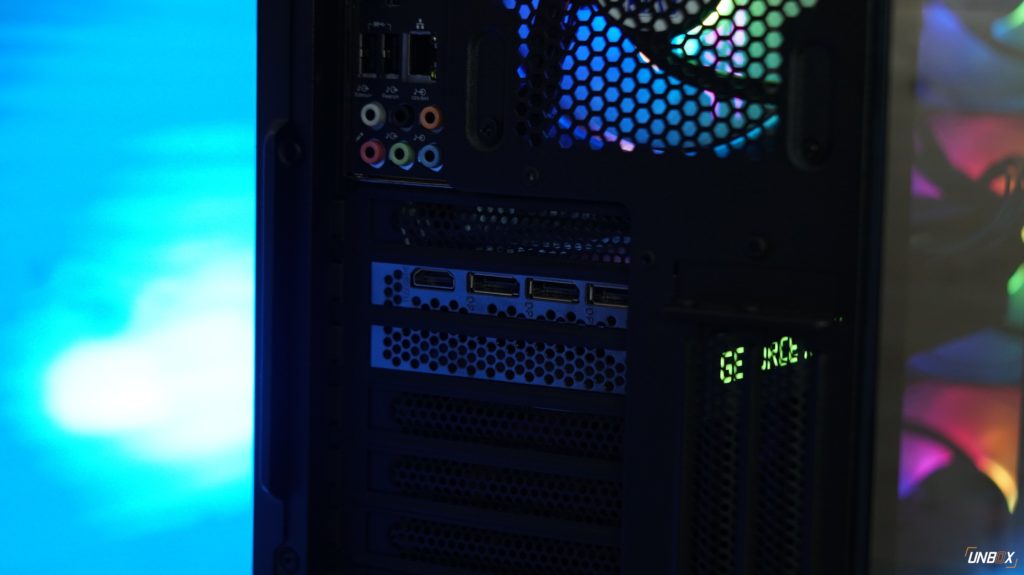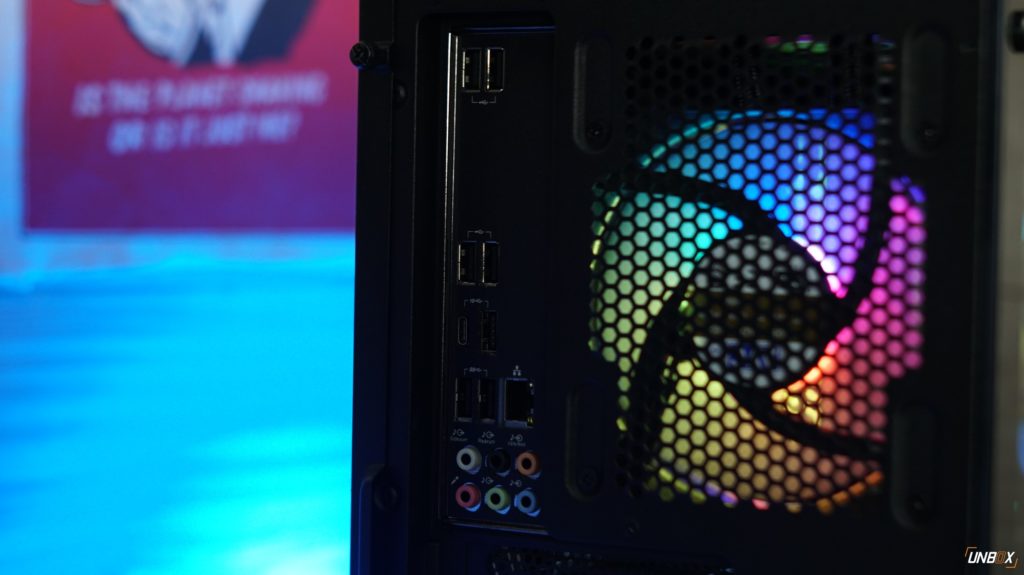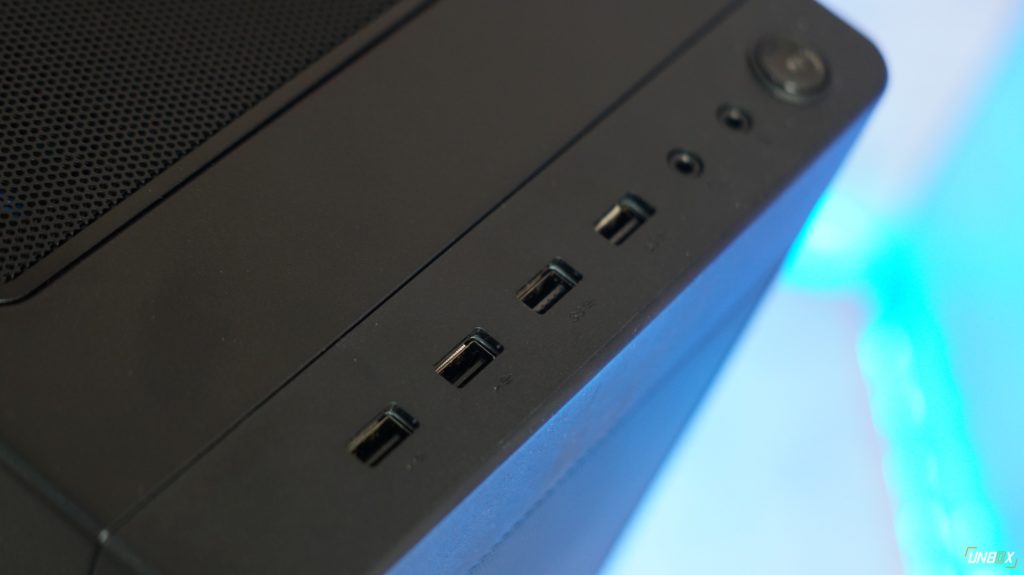 There are plenty of USB slots in the back and at the top of the tower, along with 3.5mm jacks for a microphone and wired headphones. There's a single Type-C connector on the back as well, though sadly there's no Thunderbolt capability present in the chassis.
Hardware, performance, software
The Lenovo Legion 7i comes in a variety of configurations, with the one sent to us for review bearing an Intel Core i7 11700K processor, along with 16GB of Kingston HyperX RGB DDR4 3200MHz RAM, 500GB of NVMe M.2 SSD storage, and an NVIDIA RTX 3080 GPU.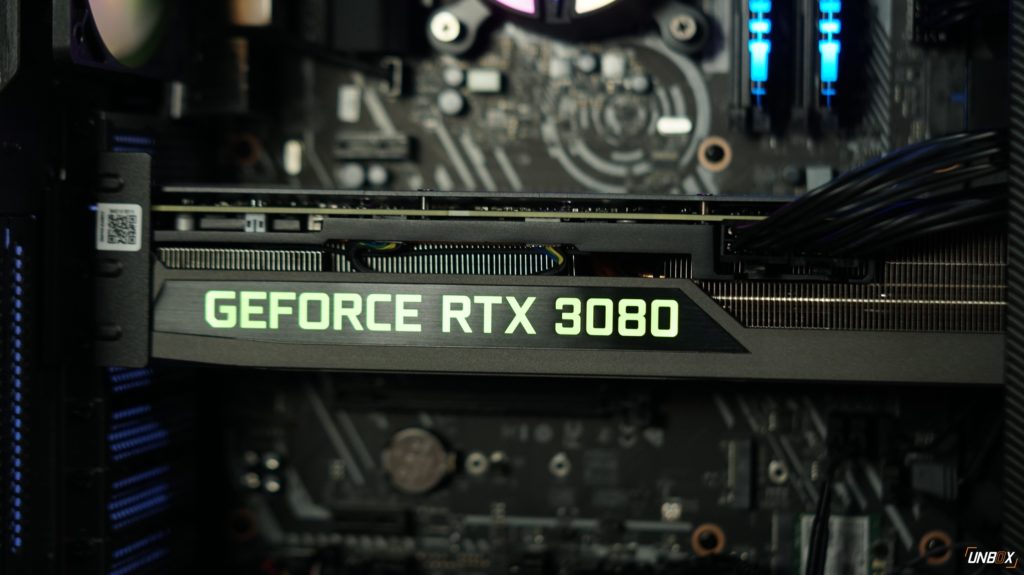 The motherboard is a Lenovo branded one and very likely OEM'd for them for use in their towers, though it looks to be of good quality, though I would be very hesitant to overclock the processor despite it being an unlocked model out of caution. The motherboard has both WiFi 6 and Bluetooth wireless radios built-in.
The GPU doesn't look like a Founder's Edition model and is likely OEM'd to Lenovo much like the motherboard is. It uses a typical three fan design that's favored by most OEMs like ASUS and MSI and has a metal back panel for added strength and rigidity. There are RGB lights here too, and much like the ones in the chassis, it's controlled by Lenovo's Vantage software.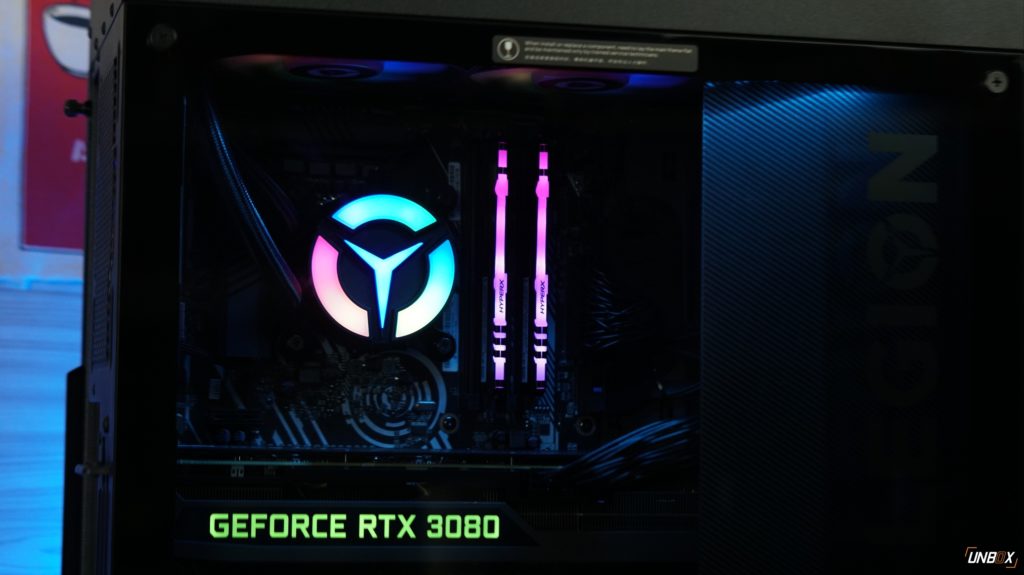 Let's take a look at the performance of the Legion 7i, and for that, we'll be matching it up with two similarly-built systems on the AMD side of things that both have RTX 3080 GPUs to gauge how much performance you're getting out of the desktop.
Overall the Legion Tower 7i performs very well VS the hardware we've put it up against. While it does lose out on the AMD-powered systems (especially on lower resolutions), take note that Intel's 11th gen chips aren't that much of a match VS AMD's Ryzen 5 series, especially the ones we had on hand to compare the tower with. That being said, the Legion 7i is still a pretty powerful system that's capable of running most triple-A games past 60 frames on an ultra-wide 1440p display no problem.
As for temps, the RTX 3080 maxed out at 71 degrees Celcius, with typical temperatures hovering around 70 degrees Celcius during most of our game time. Take note this is in a climate-controlled room (AKA airconditioned room) at a constant 25 degrees Celcius. The Intel Core i7 11700K processor hovered around 72 degrees Celcius on full load during gaming.
We don't have an audiometer to measure the Legion 7i's overall noise levels at max performance, but it was pleasantly quiet. The fan curves aren't aggressive on the Legion 7i which contributes to the lower acoustical signature from it.
The Legion Tower 7i comes with Windows 10, though our review unit automatically updated to Windows 11 as soon as we connected it to the internet as part of our setup process. Speaking of software, the one thing we didn't like about the Legion Tower 7i is that it comes pre-installed with a bunch of annoying bloatware. The bright side here is that you can uninstall them yourself.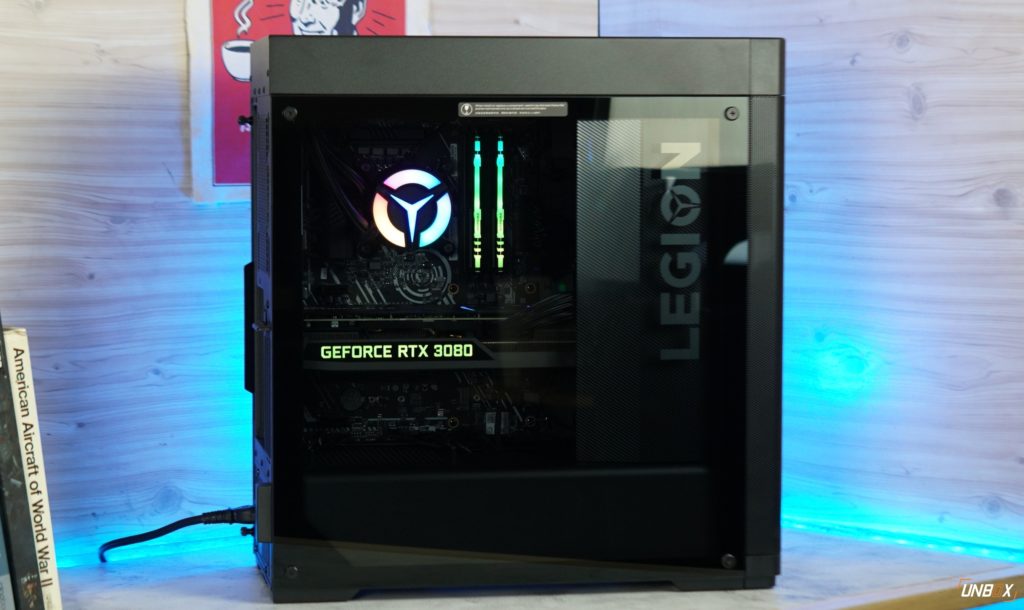 Wrap-up and verdict
Our Lenovo Legion Tower 7i review ends up being a positive endorsement for the desktop, especially if you're in the Philippines and are looking for a powerful machine for both work and play.
While the desktop's Php 129,995 overall price is steep, a cursory look at the current GPU prices in the Philippines are still hovering around Php 60K to Php 70K, which is already half the price of the tower. Building your own PC with the inflated prices right now is still a nightmare, making the choice to go with a pre-built desktop a bit easier.
Lenovo Legion Tower 7i Review Philippines Price
The Lenovo Legion Tower 7i is priced at Php 129,995 for the Core i7-11700K version and Php 149,995 for the Core i9-11900KF version. You'll also be getting Lenovo's Legion K300 gaming keyboard, Legion M300 gaming mouse, and Microsoft's Office Home and Student 2021 when you buy the desktop.