Review verdict: The MSI Katana GF66 is a competitively-priced gaming laptop in the Philippines for anyone whose tired of waiting for GPU prices to come down, though it's clear from its pricing that even gaming laptops are starting to get affected by GPU pricing.
Pros
RTX 3050 graphics
Fast 144Hz refresh rate
Cons
Numpad is a little tight
Small battery
Bad battery life
With GPU pricing approaching ridiculous territory the past few months (30K for GTX 1660 Supers WHAT), more and more hardcore PC gamers are turning to buying gaming laptops instead of paying ridiculous prices for hardware. Is the MSI Katana GF66 a good gaming laptop to upgrade to for RTX graphics?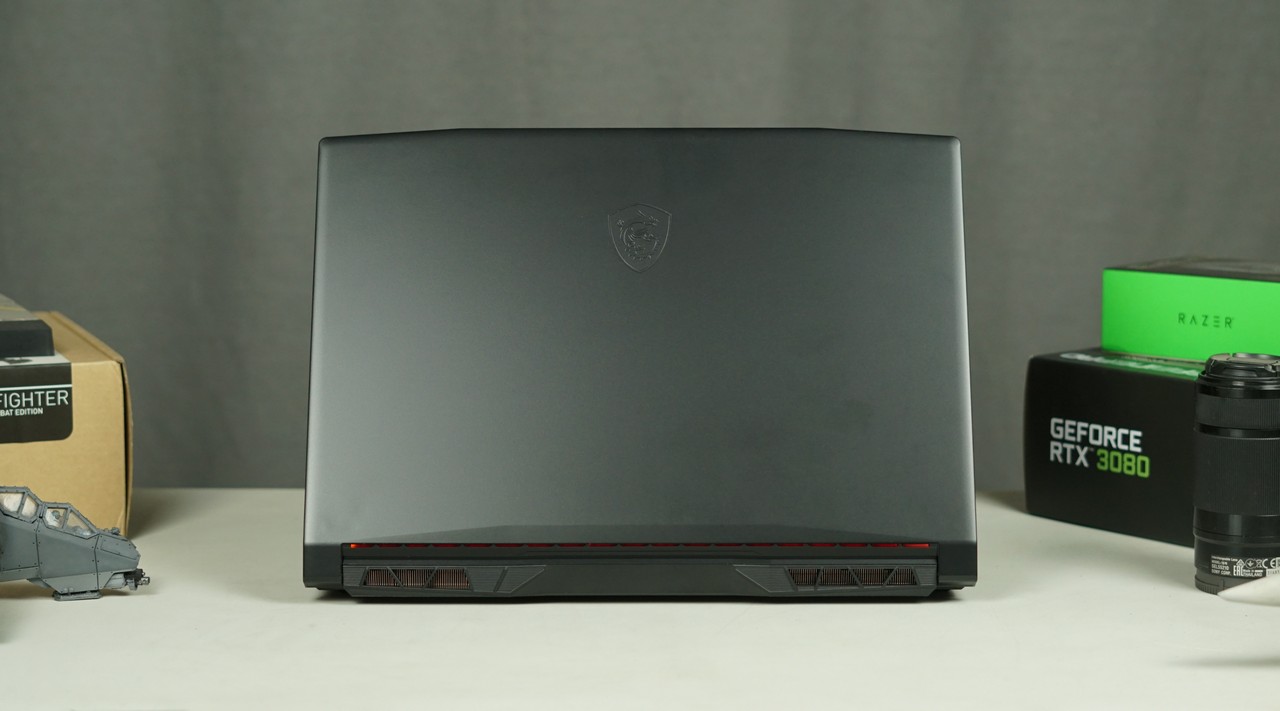 Design
The design for MSI's more entry-level gaming laptops is pretty straightforward if a little bulky. There are no obvious creaks or rattles with the Katana GF66, though as far as designs go it's a little uninspired.
The all-black aesthetic and chunky overall design make the Kata GF66 feel a little out of place with MSI's other, sleeker offerings, though that's to be expected with more affordable offerings like this one.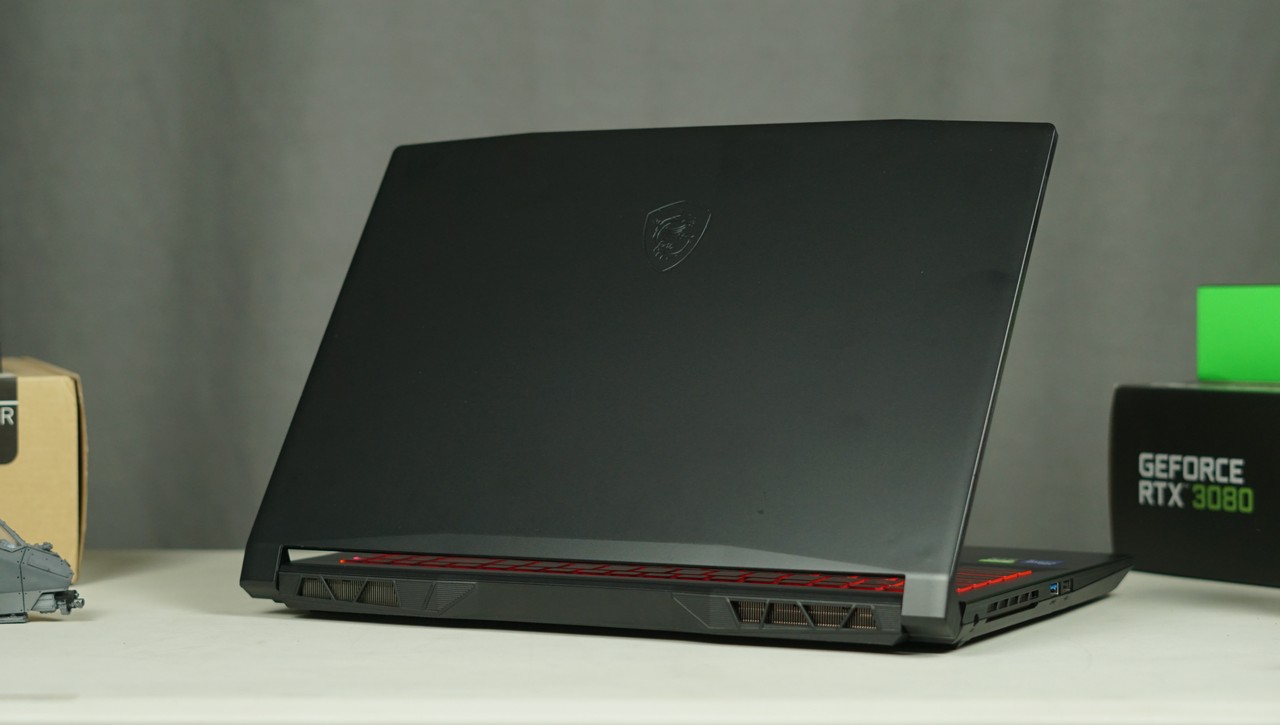 The good news is that build quality looks fairly good, and the thicker chassis means there's a bit more space for air to circulate the chassis to cool the components when you start gaming. There's no RGB illumination in sight (and you're only getting a red backlight on the keyboard) which may or may not be a problem depending on personal taste.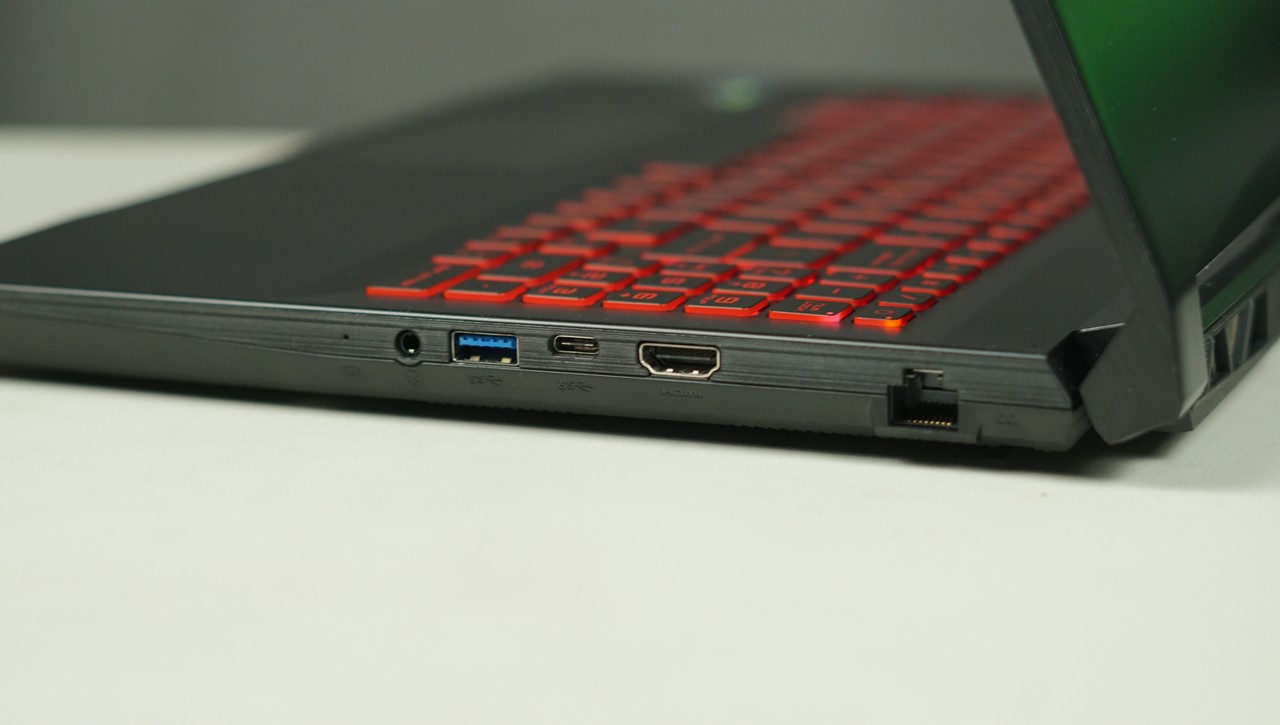 Port selection is good – there's a USB 2.0 and USB 3.2 Gen 1 Type-A port on the left side of the chassis, while the right side houses the USB 3.2 Gen 1 Type-A, a USB 3.2 Gen 1 Type-C, combination audio jack, Gigabit Ethernet and HDMI out.
Display
The laptop's lid is typical of what you'd expect from a budget gaming device. It's mostly made from plastic, with a 720p HD webcam right at the top of the bezel.
As for the actual display, you're looking at a 144Hz refresh rate panel with a 16:9 full HD+ resolution.
While the display looks ok to our eyes while playing, using our Spyder5Elite colorimeter to analyze the panel on the MSI Katana GF66 shows that it's not really something you'd pick to use for serious photo or video editing since it only covers around 60% of the sRGB color gamut. Peak brightness is at 194.1 nits with the display at 100%. Delta E values come in at 3.02 average.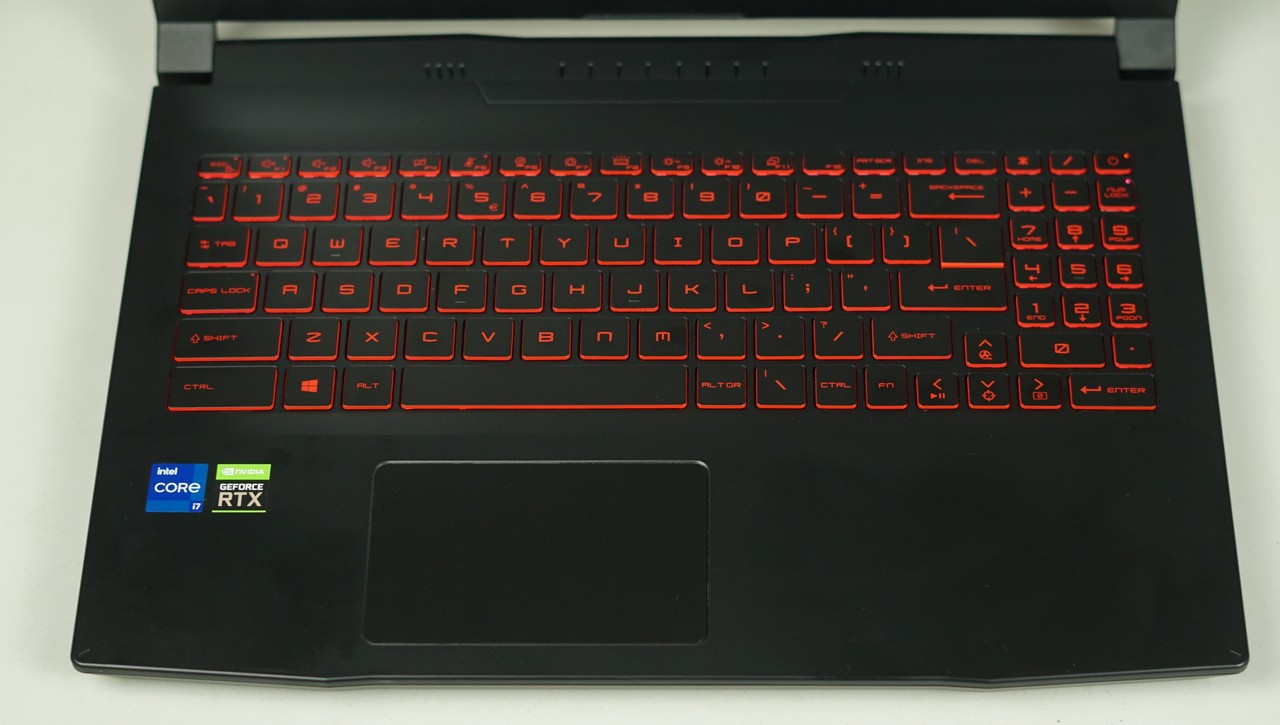 Keyboard and trackpad
The keyboard on the GF66 is big enough for the most part, though it does have a compressed Numpad at the end which is a little tough to use if you're used to full-sized QWERTY keys. Key travel is ok – it can be a bit better but it's not bad per se. The keys are backlit, though unfortunately the backlight can't be changed since there's no RGB option here – sadly you're stuck with the red keys on the laptop.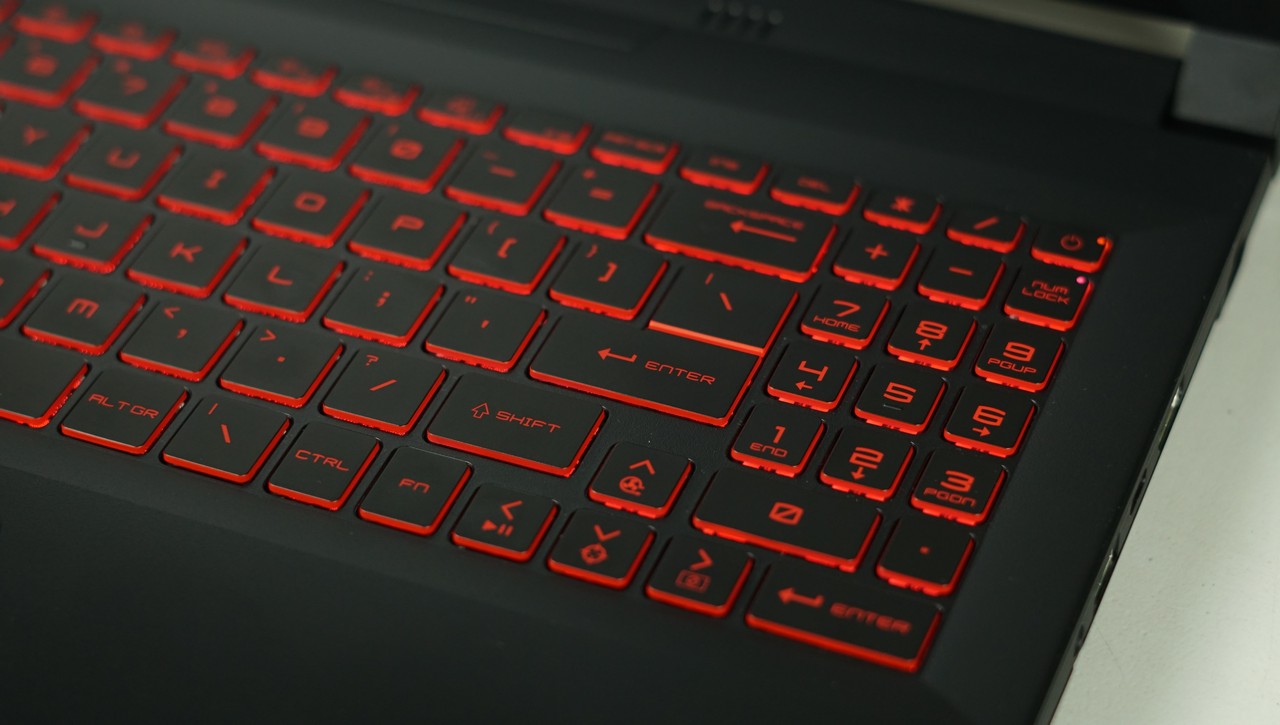 The trackpad is good enough if you're traveling around with the laptop, though obviously, you'd want to use the included mouse when you're actually gaming.
Performance and battery life
The MSI Katana GF66 comes in a variety of configurations, with the review unit lent to us for the Philippines sporting an 11th generation Intel Core i7 11800H processor with 8GB of DDR4 3200 RAM and 500GB of M.2 PCIe SSD storage.
Graphical muscle is provided by NVIDIA's RTX 3050 GPU, though the laptop can also be had in other configurations with a better RTX 3060.
The RTX 3050 GPU in the GF66 sports 4GB of GDDR6 memory, along with a 1500MHz boost clock, and a 60W TDP.
Benchmark results from multiple runs show that the RTX 3050 GPU in the MSI Katana GF66 is barely able to achieve 60FPS on some games in full HD resolution, and in some cases (like Dirt 5 for example) is limited by its VRAM.
Turning down graphical settings for games will help, and take note that the hardware on tap here is more than enough to drive less graphically demanding competitive FPS games like Valorant and CS GO past 100 FPS so that 144Hz refresh rate is still useful if you're a competitive gamer.
CPU temp while playing maxes out at 93 degrees Celcius, while temps for the GPU reached around 84 degrees Celcius. The default fan curve tries to balance noise and thermals to acceptable levels, though if you really don't care about fan noise you can hit the fan shortcut that cranks the fans to 100%. Max fan speed drops temps to more acceptable levels (down to 73 degrees for the GPU and 85 degrees for the CPU) though it'll annoy anyone around you not wearing headphones.
Battery life is frankly, pretty bad – our standard battery runtime test returned a result of 1:49 minutes. Clearly, this laptop should be used plugged into a wall socket.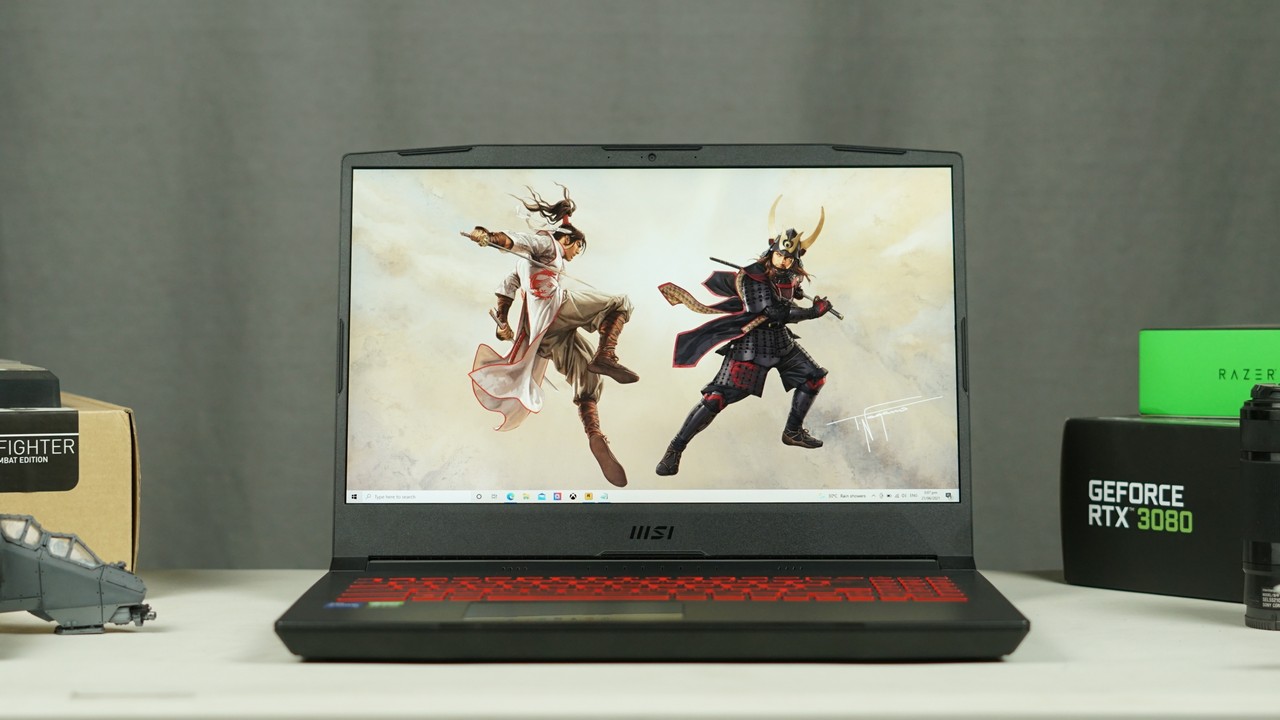 Wrap-up and conclusions
Our MSI Katana GF66 review for the Philippine market is a pretty mixed bag. On the one hand, it's pretty competitively priced (considering the other options at the market as of press time) at a hair below Php 70K for the unit we reviewed. Its screen is fairly ok, and anyone looking for a laptop to play competitive FPS games will be happy with the fast 144Hz refresh rate.
On the other hand, the RTX 3050 GPU struggles to deliver 60FPS gaming with modern titles at max graphical settings, which means you'll have to turn down the graphics on your favorite games to get that 60FPS target. Of course, you can leverage the power of NVIDIA's ray-tracing tech, though obviously, not all games support it.
MSI Katana GF66 Review Philippines Price:
The MSI Katana GF66 is priced at Php 69,995 for the unit we reviewed for this article. You can buy it in Lazada here.