Review verdict: The vivo V21e and V21 5G are hi-res, no compromise selfie monsters meant for the TikTok generation in the Philippines. These are perfect phones for anyone who values selfies first, though potential buyers will have to pay premium prices for them.
Pros
Beautiful designs
Excellent battery life
Great selfie cameras
Slim design
Cons
vivo V21 5G specs
Dimensity 800U 5G
8GB RAM
128 Storage
6.44-inch FHD+ AMOLED, 1080 x 2400, 90 Hz
64-megapixel f/1.9, 8-megapixel f/2.2, 2-megapixel f/2.4
44-megapixel f/2.0
4G / 5G
Wifi, Bluetooth 5.1, fingerprint scanner
4000 mAh with 33W fast-charging
Android 11, Funtouch 11.1
The equally sleek v21e sports a slim width of 7.38mm. This device is primed and ready for your photography adventures. Equipped with 44-megapixel Eye Autofocus Self Portrait, and 64-megapixel Night Camera, it enables users to enjoy Instagram-quality, Super Night Selfie, Dual-View Videos, and Motion Autofocus.
vivo V21e specs
Snapdragon 720G
8GB RAM
128 Storage
6.44-inch FHD+ AMOLED, 2404×1080
64-megapixel f/1.9, 8-megapixel f/2.2, 2-megapixel f/2.4
44-megapixel f/2.0
Wifi, Bluetooth 5.1, fingerprint scanner
4000 mAh with 33W fast-charging
Android 11, Funtouch 11.1
vivo's brand-new mid-range phones are all about selfies. Both the vivo v21 5G and v21e offer high-resolution selfies thanks to their 44-megapixel front-facing snapper, as well as sleek, vibrant designs meant for Zoomers. But is that enough to get over the phone's high price tags?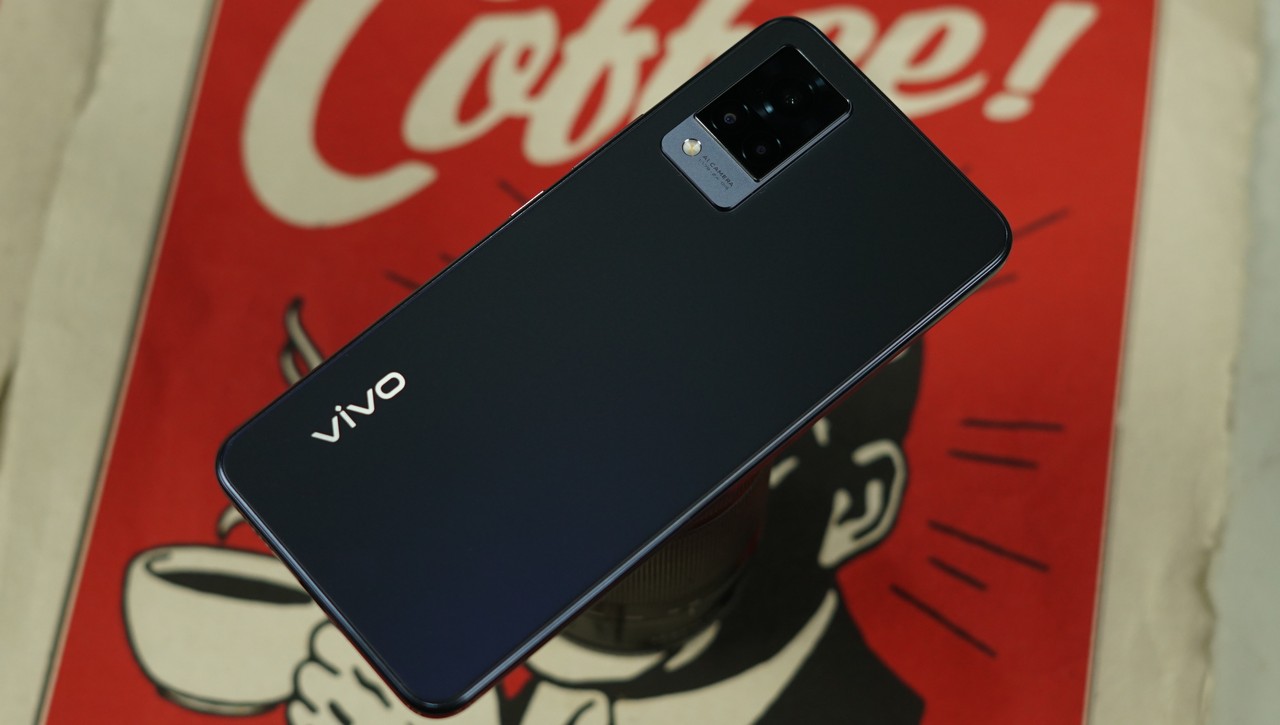 Design:
We're lumping both phones in this review because they're almost identical in both design and hardware, with the chief difference being the chipsets that power them.
Both phones feature sleek, clean designs, with a square camera module set on the upper left side of their posteriors.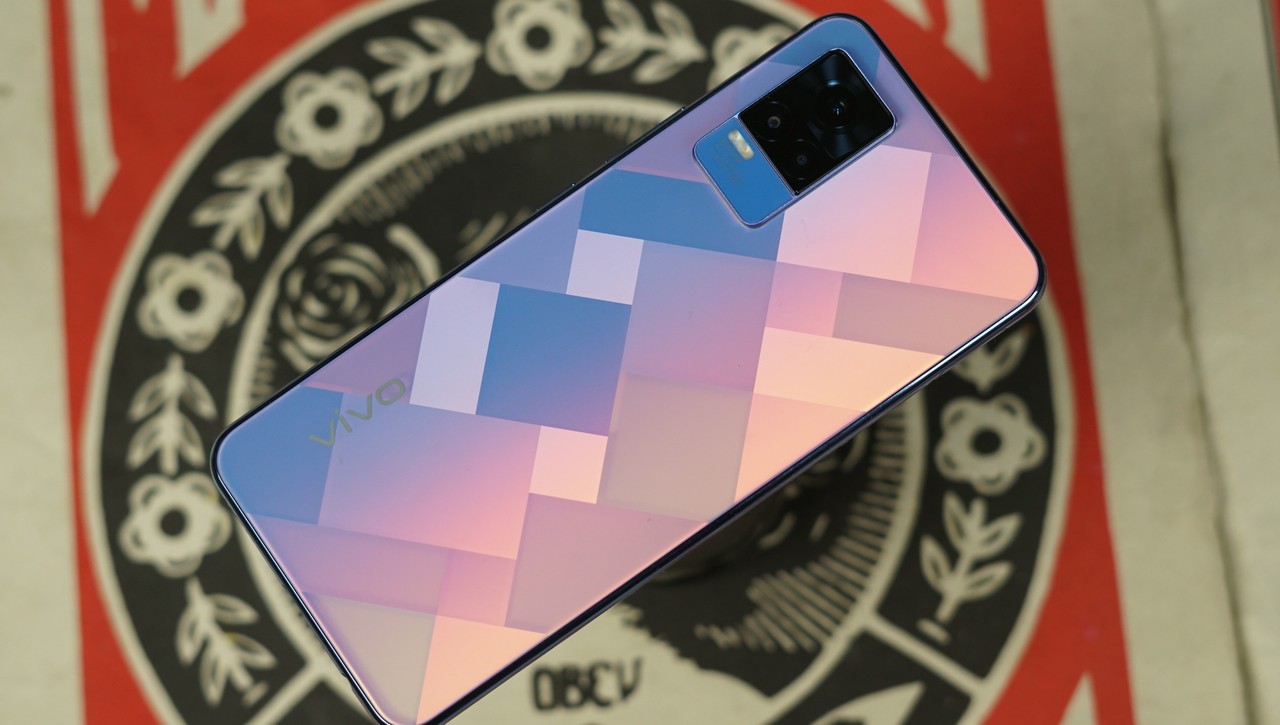 vivo has set a definitive design language for their phones, which has so far kept the looks of their top-end and mid-end offerings pretty consistent. And it's design language we like – the rectangular camera module, the sleek, curve-less rear make the phone stand out against the competition.
Speaking of standing out, the two phones are available in their own colorways – the V21 5G is the more serious-looking of the two, with our review unit sporting a Dusk Blue colorway. The V21e meanwhile, has a more vibrant exterior thanks to that Diamond Flare colorway.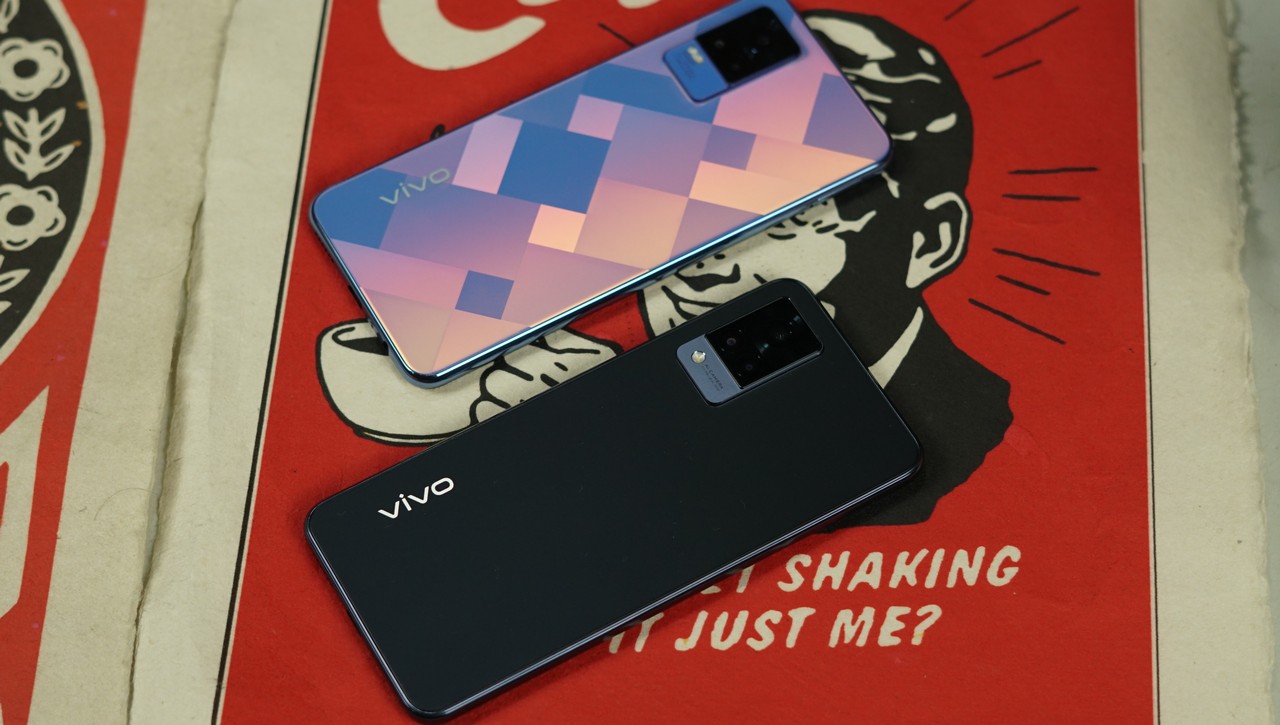 Both phones have glass back panels that have matte finishes, though we would recommend using the accompanying silicon cases with them to protect the back to keep the phones looking pristine.
Both phones are incredibly light (both are less than 180g) and thin (both are less than 8mm thin). They're the thinnest phones around, something that vivo is particularly proud of.
The controls are on the right side which makes sense, with the USB Type-C connector on the bottom. There's no need for the power button to pull double duty as a fingerprint sensor as the phones use fingerprint readers embedded in their displays (more on this later).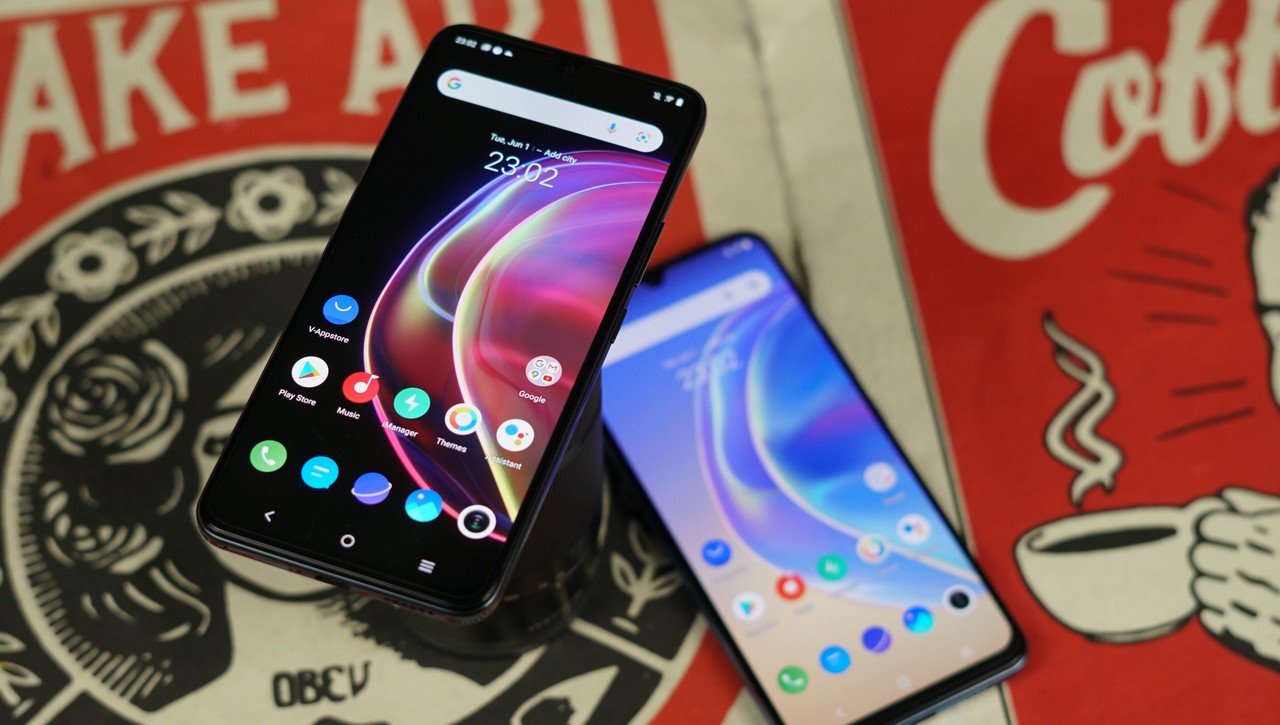 Display
The two devices practically use the same display: a 6.44-inch, full HD AMOLED panel, with HDR10+ capability as well as the same punch-hole notch that's on the top-middle part of the panel.
The diffence is that the V21 5G has a 90Hz refresh rate and 500 nit brightness, while the V21e has a 60Hz refresh rate and a 430 nit max brightness.
As far as display quality goes, the displays on both devices look more or less identical, with both having really vibrant colors, deep blacks, and overall accurate color reproduction.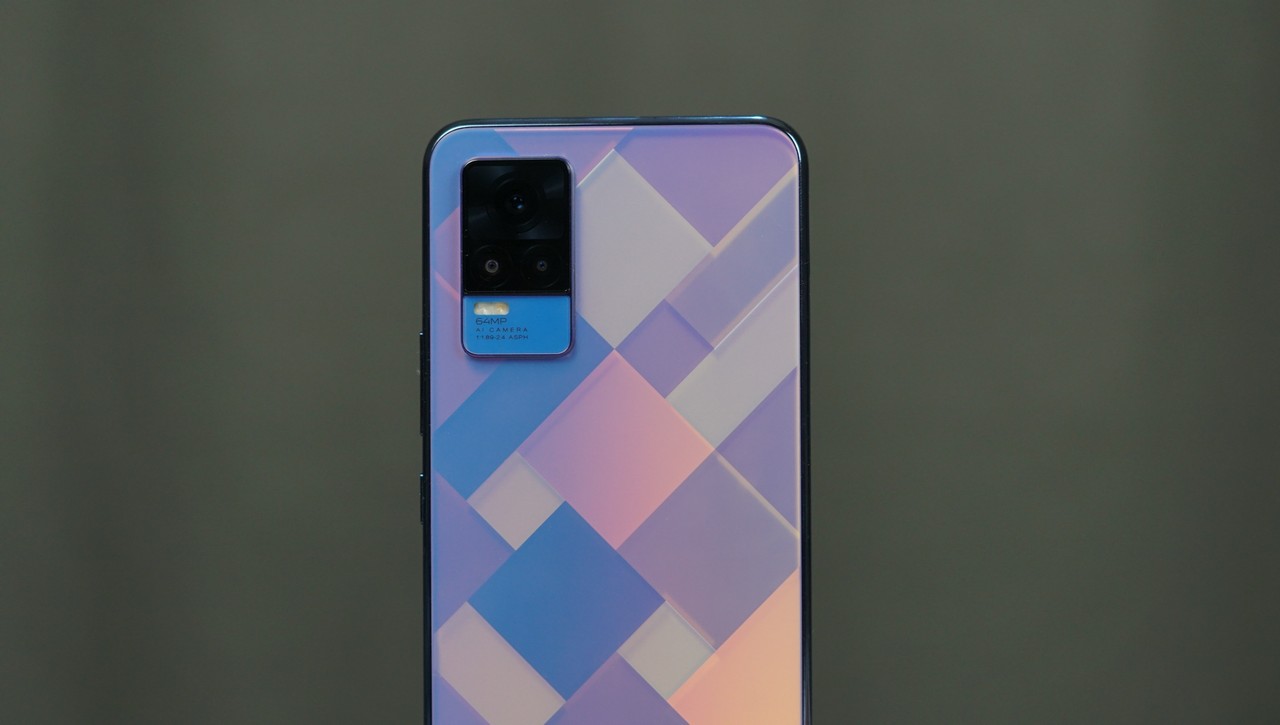 Cameras
We're starting to sound like a broken record here, but even in the camera department the vivo V21 5G and V21e are practically the same.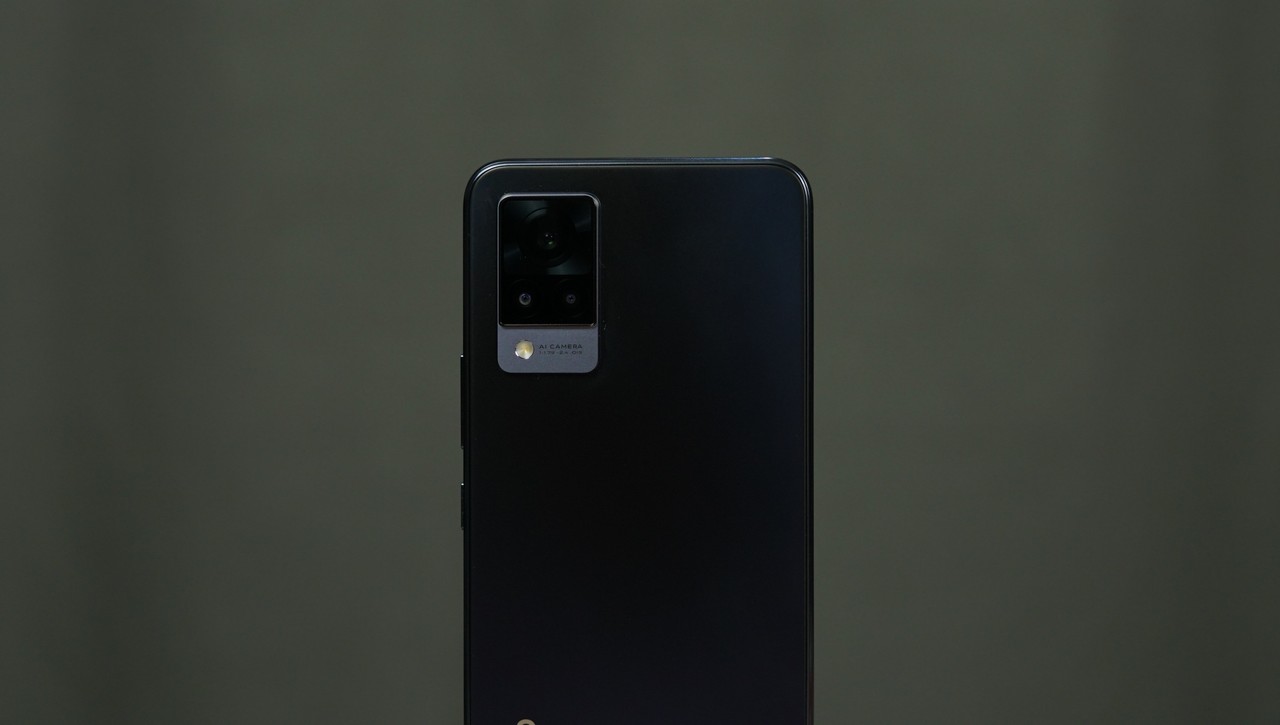 Both phones have three cameras on the rear – a main 64-megapixel snapper with an f/1.8 aperture lens (f/1.9 for the V21e), an 8-megapixel f/2.2 ultra-wide camera, and a 2-megapixel f/2.4 macro camera.
Both phones also have the same high-resolution, 44-megapixel f/2.0 front-facing camera as well.
V21 5G:
V21e:
Photos for the most part are pretty good – plenty of detail, little noise, and generally accurate colors. We noticed a few dynamic range issues, but nothing really serious. The only major difference between the two is that the v21 5G produces warmer images VS the v21e, with the latter's snaps looking more natural to the eye.
Both phones have good night-time selfie capabilities and should be perfect for those nights out that should be coming in better days (once we're all vaxxed up, of course).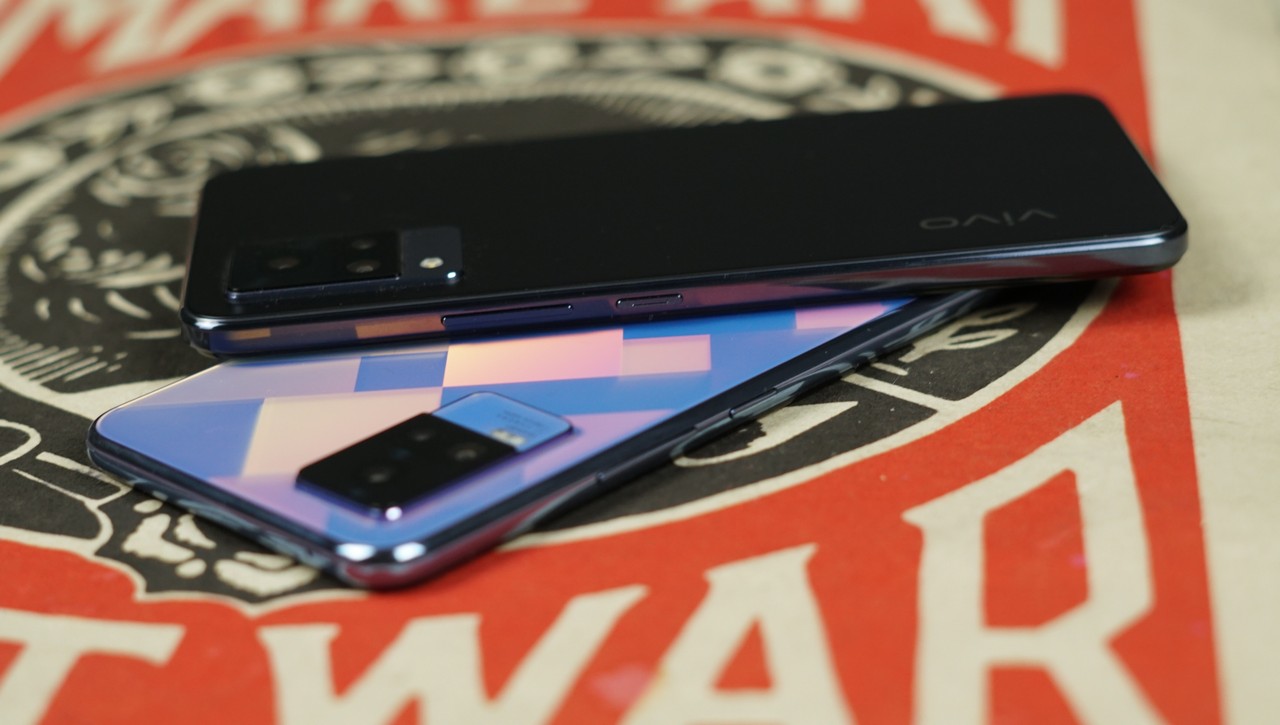 Performance, software, battery
The main difference for both the V21 5G and V21e lies in their processors. The V21 5G uses a MediaTek MT6853 Dimensity 800U 5G chipset, while the V21e uses a Qualcomm Snapdragon 720G. Both phones come with 8GB of RAM and 128GB of storage.
You can expect roughly the same performance out of the two processors, though it looks as if the V21 5G edges out the V21e when it comes to GPU performance as evidenced by its synthetic scores.
If you're wondering which phone felt faster, well, you couldn't tell without the help of benchmark scores. Both phones felt fast and fluid while in use, and both should be able to handle most Android games without any issues.
Both phones have 4000mAh battery packs inside of them. This gives us a chance to really see how well the two processors stack up to each other in terms of power consumption with all the other things being equal.
It's no surprise that the non-5G Snapdragon 720G delivers better overall battery life at 16 hours and 4 mins VS the 15 hours and 29 minutes of the V21 5G powered by the Dimensity 800U chipset.
Both phones have 33W fast charging via USB Type-C.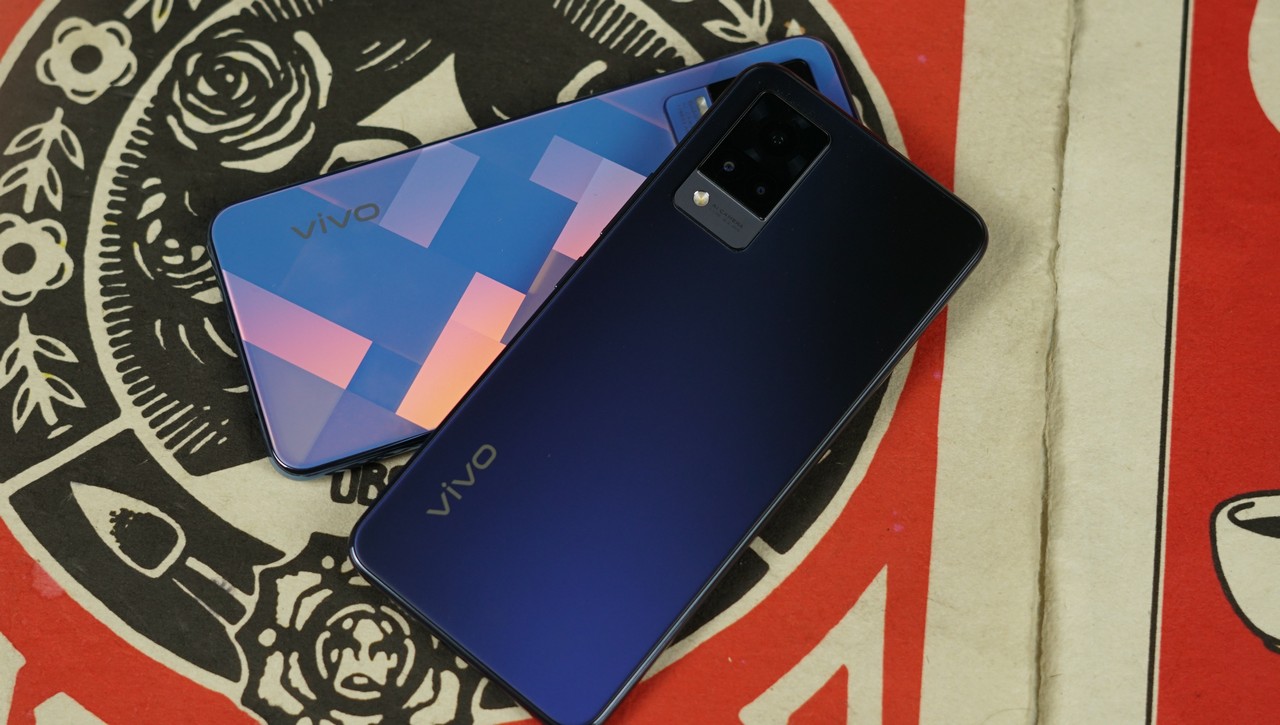 Wrap-up and conclusions
Our review of the vivo v21 5G and V21e in the Philippines show that the brand's new mid-range phones are targeted squarely at people who prioritize looks as well as selfie and camera performance over things like affordability or performance-per-peso.
If you're looking for a phone that looks great and doesn't mind not having access to 5G, then you might want to spring for the V21e if you're looking to save a few bucks. If not, then the V21 5G should be the phone for you.
vivo V21e and V21 5G Review Price Philippines
The vivo V21 5G is priced at Php 23,999 and the vivo V21e is priced at Php 17,999.