Review Verdict: Samsung did a relatively good job with the Galaxy A54 overall as a competitive upper mid-range offering in the Philippines. As the leader of the 2023 Galaxy A-series line, the A54 feels like a Galaxy S23 FE with its premium looks and flagship-like features. There's no need to criticize its Exynos 1380 processor, as it performed better than what we expected.
Pros
-Premium build
-Improved camera performance
-Exynos 1380 is a big improvement
Cons
-Shutter lag when taking photos
-Bezels are thick
With Samsung appearing to have no plans for a Galaxy A74 (unless you count the M54), it seems that the Galaxy A54 is officially the top-end Galaxy A-series variant for 2023. Following a design language that's very close to the Galaxy S23 series, the A54 is the only A-series model to have a glass back–making it a pseudo-S23 FE of sorts. With a number of flagship features, the A54 aims to be a compelling upper mid-range phone in the Philippines. Does it live up to expectations–even with its use of an Exynos processor?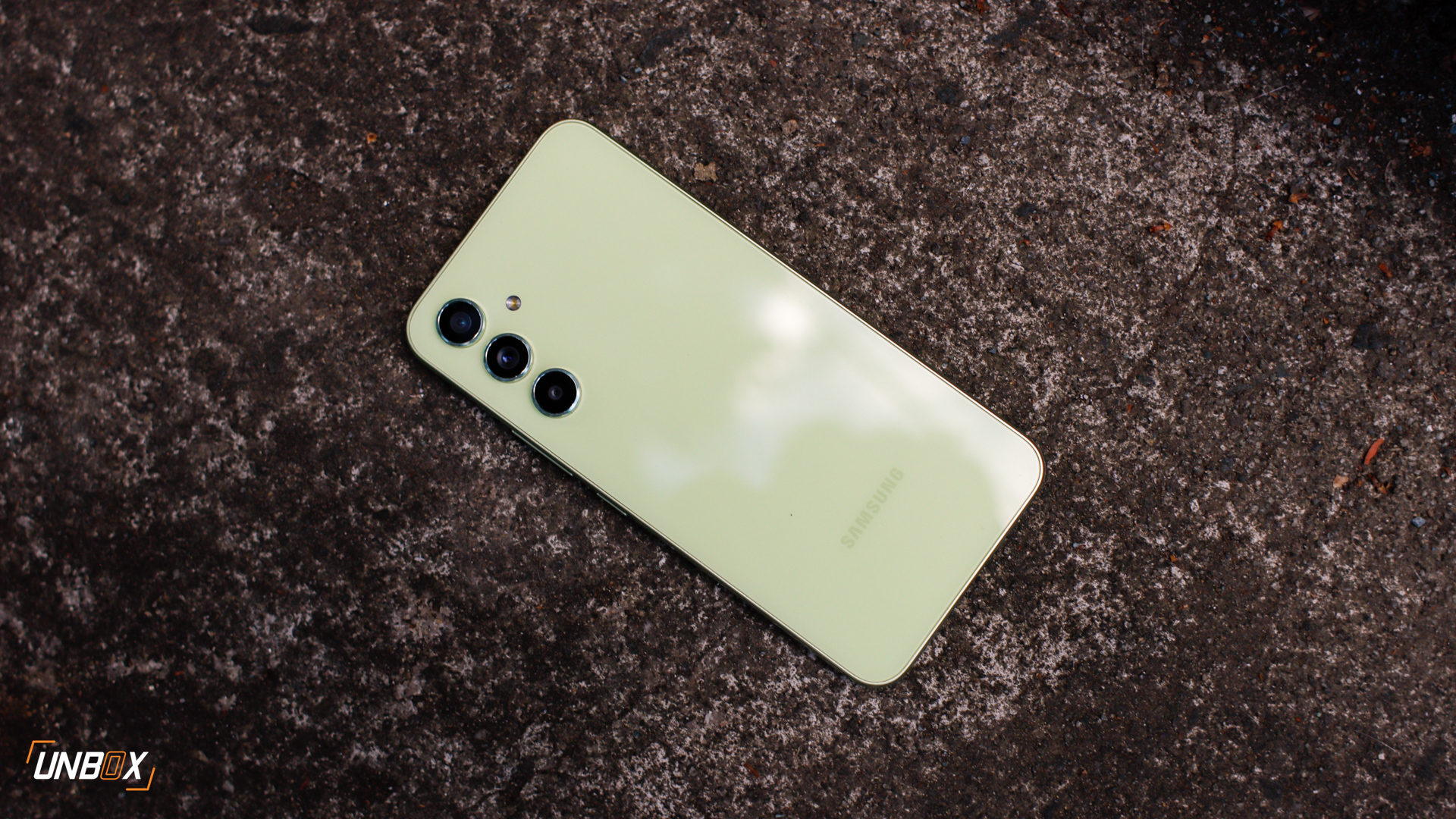 Design
It has been 4 years since we last saw a Galaxy A-series model have a glass back (Samsung has been using its "Glasstic" back since the A50 series), and Samsung surprised us with the Galaxy A54. While it has a glossy finish, we give credit to Samsung for making the finish resilient against smudges. We don't mind the lack of a case with the Galaxy A54's packaging, as the back panel is simple yet stunning with its three thick circles for its triple rear camera setup.
To further bolster ita premium, Galaxy S23-like feel, the Galaxy A54 has an aluminum frame–though it's thicker than its more expensive sibling to accommodate the 5000mAh battery inside. That being said, we applaud Samsung for giving its top-end A-series model a very premium look that's close to its flagship Galaxy S series.
The Galaxy A54 has three color options, and our review unit in Awesome Green is a definite eye-catcher.
Like its predecessor, the IP67 rating still remains with the Galaxy A54, along with the layout of the buttons and ports. While you don't get a headphone jack, the Galaxy A54 does have a MicroSD card slot in case you don't need the second nano SIM slot.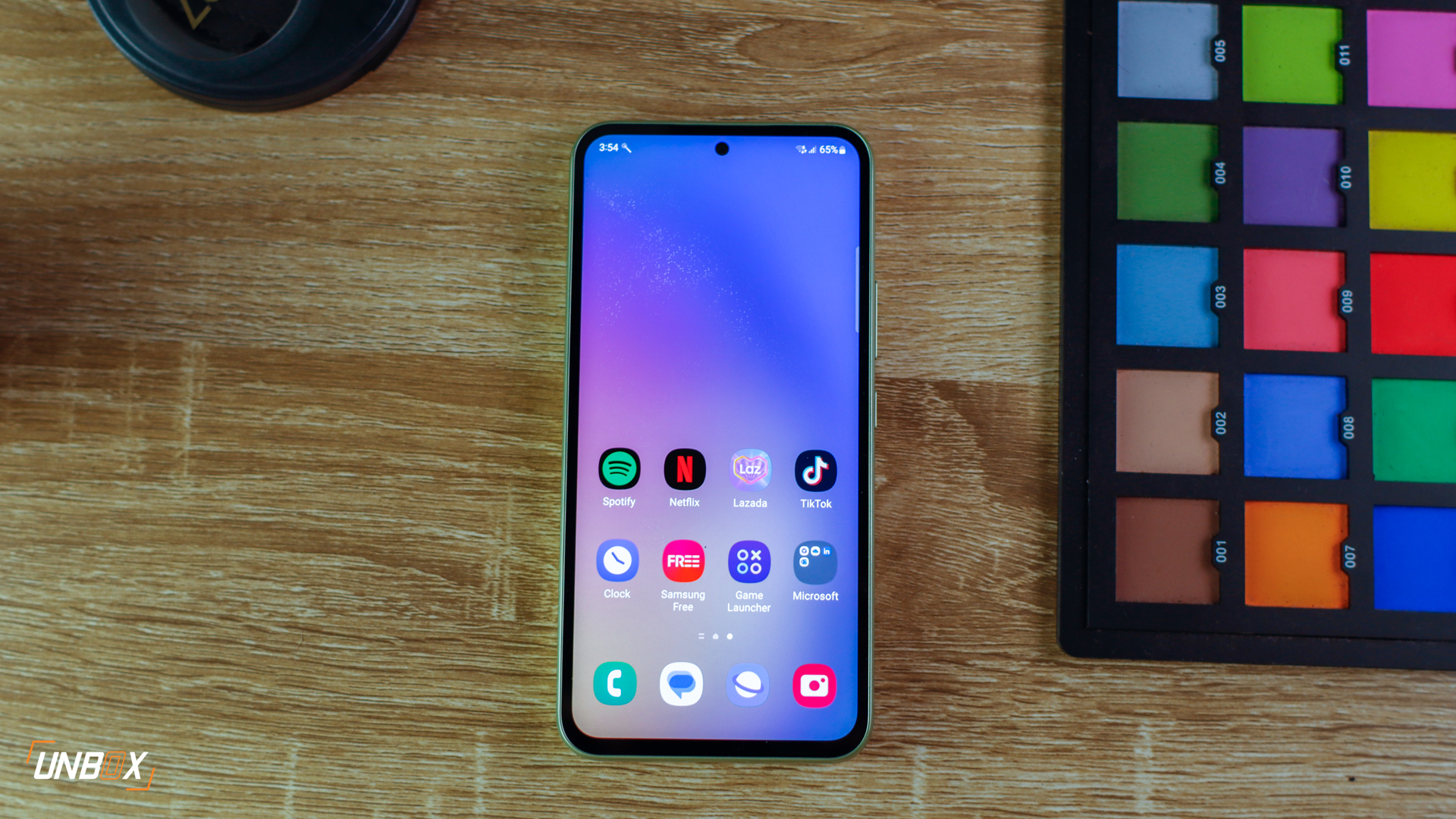 Display and speakers
Unlike its predecessor, the Galaxy A54 is a tinge smaller with its 6.4-inch Super AMOLED display. While we're not a fan of those thick bezels, the AMOLED panel used has a higher maximum brightness range at 1000nits–for comparison, the Galaxy A52/53 max out at 800nits. You still get a 120hz adaptive refresh rate, which is a big help in balancing a smoother UI experience with good battery life.
With the higher brightness range, the Galaxy A54 manages to stand out from the crowd by using a better quality AMOLED panel–it may be just a flat display, but the colors on this display are very vibrant for an upper mid-range phone.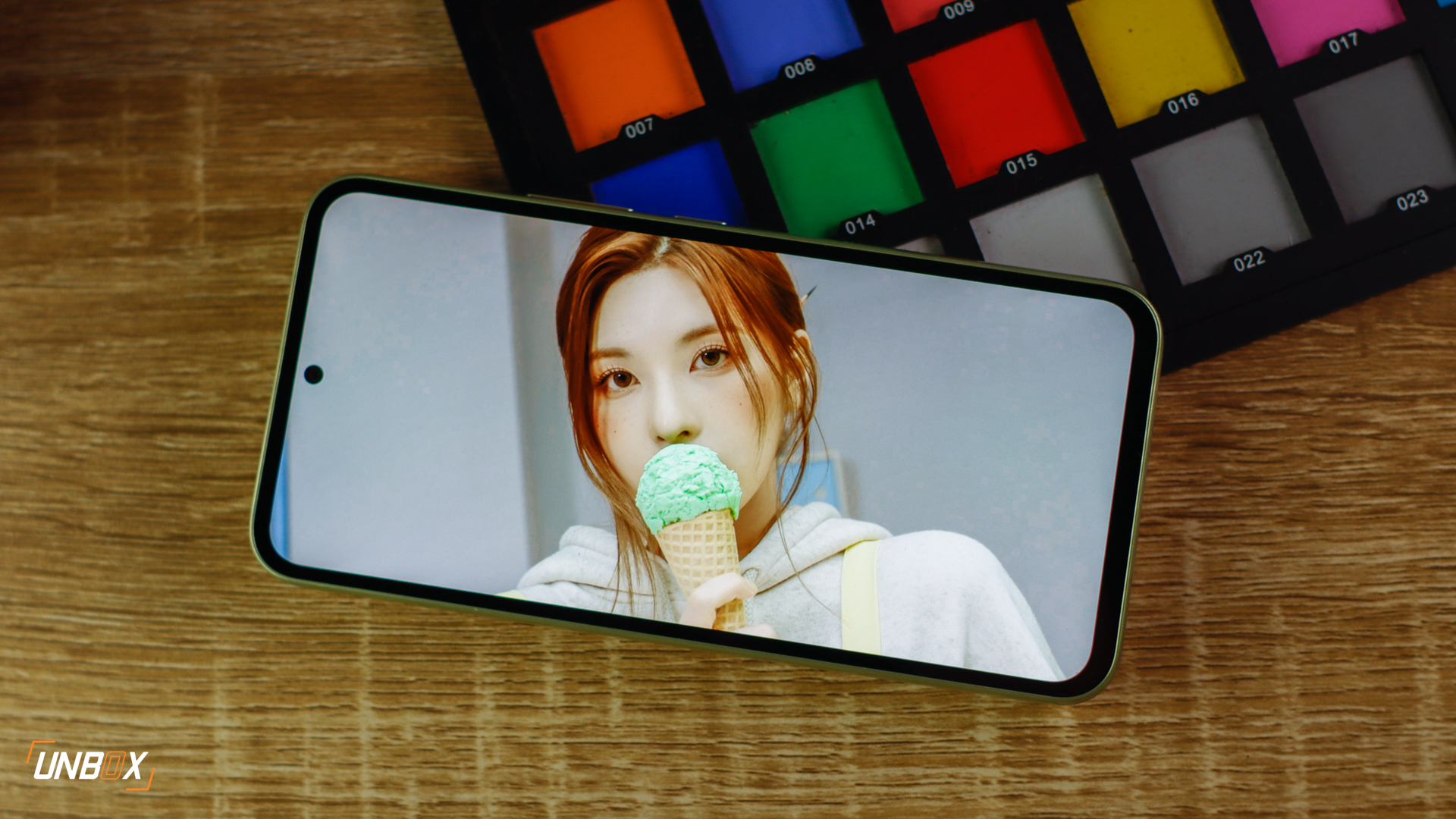 Like its predecessors, the Galaxy A54 supports Widevine L1 for your Full HD Netflix streams and quality stereo speakers that can make you ignore its lack of a headphone jack.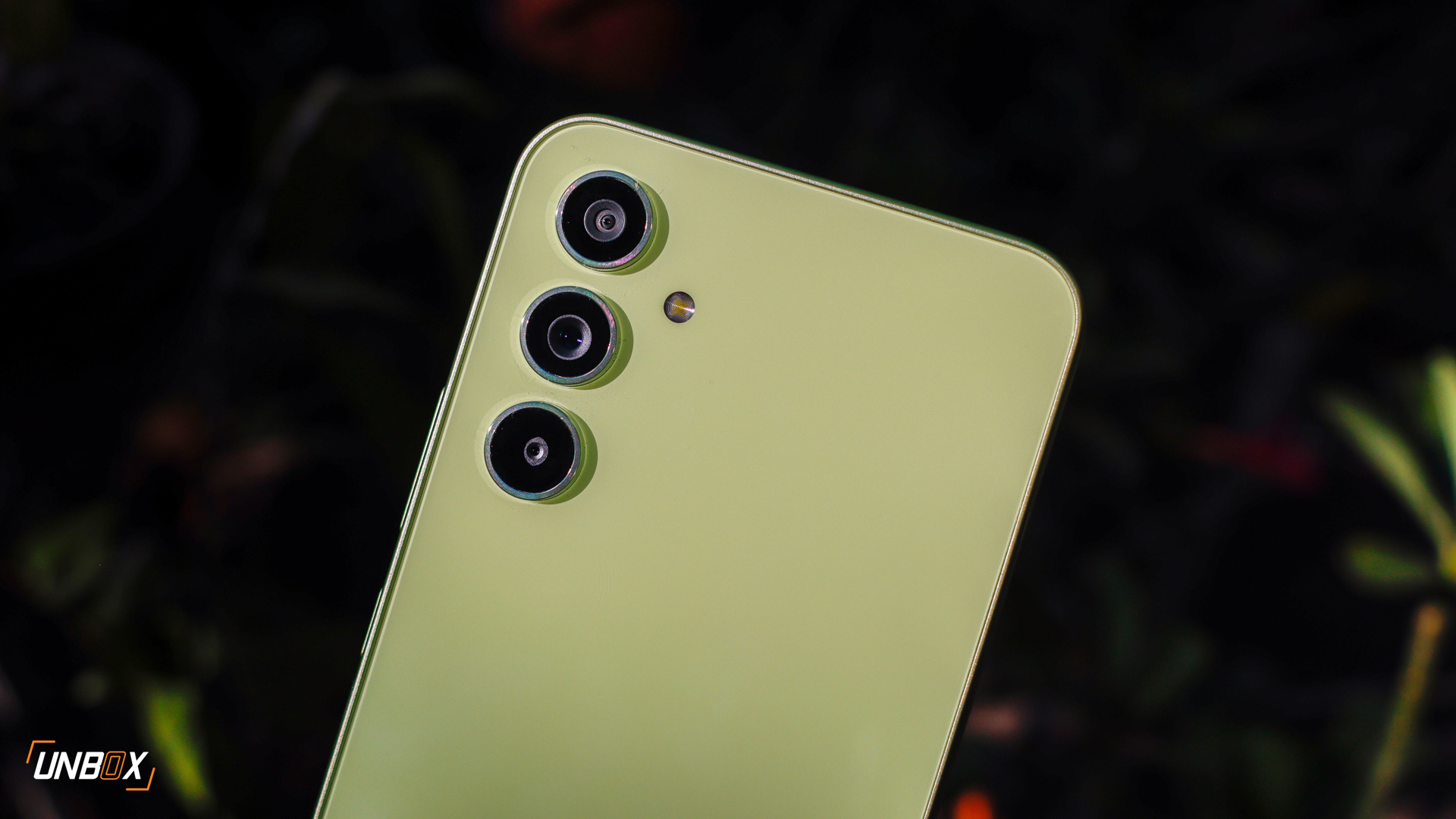 Cameras
Samsung streamlined the Galaxy A54's cameras by omitting the depth sensor and upgrading the main camera to a new 50-megapixel sensor that has larger pixels for better low-light performance.
We suspect that the Galaxy A54's 50-megapixel main camera might be the same one used on the Galaxy S23. While we can't confirm it, there's no denying that the Galaxy A54's main camera performs very well in almost all lighting scenarios, corroborating with DxOMark's findings. The only issue we encountered with the Galaxy A54 is the noticeable shutter lag when taking photos in low-light situations. Samsung is reportedly rolling out an update to optimize the Galaxy A54's cameras, though we have yet to receive this update as of writing this review.
While the ultra-wide camera and macro camera remain unchanged, the former has a consistent overall image quality with the main camera despite having fewer megapixels. What's interesting about the Galaxy A54 is that you can use the ultra-wide camera to shoot 4K and Full HD 60FPS video. That's a rare treat in the mid-range segment, considering the majority of the Galaxy A54's competition settles for a dated 8-megapixel sensor.
The Galaxy A54's 4K capabilities do not stop there: even its 32-megapixel selfie camera can shoot 4K videos as well, making it a great device if you are serious about vlogging. It's surprising to see the Galaxy A54 capable of shooting 4K selfie videos, as we only remember a few midrange phones that are capable of doing so–one of those phones includes the OG OnePlus Nord.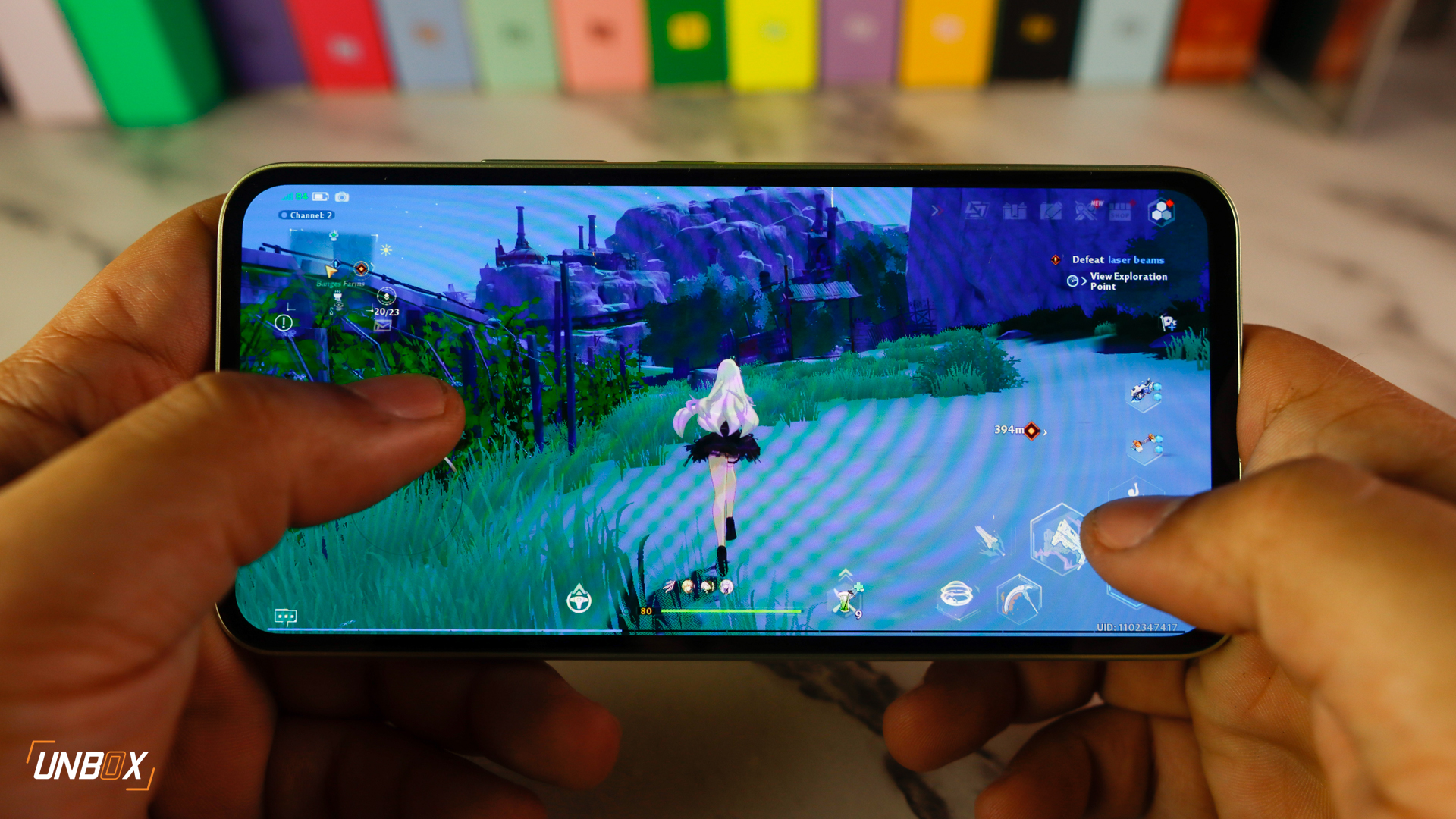 Internals and Battery Life
With all the nice features that the Galaxy A54 has, critics are questioning Samsung's decision to outfit it with an Exynos 1380 processor instead of something from Qualcomm or MediaTek. We understand where they're coming from: the Exynos 1280 that powered the Galaxy A53 and A33 last year was underwhelming with throttling and optimization issues, and even the Exynos-powered Galaxy S20 and S21 trailed behind their Snapdragon-powered siblings.
Throughout the time we were using the Galaxy A54, we can confirm that the Exynos 1380 is a 180-degree turn for Samsung, as this chip performed significantly better than last year's Exynos 1280. We proved this in our performance test, and our findings reveal that the Exynos 1380 performs better than the Snapdragon 778G and Dimensity 920–two popular choices for the mid-range segment.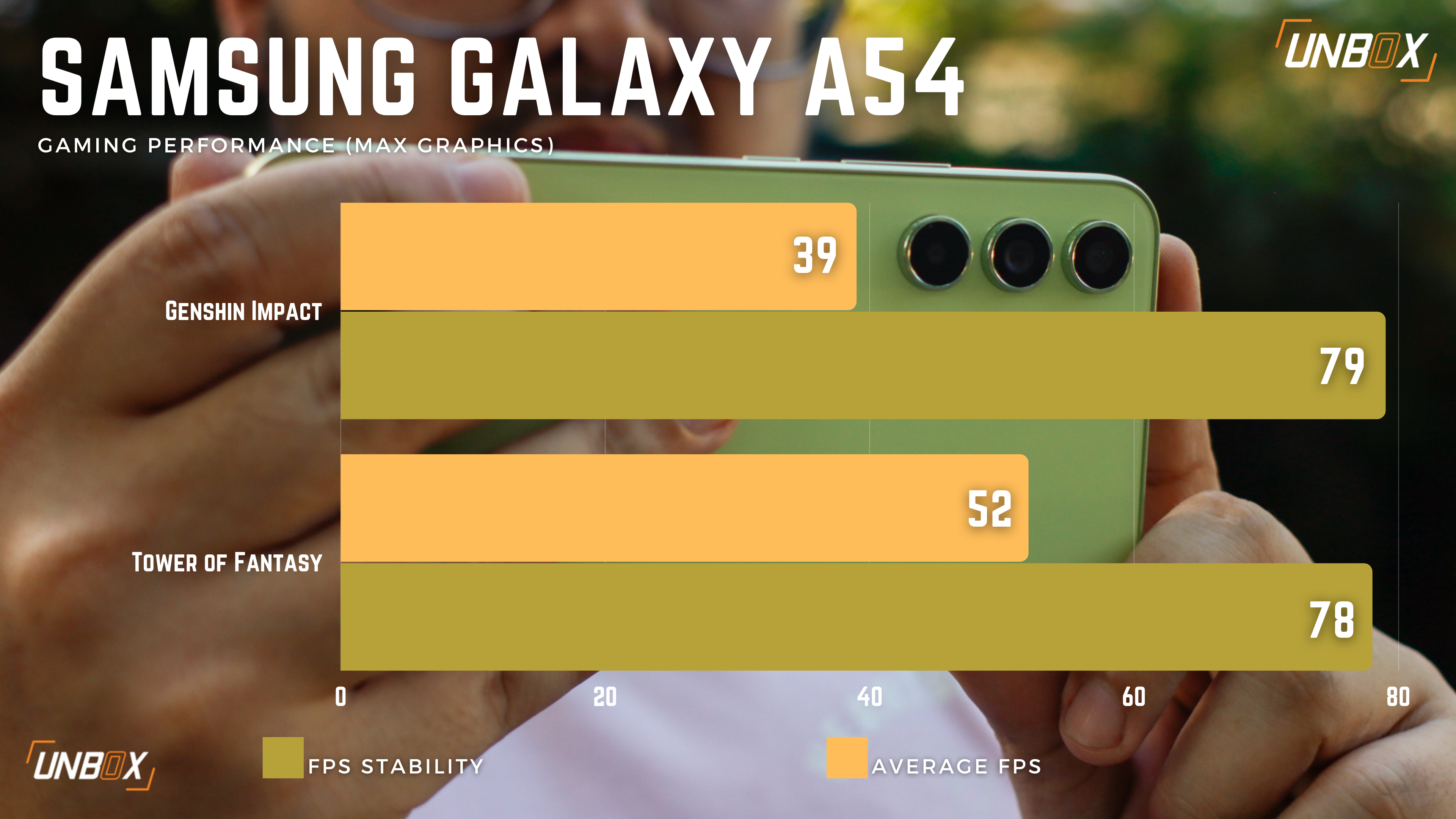 This also carried over with gaming: while Asphalt 9 is still locked at 30FPS, we managed to do close to 40FPS with Genshin Impact and over 50FPS in Tower of Fantasy–with both games set in the highest possible graphics setting. While it's possible to push the Galaxy A54's performance further by a setting that's hidden within Game Booster, enabling this feature did make the phone warm–but not to a point that it felt toasty in our hands. There's still room for improvment when it comes to gaming, but we're overall satisfied with the Exynos 1380's performance.
The Galaxy A54 comes with Android 13-based OneUI 5.1 out of the box, and Samsung has a solid commitment to it for software: 4 major Android updates and 5 years of security updates. That's a long support period for a mid-range phone, and we hope other brands follow in Samsung's footsteps in providing a lot of updates to their phones.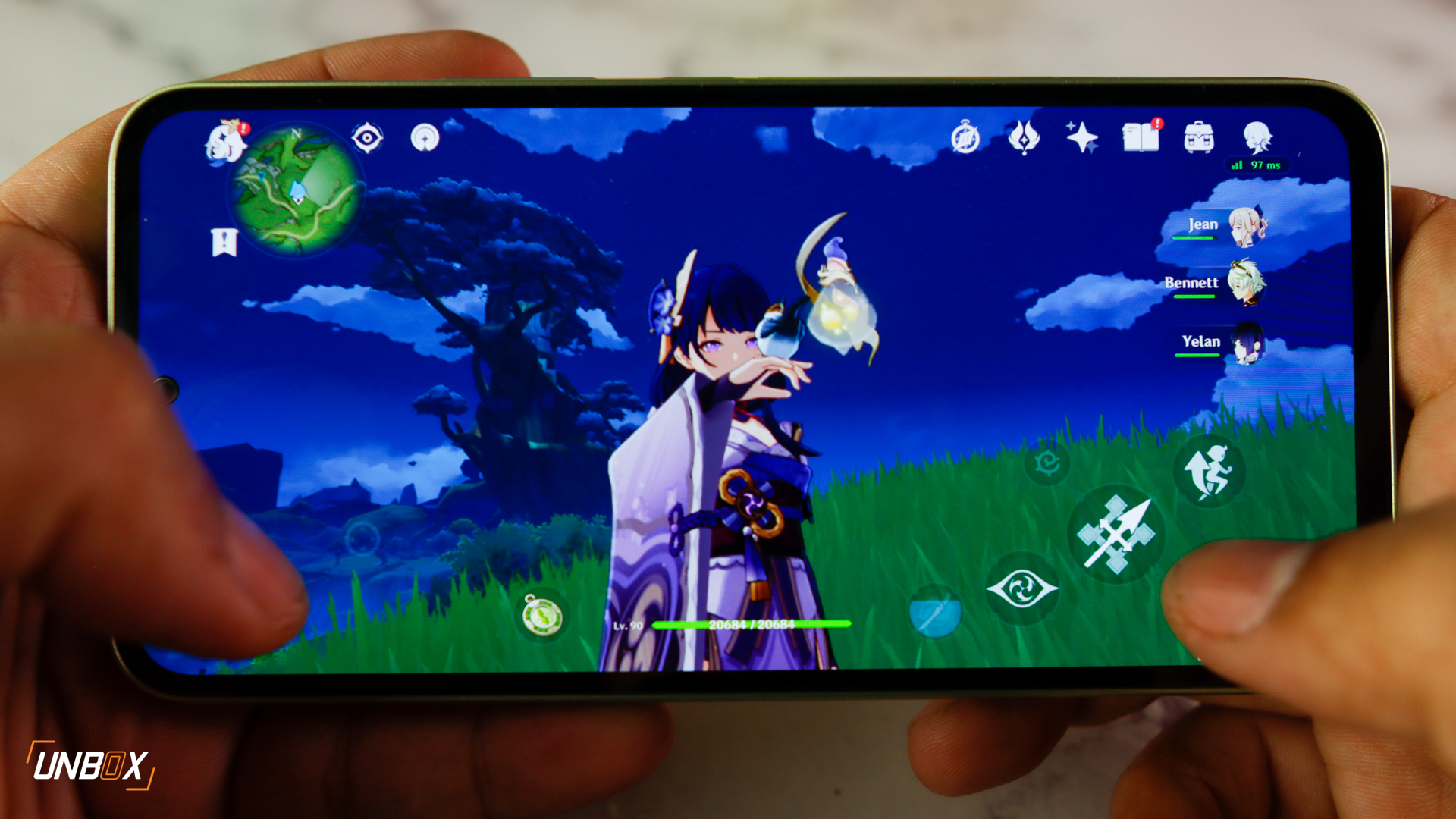 Like its predecessor, you get a 5000mAh battery on the Galaxy A54. It lasted us close to 14 hours (13 hours 43 minutes) in PCMark's battery benchmark, which easily translates to a day's worth of use even with the display set to adaptive refresh rate. Topping up the battery is done with 25w wired charging. It's not blazing fast, but it's fine for most users.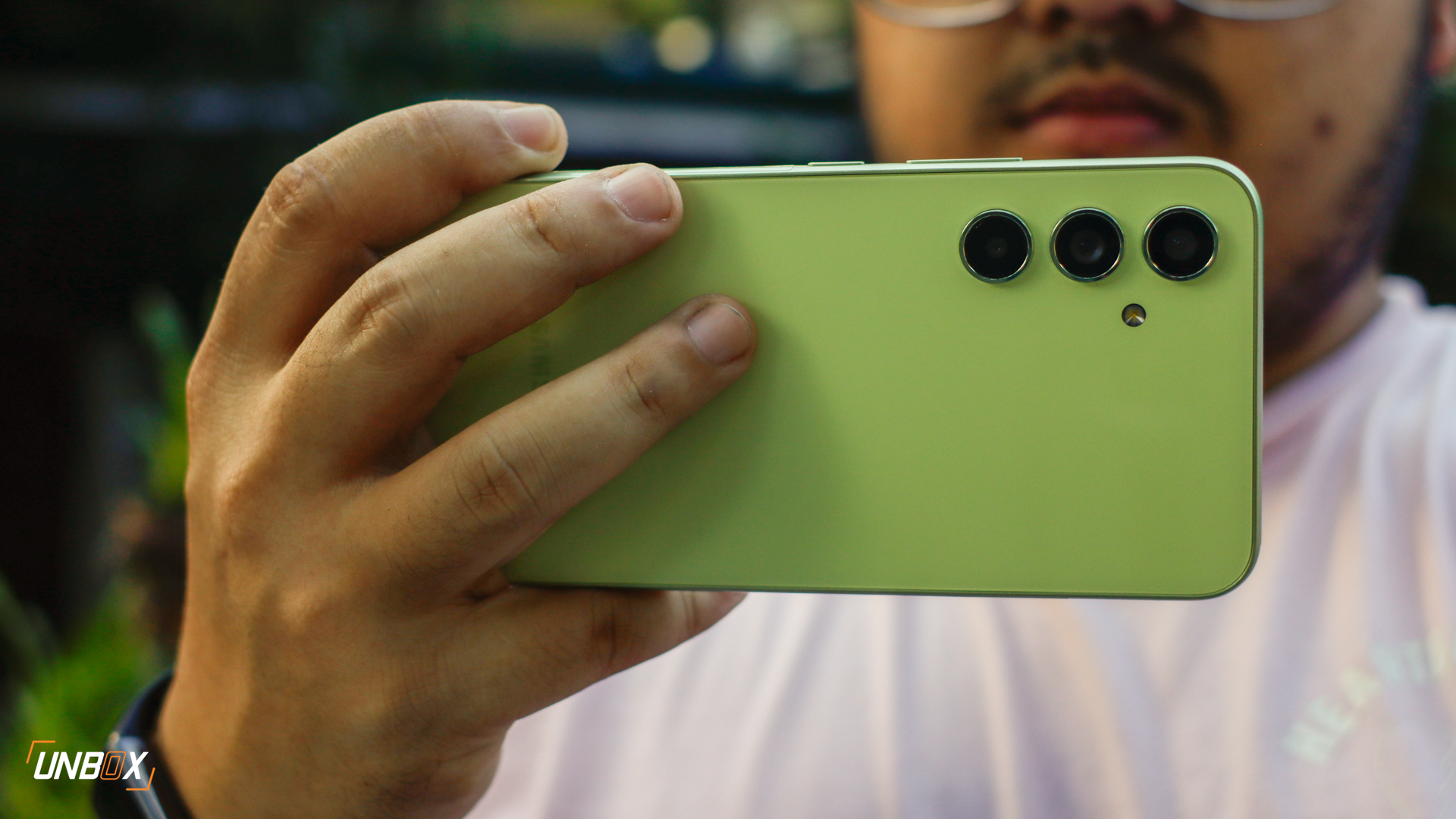 Wrap-up and conclusions
With the fate of the Galaxy A74 and S23 FE in limbo, the Galaxy A54 fills in their shoes as Samsung's top-end mid-range offering in the Philippines and globally. The Galaxy A53 has the design and some of the features of the more premium S23, and the Exynos 1380 proved to be significantly better than its predecessor in all aspects especially gaming.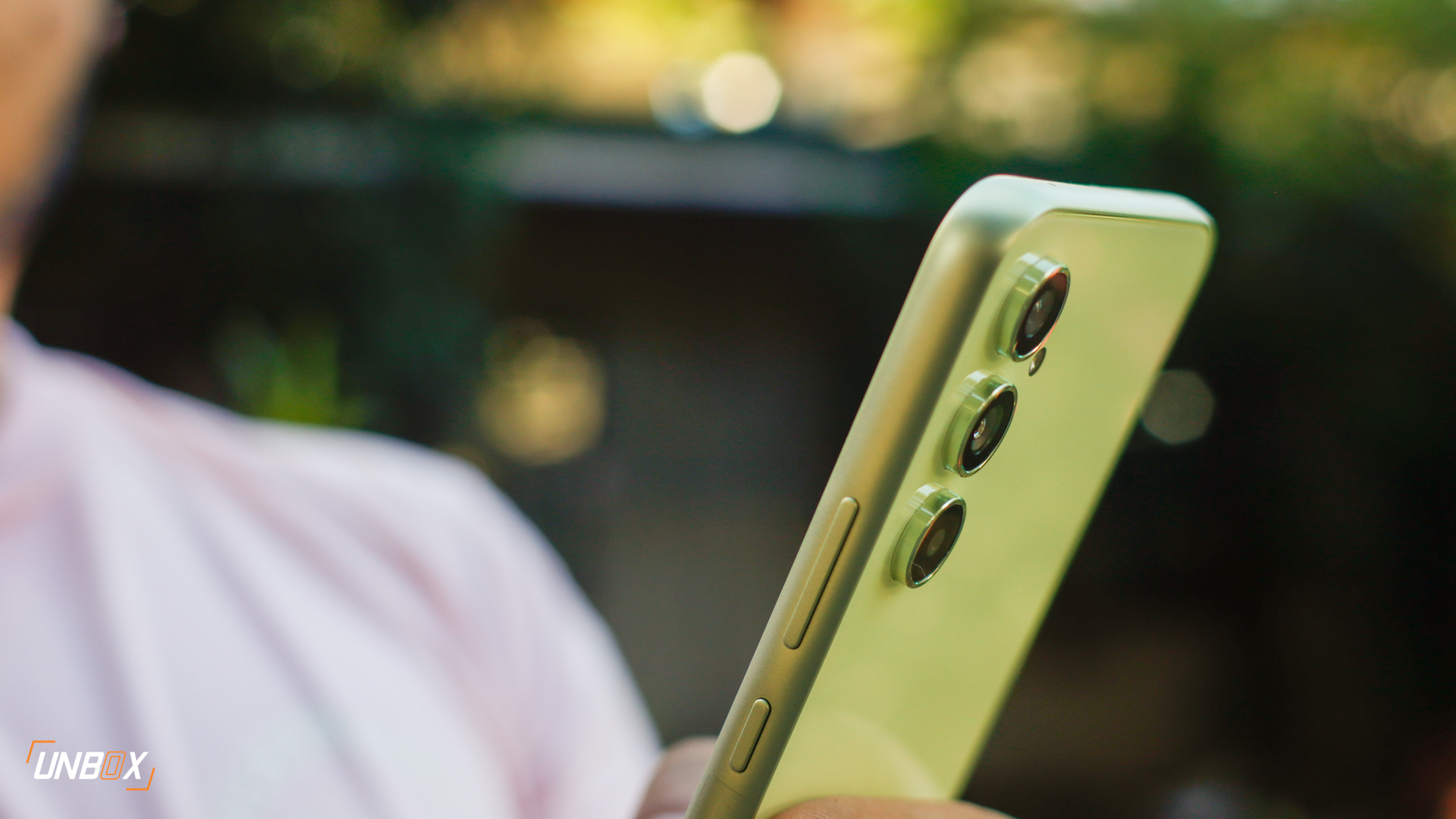 Samsung Galaxy A54 Review Philippines Price
The Galaxy A54 is priced at Php 24,990 for the 128GB model and Php 26,990 for the 256GB model.