With the launch of the Galaxy A54, the supposed affordable version of the Galaxy S23 was generally promising–save for people's mixed thoughts about its use of an Exynos 1380 processor. We understand their qualms: last year's Exynos 1280 was underwhelming because of optimization issues when it comes to games. Samsung claims big improvements on the Exynos 1380, so we put the Galaxy A54 on a performance test to see if there's truth to what they are saying.
To recap, the Exynos 1380 is similar to its predecessor as far as the CPU and fabrication process are concerned. The key differences include support for LPDDR5 RAM and UFS 3.1 storage, along with a Mali-G68 GPU that has one more core–the latter being the main highlight of the Exynos 1380's performance improvements.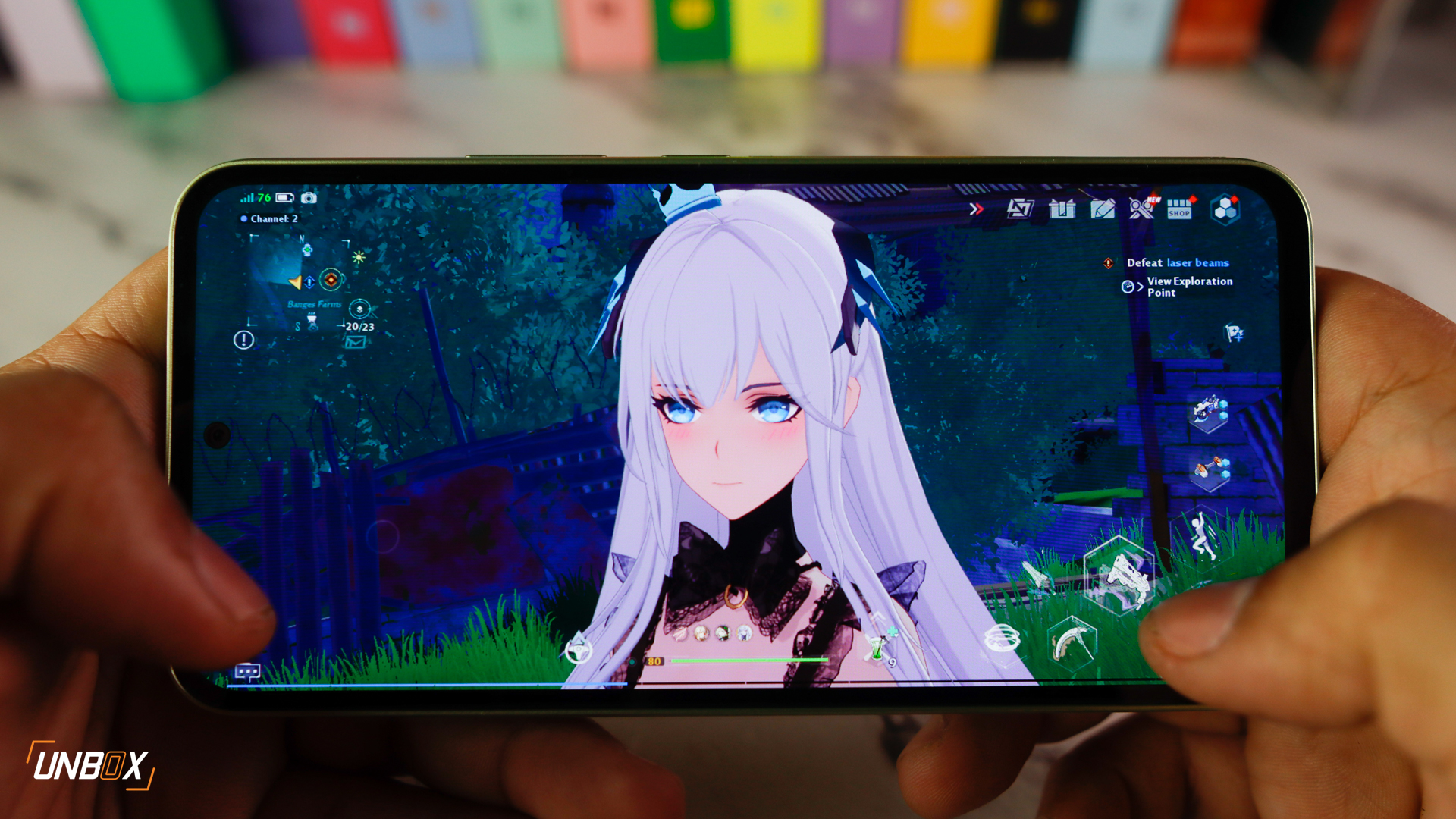 Testing Parameters
Our review unit comes with 6GB RAM and 128GB storage (not the one that's sold locally). For the synthetic and gaming benchmarks, all tests were done in an air-conditioned room with a temperature of approximately 23 degrees Celsius. We used 3DMark's Wild Life/Wild Life Extreme stress test for the synthetic benchmarks section, while GameBench is used to measure performance for the games we used for this test.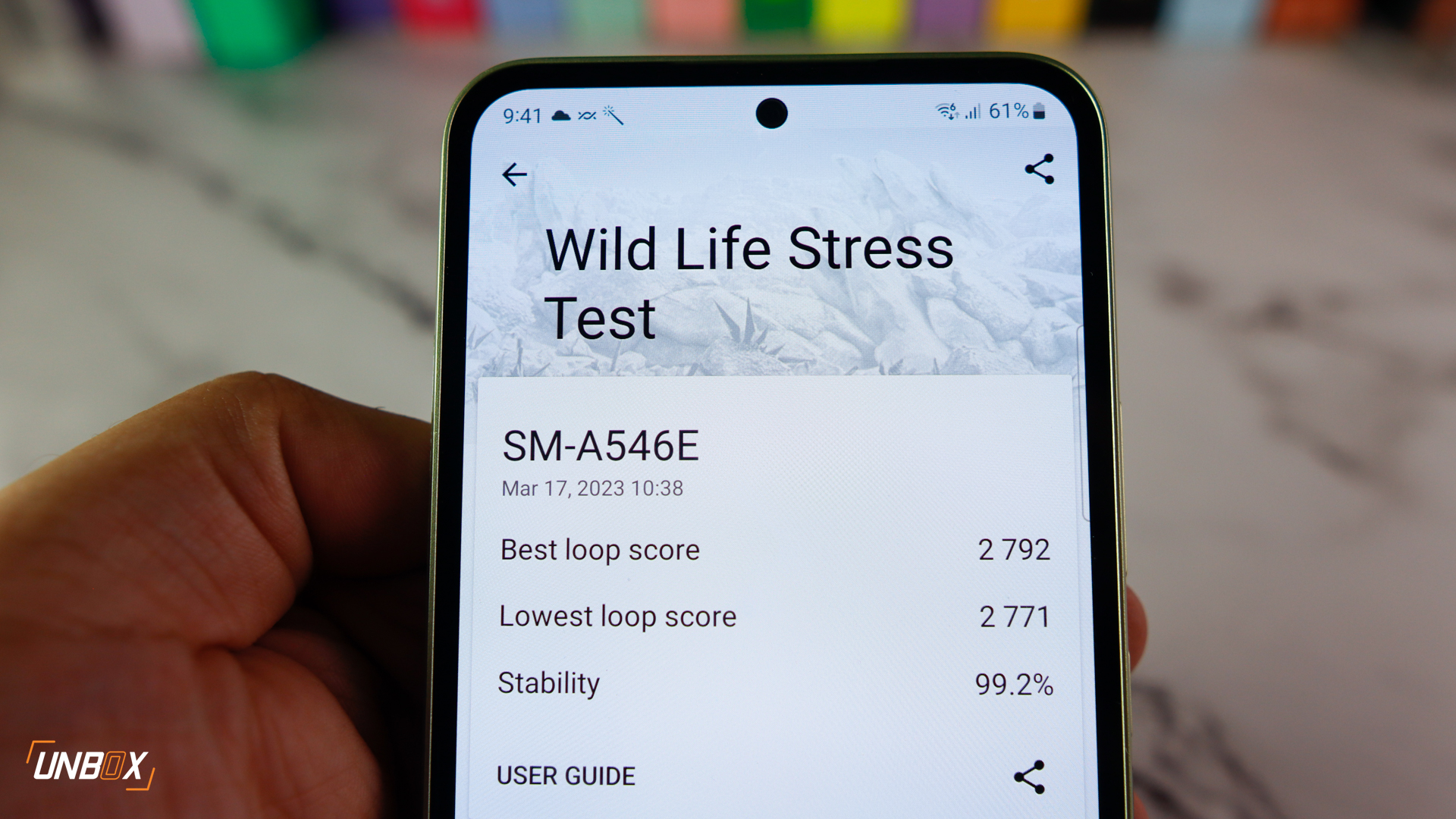 Synthetic Benchmarks
To determine the stability of the Galaxy A54's Exynos 1380 processor, we ran the stress test for both Wild Life and Wild Life Extreme. This test takes around 20 minutes, and repeatedly runs the Wild Life benchmark test for 20 loops.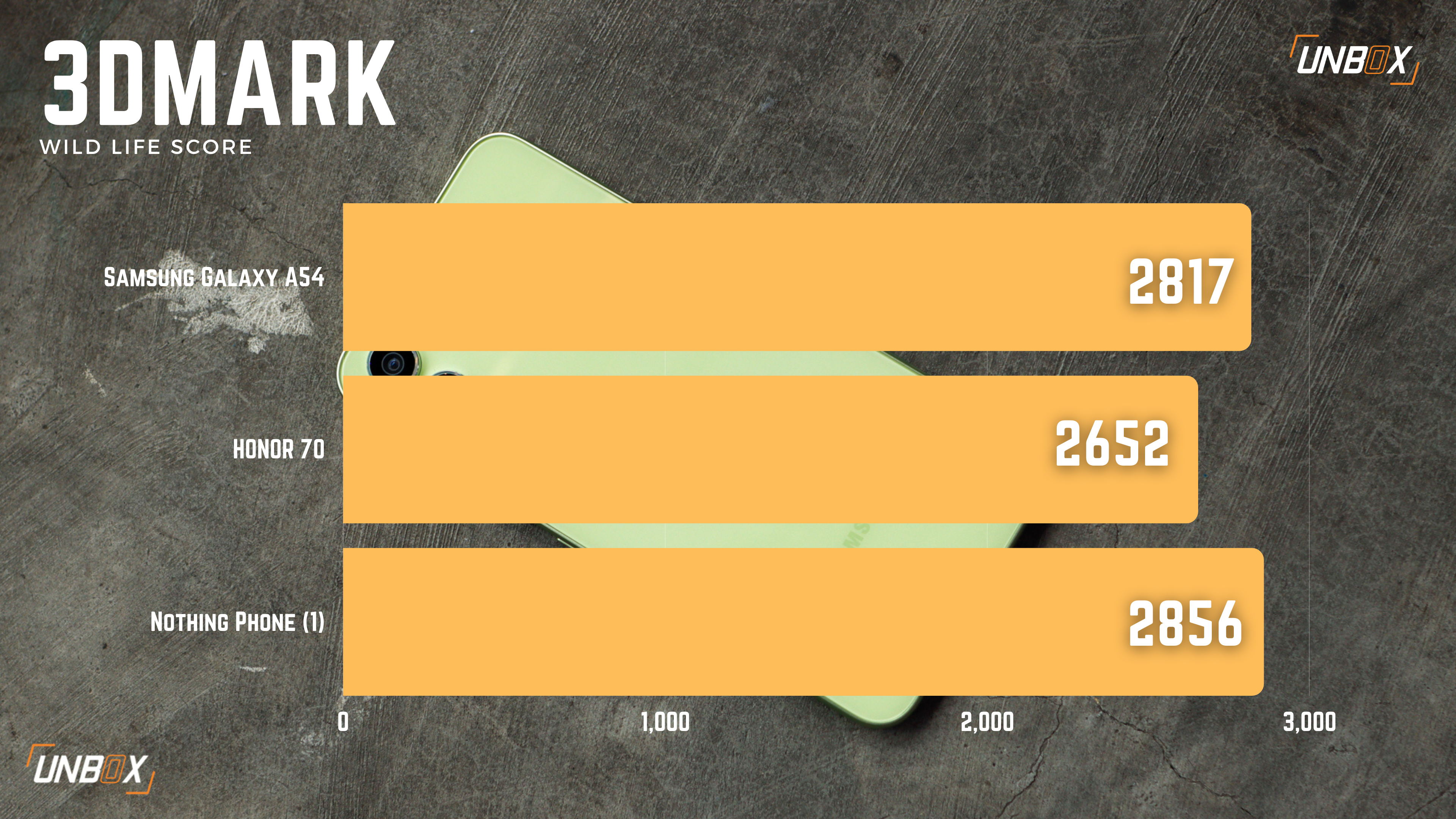 With Wild Life, the Galaxy A54 managed to be stable at 99.2%, with the scores per loop being close to one another. We did not notice the phone becoming warm during the test, which is a good sign that Samsung may have addressed thermal issues with its Exynos processors. The average score is around the 2,700 mark, which is fine for an upper mid-range processor. For comparison, a Snapdragon 778G-powered phone scores around 2500 in Wild Life, while those using the Plus version scored around 2800.
Pushing the phone's limits further, we try to run a loop test using the more intensive Wild Life Extreme. While we don't expect a high score–we barely hit 800 points in the test–the Galaxy A54 managed to remain stable throughout the 20 loops, maintaining a 99.5% stability.
While the Galaxy A54 has barely any temperature changes with the Wild Life Extreme loop test, it peaked at 37 degrees Celsius with the Wild Life loop test–and still managed to keep performance consistent across all 20 loops.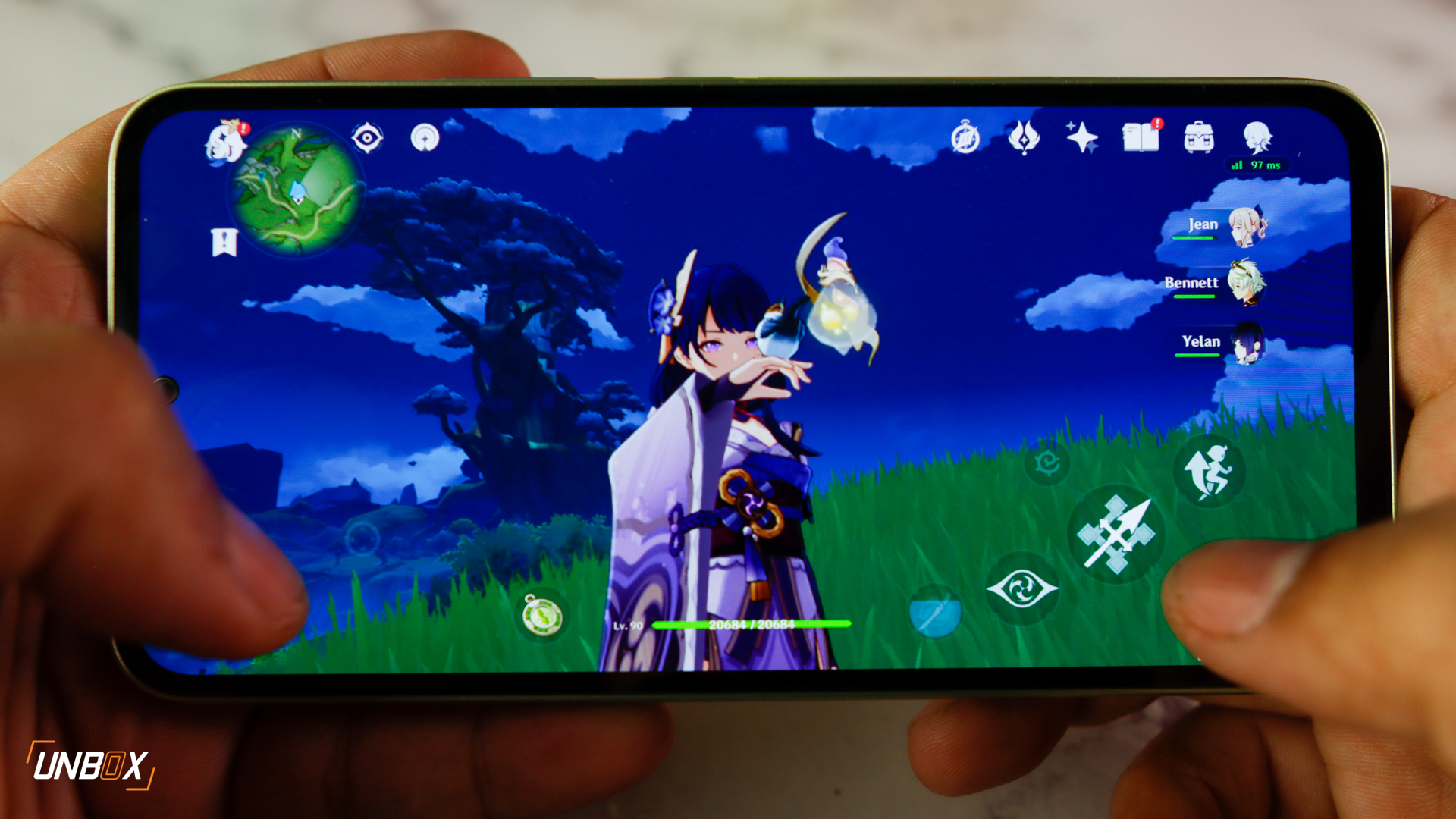 Gaming Benchmarks
We were disappointed back then with the Exynos 1280, as it struggled badly with running Genshin Impact at Low graphics. It's a completely different story with the Exynos 1380, as we were able to hit below 40FPS in the popular open-world RPG at the highest graphics with 60FPS mode enabled.
While we're not maximizing the 60FPS mode of the game, it's impressive to see the Galaxy A54 perform roughly at par with phones that use a Dimensity 8100 processor in Genshin Impact–and at the highest graphics settings no less. Thermals during the 11-minute-long gameplay were close to what we experienced with a Dimensity 8100-powered phone–and better than what we encountered on phones that used a Snapdragon 888 or 8 Gen 1.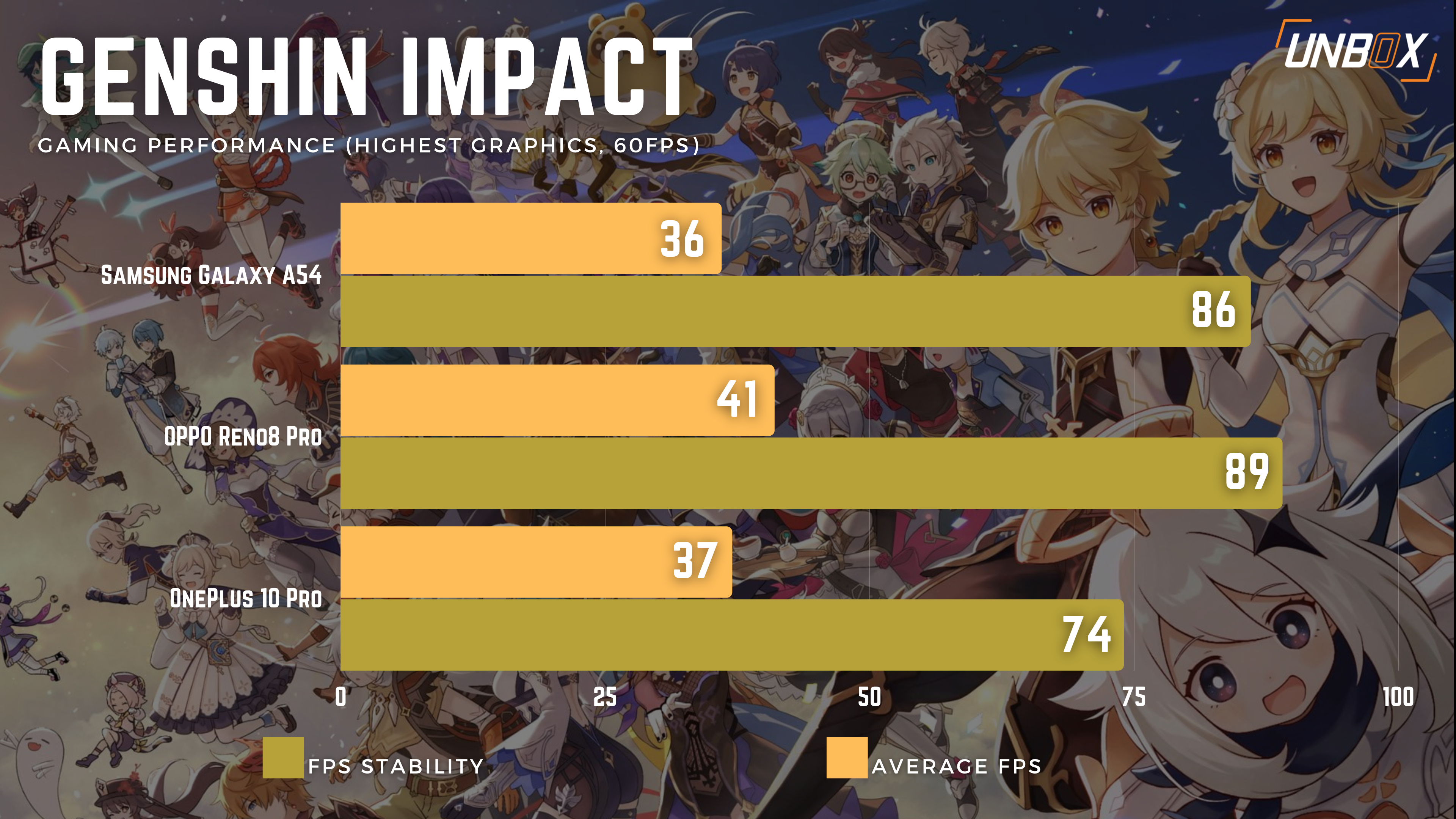 .
Unfortunately with Asphalt 9, 60FPS appears to be disabled on the Galaxy A54 even if it can handle it on paper. It's still a smooth experience at 30FPS, but we wished Asphalt 9's developers add a 60FPS option to maximize the potential of the Exynos 1380.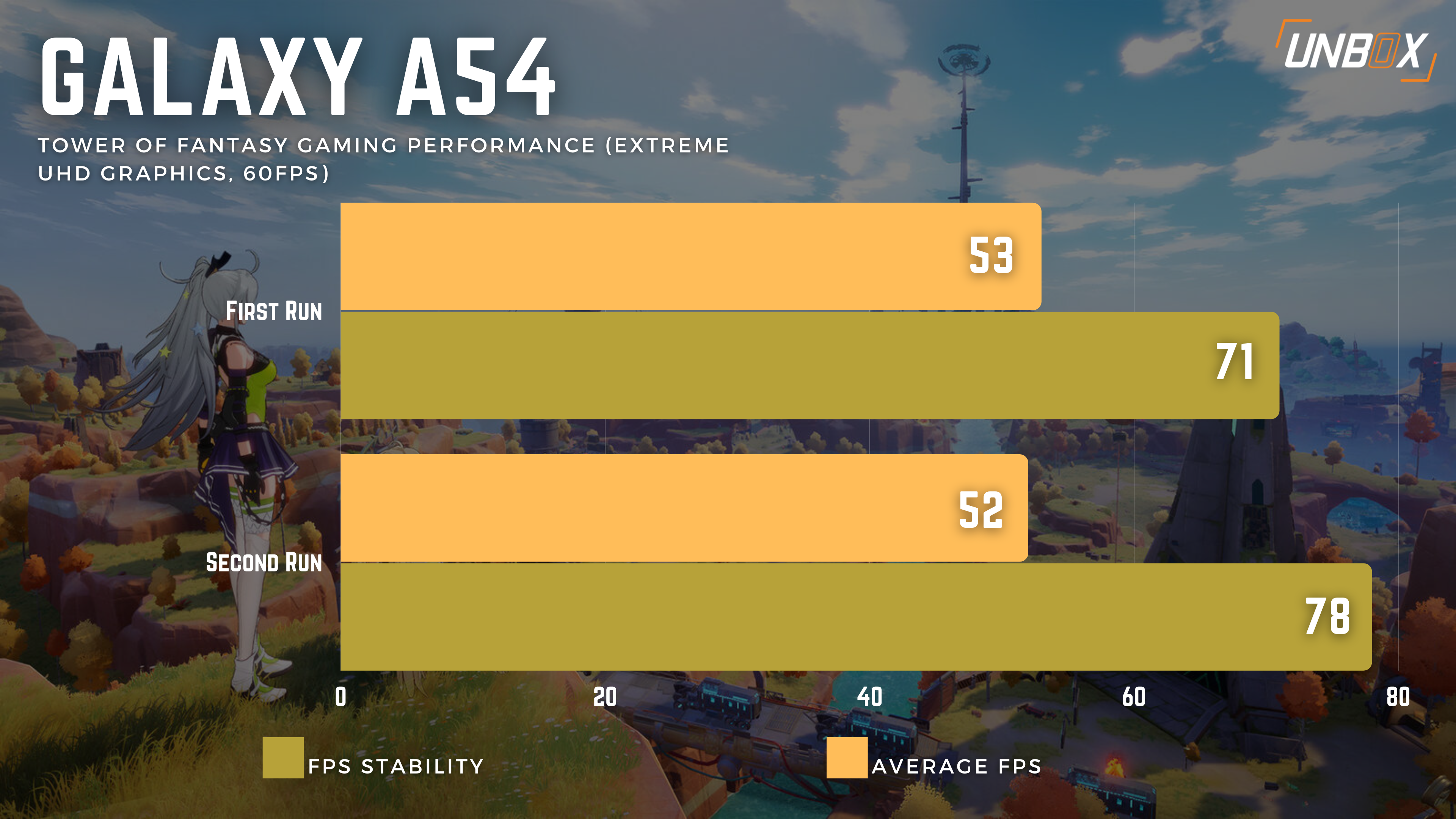 One game that managed to push the Exynos 1380's potential is Tower of Fantasy. With graphics set to Extreme UHD and FPS set to 60 (90 is unrealistic for an upper mid-range processor anyway), the Galaxy A54 managed to go beyond 50FPS–though stability is a bit wonky at around 70%. That's a rather impressive performance for an upper mid-range chip, considering that Tower of Fantasy is more brutal when it comes to resources compared to Genshin Impact.
With those three games, we can say that Samsung's claims on the Exynos 1380 are true, and optimizations made to the processor prove it to be significantly better than last year's Exynos 1280.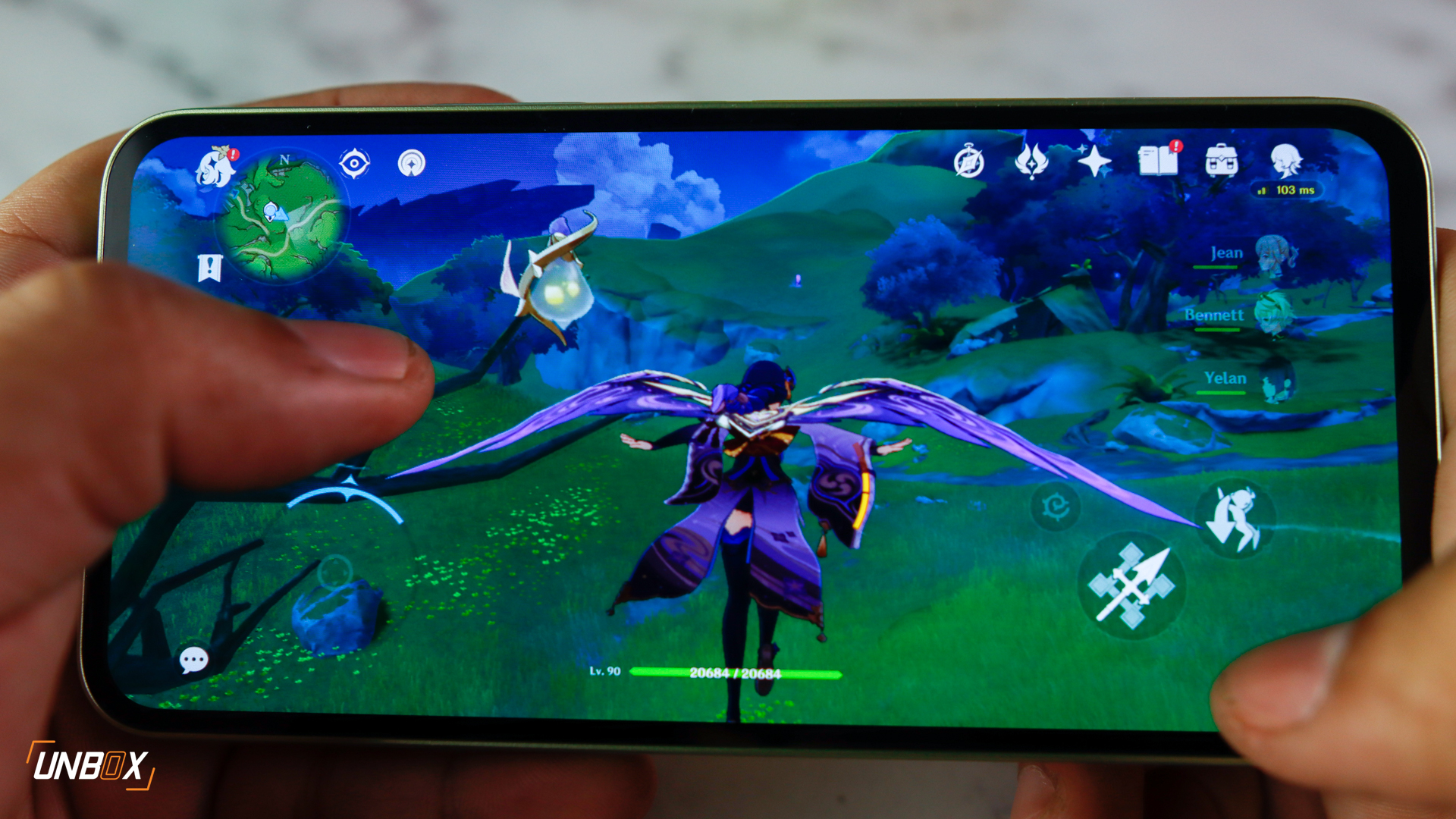 Final Thoughts
Hear us out–you may be pessimistic about Samsung's decision on the Galaxy A54, but our tests conclude that the performance of the Exynos 1380 is significantly better than last year's Exynos 1280–even if the tweaks are incremental on paper. It may be no Exynos 2300 (which might arrive as a tweaked version soon), but it's good to know that Samsung is in the right direction for its Exynos processors in the upper mid-range segment.
All praises for the Exynos 1380 aside, Samsung will have to catch up–MediaTek already has the Dimensity 8200, and Qualcomm has big, bold claims on its new Snapdragon 7+ Gen 2 being 50% more powerful than the rarely-used Snapdragon 7 Gen 1.