Review Verdict: The Galaxy A33 offers a perfect balance between standout features on a Samsung Galaxy A-series phone and a competitive price-to-specs ratio.
Pros
Stereo speakers, IP67 on a mid-range phone
Very decent main camera for both photo and video
Cons
Exynos 1280 needs optimization
Terrible ultra-wide-angle camera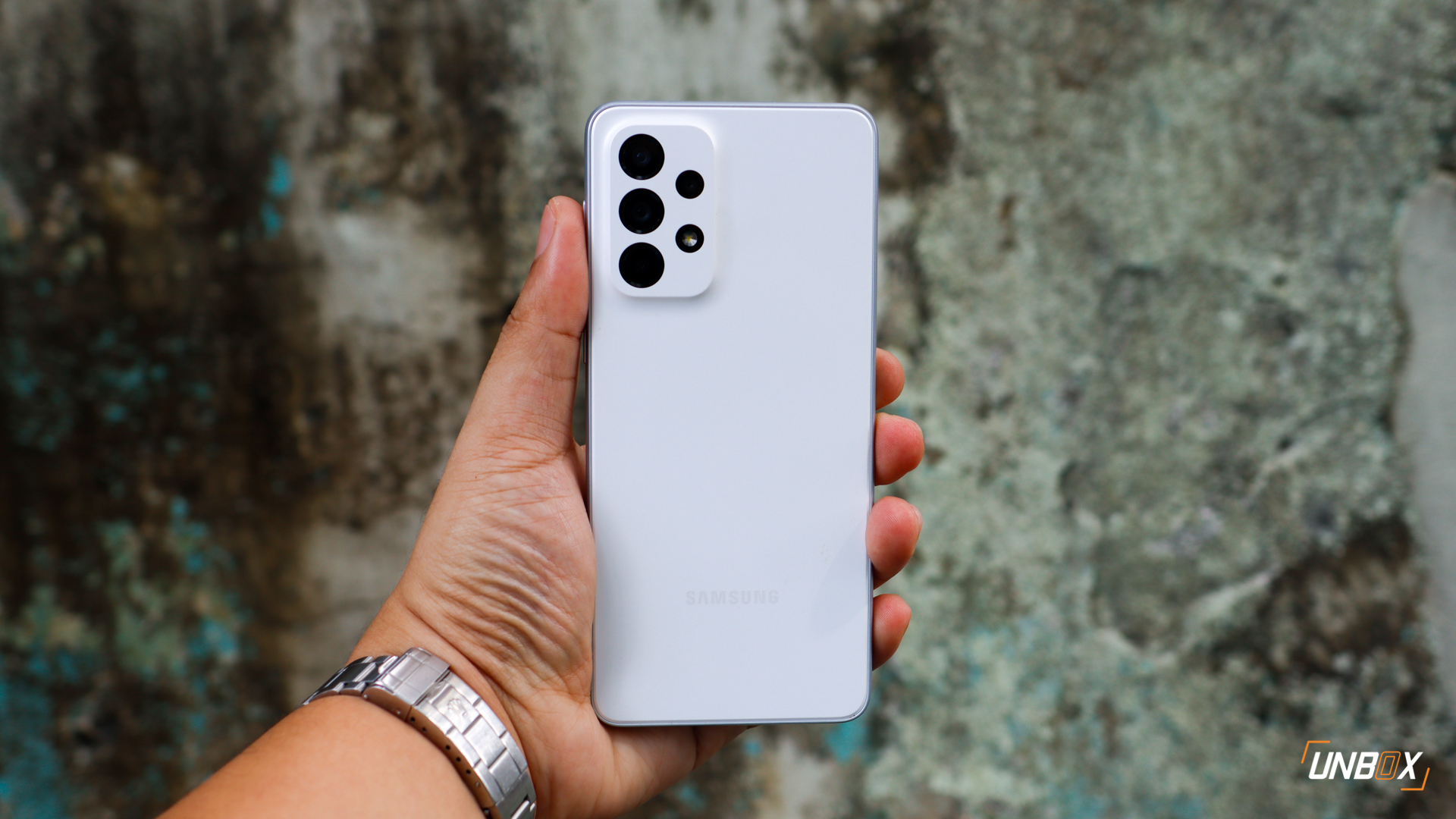 Samsung Galaxy A33 Review Philippines Specs:
Exynos 1280 processor
6GB/8GB RAM
128GB/256GB storage, expandable via MicroSD
6.4-inch Full HD+ Super AMOLED, 90hz refresh rate
48-megapixel f/1.8 main camera with PDAF and OIS, 8-megapixel f/2.2 ultra-wide-angle camera, 5-megapixel f/2.4 macro camera, 2-megapixel f/2.4 depth sensor
13-megapixel f/2.2 selfie camera
4G, LTE, 5G
WiFi, Bluetooth, NFC, in-display fingerprint scanner
Stereo speakers, IP67 rating
5000mAh battery
25w charging
Android 12, OneUI 4.1
Despite being the middle child of Samsung's 2022 line of Galaxy A-series phones, the Galaxy A33 appears to be a significant upgrade over its predecessor, offering a sleek and sexy chassis packed with respectable internals.  Did Samsung nail the winning formula for a truly competitive mid-range phone in the Philippines?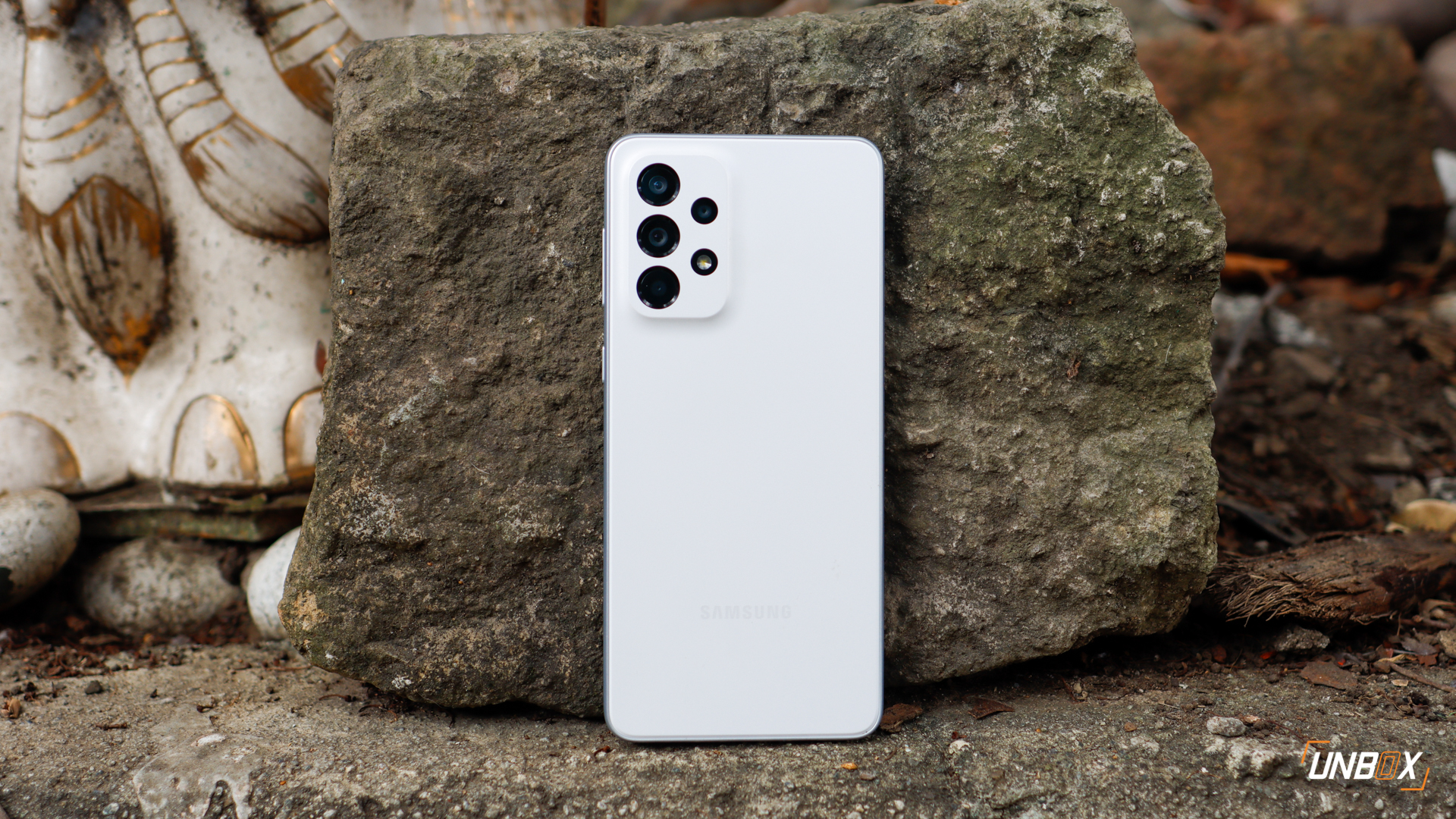 Design
Samsung is sticking to what works when it comes to designing their phones, which is why the Galaxy A series of phones looks so much like each other. The Galaxy A33 looks similar to the Galaxy A52 save for a smaller overall footprint, which isn't a bad thing – I like the design of the Galaxy A52/A72 last year, and I'm glad that Samsung is offering more of the same in its more affordable Galaxy A-series phones.
Because it uses the same body, that also means the Galaxy A33 has most of the features of the A52, including stereo speakers, an IP67 rating, and a matte finish for the polycarbonate back panel. It does earn plus points vs its more expensive siblings as Samsung gave the Galaxy A33's frame a matte finish, making it very resilient against smudges.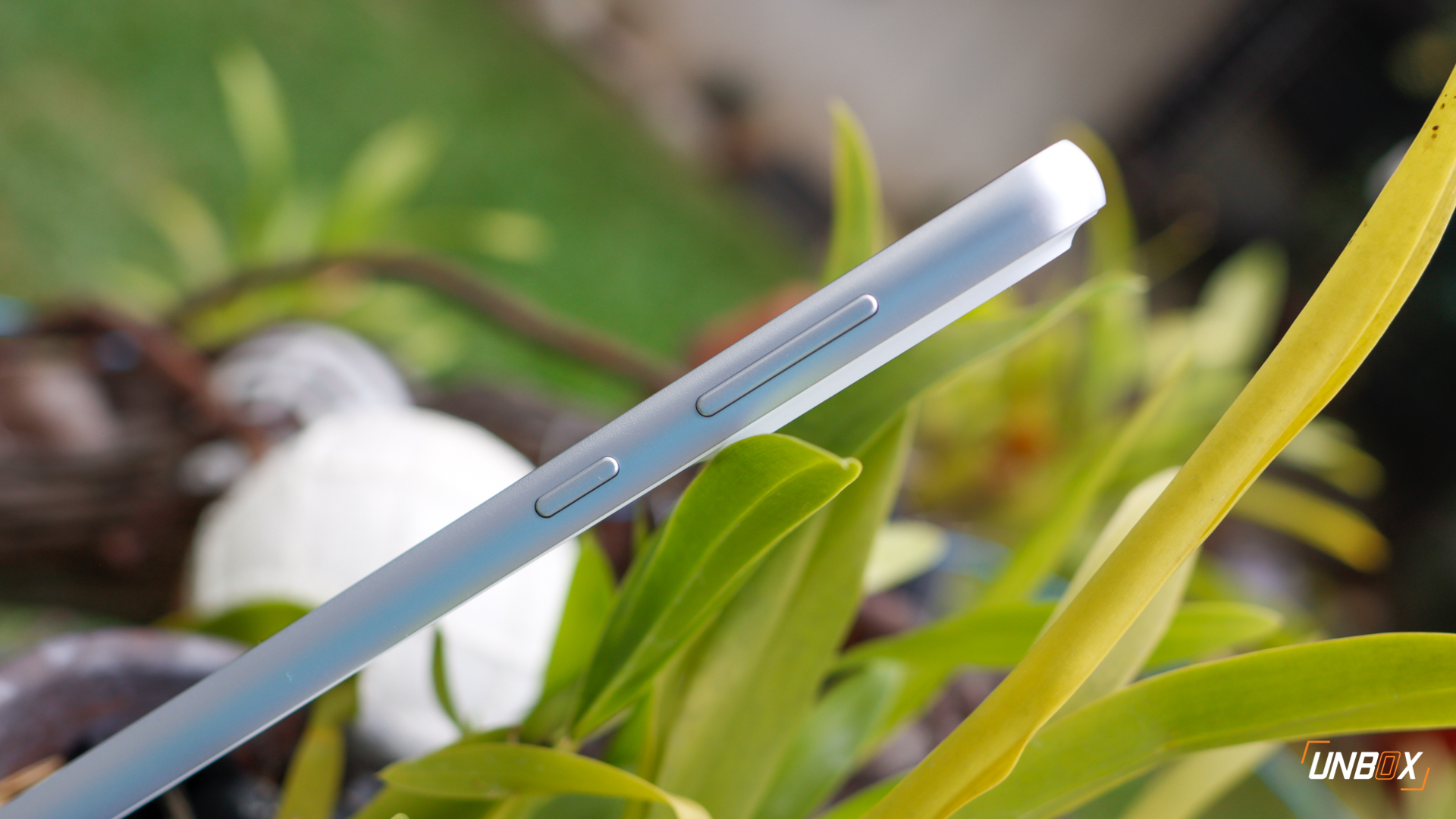 While we like the fact that Samsung added an IP67 rating to the Galaxy A33, it did so by sacrificing the headphone jack. That may be a big deal for some—but there are already a number of decent wireless earbuds to choose from these days like the Galaxy Buds2.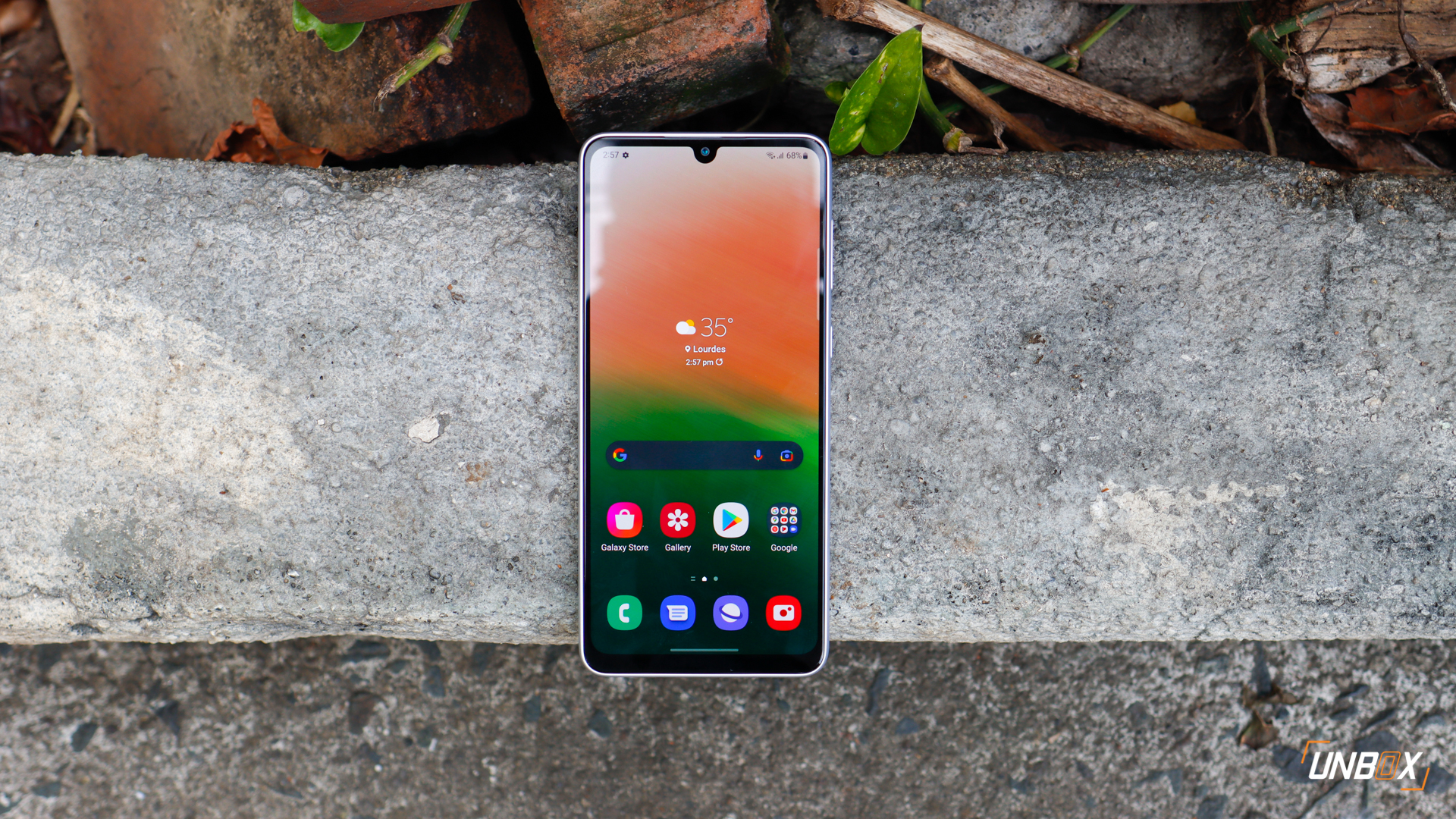 Display and speakers
While you get a notch and not a trendier punch-hole with the Galaxy A33, you still get a decent Super AMOLED display with a Full HD+ resolution, 90hz refresh rate, and an in-display fingerprint scanner–things that you'd expect on a mid-range phone these days.
The display is a big upgrade over the HD+ TFT panel used on the Galaxy A32 5G (the 4G version did get an AMOLED panel). Colors are vibrant and blacks are deep, which are expected for an AMOLED panel. If we were to nitpick the display, it's the limited Widevine L3 support on the Galaxy A33.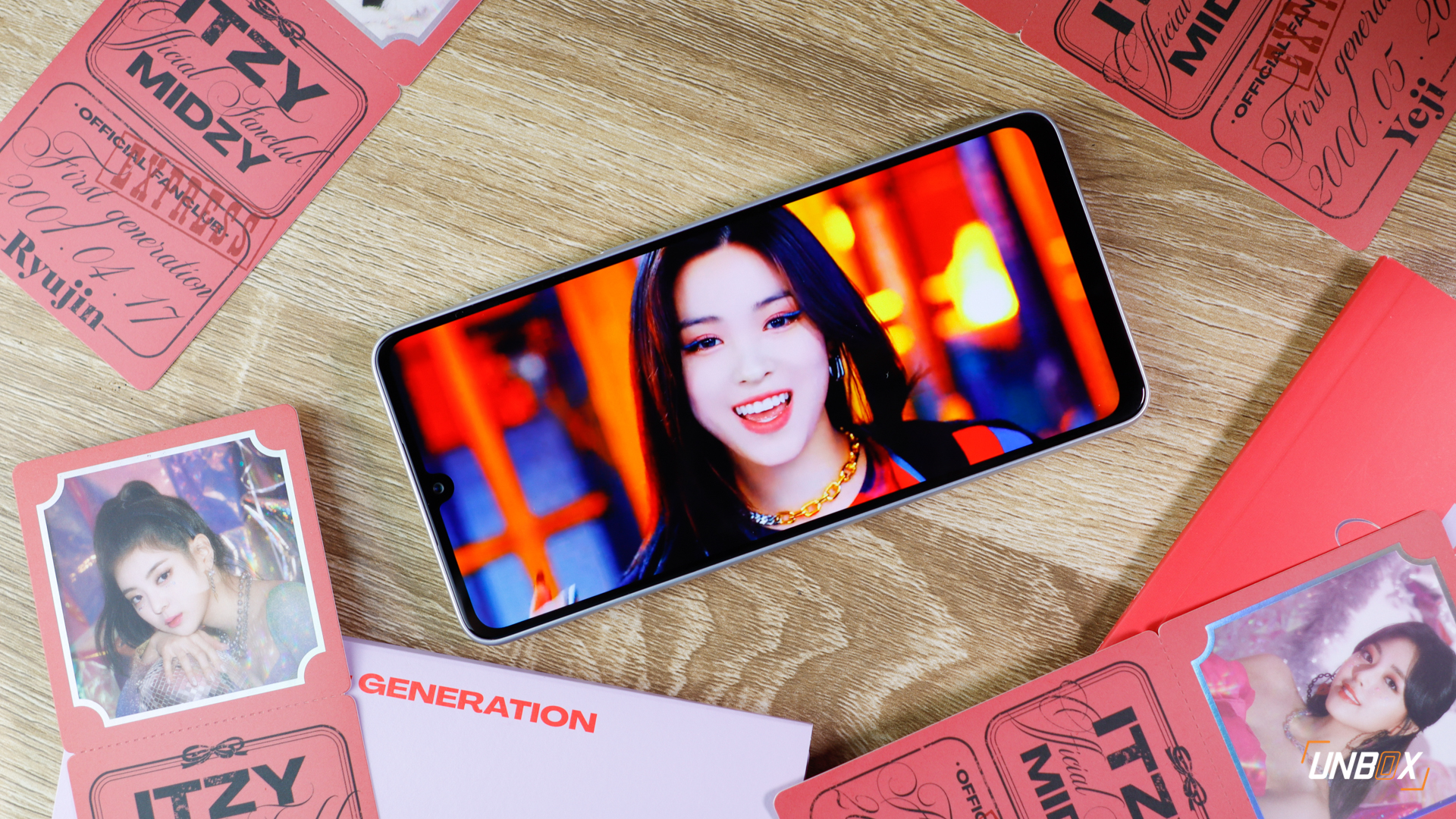 It's unusual for a Php 20k phone to not have Widevine L1, limiting Netflix streams to standard definition. Our unit, however, is an engineering model, so there's a good chance that Samsung might update the Galaxy A33 to have Widevine L1.
Another big bonus of the Galaxy A33 is its inclusion of stereo speakers. While they don't sound as good as the one used on the Galaxy A52/A72, it's a welcome inclusion and is proof that Samsung wants to be competitive in the mid-range segment.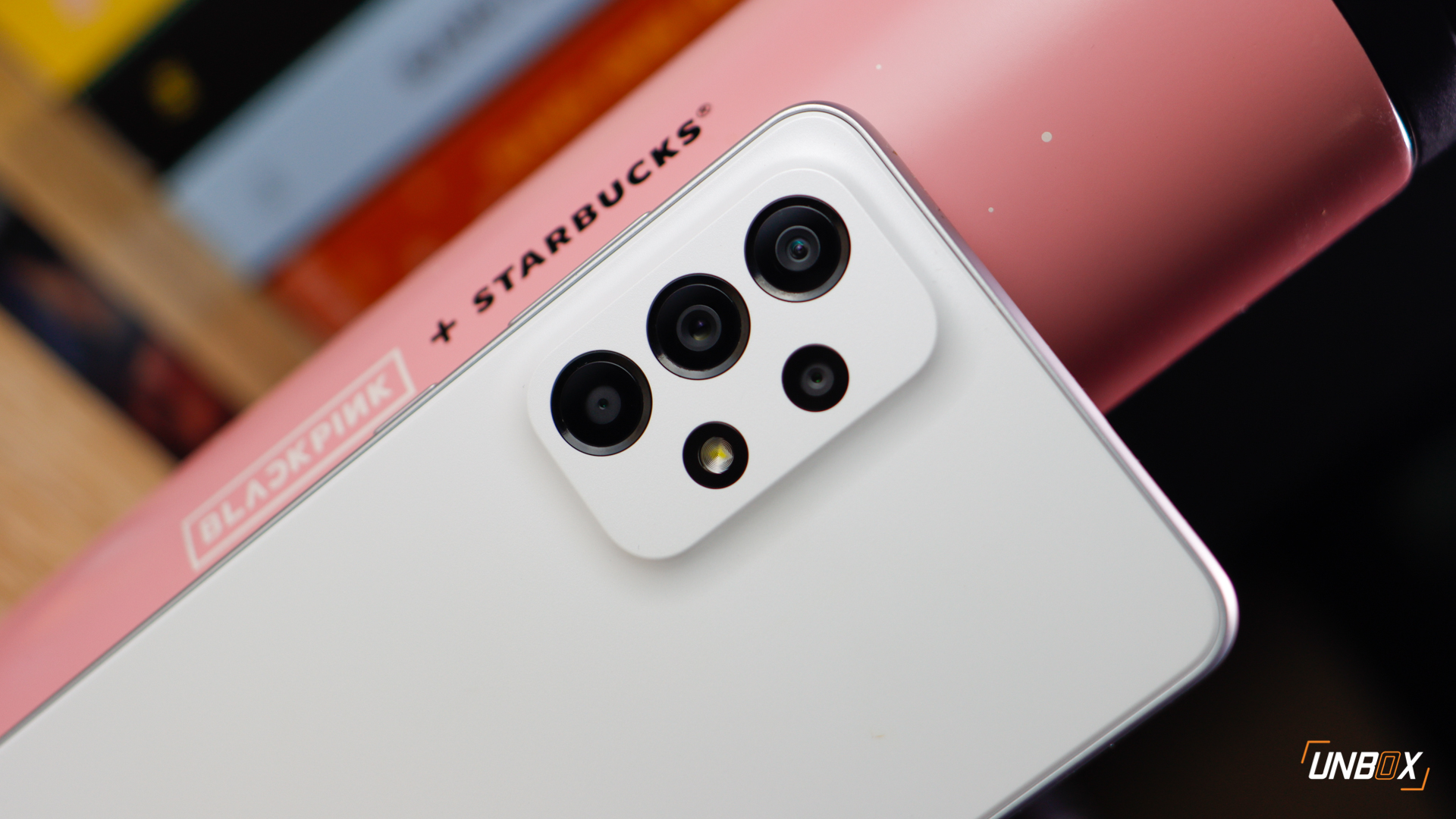 Cameras
The Galaxy A33 has practically the same camera setup as the Galaxy A32 5G, but the main camera now has OIS. That's a very welcome addition, as you'll be hard-pressed to find a 5G-ready phone under Php 20k with an OIS-equipped main camera.
That upgrade on the main camera proved to be useful, as photos are sharp and detailed even in low-light situations. The overall performance of the Galaxy A33's main camera is a notch lower than that of the Galaxy A52/A72 but is still a great performer nonetheless.
The same cannot be said with the ultra-wide-angle camera, however. Aside from the overall quality being lower than the main camera (and not at par with the more expensive Galaxy A-series phones), the biggest issue with the ultra-wide-angle camera is the very noticeable distortion.
Photos shot from the ultra-wide-angle camera are not what you'd expect for a Php 20k phone–but then again, we're talking about an engineering unit here so I hope Samsung addresses this issue.
Underwhelming ultra-wide-angle camera aside, the Galaxy A33 does have a decent selfie snapper that took good photos with a bit of post-processing on the side.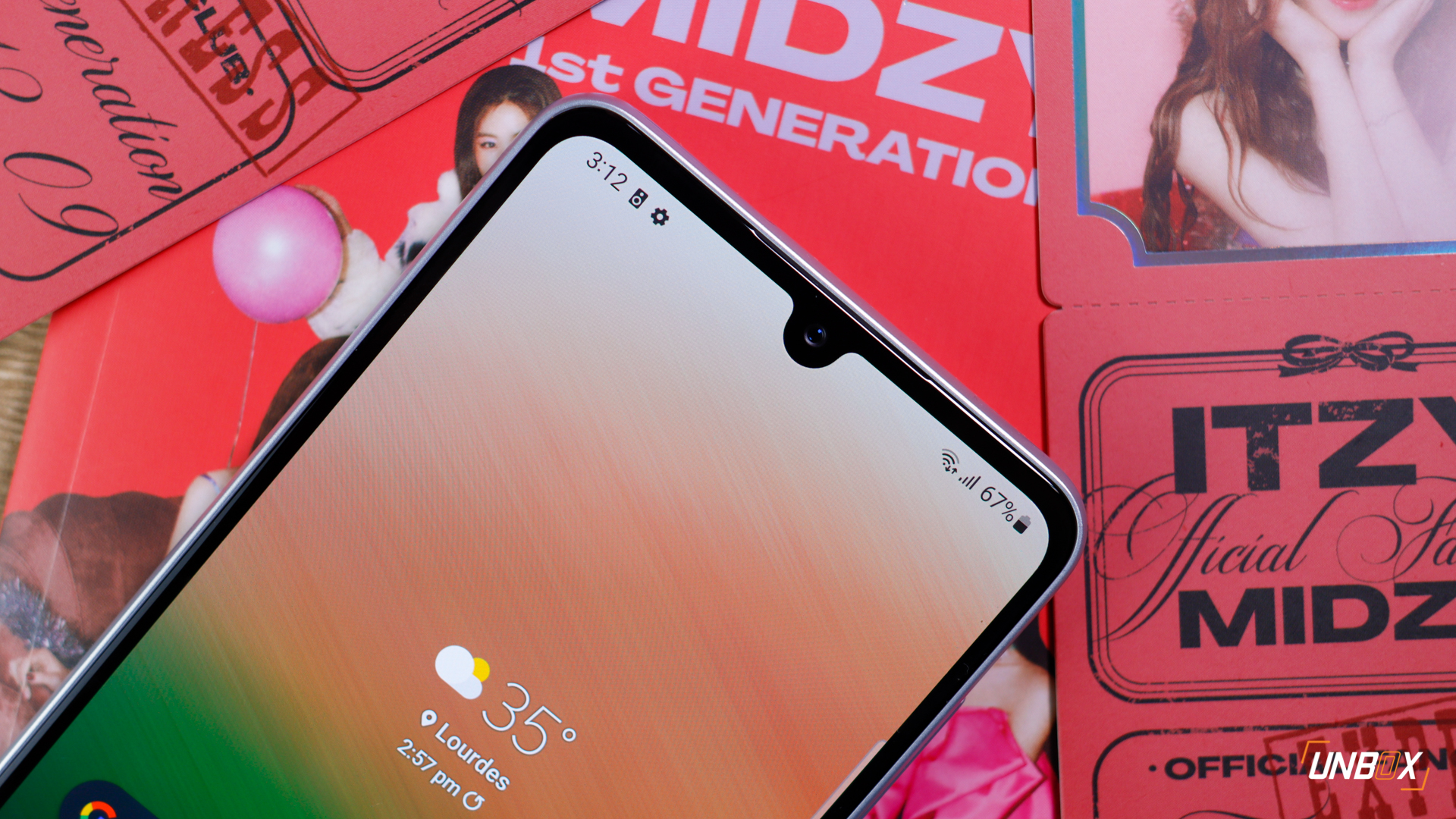 Internals and Battery Life
Powering the Galaxy A33 is Samsung's new Exynos 1280 processor that's paired with up to 8GB RAM and 256GB storage. Our review unit comes with 6GB RAM and 128GB storage.
The new processor is based on a 5nm process and features two Cortex-A78 cores running at 2.4Ghz, six Cortex-A55 cores running at 2Ghz, and a quad-core Mali-G68 GPU running at 1Ghz. On paper, the Exynos 1280 is similar to the Dimensity 900 save for a newer 5nm process and a higher-clocked GPU.
Taking into consideration that we're dealing with an engineering unit, the Exynos 1280 performed slightly better than the Dimensity 900 in Geekbench Single Core and 3DMark Wild Life, while the mid-range MediaTek processor performed better in other benchmark tests. Compared to the Snapdragon 695, the Exynos 1280 performed better in all benchmark tests save for Geekbench Multi-core.
Optimization issues are very evident with gaming: despite having a powerful set of performance cores and a decent GPU, we experienced a dismal performance with Genshin Impact: at the default low settings, we only got a dismal 19FPS average at an equally bad 71% stability.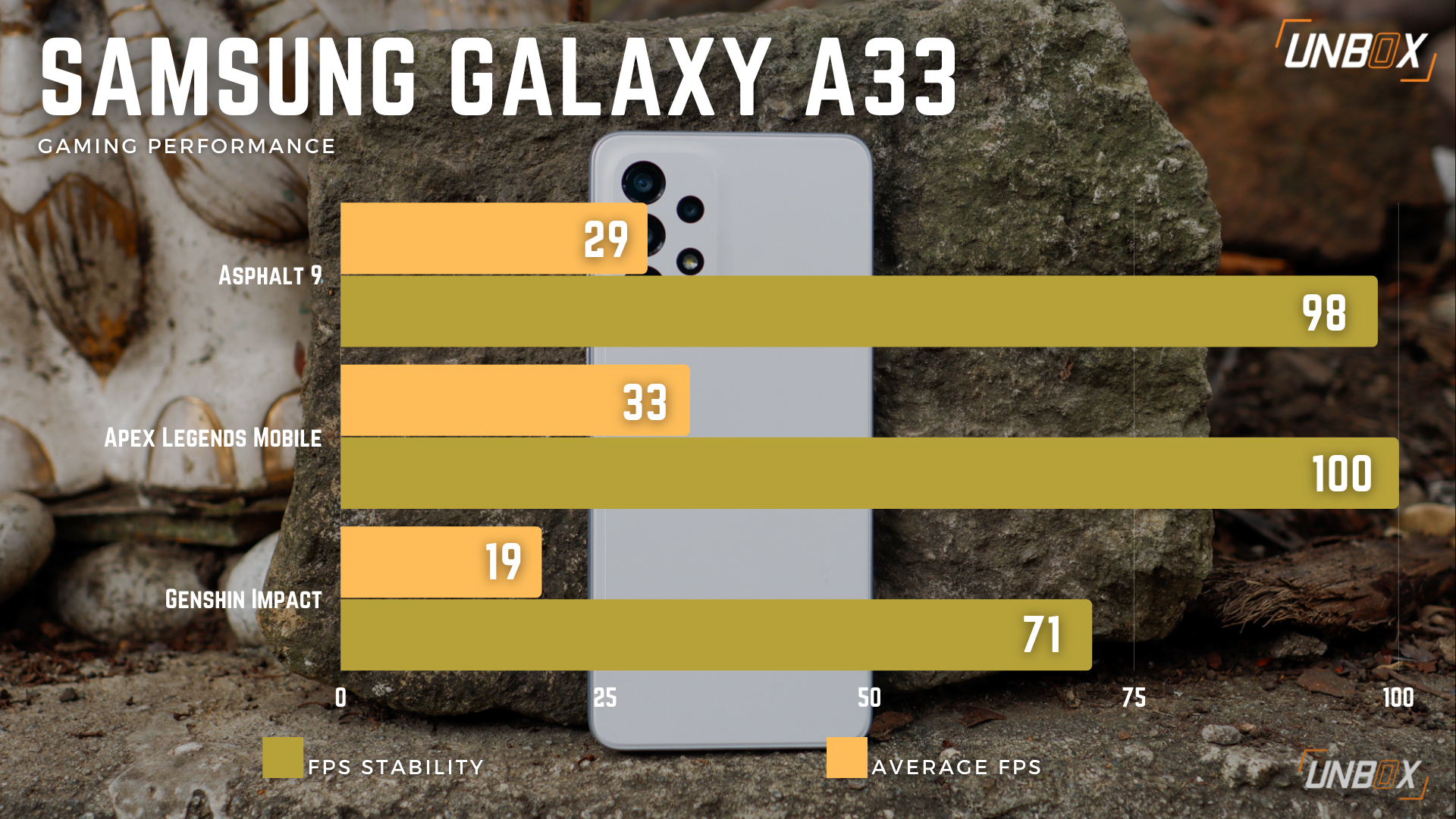 That seems to be not the case with Apex Legends and Asphalt 9 however: our Gamebench results show that the Galaxy A33 managed to do 33FPS in Apex Legends at 100% stability in Ultra HD graphics, while it did 29FPS at 98% stability in Asphalt 9 with high-quality graphics enabled. The skewed results with Genshin Impact point to optimization issues, and we hope Samsung addresses this in future updates.
One of the perks of the Exynos 1280's 5nm process is battery life: with PCMark's battery test, we got a score of 13 hours 22 minutes with the display set at 90hz. That's a fairly good figure for its 5000mAh battery. Like its more expensive siblings, you get support for 25w charging with the Galaxy A33–though you will need to purchase the charger separately.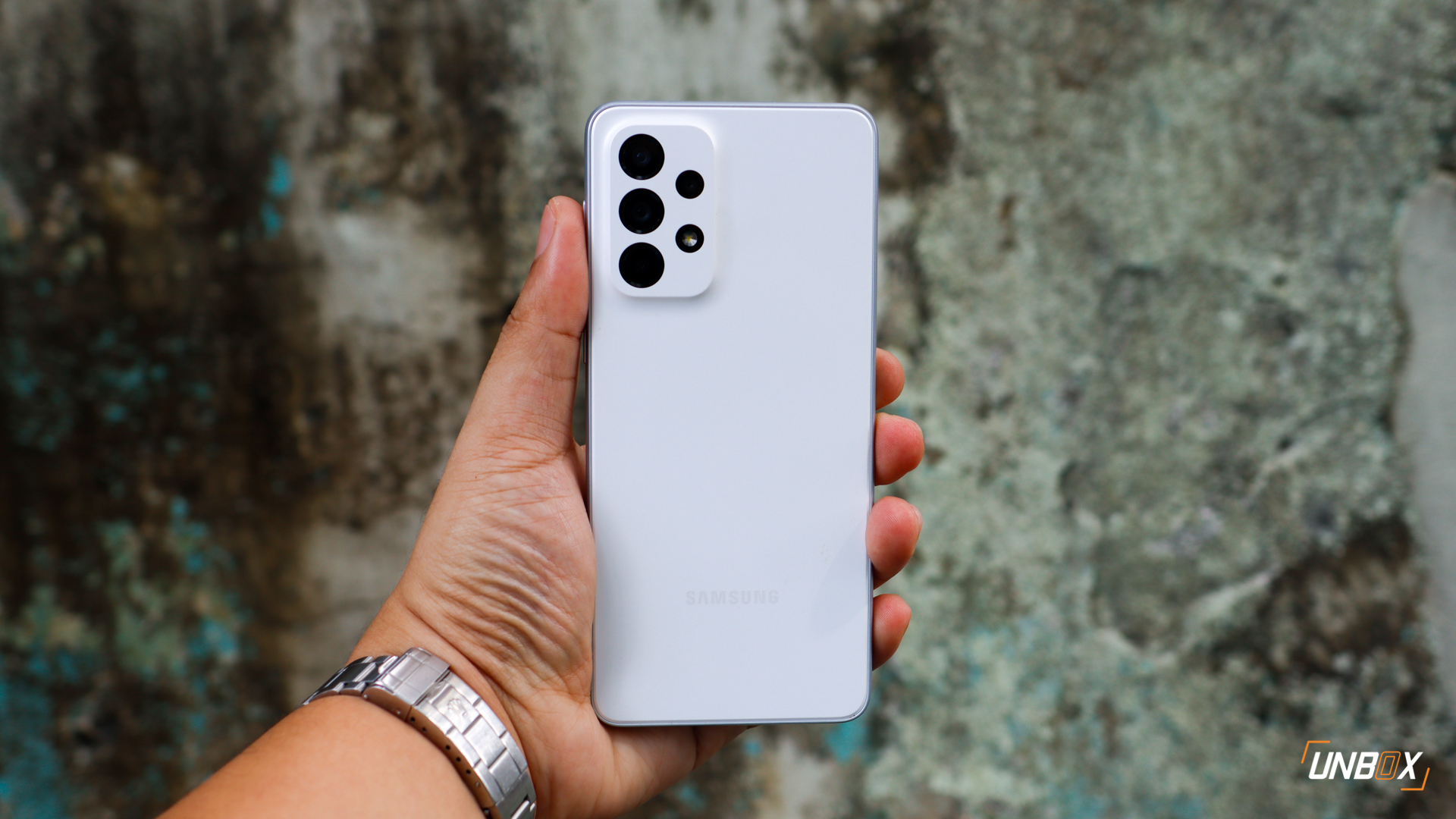 Wrap up and Conclusions
Our review of the Galaxy A33 shows that it is the most balanced Samsung Galaxy A-series phone in the Philippines. Despite its fair share of shortcomings, the Galaxy A33 offers a number of features that are not present in other mid-range phones at the Php 20k price segment.
Samsung Galaxy A33 Review Philippines Price
The Galaxy A33 is priced at Php 18,990 for the 6GB/128GB variant, Php 19,990 for the 8GB/128GB variant, and Php 21,990 for the 8GB/256GB variant. The former is an online-exclusive, while both 8GB RAM variants are available both online and in-store.