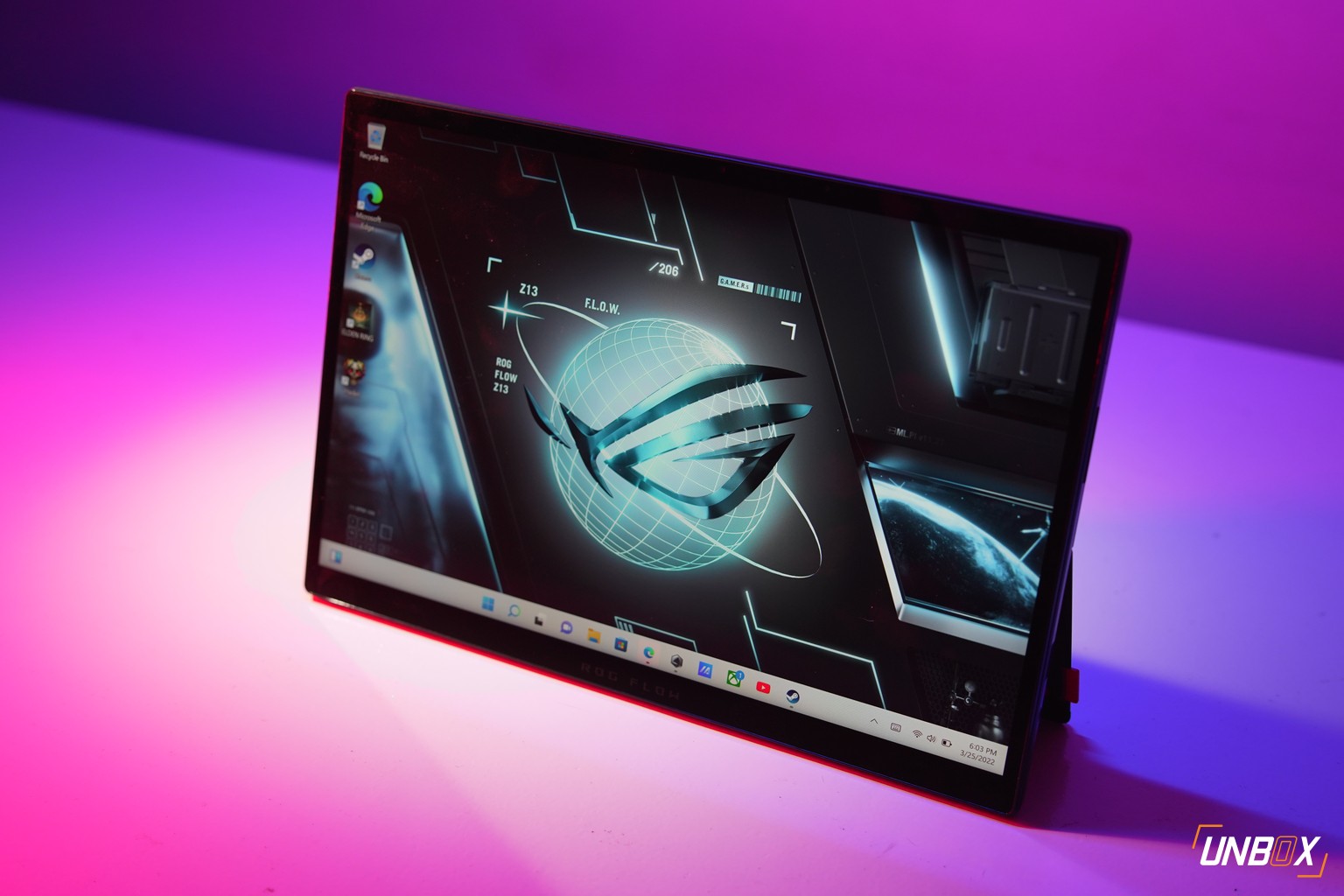 Review verdict: ASUS has done the impossible with the ROG Flow Z13, making tablet PC gaming possible in the Philippines. That feat comes with a few caveats, but those don't take away the truly impressive engineering that ASUS was able to achieve with their tab.
Pros
Most powerful Windows-based tablet on the market
Decent PC gaming capabilities in a compact chassis
External GPU gives it an extra punch
The detachable keyboard is one of the best in its class
Cons
Expensive
RTX 3050 limits performance under 60FPS with the highest graphics settings
Gaming drains battery life quickly
If you told me unironically a year ago that ASUS would come out with a tablet that could do PC gaming well, I would have probably laughed at you. But after spending close to three weeks with their ROG Flox Z13, I've come to find that the brand's latest and greatest tab is the real deal – as long as you're realistic about what you're getting when you're gaming on the go.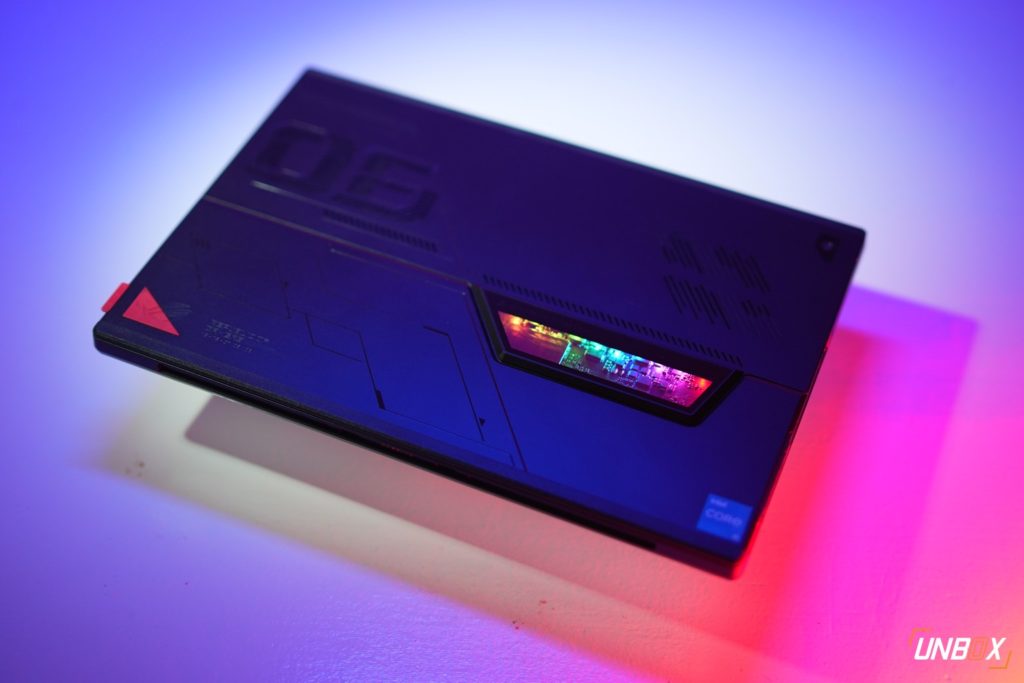 Design
There's only so much you can do to make a tablet look interesting, but ASUS has managed to make the ROG Flow Z13 look good nonetheless.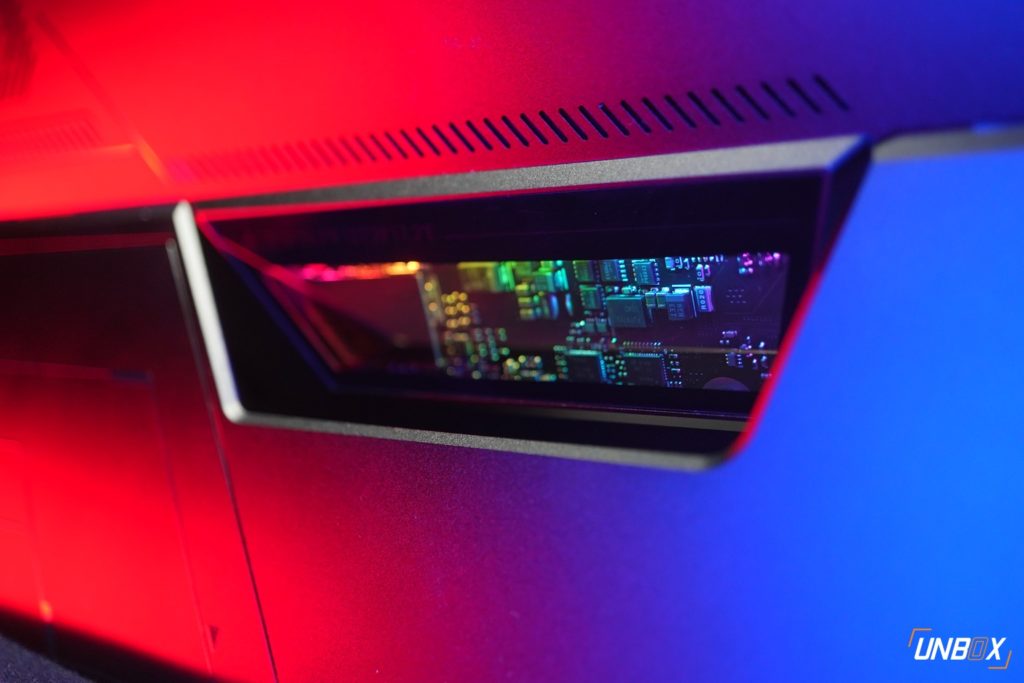 The back of the tablet has an integrated kickstand as well as gaming-style ventilation grilles for thermal management. ASUS also included a neat-looking RGB-lit glass window on the back that shows off some of the internal circuitry of the tablet.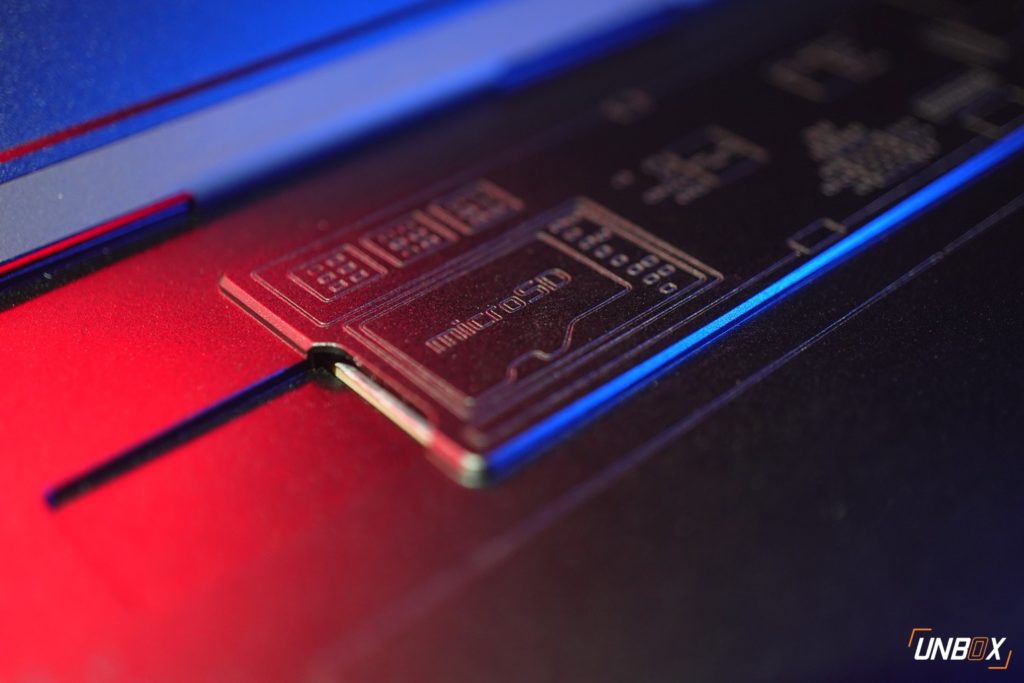 The ROG Flow Z13 also includes a detachable folio keyboard that's such a damn pleasure to type on, but we'll get to this later. The keyboard is attached via magnets on the bottom and is very easy to take out when not needed.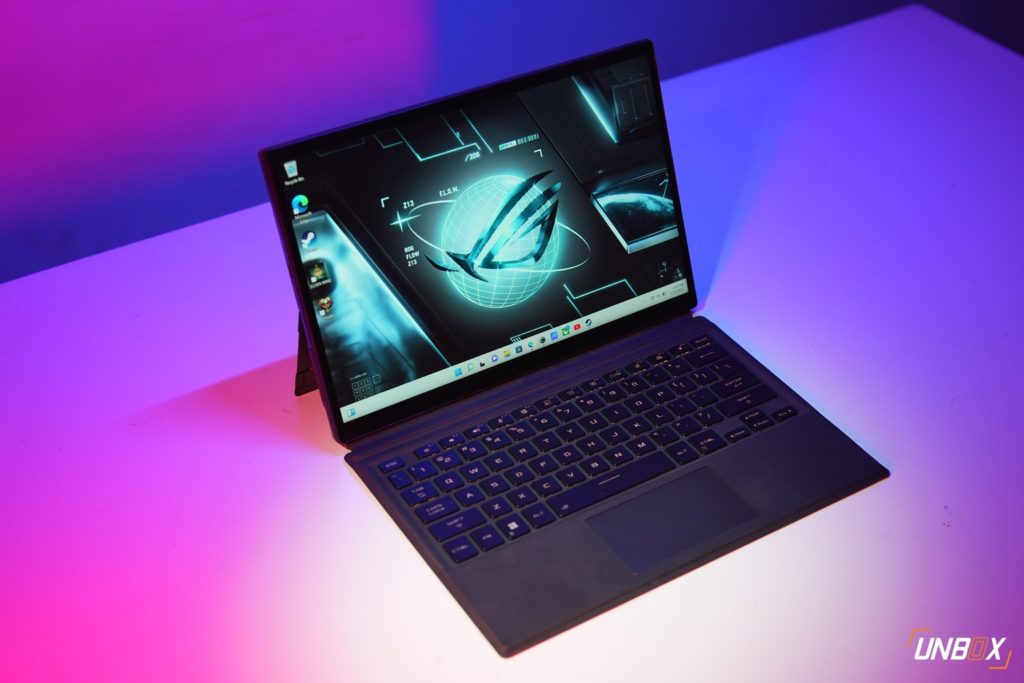 Because the ROG Flow Z13 is primarily a tablet, ports and connectors are slim pickings on it. You're looking at two USB Type-C ports, a single USB-A port, and a proprietary XG mobile connector on the chassis for the external GPU.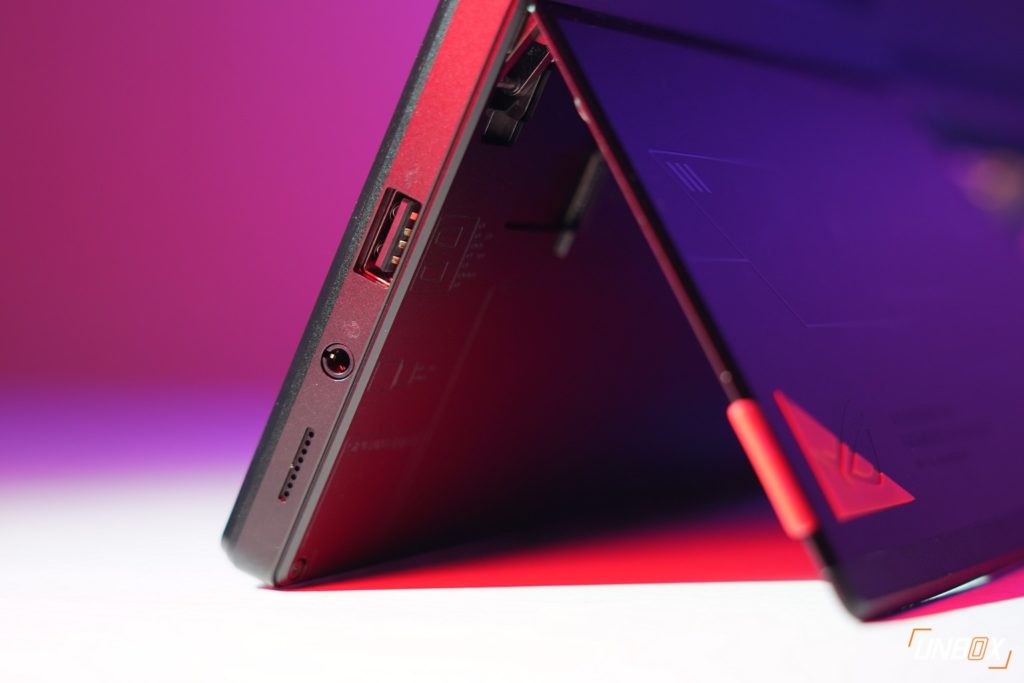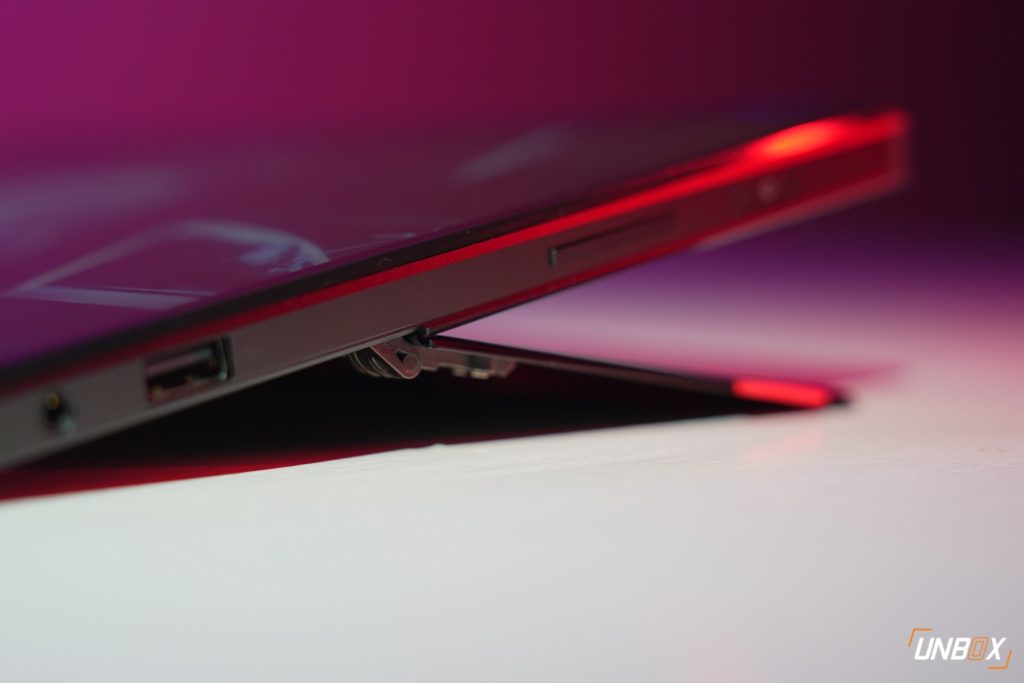 There are also two cameras on this particular tablet – one HD webcam for normal video conferencing use, then another 8-megapixel one in the rear for…normal photos? Sure you could use it for that, but I'd wager it would be very awkward to utilize it that way.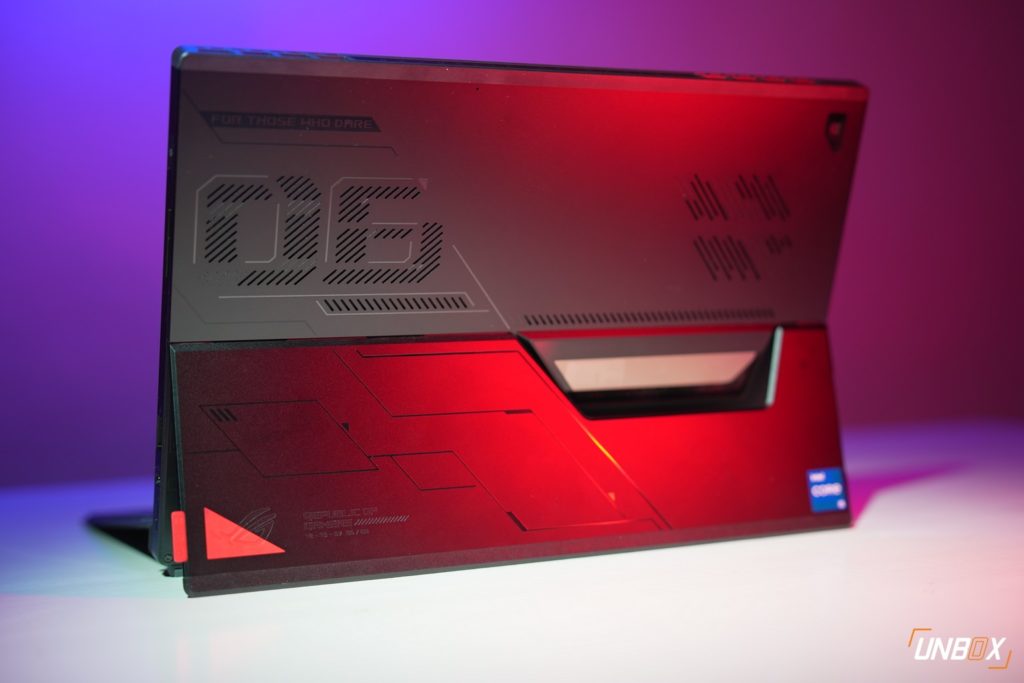 The overall weight for the ROG Flox Z13 is 1.2 kilos for the model with a discrete GPU, which is on the heavy side as far as tablets go. That's not a big surprise considering that the tablet has a 13-inch screen but it's something to take a note of especially if you think it's comparable to a normal, non-Windows tablet in weight.
The kickstand is solid and is able to keep the tablet standing upright no matter the orientation, though it suffers from the same limitations as other devices like it in terms of use on weird surfaces like your lap.
Display
The ROG Flow Z13 gets a 13.4-inch display that has two display options on tap: a regular FHD+ panel that has a 120Hz refresh rate and a claimed 100% sRGB coverage, and a UHD+ variant that has a 60Hz refresh rate and claimed 85% DCI-P3 colors.
While you'd be tempted to get the higher resolution screen, I advise against it for a multitude of reasons, but primarily because the hardware won't be able to take advantage of it gaming-wise. As you'll see in our benchmarks later the Flow Z13 struggles to deliver 60+ FPS gaming without the external GPU attached at max resolution, so it really doesn't make sense to add the additional burden of a higher-resolution panel in the mix.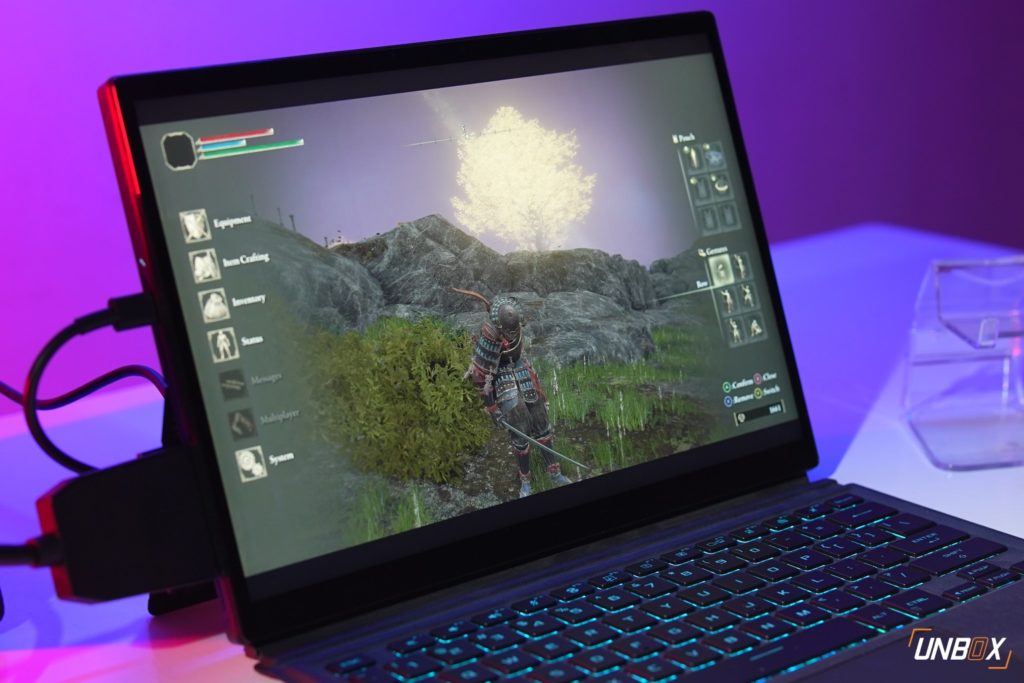 That being said, the HD+ display looks good. The bezels around the panel aren't too big, and brightness levels looked to be on the 500+ nit that ASUS advertised. The colors looked good too, though you'll have to come back for a detailed display analysis as I didn't have our colorimeter with me while I was writing this.
The display did show the same issues that typical LCD panels have in terms of minor backlight bleeding which really showed itself when using the tablet in really dark environments, but aside from that, the display looks good for what it is.
Since the ROG Flow Z13 is a tablet the display is a touch-capable one, and from our tests, the touchscreen was very responsive to touch, though ASUS didn't send over a stylus so we have no idea how well this works as a writing surface.
Keyboard and sound
As I mentioned earlier, the ASUS ROG Flow Z13 has a detachable folio keyboard that connects to the bottom of the tablet via magnets. There's a physical link between the keyboard and the tablet, so there's no lag whatsoever as far as input goes unlike Bluetooth keyboards of similar models.
Interestingly the keys on the keyboard have RGB lighting, though you're limited to single-zone customization.
As far as folio keyboards go, this one is probably the best I've tested so far. The 1.7mm key travel is pleasant and predictable, and there's enough feedback when typing with the keys that I didn't have trouble transitioning to it from my mechanical keyboard.
The trackpad isn't as great – it's functional and workable, but I found myself reaching for my wireless Bluetooth mouse more often than not while using it.
The ROG Flow Z13 uses stereo speakers that are placed on the side of the tablet. The sound was ok but not great which isn't surprising considering the space constraints that you're working with.
Performance, software, battery life
The ASUS ROG Flow Z13 provided for our review in the Philippines came with an Intel Core i7-12700H processor, along with a discrete NVIDIA RTX 3050 (4GB) graphics card, 16GB of LPDDR5 RAM, and 512GB of SSD storage. There's also a more affordable variant of the laptop that nixes the discrete graphics card for an Intel Iris Xe chip and Core i5 processor, but we'd recommend against that model if you're looking for a gaming-capable platform.
ASUS advertises the ROG Flow Z13 as a gaming tablet and while that's technically true, we have to get into how powerful it really is when it comes to AAA games. We ran the tablet through a selection of AAA PC titles in their highest graphics setting with RT off to see just how well the processor and GPU combo fared.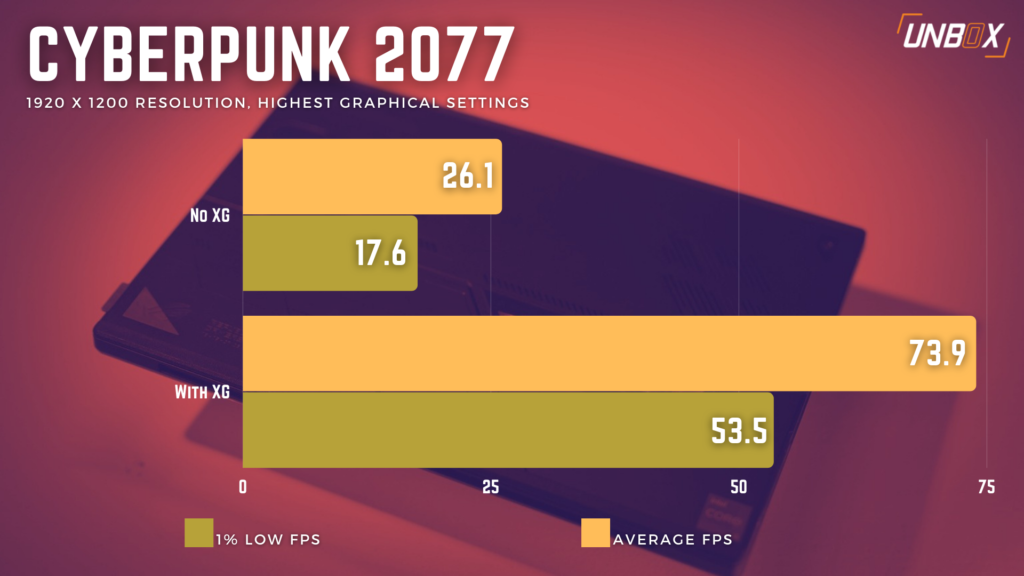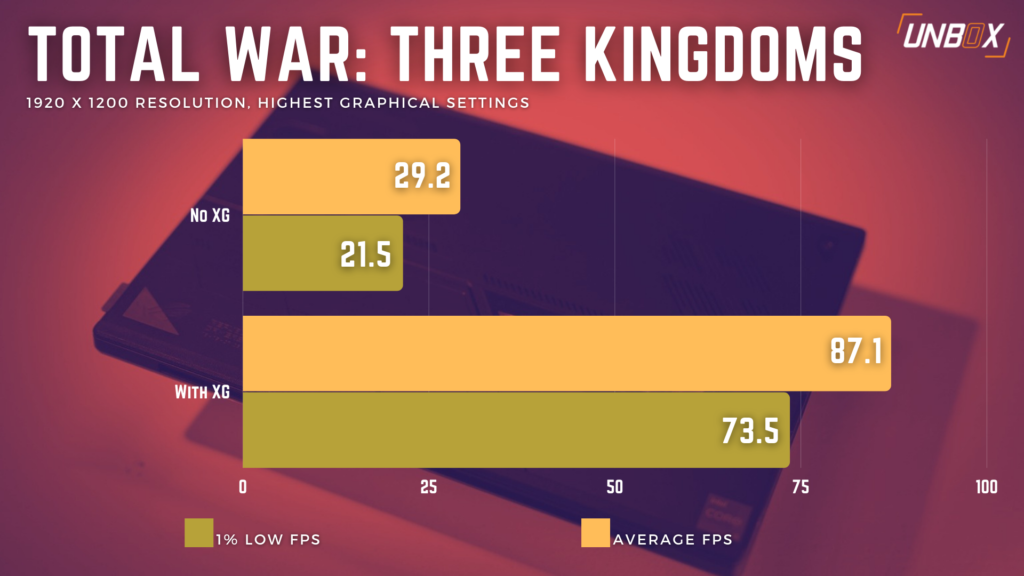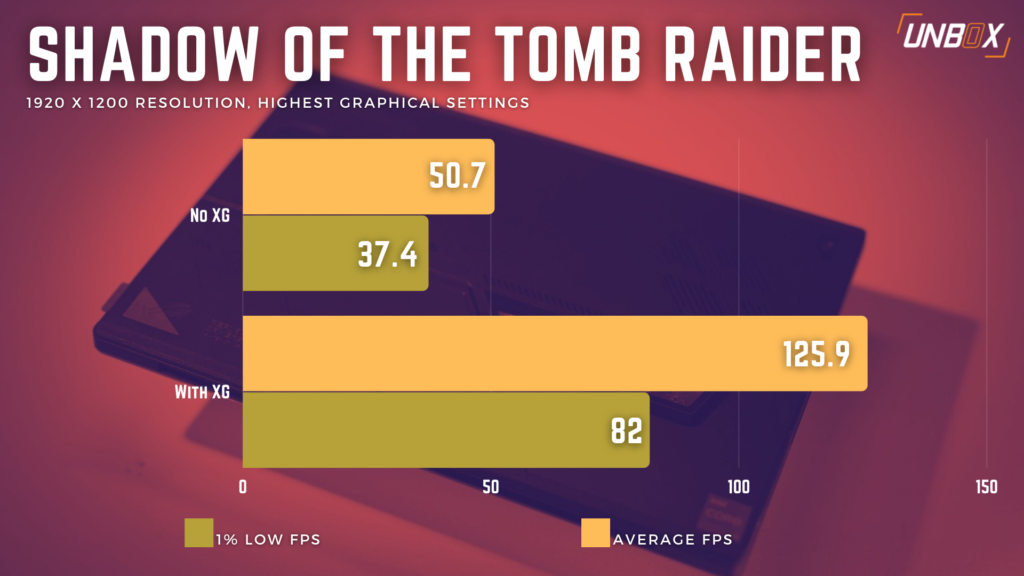 According to our tests, there wasn't a single title that the ROG Flow Z13 was able to run past 60 FPS on their highest graphics setting. This isn't really surprising, since the RTX 3050 is pretty much at the bottom of the barrel as far as current-gen GPUs go.
That being said it doesn't mean that the ROG Flow Z13 can't run AAA games, as you'll only have to drop quality settings down to medium or whatever your favorite game's equivalent to get past 60 FPS. Compromise is the name of the game here: you're sacrificing performance for portability.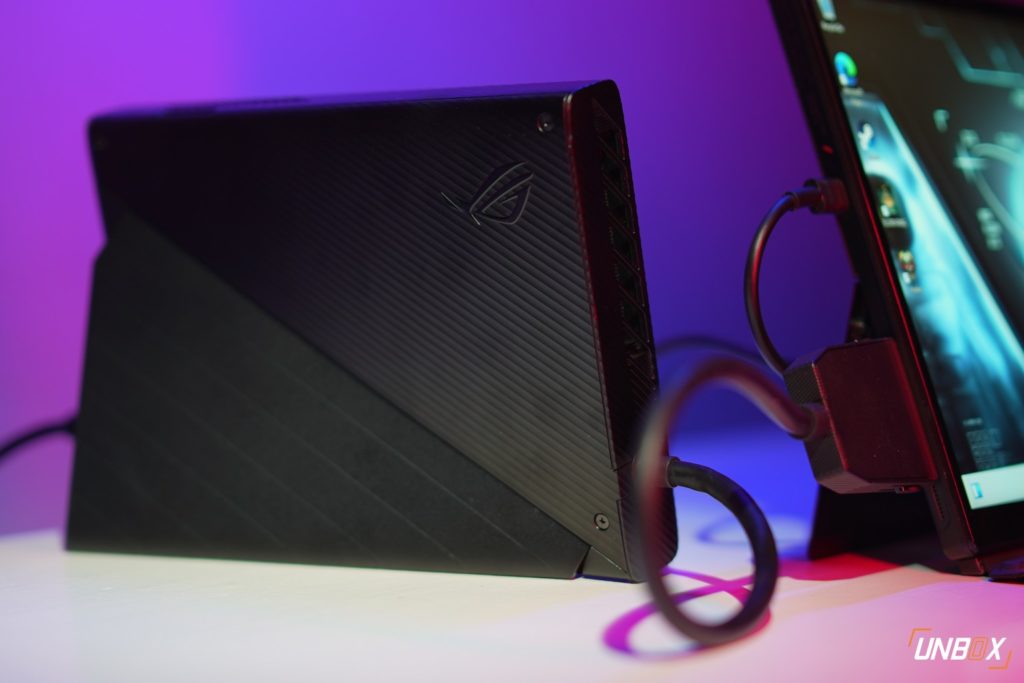 There is a solution to the ROG Flow Z13's GPU woes though – the ROG XG mobile. It's an external GPU that plugs into the proprietary dock on the side of the ROG Flow Z13 to give it a graphical boost when you're at home. It comes in several GPU flavors, with the one provided by ASUS for our review sporting an AMD Radeon RX 6850M GPU.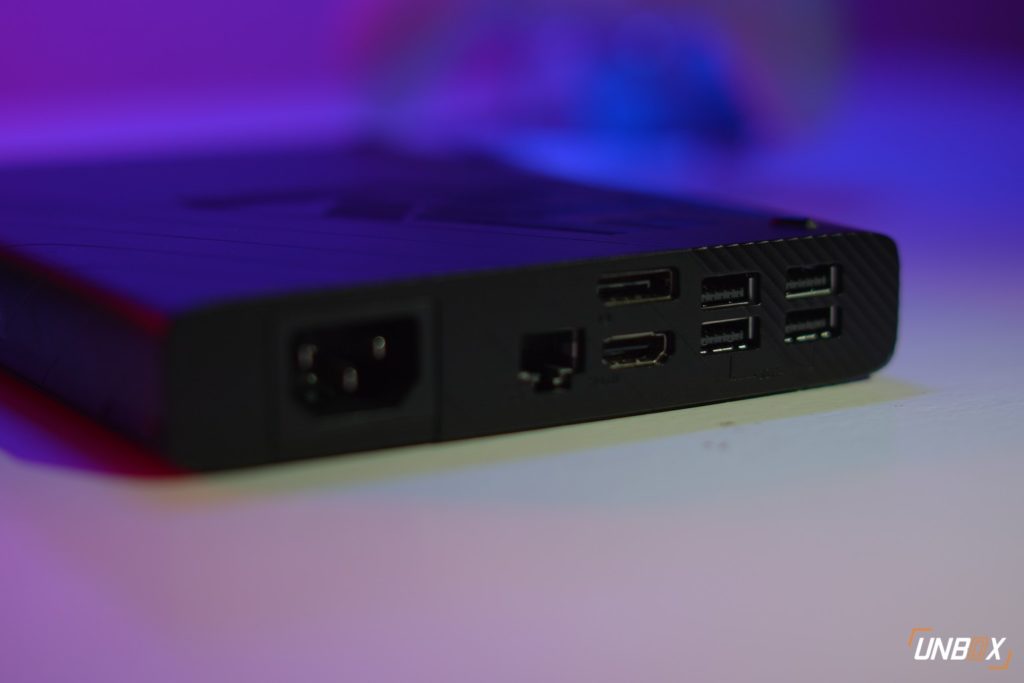 Benchmarks with the ROG XG mobile attached to lift the graphics performance of the tablet dramatically, easily passing the 100FPS mark for multiple games. Aside from providing an extra boost to FPS, it's also a port replicator – giving you additional inputs and outputs when you're not moving about.
Battery life for the ROG Flow Z13 is pegged at 4 hours and 24 minutes during our punishing battery test. That easily translates to around a day's worth of battery with moderate use. You can game with the laptop off the charger but you probably won't get more than an hour before you exhaust the battery, unfortunately.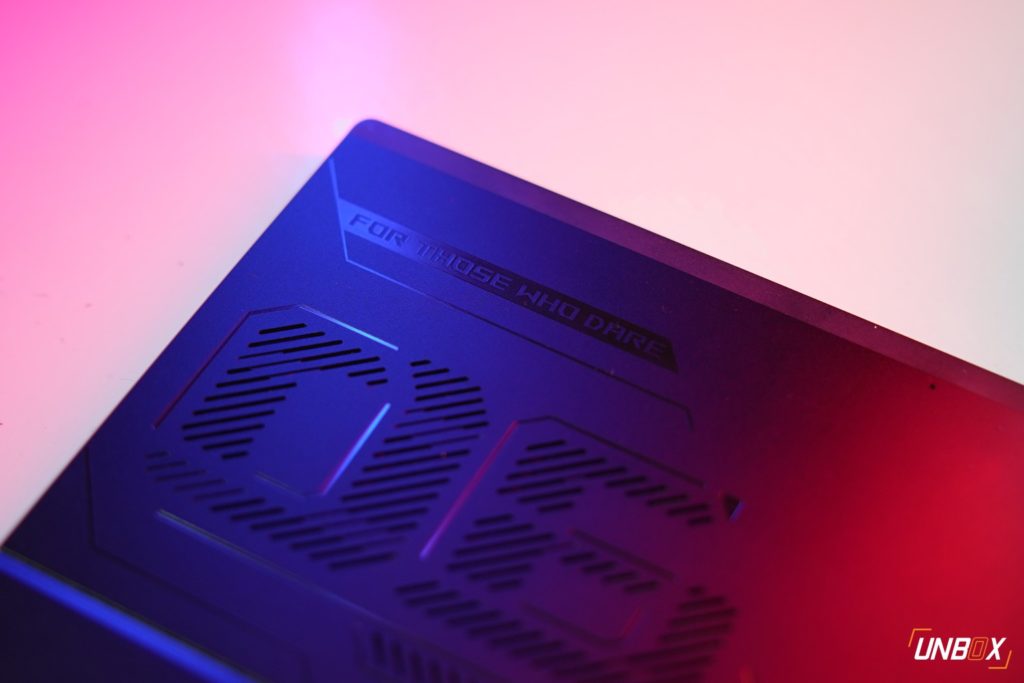 One thing I really like about the ROG Flow Z13 is that fan noise is almost non-existent when you're running in silent mode. Obviously, that changes when you're plugged in and playing games.
Thermal management is pretty good with the ROG Flow Z13, and since the keyboard isn't connected to any heat-generating parts (all of those bits are behind the screen) it stays cool to the touch even if you play on the tablet all day.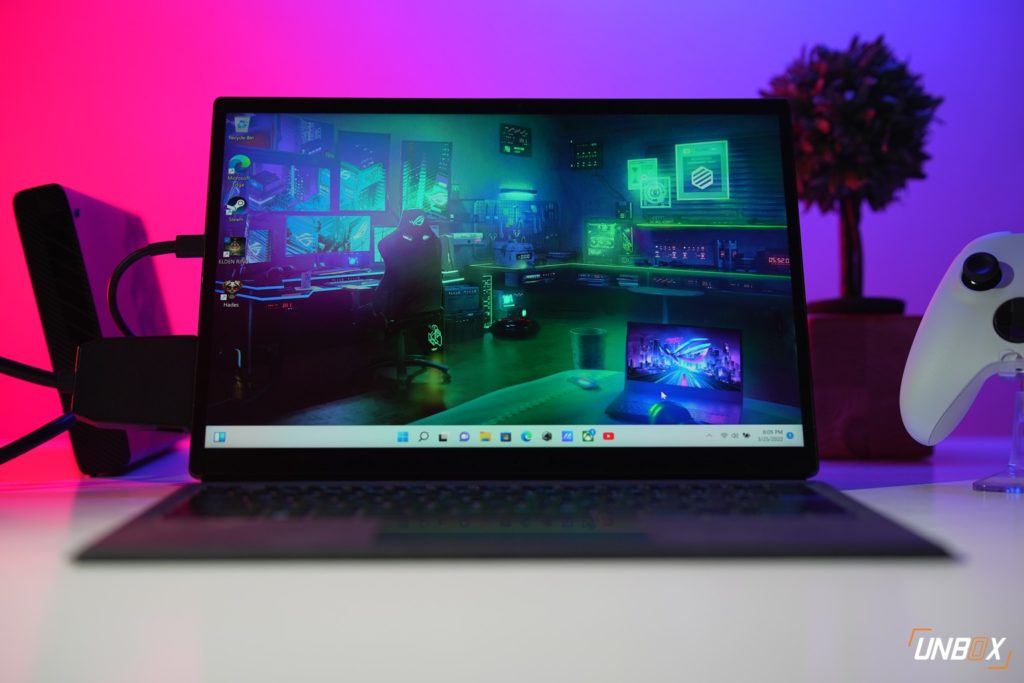 Wrap-up and conclusions
Our review of the ROG Flow Z13 for the Philippines shows just how far ASUS has come in its pursuit of mobile tablet gaming. It's one of the most powerful stand-alone PC-based tablets we've seen today and theoretically can play newer PC titles as long as you're willing to turn the graphics down a bit.
That being said, it's not the ideal device to buy if you're a PC gamer that wants to game on the road. It's relatively expensive considering its discrete GPU, and the only way you'll be able to get more than 40 frames per second on newer games on max quality is to spring for the spendy ROG XG Mobile external GPU for it.
ASUS ROG Flow Z13 Review Philippines Price
Two versions of the ROG Flow Z13 are available to buy in the Philippines. The Core i5 variant of the ROG Flow Z13 (GZ301ZA-LD072W, Intel Core i5 with Iris Xe graphics) is priced at Php 84,995. The RTX 3050-equipped one that we reviewed with an Intel Core i7 12700H processor (GZ301ZC-LD055W) is priced at Php 99,995. The XG Mobile that was lent to us is priced at Php 69,995.
Comments (0)