Quick Review Verdict: The ZenBook Duo 14 UX482E is proof positive that ASUS isn't giving up on their dual-screen dream for their laptops. The laptop of tomorrow gets a better, more responsive display as well as beefed-up internals thanks to Intel's new crop of processors and NVIDIA's new GPU.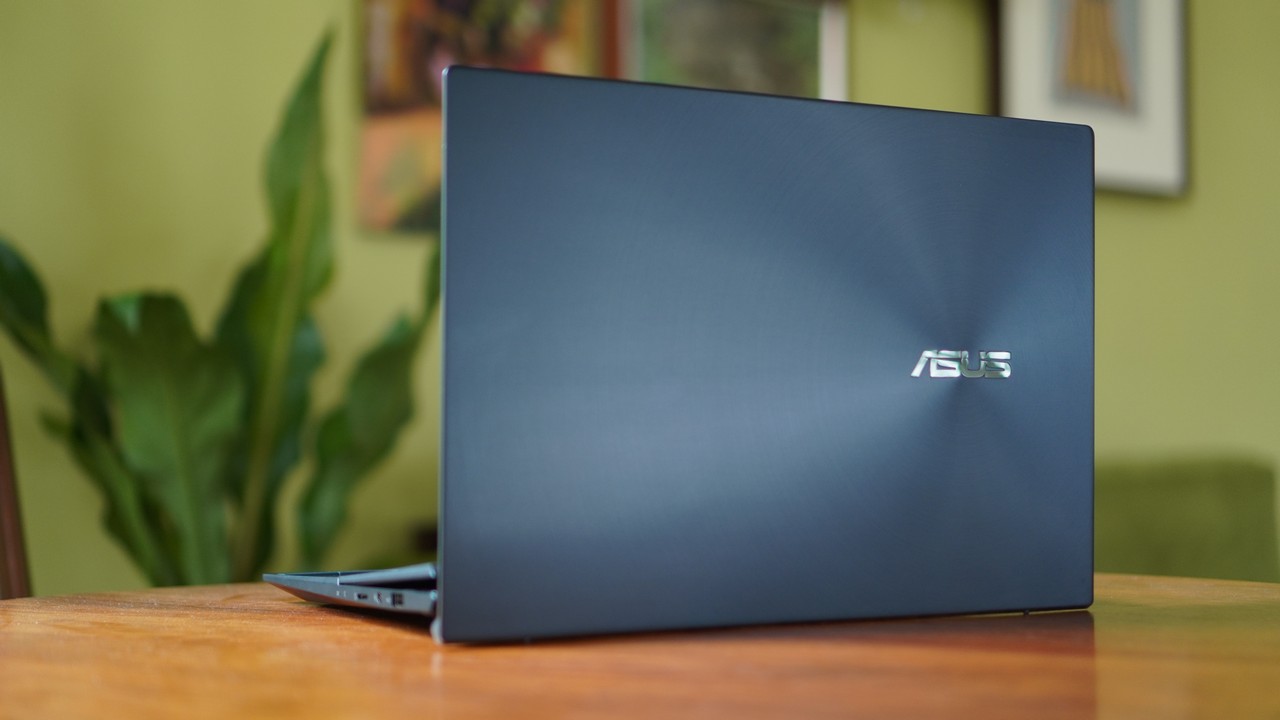 Pros
Screenpad Plus is significantly more useful
Lighter and sleeker than the last generation
Good performance
Cons
You can still go without the second screen
Keyboard takes getting used to
ASUS launched the laptop of tomorrow back in 2019, and they've been continually been refining the concept since. The idea is simple: more screens allow you to get more things done (in theory), and that should also be the case for laptops as well.
ASUS has done a good job in reducing the barrier to entry for their dual-screen offerings while refreshing the line to offer better performance. What's changed in the 2021 version of the ZenBook Duo 14?
Design and display
What's remarkable about the ZenBook Duo 14 is that it looks pretty much like your standard laptop while the lid is closed.
Despite the second screen, ASUS has found a way to reduce the overall thickness to just 16.9mm down from the chunky 20mm of the previous iteration, though its weight remains around the same, around 1.57 kilos.
The chassis looks and feels premium, and like we said it resembles most of ASUS' high-end offerings in the ZenBook line.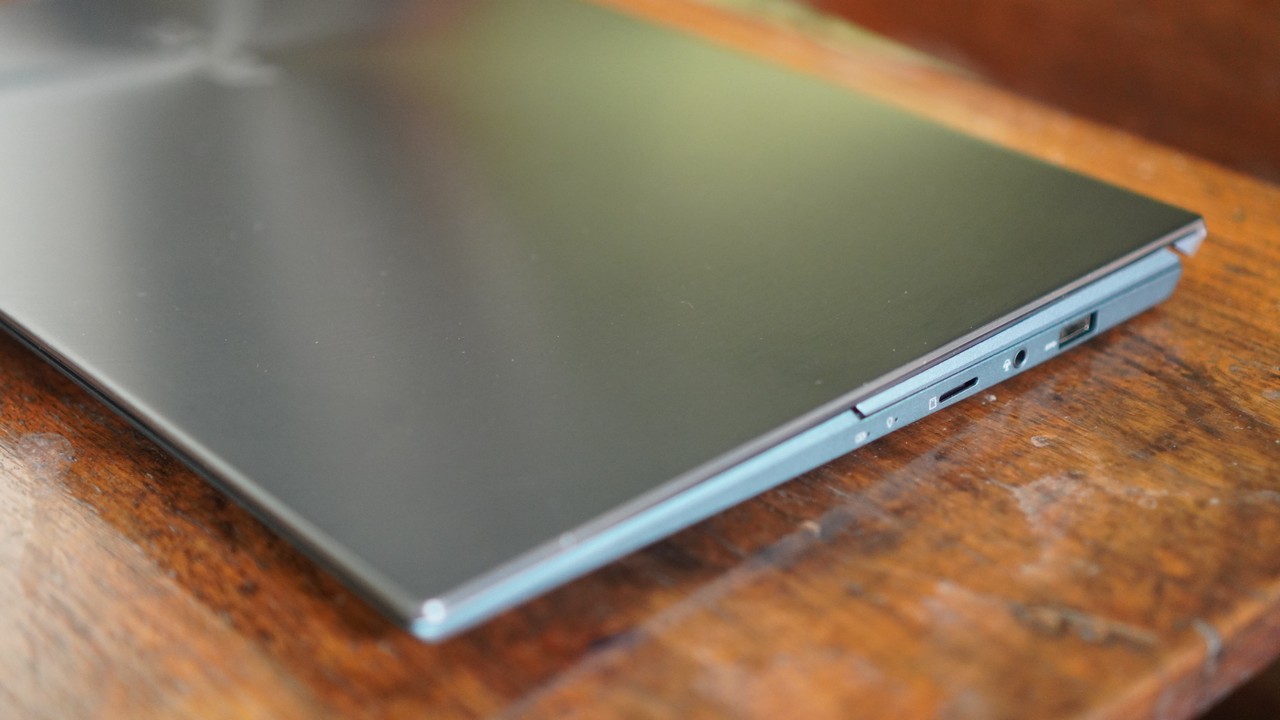 That means mostly metal construction for the chassis and the lid, as well as Zen-inspired concentric circles on the exterior.
One thing that's a little disappointing here is the number of ports available on the laptop. You're getting one traditional USB 3.2 port as well as two Thunderbolt ports that allow power delivery, one HDMI port, a 3.5mm audio jack, and a microSD card reader.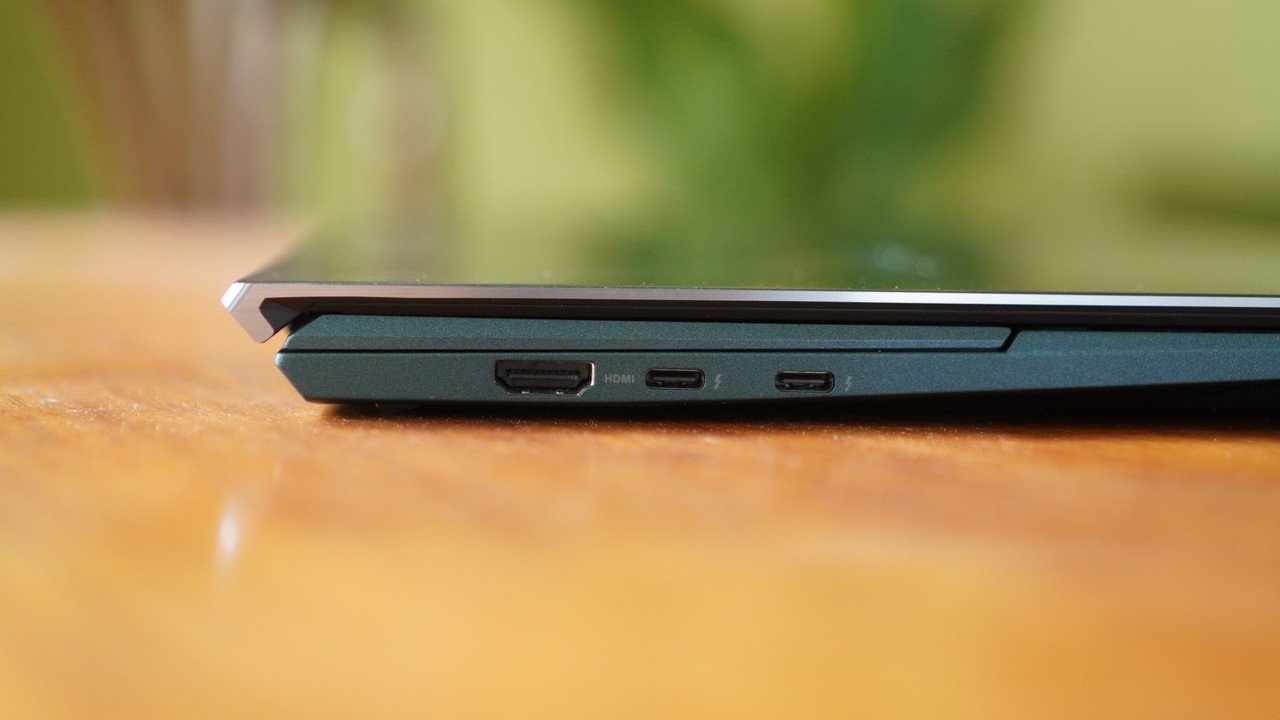 That basically means you get only two usable ports when you're plugged in and charging, which is too few considering the overall bulk of the chassis.
Moving on to the main selling point: the displays. True to its name, the ZenBook Duo 14 has a touch-capable 14-inch main display that has a 16:9 aspect ratio, full HD resolution that has been Pantone Validated and sports 100% sRGB coverage.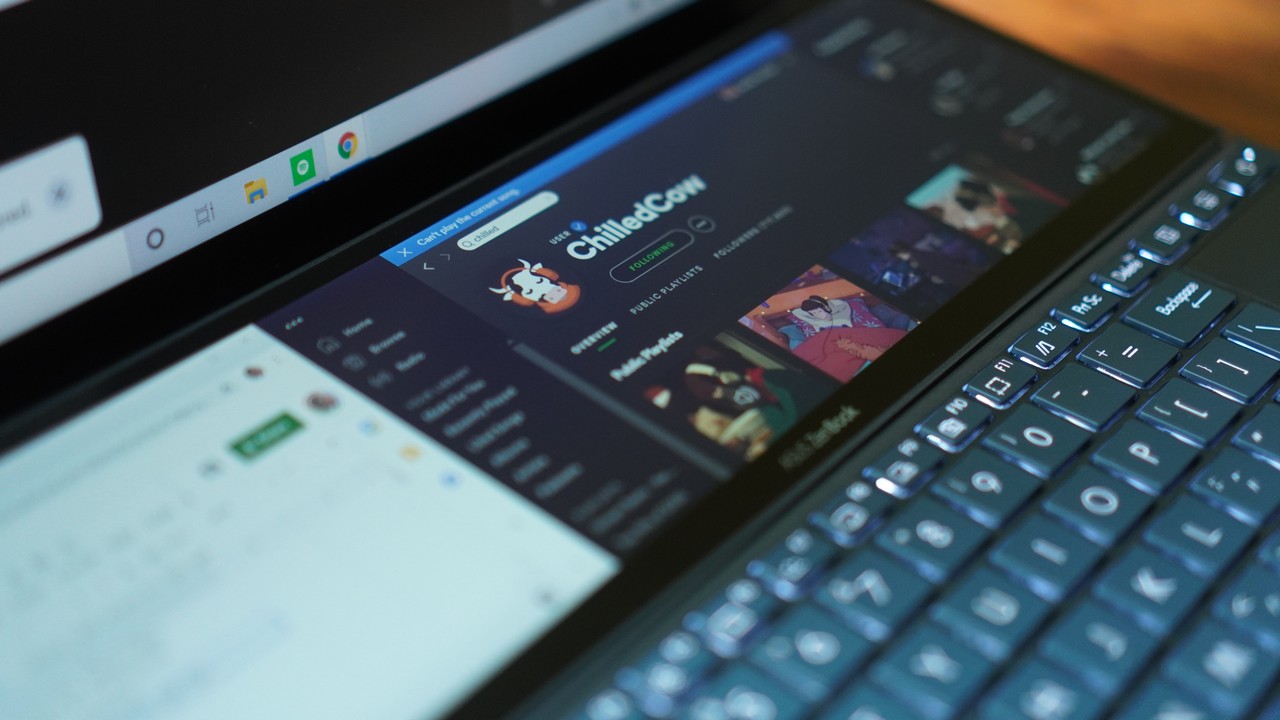 The second screen is a 12.65-inch touch-capable panel that has a 1920 x 515 resolution.
Dubbed the ScreenPad Plus, it acts much like a regular second display for desktops, allowing you to drag-and-drop programs and apps to increase productivity.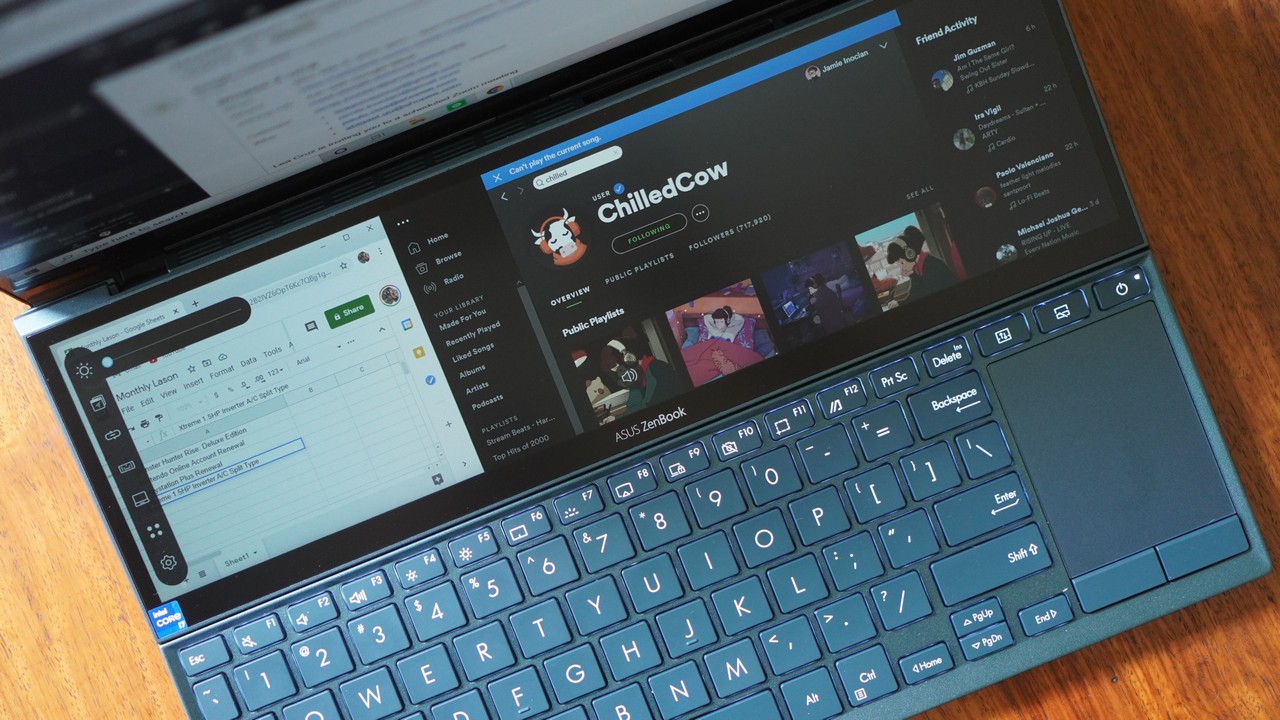 ASUS has also been working with companies like Adobe for the second screen's integration in Photoshop and Lightroom, among others. Since this is mostly a software thing, expect integration to improve over time as ASUS inks more deals and as the brand gets more companies on board.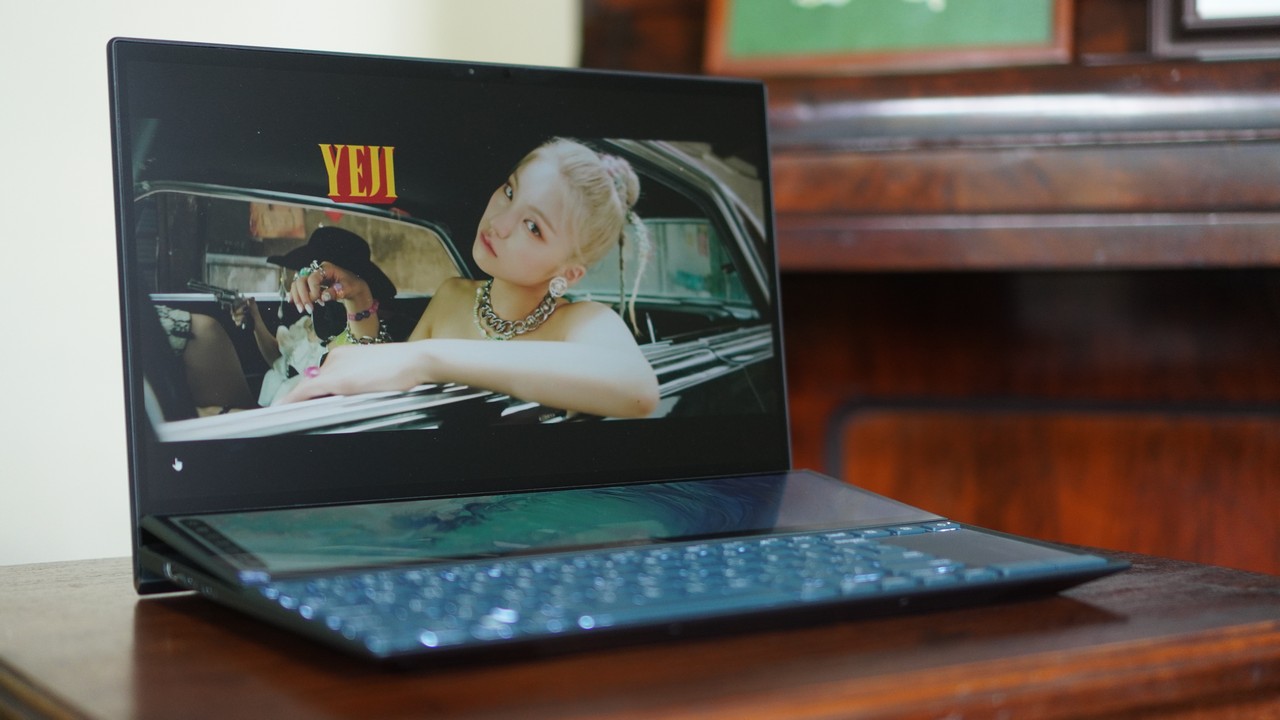 The ScreenPad Plus can also be used as a gigantic trackpad by simply tapping three fingers on it, giving you better control and a much bigger area to work with.
Keyboard and trackpad
To fit that second screen ASUS had to drastically rework how the keyboard sits on the chassis.
Since the second screen now takes space near the hinge, the keyboard has been moved down, eliminating the wrist rest entirely and relocating the trackpad on the right side.
It's something that also happened with the first generation device, and it's something you'll have to contend with the refreshed model too.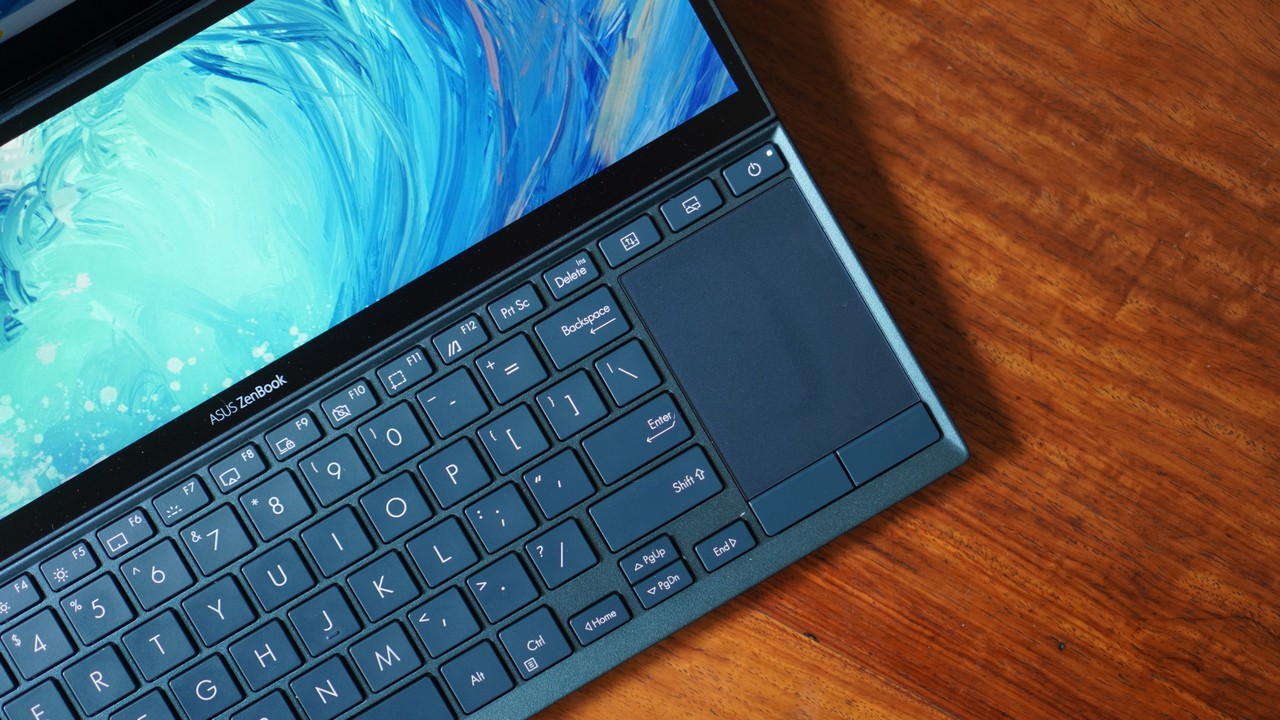 You'll be able to get used to the weird key placement after a while, though it has to be said that the ASUS ZenBook Duo 14 UX482E is more comfortable to use in a home desk setting, or anywhere where space isn't a problem.
Take it with you in a coffee house where there's not a lot of space to place your wrists, then it becomes uncomfortable to use.
One thing that we like about the laptop though is that it uses ASUS' patented ErgoLift hinge, which angles the keyboard a few degrees for better typing comfort.
The trackpad has been relocated to the right side to make room for the keyboard, which is a move that would probably anger lefties the world over.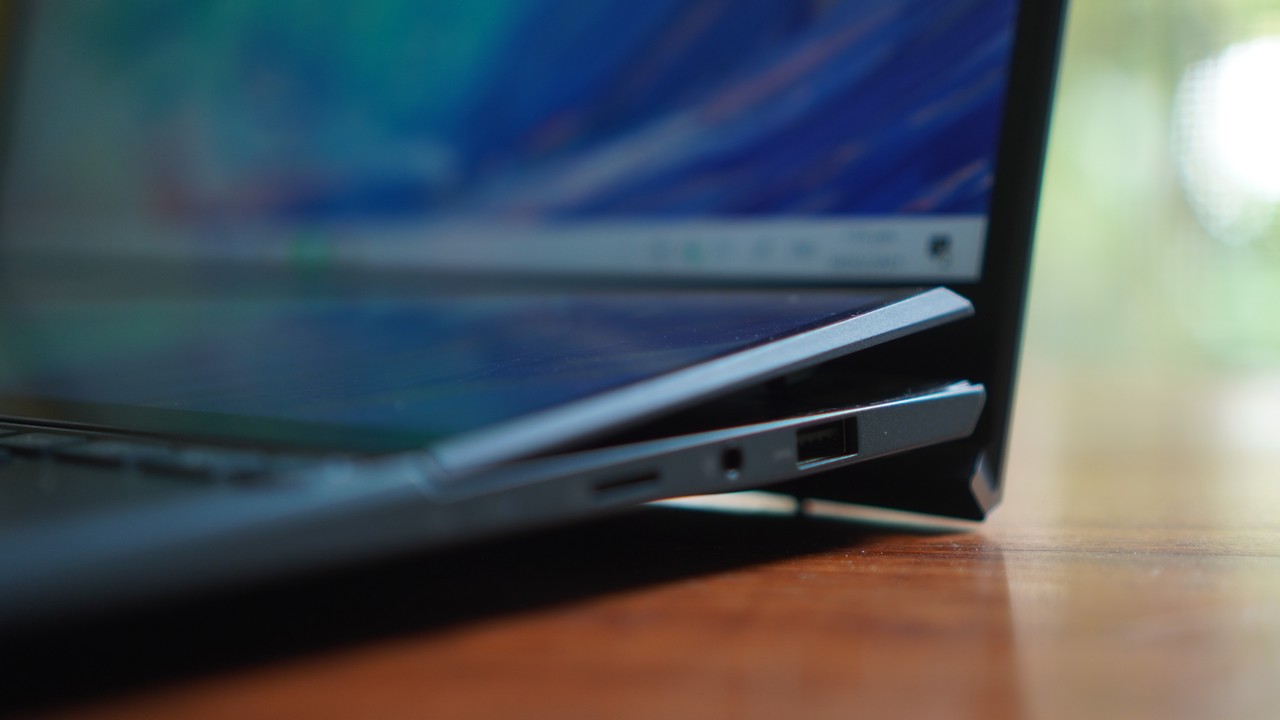 Performance
The ZenBook Duo 14 UX482E gets new hardware under the hood. Specifically, you can get the laptop with either an Intel Core i5-1135G7 processor or a higher-tier Intel Core i7-1165G7.
Graphics also get a bit of a kick too – the base variant gets Intel's improved Iris Xe Graphics, with the top-end variant getting an NVIDIA GeForce MX450 GPU.
RAM options go up to 32GB of LPDDR4X, and storage options going up to 1TB of M.2 NVMe storage.
It's not enough for serious gaming (you'll have to get the dual-screen, ROG Zephyrus Duo 15 for that) but it's more than enough for photo and video editing tasks that the laptop is built for.
As far as battery goes, you're looking at a 70WHr Li-ion battery in a 4-cell configuration. We'll have to see how the laptop fares with regular use to see how long it runs on a single charge with those two screens.
Early Verdict
The ASUS ZenBook Duo 14 UX482E sports a lot of improvements across the board, including reduced overall weight, as well as better integration of the second screen in common apps and programs as well as better internals overall.
We'll have to see if the battery life and the performance in real-world scenarios make the laptop worth it, but right now we're liking what we're seeing.
ASUS ZenBook Duo 14 UX482E Quick Review Price Philippines:
ASUS hasn't officially released pricing of the laptop yet in the Philippines, as they've set the price reveal for the refreshed models on March 23. Pricing will likely not be too far off from the current SRPs of the UX481, whose top-end variant is currently priced at Php 89,99. We will be updating this article to reflect the SRP later today.
Comments (0)