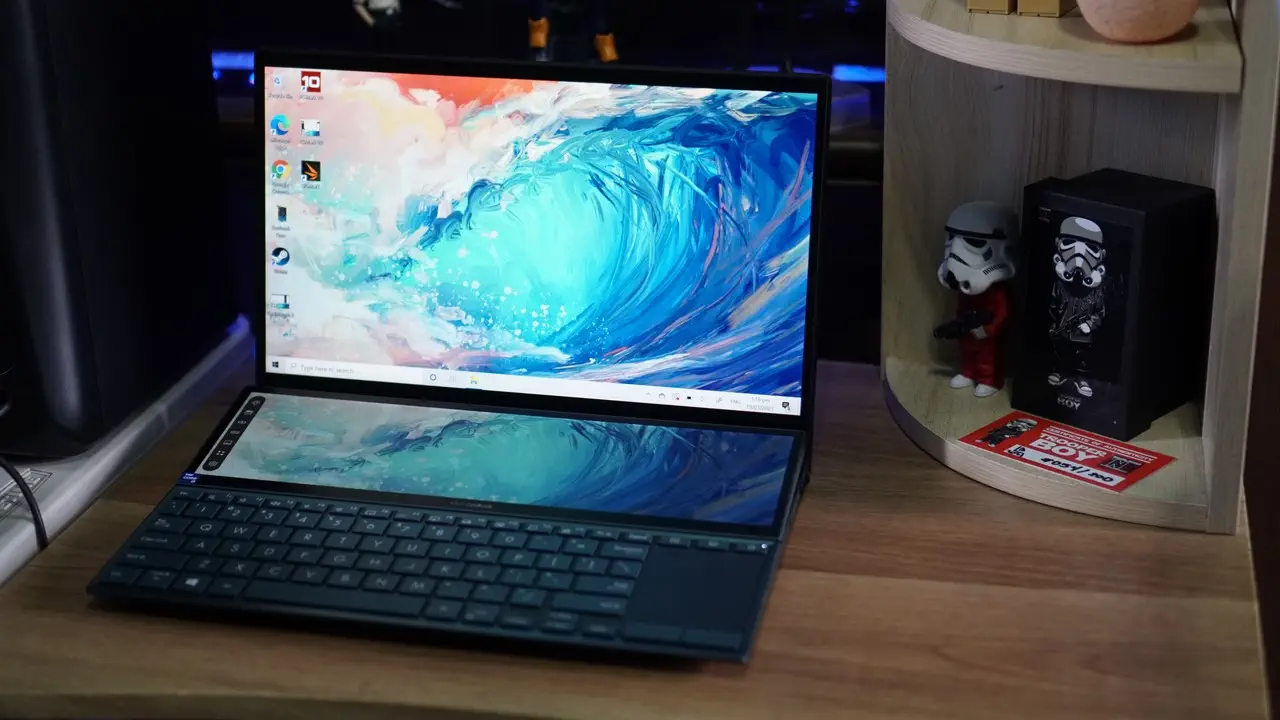 Review Verdict: The ASUS ZenBook Duo 14 UX482E is a further refinement of the Taiwanese company's dual-screen ambitions, and there's plenty to like here. The dual-screen is easier to use than ever before, and Intel's new processors have made it even more powerful than last year's offering.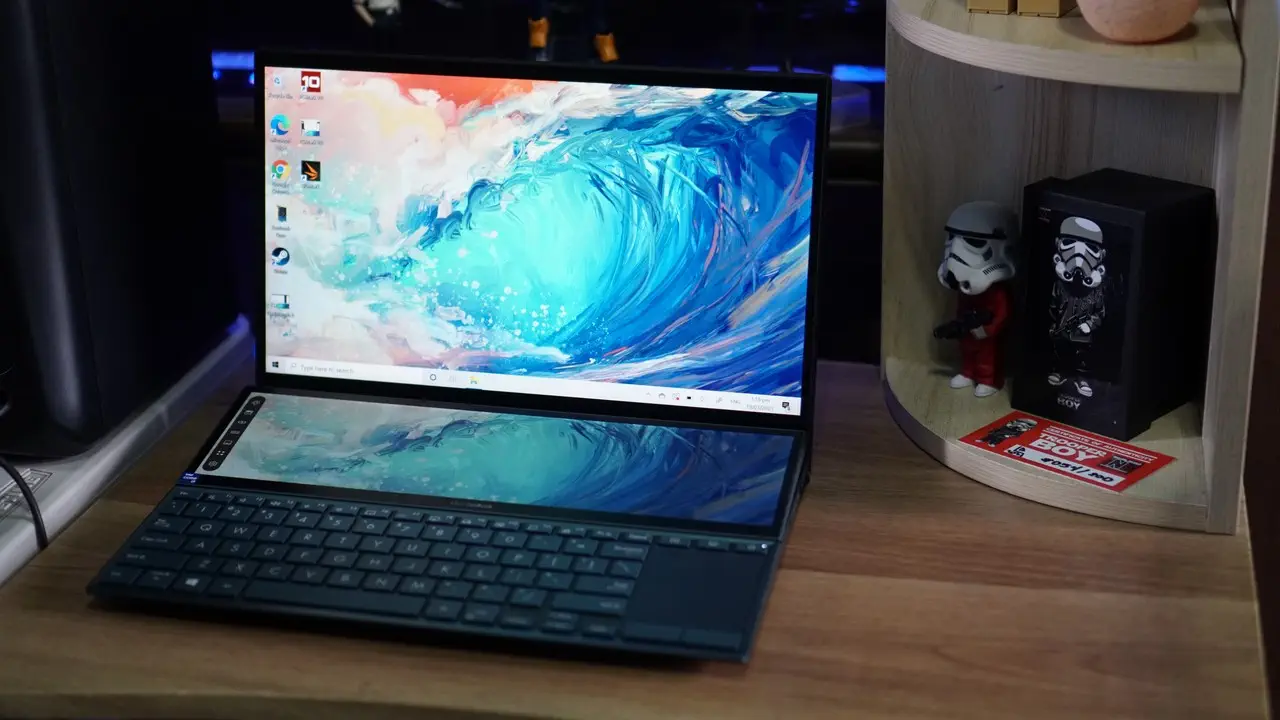 Pros
As light as most single-screen laptops around
More powerful than last year's version
Screens are easier to use
Dual screens are a boon for anyone that uses Adobe products
Cons
Keyboard takes some getting used to
Bring a mouse – the trackpad position is a nightmare
ASUS is the biggest proponent of the dual-screen life, launching the first-ever two-screen laptop back in 2019. Since then the company has been refining the formula to offer the dual-screen experience in a package that's easier to use and carry, culminating with the new ZenBook Duo 14 UX482E. The refreshed model offers incremental improvements to the dual-screen experience, though it does offer some tangible changes that make it worthy of consideration especially if you're a massive multitasker.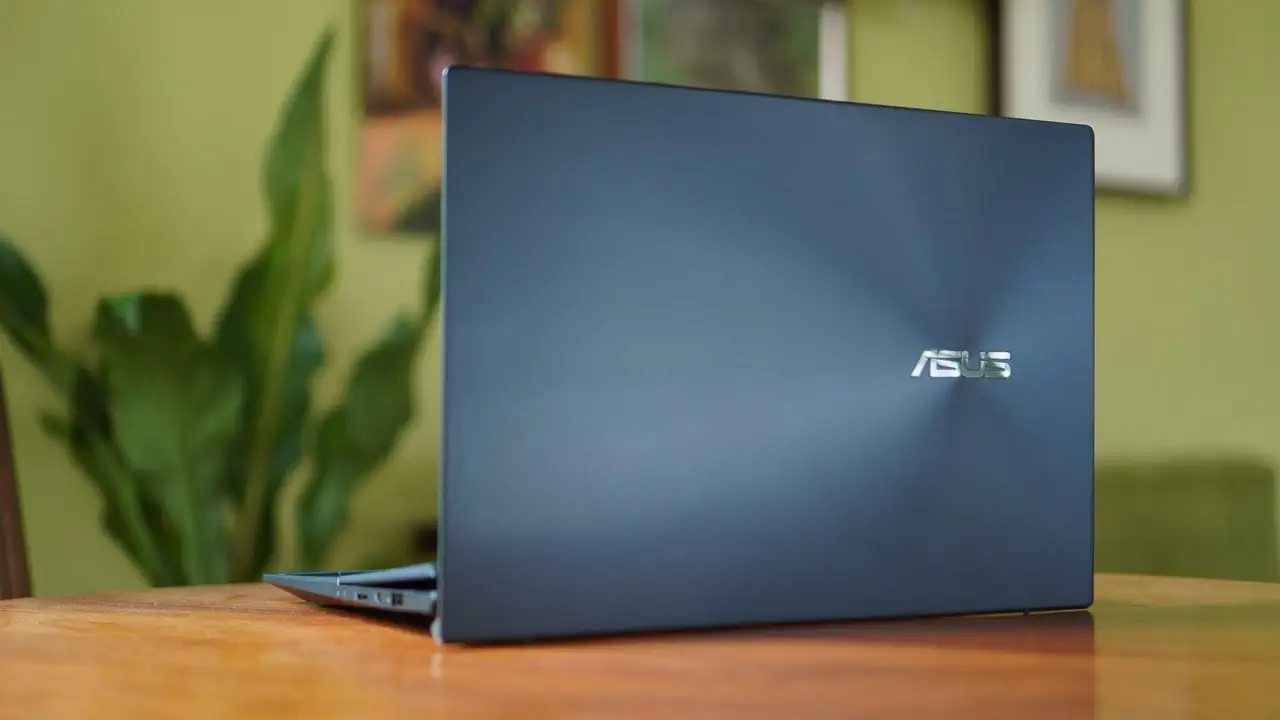 Design
One of the most impressive things about the ZenBook Duo 14 UX482E is the fact that it's really not much thicker or heavier than your typical laptop. It's 17.3mm thick at its girthiest and only tips the scales at 1.62 kilos. That's not bad for a laptop with two screens.
Its external appearance too isn't too far off from ASUS' other premium ZenBook offerings, with the laptop sporting a metal chassis with a lid topped off with Zen-inspired concentric circles. It's only when you open the lid that you really see how drastically different the ZenBook Duo 14 UX482E is.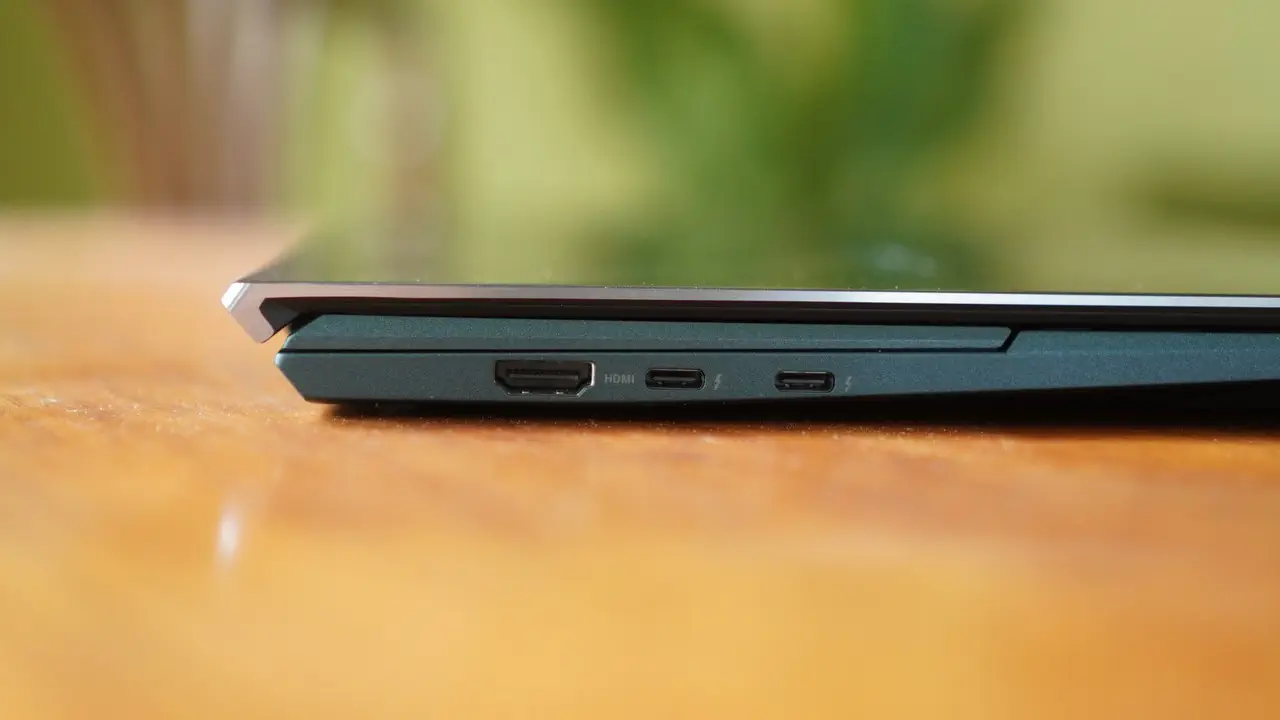 There are two displays here – one is the main panel with a secondary one set right below it. We'll be talking about those panels in the display section in a bit.
The main difference this time around is that the secondary display now tilts automatically when you open the lid, which should lead to better readability when you're using the laptop. The tilting second display also allows in more air, which in turn improves thermals.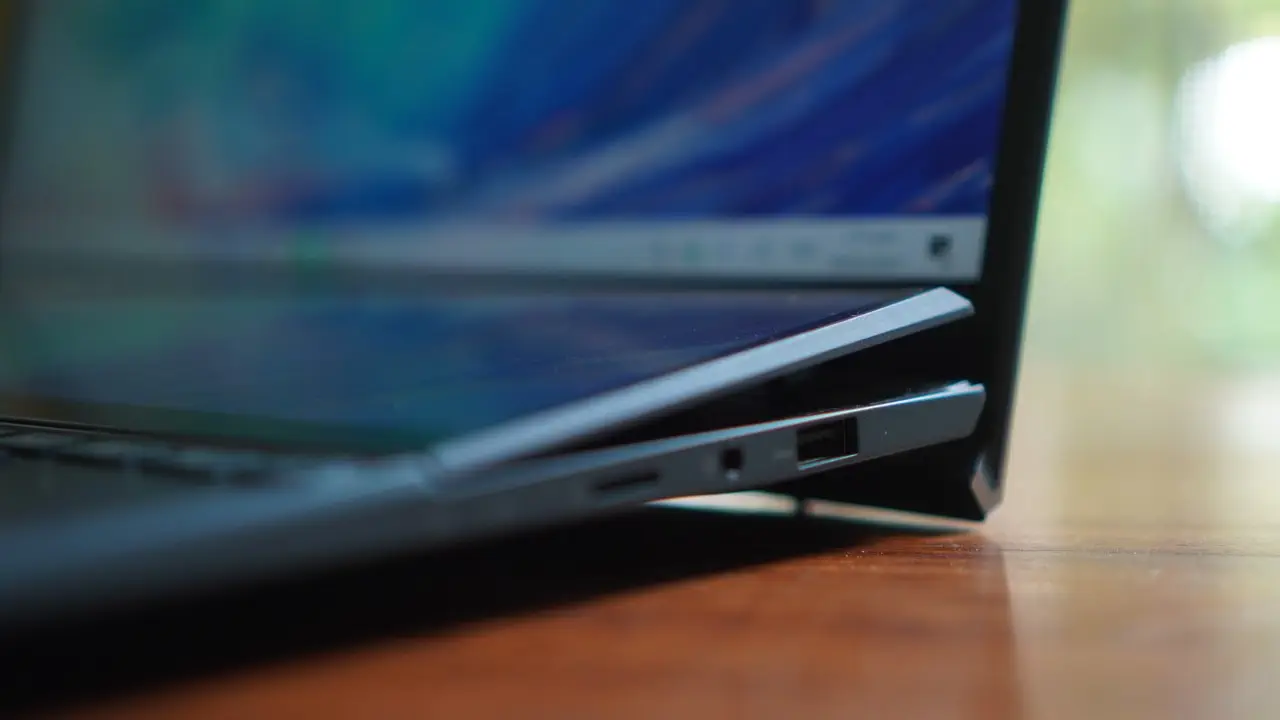 As for port selection, it's rather thin, as you're getting one traditional USB 3.2 port as well as two Thunderbolt ports that allow power delivery, one HDMI port, a 3.5mm audio jack, and a microSD card reader.
You're already out one Thunderbolt port when you charge the laptop, so essentially you're getting only two ports to use when you're plugged in the wall. That's really not a lot of ports, and since the trackpad position isn't the best you're probably going to want to use a mouse with this thing at the very minimum.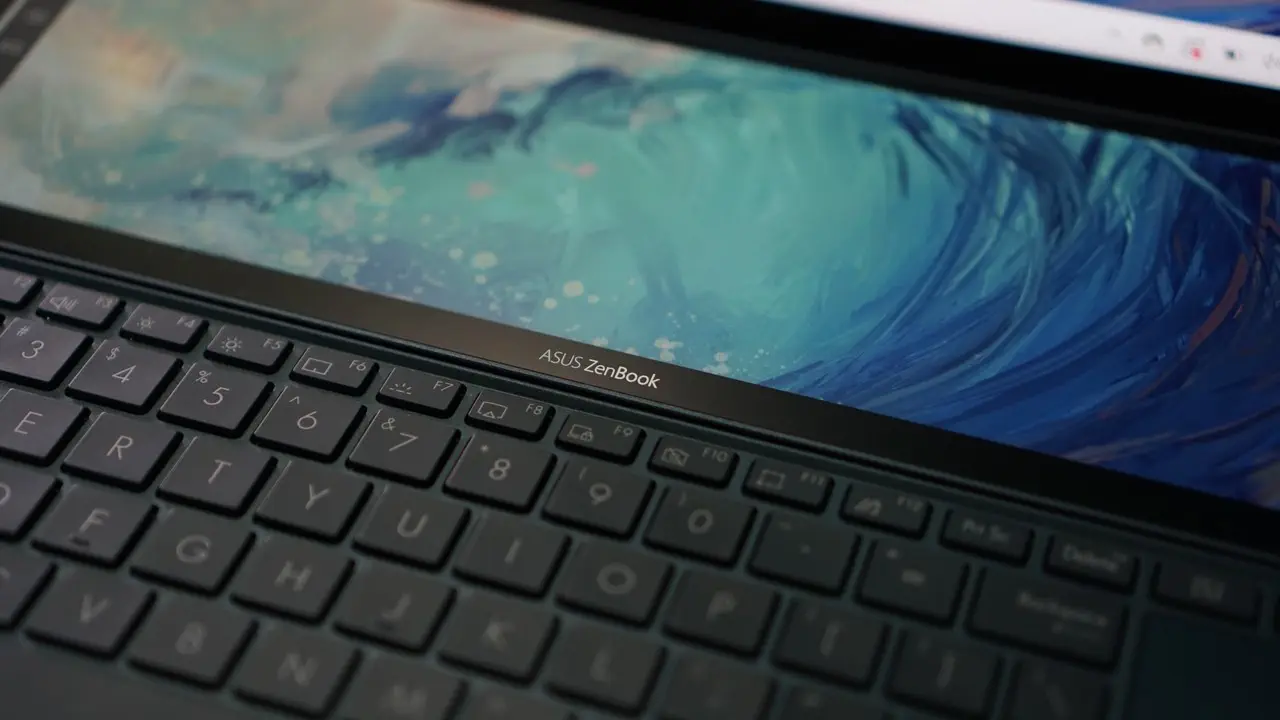 Display
The ZenBook Duo 14 has a touch-capable 14-inch main display with a 16:9 aspect ratio with full HD resolution. The main panel is Pantone Validated and has an advertised sRGB coverage of 100%, which should make it a favorite of anyone that requires a color-accurate screen.
But the real star of the show is the secondary display set right below it. The ScreenPad Plus is a touch-capable 12.65-inch 1920 x 515 resolution panel that acts as the second screen where you can drag and drop programs and windows to help you with productivity.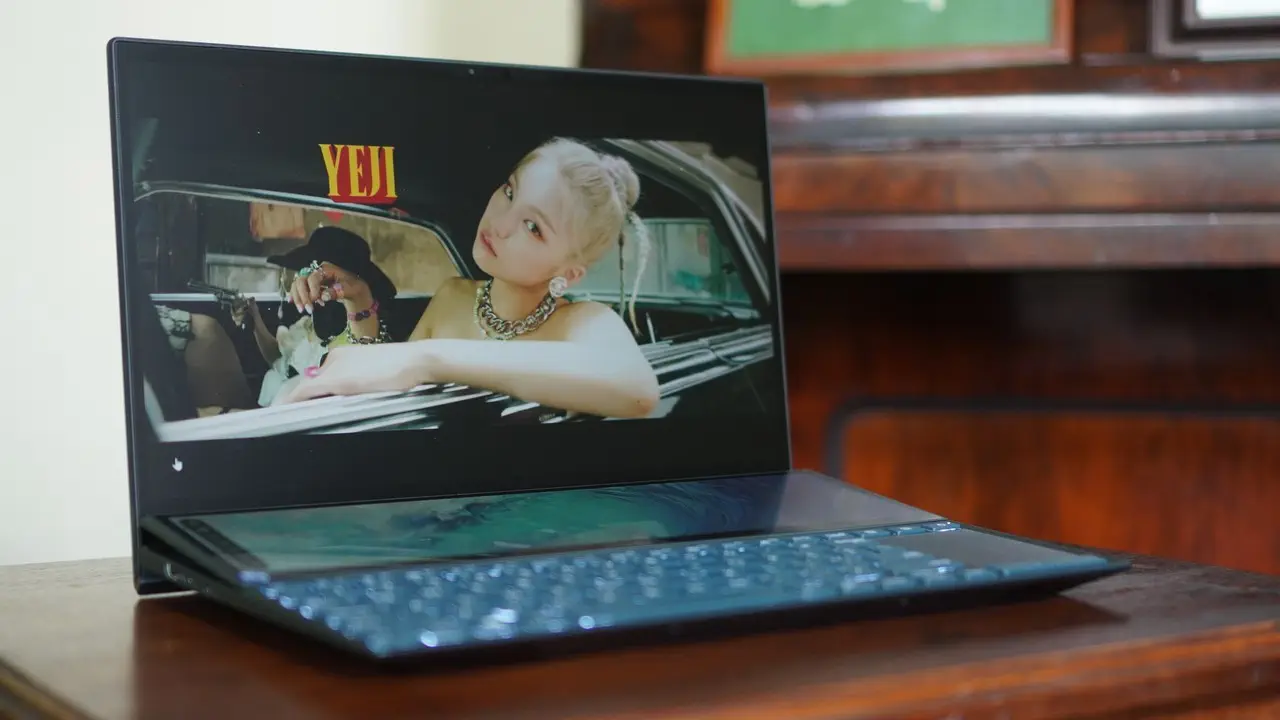 Aside from that, ASUS has been working with creative giant Adobe to integrate dials, buttons, and sliders for common apps like Lightroom, Photoshop, and the like so creatives can take full advantage of the second screen easier. It still pales in comparison to say, the support for Apple's Touch Bar on its MacBooks, but ASUS is continually forging more partnerships for better support.
You can also use the ScreenPad as an input surface for a stylus, further increasing its overall functionality.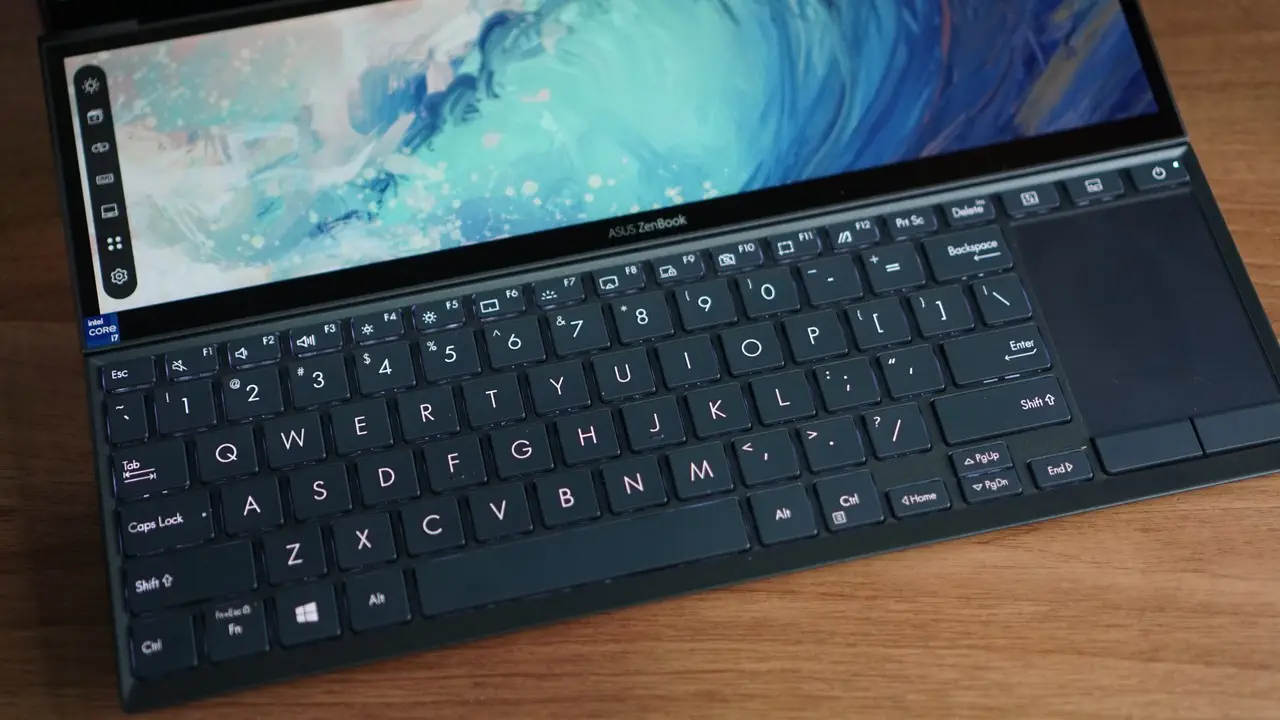 Trackpad and Keyboard
If there's a place where the ZenBook Duo 14 stumbles, it's in the keyboard and trackpad. While the quality of the keys isn't bad per se – they're actually quite decent with excellent travel – it's the positioning of the keyboard that really makes adjusting to the ZenBook Duo 14 somewhat challenging. Because of the space that the second screen takes up, the keys are pushed lower in the chassis, which eliminates the wrist rest that you'd typically use. While ASUS remedies this by throwing in a removable wrist-rest in the package, that's not really an option when you're moving around or traveling.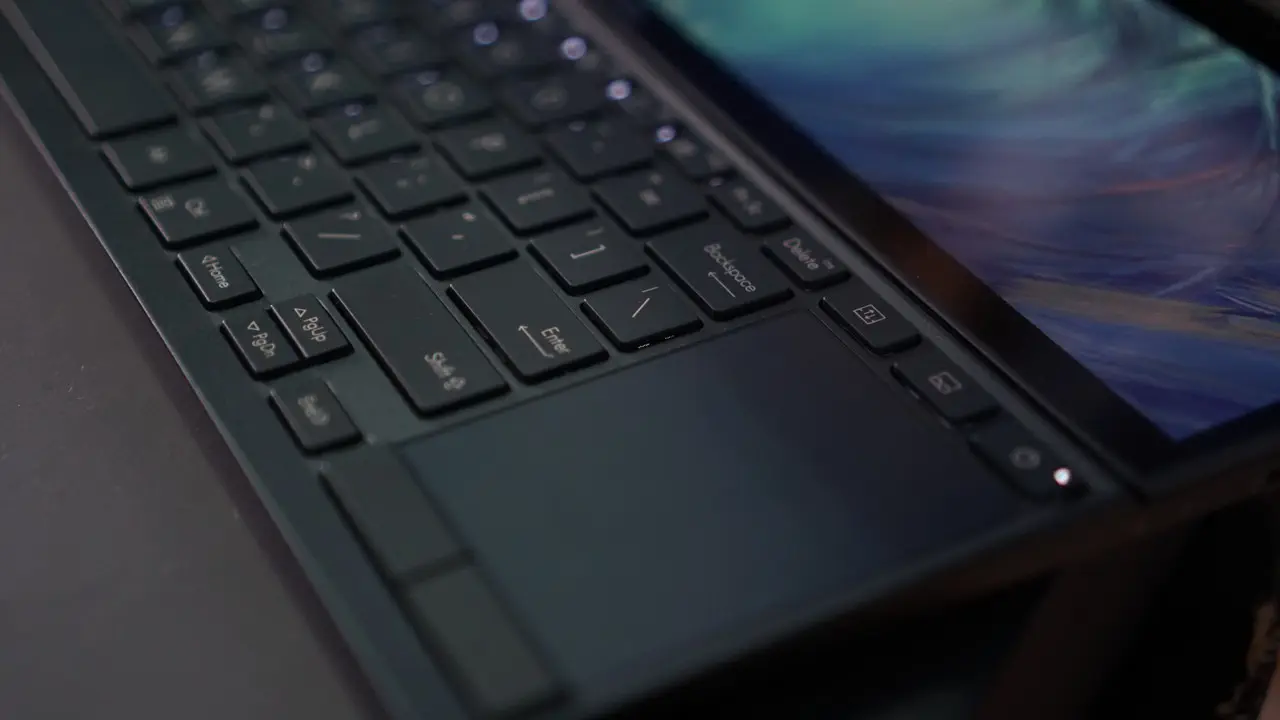 The trackpad too gets relocated on the right, which means if you're a lefty, it's going to be a nightmare to use – not that it isn't already difficult to use as a righty. Aside from being too narrow, its location makes it challenging to use – we suggest you switch to a Bluetooth mouse to save your sanity. Trust us on this one.
Performance and battery life
The ASUS ZenBook Duo 14 comes in a variety of configurations, ranging from a Core i5-1135G7 to an Intel Core i7-1165G7. Our review unit was a Core i7 configuration, paired with Intel Iris Xe Graphics and NVIDIA's GeForce MX450 GPU.
Configuration options vary as well, though our review unit came with 16GB of RAM and 1TB of NVMe SSD storage.
Performance is typical of what you'd expect from a device that has its hardware, with the Intel Core i7-1165G7 making short work of most productivity tasks. The processor is fast enough for video and photo editing, and the discrete graphics give the laptop a bit of graphical oomph for rendering and encoding as well, though it's not really a laptop we'd ever recommend for gaming.
Battery life is pretty good, with the laptop getting a score of 4 hours and 50 minutes during our punishing battery drain test. That's very good, and certainly more than what we expected giving the laptop's dual-screen nature.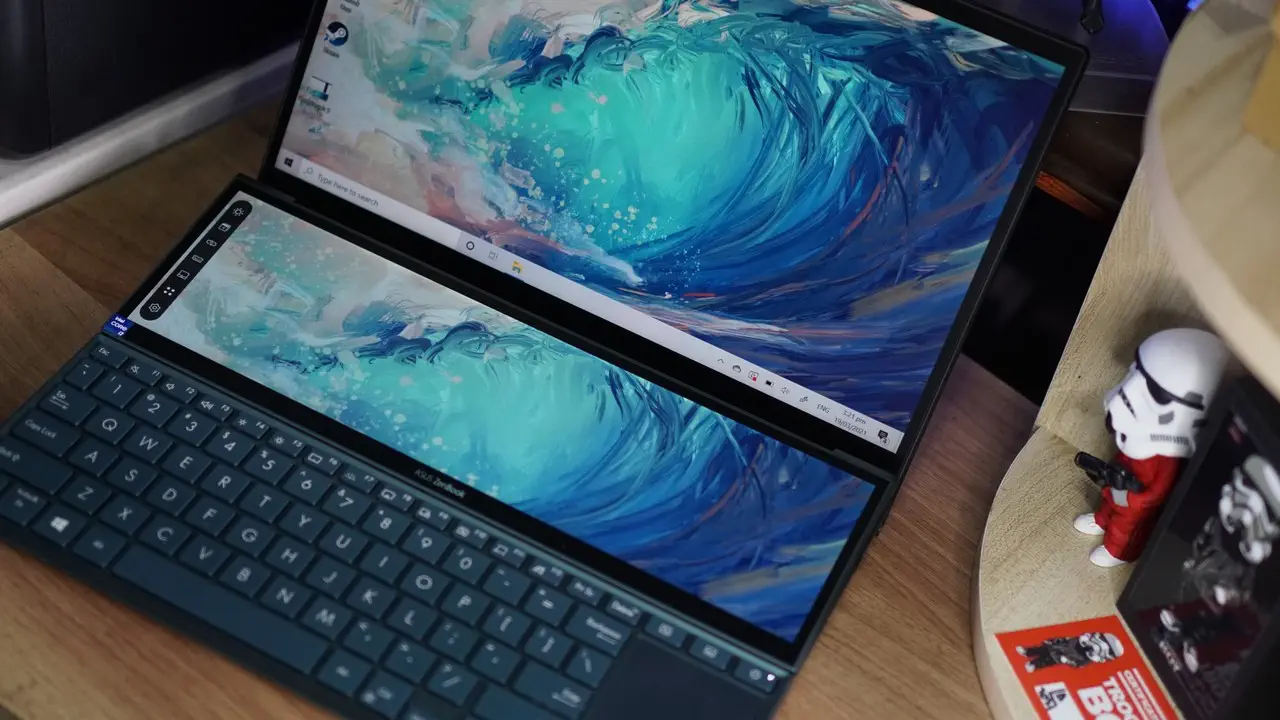 Wrap-up and conclusions
ASUS has almost perfected the formula of the dual-screen laptop in the ZenBook Duo 14 UX482E as we found in our review, offering all the benefits of a dual-screen workstation without the added bulk of the previous generation.
There are a few quirks you have to get used to though, and you'd best buy a Bluetooth mouse to use with it for sanity's sake.
Aside from that, the ZenBook Duo 14 UX482E fulfills its promise of being the laptop of tomorrow.
ASUS ZenBook Duo 14 UX482E Review Price Philippines:
The ASUS ZenBook Duo 14 UX482E is priced at Php 79,995 for the Core i5 variant with 16GB of RAM and 512GB of SSD storage, while the Core i7 variant with 16GB of RAM and 1TB of SSD storage with NVIDIA's GeForce MX450 graphics is priced at Php 99,995.
Comments (0)