Third telco DITO is finally here in Metro Manila: the third telco officially expanded its operations into the NCR and surrounding areas in the middle of May after its officially starting operations in Cebu and Davao earlier this year. And like everyone who has been waiting patiently for the new telco, the Unbox team has been itching to try out DITO and run a speed test or two on our phones to see just how well the third telco runs.
To do this, the Unbox team bought DITO SIMs in the telco's Lazada and Shopee stores to test out on phones in their compatibility list. Take note that I wasn't able to buy for myself since I'm located in San Mateo, Rizal, which is currently not in the areas that they service, which meant I wasn't able to proceed with checkout for the SIM I was going to use. I'm guessing this is to prevent anyone outside the areas that the company is currently operating in from buying a SIM and getting disappointed with bad cell coverage. As the brand rolls out to more areas, I'm assuming they'll be allowing people living in those places an opportunity to buy their SIMs once the infrastructure is ready.
DITO is unique among the local telcos in that the company uses 4G DATA almost exclusively, including delivering and receiving phone calls via VoLTE. That also means that not all phones are guaranteed to work with DITO's service out of the box, with the company posting a compatibility list for phones that they've tested and guaranteed to work as off press time.
To be fair to DITO and the test, we only used phones that are in that compatibility list, including the phone that DITO sent over for us to test their service out on. We've included which phone models were responsible for the DITO speed test displayed below. We also included the areas where we conducted the DITO speed test specifically as well. Also, take note because there's still a pandemic raging, we weren't able to go to as many places as we wanted, though we are planning to conduct a second round of tests in the future.
Alright, let's get to the results.
BGC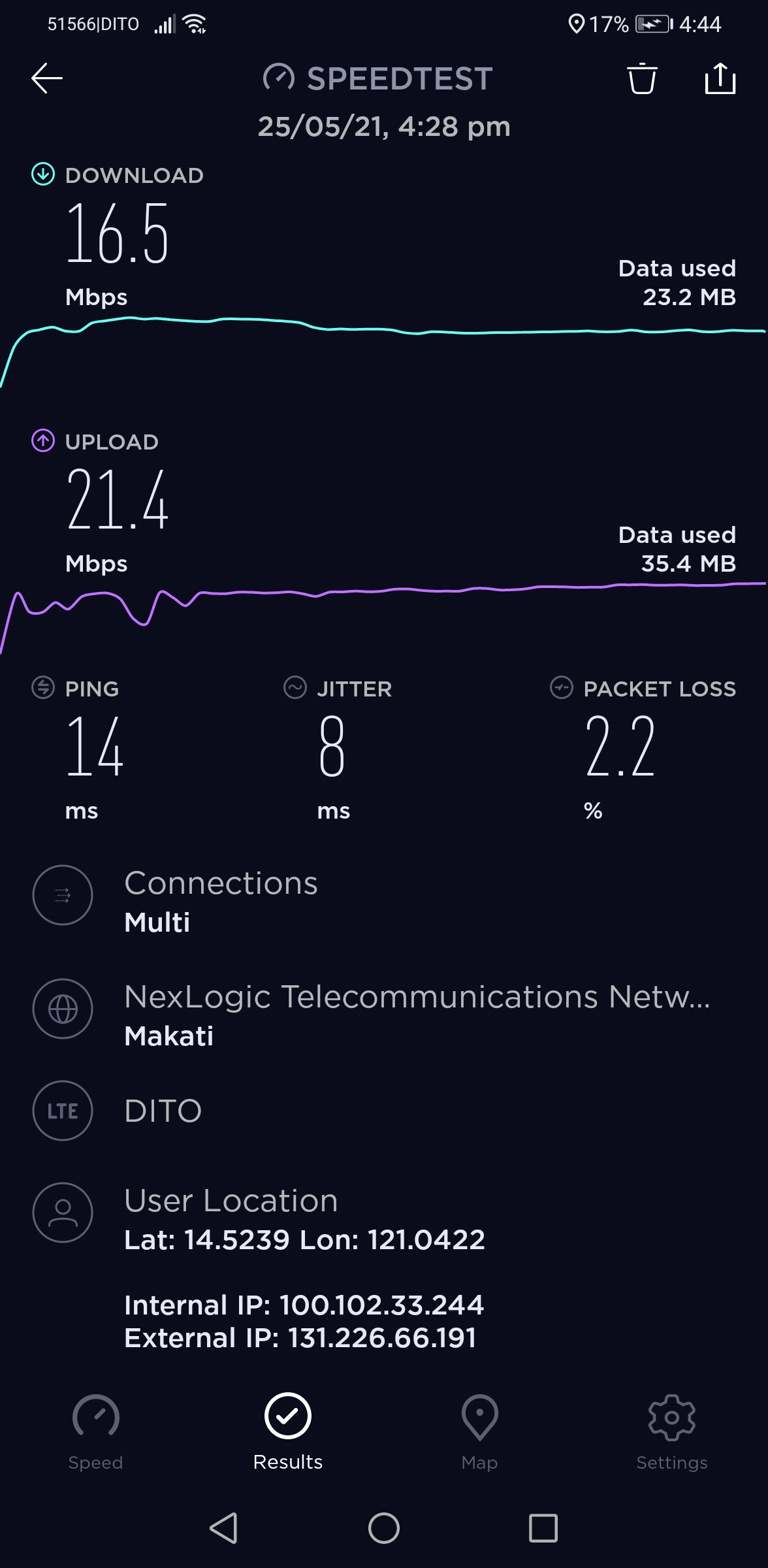 5th Avenue BGC
16.5/21.4
Mate 30 Pro
Uptown Mall BGC
42.8/31.6
Mate 30 Pro
Makati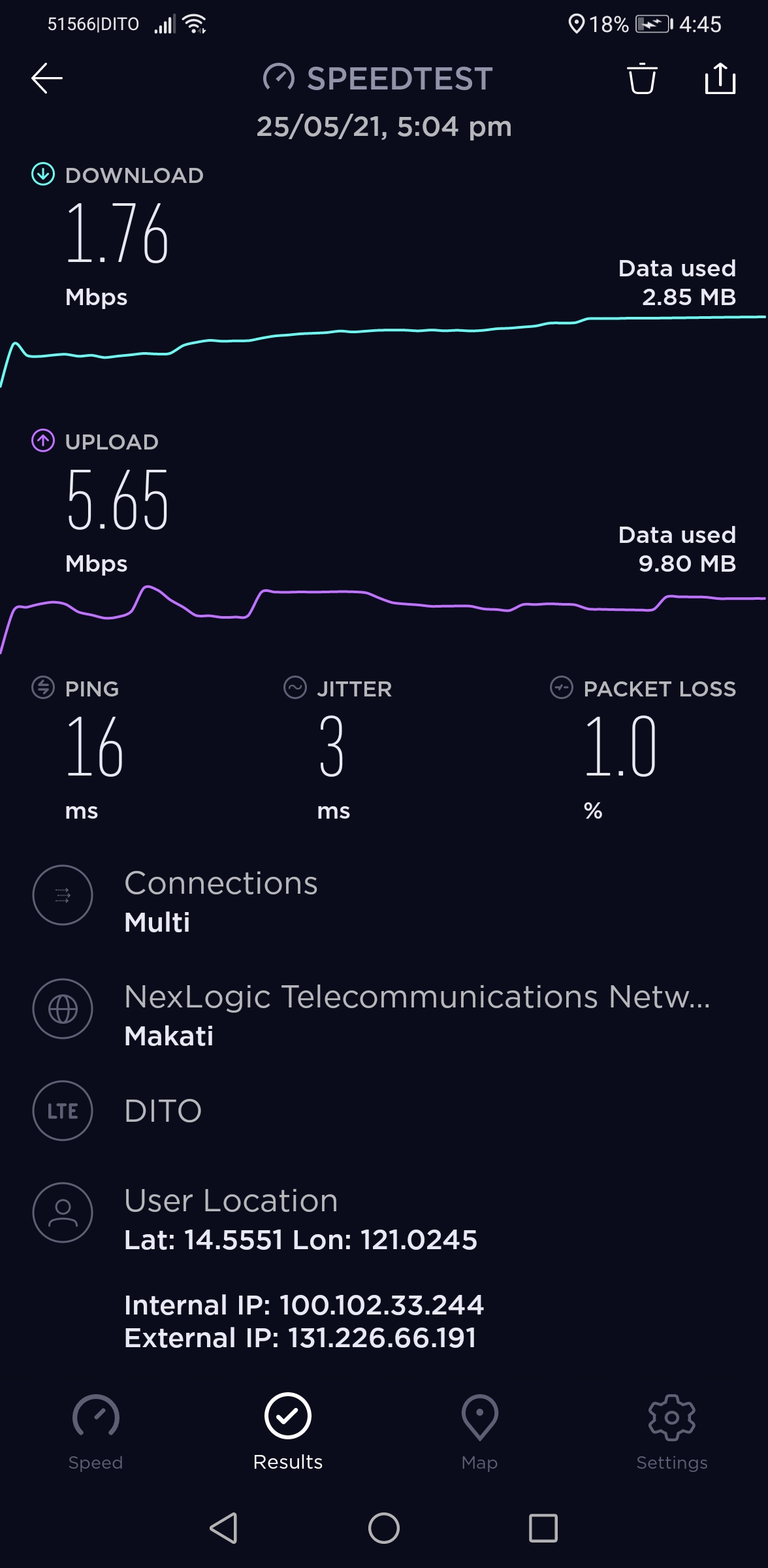 Ayala Avenue
1.76/5.56
Mate 30 Pro
Paseo Magallanes
48.3/12.7
Mate 30 Pro
QC
Apo St., Sta Mesa
33.4/18.8
Galaxy A02s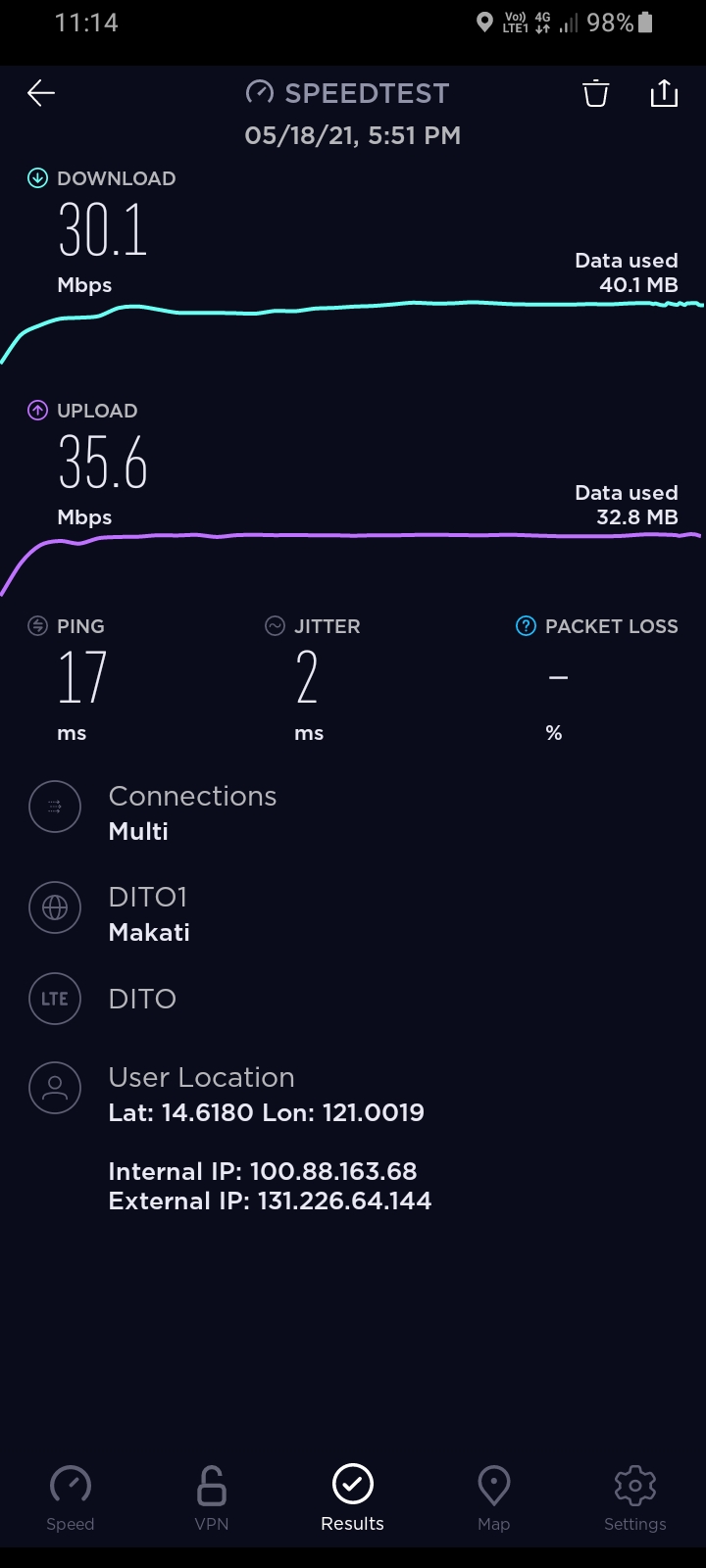 Welcome Rotonda
30.1/35.6
Galaxy A02s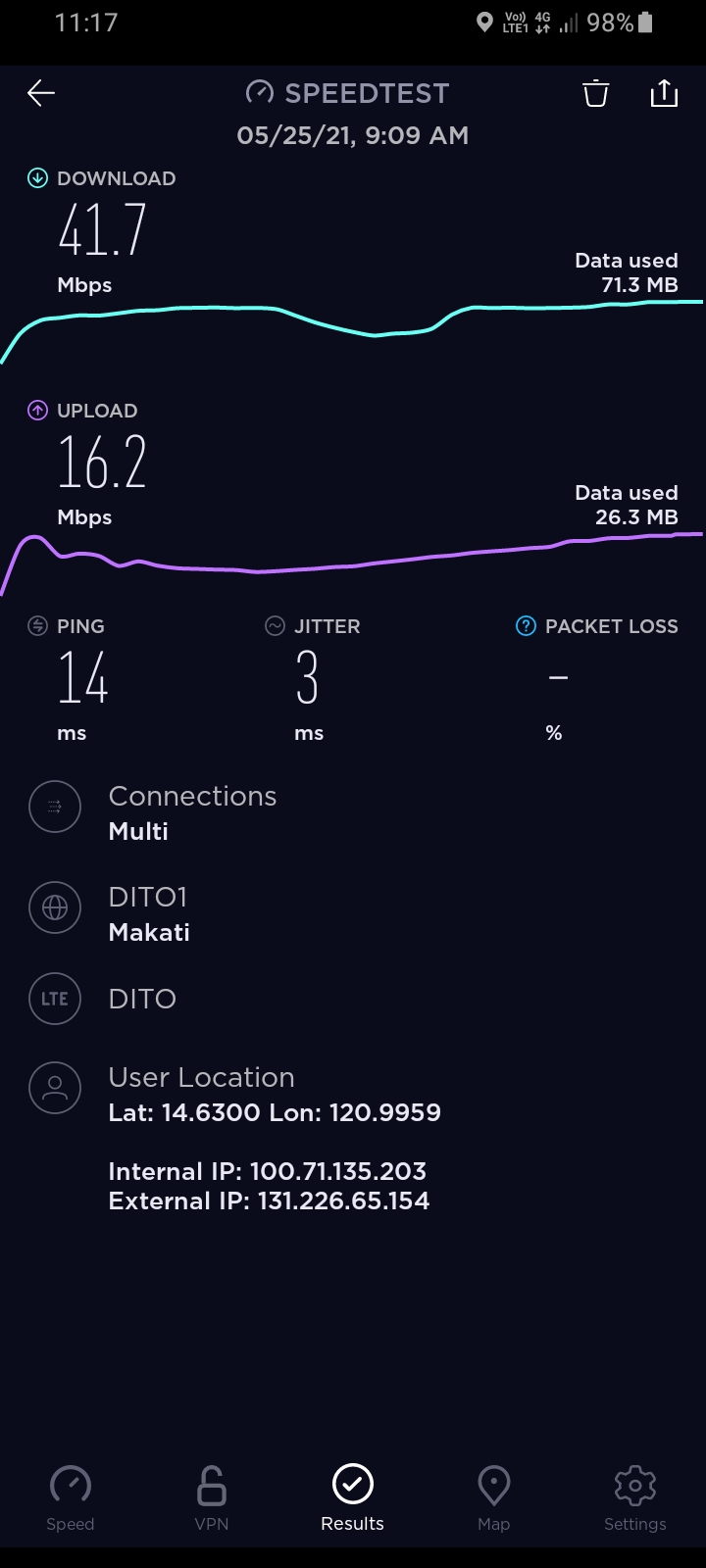 Mayon Street, Cor Retiro
41.7/16.2
Galaxy A02s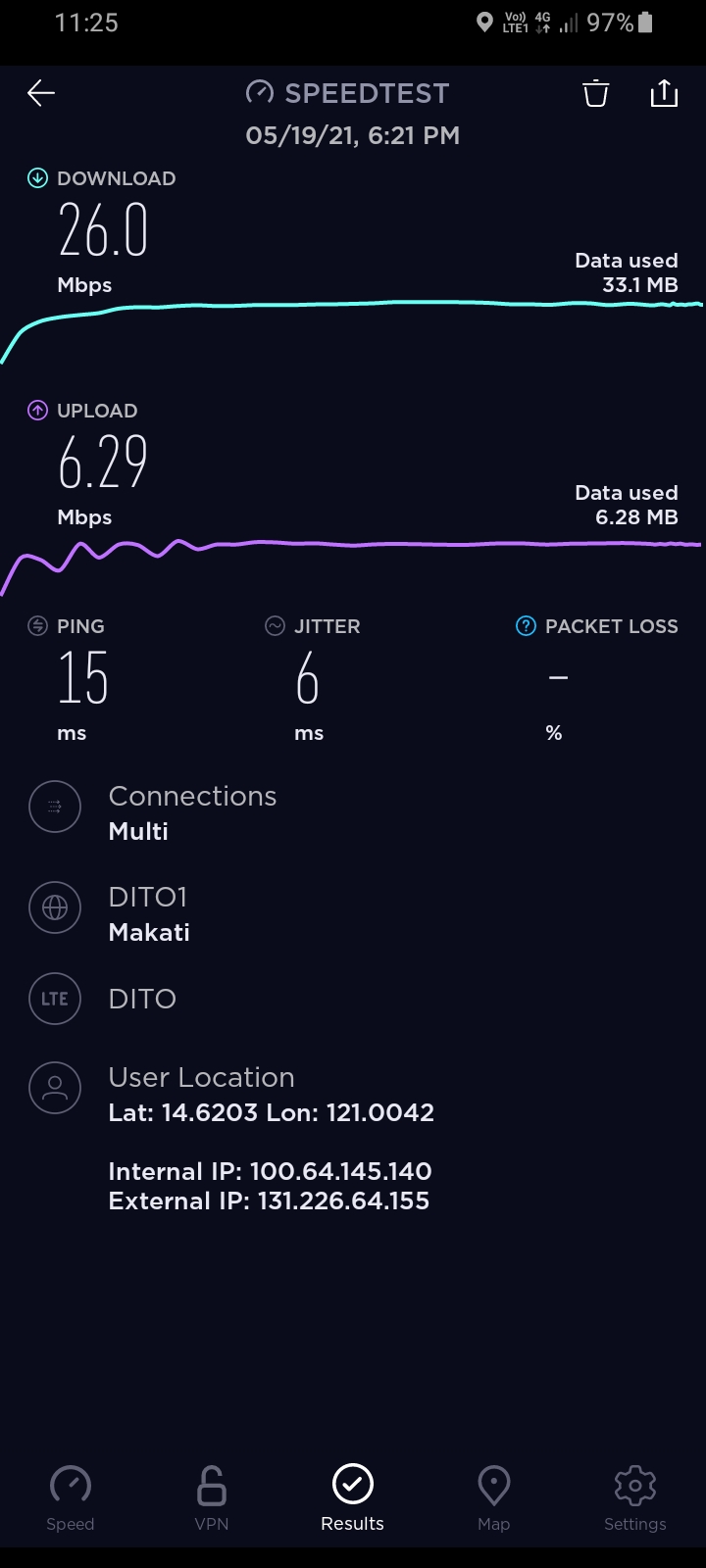 Q. Ave cor. D. Tuazon
26/6.29
Galaxy A02s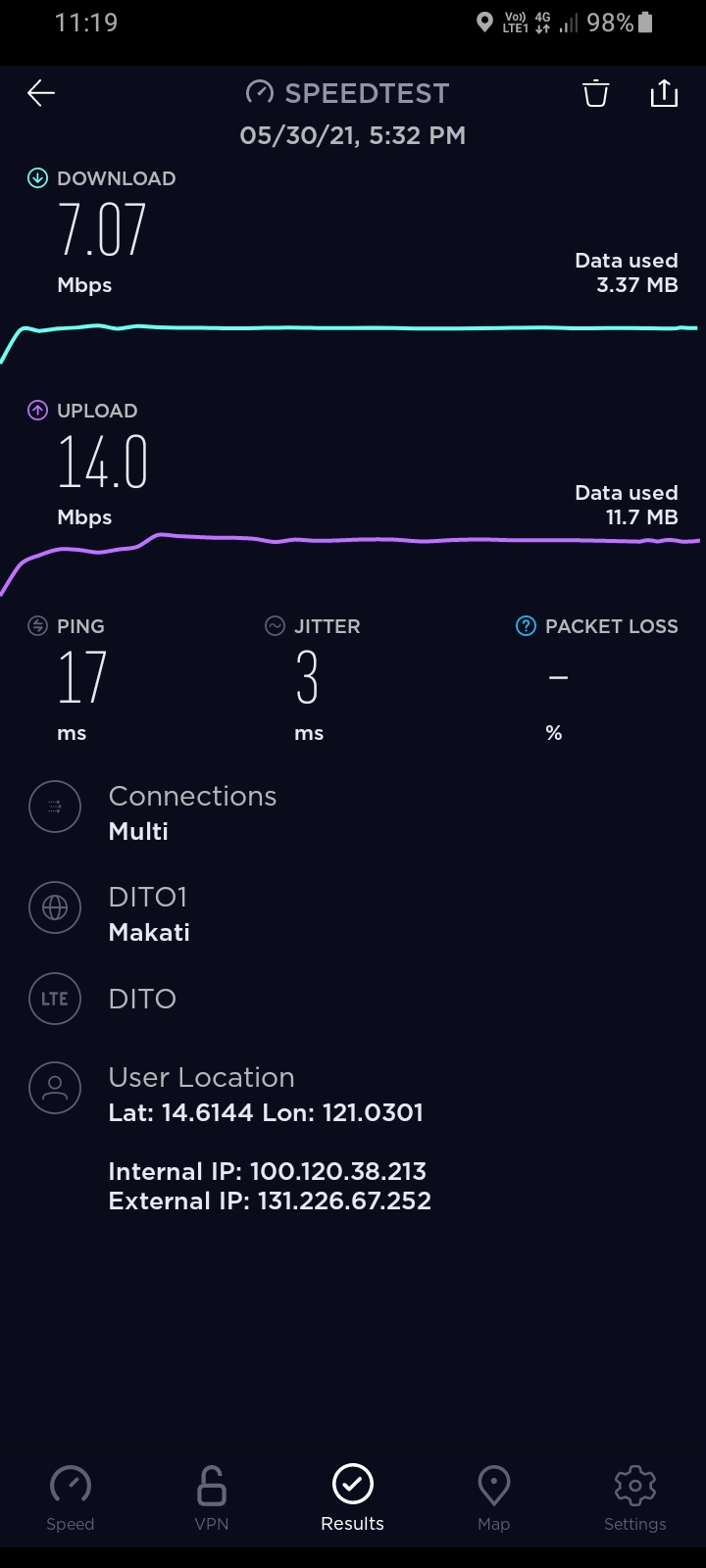 New Manila, Mt. Carmel
7.07/14
Galaxy A02s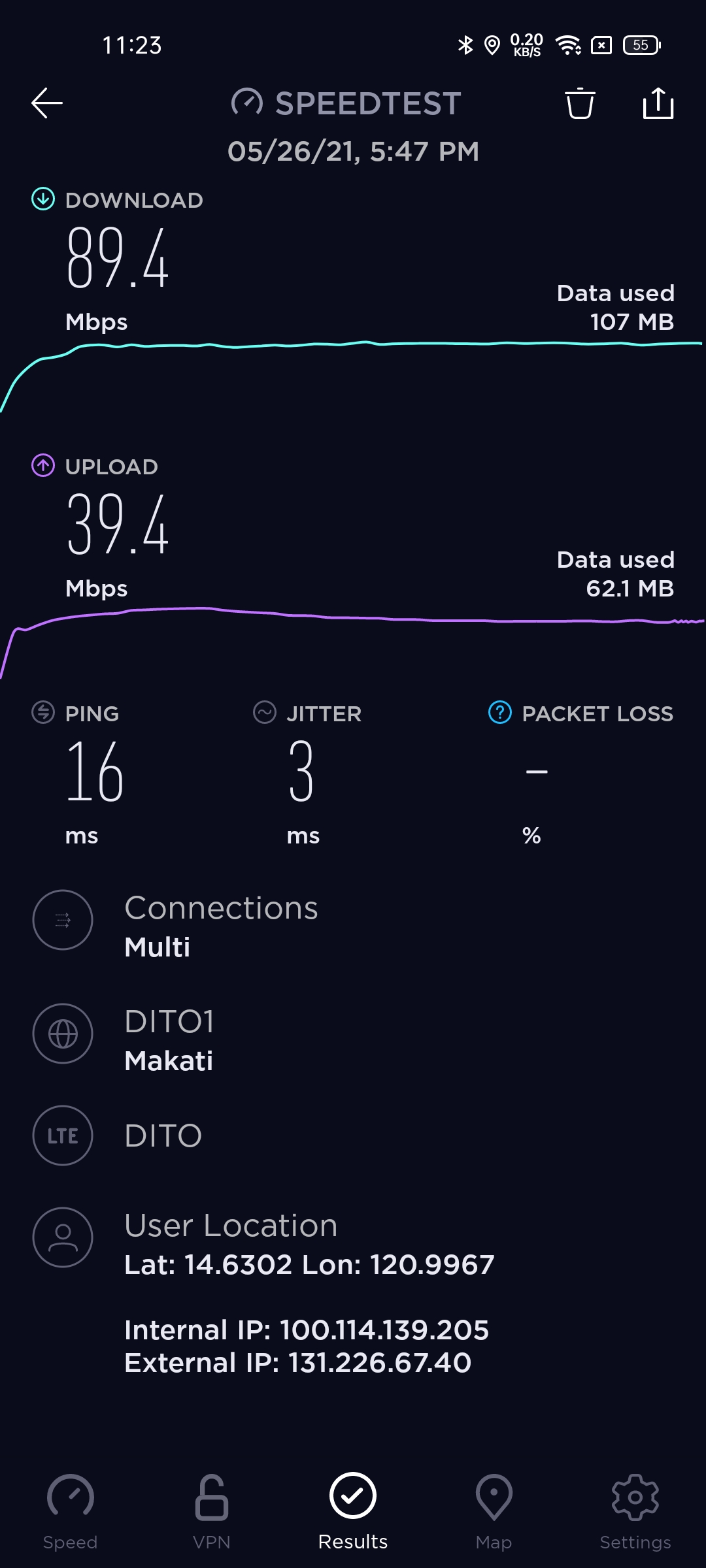 Our Lady of Lourdes Parish
89.4/39.4
OPPO A74 5G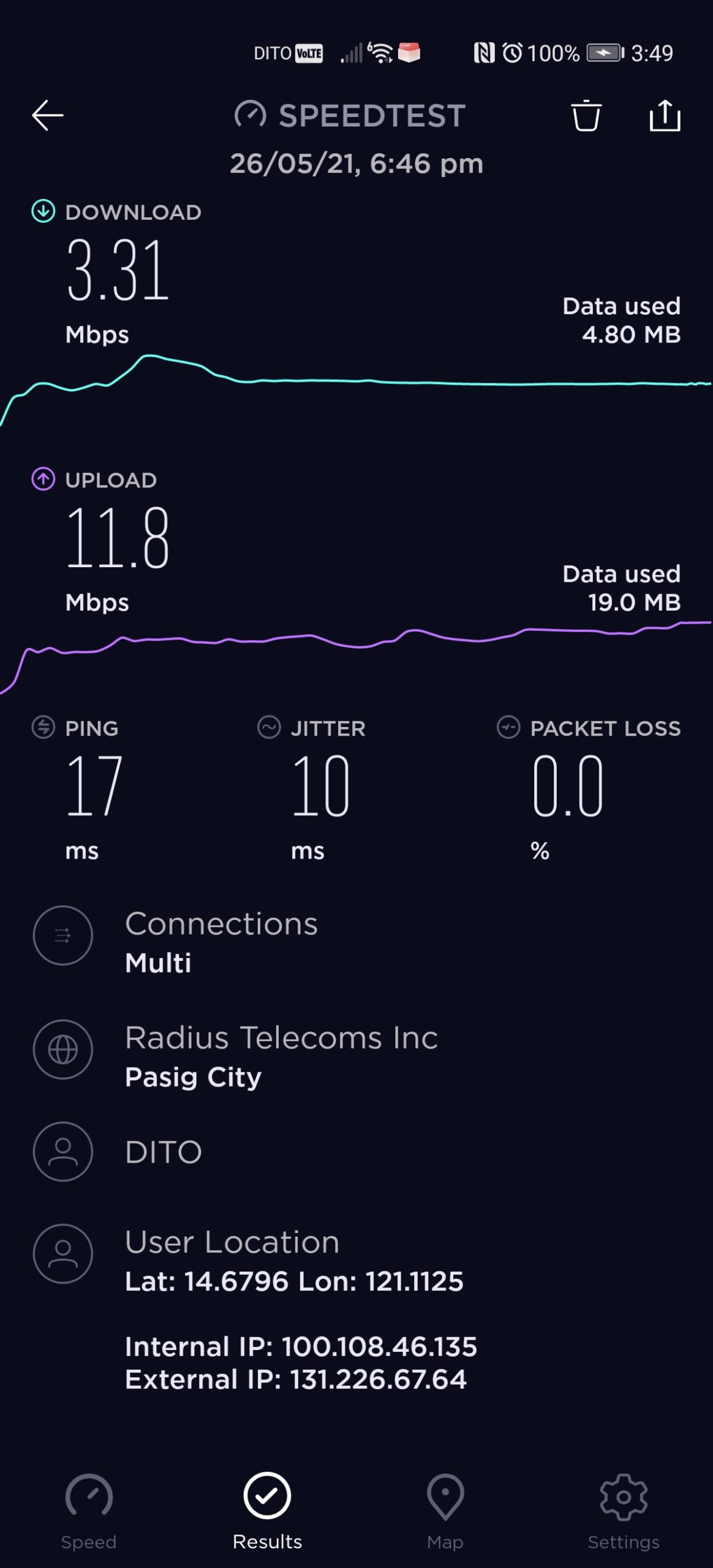 Brgy Dona Ana QC
3.31/11.8
Huawei P40 Pro
Kalayaan Avenue, Diliman QC
29.8/2.03
Huawei P40 Pro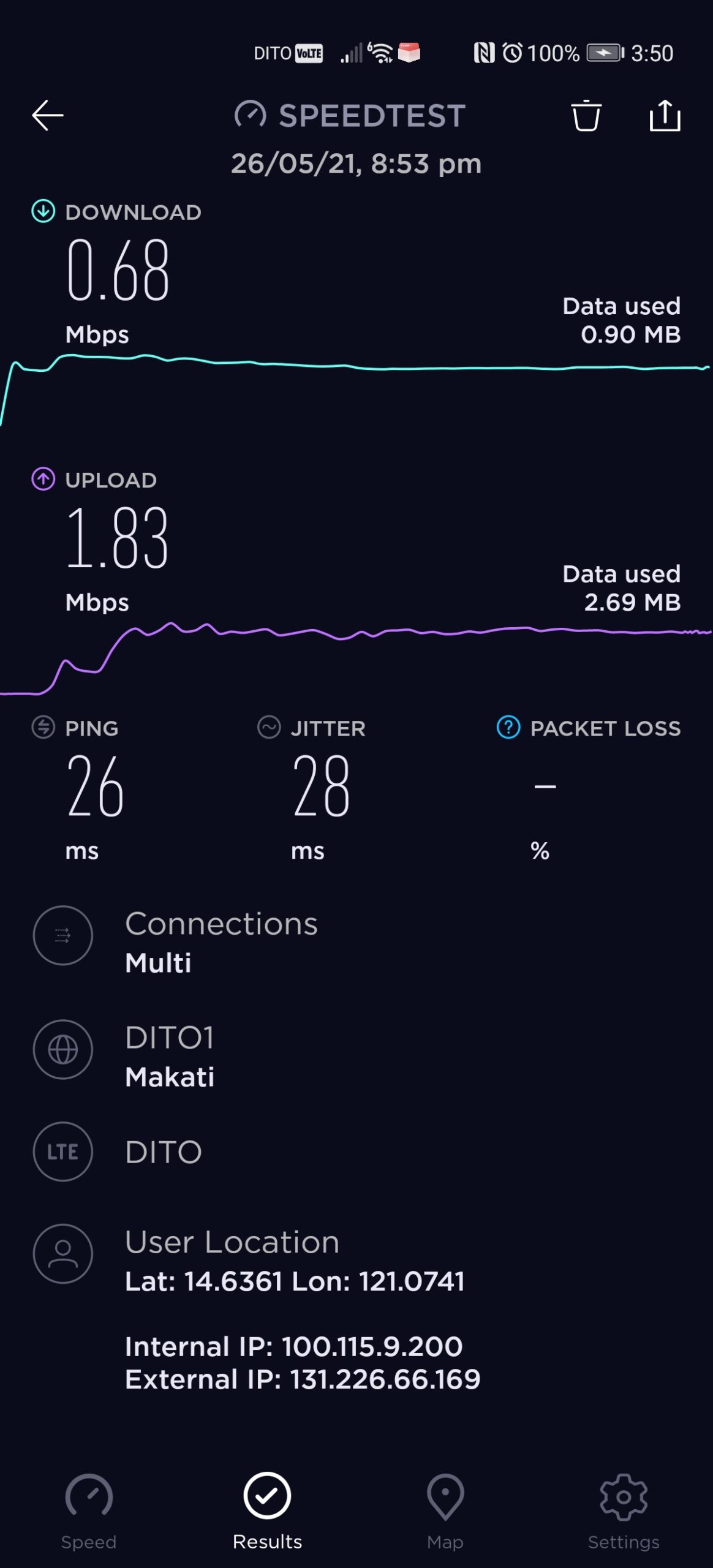 The Ateneo University, Katipunan
0.68/1.83
P40 Pro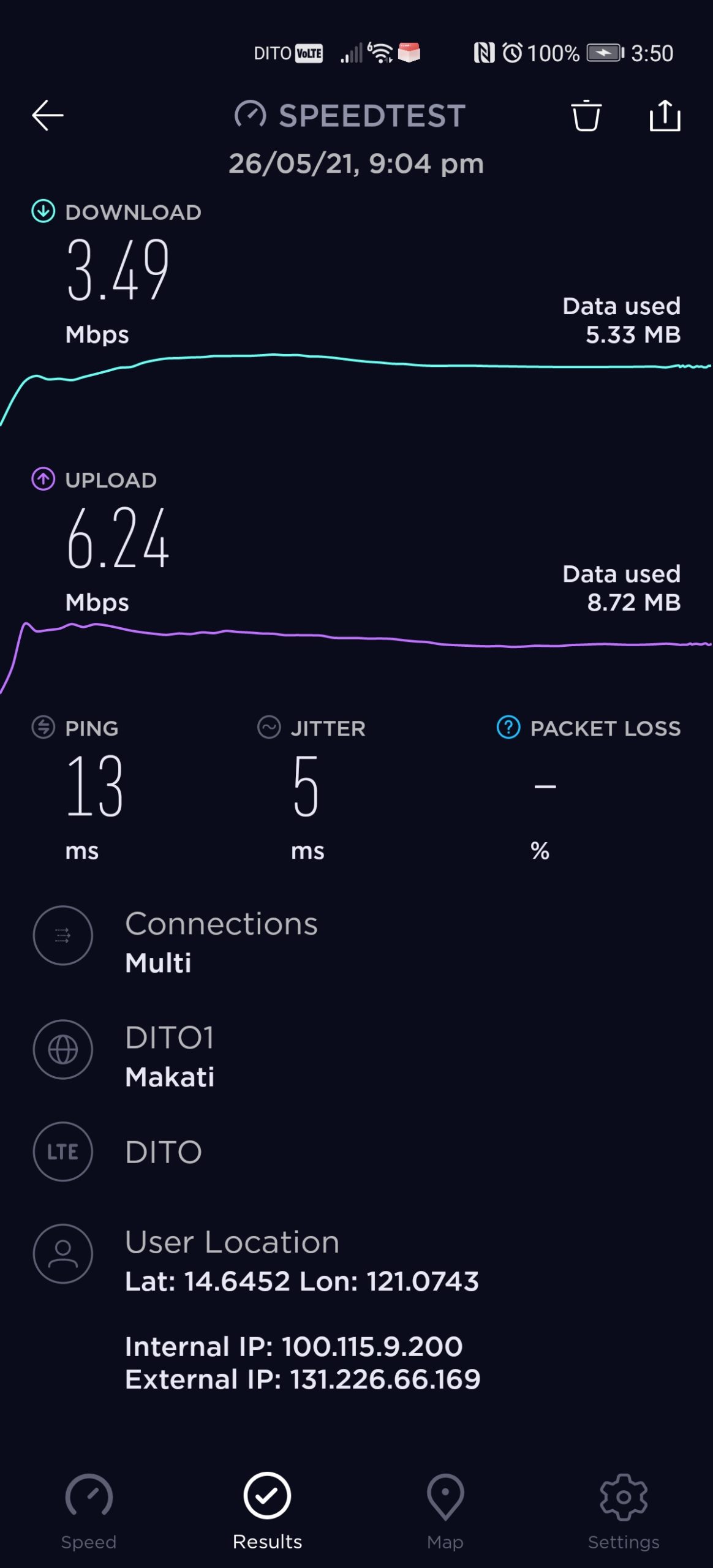 Miriam College, Katipunan
3.49/6.24
P40 Pro
Manila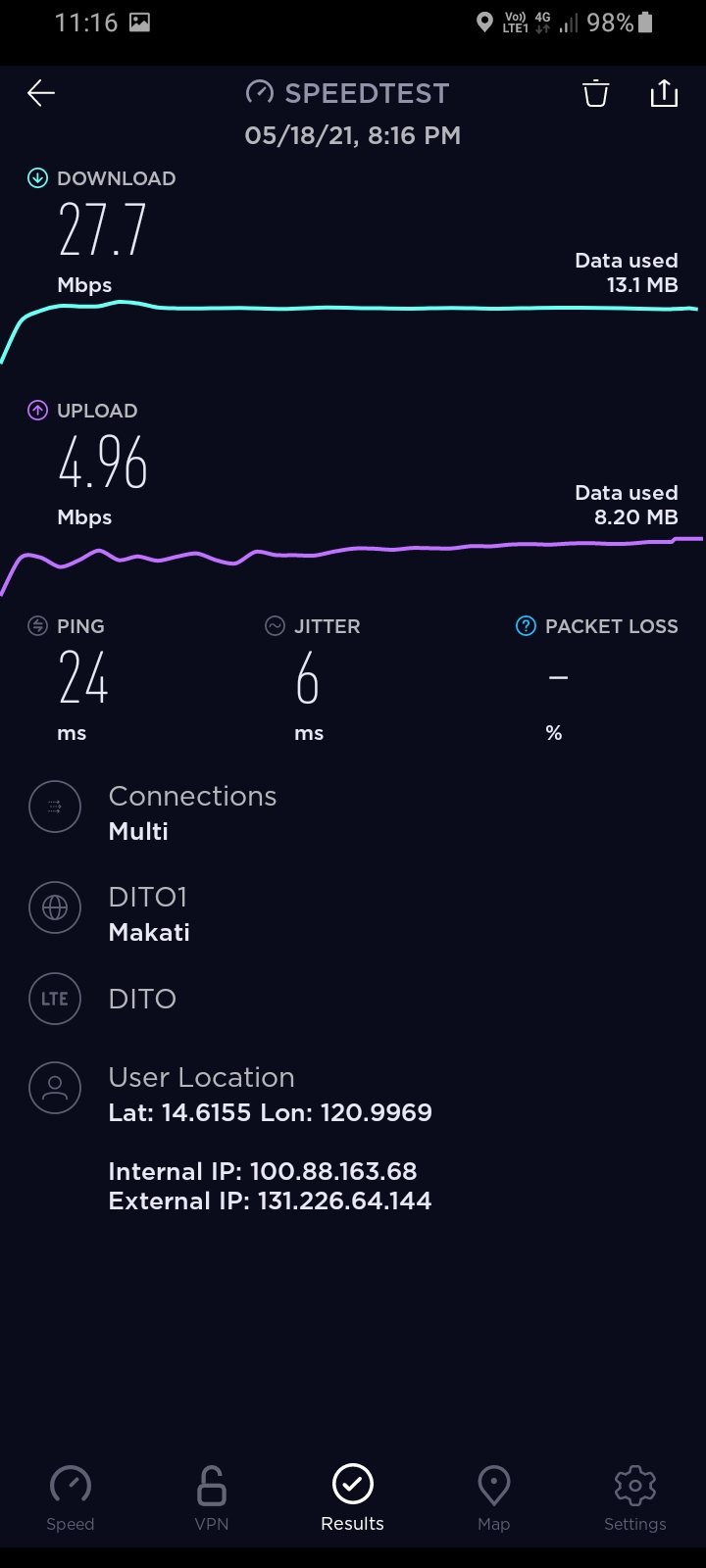 Maceda St., Sampaloc Manila
27.7/4.96
Galaxy A02s
Pedro Gil St, Sampaloc Manila
1.61/20.9
P40 Pro
If you base it on the data we've collected, DITO's speeds feel underwhelming, to say the least, but it's important to note that these tests were conducted in a very small slice of the third telco's area of operations in Manila less than a month after they've announced rollout in the capital. The company is still in the process of erecting infrastructure as well as optimizing its systems, and we expect the speeds to improve as things move along. This DITO speed test will be done again in about a month or so to check the company's progress in increasing the speeds for their subscribers.
Comments (10)