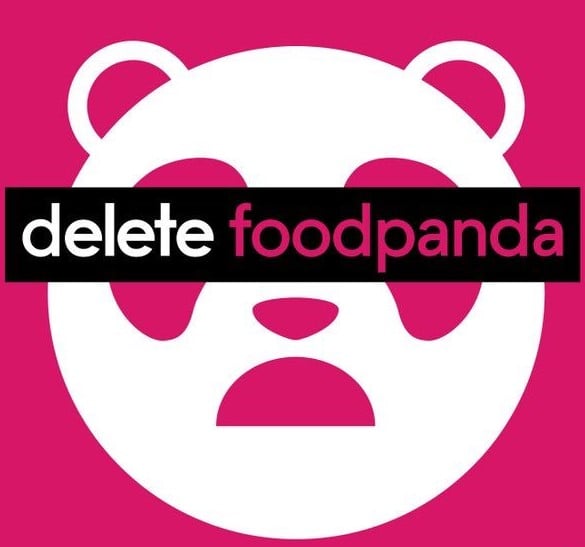 Online food delivery service FoodPanda is embroiled in another controversy, as complaints in the Philippines against its policies, as well as how much money it charges its partner restaurants, have begun to become viral on social media. As COVID cases in the Philippines surge and as demand for delivery services increase along with it, it seems complaints against the company have ballooned the past few months.

Complainants usually take to social media to vent out their frustrations with the application, some unifying under the hashtag #DeleteFoodpanda. One post that gained traction is by Mama Dith's, a Filipino restaurant in Antipolo. According to a Facebook post by their page, the courier company has taken as much as 39% of their revenue and then some, for "administration fees." The usual 2-week handover of sales fees also turned into 2 months, a whopping 4 times longer. When the restaurant wanted to complain through the application's channels, they were met with unresponsive or open-ended replies. Only when the threat of the DTI emerged were they willing to cooperate.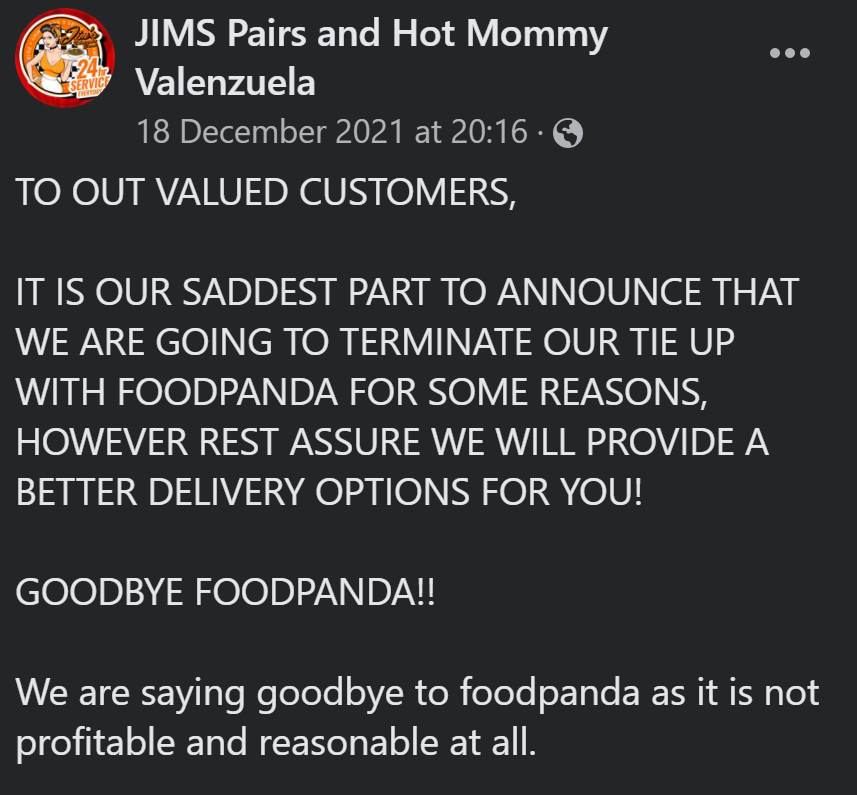 Intro to the post by JIM's Pairs and Hot Mommy 
Another example is this post by JIM's Pairs and Hot Mommy Valenzuela, a local chain of restaurants. They keep the post short and sweet, summarizing their breakup with the platform in 3 main points: Monthly hidden charges, extremely high platform fee, and customers canceling orders at the last minute even if these have left the restaurant.
Rajput Halal Pak Cuisine, a restaurant from Paranaque, also added that their profits sometimes get cut down to half for no apparent reason. Promos are also forcibly implemented on them without consent, further lessening their margins and sending them into the red. Other posts by personal accounts testify to these as well.
To add insult to injury, it appears that it's not only the restaurants that are experiencing a myriad of issues. A report by SunStar Davao illustrated the experiences of around 200 foodpanda riders who went on a silent protest due to unclear computations, only to be "offloaded" by administrators for a "breach of contract and affecting the ecosystem."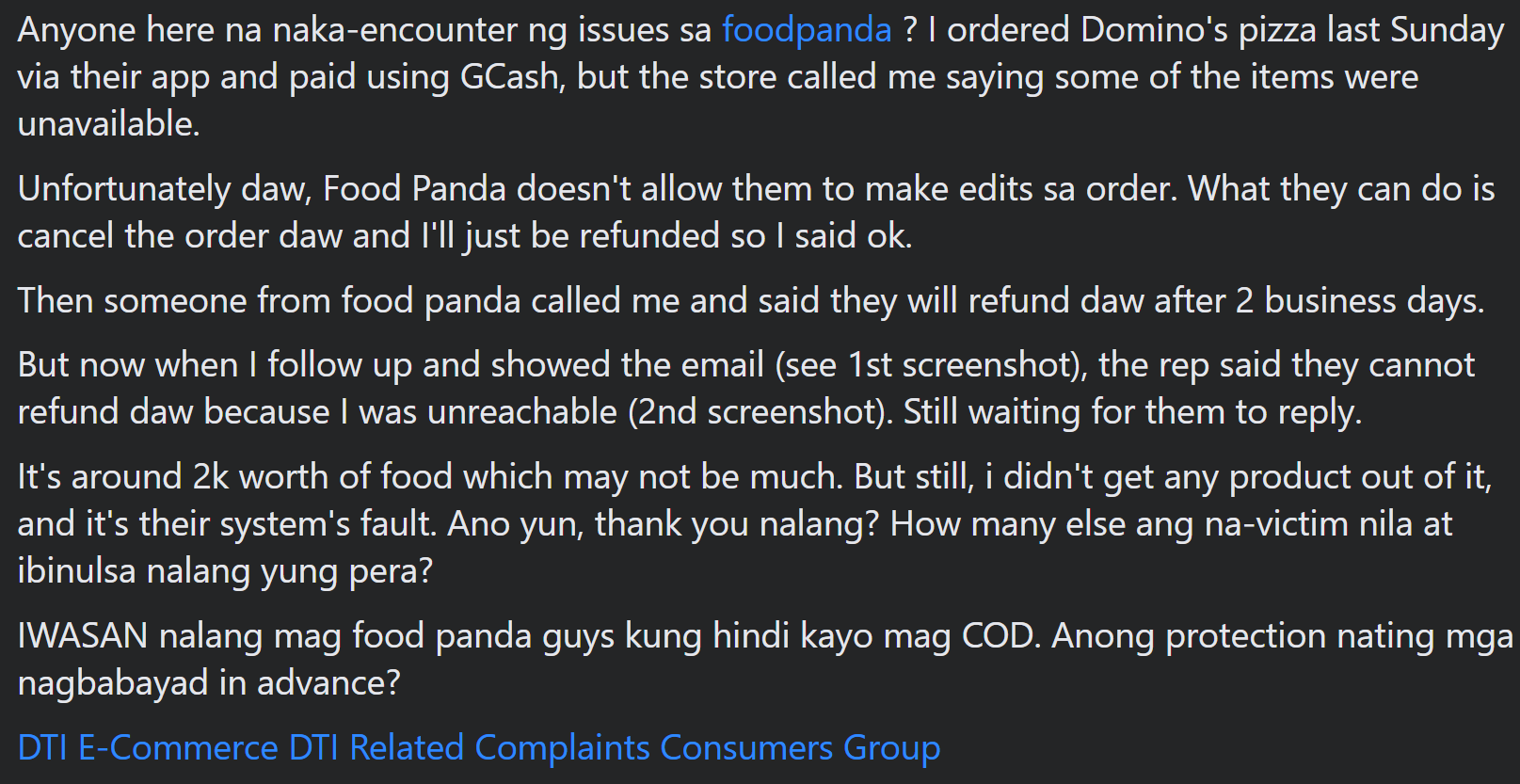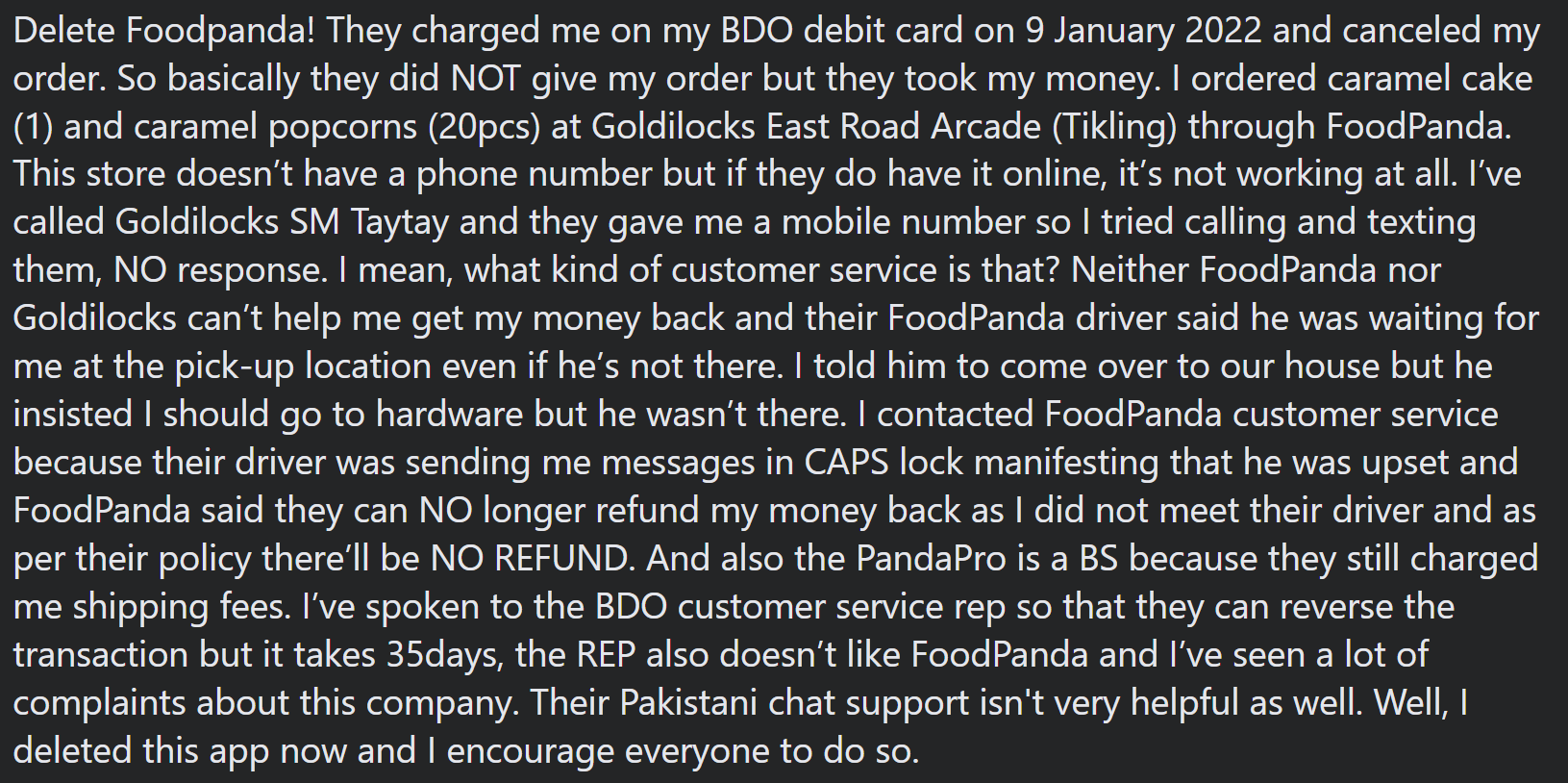 Screenshots of unhappy customers
Customers aren't spared from the nightmare as well, with stories of deliveries never arriving, ghost transactions, but these situations result in the company disappearing when asked for the refund (most of the time). If you're curious, you can check Facebook, Twitter, or even ComplaintsDB for more.
At this point, it can be said that FoodPanda is trying its best to respond to complaints in the Philippines. However, these efforts appear to be severely lacking as countless issues slip through the cracks – leading to walkouts from riders, restaurants, and customers alike. Restaurants are beginning to realize that their sales are better off without FoodPanda support, and competition isn't a walk in the park either. We just hope that they can get their act together in order to maintain some sort of respectability before it goes further downhill.
Comments (55)