Review Verdict: The Huawei MatePad Pro 11 (2022) looks stunning with its OLED panel, making it one of the best-looking tablets in its price range that's available in the Philippines.
Pros
The new OLED panel looks great
New finish
The detachable keyboard is surprisingly good to type on
Cons
While Huawei's diversification into audio and PC products has netted the company big gains over the past few years, it hasn't given up on its core products like phones and tablets. In fact, the brand has just updated its top-tier tablet offering with a gorgeous new screen, new chassis, and a fair amount of new tricks with the same Huawei experience for better or worse.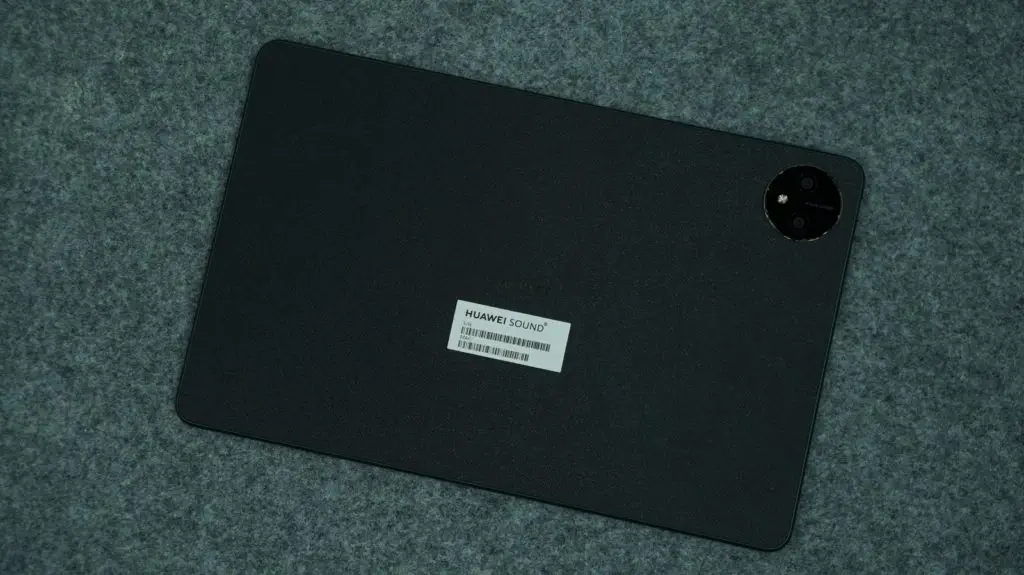 Design
A tablet looks like a tablet no matter what you do to it, though Huawei has tried its best to make the MatePad Pro 11 (2022) look the part of a premium product. For one thing, it's very thin – without the keyboard folio the entire package measures in at just 5.9mm thick, making it one of the thinnest slates that the company has produced so far.
Huawei also gave the rear camera module a slight makeover, allowing it (and the accompanying 13-megapixel main shooter and 8-megapixel ultra-wide) to look as uniform with the brand's higher-end smartphones like the P50 Pro.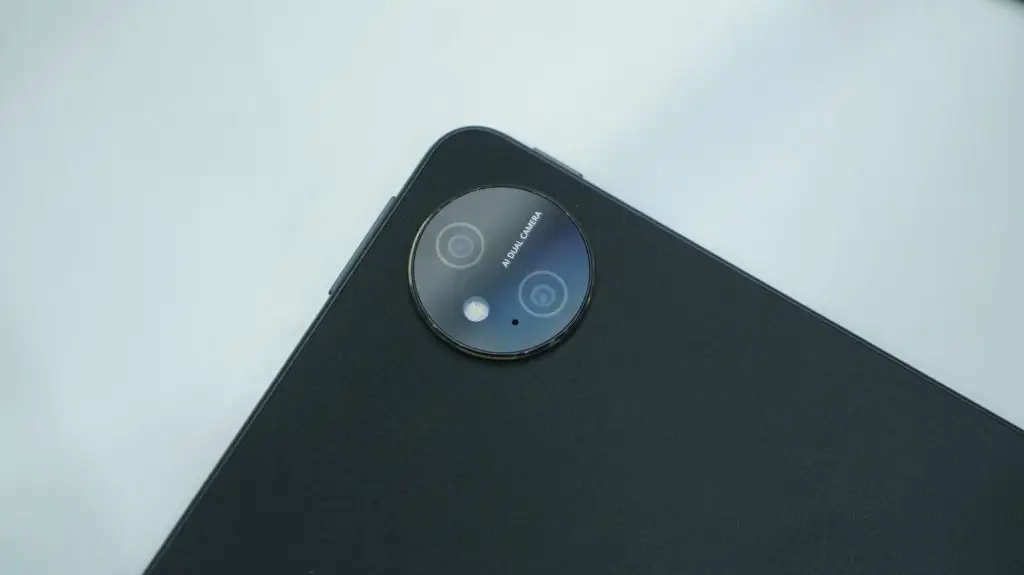 Aside from its skinny chassis, the tablet also gets a new, "skin soothing" finish that Huawei claims make the back of the tab more resistant to smudges and fingerprints.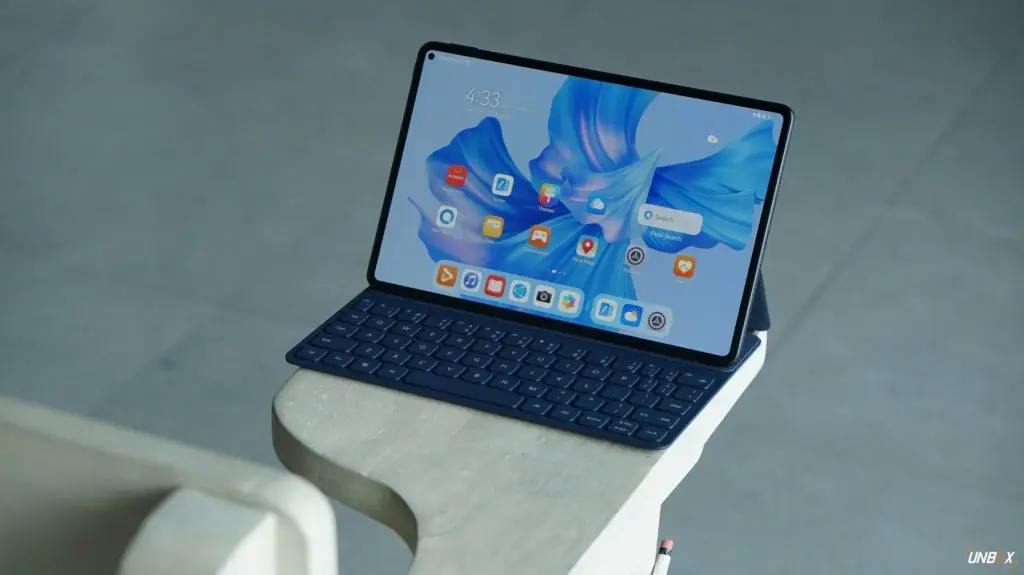 That skinny chassis comes in handy because it offsets the bulk of the addon keyboard case/folio, which considerably increases the thickness of the tablet when in use. With the keyboard attached, the tablet is only a little bit thinner than an ultra-compact laptop, though given the choice I'd pick up Huawei's slate VS the laptop every time.
While the MatePad Pro 11 (2022) is a tab at its core, you'll rarely use it stand-alone if you're a productivity-focused person like me. You'll almost always have it connected to its keyboard accessory, though you can quickly remove the keyboard and leave the stand at the rear to make it easier to watch content or use the M-Pen. The keyboard attaches quickly via magnets to the bottom, and you can use it even without having it physically connected to the tablet since it uses Bluetooth to connect.
The keys on the keyboard are surprisingly good for how small they are, thanks to its 1.5mm of travel. The 15mm keycaps are a little tight, especially for someone with big fingers like me, but once you get used to them you'll be typing full speed as normal.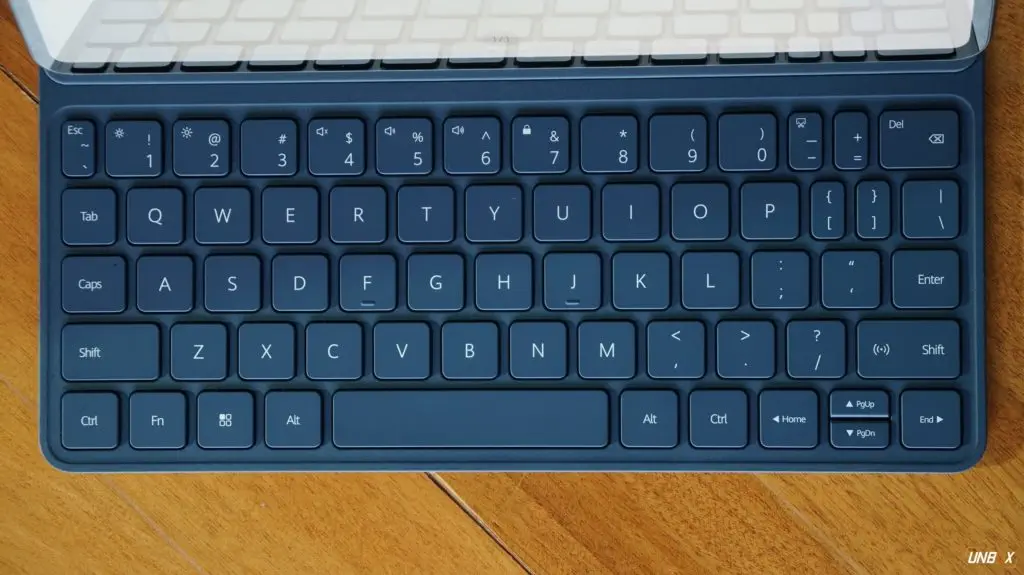 The keyboard attachment also holds a neat trick: Huawei has managed to stuff an antenna in there, which acts like a Wi-Fi amplifier. I did notice better signal strength than with just the tablet itself disconnected from it, so it looks like the feature is legit.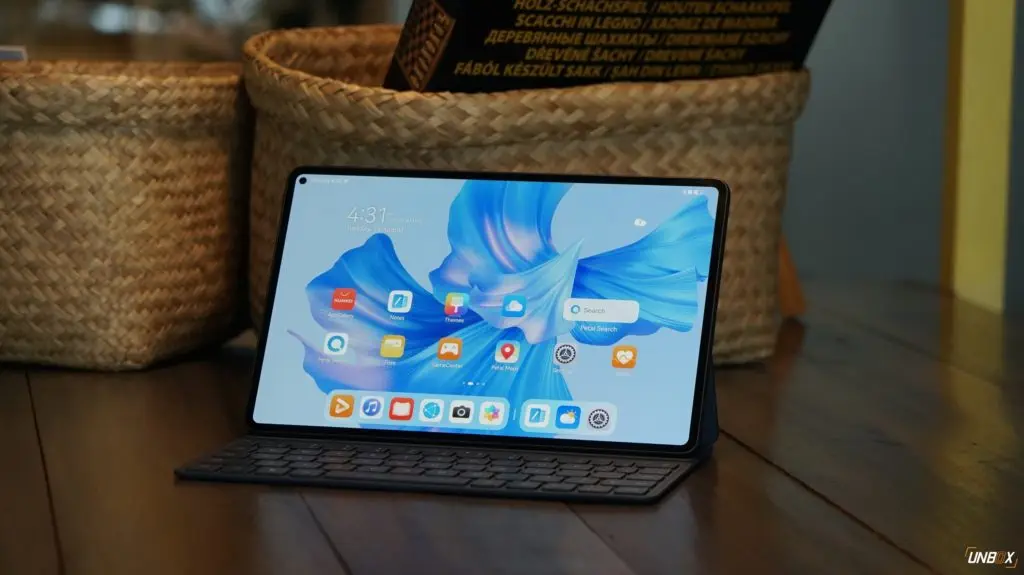 The tablet's last trick is its M-Pen. Huawei boasts that their new, second-generation M-Pen now comes in a "skin-soothing form" and is complimented by an antioxidant coating for a comfortable grip at all times.
The pen uses low-latency tech to work seamlessly with the 120Hz screen on the panel, has 4,096 levels of pressure sensitivity, and can be charged wirelessly by attaching it to the top frame of the tablet.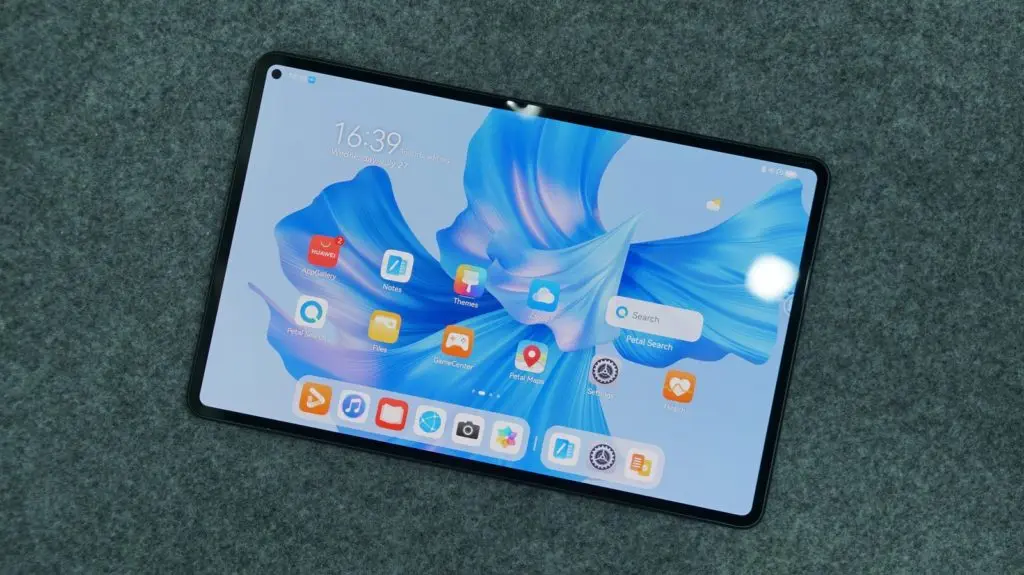 Display
The key upgrade for this generation is the display. The MatePad Pro 11 (2022) gets an 11-inch, 2560 x 1600 resolution OLED panel that's quite an upgrade from last year's offering. Just like before, a small selfie camera is placed on the upper left side of the tab that holds a 16-megapixel selfie snapper.
The new OLED panel gives the tablet new levels of brightness (up to 600 nits) as well as a 16:10 aspect ratio, 120Hz refresh rate, and 1,440Hz high-frequency PWM dimming. It is the first tablet to get TÜV Rheinland's new Full Care Display 3.0 certification.
And since the display is now an OLED one, Huawei is also promising incredible Delta-E color accuracy of less than 1, which makes it one of the most color-accurate tabs that you can buy today.
The tab's color accuracy makes it ideal for anyone looking for a tablet that can accurately show the right colors for editing on the fly.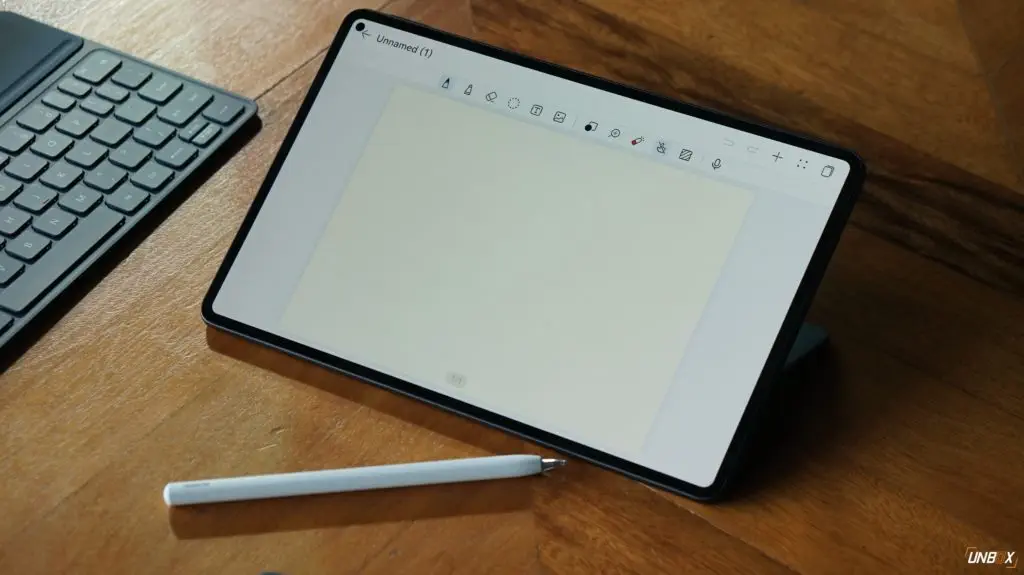 Performance, software, battery
While the Huawei MatePad 11 Pro (2022) comes in both WiFi and LTE variants, Huawei will only be selling the WiFi-powered one here. That means you're getting a Qualcomm Snapdragon 870 chip with 8GB of RAM and 256GB of storage.
While you're not getting Qualcomm's latest and greatest with the MatePad 11 Pro (2022), in our experience SD 870 is still a capable enough processor in its own right.
A lot of the heavy lifting for the MatePad Pro 11 (2022) is done by Huawei's Harmony OS 3.0 operating system, based on Android. It's incredibly easy to multi-task using Harmony OS on the MatePad 11 Pro 2022, and if you have a Huawei phone like the P50 Pro or P50 Pocket, you can quickly and easily share content from your phone to the tablet via Huawei's SuperDevice ecosystem.
All the caveats that apply to previous Huawei phones and tablets also apply to the 2022 model of the MatePad Pro 11, sadly. But that shouldn't be new to anyone who's been using Huawei products, and both AppGallery and Petal Search have done quite a good job in replacing the apps lost in Huawei's long-running tiff with the US government.
Battery-wise the Huawei MatePad Pro 11 2022 comes with an 8,300mAh battery, with support for 66W SuperCharge. Huawei claims that the tablet can last up to 11.5 hours of continuous local video playback. Our PCMark Battery benchmark run was a little more realistic, returning a score of 8 hours and 36 minutes.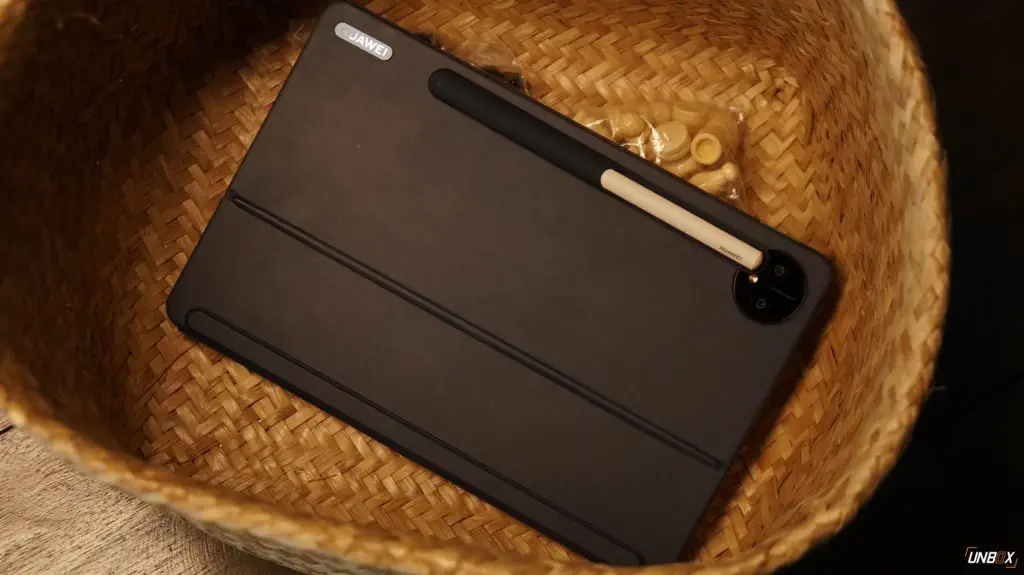 Wrap-up and verdict
The Huawei MatePad Pro 11 (2022) is a relatively versatile tablet as we found in our review of it for the Philippines, thanks to its beautiful and color-accurate display, neat multi-tasking tricks, M-Pen integration, and easy-to-use keyboard.
Probably the only thing that'll hold you back is its price tag, though to be fair its sticker price is pretty close to its other competitors in the tablet space.
Huawei MatePad Pro 11 2022 Review Price Philippines
The MatePad Pro 11 2022 is priced at Php 41,999. Pre-orders will be from September 2 to 8, where each pre-order comes with a detachable magnetic keyboard, a second-generation M-Pencil, and various benefits from App Gallery.
This post is search optimized by the #1 SEO Services Company in the Philippines – SEO Hacker
Comments (1)