Through Memorandum Circular No. 2022-2325, the Land Transportation Office (LTO) has extended the registration deadline for motor vehicles with plate numbers ending in 4.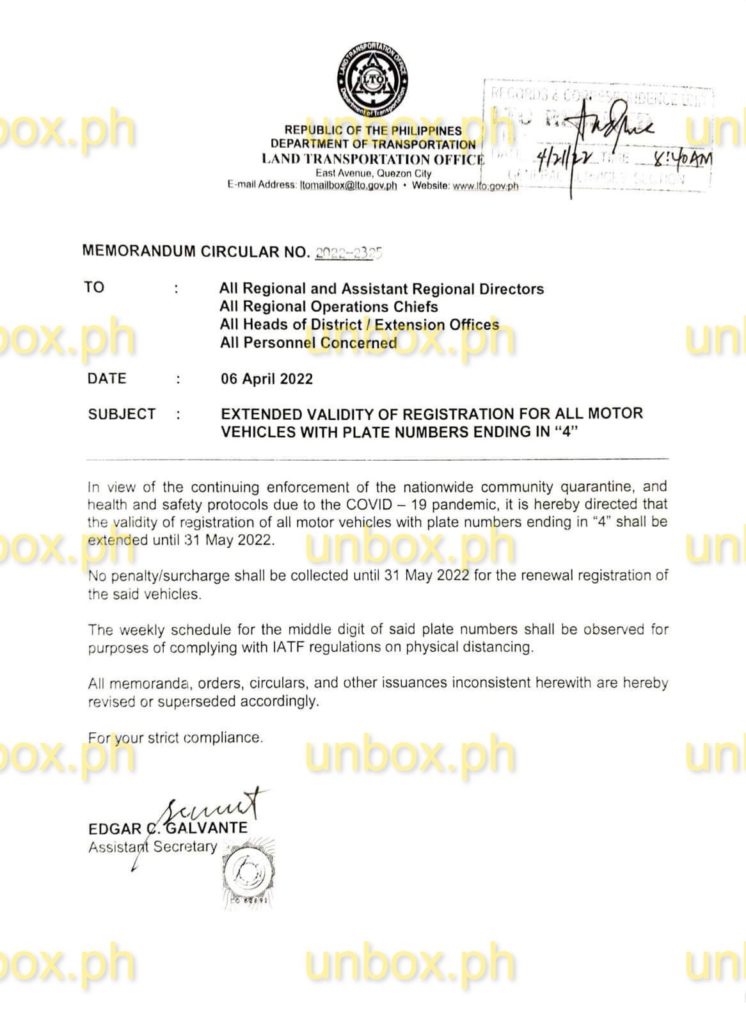 The reason thereof, according to the agency, is the continuing enforcement of the nationwide community quarantine, and
health and safety protocols due to the COVID – 19 pandemic.
Therefore, those with expiring registration this month will have until May 31, 2022 to renew the said registration. There will be no penalty or surcharge to be collected for this 1 month of extension which the agency made very clear.
Just take note that the weekly schedule for the middle digit of said plate numbers shall be observed for purposes of complying with ATF regulations on physical distancing. If you're unfamiliar with this, refer to the table below.
| | |
| --- | --- |
| WEEK | SECOND TO THE LAST DIGIT OF YOUR PLATE NUMBER |
|  1st to 7th working day |  1, 2, 3 |
|  8th to the 14thworking day |  4, 5, 6 |
|  15th to the 21stworking day |  7, 8 |
|  22nd to the last working day |  9, 0 |
With the still ongoing COVID-19 pandemic and our situation here in the country, it is likely that the LTO will continue to extend the registration deadline to stick to the health protocols and social distancing guidelines mandated by the Government and the Department of Health (DOH). Again, just follow the safety protocols if you do decide to go out and fix your LTO registrations.
Comments (0)