The Department of Transportation (DOTr) has recently announced that the country's four rail lines—Metro Rail Transit (MRT) Line 3, Light Rail Transit (LRT) Lines 1 and 2, and Philippine National Railways (PNR)—will all operate at limited capacity as they mass test rail personnel for the COVID-19 virus. The MRT and LRT running at limited capacity will last for several days, as several employees of the railways have already tested positive for COVID-19.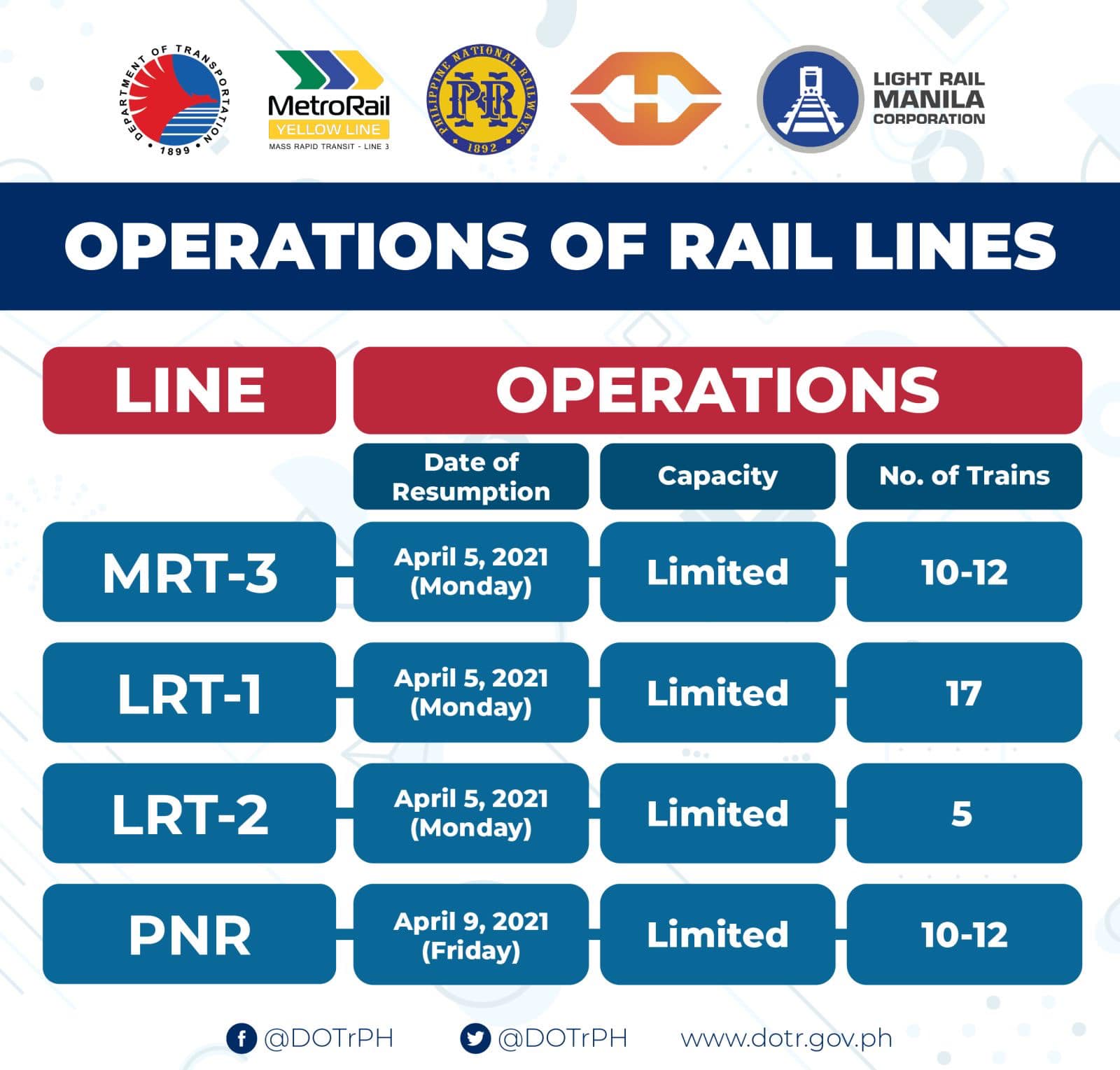 Transportation Secretary Arthur Tugade said that the DOTr will not compromise the health, safety, and security of the traveling public and their working people. The DOTr is also implementing a new set of protocols known as "Seven Commandments".
Limited operations for the MRT-3 means that they will only deploy 10 to 12 trains; LRT-2 will deploy only 5; and LRT-1 will deploy just 17 trains. PNR when it resumes operations will deploy 10 to 12 trains only. Affected passengers can avail of augmenting buses running on the EDSA Carousel route, while those of LRT-1 can be accommodated by bus routes 9 and 10. Meanwhile, displaced commuters of LRT-2 will be accommodated by buses running on Route 17 (Monumento-EDSA via Rizal and Taft Avenues).
Further assistance by the DOTr road sector shall be in place, as they will deploy additional PUVs to aid commuters to their destinations. There are also services such as the Free Ride for Health Workers and Medical Frontliners and Free Ride for Authorized Persons Outside of their Residences (APORs). These services will come in handy as LRT and MRT are currently operating at limited capacity.
In addition, new stringent health protocols will be enforced. Known as the "Seven Commandments", it was recommended by health experts for both passengers and public transportation personnel to comply with. The following are the new rules:
1) Wearing of face masks and face shields at all times;
2) Avoiding talking and making phone calls;
3) No eating;
4) Keeping and maintaining PUVs well-ventilated;
5) Conducting frequent disinfection;
6) Not allowing any passenger with COVID-19 symptoms inside public transportations; and
7) Observing appropriate physical distancing rules.
Passengers inside the trains who will be caught violating any of these protocols shall be escorted out on the next station, while appropriate disciplinary action/suspension shall be imposed on personnel caught violating the same rules. Again, this is all to stop the spread of COVID-19 virus and protect the health of both rail personnel and passengers.
Comments (0)