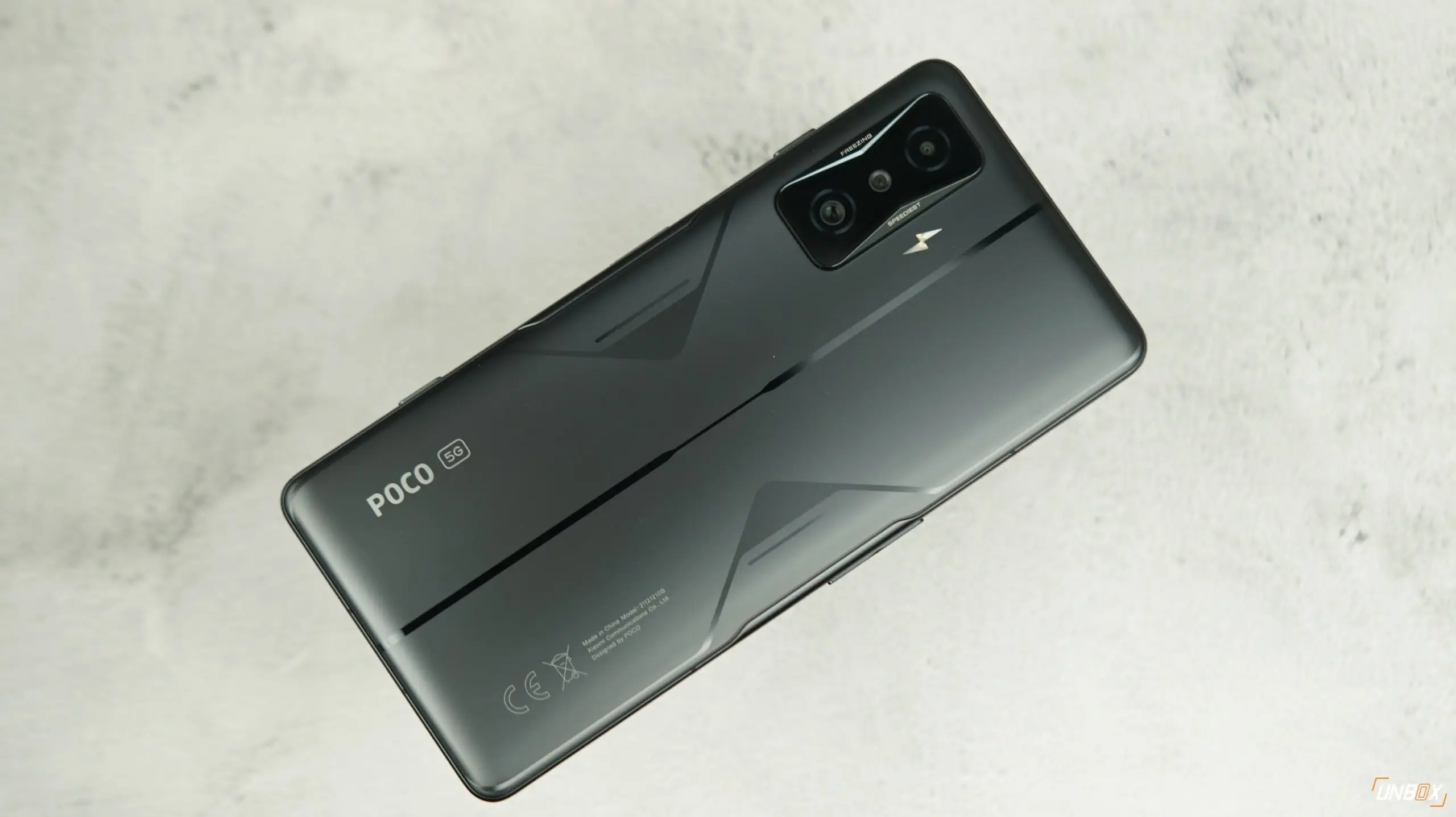 Review verdict: The POCO F4 GT is a mobile gaming beast that won't cost you an arm and a leg in the Philippines. It's a great phone—as long as you keep to its intended purpose.
Pros:
Retractable shoulder buttons
Excellent gaming performance
Great screen
Affordable considering the specs
Cons:
No IP rating
So-so cameras
No expansion slot
POCO F4 GT Philippines Specs:
Snapdragon 8 Gen 1 processor
8GB/12GB LPDDR5 RAM
128GB/256GB UFS 3.1 storage
6.67-inch Full HD+ AMOLED display, 120hz refresh rate, 480hz touch sampling rate, support for HDR10+ and DCI-P3, 10-bit color
64-megapixel f/2.0 IMX 686 main camera with PDAF, 2-megapixel f/2.4 macro camera, 8-megapixel f/2.2 ultra-wide-angle camera
20-megapixel IMX 596 selfie camera
4G, 5G
WiFi 6E, Bluetooth 5.1, NFC, side-mounted fingerprint scanner
IP53 rating, JBL-tuned stereo speakers, physical shoulder triggers
4700mAh battery
120w fast charging
Android 12, MIUI 13
Xiaomi's new POCO F4 GT looks to build on the foundations laid by its previous gaming phone by offering a better, more stylish exterior and better performance though at a higher cost.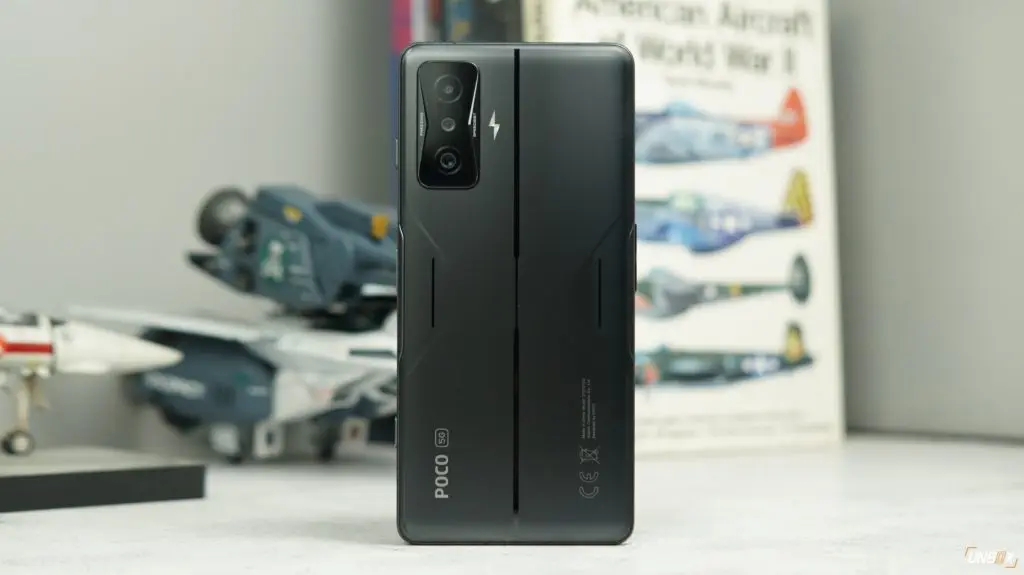 Design
While the POCO F4 GT is marketed at mobile gamers, it doesn't look like your typical gaming phone. There aren't any big, obnoxious LED lights anywhere in the body or large, flashy fonts that scream "gamer" anywhere, which may or may not be a good thing depending on your preferences. As much as I like a visually interesting phones, the more subtle design approach that POCO took with their gaming phone is the right call as it'll appeal to a wider base of people VS the more polarizing designs by their competitors.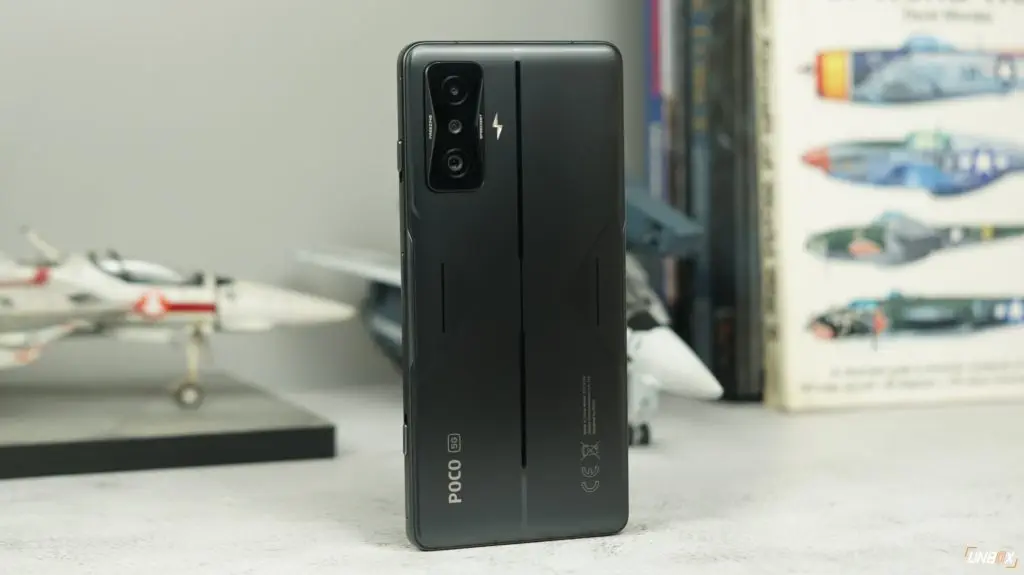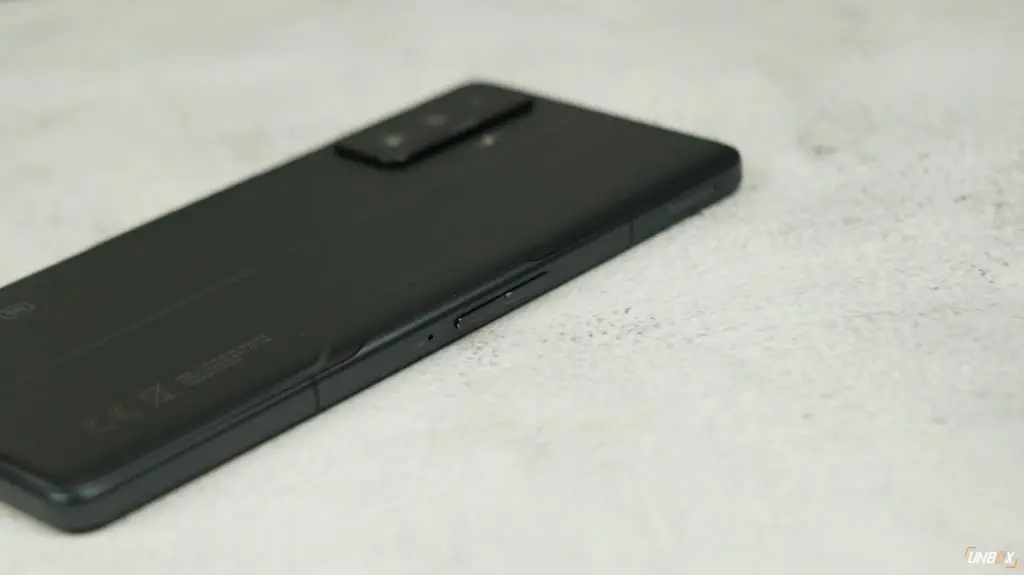 That design is made up of a glass back with an etched design, along with a conventionally-sized camera module. Unfortunately, the phone does not have any formal IP protection at all, which is a bummer.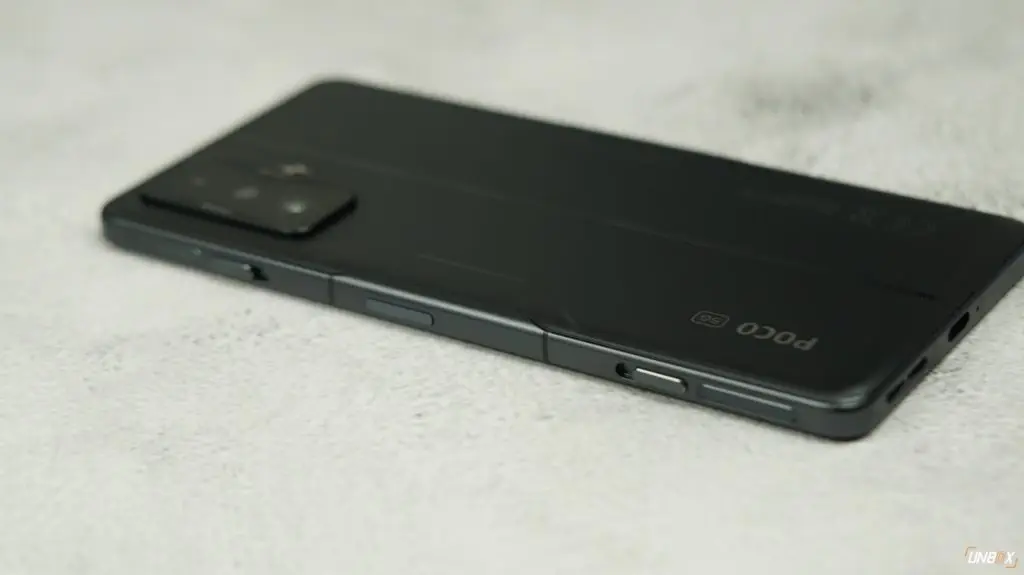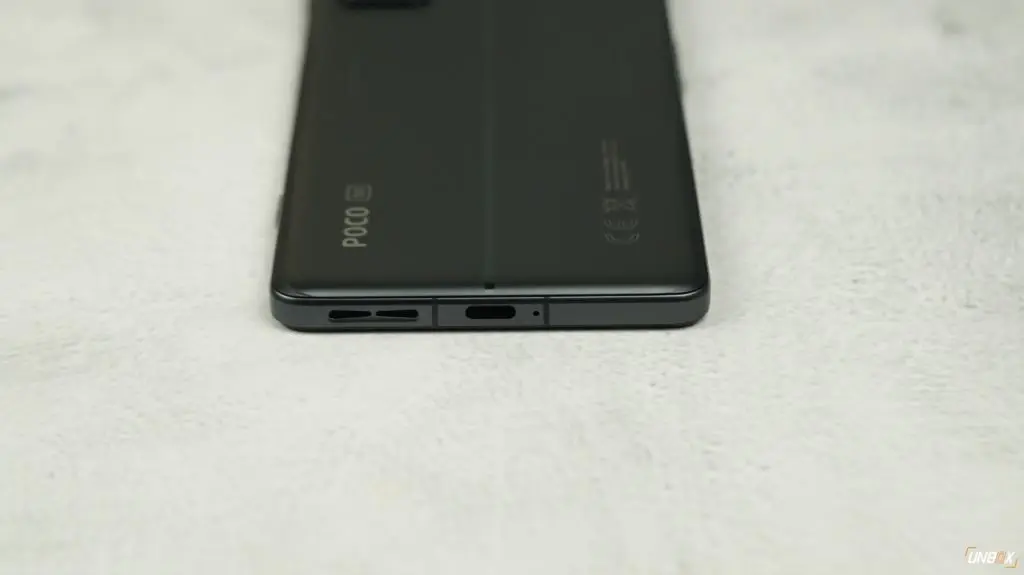 That being said, the POCO F4 GT does have one feature that most gaming phones nowadays have: shoulder buttons. And unlike the ASUS ROG Phone 5s which uses ultrasonic sensors on the side, the POCO F4 GT has two physical shoulder buttons that spring up once you release the latches. The latching mechanism for popping the buttons feel very satisfying and the buttons themselves feels wonderful to use thanks to their generous travel relative to their size.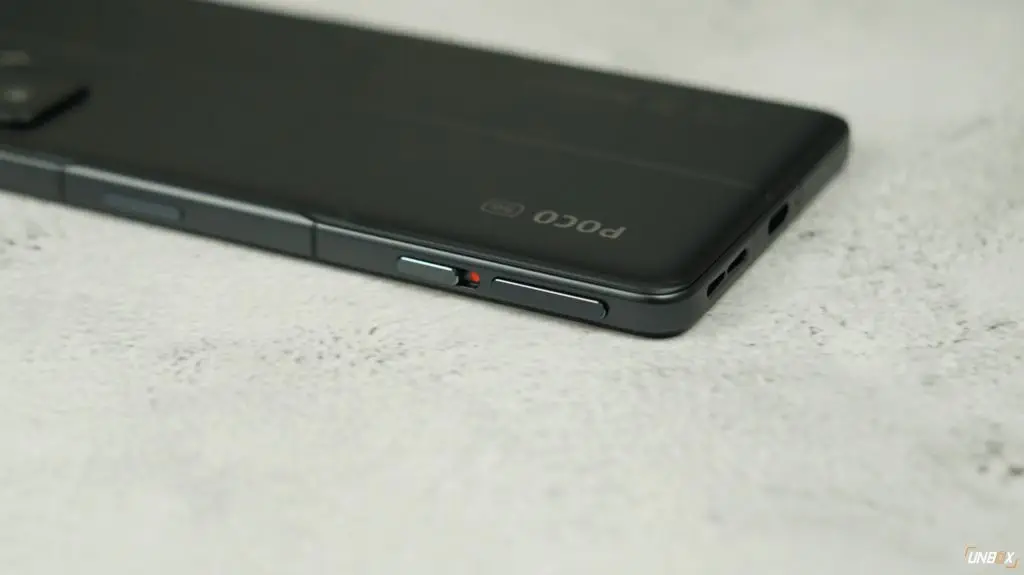 The only gripe I have with the design of the phone is that the placement of the power/fingerprint unlock button is a little too low for someone like me who has bigger than average hands. Most phones have their power buttons placed a little higher on the frame but because of the location of the shoulder buttons that obviously couldn't be done here. It's a small gripe for sure, but if you have gorilla hands like me, you'll notice it.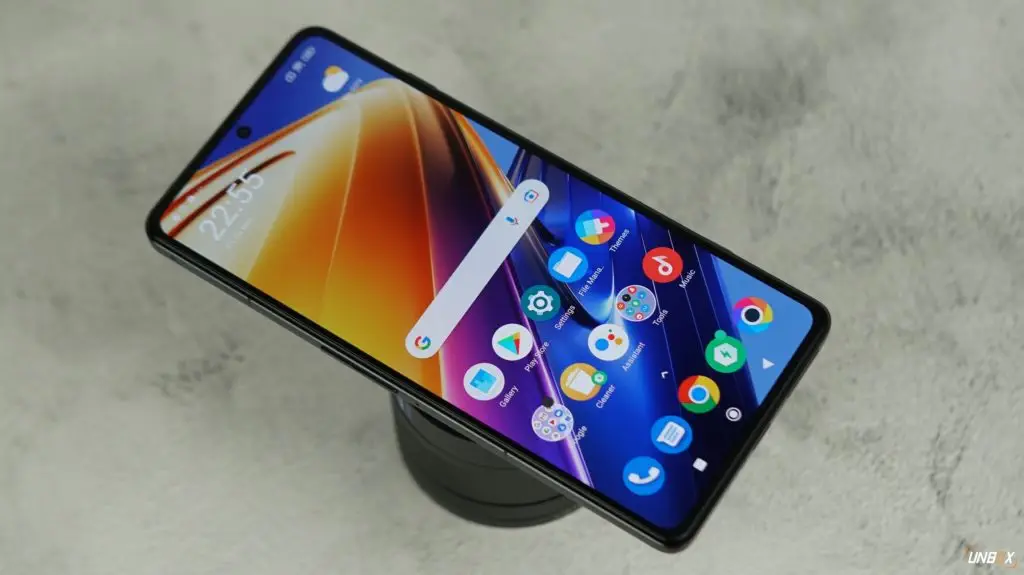 Display and sound
The POCO F4 GT has a relatively good-looking display, which is pretty important for a gaming phone. The overall size of the FHD+ AMOLED panel is 6.67-inches, with the refresh rate pegged at 120Hz. Other notable specs is the 480Hz touch sampling rate, 800 nits of typical brightness (which you expect from an AMOLED panel), DCI-P3 wide color gamut support, and HDR10+ capability.
As far as display quality goes, the POCO F4 GT's AMOLED panel does a pretty good job here.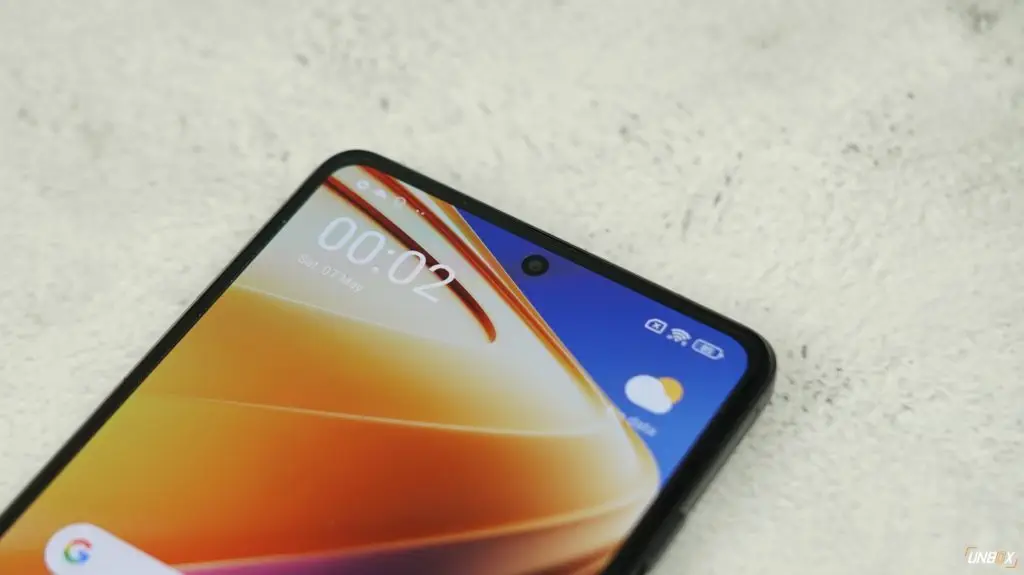 The refresh rates for the phone can be modified from either 60Hz to 120Hz. You can also choose a dynamic refresh rate, though it'll only switch from 60Hz to 120Hz, which isn't as power-efficient as other solutions that drop refresh rates down all the way to 1Hz to conserve power.
The POCO F4 GT has a quad-core speaker system built into its frame. While audio quality is relatively OK when the volume is at 50%, it starts to degrade when you crank it up to max volume. Childish Gambino's Freaks and Geeks noticeably has very little bass and sounds horribly tinny with the volume cranked up to the max.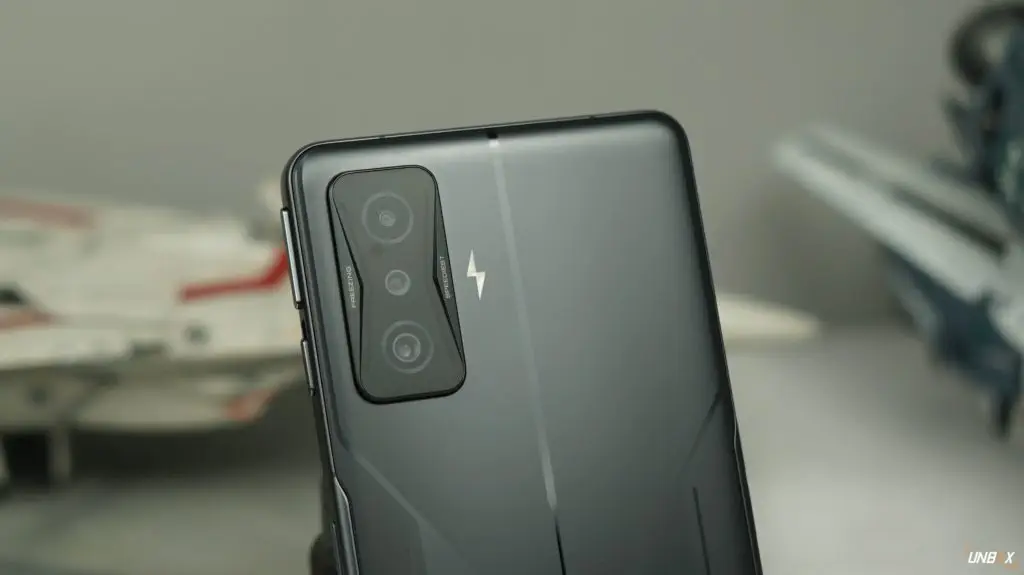 Cameras
The phone has three cameras on its rear module, with only two being actually useful: there's a 64-megapixel main shooter with an f/1.9 aperture lens, 8-megapixel wide-angle camera with an f/2.2 aperture lens, and a 2-megapixel macro camera that serves no purpose other than to aggravate you with its low-quality shots.
The 64-megapixel camera is good enough for bright environs but struggles when you start to encounter areas with low light. There's noticeable noise in low-light areas and when you shoot zoomed shots.
The ultra-wide camera approaches filler status in terms of image quality, though you can work around it if you understand the camera's limitations.
Performance, software, and battery life
One of the highlights of the POCO F4 GT is the fact that it's probably the most affordable phone that has the flagship Snapdragon 8 Gen 1 processor. It's the same processor that powers many of today's flagship phones and considering the adjusted price for POCO F4 GT you're getting a great bargain if all you care about is gaming.
The phone comes in two flavors: an 8GB/128GB variant and a more capable 12GB/256GB variant.
Software benchmarks for the phone put its performance roughly at the same level as other phones equipped with a Snapdragon 8 Gen 1 processor. That means you'll be able to play games in their highest graphical settings without any issue. Thermal performance while gaming is good, though the phone did get a bit warm during extended gaming sessions.
The POCO F4 GT is equipped with Xiaomi's MIUI software (which is now in its 13th iteration) laid on top of Android 12. Aside from the usual enhancements brought about by the OS, the phone also has gaming-specific tweaks under the Game Turbo app. The app is accessible from the home screen and via swiping from the upper leftmost part of the display in landscape mode while gaming. While you're there, you can set screen dead zones, map shoulder trigger functions as well as change your voice when you're using VOIP functions in games that support it.
The customization options here aren't as robust as say, the implementation of ASUS in their own gaming phone but it's enough for a majority of people.
The phone comes packing a 4700mAh battery and 120W fast charging, which is the fastest charging speed I've ever encountered on a POCO phone thus far. It was able to charge our review unit from 0 to 100% in roughly just 18 minutes, which is well within the 17 minute promise of POCO.
As far as battery life goes, the phone managed to score overall battery life of 10 hours and 55 minutes on our battery benchmark, which again is what we expect from the processor package.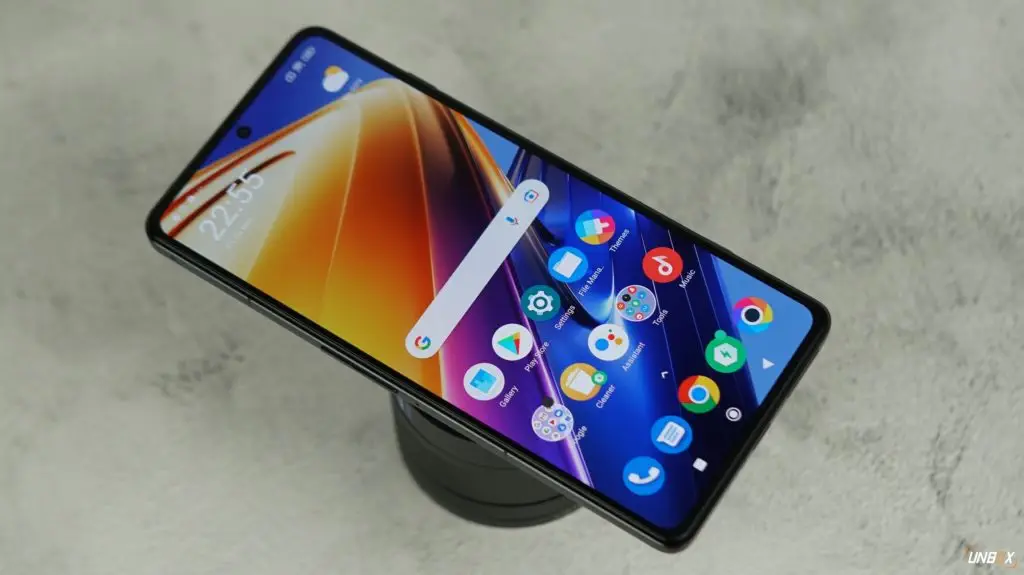 Wrap-up and verdict
The POCO F4 GT is a gamer's phone through and through as we found out in our review of it for the Philippines, and anyone looking for a high-performance phone to play Genshin Impact or any other game will be happy with the POCO F4 GT. While it doesn't have as much accessory support as say, ASUS' ROG Phone series of phones, it works relatively well as a gaming device.
POCO F4 GT Review Philippines Price
POCO has adjusted the price of the POCO F4 GT for the Philippines from their original announcement. The 8GB/128GB version is just priced at Php 24,390, while the 12GB/256GB variant is priced at Php 27,990.
This post is search optimized by the #1 SEO Services Company in the Philippines – SEO Hacker 
Comments (0)