Review verdict: While the realme 8 Pro is mostly an iterative upgrade over last year's offering, the bump to a higher resolution camera gives snap-happy fans in the Philippines a reason to consider the new mid-range phone. Unfortunately, the camera upgrade is the highlight of this refresh, and people looking for substantial upgrades from last year's model will need to look somewhere else.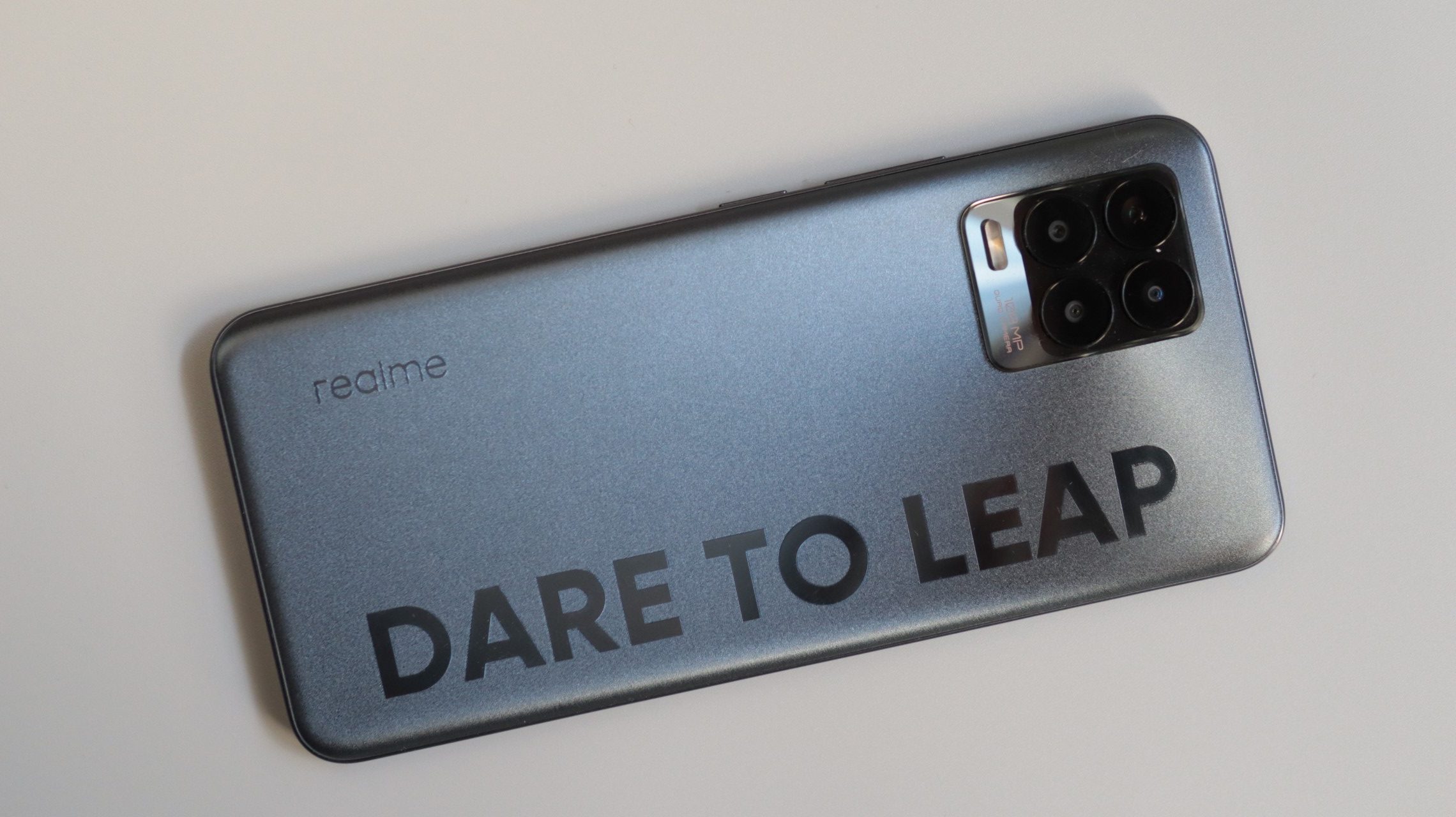 Pros
The new 108-megapixel camera takes really good photos
Distinct design
Snapdragon 720 still performs well
Cons
No 5G capabilities
Roughly the same hardware as last year's model
Some white balance shift when switching to the ultra-wide camera
realme 8 Pro Specs:
Snapdragon 720G processor
8GB LPDDR4X RAM
128GB internal storage
6.4-inch Full HD+ Super AMOLED display, 180hz touch sampling rate
108-megapixel f/1.9 ISOCELL HM2 main camera with PDAF, 8-megapixel f/2.25 ultra-wide-angle camera, 2-megapixel macro camera, 2-megapixel f/2.4 mono camera
16-megapixel f/2.45 IMX 471 selfie camera
4G, LTE
WiFi, Bluetooth 5.0, in-display fingerprint scanner
4500mAh battery
50w fast charging
Android 11, realme UI 2.0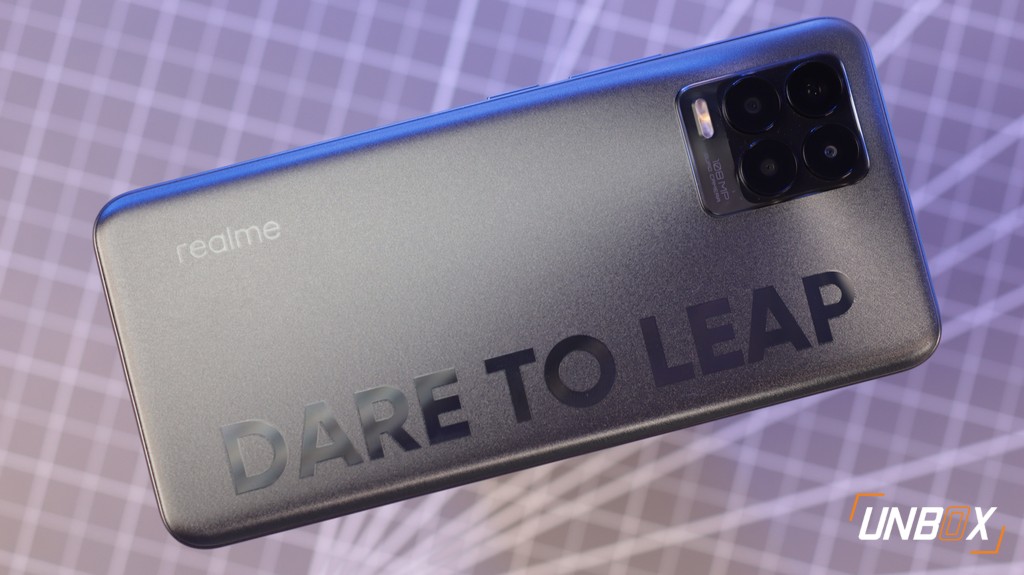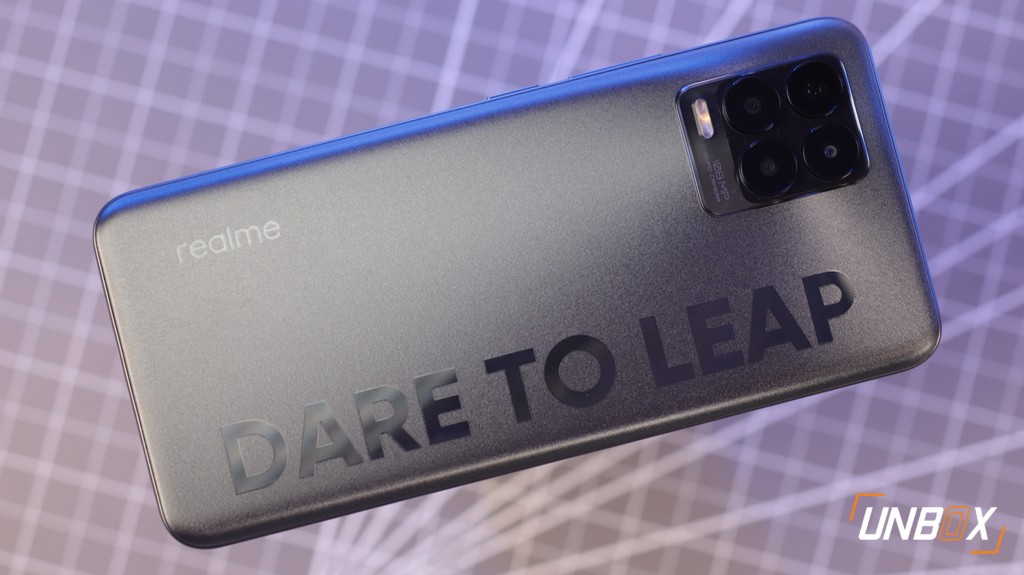 realme has taken a more iterative approach when it refreshing their mid-range lineup in the past few years, which kind of makes sense. Upgrading one part of the formula and retaining the rest of the bits that work isn't necessarily a bad thing, though it makes the new refreshed model a tougher sell for fans looking to upgrade from last year's model. Should realme fans upgrade to the realme 8 Pro or should they hold on to their current phones? Let's find out:
Design
realme has gone and overhauled the exterior design of the realme 8 Pro making it quite distinct visually VS what the brand has released previously.
The phone is clad in plastic chassis, along with what looks to be a sand-blasted texture that has a nice side effect of repelling fingerprints and smudges, making it possible to use the phone without a case.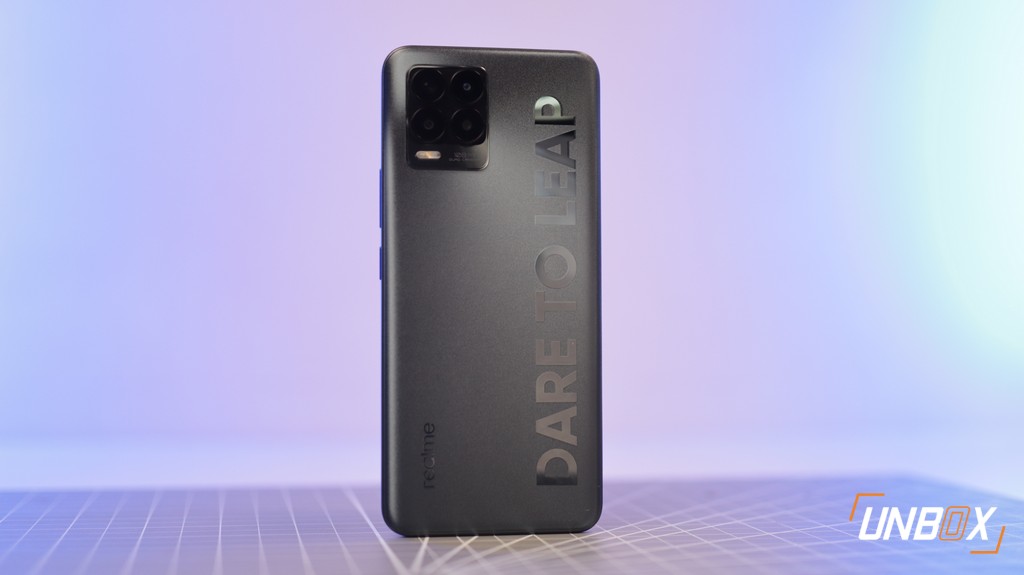 realme's brand slogan "Dare To Leap" is printed on the back too, set in a glossy finish to make it stand out from the sandblasted texture on the back.
The design looks better than what the brand has done in the past, though obviously, your mileage may vary. Some people might appreciate the bold design stance and some may not like the fact that their phone's back has the brand's slogan printed in large, bold letters, but like anything design-related, it all depends on your preference.
Another thing that's changed from the realme 7 Pro is the design of the camera module. Instead of a rectangular piece, the realme 8 Pro uses a square-ish camera module with slightly protruding camera lenses.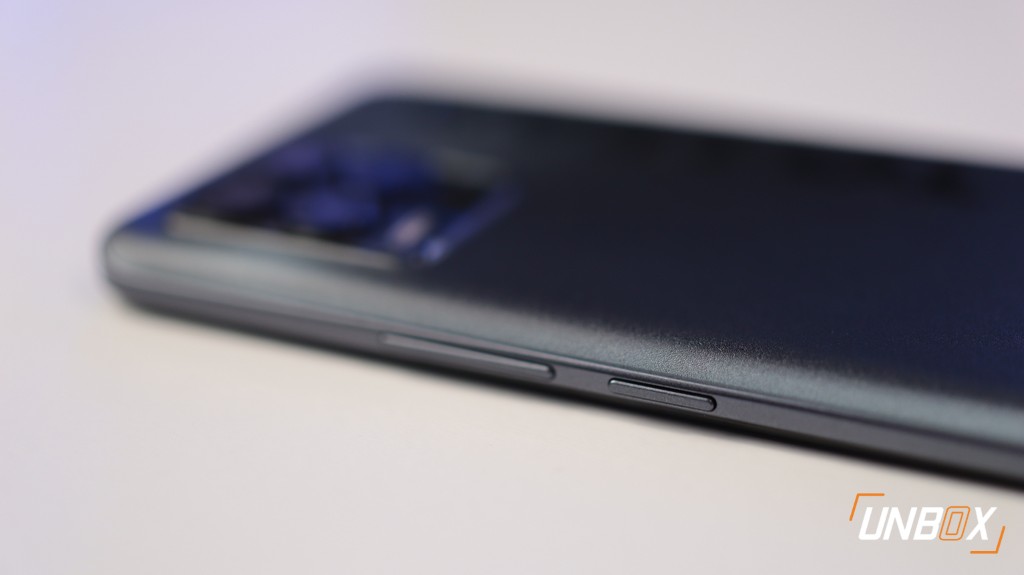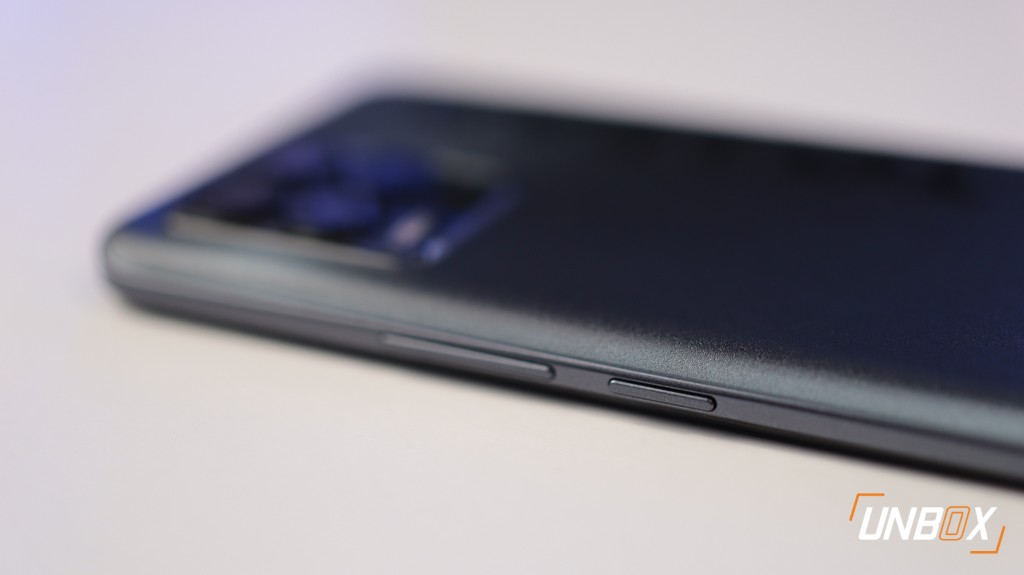 The physical controls are right where you expect them to be, namely on the right side with both the power button and volume control right beside each other. The bottom of the chassis holds the Type-C connector, speaker grille and 3.5mm jack. The dual SIM slot and microSD tray is located on the left side of the chassis.
Display
The display of the realme 8 Pro clocks in at 6.4-inches, a hair smaller than the realme 7 Pro's 6.5-inch display. Thankfully realme still used a Super AMOLED panel for the realme 8 Pro, though it's no better than the one in the previous phone since it's still locked to 60Hz.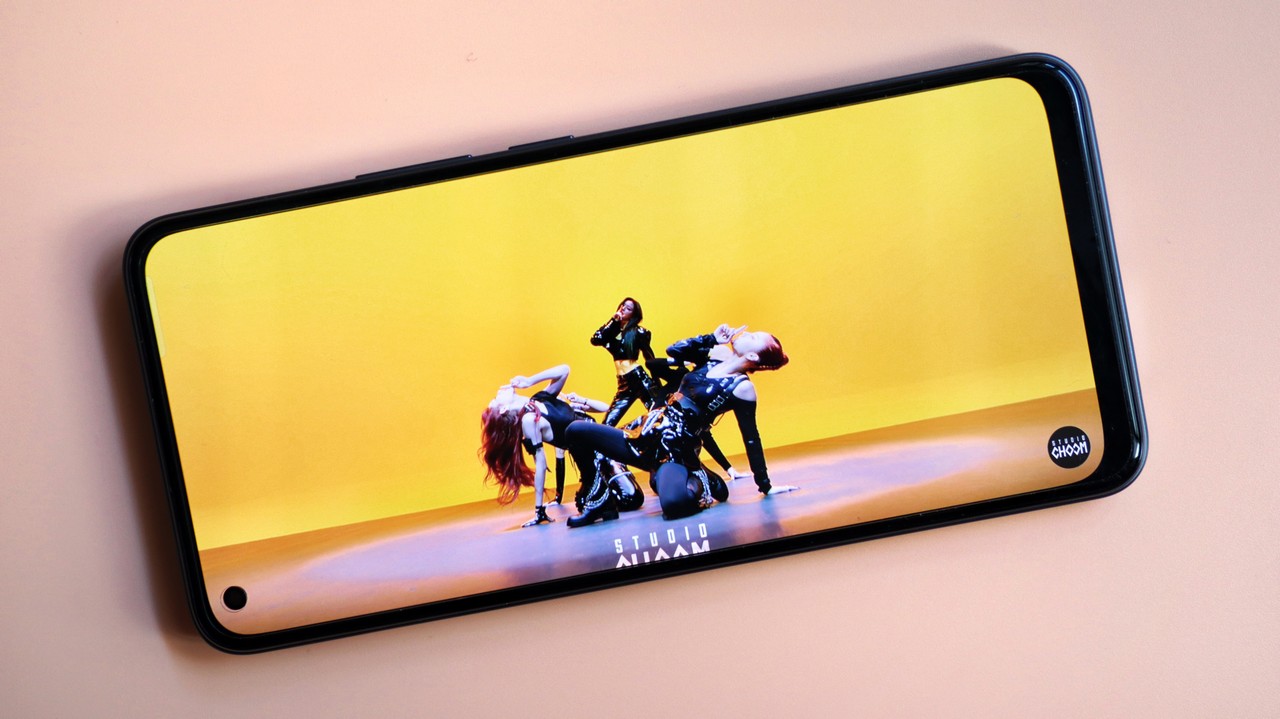 There's a punch hole at the upper left of the display which holds a 16-megapixel front snapper.
The display looks good, and you're still getting excellent blacks and bright, vibrant images with it. It's a good display for sure, though the AMOLED panel isn't a big defining feature in the price range any more thanks to more brands adopting the tech for their mid-range devices.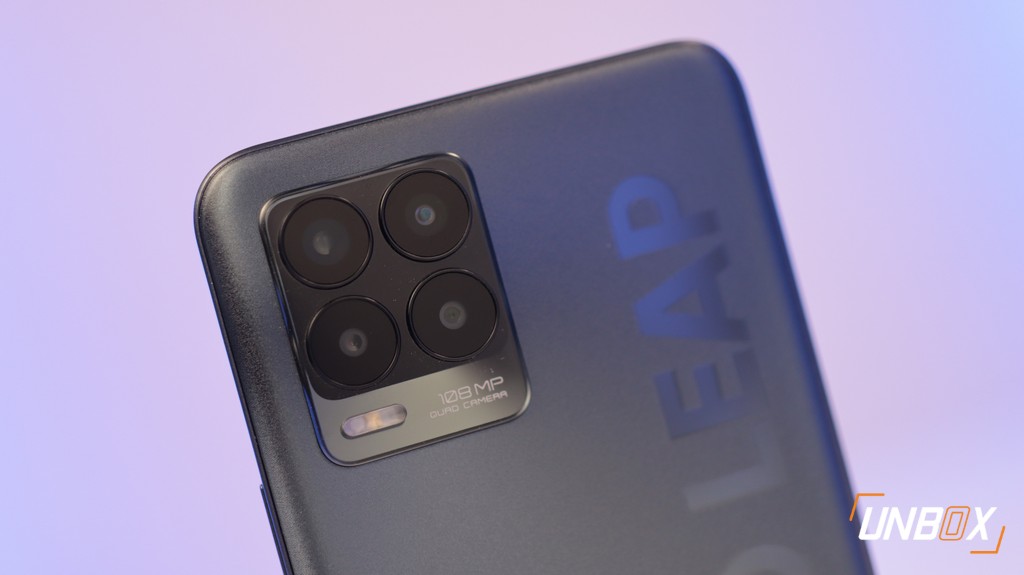 Cameras
The realme 8 Pro's main upgrade from last year's model is the new, Samsung HM2 Isocell 108-megapixel sensor on the rear paired with an f/1.9 aperture lens.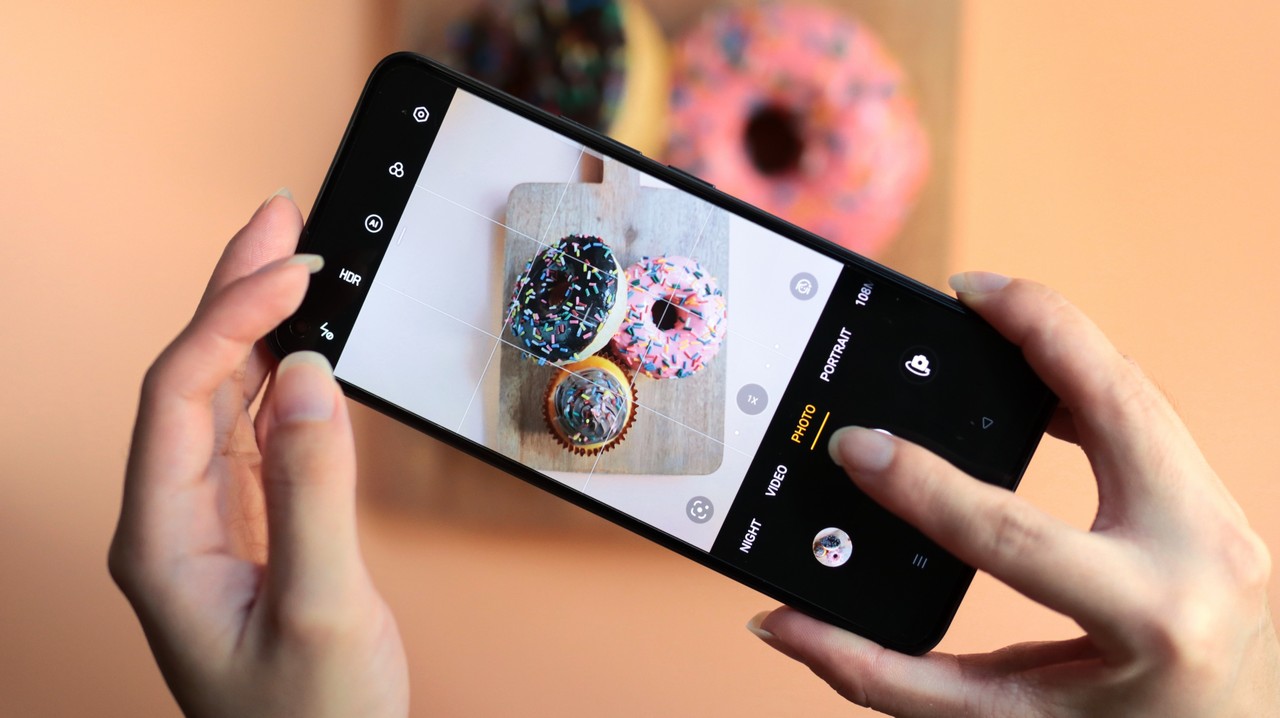 The camera can take 108-megapixel shots sure, but that's not why it's there. The 108-megapixel sensor uses pixel binning to produce better 12-megapixel images which have reduced noise and better overall quality.
Photos taken with the 108-megapixel snapper look really good, and thanks to realme's camera algorithms, even zoomed snaps look good.
The phone comes with other cameras as well, including an 8-megapixel ultra-wide sensor. The ultra-wide camera does well when there's plenty of light, though the white balance and colors look different from the main sensor.
The two other cameras are merely feature-fillers and don't really add anything here. The 2-megapixel macro lens and 2-megapixel black-and-white camera are simply there to add more cameras to the module.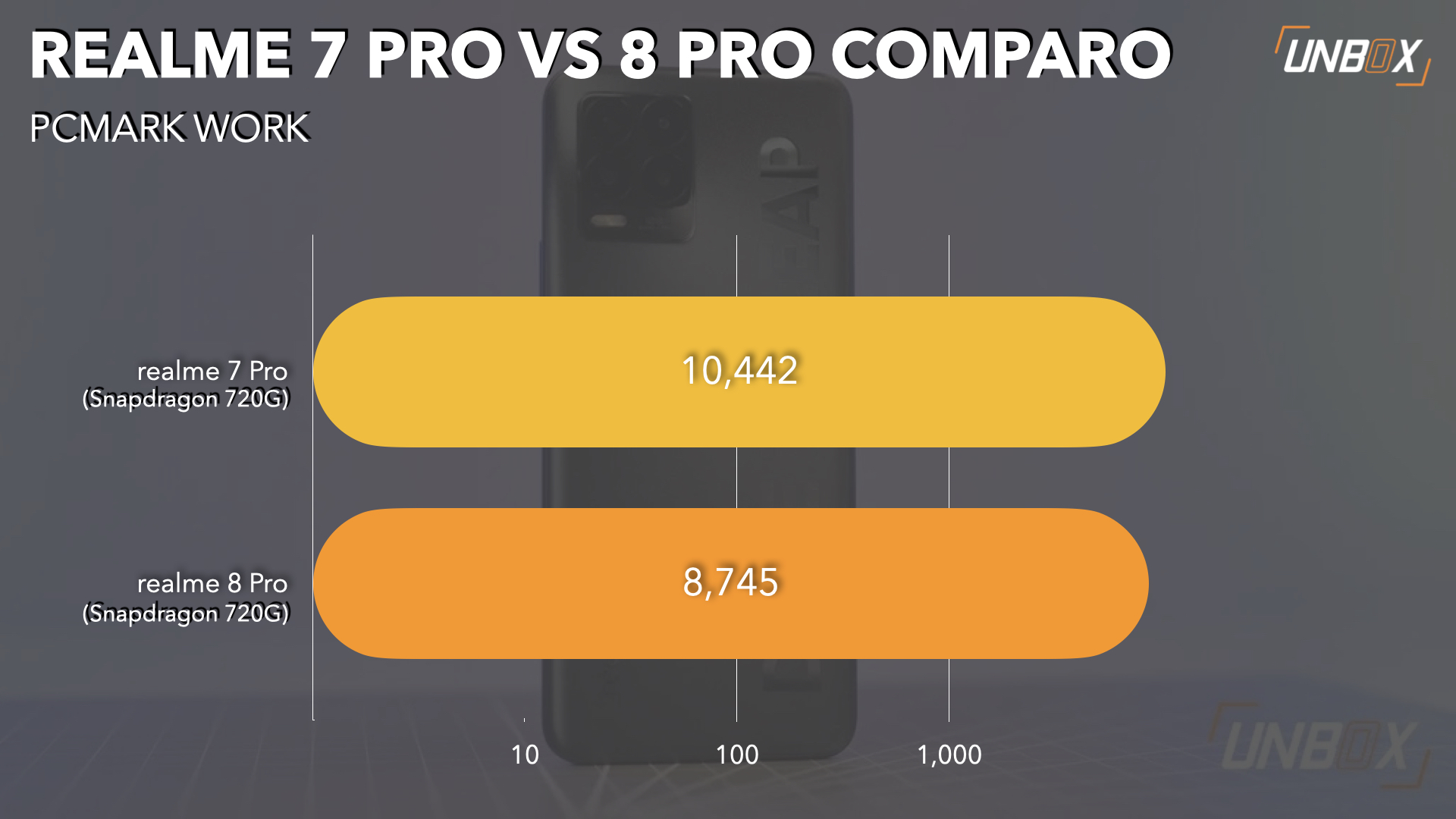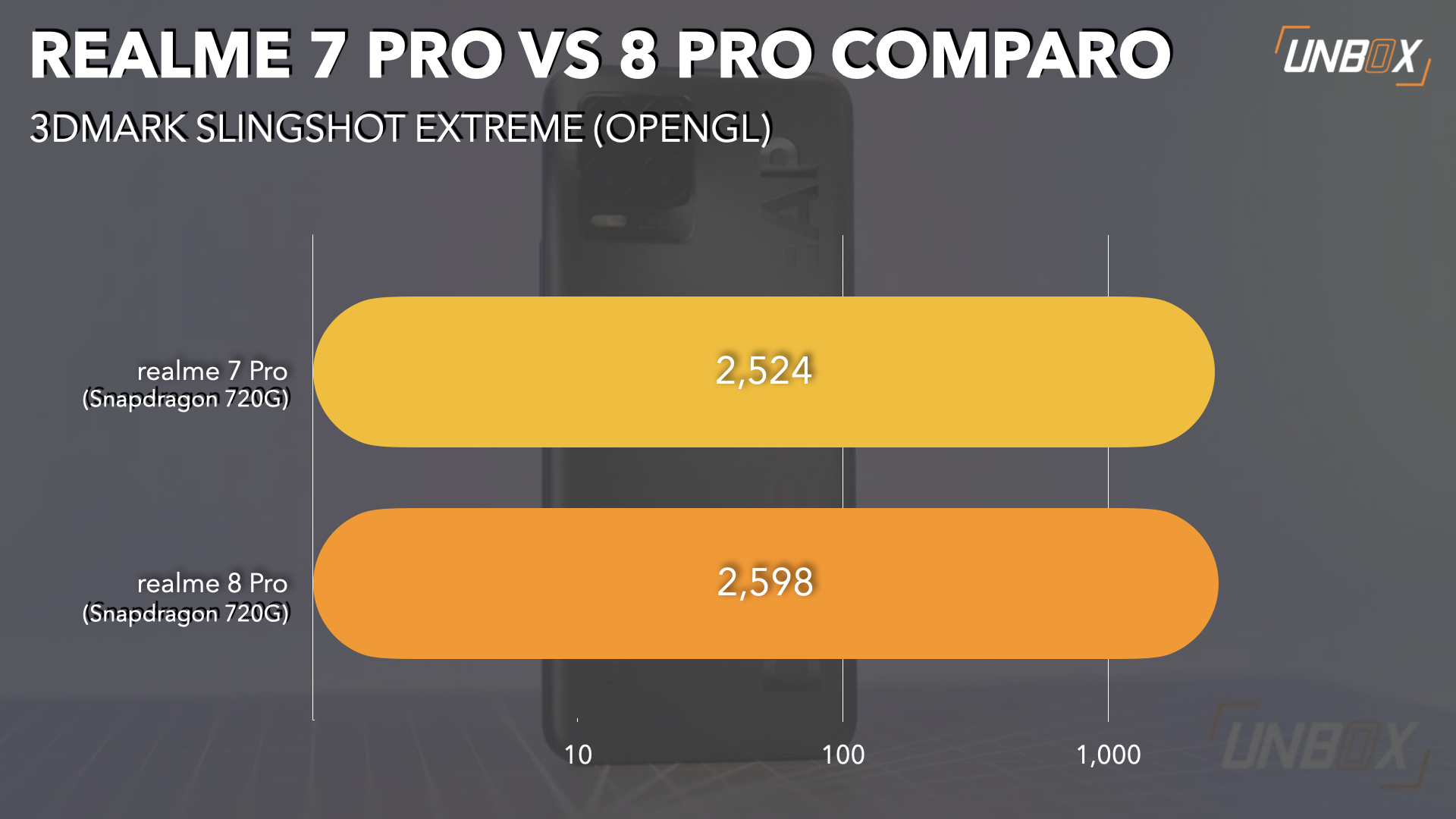 Performance
Like we said earlier, the realme 8 Pro has virtually the same hardware inside as the realme 7 Pro released last year. Specifically, we're looking at a Qualcomm Snapdragon 720G processor, paired with 8GB of RAM and 128GB of storage.
While the Snapdragon 720G processor is more than capable of most tasks, it should be noted that you're not getting a performance bump from last year's model.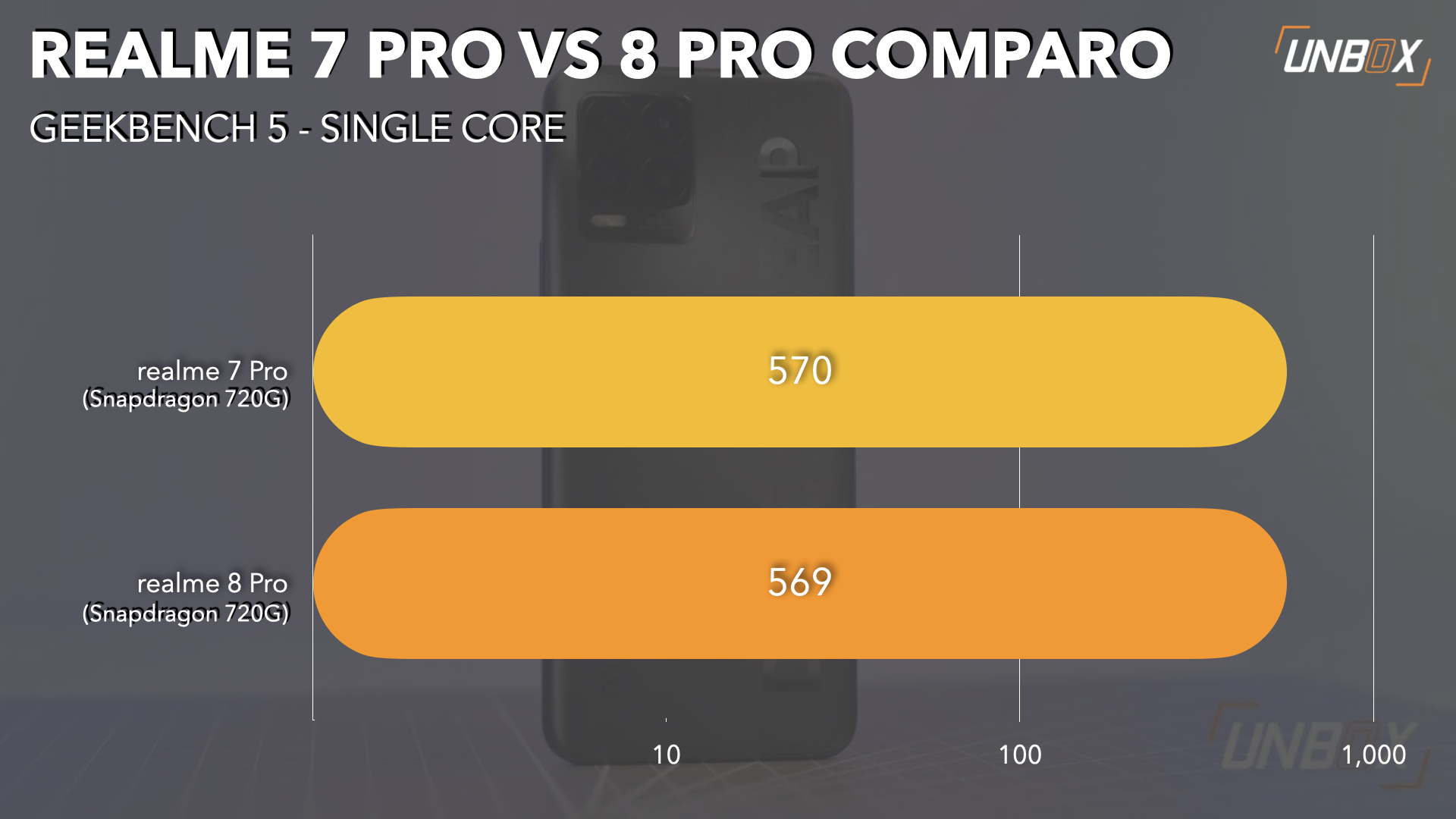 You also need to consider that there's also a bunch of newer phones at roughly the same price range that offers 5G capability out of the box as well, putting realme's value-for-money equation for the phone at a precarious position.
The phone runs on Android 11 with realme's UI overlay right on top of it, which includes a fair bit of extra features that allow you to tweak your phone depending on your preference.
One thing nice about the phone's Snapdragon 720G processor is that it's a fairly power-efficient SoC. Our PCMark battery benchmark returned a result of 15 hours and 28 minutes, which is higher than what the realme 7 Pro recorded, which has the same 4500mAh power cell. One nice thing about using the same processor for 3 phones straight is the fact that you have more time to tweak the software of the phone as well as optimize its use of power.
The phone also has support for the company's 50W Dart Charging tech that quickly gives the phone additional juice – you're looking at 50% charge in just 17 minutes.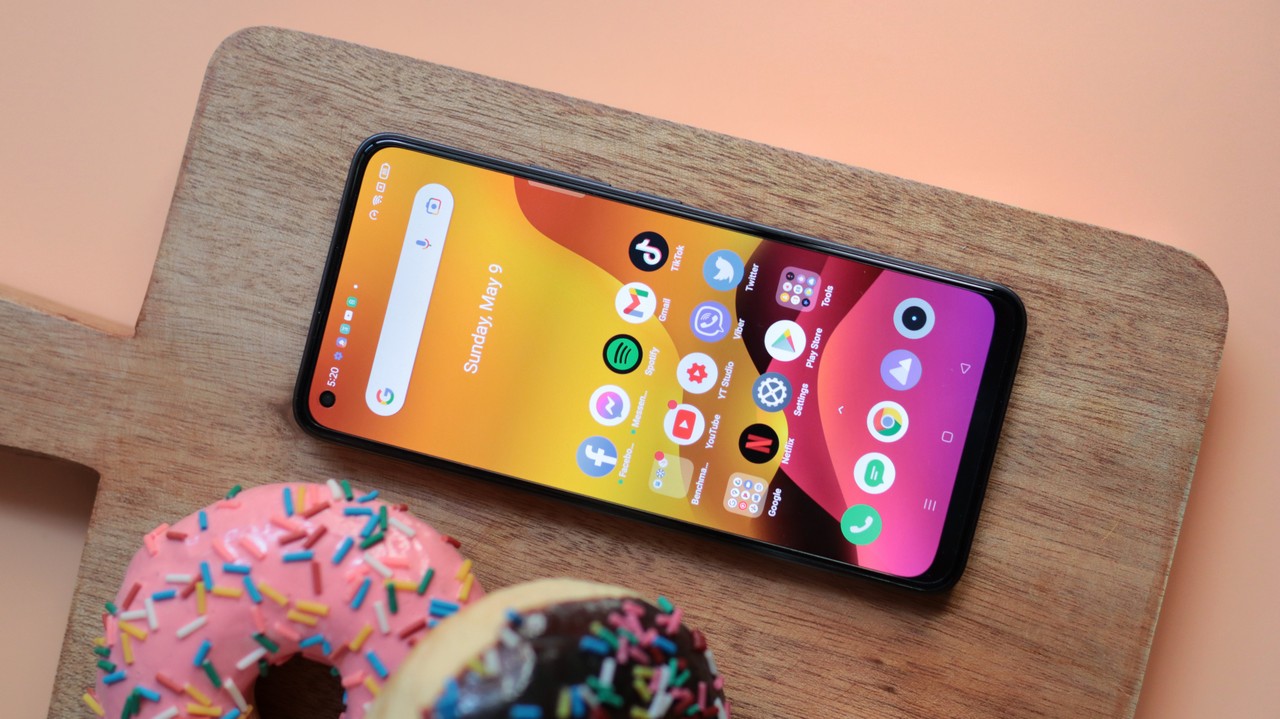 Wrap-up and verdict
Our realme 8 Pro review in the Philippines shows that the phone is a textbook example of the old saying "if it ain't broke, don't fix it". It's an iterative update more than anything else, aimed at enticing snap-happy users that value camera performance above everything else.
It does run into strong competition from rival brands though who have stepped up their game in terms of offering value-for-money products. As of press time, the realme 8 Pro still has a good chance of standing out because of its strong camera performance, but realme might want to go with a new set of guts for the next iteration of their next mid-range offering.
realme 8 Pro Review Price Philippines
The realme 8 Pro is priced at Php 16,990 in the Philippines. It'll be Php 1,000 OFF starting May 12 at midnight and will be available first during Lazada's flash sale.
Comments (0)