Review Verdict: The ASUS VivoBook Flip 14 TM420 is a great laptop for anyone looking for a fairly powerful device for general work in the Philippines. It's fairly flexible owing to its design, has a powerful processor, and doesn't cost an arm and a leg. It should be on top of your list if you're looking for a new, decently-priced laptop.
Pros:
Flexible form factor
Powerful Ryzen processor
Excellent battery life
Cons:
The screen could be better
Need a laptop that's not quite a powerhouse but is a step above the basic plastic devices you see in the market? You might want to take a look at the ASUS VivoBook 14 TM420 that we have for review. This transforming lappie has all that you're looking for in a mid-range laptop and is more than enough for anyone looking to upgrade to a better WFH device.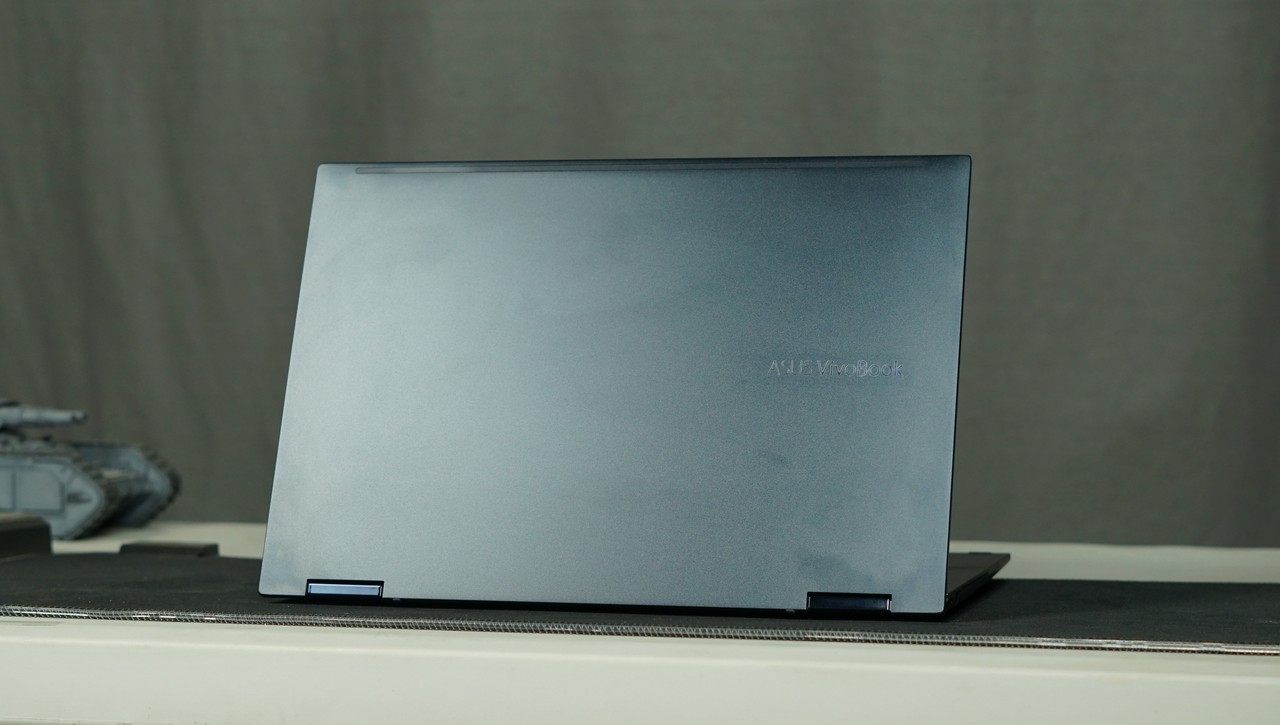 Design
Despite being the mid-range laptop line of ASUS (sitting right between its entry-level offerings and top-tier ZenBook lineup) the VivoBook Flip 14 looks right at home beside more expensive laptops.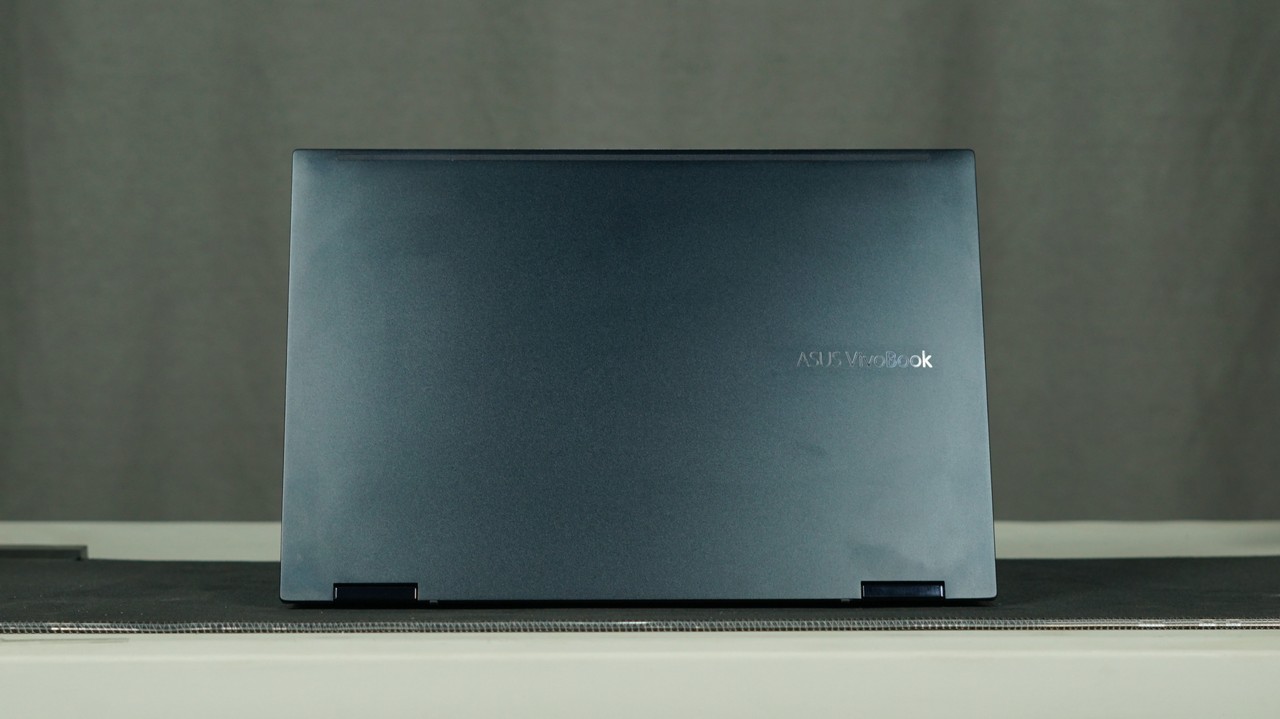 Like its other VivoBook siblings, the VivoBook Flip 14 TM420 uses a clever mix of plastic and metal to make itself look more expensive than it actually is. The top of the lid is made from metal, which gives it this really nice premium look when viewed from afar, while the rest of the chassis uses color-matched plastic.
There's only one color available for this particular device here in the Philippines, which is Bespoke Black, which is a bit of a bummer considering other members of the VivoBook line get more striking color options.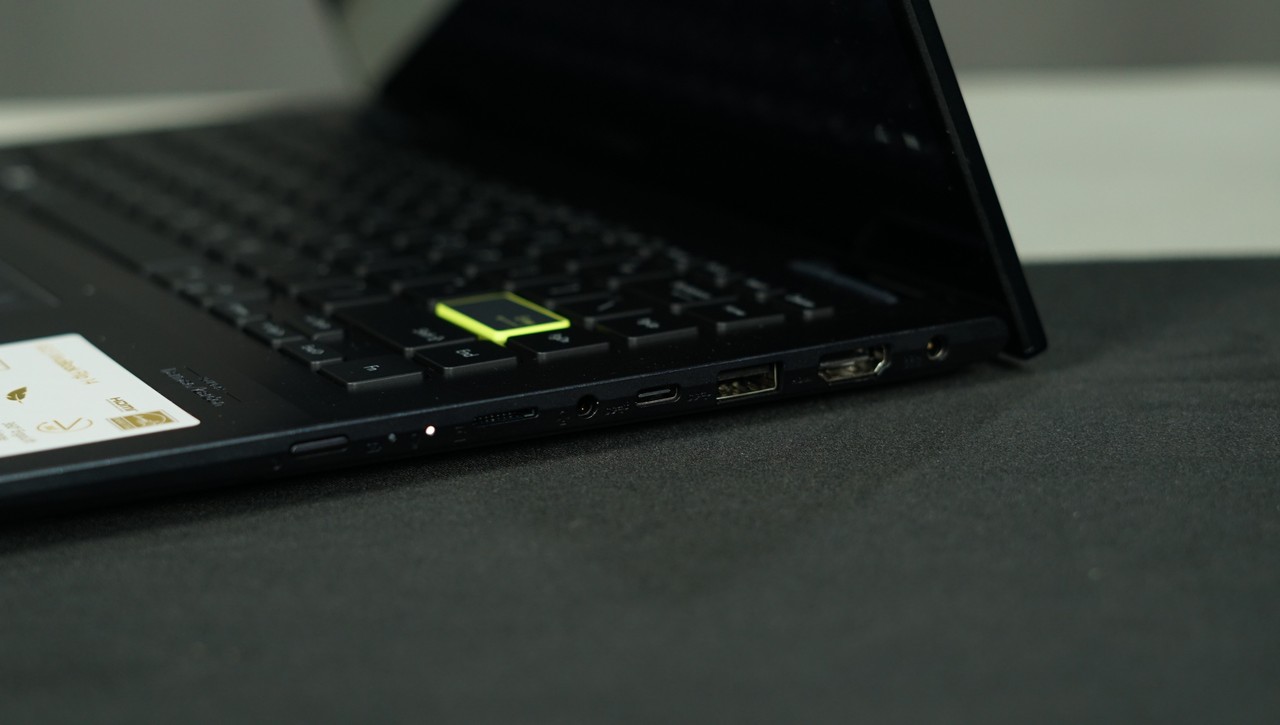 As for port selection, there are 2 USB Type-A ports (one being 2.0 and one is 3.2), a single USB 3.2 Type-C port, as well as connectors for HDMI 1.4, 3,5mm audio jack, power plug, and microSD card reader.
Display
The VivoBook Flip 14 TM420 uses a 14-inch full HD IPS panel with an 82% screen-to-body ratio and 178-degree viewing angle. As its name suggests, you can flip the display over almost 360 degrees to transform the laptop into a tablet as well as deploy it in "tent mode" when you want to watch movies or share media.
The screen is a touchscreen panel, and ASUS is bundling the laptop with a Stylus with every purchase giving you extra versatility.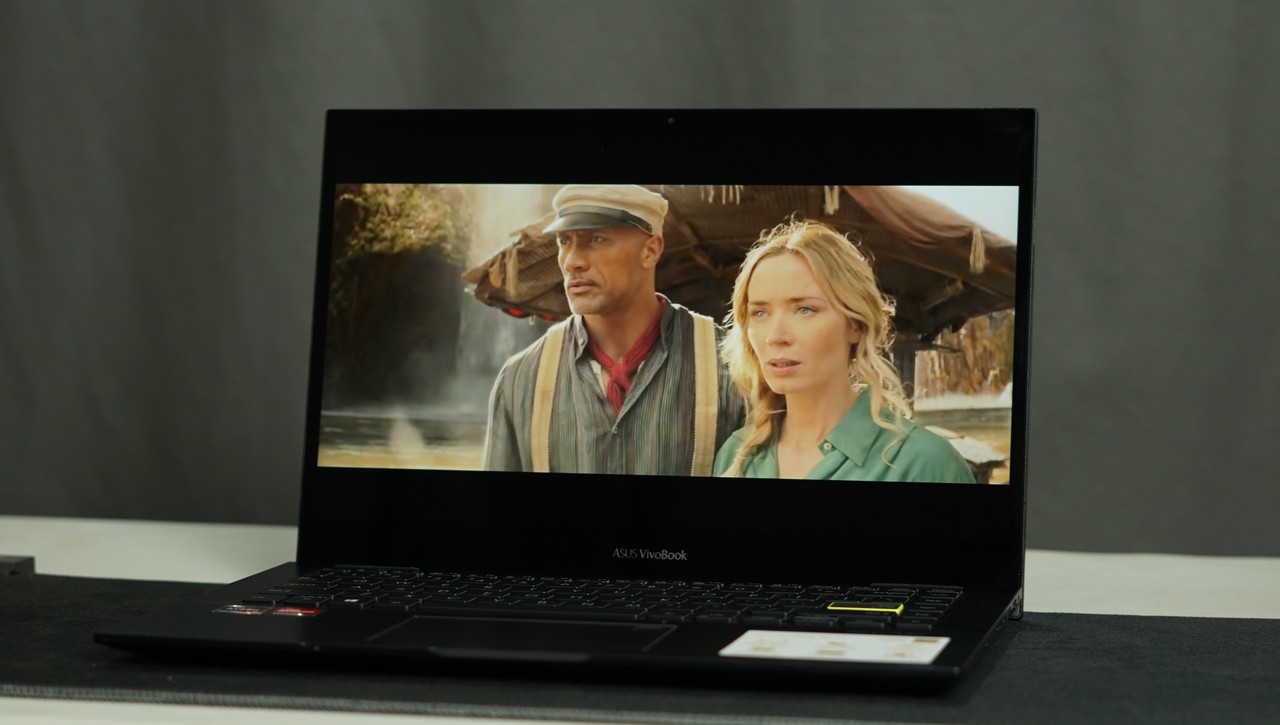 As for actual screen quality, it's ok. I wouldn't recommend it for anything even remotely close to professional editing work because of its low color gamut and color accuracy, but for everyday use, it's more than enough. One thing I really hate about the display though is how easy it picks up smudges and fingerprints – use it once in tablet mode, and you'll be spending all day wiping your fingerprints off of it.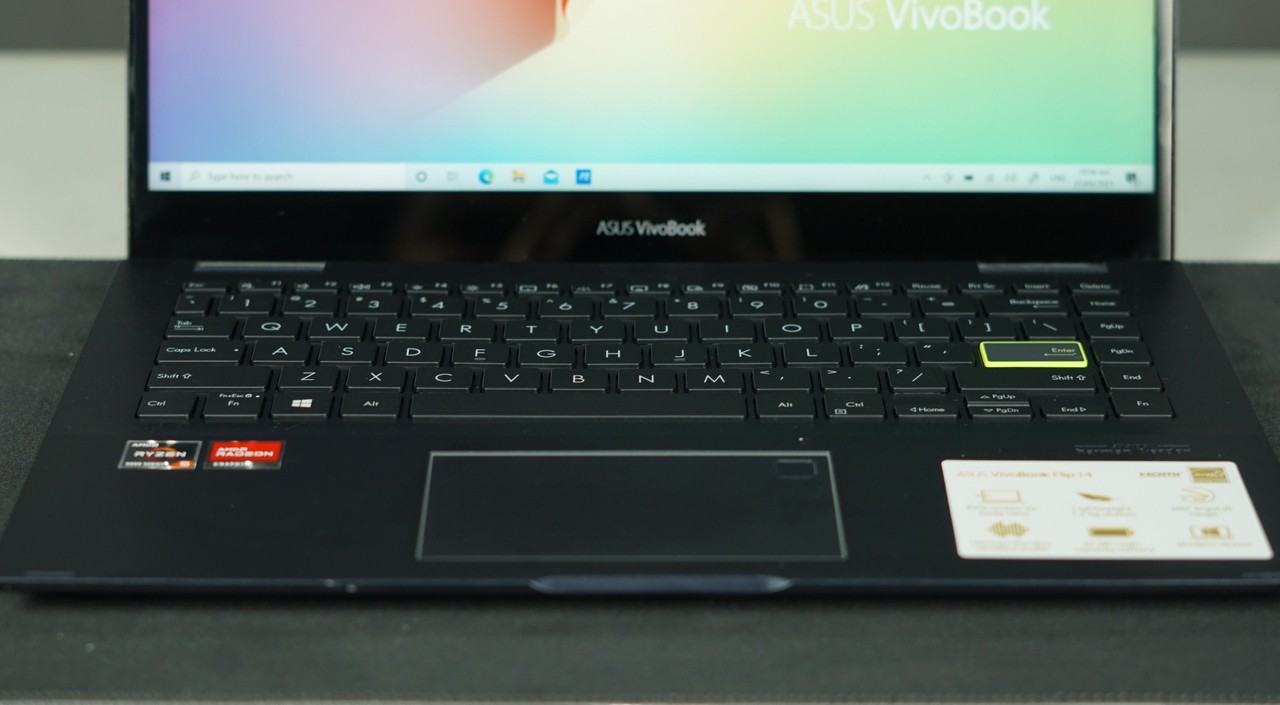 Keyboard and trackpad
ASUS has found a way to integrate their ErgoLift hinge with the VivoBook Flip 14 TM420 by utilizing a double hinge design, with one side refusing to go completely flat. While I personally like the way the laptop angles itself a few degrees to facilitate more comfortable typing, OCD types may not like the fact that the laptop doesn't go completely flat when you open the lid 180 degrees.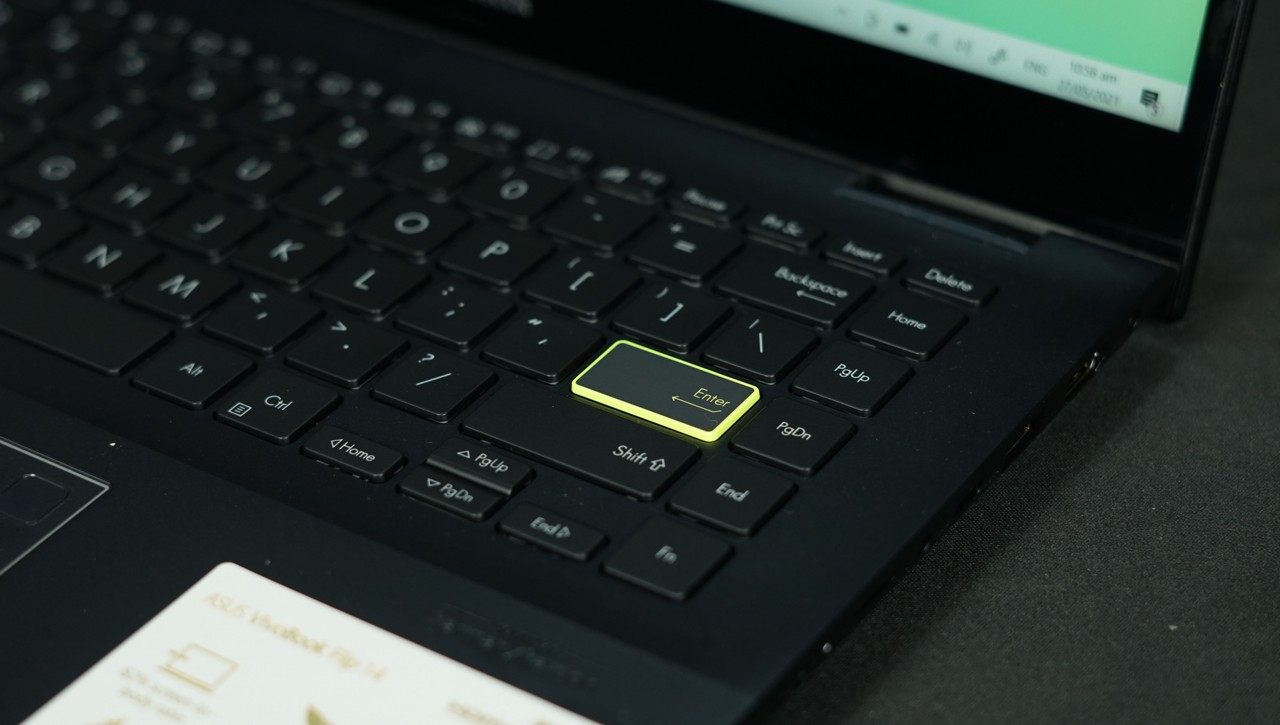 As for the keys and keyboard itself, it's what you'd typically expect from a mid-range ASUS laptop. The travel isn't as good as their more expensive ZenBook offerings, but the keys still feel good to use.
The trackpad is typical ASUS, which is to say it's similarly OK to use. ASUS also included a fingerprint sensor for a more secure unlock method as well.
Performance and battery life
The new laptop is powered by AMD's new Ryzen R5-5500U processor, though there are Intel variants available as well. That's paired with 8GB of LPDDR4X RAM as well as a 512GB PCIe SSD.
The laptop stacks up well to Intel's 11th Gen Core i5 offerings, offering excellent performance in multi-core benchmarks and applications. While it's less powerful when it comes to graphically intense applications compared to Intel's offerings, it's still able to hold its own here.
Battery life is pegged at 4 hours and 45 minutes using our YouTube battery test, which essentially runs a YouTube video continuously on the laptop with 50 brightness on and volume set to 50 percent. That translates to around a full day's use when you manage your battery properly, especially if all you do is write reports and edit papers all day.
Wrap-up and verdict
Our ASUS VivoBook Flip 14 TM420 review makes a clear case for this particular laptop for anyone looking for something that won't break the bank in the Philippines. It has a good mix of performance, battery life, and design, and while the screen isn't the best in the world, its sub Php 50K price tag makes it an attractive choice for a mid-range laptop.
ASUS VivoBook Flip 14 TM420 Review Philippines Price:
The ASUS VivoBook Flip 14 TM420 that we reviewed costs Php 42,995 as configured.
Comments (1)