San Miguel Corporation, which is currently busy and in the works for the South Luzon Expressway (SLEX) Toll Road 4 (TR-4), said that right-of-way issues and the current pandemic quarantines have gotten in the way of the construction of the SLEX TR-4. However, SMC has stated in an interview that despite these hurdles, construction for SLEX TR-4 is still making progress.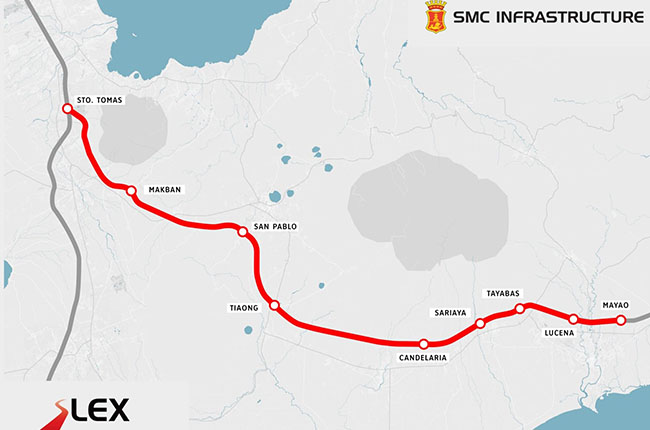 "We are in the initial stages of construction for SLEX-TR4. Despite the limitations of the pandemic and delays in right-of-way acquisitions, we're moving forward and making good progress," SMC president Ramon S. Ang said.
"We are using the same strategy we utilized for our Skyway 3 project—which is to concentrate work on all workable areas—and then adjust as other areas become available," he added.
Started back in 2019, the SLEX TR-4 the 66.74km project will span from Sto. Tomas, Batangas to Lucena City, Quezon Province. The project is expected to be completed by 2022, and is made up of 6 sections:
Section A: Santo Tomas, Batangas to Makban, Laguna (11.32km)

Section B: Makban, Laguna to San Pablo, Laguna (12.75km)

Section C: San Pablo, Laguna to Tiaong, Quezon (7.50km)

Section D: Tiaong, Quezon to Candelaria, Quezon (15.00km)

Section E: Candelaria, Quezon to Tayabas, Quezon (10.21km)

Section F: Tayabas, Quezon to Brgy. Mayao, Lucena, Quezon (9.96km)
Mr. Ramon S. Ang has said that right-of-way issues remain to be the biggest factor in estimating when projects, such as the SLEX-TR4 will be complete but is very positive towards completing the project on time.
"We are confident that we will eventually overcome all these challenges, with the support of our government, LGUs, and all stakeholders. We are committed to do our part and put all our energy and focus on getting this project done because it is vital to the growth of the Southern Tagalog region," Mr. Ang stated.
Although the construction progress is facing different challenges at the moment, the SLEX TR-4 once completed will make travel a whole lot faster. The SLEX TR-4 is expected to reduce the travel time between Sto. Tomas and Lucena from 4 hours down to only 1 hour. This project aims to efficiently transport goods and services to and from Laguna, Batangas, Quezon, and the Bicol Region, and to give motorists safer and more convenient travel using modern tollway facilities.
"SLEX-TR4 will form part of our interconnected expressway network in the south, designed not just to ease transport of people and goods, but also to disperse economic growth and growth opportunities so it can reach and benefit our countrymen in our regions," Ang said.
Comments (0)